Chapter 3
Vancouver…
---
Previous Post | Next Post
Table of Contents
As the bus arrived in the heart of Vancouver, the city seemed interesting. It's a hard place to judge by the skyline because I think it's a bigger city than it looks like at first glance.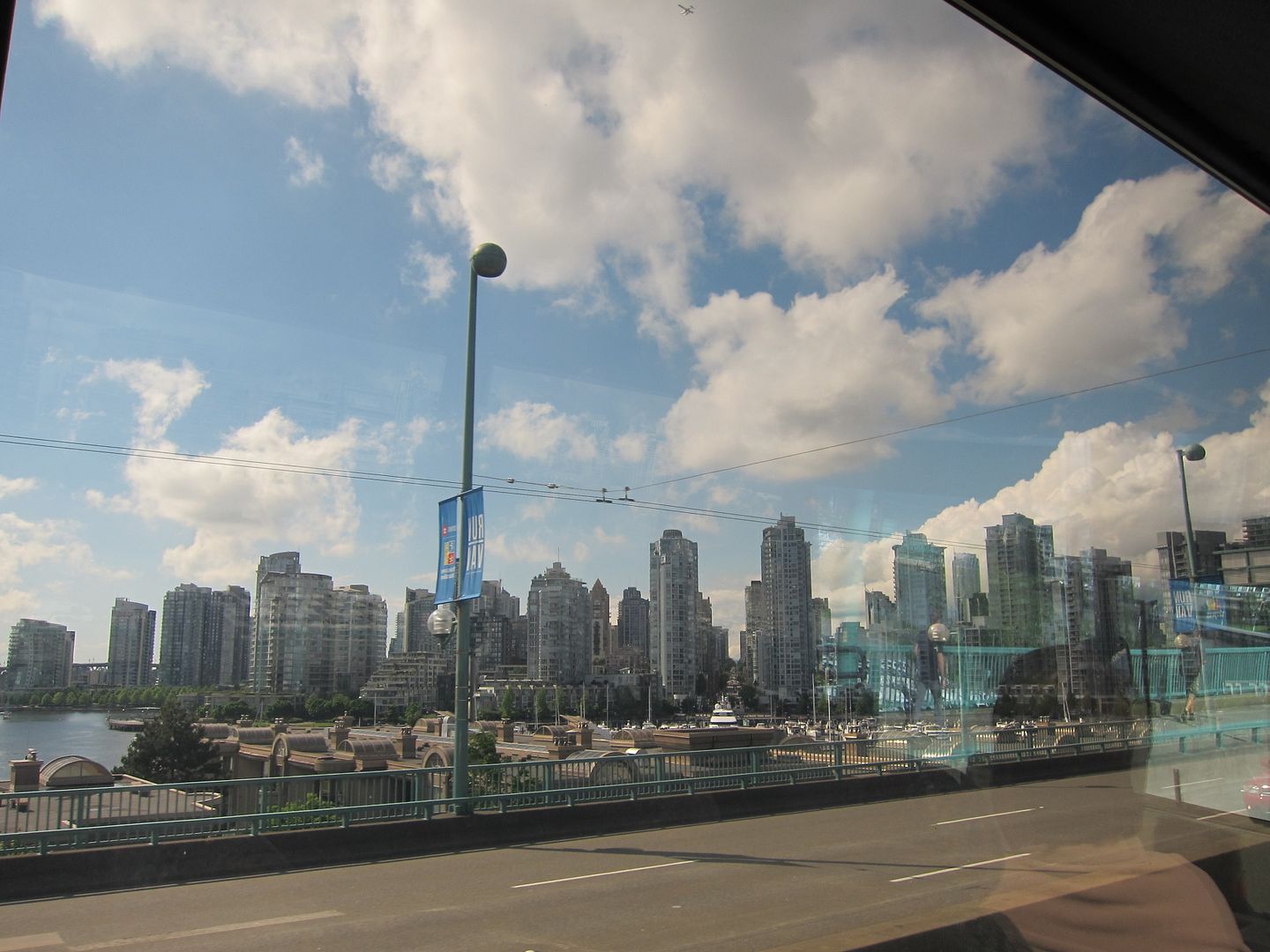 We immediately spotted some of the more interesting architecture. I know our bus driver pointed out a lot of the buildings and other structures that were built for the Olympics, but I have no idea which ones they were.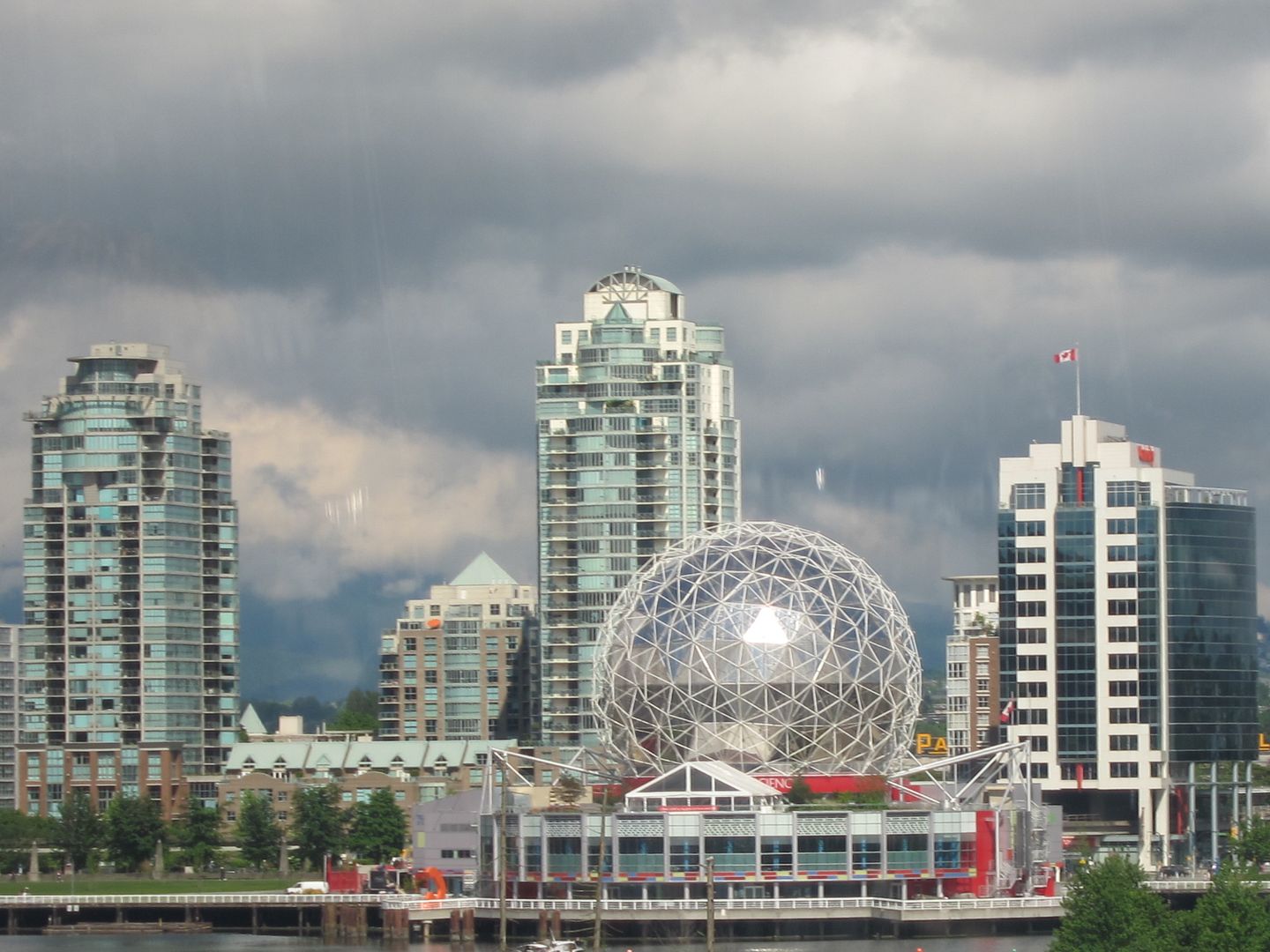 We got off the bus at its main stop in the city. We would be staying at an AirBNB, but Tracy thought she saw on a map that the apartment we were going to was close to the Ramada where the bus stopped.
After disembarking, we started walking with our luggage and tried our best to orient ourselves. Unfortunately, you don't realize how much you rely on apps like Google Maps until you're in a foreign country without an international data plan. We were utterly lost.
Stopping in at a hotel we passed, we asked the concierge if he could point us in the right direction. He pulled up a map and printed us out some public transportation directions, but we thought we would rather walk. As it turned out, the apartment was actually more than a mile away. It WAS near a Ramada—but it wasn't the Ramada we'd been dropped at.
Following the directions from the concierge, we started seeing some odd sights in downtown Vancouver. Now, I'm not one to judge urban environments (I lived in the heart of NYC for six years, after all), but Vancouver showed us a few things I'd honestly never seen before.
Walking down the main thoroughfare, we hadn't gone more than a block before we saw someone sitting on the sidewalk shooting heroin. Now, I'd read a little about Vancouver's drug problem many years ago when a friend from high school was living in the city, but I never imagined how obvious it would be from a tourist perspective.
We kept walking and soon came across a man who was in the process of being arrested. The officer who had just handcuffed him then put a cigarette in his prisoner's mouth and lit it for him. At this point, Tracy and I exchanged extremely confused glances and asked each other. "What IS Vancouver…?"
Our walk felt like an eternity the longer we kept going. Both of us were weighed down by heavy backpacks in addition to pulling our giant suitcases with enough supplies for the entire cruise (mine had already almost exceeded the 50-pound limit for checked luggage).
The one saving grace of the journey was that our helpful concierge had told us which route to take to "avoid the scuzzy areas" (apparently it got worse than what we'd already seen). His directions were also straightforward enough that we were able to follow them without getting lost, and we soon found ourselves in front of the building that housed our AirBNB apartment.
It took us a while to figure out how to get inside—the door featured a buzzer, for instance, and we had no idea what number to press to call our host. After about 10 minutes of trial and error, however, we actually made it into the building and found the right door.
Our hostess was an older woman who lived alone. She rented out the second bedroom in her apartment to AirBNB customers, and she apparently did a very steady business. The apartment itself was well-appointed (if not fancy in any way), and it seemed like it would suit us just fine—especially considering we would be staying for less than 24 hours.
After chatting with the gal for a few minutes, we realized it was definitely dinner time. She pointed us in the general direction of Chinatown (just a couple blocks away), and we started wandering a little randomly.
We walked for a few minutes without seeing any restaurants, so we stopped in at a coffee shop and asked the barista what Chinese restaurants she would recommend. Apparently we were the first ones to ever ask this question—odd, since we were in the heart of Chinatown—but she told us that there was a dim sum restaurant about a block down that often had a line outside (which she thought was a good sign). She hadn't really known the name of the place, but we lucked into finding it.
New Town Bakery was delicious! We decided to do table service so we'd have somewhere to sit, and we ordered a steamed pork bun, some shrimp dumplings, and some pork dumplings. Everything was extremely tasty, and then we finished off our meal with an egg tart (which we had been introduced to in San Francisco's Chinatown a few months earlier). Later we would find out that this restaurant is actually known as one of the best in town, so we were glad we had lucked into finding it.
Leaving, feeling stuffed, we started wandering the streets of Chinatown. We were in the market for cheap Vancouver souvenirs, and we knew this would be the place to look. In the end, Tracy and I both bought t-shirts, and we also got several knick-knacks. Our wisest purchase was a Canada duffel bag for us to put all our souvenirs in. We had realized that all of our suitcase space was spoken for, and we knew these CERTAINLY wouldn't be our only purchases of the trip.
While we were in one of the stores, they were playing some Chinese pop songs that were sung in English, and one of the awful songs was so catchy that it stuck in my head immediately and couldn't be dislodged for days. The chorus was "I'm gonna cut my hair short" repeated over and over again. (I've just tried to Google it, but to no avail. If anyone randomly happens to know what song it is, please leave a comment!)
We continued walking in this area of Chinatown, but we soon found ourselves in a section of town that I think the concierge at the hotel we'd met earlier would certainly have defined as "scuzzy." In fact, we later found out that we had wandered straight into the definition of Vancouver's ghetto, known as the Downtown Eastside. Apparently this one corner is where most of the drug dealing and a good portion of the city's prostitution takes place, and we had just so happened to find ourselves standing there accidentally. We were REALLY having good luck with Vancouver so far…
Luckily, we felt like something wasn't right (especially as we'd stopped seeing the shops with cheap souvenirs that we were looking out for), and we started walking in the opposite direction.
Deciding it was time to drop off our purchases, we made our way back to our apartment, and I snapped this first picture of our room (more to come later).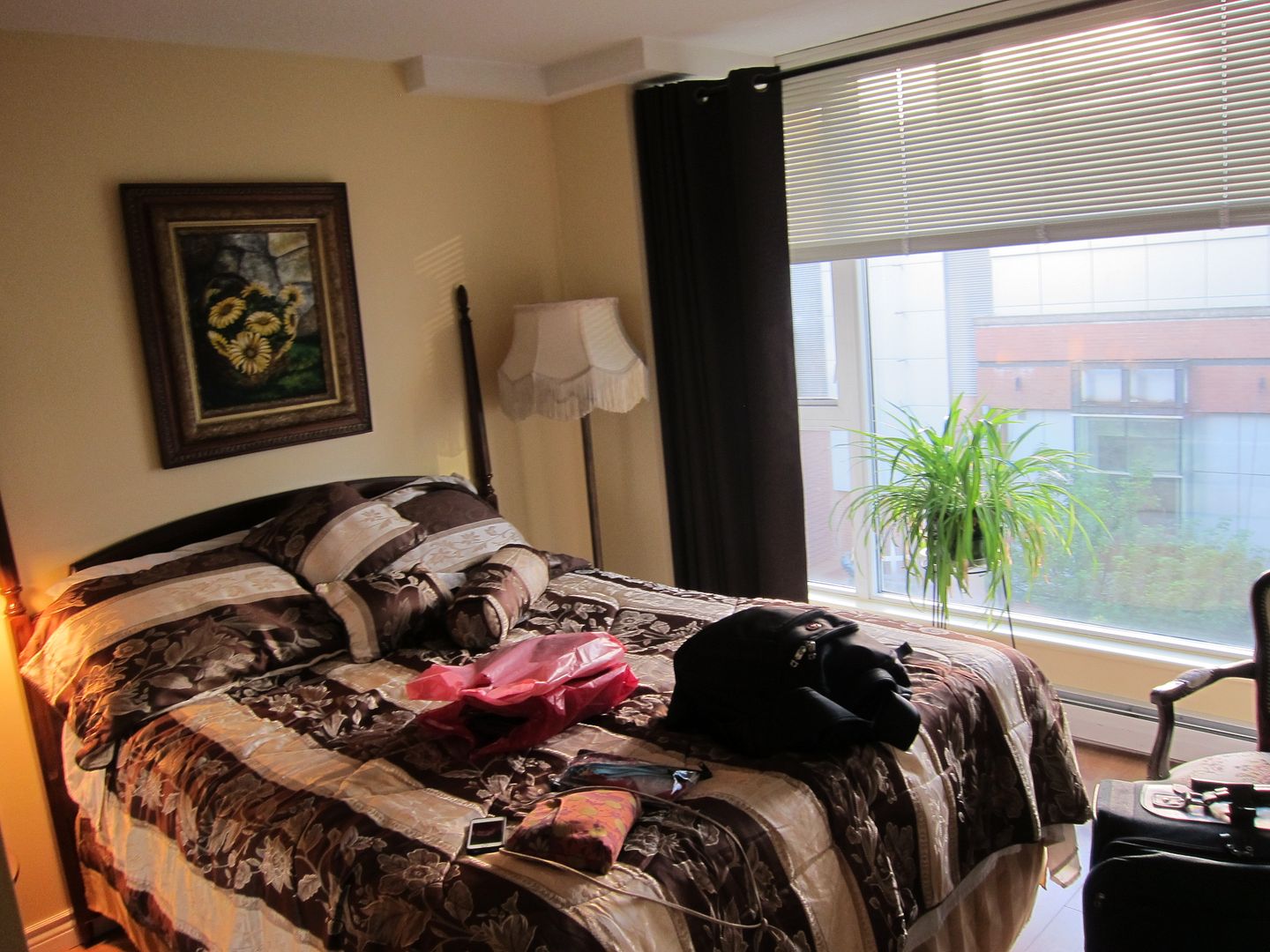 This was our view out the window.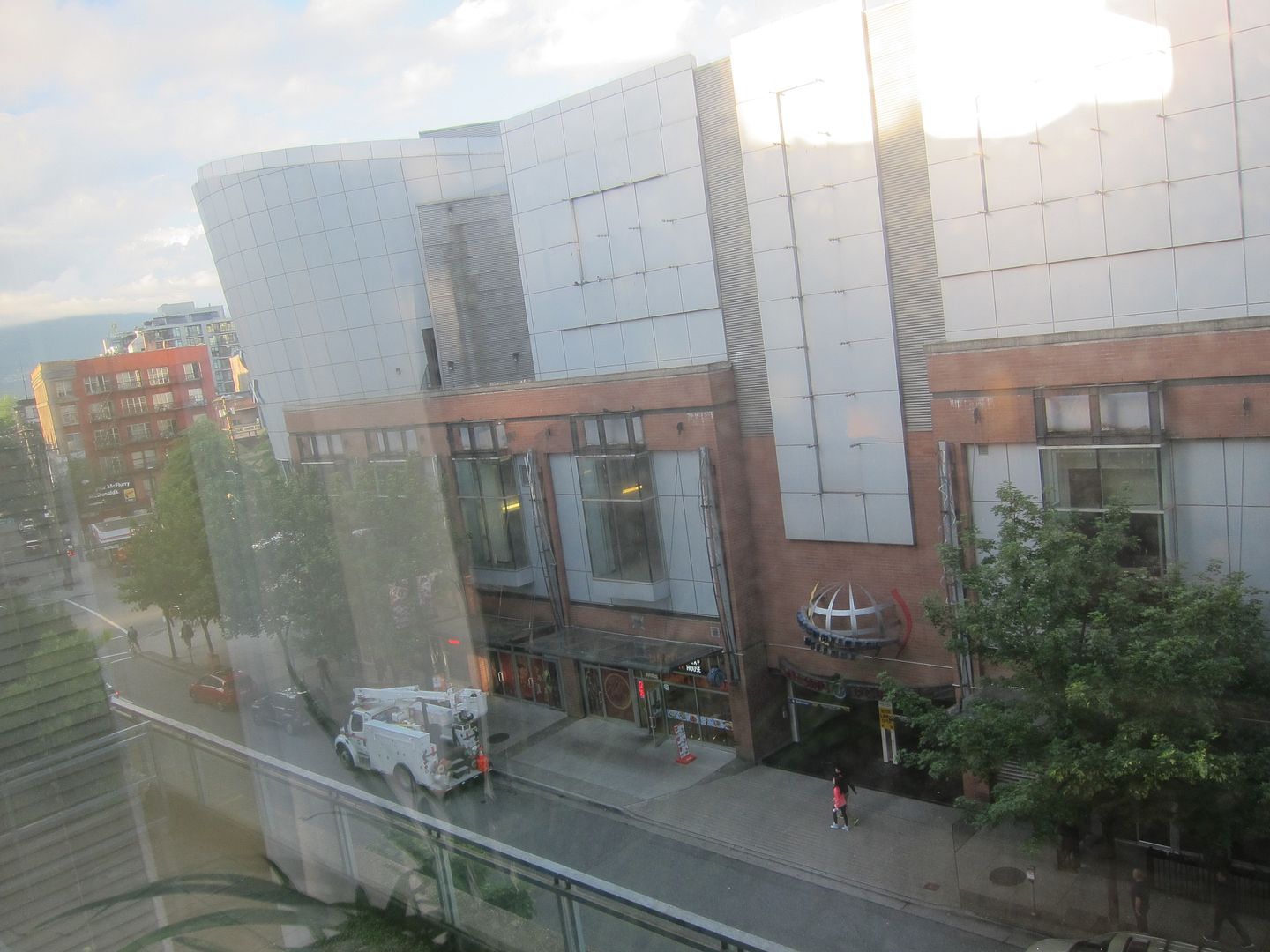 Heading back outside, we found a Starbucks right across the street (SCORE), and we enjoyed what we knew would be our last Frappuccino for a while. Our great travel agent with Mouse Fan Travel had sent us a Starbucks gift card and a Disney gift card to use on our trip, and the former got some mileage at this location. We also picked up Starbucks cards that say Canada on the front of them for ourselves as well as for Tracy's mom and aunt, who collect the cards from various different places around the world.
We considered trying to take a taxi over to Stanley Park—which we knew would give us a glimpse of the nicer part of Vancouver—but we were starting to run out of daylight. Instead, we just walked to a nearby park in the vicinity of our apartment.
It was nice-ish at first, but then we came across more people doing drugs in front of us, and Tracy was not happy.
Walking without really knowing where we were going (but specifically heading in the exact opposite direction of the Downtown Eastside), we found this bus ad that Tracy just had to pose with.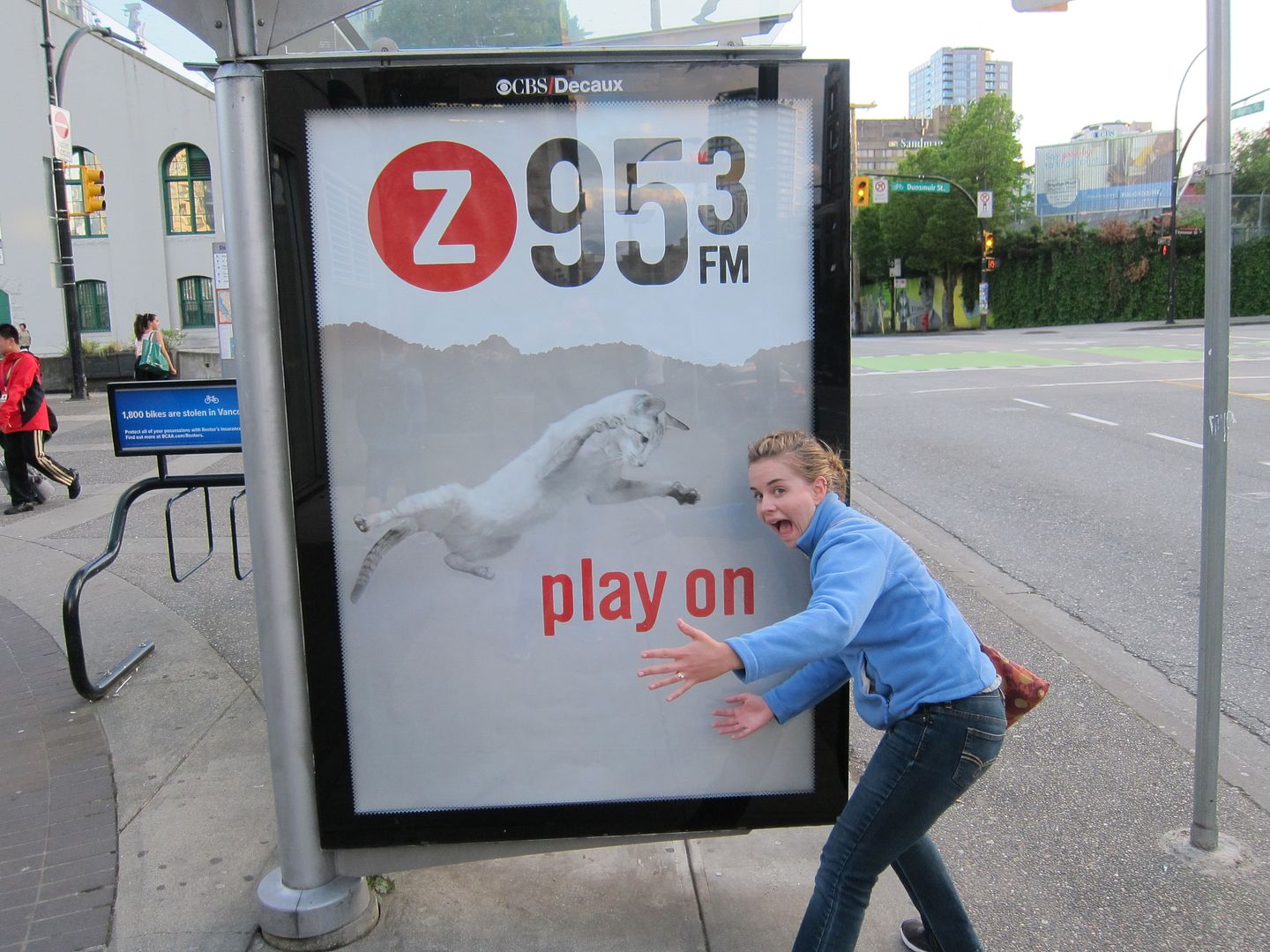 We kept walking, and I thought we had come across some sort of major accident, but it turned out just to be a location shoot where they were filming a new TV show.
If you look closely at the police cars and ambulance, you'll notice that they say Seattle on them, so that must be where the show is taking place.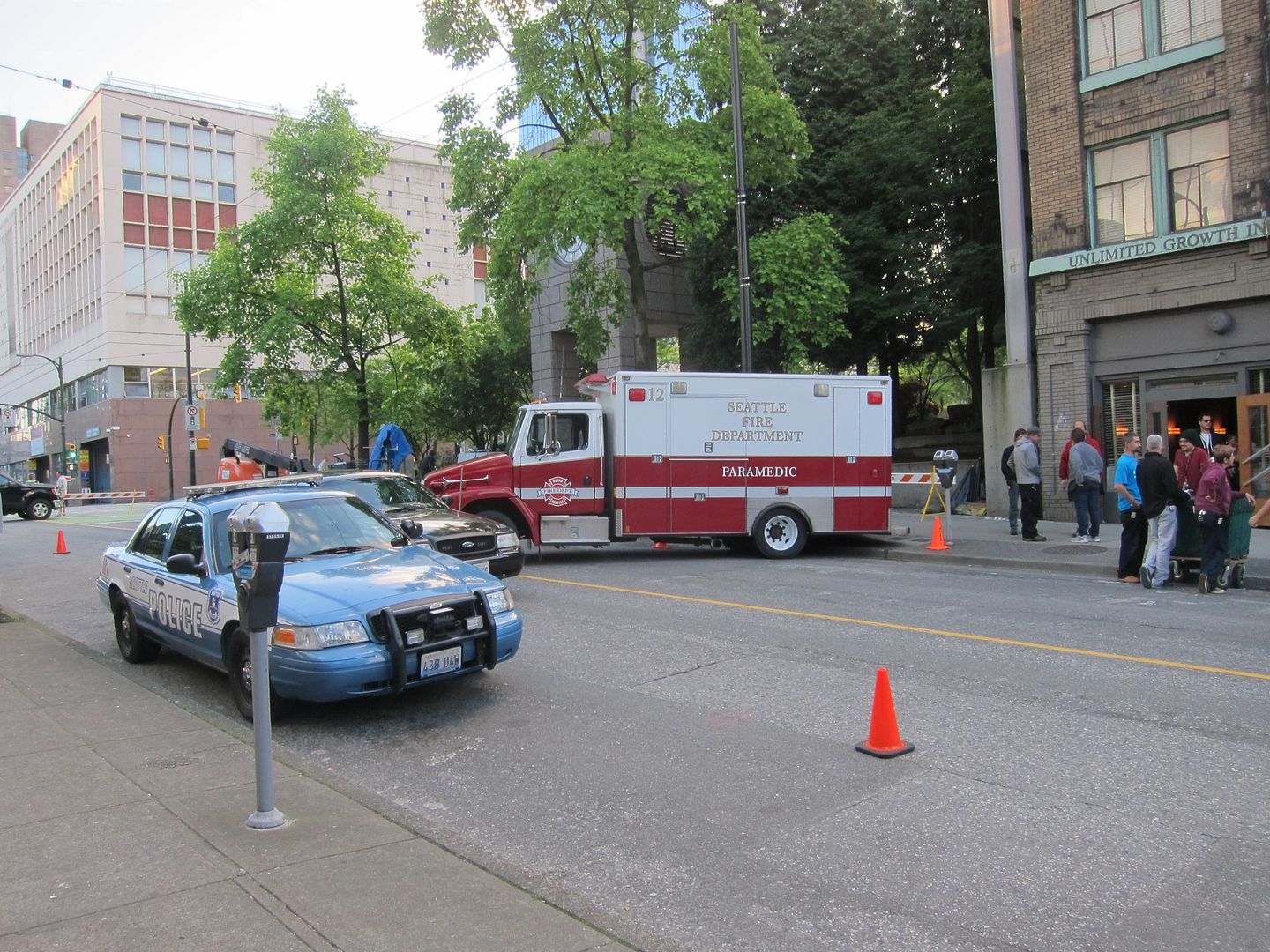 Now, we'd stumbled across literally hundreds of TV and movie sets between living in NYC and California, but it was amazing how different the atmosphere was on this set. Rather than random people gathering by the scene to gawk at what was going on, we seemed to be the only passersby who were the least bit interested. We even chatted with one of the PAs about what show they were filming (I've already forgotten the name and really should have written it down). Next, we saw them doing a rehearsal take since they wouldn't actually start shooting until after dark.
In the scene we watched, a little girl (the one in the yellow jacket, above) was wandering out of the little alley between two buildings. She sees her parents and starts running toward them, but then she gets shot and dies. Without any special effects, it was more comical than dramatic (especially since the young actress really hammed up her death scene), but I'd love to see how the actual scene turned out. The PA mentioned that the crew had just arrived for the shoot and would be filming all night, which was a little crazy. Sometimes I'm amazed at the wacky schedules for TV production.
Continuing our walk around the city, we looked up and saw the building that looks (to us) like a fake version of the Space Needle.
We walked in the general direction of the water, wondering if the Disney Wonder would be docked yet. Suddenly, we found ourselves in the trendy part of the city—which we would later find out is known as Gastown. Getting as close as we could to the water without crossing the railroad tracks, we saw the cruise ship terminal a little ways away and some mountains in the distance. No Disney ship there yet.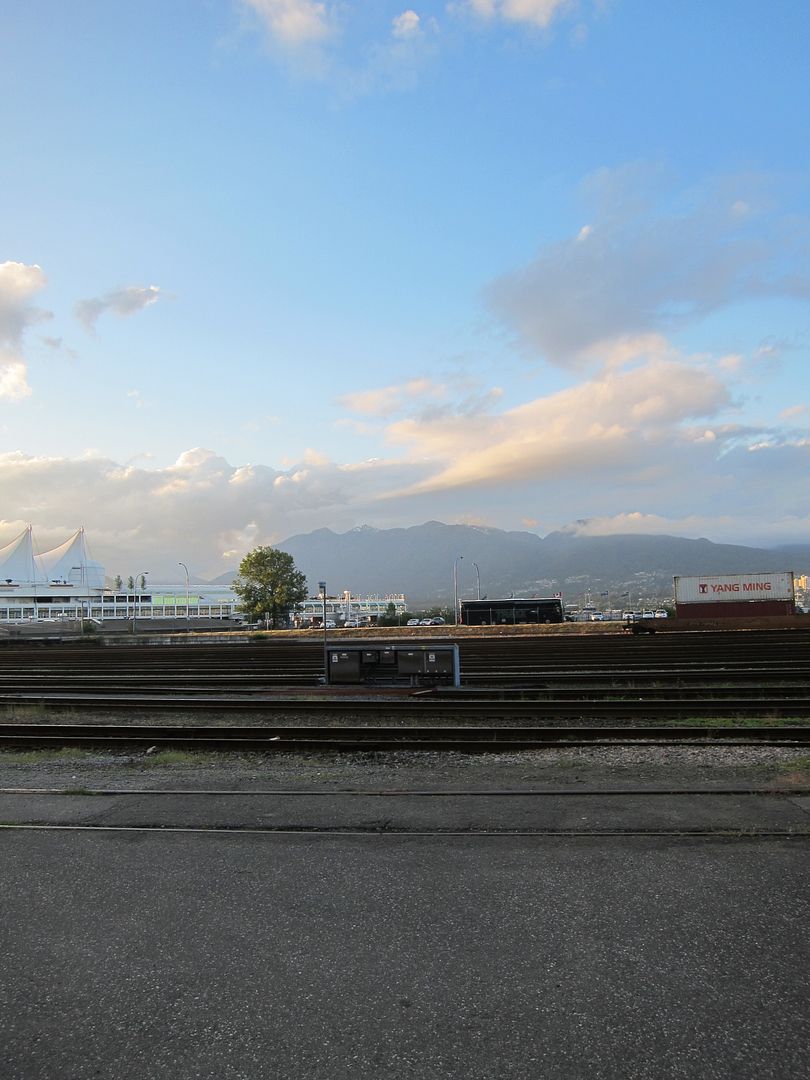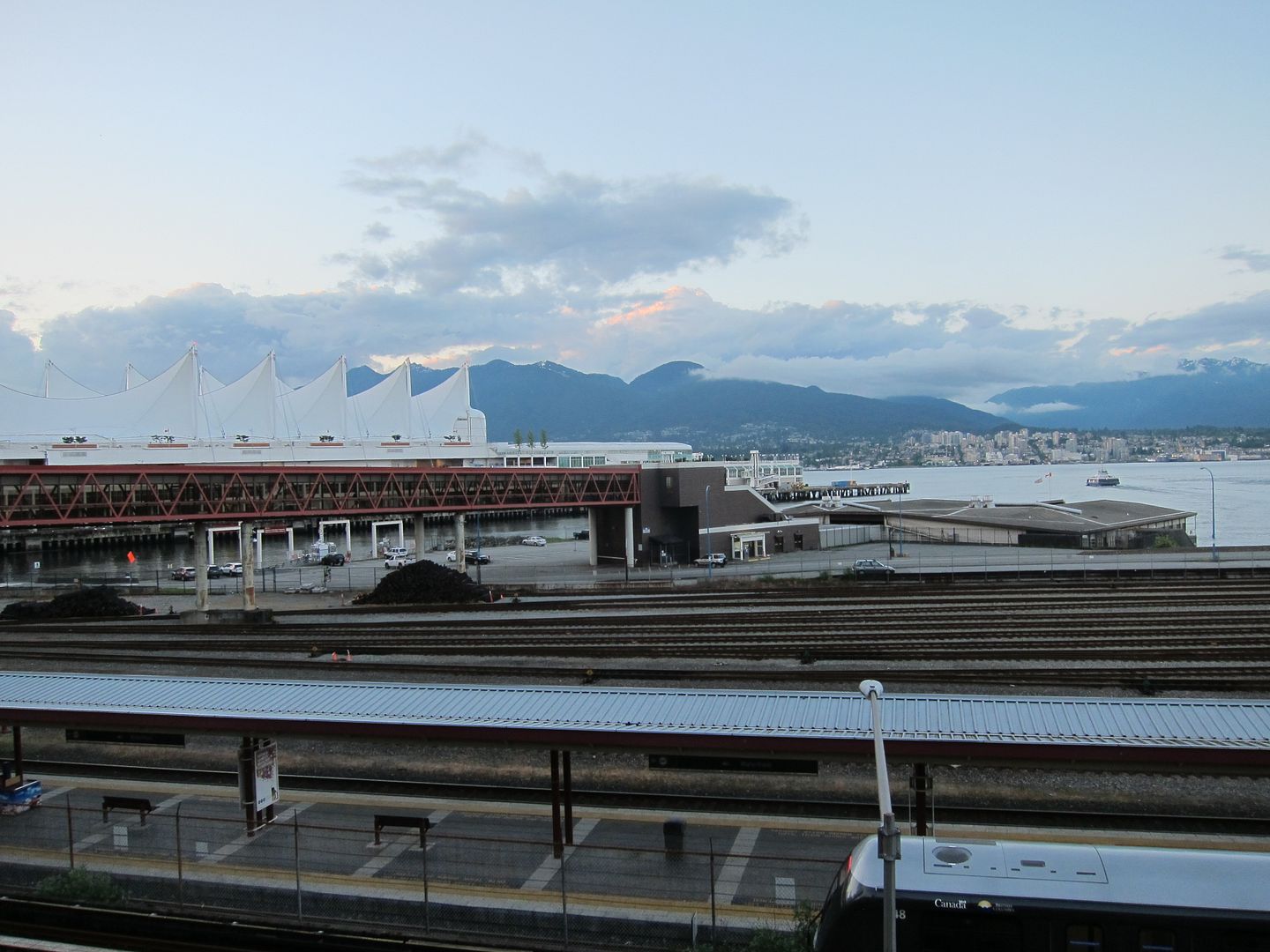 Heading back into Gastown, we poked into a few more stores (these were significantly more expensive than the ones in Chinatown had been!). Tracy found this awesome candy totem and thought about getting it, but decided just to pose with it instead.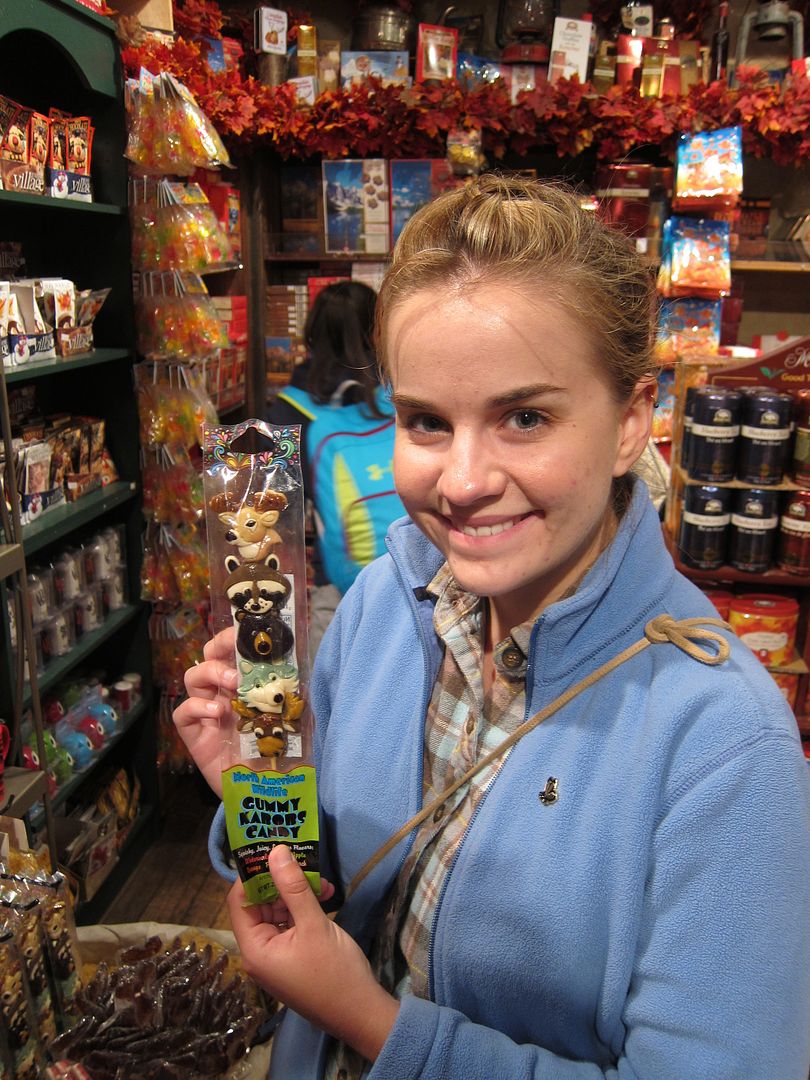 Finally, we started the long trek back to our apartment. Before heading back upstairs, we stopped in a Tim Horton's (because what could be more Canadian than that?) and ordered a couple donuts with maple frosting.
Our sweet tooths (sweet teeth?) satisfied for now, we went back to the apartment and started getting ready for bed before too long. We'd had an exhausting day on the whole, and we wanted to make sure we were well-rested before setting sail the next morning. We also knew we'd probably be too excited to sleep too well, but we tried our best.
Previous Post | Next Post
Table of Contents
Support the Wandering Mouseketeers and get yourself a little something! Do your online shopping via our Amazon link!
Follow



Share