Chapter 5
Ship of Dreams
---
Previous Post | Next Post
Table of Contents
As we headed down the hallway toward the gangway, we had the option of taking a "pre-cruise" photo, but we decided against it because we knew how expensive it was to purchase prints onboard. After a walk that wasn't too long, however, we turned the corner and found ourselves on the open-air bridge to actually board the ship.
Here was our view from the halfway point.
They do a good job of making it feel like you're walking through some sort of industrial walkway one moment before suddenly finding yourself in the atrium. It's quite a reveal, and it reminds me of how it feels to walk under the train station onto Main Street in the parks.
Anyway, you'll pardon the blurriness of the picture, but this was our next lovely sight.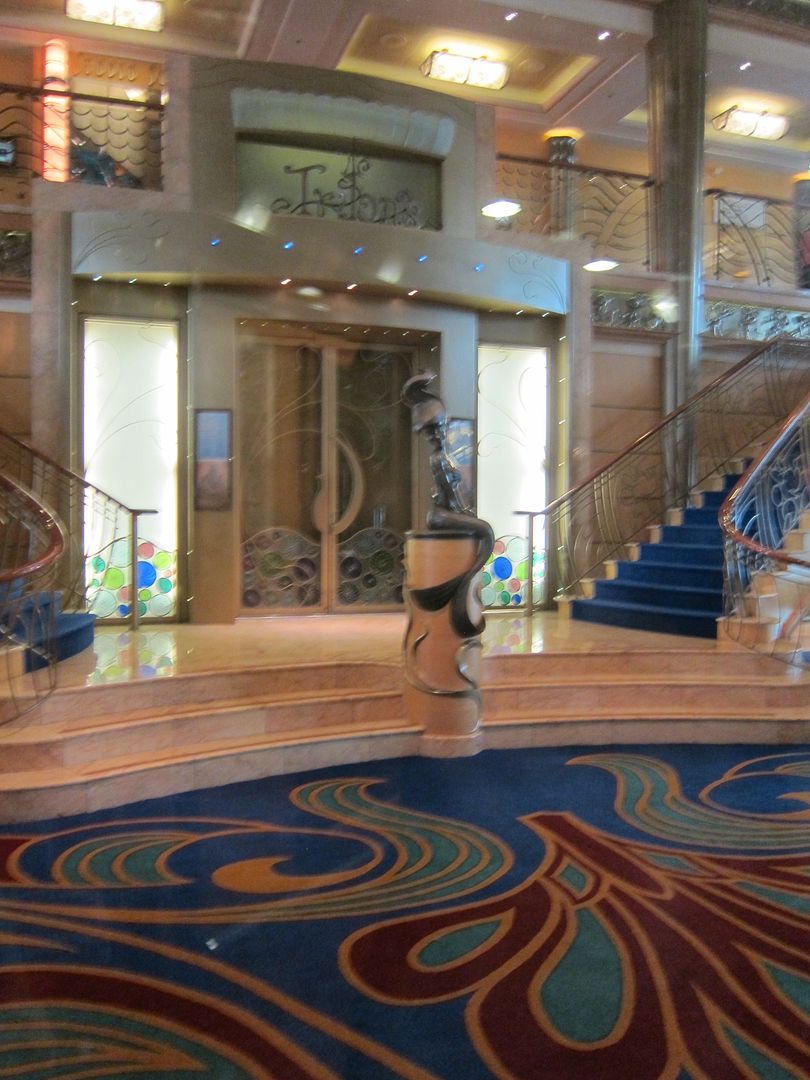 We had officially made it on board the Disney Wonder!!
There was so much that we wanted to explore, and we wished we could be in a hundred different places at one time. First things first, however, we started to make our way toward our stateroom. Now, I mentioned that we were in Room 8502, but what I didn't go into was the fact that this was actually an upgrade. Since we had booked the VGT category, we had no idea where we would end up. We were guaranteed a verandah, but it could have potentially been any Category 4, 5, 6, or 7 room.
After starting to check on our reservation every few days once we got to about 30 days out, we still didn't have a stateroom assignment as of three or four days before setting sail. Then Tracy randomly happened to check one last time on Thursday afternoon before leaving work for the airport, and we found out we were in 8502. Here's a partial map of Deck 8 showing our location for those who are as unfamiliar with the layout as we were.

We were psyched about being on Deck 8 because we figured the higher the deck, the better on this scenic cruise. We didn't know how to feel about being so far forward on the ship because I'd read about the extremities of the ship potentially being more likely to cause seasickness (and we had no idea if that would be a problem for either of us), but we looked up the stateroom online and read several very positive reviews. We also happened to find a YouTube video of someone giving a tour of our exact stateroom, so that was nice as well.
Of course, the most exciting part of this assignment was that we had gotten a Category 4 room, which is the largest you can get on the Wonder without moving into the suites. Our room would have an extra little sitting area with a chair and a trunk for extra storage. It clocked in at 304 square feet, which is 36 more square feet than the other verandah rooms (or about 200 fewer square feet than our last New York apartment).
As we tried to find our stateroom, we were absolutely "those people" who have no idea how to navigate the ship—especially the elevators!—and it took us a lot longer than it should have to get to our quarters. When we finally made it, we waved our Key to the World cards in front of the RFID sensor (how awesome are those when compared to swiping hotel room keys??) and got the first glimpse of our new digs.
I already had a surprise waiting when we first opened the door. Tracy had made me go busy myself elsewhere for a few minutes at the airport while she had called DCL to see if she could add a last minute gift to the room, and she had ordered the "Romance for 2" package for us since we were celebrating our anniversary.

When we walked in, our robes were waiting for us on the bed alongside a rose.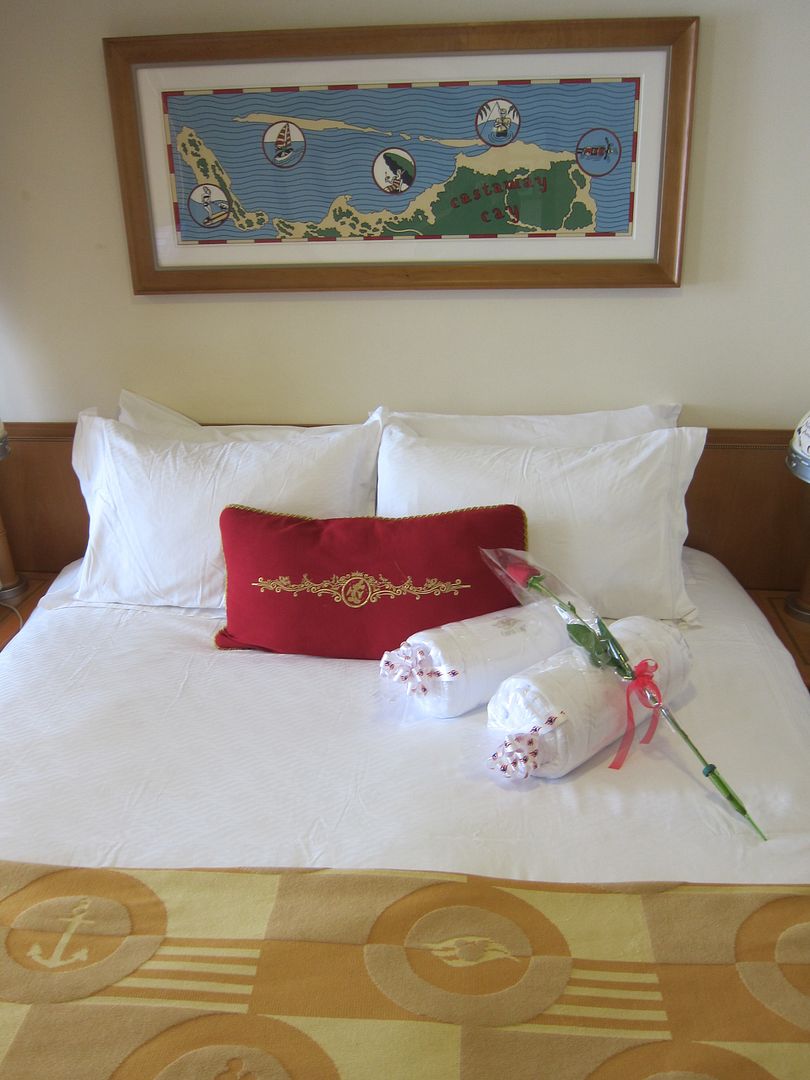 We immediately set to work making ourselves at home and exploring our stateroom.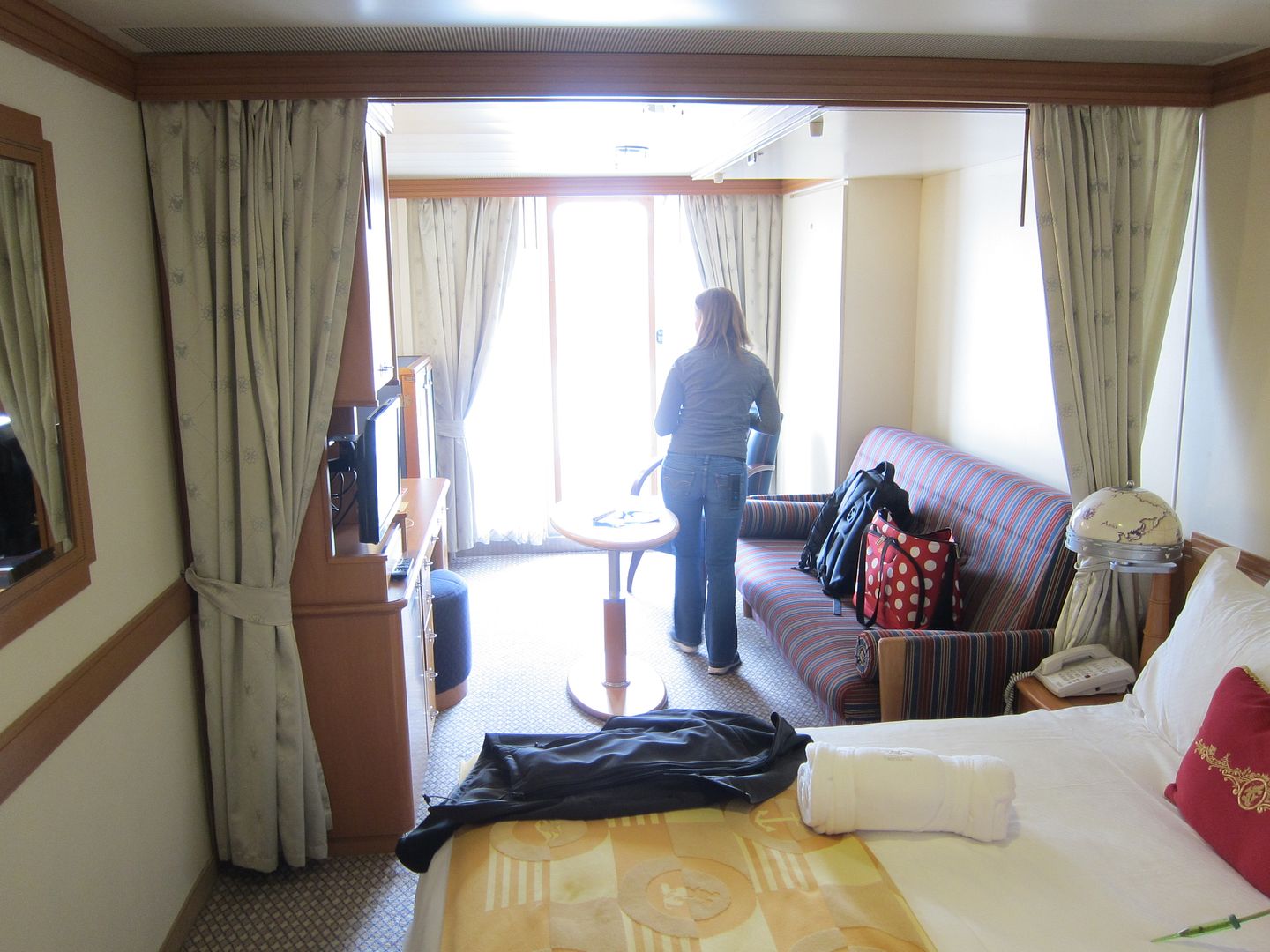 Our actual luggage hadn't made it to the room yet, so we couldn't unpack, but we took in all the different areas of the room as well as some of our favorite touches.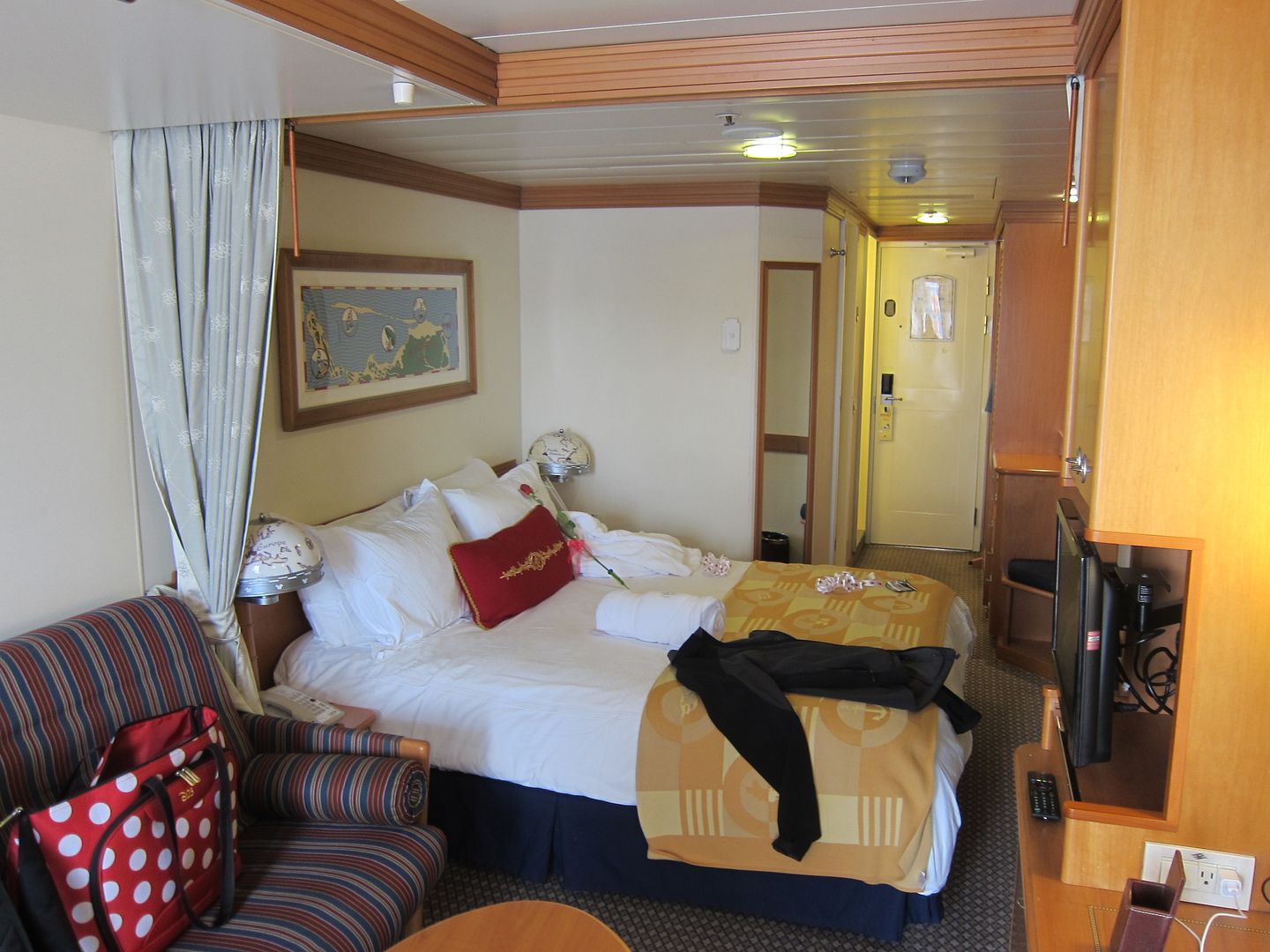 The artwork is awesome—especially the Marc Davis Pirates of the Caribbean art.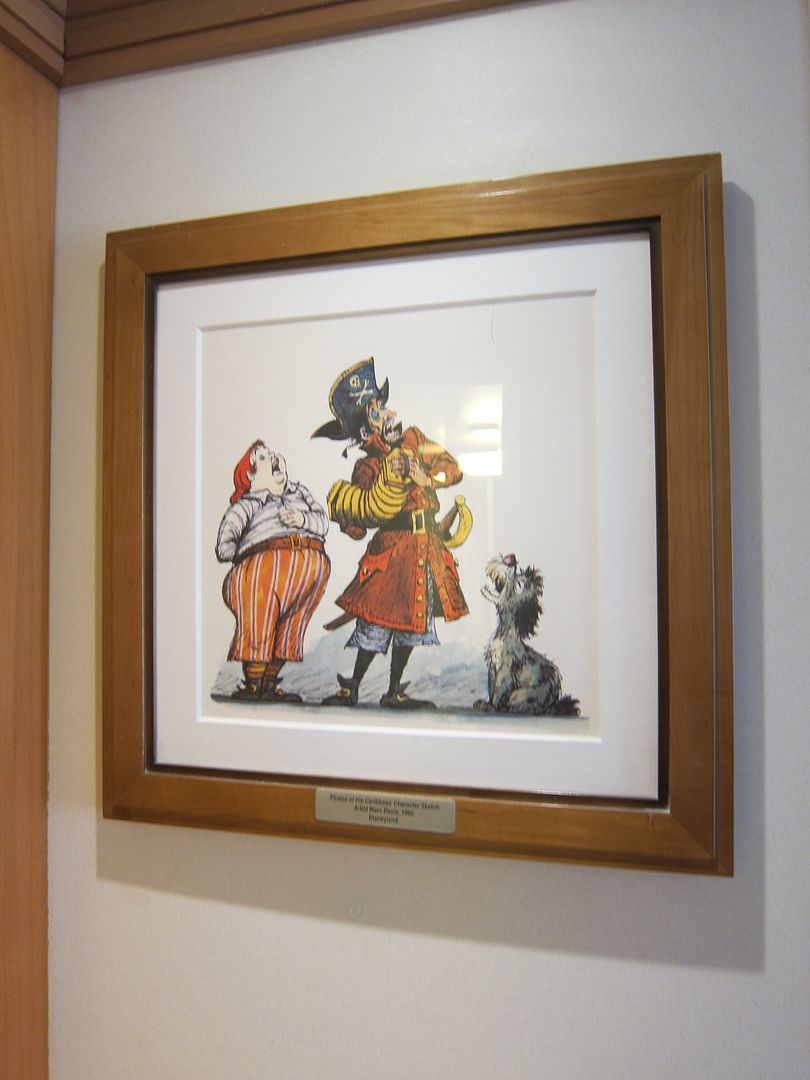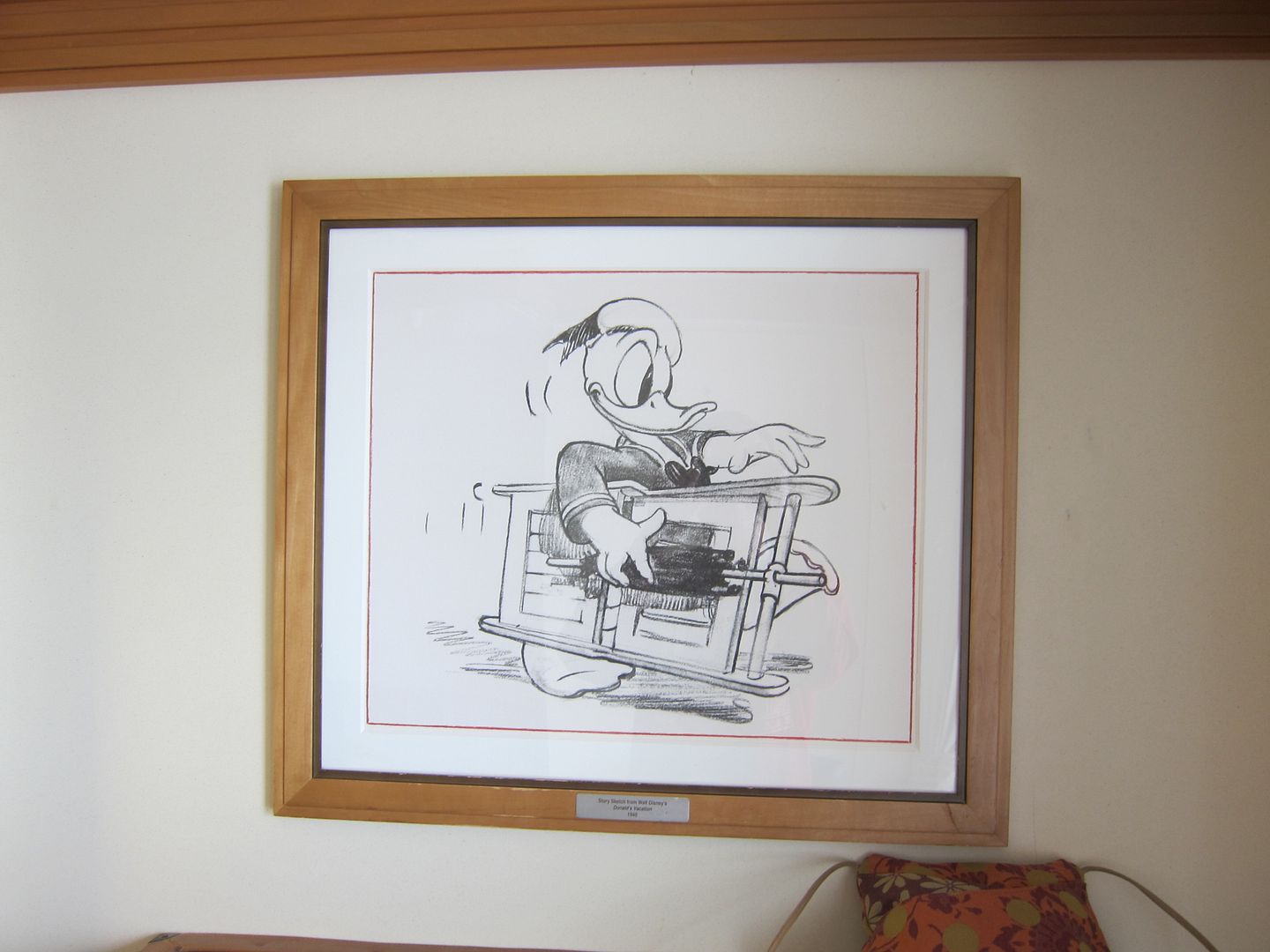 We were excited for the split bathroom, and especially psyched that our "family stateroom" had a shower with a tub instead of just a stall shower. We wouldn't be using it to take any baths, but I think it was definitely bigger than the standard showers.
Of course, the part of the room we were most excited for (and had paid quite a bit extra for) was the verandah itself. We poked outside and were so happy with the size, location, and view.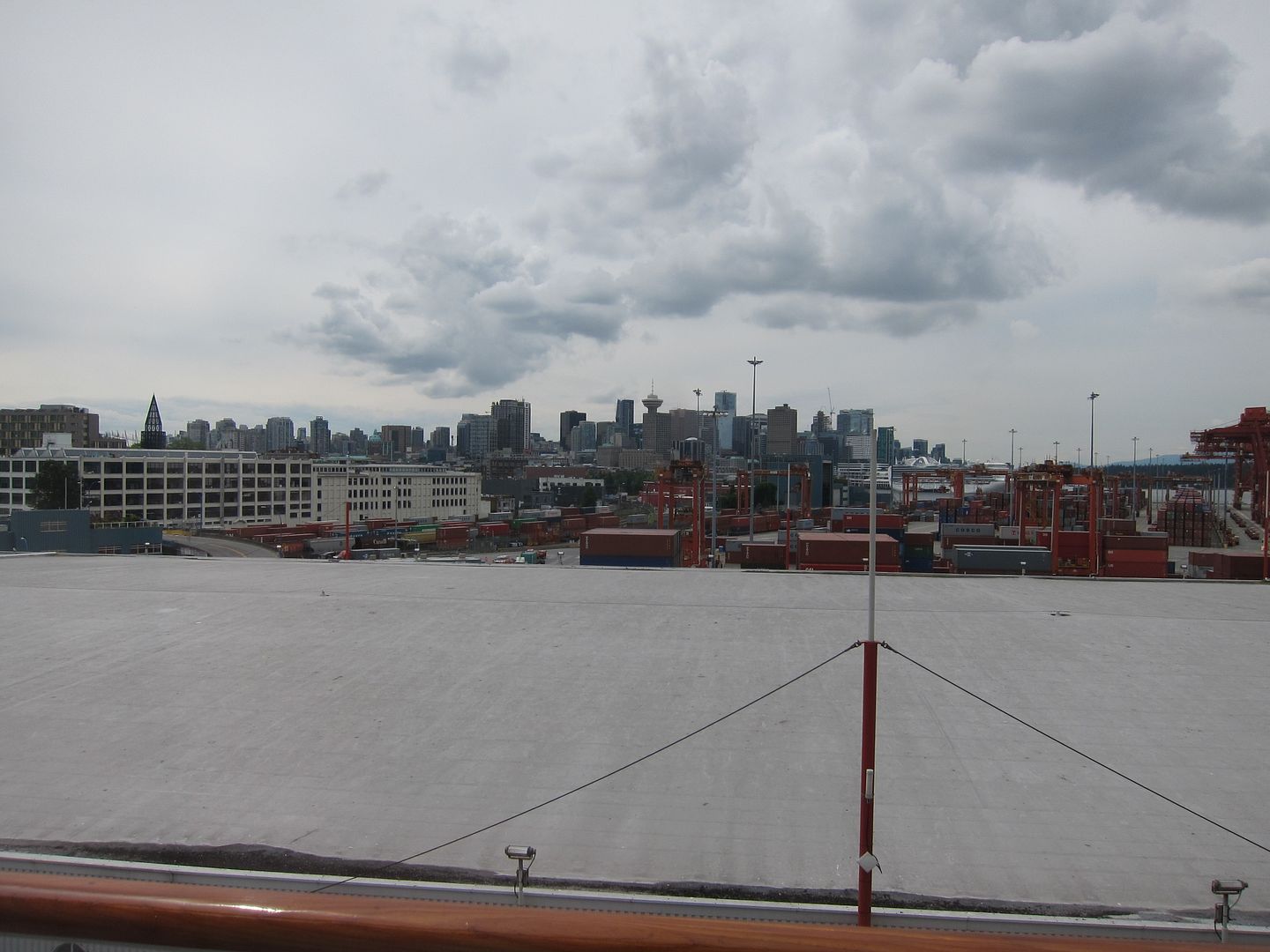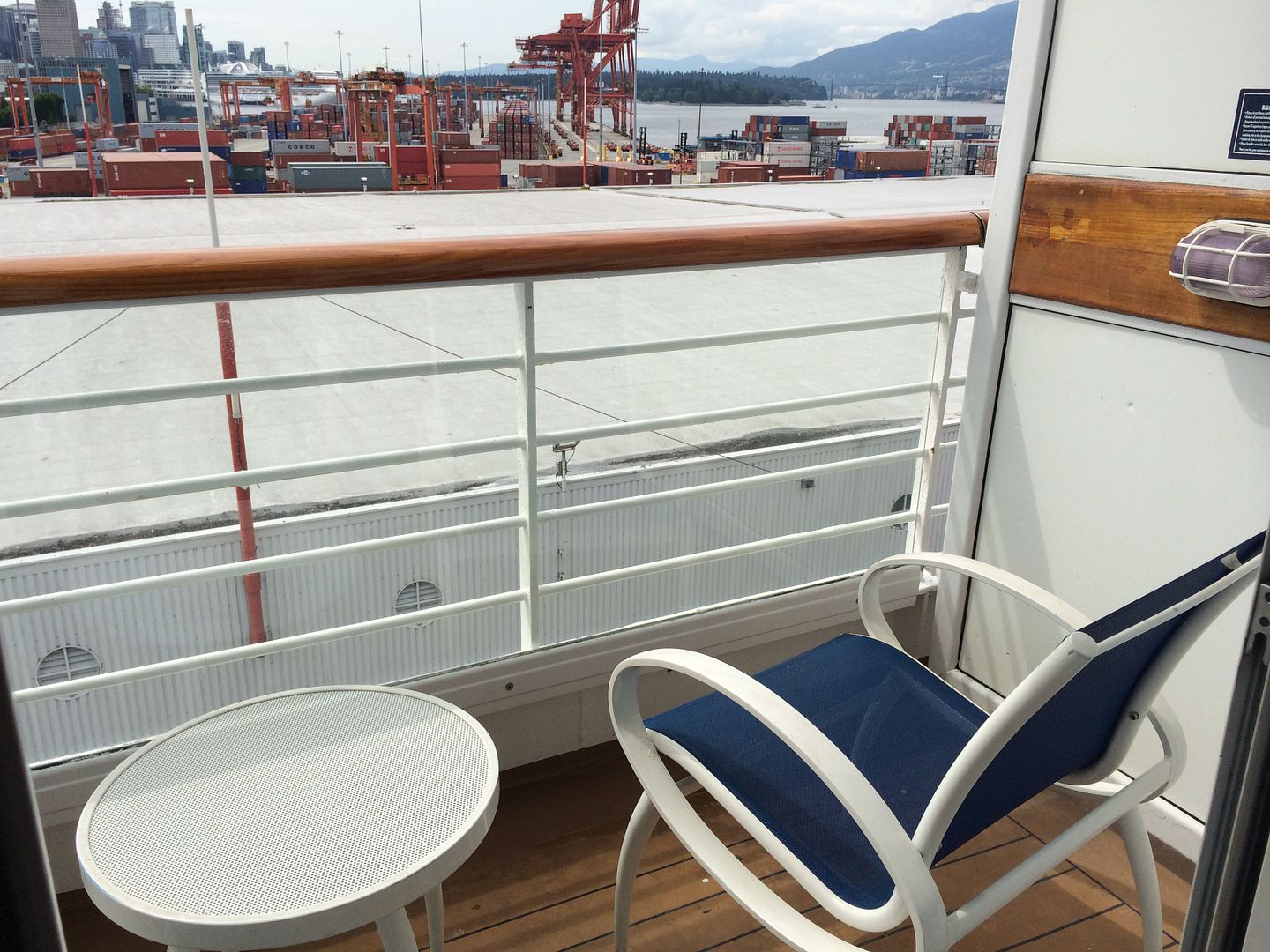 This photo taken from the verandah into the stateroom gives you an idea just how large it actually feels.
We poked around a little more and found our instructions for the muster drill as well as our lifejackets (which we hoped we wouldn't be needing).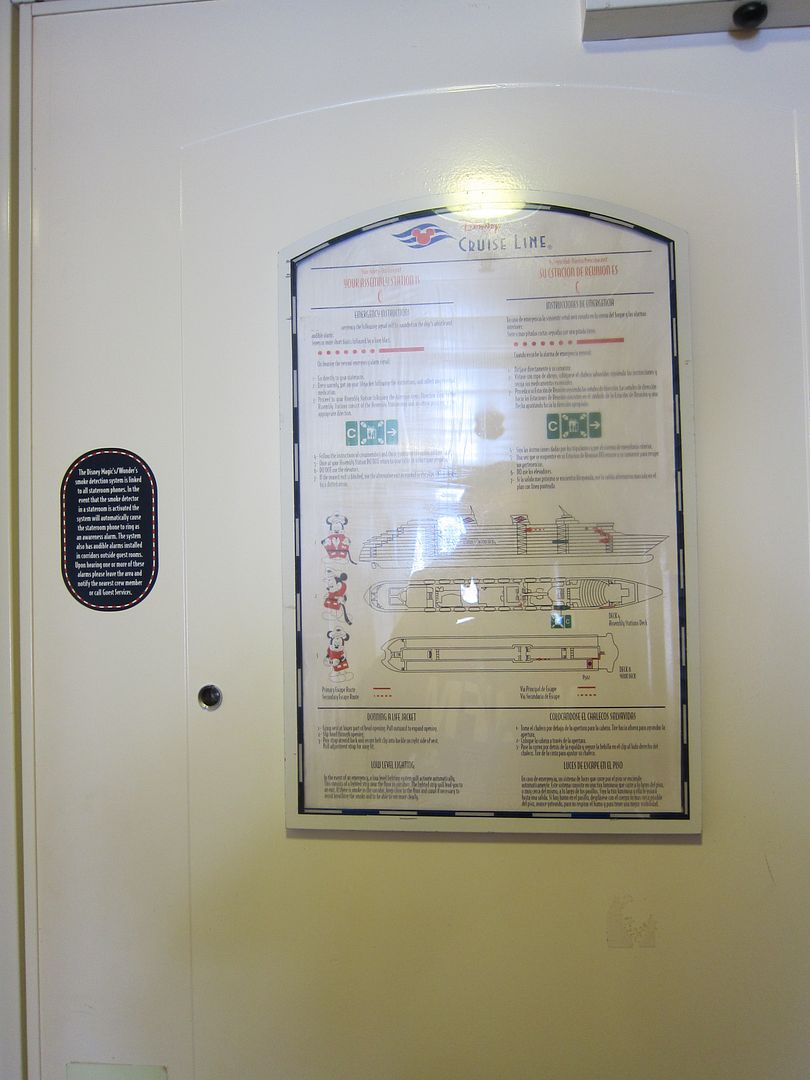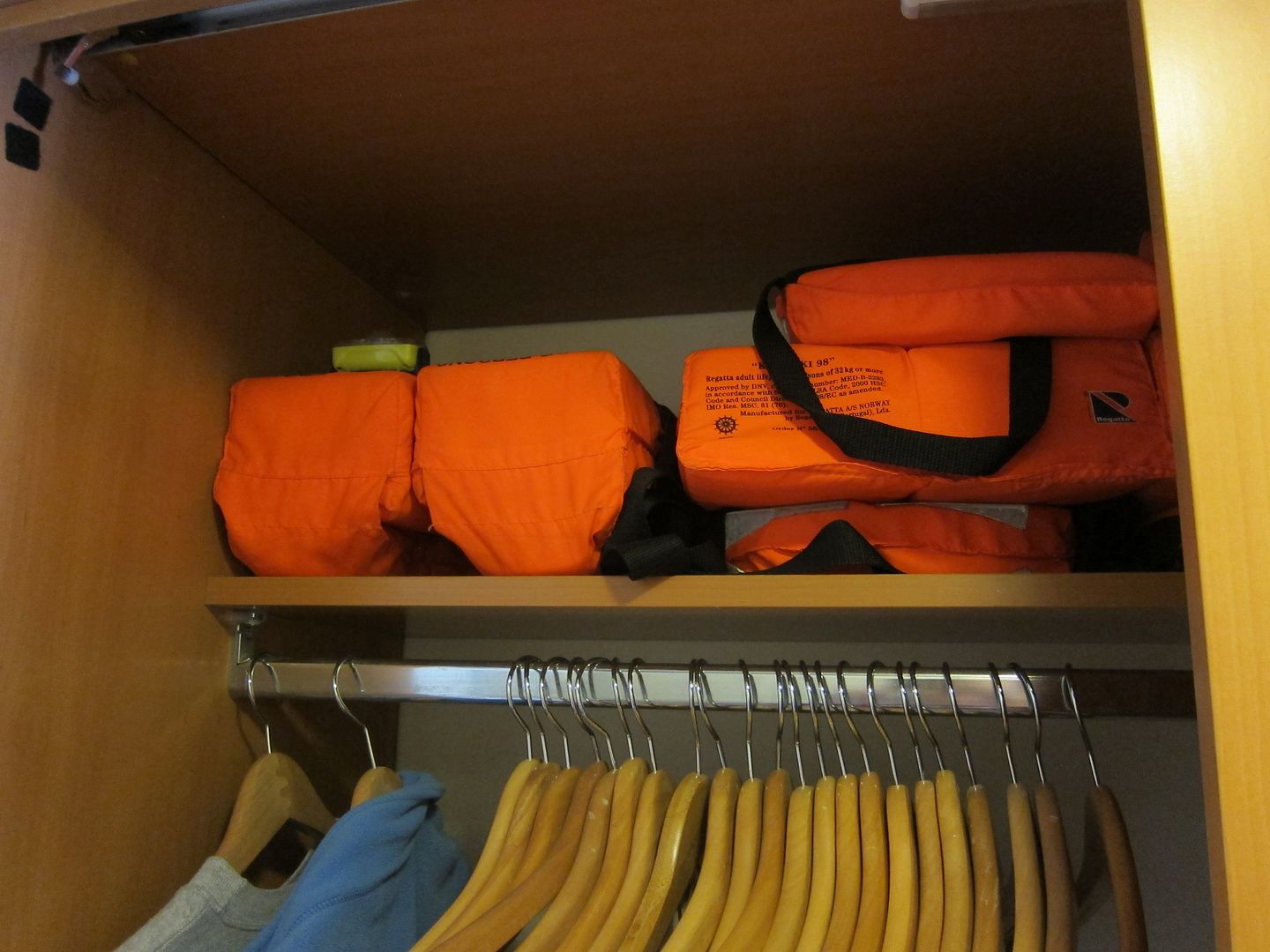 Now that we felt accustomed to our new home for the next nine nights, it was time to start exploring the ship. Of course, we were also starving by this time (it had been HOURS since lunch, after all), so our first stop would need to be someplace where we could sate our appetites.
Previous Post | Next Post
Table of Contents
Support the Wandering Mouseketeers and get yourself a little something! Do your online shopping via our Amazon link!
Follow



Share