Chapter 6
Adventures Away
---
Previous Post | Next Post
Table of Contents
Before I get too much further, maybe now is a good time to insert some images from our first Personal Navigator. In addition to clicking the images below to enlarge them, you can also click here to see an entire page devoted to the Day One Navigator.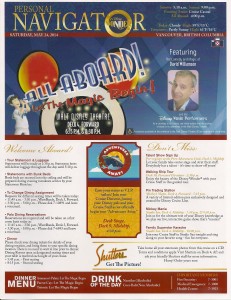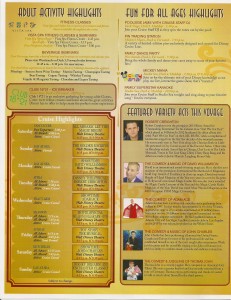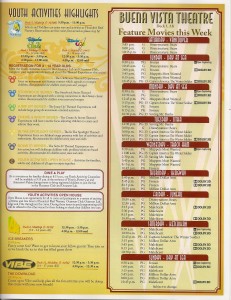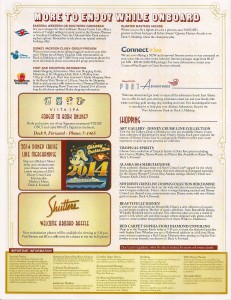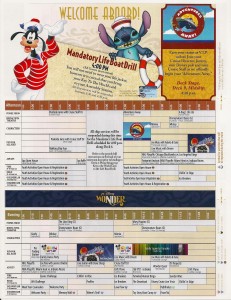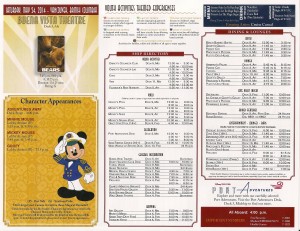 Now, we'd checked the times for some of the upcoming activities and had an idea what we planned to do this afternoon, but right now, we needed to get some food. Heading up to Deck 9, we made our way back toward Goofy's Galley. Tracy spotted a Shrimp and Cilantro Wrap that she thought looked good, and I ordered a Bacon and Brie Panini. We also both started with some pineapple (because we were TRYING to be healthy for at least the first hour or so on board).
Now, I hate to disappoint, but these are literally going to be some of the only food pictures I took throughout this entire trip. We had such an abundance of quick service feedings that it would have been too ridiculous to take pictures every time, and I just didn't want to be "that guy" when we were eating our communal dinners. So I'll let you know what we ate throughout the cruise (as well as I remember), but don't expect too many photos.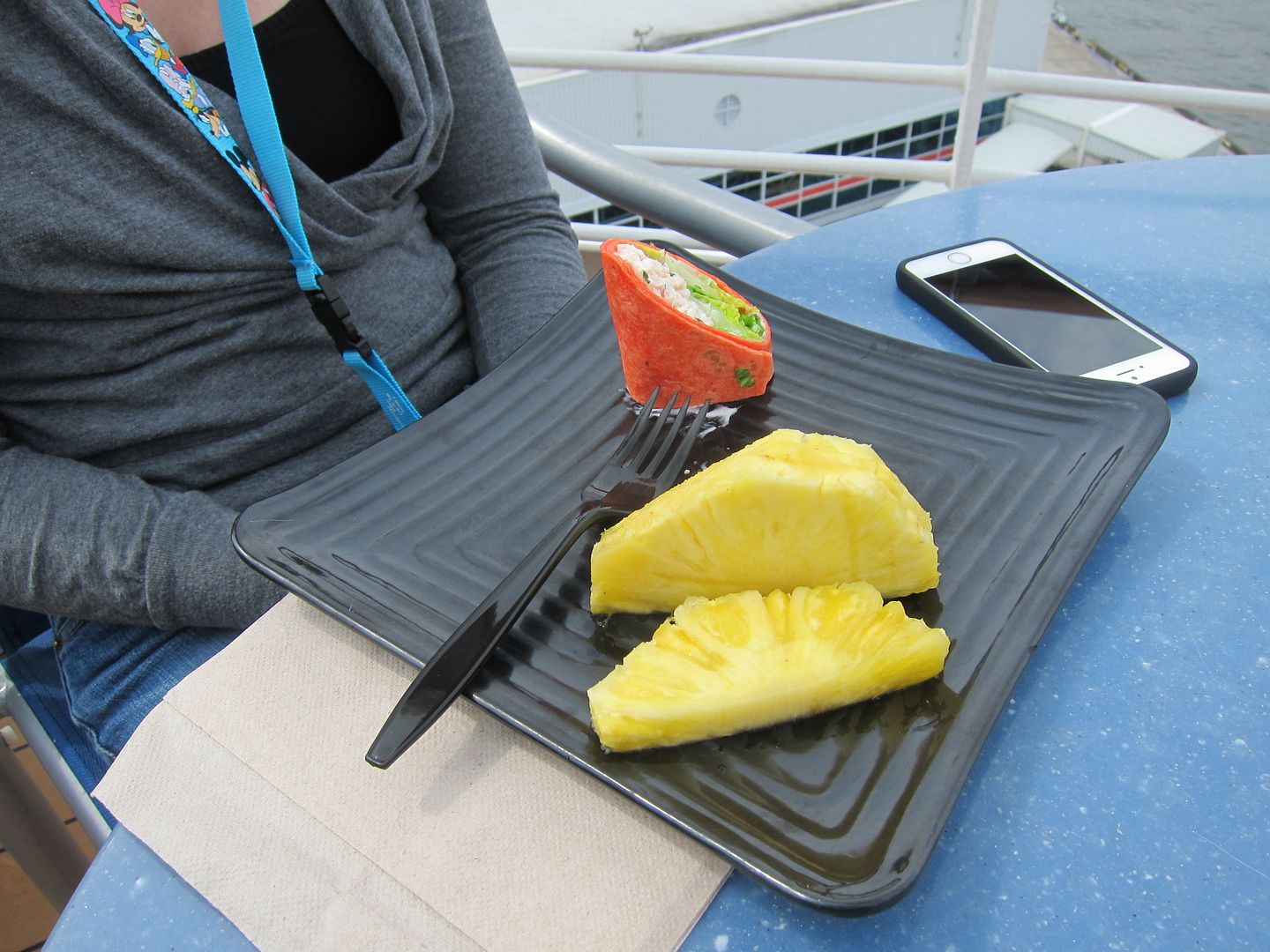 My panini was pretty decent, and Tracy didn't have anything bad to say about her wrap—which is all pretty high praise at one of the onboard quick service options. The pineapple was also quite refreshing.
Our appetites appeased for now, we started wandering Deck 9 and surveying all the great views of Vancouver (especially those from the ship's stern).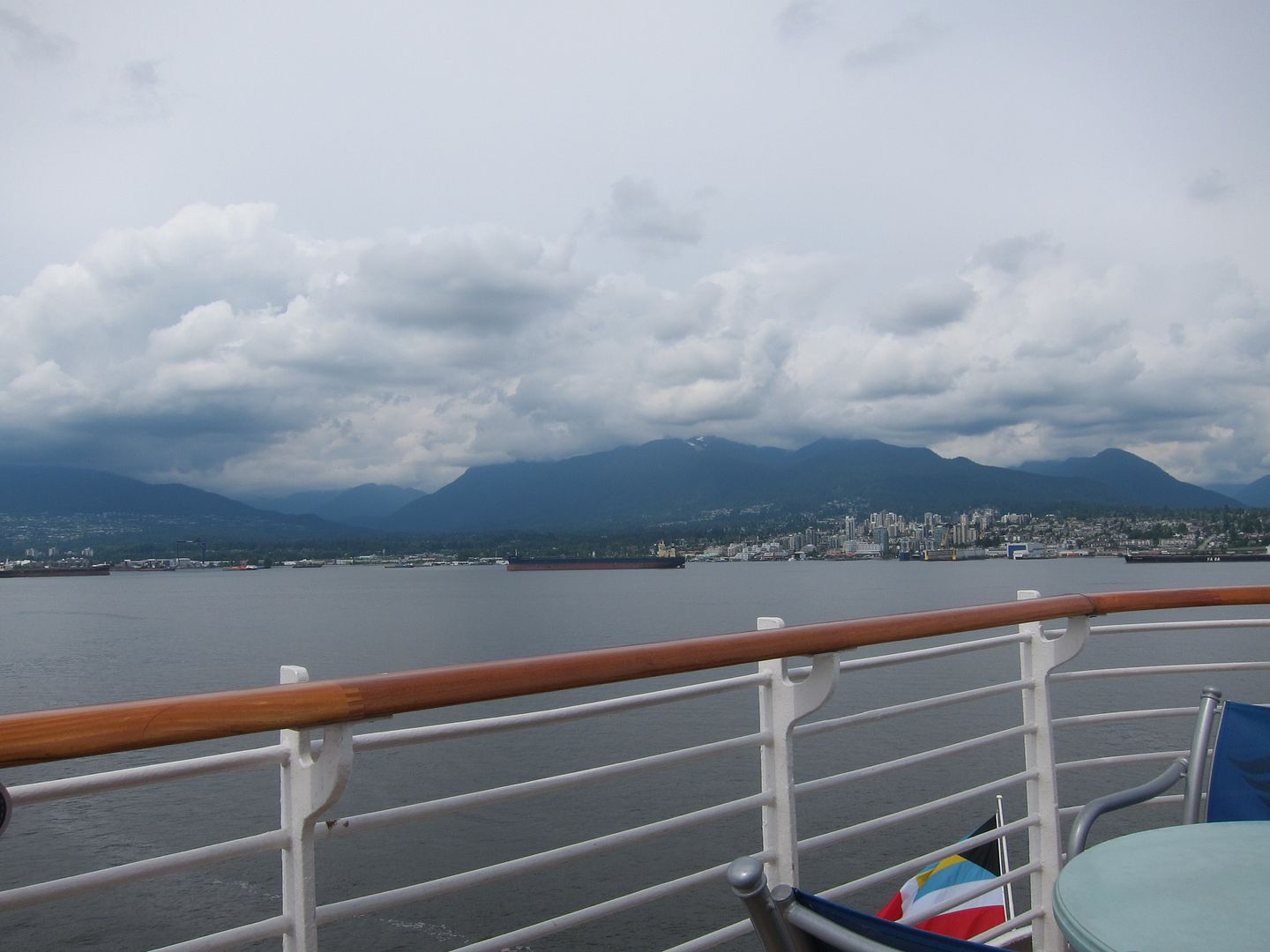 Once we got as far aft as we could go, we realized that Beach Blanket Buffet was still open, so we ended up peeking in there and grabbing a few desserts from the buffet line. "Healthy" was officially out the window.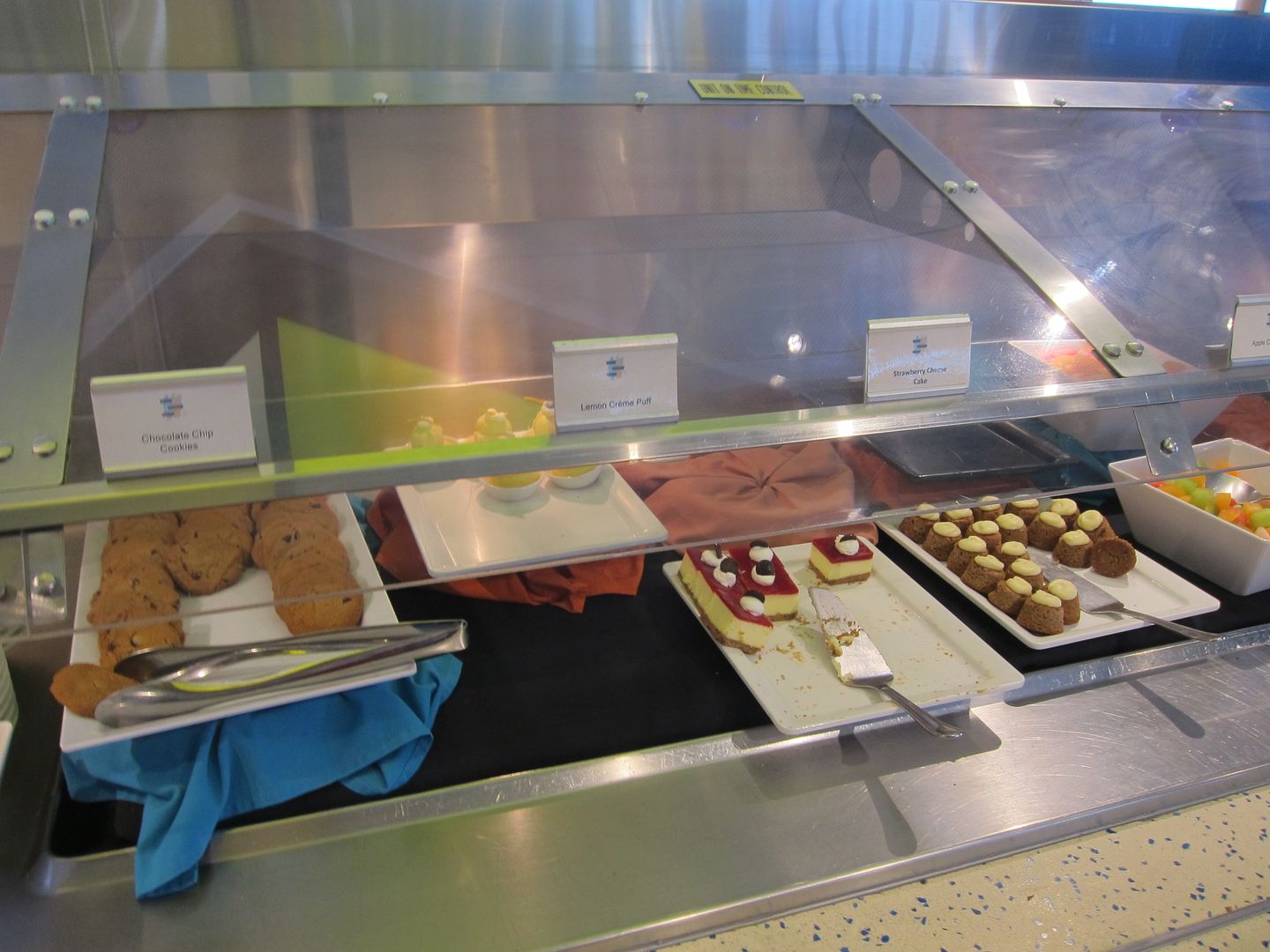 We sat out on deck to eat, enjoying the fact that it was somehow 70 degrees and sunny on a Vancouver day that had been forecasted to be much cooler and overcast—hey, we weren't complaining.
After finishing our desserts, we started roaming around Decks 9 and 10, surveying areas of the ship that we hadn't seen yet. Here was the Mickey Pool, which actually had a few brave swimmers.
One of the funnels with it's lovely not-so-hidden Mickey.
The Quiet Cove Pool. You'll notice the adults weren't as quick to go swimming.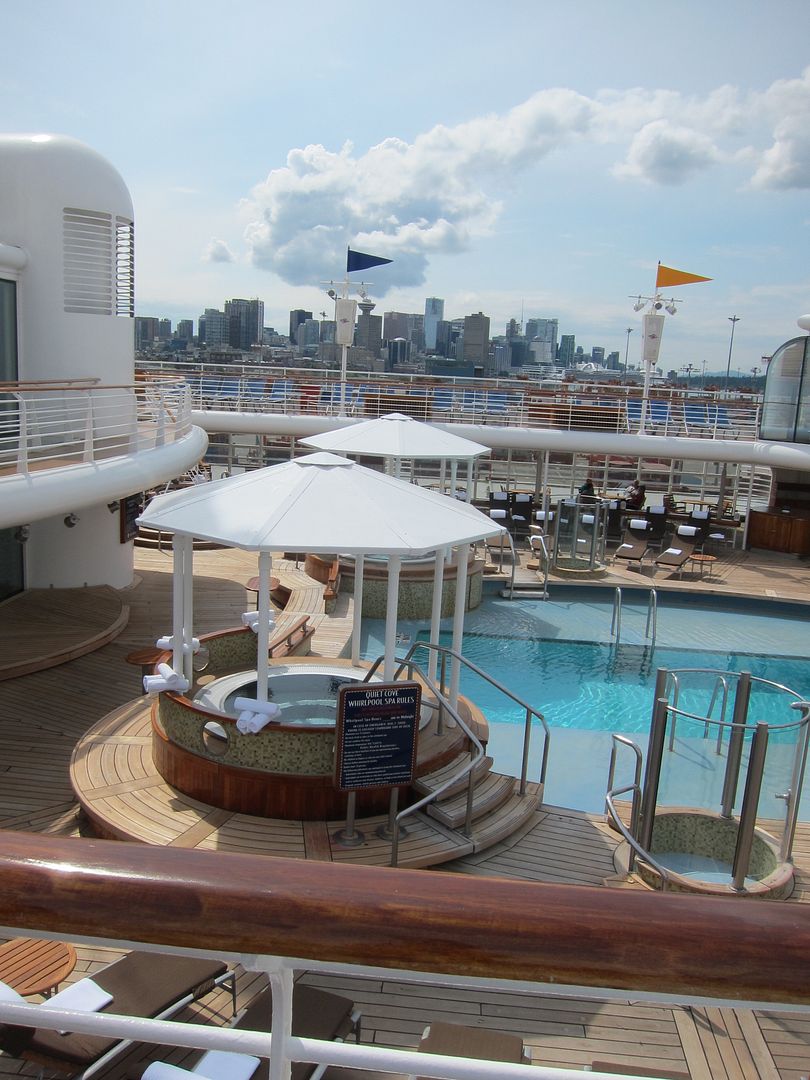 Another funnel and the view of Outlook Cafe from the outside.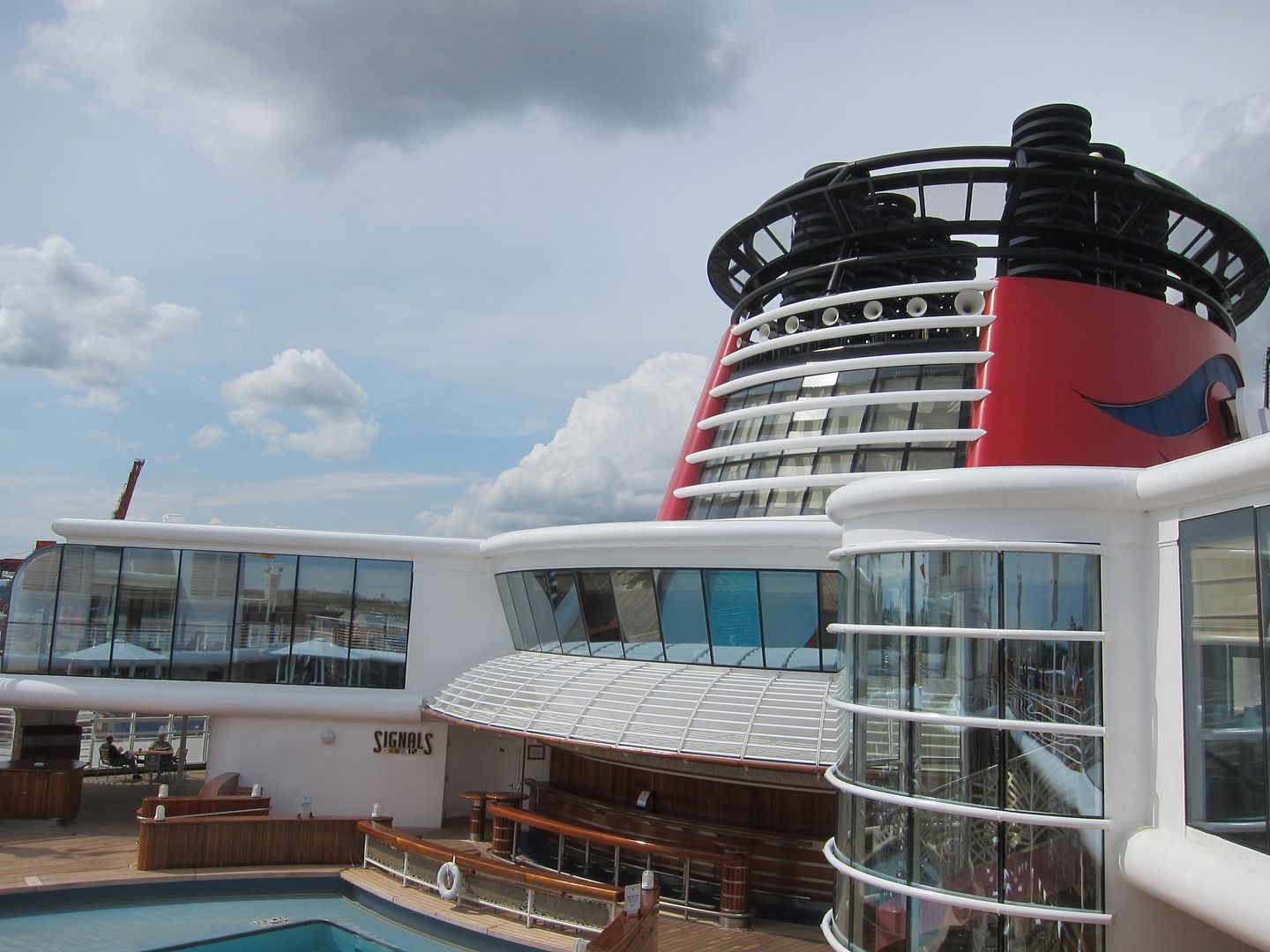 And here were the two of us, thoroughly enjoying all the views.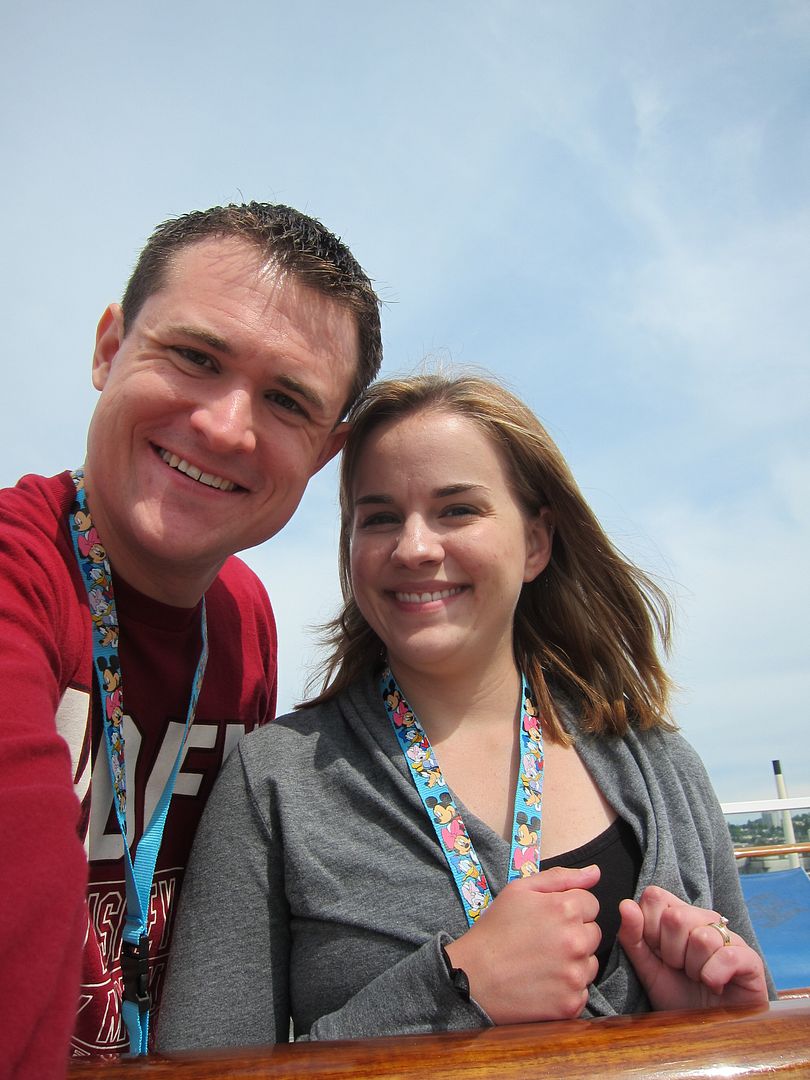 At this point, it had gotten to about 3:30, and we hurried down to the Vista Spa because we thought we'd seen that they were doing the spa raffle at this time. Of course, when we asked the cast members, it turned out it had actually been at 3:15 and they'd just finished up… Oops.
Since we were there, we decided to take the guided tour of the spa to see what all the fuss was about. We got shown all the private treatment rooms as well as the famed Rainforest Room. Tracy and I agreed that we would LOVE to get a couple's massage on board—but we sure as hell weren't about to shell out upwards of $500 for that perk. Honestly, we're not the sort of people who are willing to spend big bucks on spa treatments. Sure, we'll get a massage if we have a Groupon or some other deal, but we try never to pay full price. Even the Rainforest Room, while somewhat tempting, didn't appeal to us enough to justify its (admittedly reasonable) cost. We enjoyed seeing the spa, but we doubted whether we'd be back during this cruise.
Now that we had spent a little while checking out the amenities of the ship, it was time to return to our stateroom and figure out what we needed to do for the 4:00 life boat drill. We checked the map to see where our muster station was and we half watched the little featurette on the TV about what to do in case of an emergency. Then we made our way to Deck 4 with plenty of time to spare before the actual alarm would sound to indicate the beginning of the drill.
Our assigned location was muster station C, and we weren't the first ones to show up and start getting in line.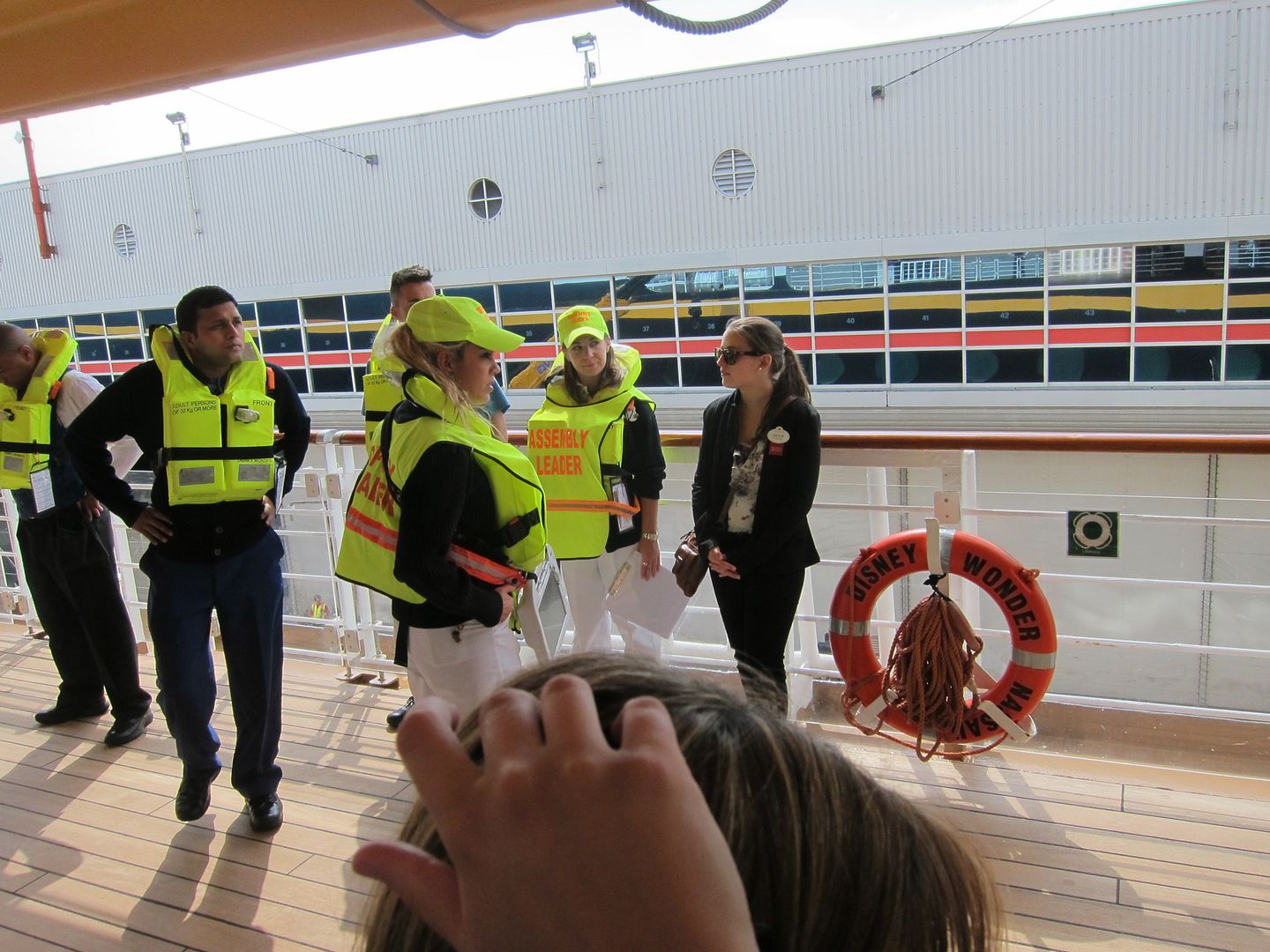 They cast member in charge tapped our Key to the World cards to check us in and then told us where to stand.  I honestly wish that they still made everyone don lifejackets for these drills. I think it would have been fun to see everyone looking dorky in the bright orange, and we could have gotten some great pictures… Instead, the cast members were the only ones who got to practice the full effect.
We noticed just how many folks in the cast were still in training on this cruise. It seems that our sailing was a big transitional cruise, so lots of people were just starting their Disney journey and others were about to get off the ship.
Once 4:00 came, the rest of the stragglers were told to get on deck to check in, and we were released before too long. Tracy and I headed upstairs to Deck 9 so that we could find a good spot for the Adventures Away party.
We found the party when it was just getting started. The crew that we would later come to know as the cruise staff were leading a festive dance.
Tracy was really jealous that lots of the children on deck had ribbons that they were waving in the air, so she sent me on a mission to find some.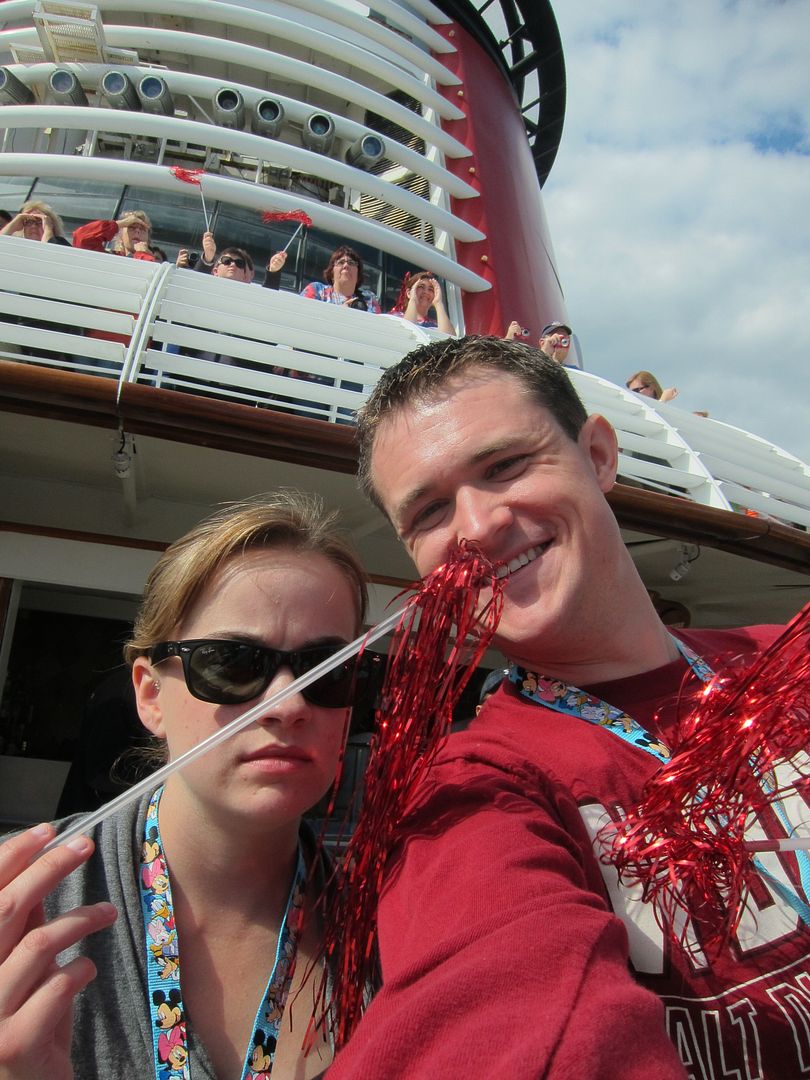 After the cruise staff finished their portion of the celebration, they welcomed some of our favorite friends. It was the first character sighting of the trip!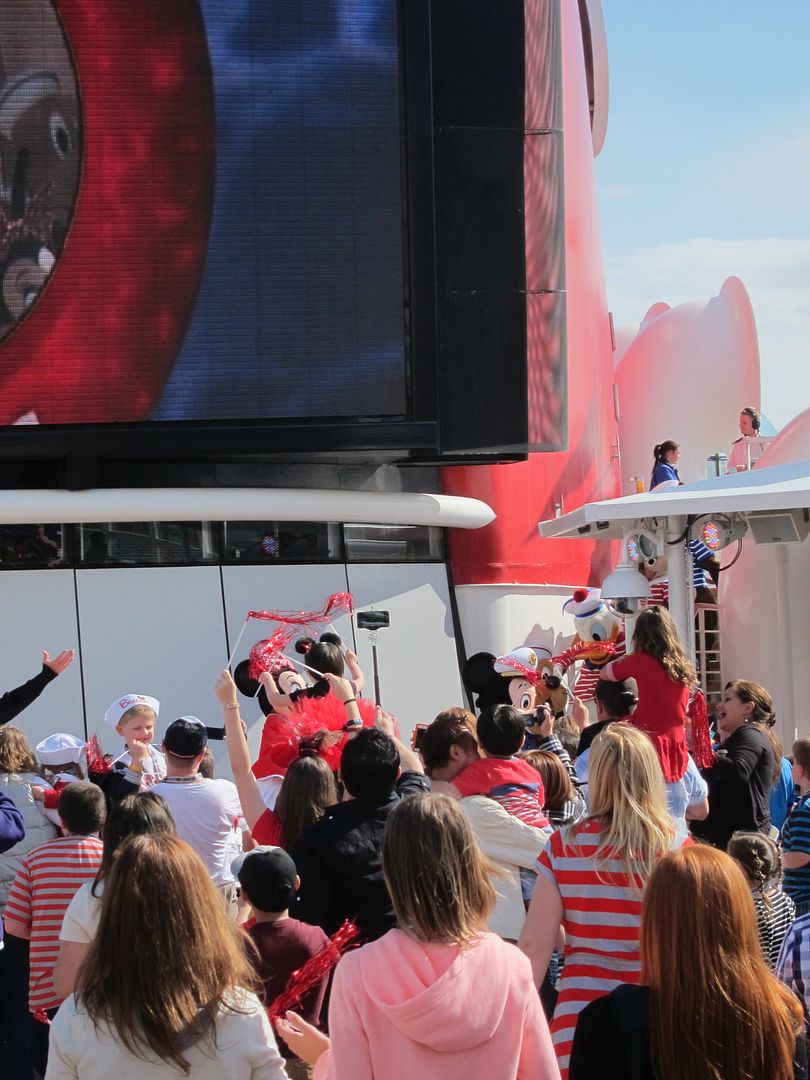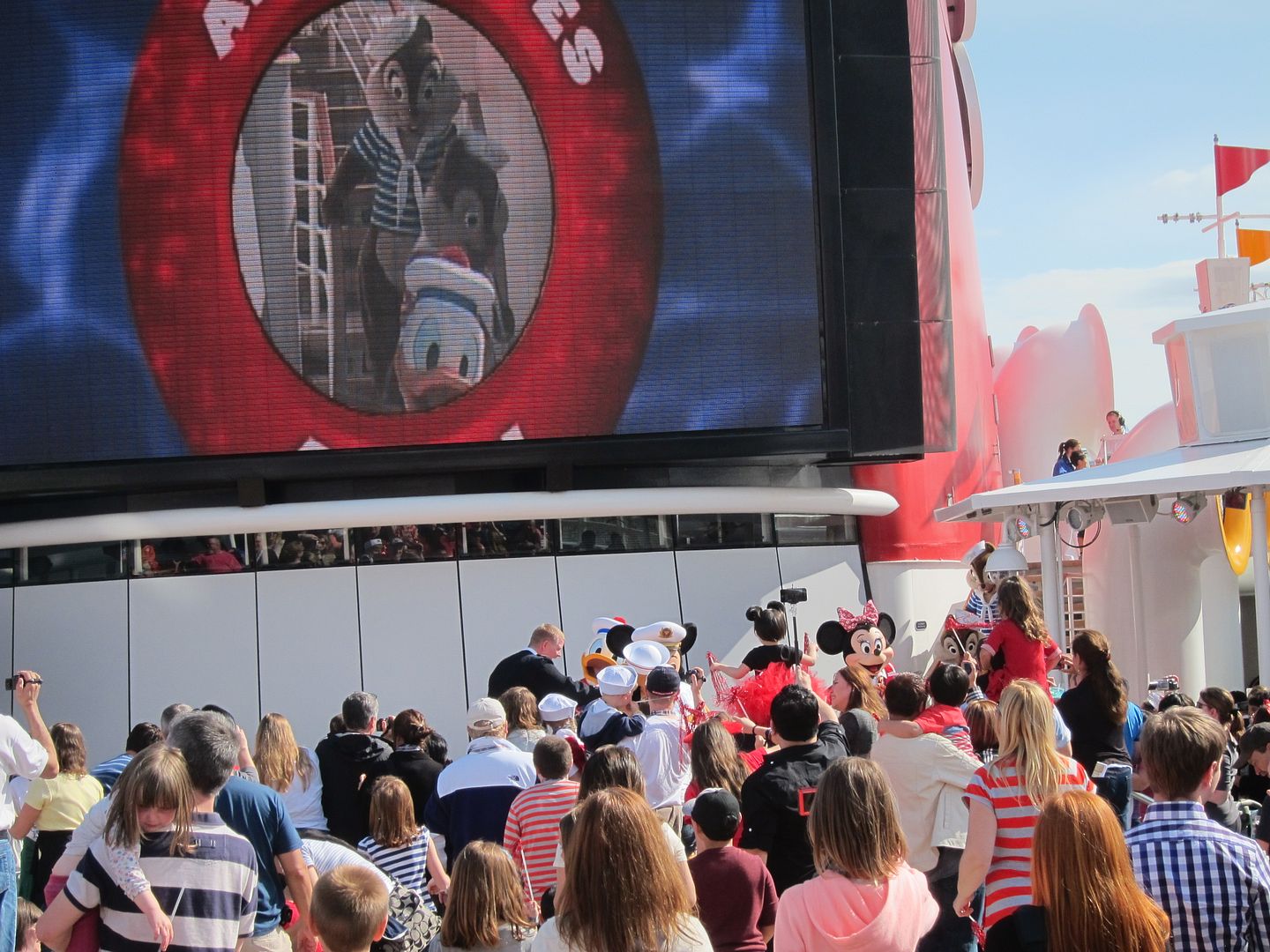 Led by Mickey and the gang, we counted down until the cruise was "officially" underway. When we got to the end of the countdown, the infamous "When You Wish Upon a Star" horn blew to welcome us aboard. We knew this was actually a special occurrence because they aren't allowed to blow the horn very many times on the Alaska sailings.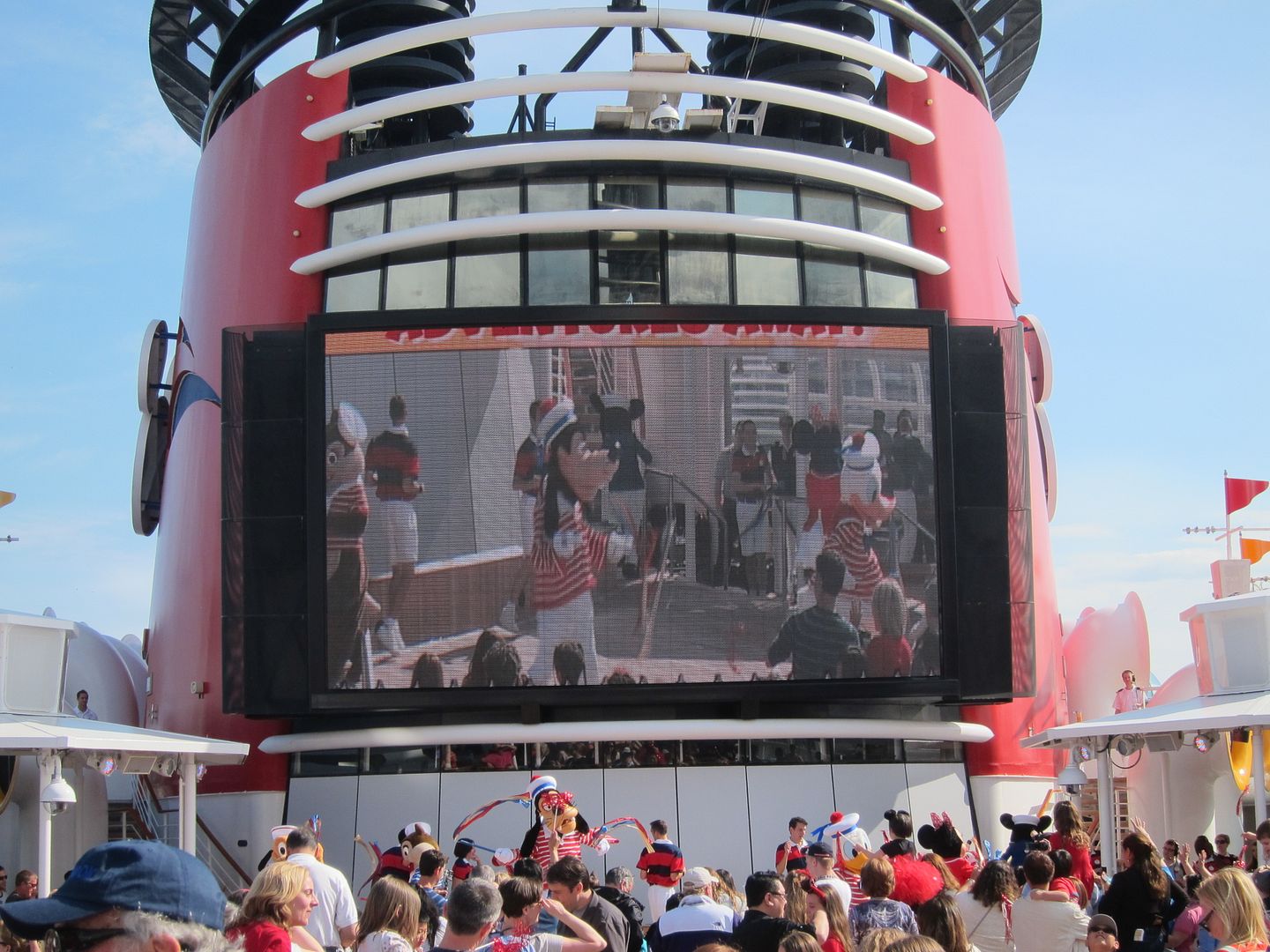 Our pals departed, leaving the deck to start clearing, so Tracy and I headed back downstairs to our stateroom. We hadn't actually cast off just yet, but it was clear that our adventure was about to really get underway.
Previous Post | Next Post
Table of Contents
Support the Wandering Mouseketeers and get yourself a little something! Do your online shopping via our Amazon link!
Follow



Share