Chapter 7
Setting Sail
---
Previous Post | Next Post
Table of Contents
After the party, we grabbed some soda at the machines by Pinocchio's Pizzeria and then went back to our stateroom, where we immediately headed out onto the verandah.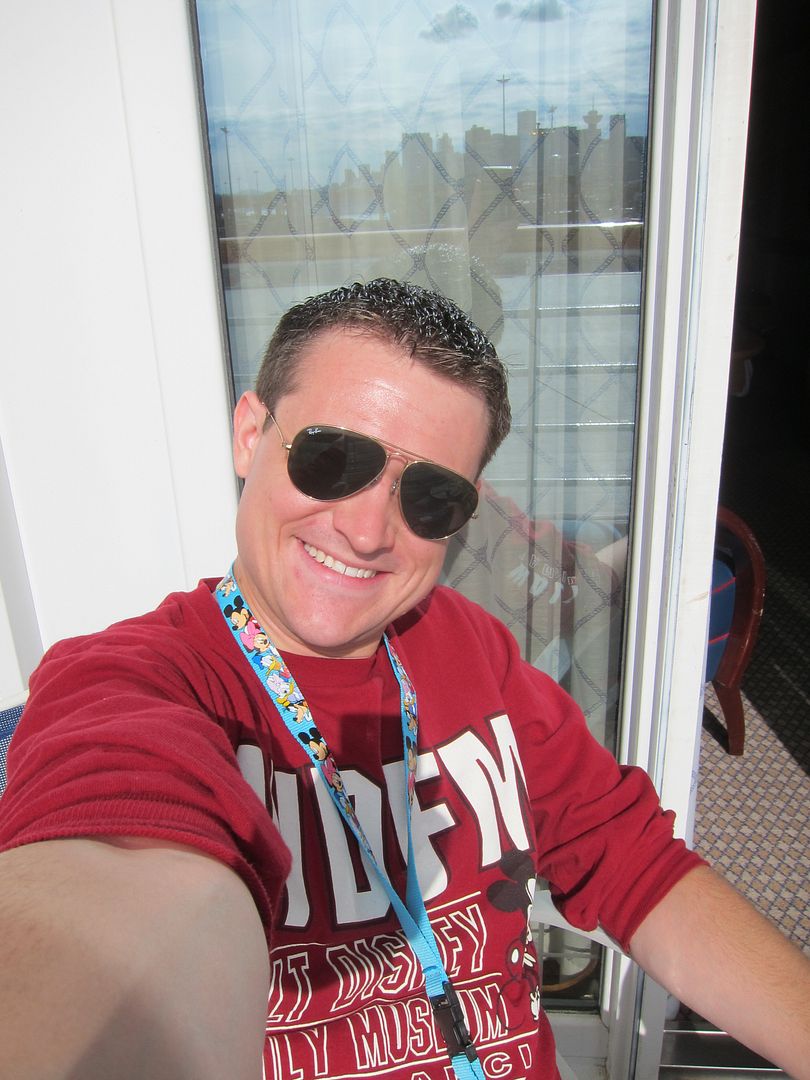 The ship was still stationary, but it was clear that it was getting ready to set sail. Most of the gangways were gone when we looked overboard, and we no longer saw a steady stream of luggage making its way on board.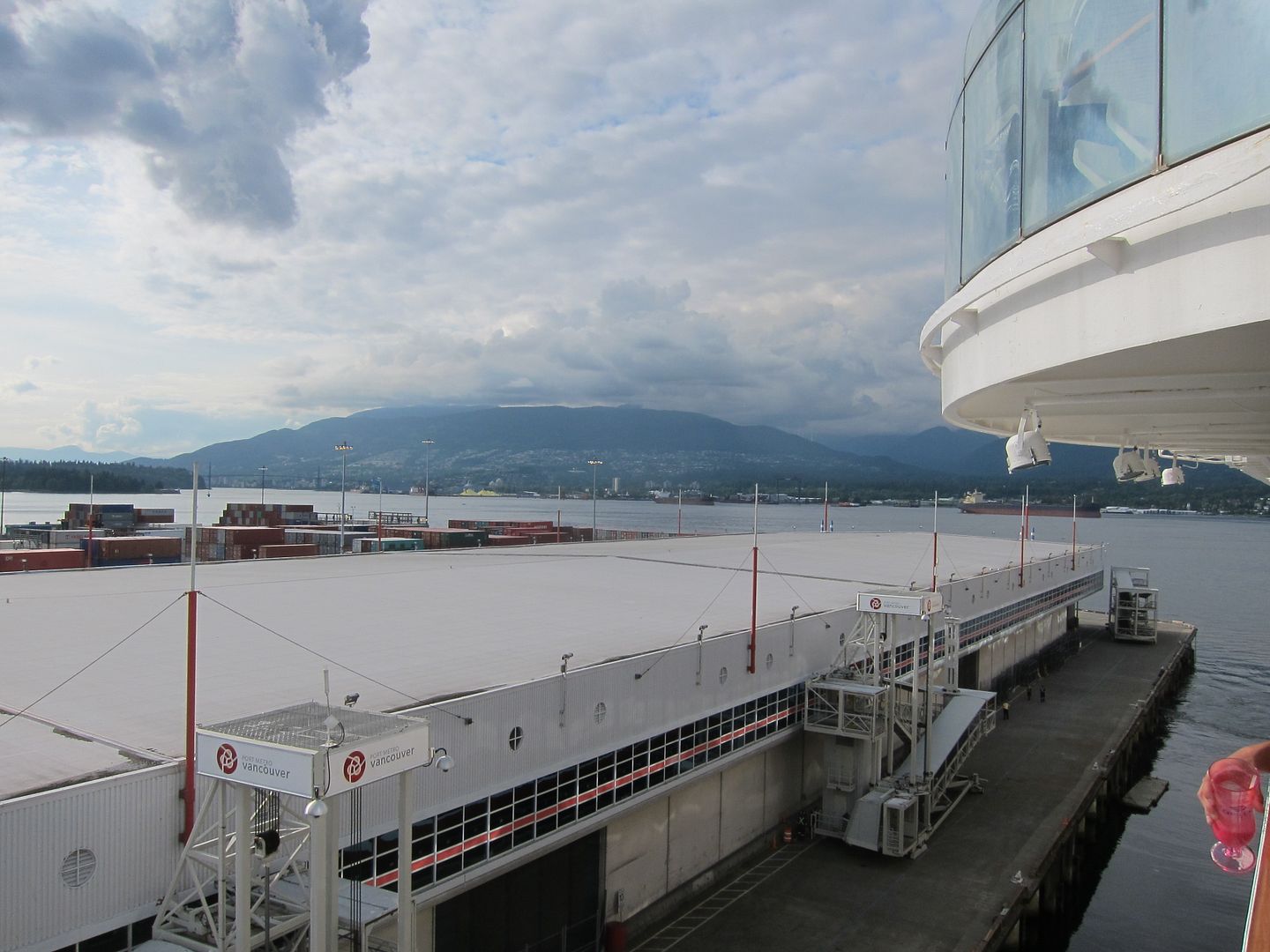 It was unbelievable how gorgeous the weather was. If you notice in the pictures above, Tracy and I had both rolled up our long sleeves, and we were still a little hot even then.
I think the horn might have blown again right around this point because we had some reason to stand at the railing and watch.
Looking to our immediate left, we could actually see the bridge. We would later find out that the guy in white was the captain of the Wonder himself, Captain Fabian. In this picture, he's navigating the ship away from the dock as we prepared to get this cruise underway.
Our timing was terrible because we wanted to watch the ship sail away from Vancouver—we'd seen advice noting that sailing under the Lions Gate Bridge was an especially exciting part of leaving the city behind. Unfortunately, as the ship started moving, it was also time for us to head down to our dinner seating.
We had opted for the main seating because we are always pretty early eaters (dinners before 6:00pm are our norm at home). Dinnertime had really snuck up on us today, however. The first restaurant of our rotation was Parrot Cay—which we'd read plenty of negative reviews regarding. Our willingness to keep an open mind and our rumbling stomachs, however, meant that we were excited to try it out.
We took the elevator down to Deck 3 and walked forward until we stumbled upon the restaurant.
Walking through the doors, we were greeted by bird sounds and Caribbean decor. Most of the reviews we'd read in advance complained about the loud color palette in this restaurant, but it didn't bother us. We gave our meal ticket to the host, and we were led back to Table 7. We were glad to see that it was only set for four people, and we were the first ones to arrive.
Unsure whether we were supposed to sit across from each other or next to each other in this situation, we played a little game of musical chairs (it would be much easier if protocol for this sort of thing were laid out in advance). In the end, we decided that sitting next to each other made us seem more personable because it would open us up for conversation with our table mates, so that's what we did.
A few minutes after we arrived, another man came and sat at our table. He introduced himself as John, and we were unsure whether he was traveling solo or just waiting to be joined by someone else. Suddenly, our assistant server Cindy appeared to take our drink orders. She and John greeted each other like old friends and she asked where his wife Candida was this evening. He said she was otherwise occupied at the moment but should be joining us a little later, so that mystery was solved.
John and Candida, we soon found out, were DCL veterans. I think they said this was their 8th(?) cruise, and they had actually done back-to-back sailings starting with the last repositioning itinerary that brought the Wonder up from San Diego. They'd had Cindy as an assistant server on one of their most recent cruises and requested her this time. We chatted with John and asked all the basic questions that come up when meeting someone new. It turned out they were from the Toronto area and were big WDW fans in addition to being cruisers.
Though they were probably about 10-15 years older than us, it still felt like Disney had done a pretty good job matching us up with people we could have something in common with. I'll admit, the prospect of being seated with random table mates had made both Tracy and myself a little wary. We hated to think that we might end up with people that we loathed—especially considering we'd be stuck together for nine nights of meals. Based on our first impression of John, however, it was clear that we had totally lucked out. He seemed completely normal, and we hoped that his wife would be as well.
Before too long, our actual server, Putu, came over and introduced himself. Hailing from Indonesia, Putu seemed very nice and funny. It was clear that he was eager to please as he took our dinner orders. I'll admit, Tracy and I had cheated before showing up and taken a peek at the dinner menu on the Disney Cruise Line iPhone app. Though the app wasn't officially supposed to work on the Wonder just yet, it was in beta testing, so we could still get all the features—they were just a little buggy.
When we realized we could check the app earlier in the day, both of us had decided what foods to order for dinner. Beginning with bread service, our first course was Freshly Baked Carrot and Scallions Loaf with Cumin and Cilantro Dip.
For appetizers, I chose the Prosciutto, Mozzarella, and Tomato Bruschetta with Fire-roasted Bell Peppers and Balsamic Vinegar. Tracy opted for the Smoked Salmon Carpaccio with Capers, finely chopped Shallots, Pink Peppercorns, and a Dill Honey Mustard Dressing. We were very happy with the sizes of the appetizers. From all that text to describe each one, it sounds like it's going to be a food overload, but they are actually very reasonable as starters. I'll admit that nothing really stands out too much as I try to remember this appetizer, but I think it was tasty.
Moving on to our main courses, Tracy got the Linguini Al Gamberi (Linguini Pasta dressed with Heirloom Tomato Sauce with Artichokes, Roasted Cherry Tomatoes, and Garlic Tiger Shrimp). I decided on the Grilled Grain-fed NY Strip (with Cheddar Cheese and Onion Smashed Baked Potato, Roasted Green Asparagus and a Red Wine Jus). It didn't really matter who ordered what because we were both interested in trying both meals, so we ended up taking plenty of bites off each other's plates. This was an added benefit of sitting next to each other rather than across. Both selections were really tasty, and we were really happy with our two choices. I remember that the potato and asparagus with the steak and the shrimp with the pasta were especially delicious.
When it was time for dessert, Tracy only had to glance at the menu to know what she wanted: Kahlua Chocolate Creme Brûlée (with Cinnamon Shortbread Cookies). If creme brûlée had been an option at every meal, Tracy probably would have ordered it every night—that's how much she loves the stuff. I decided to get the Sweet Temptations (a trio of Kahlua Chocolate Creme Brûlée, Passion Fruit Chocolate Dome, and fresh Fruit Sabayon Tartlet). Our desserts were excellent, and the meal left us comfortably full but not stuffed.
Sometime around when we were ordering dessert, John got a text from Candida on his wave phone letting him know that she wouldn't be making it for dinner. Apparently, she was in line at the retail shops that were just getting ready to open. They had been on the inaugural Alaska cruise back in 2011 and had missed out on a lot of the merchandise because it sold out within minutes of the store opening, and they didn't want to repeat that experience. So they were getting their shopping done ASAP—even if it meant skipping a meal.
Toward the end of dinner, we also met our head server, Roy. I'm still not 100% sure what exactly the head servers do… but he was nice at least!
I should also note that it became VERY clear toward the beginning of dinner that the ship was moving (full speed ahead). As I'd mentioned before, neither Tracy nor I had any idea how we would do with the ship's movement, and we both had a bit of a scare as we started feeling a little ill in the restaurant. Luckily, both of our equilibriums (equilibrii? equilibria?) soon settled down and got used to the motion within about 15 minutes. In fact, by the time the entrees arrived, I don't think either of us felt off anymore at all.
Very happy with our first meal, we said farewell to John and told him we hoped he and his wife had an excellent first night on the ship. Now that we'd been told about the potential scarcity of merchandise, we actually made heading to the stores our very next priority.
Previous Post | Next Post
Table of Contents
Support the Wandering Mouseketeers and get yourself a little something! Do your online shopping via our Amazon link!
Follow



Share