Chapter 8
Here We Are, Now Entertain Us
---
Previous Post | Next Post
Table of Contents
 After leaving Parrot Cay, we walked through the atrium en route to our next destination, and I was able to get a decent picture of the lovely Art Nouveau light fixture.
We were making our way straight toward Mickey's Mates and Treasure Ketch to see what all the fuss was about when it came to merchandise. Both stores were absolutely mobbed, but apparently we'd at least missed the crazy long lines.
Happily, it didn't seem like they had run out of anything just yet, but we still didn't trust some of the treasures to last. We had to make some decisions on the spot, therefore, and snapped up a few selections that we were totally taken with.
This totem souvenir was too good to pass up.
Tracy and I also both knew we needed to end up with some sort of wearable memorabilia (in case you haven't noticed, at least 90% of my wardrobe is Disney shirts…). Tracy opted for this kids' hoodie with the 2014 Alaska Cruise logo on the back.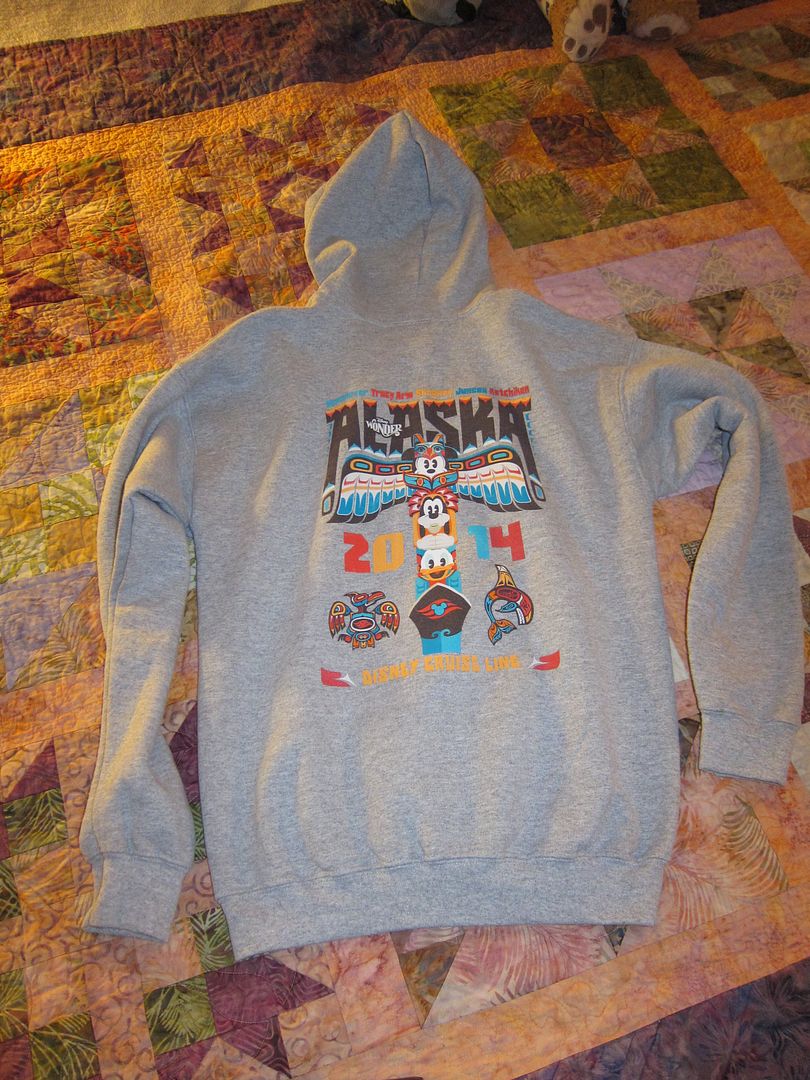 And I chose this t-shirt.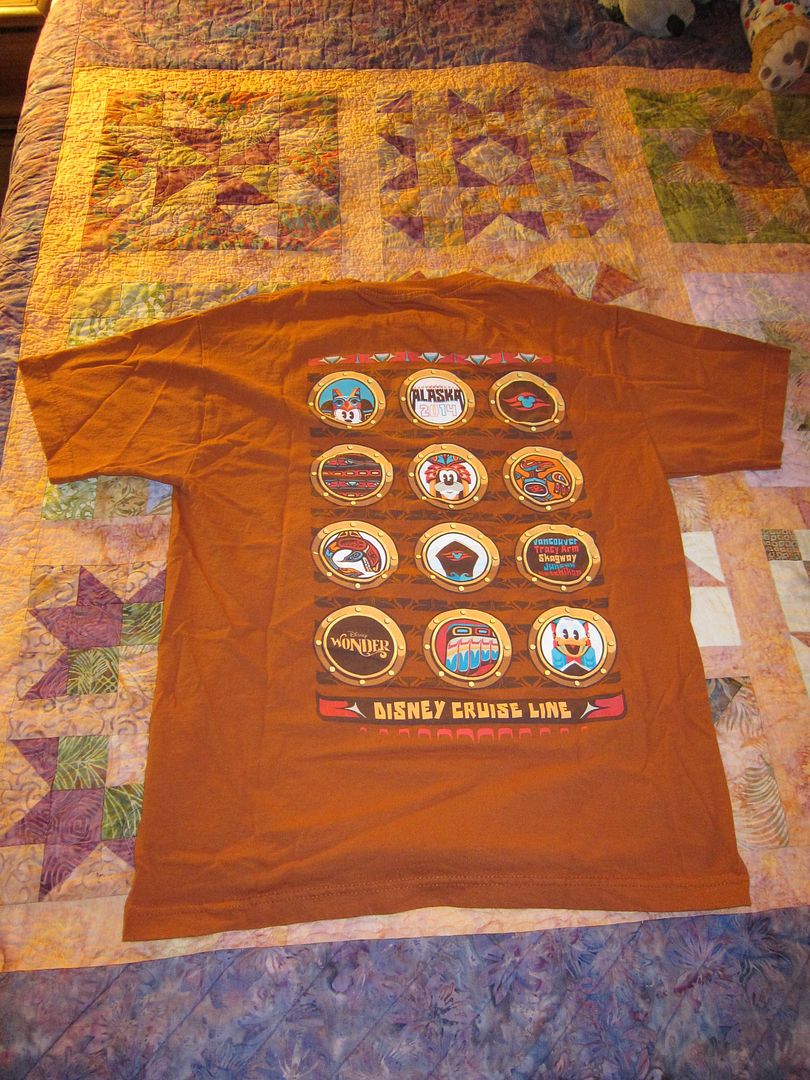 Our wallets significantly lighter (not literally though, because we simply charged everything to our room and hoped that we wouldn't accidentally let our bill tick up too high), we made our way back through the ship in the general direction of our stateroom.
All the staircases feature such beautiful artwork, but we loved this set of sketches from an animated short featuring Pluto in particular.
The sun was still relatively high in the sky considering the hour (it was already about 8:00pm when this picture was taken).
The views off our verandah were spectacular, and we found ourselves again being so glad that we had decided to splurge.
The ship was truly making waves as we began plying our way north.
Tracy checked the Personal Navigator once again as we firmed up our plans for the rest of the evening. (Note: How posed does this photo look? I swear it was actually entirely candid, but if it didn't have our trash in the corner, it could be a still shot from a DCL ad)
 My photo is significantly less so.
I forgot to mention earlier (because I don't know exactly when it happened) that we had also met our Stateroom Host, Jay. He seemed very nice and extremely hard working, and he had already come in for our first turn-down service while we were at dinner. Here was our first towel animal of the cruise.
He'd also set up Duffy and Meeko so they would be ready for a nap while we were gone for the evening.
Now it was time to head down to the Walt Disney Theatre for the very first evening show of the cruise. Tonight's entertainment was to be "All Aboard! Let the Magic Begin!" featuring the Disney Wonder Performers and the Comedy and Magic of David Williamson.
Being at the very front of the ship was convenient whenever our nightly destination was the Walt Disney Theatre because we just had to take the forward elevators down to Deck 4 and we'd be right where we needed to be.
As we got ready to head in and get seats, the smell of the fresh popcorn they were making at Preludes immediately drew in Tracy (who, you might remember, is obsessed with Disney popcorn). Even though it cost extra, we decided to get some—and we figured why not upgrade to the souvenir bucket!
Taking our seats and thoroughly enjoying our snack, we waited for the show to begin. As the lights dimmed, we were officially introduced to Jimmy, our cruise director, who would be playing the role of emcee tonight and throughout the cruise. (You'll notice that he made such an impression on us that the title of this trip report actually features a Jimmy quote—but more on that later).
After a quick introduction, we launched into the night's mini-musical. This show tells the story of a "young boy" named Jeremy (actually a short, twenty-something tenor who I'm pretty sure I saw at several auditions during my year or so of trying to be a professional actor in NYC), who takes a Disney cruise and dreams of being a captain one day. It was cute and fun, though nothing particularly thrilling, and we thought it was a nice way to introduce the cast of performers who would be entertaining us throughout the cruise.
This first portion of the show didn't last too long, and then Jimmy came back out to spiel a little more. The first questions he asked of the audience were about how many first-time vs. repeat cruisers were on board, and we were interested to see that the audience was pretty evenly split. Of course, among the DCL veterans, it seemed as though literally everyone we heard around us had been on an absurd number of cruises. There was a family of four in front of us, for instance, with a nine-year-old and a seven-year-old. The older child had been on 26 cruises to date, and the younger child was only at 22 because he hadn't been born yet for the first several. Needless to say, we were quite jealous.
Jimmy then went on to start talking about Alaska itself and got us so excited! He mentioned how amazing the weather had been today in Vancouver and then remarked that we really should get used to expecting 70-plus-degree temperatures on this cruise. Instead, he made sure to point out, we should be looking forward to experiencing Alaska at its finest (cold included).
I don't really remember what else Jimmy's little speech covered, but I do know that it concluded with him introducing one of the guest performers who would be providing entertainment at a few different shows during the first half of the cruise—comedic magician David Williamson.
Now, we really didn't know what to expect from this act (I feel like cruise ship comedians don't exactly have the best reputation). It was actually decently funny, though. Williamson brought up several young volunteers from the audience for a unique blend of comedy and sleight-of-hand magic. It was definitely geared more toward the family crowd, but we still laughed more than I might have predicted we would.
Finally, after the comedy/magic had concluded, Jimmy came back out one last time to re-introduce the Disney Wonder performers. A curtain opened up to reveal Lumiere, who sang "Be Our Guest" along with an impressive lineup of dancing cutlery. The song closed out the show and sent us on our merry way back to our stateroom.
When we arrived, we found that they had delivered the bottle of champagne that was supposed to come with our "Romance for 2" package (Tracy had noticed they forgot it earlier).
We popped open the champagne and made a call to room service. We had heard in advance that Mickey Premium Bars are available for in-room dining whenever you want them, and we weren't about to pass up that opportunity. Tracy also thought she'd order a fruit bowl and pretend to be healthy once again. Within a matter of minutes, we heard a knock on the door and got our delivery (was this our 3rd or 4th dessert on the night? I've lost count).
I love that they put the Mickey Bars inside a fancy room service tray.
Tracy somehow lucked out and got a perfect Mickey Bar while mine was smashed to smithereens right when I opened it. Luckily, it didn't really matter because it was just as delicious all the same.
Looking out our verandah door, the sun still hadn't quite set even though it was going on about 10:00pm. It's amazing how quickly we noticed the days getting longer as we started on our way northward.
We relaxed on our sofa for a while and flipped through the TV channels as we started to think about getting ready for bed. How nice is it to have that many channels playing Disney movies 24/7??
Finally, we both took showers and got ready to hit the hay. Tomorrow was a full day at sea, and we had lots of things that we were excited to do.
Previous Post | Next Post
Table of Contents
Support the Wandering Mouseketeers and get yourself a little something! Do your online shopping via our Amazon link!
Follow



Share