Chapter 3
Pills, Wings, and Automobiles
---
(Originally posted January 22, 2013)
As September started, marking the fact that we had been in Colorado almost a full month, we started thinking a little more seriously about our future plans. Not that we had exactly been resting on our laurels the entire time we had been in CO so far. One of the main reasons we were squatting for so long was that I wanted a chance to see if modern medicine could do anything about trying to make me feel better.
I had found a doctor through a referral who was supposed to be good with hard to treat issues. He immediately showed his colors on my first visit by not claiming that my issues with dizziness and pre-syncope were all in my head (as so many doctors before him had in NYC). He understood the difficulty of dealing with the issue and acknowledged that there is not one tried and true path of treatment that works for everyone. That being said, he had a variety of different ideas for medicines that COULD help. Admitting that it was going to be a game of trial and error and that each one would take a while before we would know if it was making any difference, he threw his first drug at me. So while we were enjoying relaxing in Boulder, I was also allowing my body the opportunity to see if any of these medicines would tweak whatever's slightly "off" and return me to stasis.
While all of that was going on, we still made the absolute most out of our time in CO as possible.
Tracy found this shirt at Target in their Disney Artists collection and had to have it.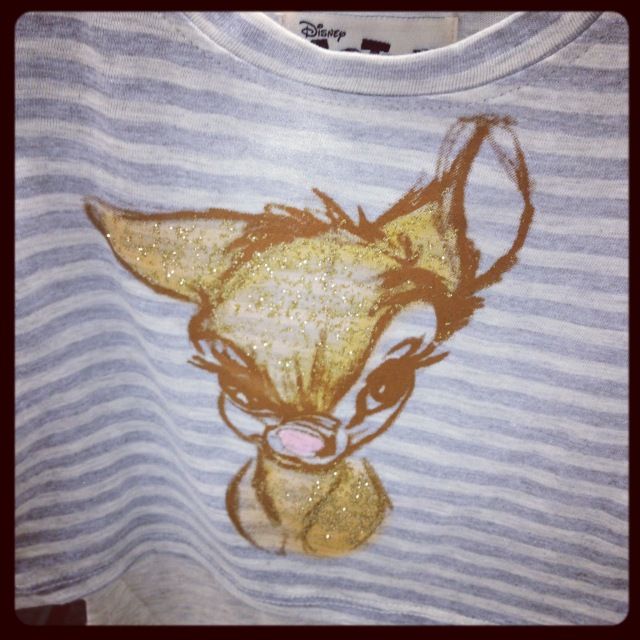 We liked it because it was Bambi, but also because it was the spitting image of U.S. Olympic gymnast McKayla Maroney. You know, the one who's not impressed.
Anyway, I think it's pretty awesome. Tracy, however…? Not impressed!
Moving on! Over Labor Day weekend, Tracy's brother Steve (who you might remember from my other Disneyland trip report) came out from L.A. for a visit. Both of the last two summers have featured a weekend when Steve is in Boulder at the same time as Tracy and me, so we've made it a bit of a tradition to load up the car and take a day trip into the foothills for the same petite adventure. The "kids" crammed into the backseat with Tracy squished in the middle, we passed the twenty-mile drive between Boulder and Nederland by playing the license plate game. It's actually an extremely fruitful route for the game. The first year we found 34 of the 50 states. This year we were determined to beat that record. On the way up, I think we ended up with about 25 or so—well on track for a record-breaker.
Once up in Nederland, we stopped and took a short hike around the Tungsten Trail loop. It's an easy hike, but it afforded us some great mountain views.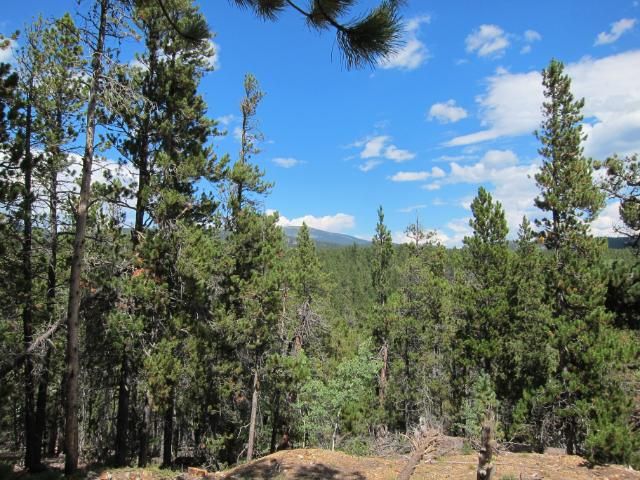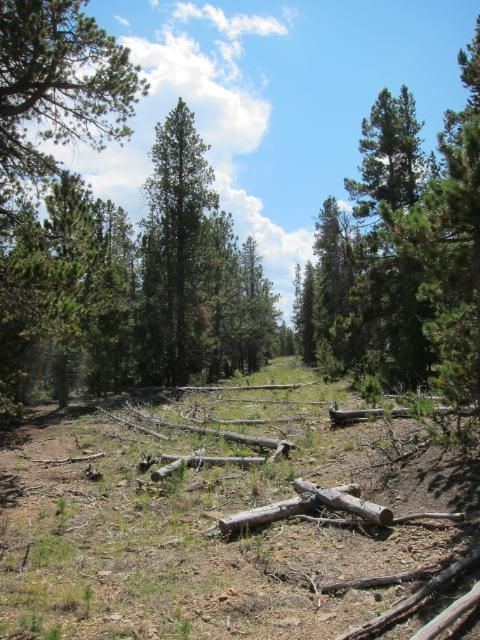 Since we were at about an 8000-foot elevation, even this easy hike was about all that we were fit to do. Don't forget, after all, that Tracy, Steve and I were used to living at sea level for the last several years. As the trail wound around its loop, we ended up by a nice little lake.
We even took some time out to skip some rocks for a while.
In the parking lot for the hiking trail, there is this abandoned bus. I don't know the backstory of it, but it must be absolutely ancient.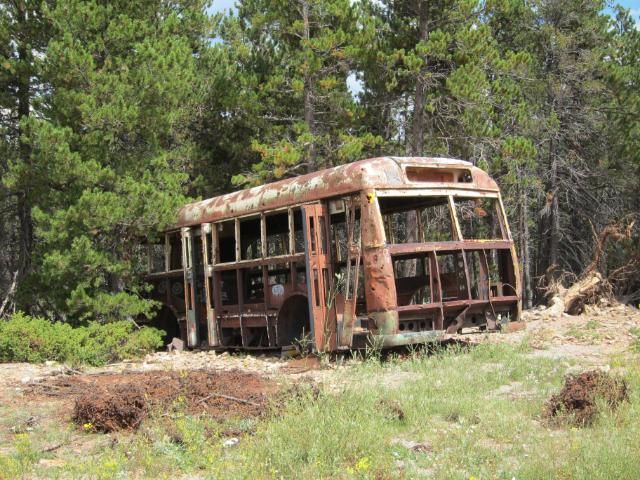 Every time we go on this hike, we all pile into the bus for assorted pictures. The whole thing should probably be relabeled as something of a death trap. I feel like tetanus must be lurking on every surface and the entire frame will probably collapse someday under the weight of people doing exactly what we were there to do, but we will continue to use it as a photo op anyway. Here's Tracy driving the bus!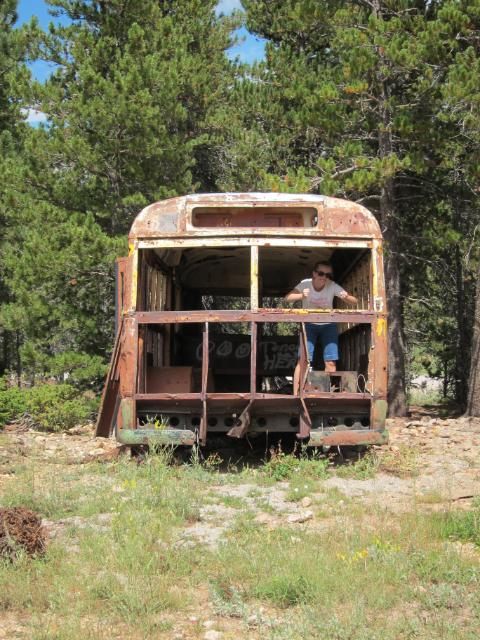 After our hike, we went to the restaurant that serves the BEST chicken wings I have ever had in my life. Seriously, they are delicious. If you're ever in Boulder County, do yourself a favor and visit Wild Mountain Smokehouse and Brewery for a plate of these bad boys.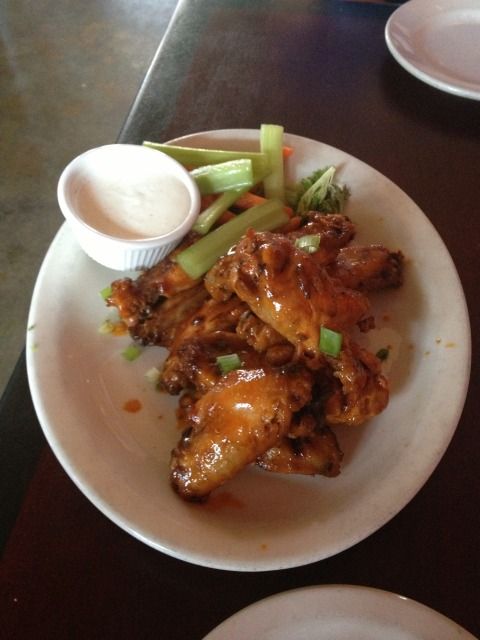 On the way home, our license plate count made it up to a solid 36 states. Plus we also saw a few license plates from Canada. Not bad for about an hour total of driving.
Back in Boulder, we continued our family reunion Labor Day weekend by hitting a few more Boulder hotspots. First off, chai from the Dushanbe Tea House—a gift to Boulder from its sister city, Dushanbe, Tajikistan.
Another day, a hike at the beautiful Chautaqua Park.
And we followed this up with a trip up to Tracy and my wedding location on Flagstaff Mountain. Yes, this was the view from our wedding.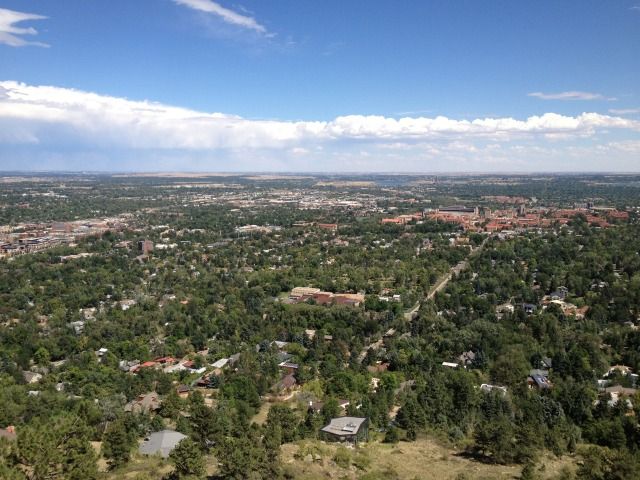 Back home, Stupey was really into all the excitement.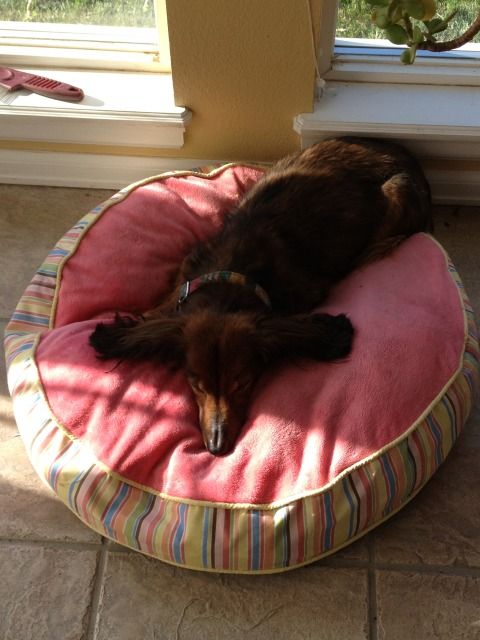 To be honest, however, Steve's visit was really just a nice distraction from what we were really focusing on at the beginning of September. The time had come for us to buy a car of our own. After Labor Day, we kicked our search into high gear. We knew we had a couple priorities when car shopping. Obviously, price was the first major consideration. We were in a fortunate situation because Tracy's parents had bought Steve a car while he was in college, and in trying to keep things equal between siblings, it was understood they would put the same amount of money toward Tracy getting a car as well. The only thing was that by the time Tracy was about halfway through college and had the option of cashing in on this offer, she knew she would be moving to NYC shortly, where automobile ownership is frankly more of an inconvenience than a blessing. At the time, she decided to hold off, but the money stayed in her "car fund" for that day we never knew for sure would actually arrive when we needed a set of wheels for ourselves. Thus, we had a very decent down payment to work with. It wasn't going to get us anything new, but we wouldn't be stuck with a scrapper either.
A set budget in mind, we started to narrow down the rest of our wish list. Since Steve had been living in L.A. for a few years, we trusted his advice for the things that are handy to have in that metropolis. His words of wisdom: a car with decent pickup is a must. When you're getting onto the freeway, as you have to do OFTEN in the L.A. area, you don't want to be worrying about your car getting up to speed. Second, what he wished he had in a car was adequate storage space. His Elantra was good on gas mileage and had decent acceleration, but he really recommended looking into a hatchback.
These pieces of advice in mind, plus knowing that we wanted to find something that got as many miles per gallon as possible, we entered into the used car search. And let me tell you, car shopping is exhausting. Over about a week and a half, we test drove around seven or eight cars. I know that doesn't sound like a lot, but when each one is at a different dealership and you have to deal with each salesman's pitch, it gets old. Fast. We had basically narrowed the search down to Toyotas, Hondas and Hyundais. It's not a coincidence that these are the cars our families have had all our lives, so we knew that we (who aren't the most car-literate of people) could trust them. Over the couple weeks when it felt like we were constantly at car dealerships, we test drove several years of Priuses, an Elantra, an Insight, and a Fit. We decided we were definitely fans of the Prius, but the price tag kept scaring us off.
Then one day, while we were still researching different cars, Tracy came across the reviews of the Toyota Matrix in Consumer Reports. Described as one of the best more affordable hatchbacks, we were very interested. We found one listed for sale at a Totyota dealership about 45 minutes away from us. It was a bit of a drive, but we had a feeling it would be worth it. Arriving at the lot, we quickly found the car, and everything about it seemed like what we were looking for. There was plenty of cargo space; it was in very decent condition; it was only a 2009 whereas most of the cars we had found in our price range were at least three years older. Obviously, we decided to take it out for a test drive. The salesman who came out to help us immediately seemed like the exact opposite of all the pushy, annoying twenty-somethings who would talk our ears off and obviously cared about nothing but their commission. This guy was older—probably early 70s—and was extremely laid back. Quite simply, he wasn't a jerk, which made us way more likely to want to work with him.
Of course, none of that would have mattered if we didn't like how the car drove. Luckily, that wasn't an issue. It drove extremely well! It was the Sport model, which means that the engine was slightly more souped up, so acceleration definitely wasn't a problem. Even more important than that, however: it just felt good to drive. It wasn't until halfway through the test drive that we realized that the Matrix started out as the hatchback version of the Corolla—the car I had driven throughout high school and into college. Everything felt like a good fit. Finally.
The actual buying process… was not fun. I can't pretend that I wish to go through buying a car again in the near future. Despite the occasional hiccups, however, everything worked out. We got a good deal on the car, we ended up the transaction still feeling pretty positively toward our salesman, and—most importantly—we had bought ourselves a car. We came out of the whole two days of negotiation, paperwork and stress feeling quite accomplished.
It was also nice that the car dealership was located near a Popeye's. Even though it was 45 minutes away, it was actually the closest Popeye's to Boulder, and we love their fried chicken, Cajun mashed potatoes, and disgustingly delicious biscuits. I would be lying if I didn't come clean to the fact that on the day we bought the car, we had both lunch and dinner at Popeye's. Oops?
But anyway, back to the car. After hours of paperwork, we were handed the keys and were officially proud new car owners.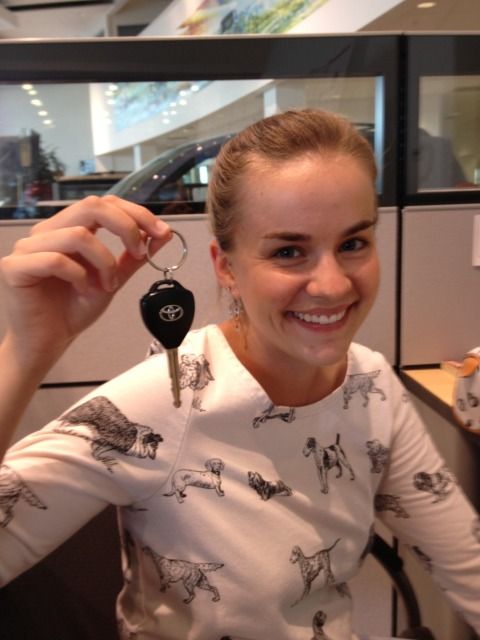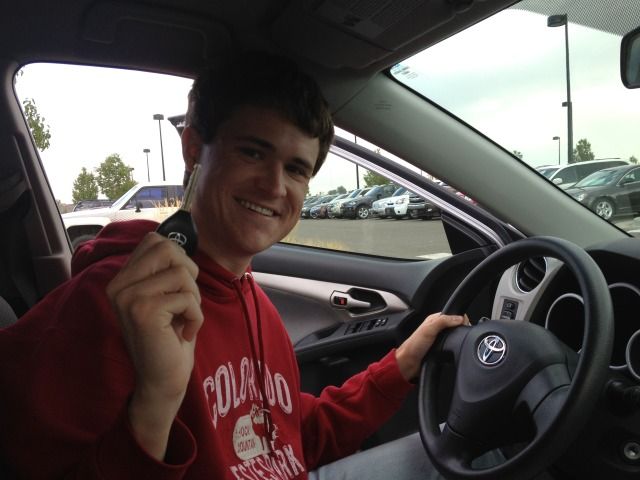 When we got it home, quite literally one of the first things we did was to install the license plate frame we had bought at WDW in May.
And here's our car.
Of course, being the sensible, mature new car owners we are, we immediately set out trying to think of a name for the car. We wanted something Disney-related, and Tracy immediately thought of Dumbo. It stuck right away. After all, he's big and grey and hatchbacks are always just a little awkward looking—just like our favorite elephant.
We officially branded Dumbo as our own by affixing two distinguishing characteristics. First was the customary "Disney people" decals for the back window.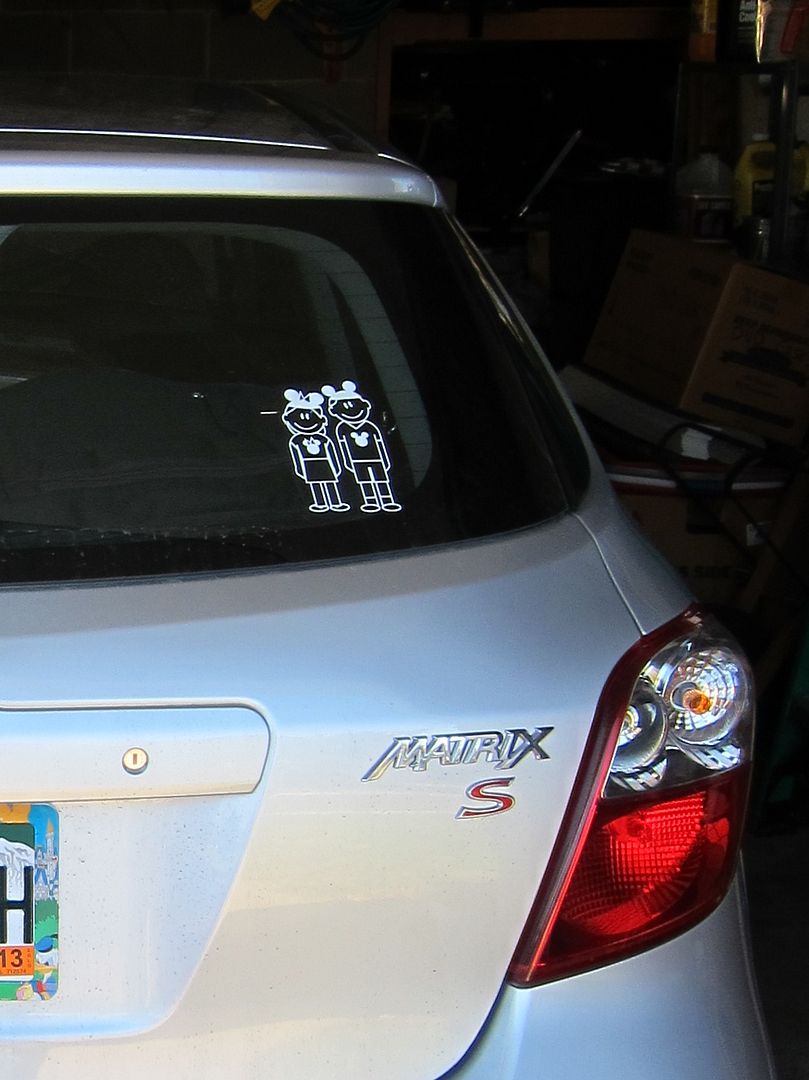 And second was our own homemade Dumbo hood ornament.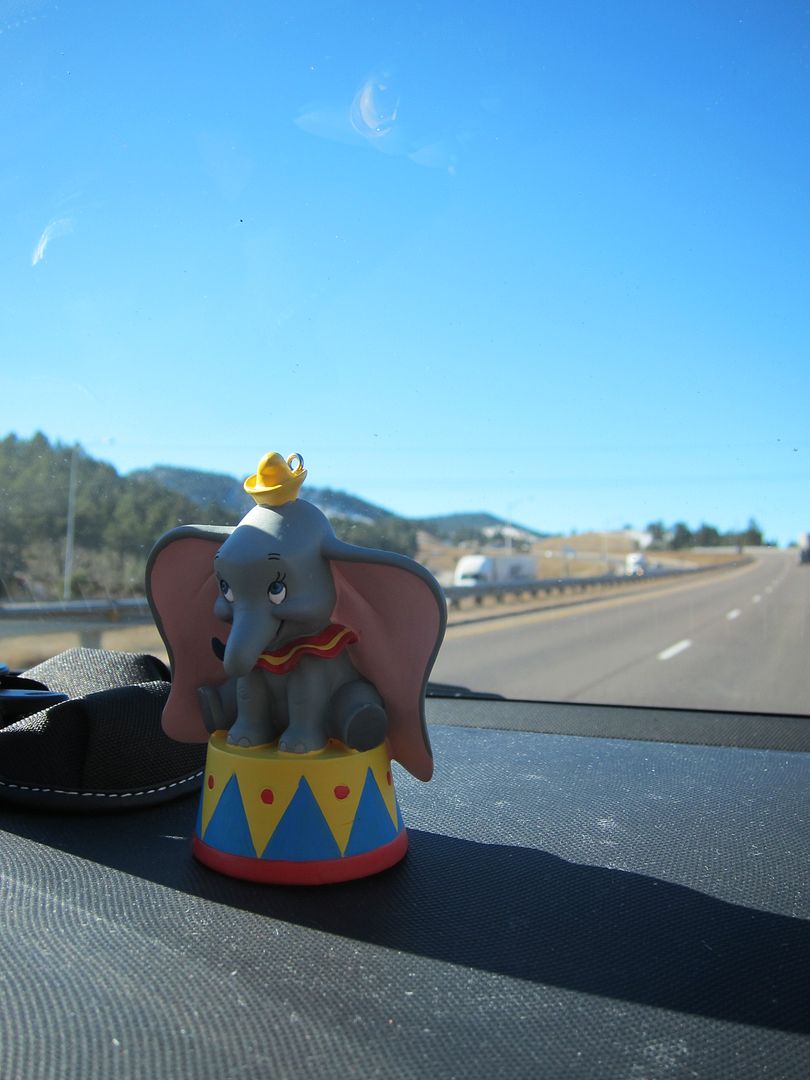 Now he's always there to faithfully guide us on our way. We've been extremely happy with our purchase so far, so the terrible car-buying process worked out for the best. Our purchase also signaled a very important milestone. Our temporary plates expired on November 5th, meaning if we were still in CO as of that date, we would have to register our car there and then again in CA. We really didn't want to have to do that. Therefore, we were setting a date for ourselves to get our butts in gear and complete this move. It gave us 60 days. Would we make it?



Share