Chapter 5
The Food Overload Begins
---
(Originally posted July 24, 2012)
Pretty much all of our meals, including counter service, had been planned out before our trip started. We are food people, and this couldn't be truer anywhere than it is in Disney, so we wanted to hit as many restaurants and try as many things as possible. Tracy and I are also lucky in that we have very similar palates, so we're usually good splitting meals pretty much anywhere we go. We decided for the bulk of our counter service meals, this is what we would do—use one credit to split a meal at one restaurant, and then use another a couple hours later at another restaurant. This way, we could spread out stuffing ourselves and get a good sampling of all the restaurants we'd been wanting to try.
First up: Casey's Corner.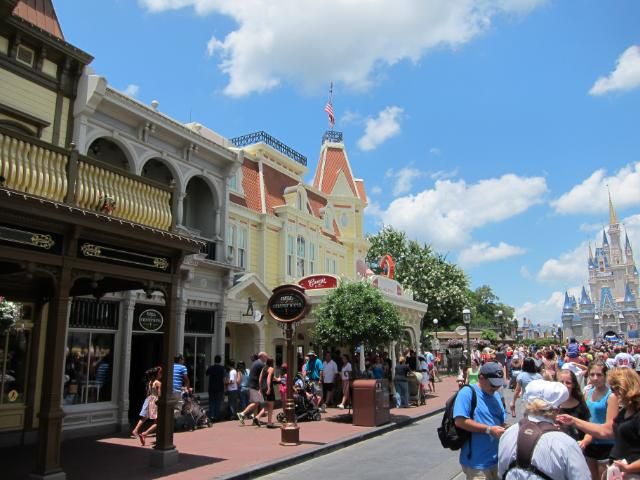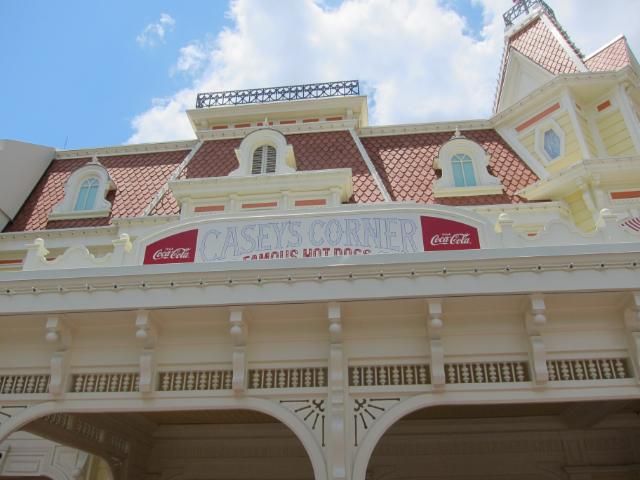 I kept hearing on podcasts and in trip reports that Casey's is delicious, but had always been a little skeptical. After all, hot dogs aren't exactly the most exotic food. Then when we were beginning to do research for our dining, we read about the new "gourmet" hot dogs they had begun offering, and we knew that we needed to give them a try. We got in line.
In college, I was in a choir that performed an opera version of "Casey at the Bat" at Lincoln Center—likely the only time I'll ever perform there—so I enjoyed all the references to the poem/Disney short on the walls, i.e. the Mudville banners.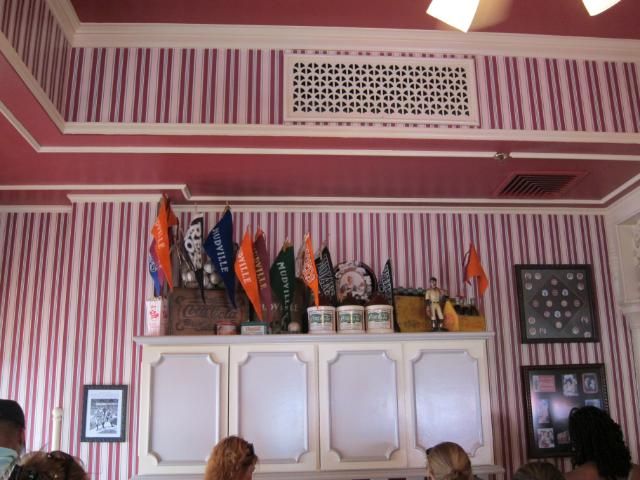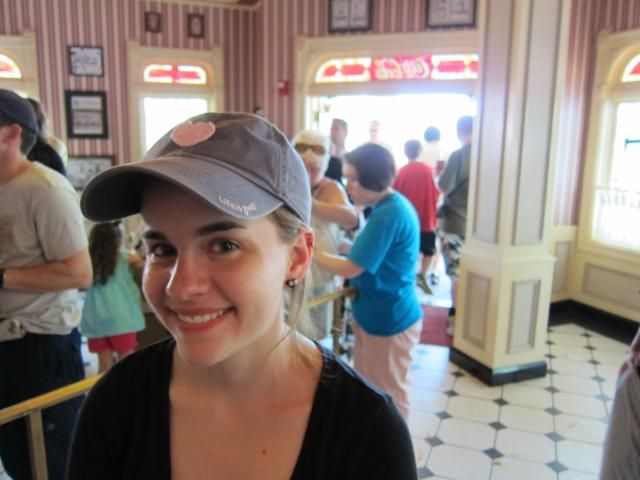 We placed our order. It was at this moment that it all came back to me just how much food is included with the Dining Plan. At first I was thinking we had to choose between fries and a dessert, but oh no—we got both included. So here was our first meal.
Chili Cheese Dog, with French Fries, Cotton Candy and a Coke.
It was absolutely delicious!! Quickly jumped to one of my favorite counter service options in all of WDW. You'll see just how much we liked it a little later in the trip! Though this picture says it all.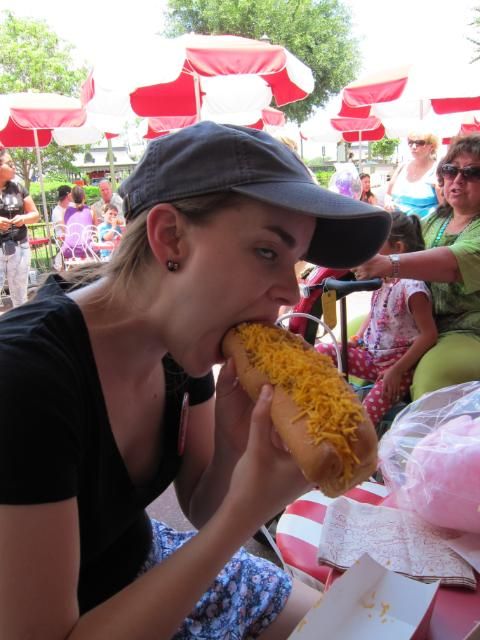 And this one.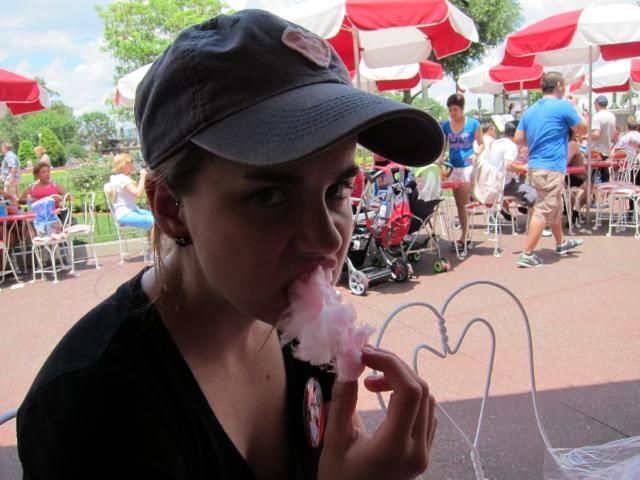 We also enjoyed the Ragtime piano player.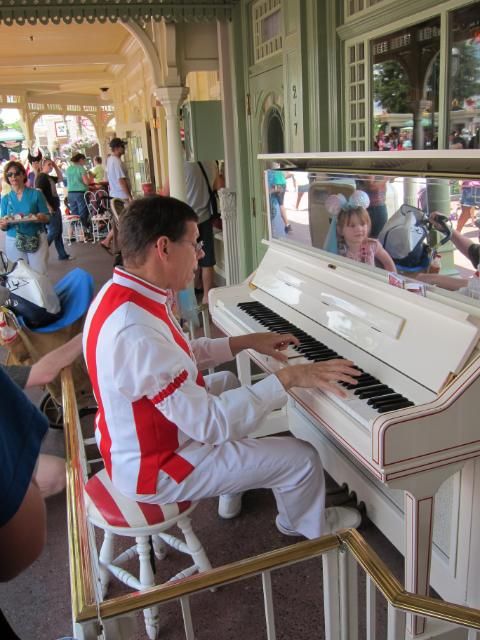 Our plan was to have this lunch now, then ride a couple rides, before splitting a second lunch to use our other quick service credit. In theory, this sounded great, though in reality it would have been better to eat a little less ravenously at the first lunch, knowing we still had more food ahead in about an hour. Oops.
We finished eating and were itching to get on a ride, so we bused our trays and moved along. Our first ride is always the same every trip. It's in Adventureland.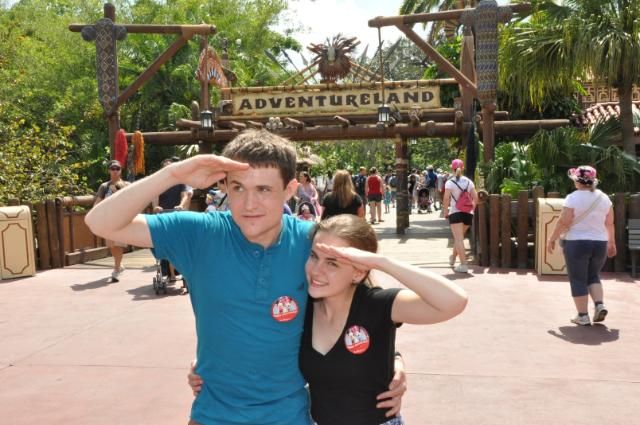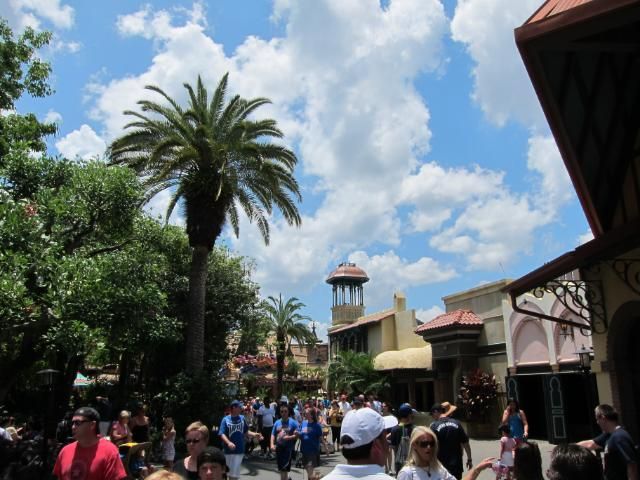 And it's not the Jungle Cruise.
Though that was our first stop, because we saw the line was long so we grabbed Fastpasses to use for later. There's our first ride beckoning from the distance.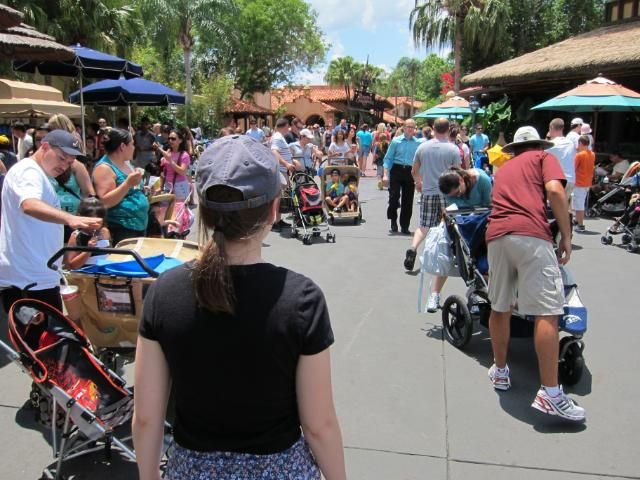 You guessed it.
It was time to go where dead men tell no tales.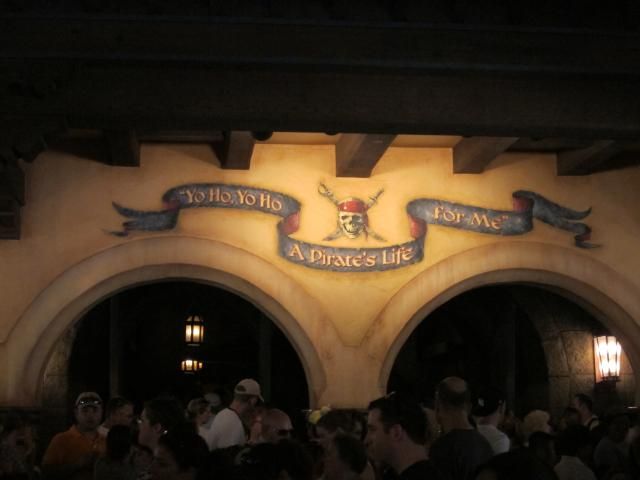 The line was pretty long. Posted standby was 35 minutes, and we usually never wait in a line of that length. We're masters of the Fastpass, and for rides that don't have them we usually just come back later if the wait is posted longer than 20 minutes. But tradition is tradition and our first ride was picked long before we arrived, so we suffered through. The wait wasn't actually that bad. It was probably 20 minutes total, and I swear we saved time as usual taking the left fork in the line instead of the right.
We're generally rule followers in Disney, so no flash photography on the ride, but I had to get a picture of us getting ready for the first ride of the trip—one of both of our favorites. Pirates of the Caribbean.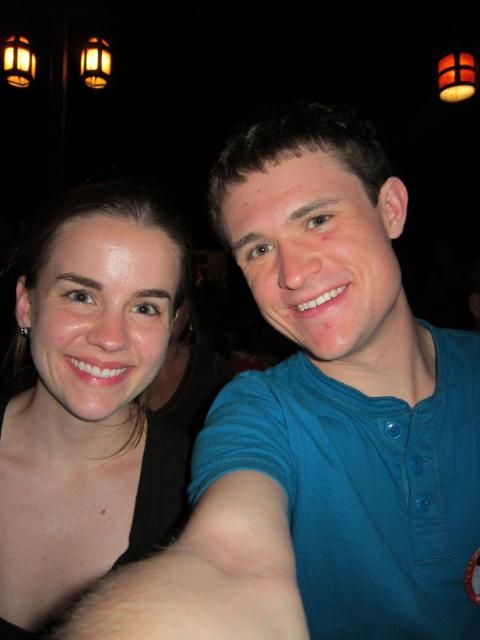 After the ride, we found a plush of our favorite Pirates character in the gift shop, the "Dog with Keys." You'll notice that in some of these pictures, Tracy or I will smile in a very "special" way. Don't really know how it got started, but it usually just comes out when we get a little too excited about something.
Here's Tracy with the Pirates sign.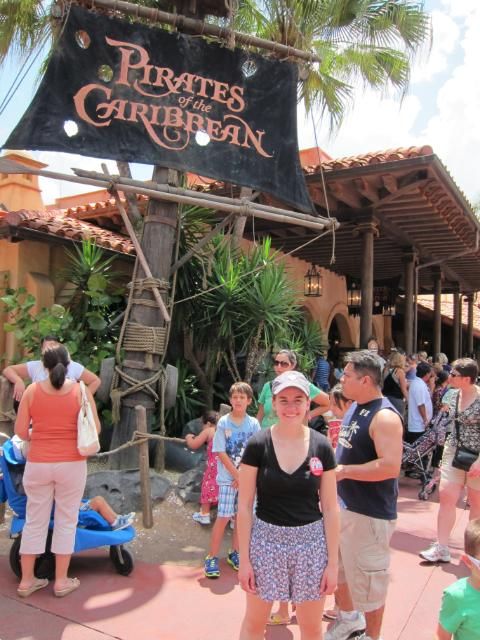 The time had already come for that second lunch we had planned—after all it was already after 2:00 and we had dinner reservations at 6:55. So we made our way toward the next restaurant by entering Frontierland.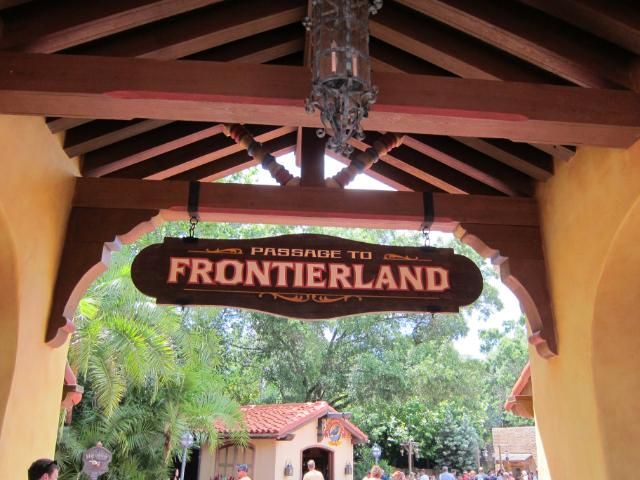 Share