May 25, 2014
Chapter 9
Food, and More Food
---
Previous Post | Next Post
Table of Contents
We've made it to Day Two of the cruise, so here is the link to our second Personal Navigator.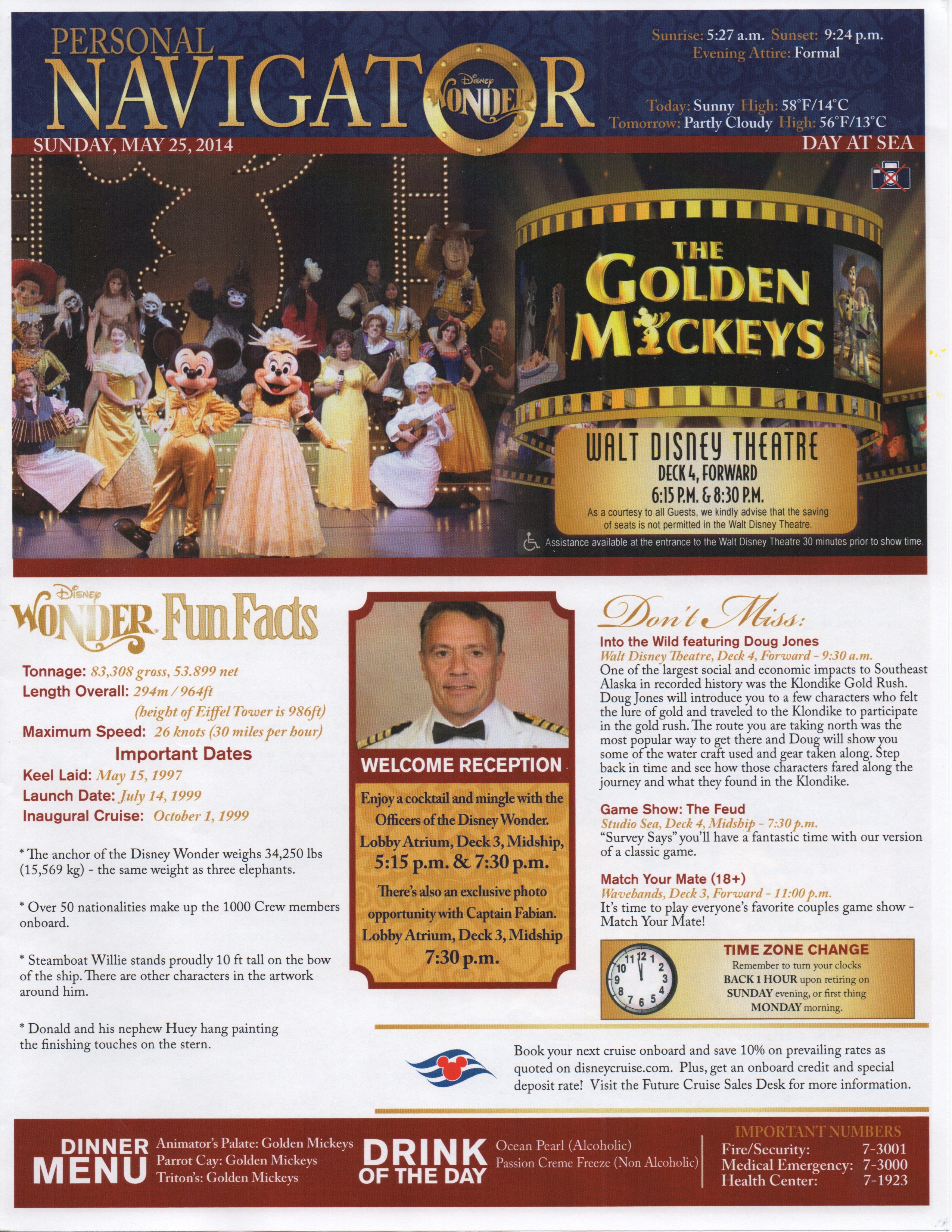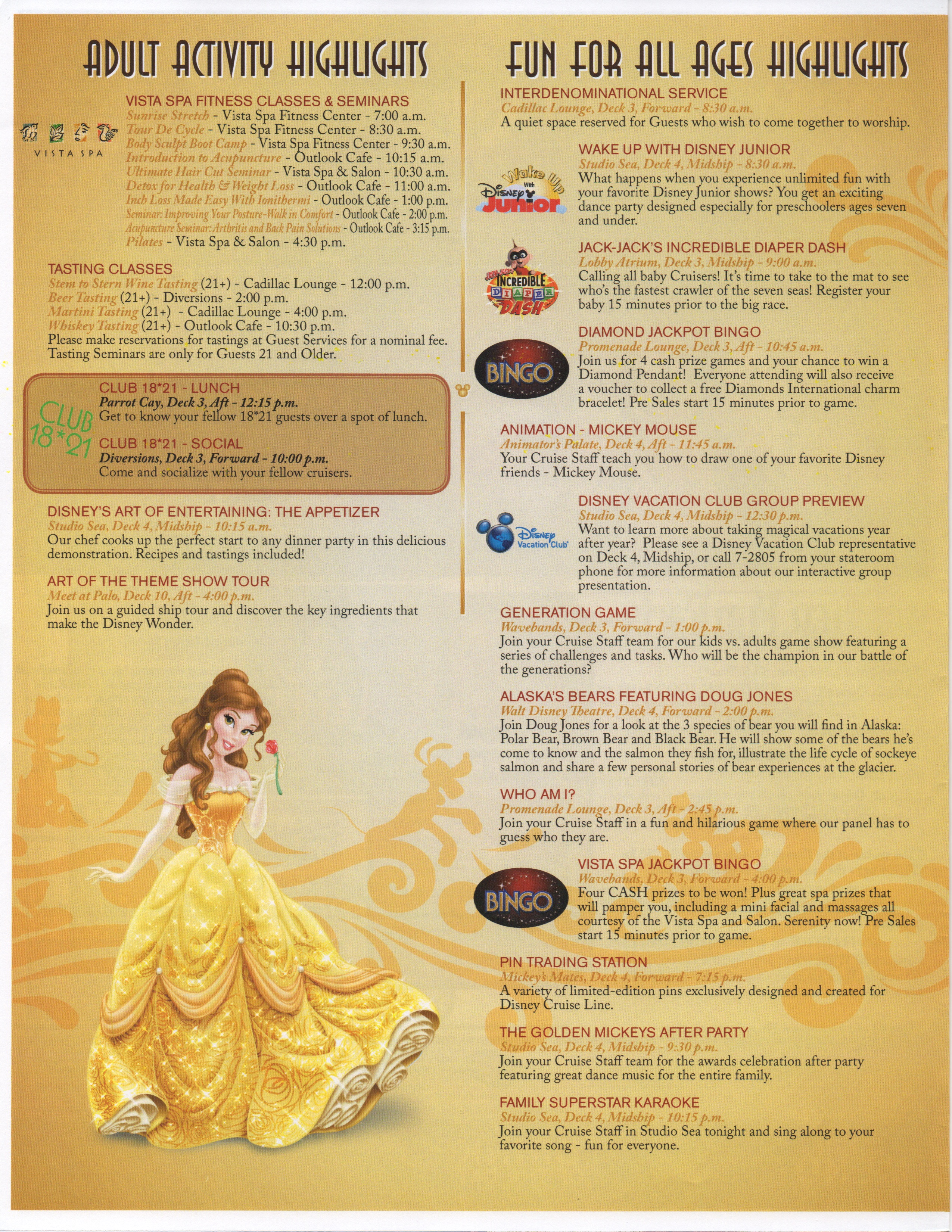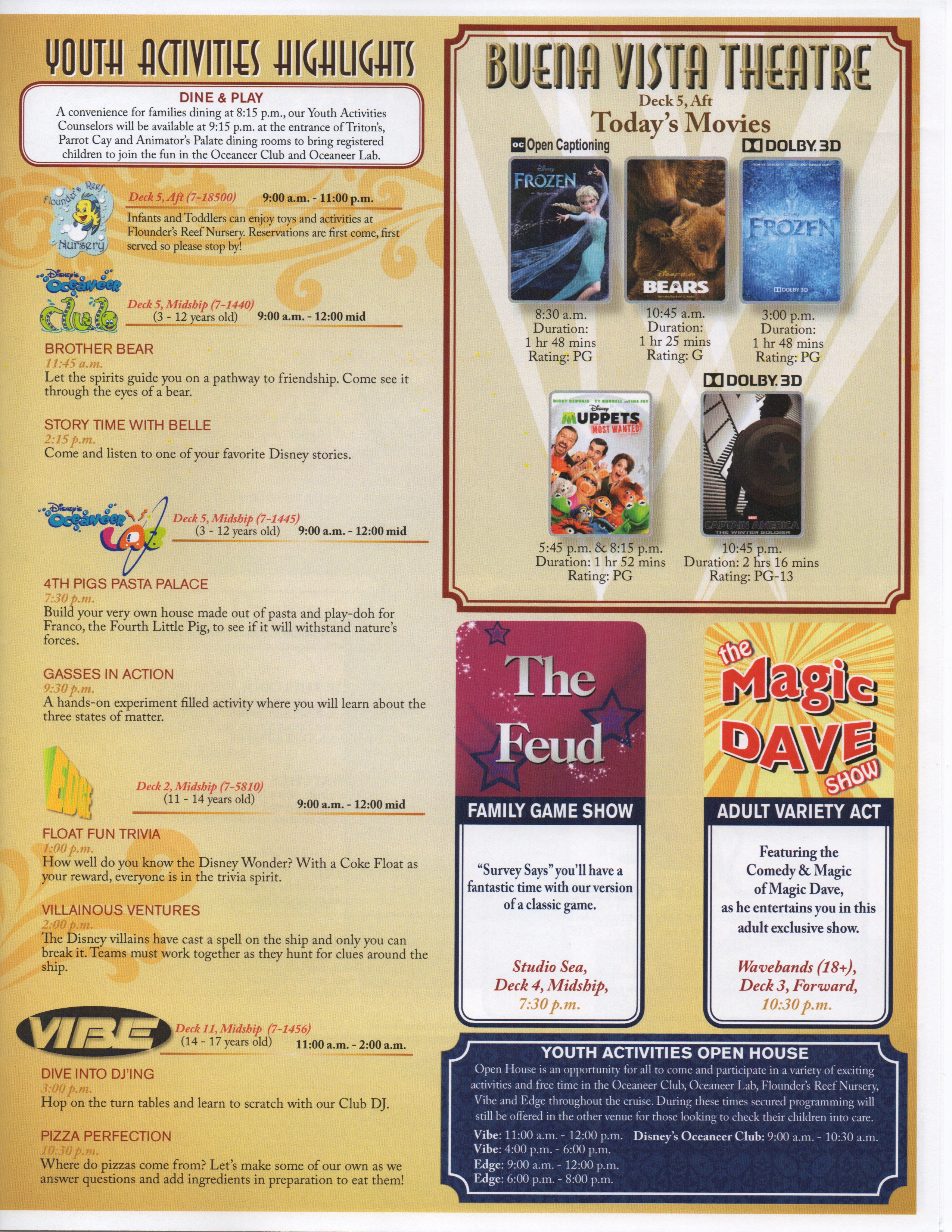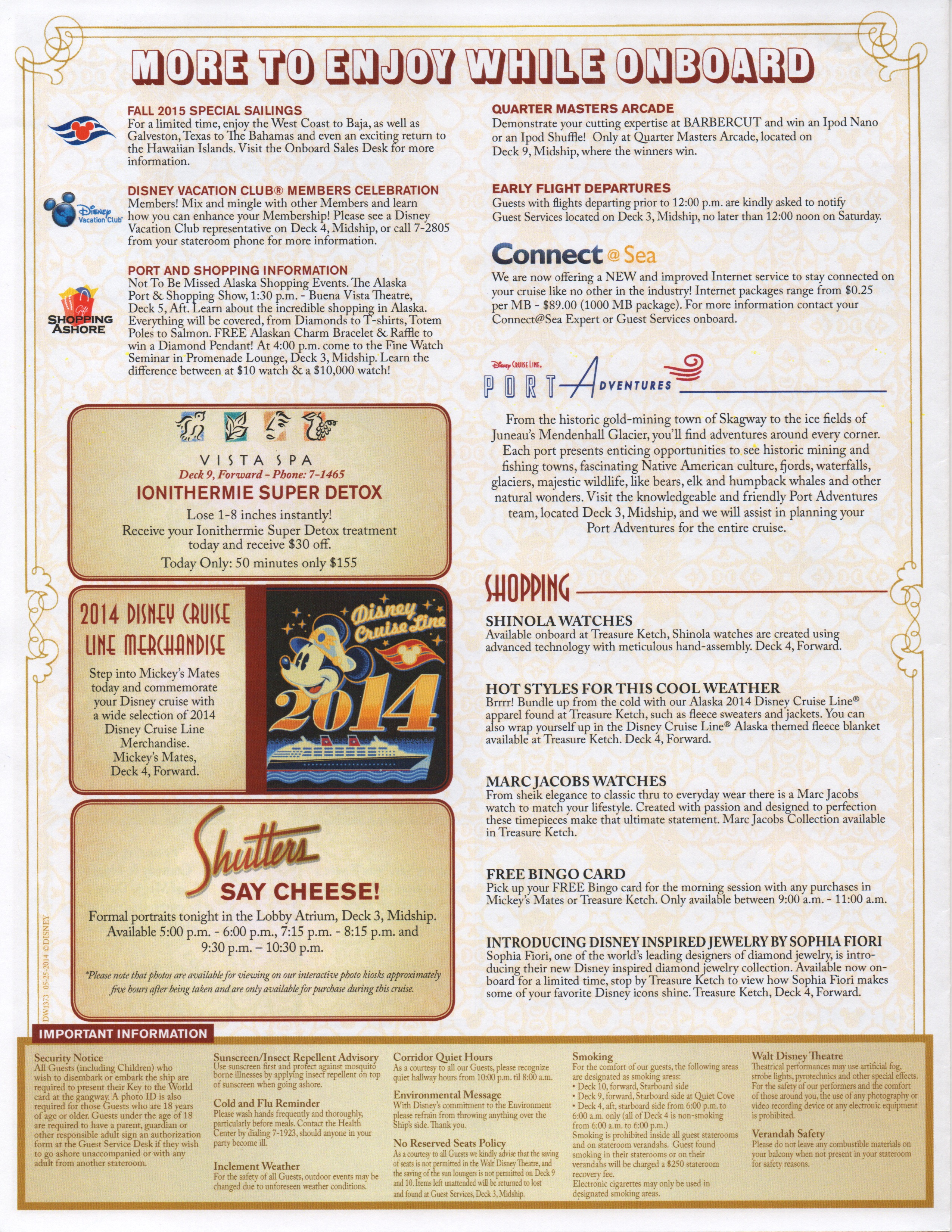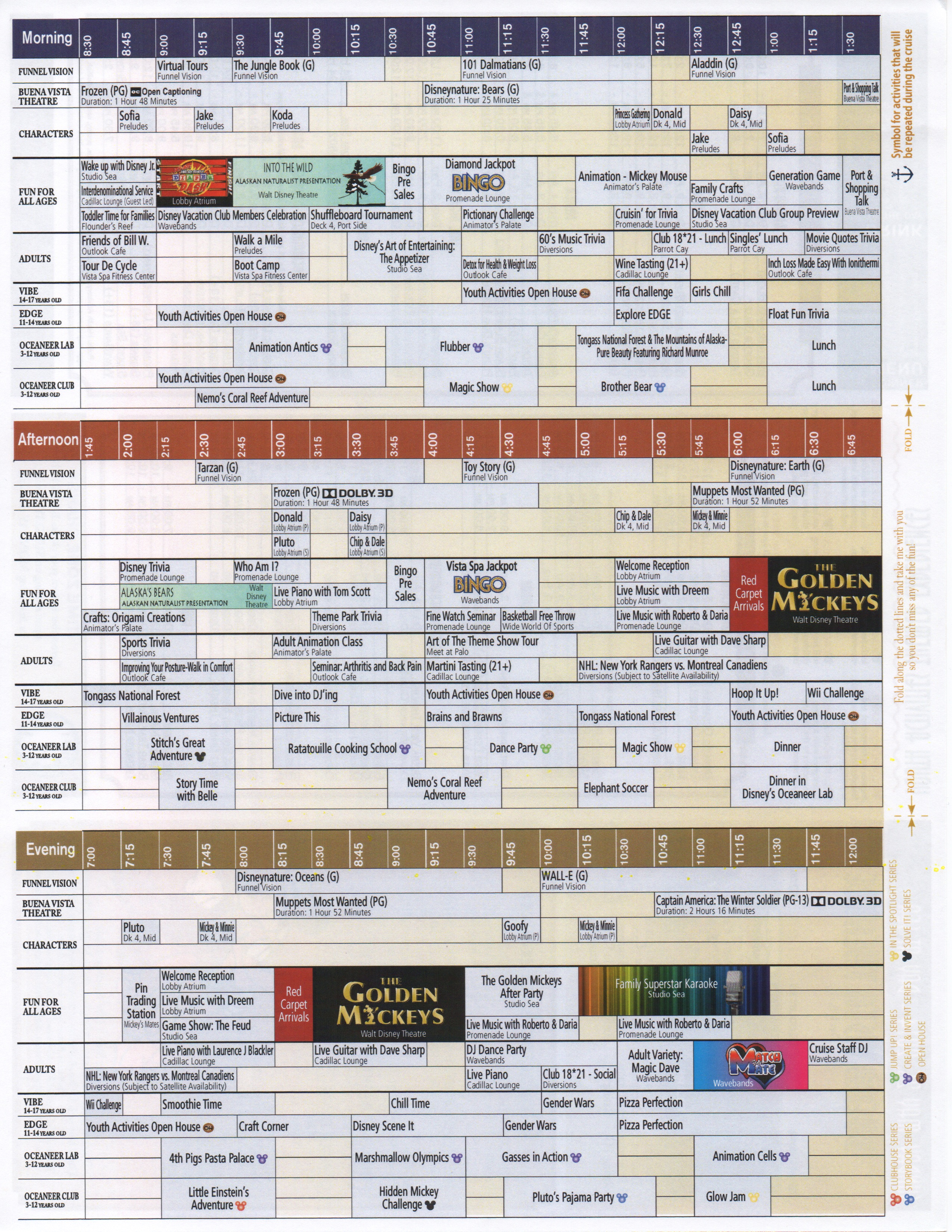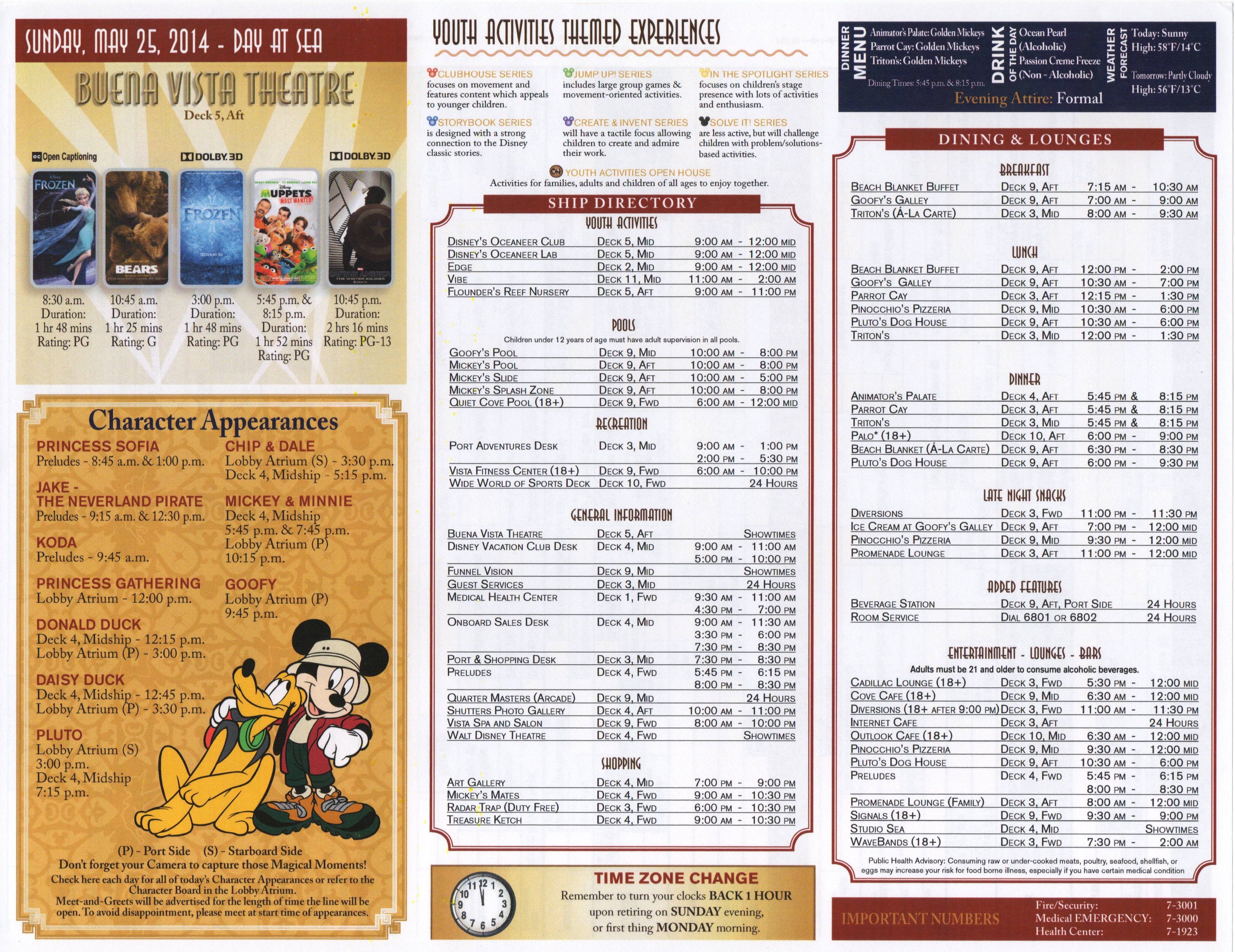 Now, sometime in the middle of the night, we were both awakened by the loud slamming of doors. The closet doors and the bathroom doors were both getting thrown around as the ship listed from side to side. If we were likely to get motion sickness from the actual rocking of the ship on this cruise at all, this would have been the time—but luckily, we didn't. Instead, we remarked how crazy the motion was and eventually just let it rock us back to sleep.
The next sound we were aware of didn't come until morning when the alarm went off. Now, I wish that going on vacation meant we could take a break from alarms for a few days, but I know our sleep habits. If we don't have something to wake us up, we'll accidentally sleep the entire day away—and neither of us wanted that.
Instead, we set the alarm just early enough that we would still be able to make it to breakfast before they closed up all the restaurants for the morning. Looking out from our verandah, we could tell that we were pretty far from the nearest land at this point.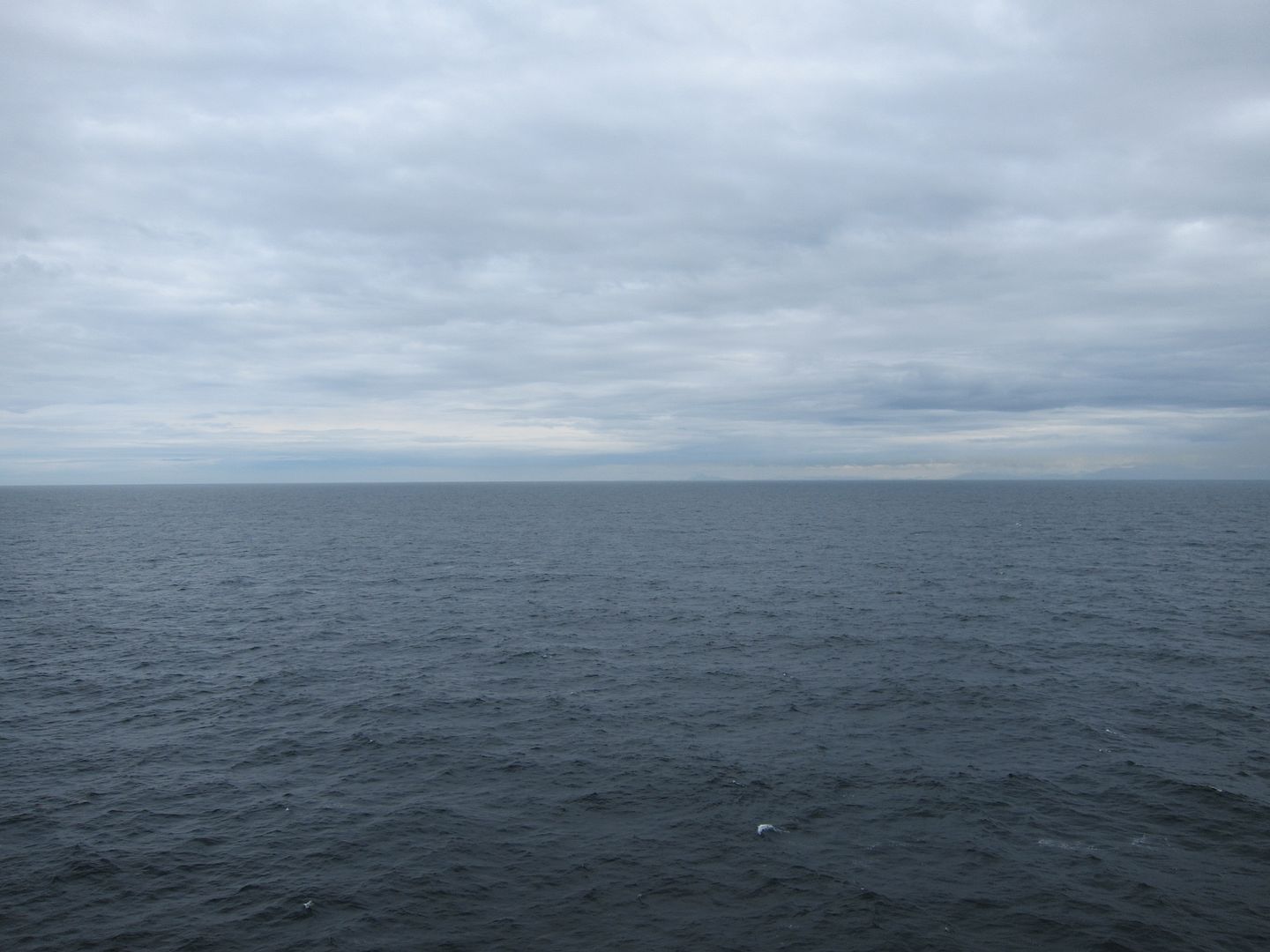 We got dressed quickly—there wasn't really time to get all the way ready just yet—and headed up to Deck 9. Once we were there, we spotted this duo of towel swans who seemed so elegant that Tracy just had to pose with them.
Going into Beach Blanket Buffet, our stomachs started rumbling and demanding food. I don't know how I happened to get this picture of my plate, but I got Biscuits and Gravy, a Ham and Cheese Omelet, and some Pineapple. I think Tracy got basically the same meal, except she tried the special Salmon Omelet instead.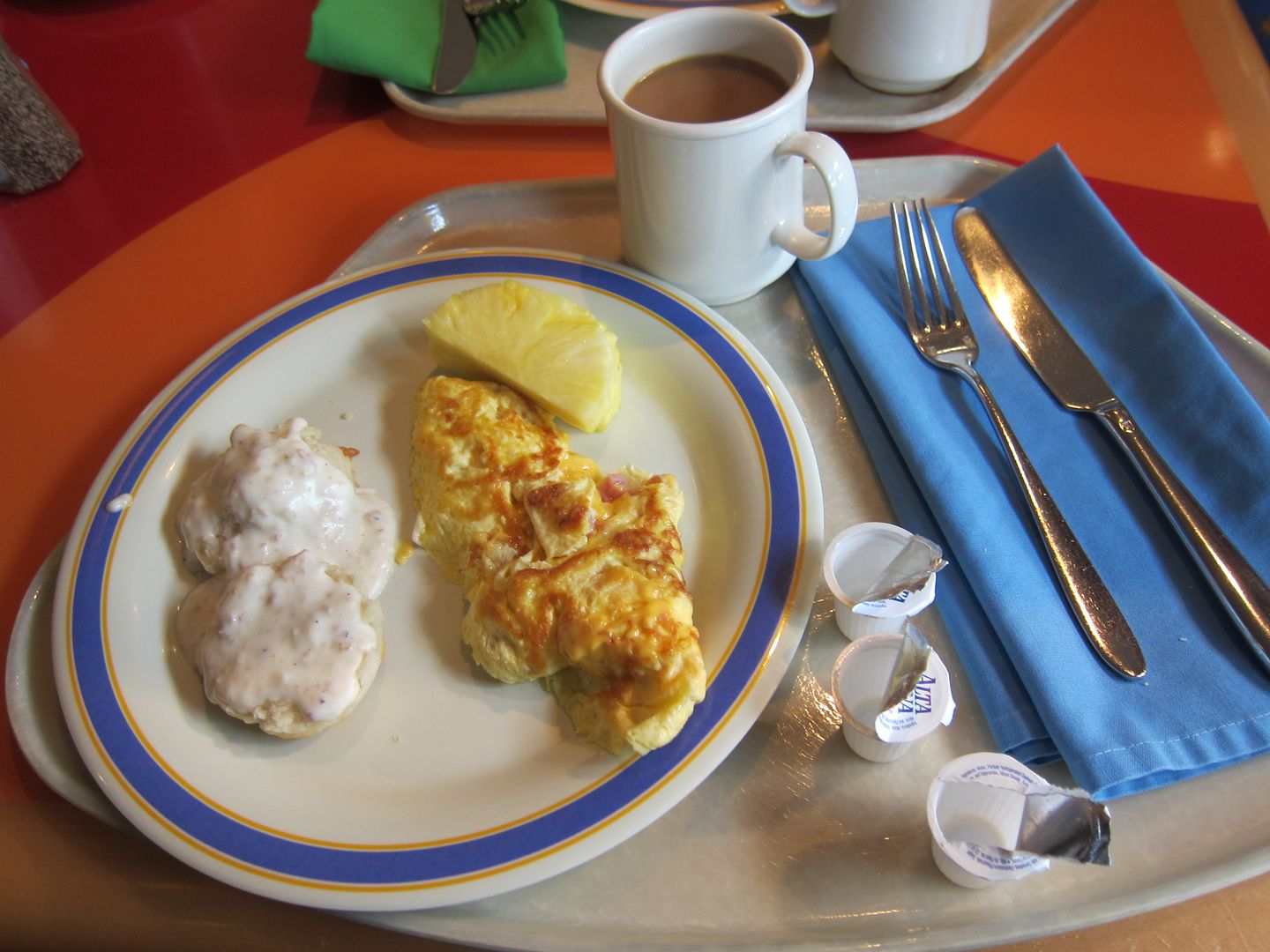 We also both filled up mugs with the sorriest excuse for coffee in all the land—Nescafe. Now, I really don't consider myself a coffee snob (though I can't HONESTLY say the same about Tracy), but even I was disappointed by this dreck. I probably wouldn't be as bitter about it as I am, EXCEPT that the day that we got off the Wonder at the end of our cruise, they replaced the Nescafe machines with REAL Joffrey's Coffee!! We were SO MAD when we read about that, but then we reminded ourselves that complaining about the nasty coffee on our amazing Alaska cruise was the epitome of #FirstWorldProblems. Anyway, I digress…
Tracy was actually so unhappy with the Nescafe that Kayanne, one of the cast members in Beach Blanket Buffet, noticed she wasn't drinking it and asked if there was anything wrong. When Tracy complained that Nescafe is awful, Kayanne replied that you just have to know how to prepare it right. She then bustled off to try to make Tracy a decent cup of coffee.
As we were finishing our meal, Kayanne came back with an iced coffee in a to-go cup. She had sweetened it a decent amount and used REAL milk from the cereal station instead of the usual non-dairy creamer. Tracy wasn't exactly sold on Nescafe still, but she admitted that it was a big improvement, and we were both impressed with Kayanne's commitment to guest service.
With Tracy's coffee in hand, we headed out from Beach Blanket. We walked past The Jungle Book playing on Funnel Vision. I wish it would ever have been just a bit warmer so we could have sat out and enjoyed one of the Funnel Vision movies, but I think it would have been pretty miserable this morning.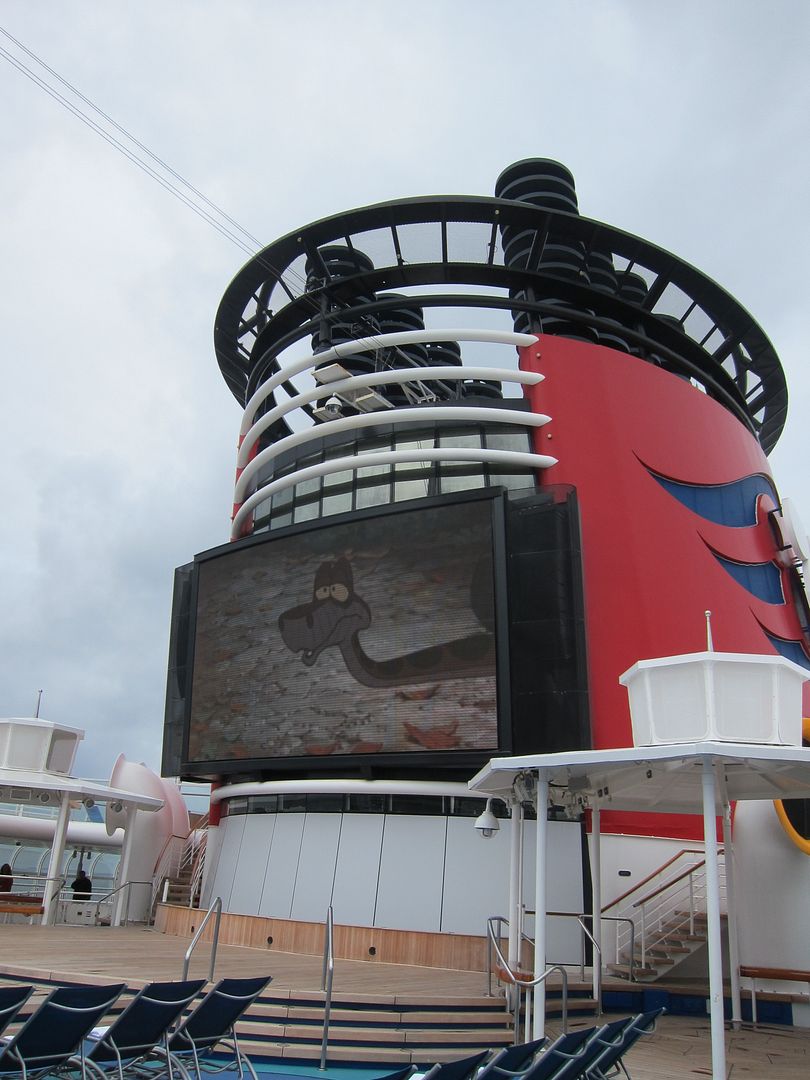 Looking up in the direction of the other funnel, I can't tell what those windows went to.
It was around this time of morning that we heard the telltale chimes of "When You Wish Upon a Star" indicating that a ship-wide announcement was about to begin.
A voice piped across all the public decks, stating: "A very pleasant good morning, ladies and gentlemen, boys and girls. Jimmy, your cruise director here…" Now, the announcement from Jimmy started the EXACT same way, three times a day, for nine days. It got to the point that we could recite "A very pleasant good morning/afternoon/evening" along with Jimmy every time the chimes went off, and it made such an impression on us that it influenced the title of this cruise report: "A Very Pleasant Good Alaska Cruise."
After hearing whatever Jimmy had to announce (which was almost always just a summary of the day's activities as lifted straight from our Personal Navigators), we wandered back to our stateroom and finished getting ready.
After making ourselves decent to face the rest of the day, we headed down to Deck 4 to continue discovering all the nooks and crannies of the ship.
First, we took a walk around the outside deck and took in the pleasant atmosphere. Next, Tracy and I tried to play a round of shuffleboard (TRY being the operative word because we really had no idea what the rules of this game were). I think based on OUR scoring system—which may or may not have been at all correct—I won, but just barely.
Heading back inside, we were standing right above the atrium at the exact moment when the parade of princesses appeared for their meet-and-greet.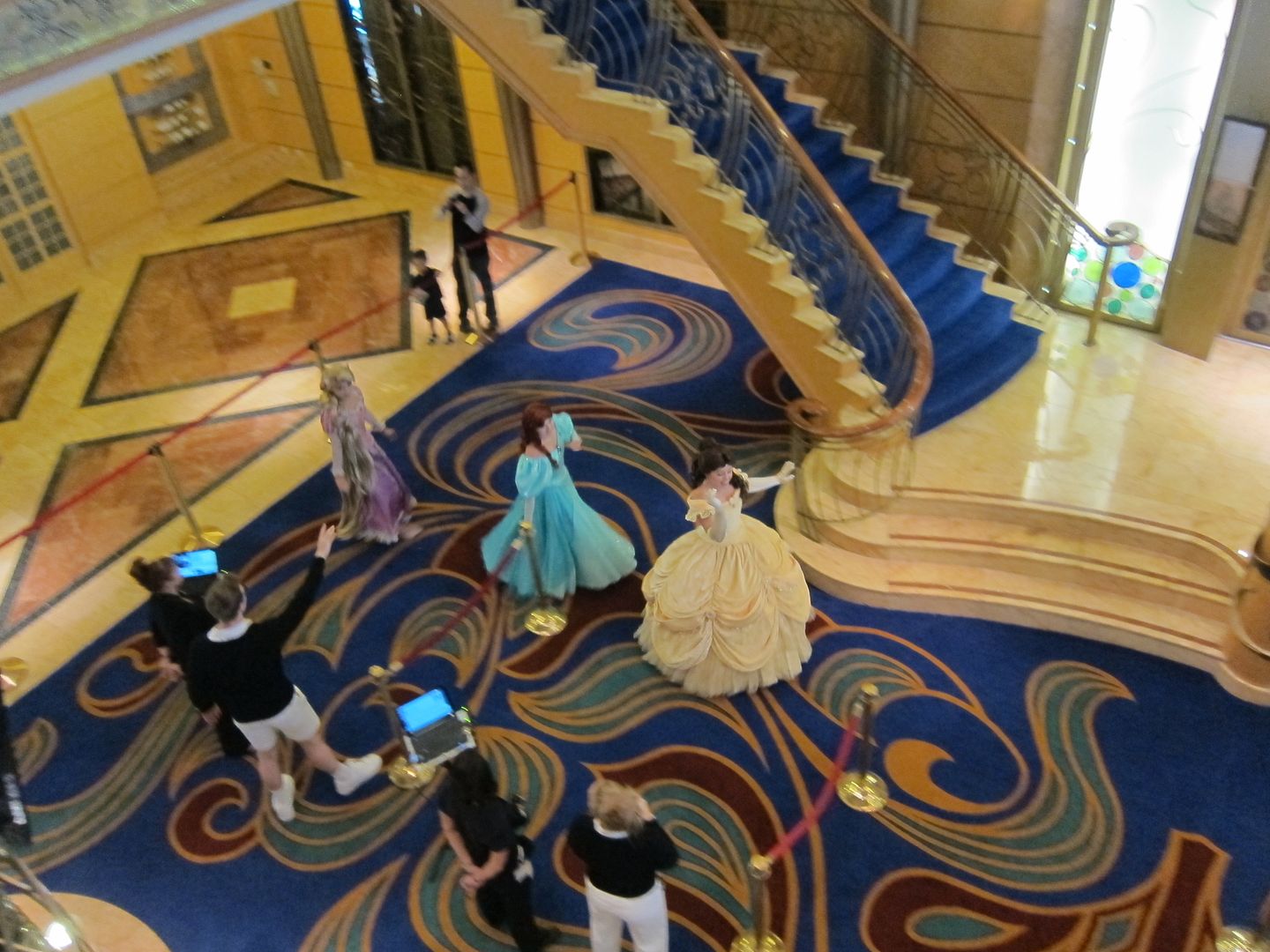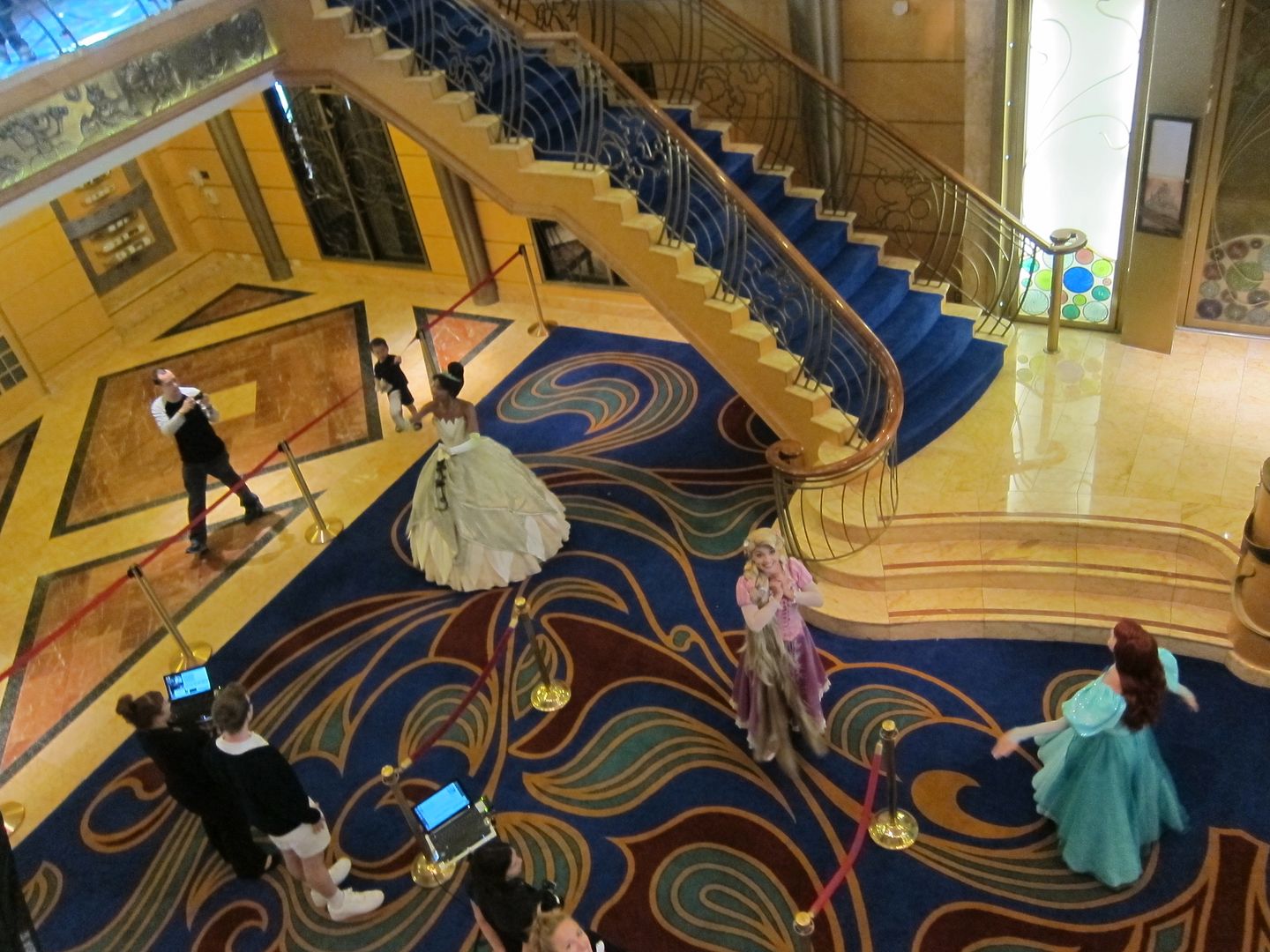 It took a while for the first kids to actually make it down the line, so those of us upstairs had the attention of the princesses for a few minutes. (Yes, I am aware that all of these pictures are TERRIBLE quality, but I'm posting them anyway…)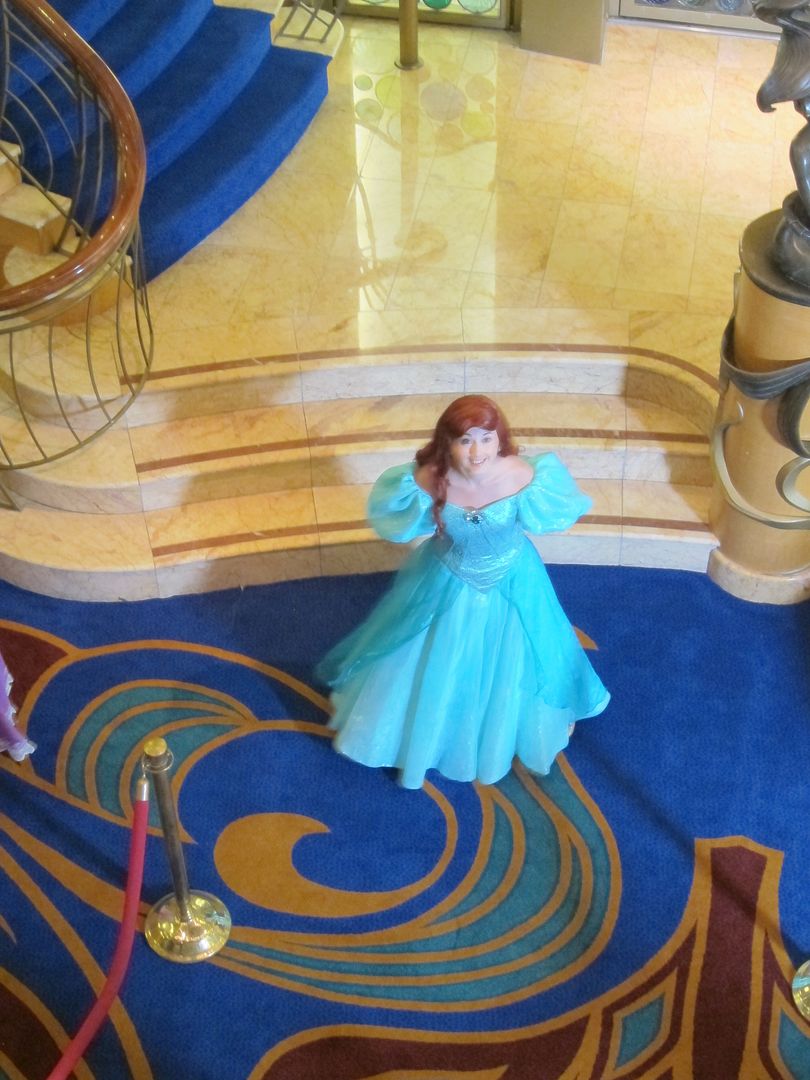 Wandering around to the other side of Deck 4's balcony, we saw the princesses from another angle.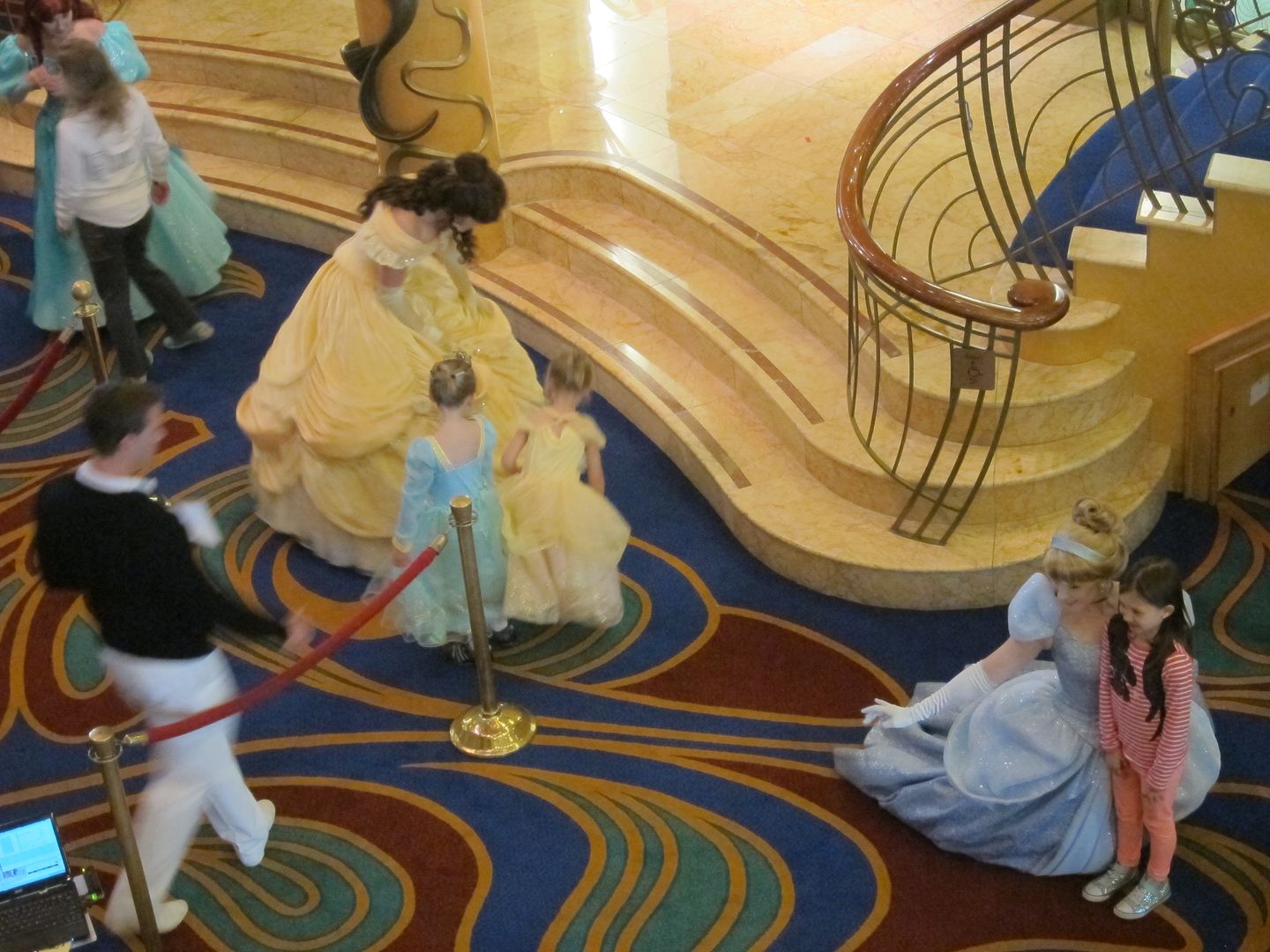 We also found this painting we liked in the gallery.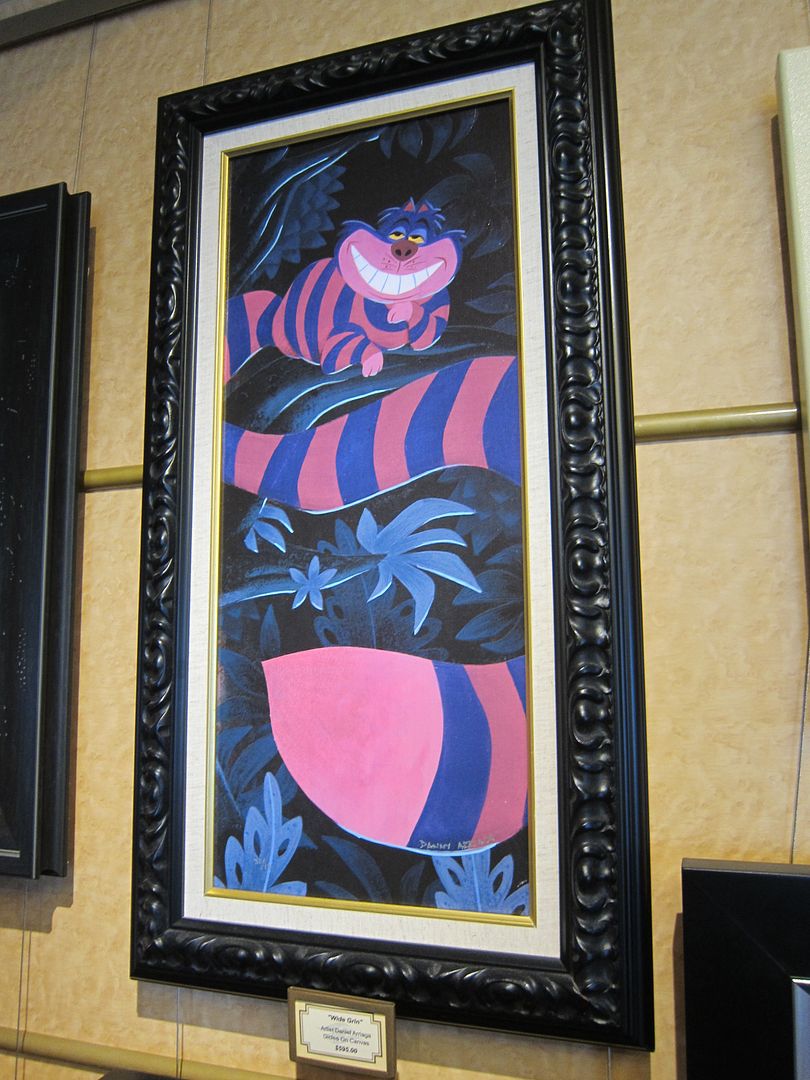 Now, if you can believe it, we'd actually been exploring the ship for so long that another meal time had arrived. We decided to try out Triton's this afternoon for our first onboard lunch, and we were glad to find out that we got a whole table to ourselves for this meal.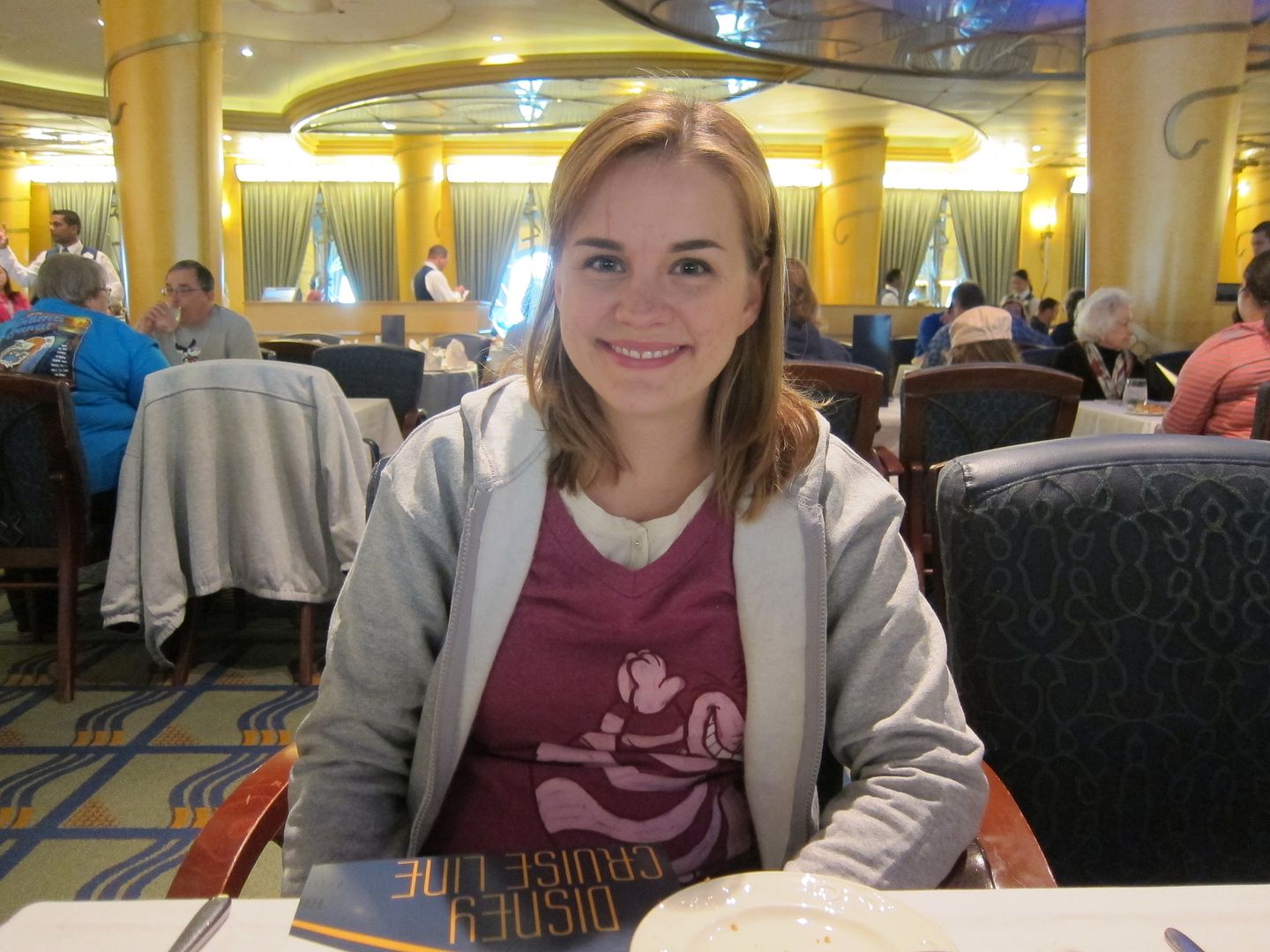 Here was the menu we got to choose from.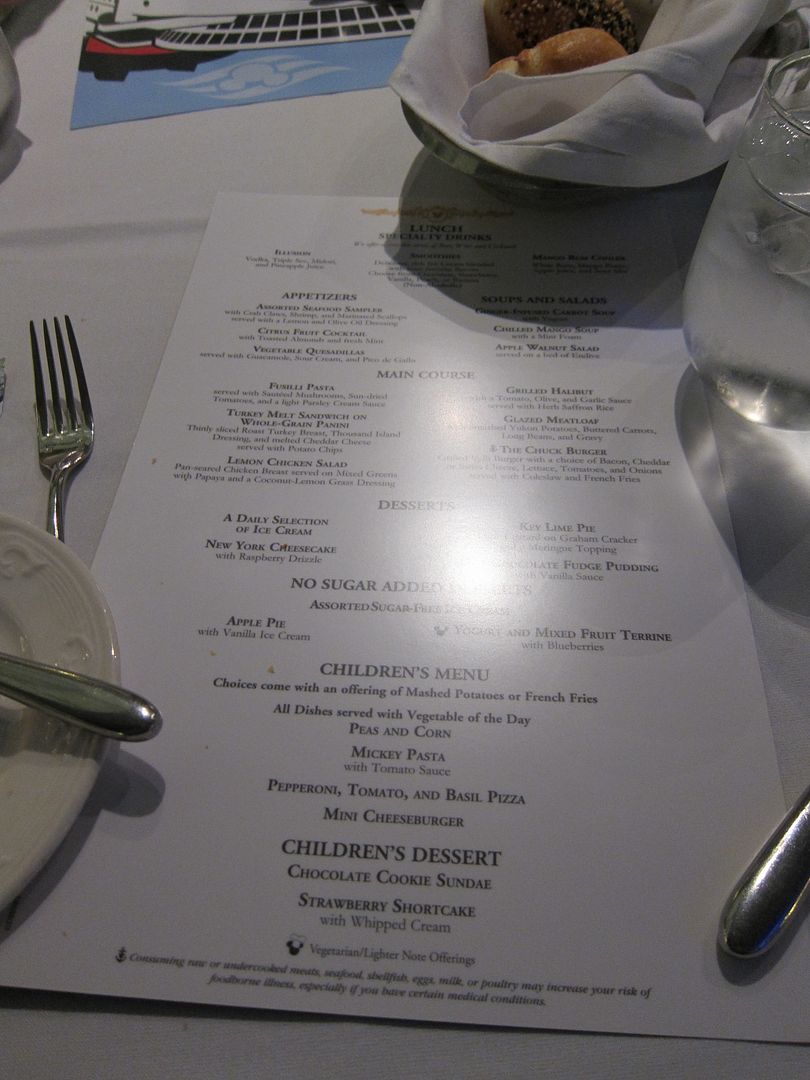 Both of us started with the Assorted Seafood Sampler (because how could we be presented with crab legs as an option and choose anything else?). Next, Tracy got the Grilled Halibut and I had The Chuck Burger. Everything was good, though I don't remember there being any major standouts. I think we also shocked our server when we declined dessert at the end of the meal. We weren't in the mood to get completely overstuffed this early in the day, after all…
The one "splurge" we did both go for, however, was a Shirley Temple to drink. I've always loved these tasty concoctions, and you'll notice that they started to become a bit of a habit on this cruise. Since this was the first, however, it still felt like a treat.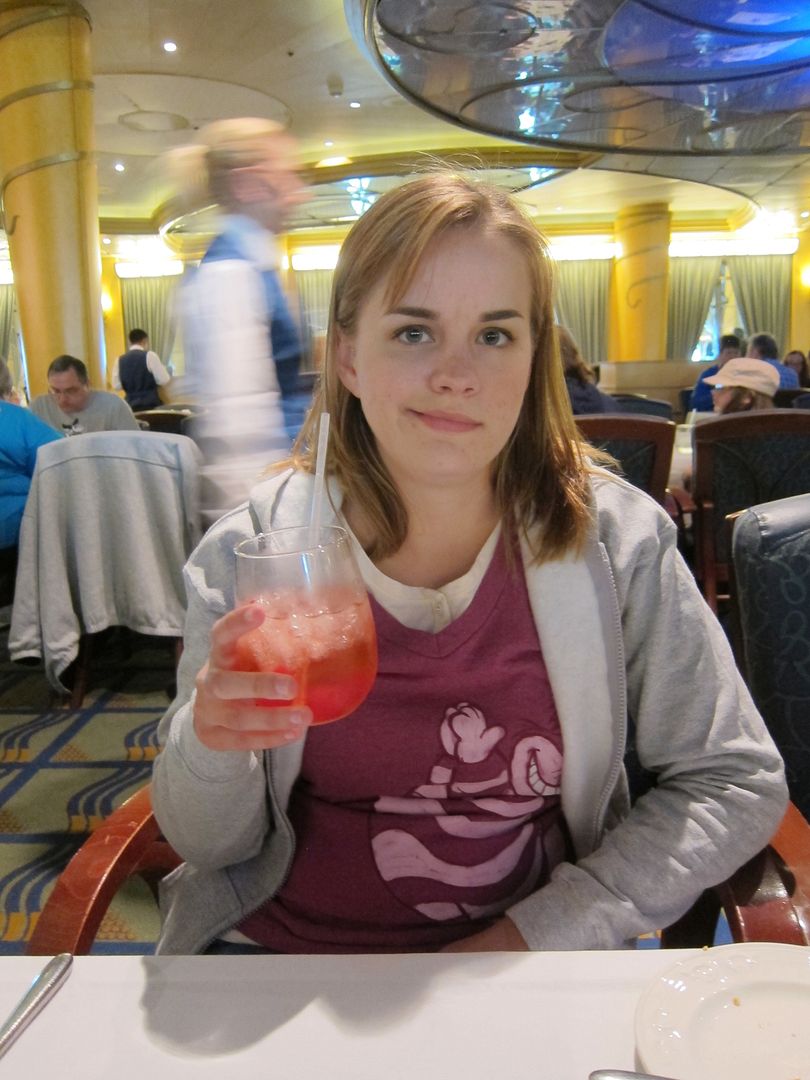 Satisfied yet again, we finished our meal and left Triton's. So far, I'll admit, our cruise experience had definitely  gone along with the stereotype that you spend your entire time on board the ship eating—and we were thoroughly enjoying it.
Previous Post | Next Post
Table of Contents
Support the Wandering Mouseketeers and get yourself a little something! Do your online shopping via our Amazon link!
Follow



Share