Chapter 13
…On the Road
---
(Originally posted March 5, 2013)
It was a little bittersweet waking up the morning of November 11 and knowing that it was finally time to start moving. We were definitely excited both for the road trip and what lay at the end of it, but we'd had such a nice time enjoying Colorado and the many comforts of home for just over three months.
We put Duffy in his winter clothes to prepare for the drive.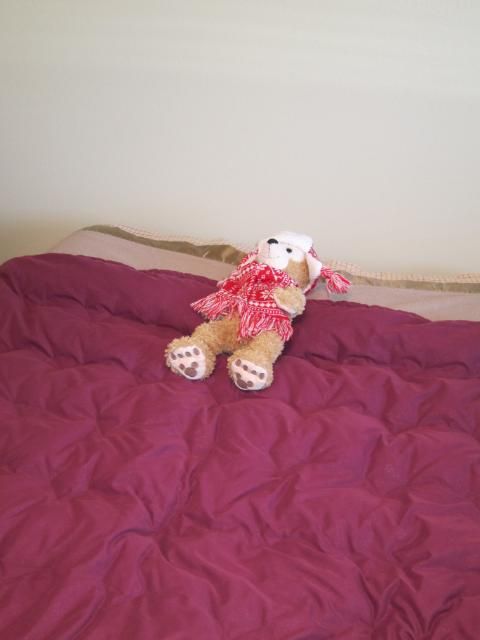 After making sure everything was packed up, we had to start doing the goodbye rounds. We spent more than a few minutes fawning over Stupey Doodle.
I think I'll miss you most of all, Scarecrow…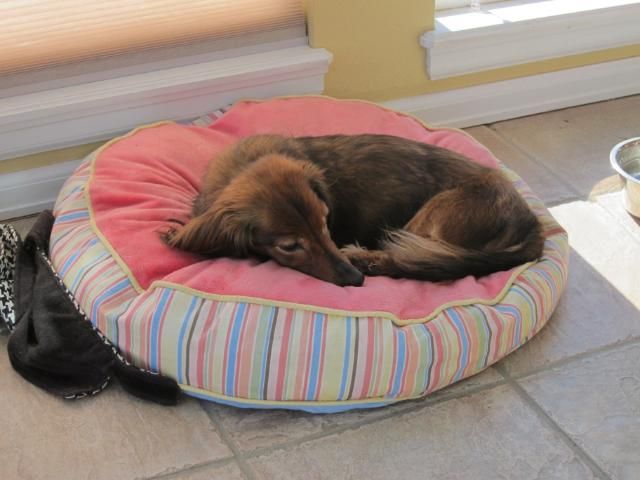 Before we knew it, it was time to hit the road. We gathered in the driveway and said our thank yous and goodbyes to Tracy's parents. They had been the most generous of hosts over our time in CO, and we were all sad to part despite the fact that I'm sure they were glad to get their house back.
We hugged Stewy Monster one last time.
And then we got in the car, started down the driveway, and waved our actual farewells.
With Dumbo and Daniel to guide us, we officially hit the road.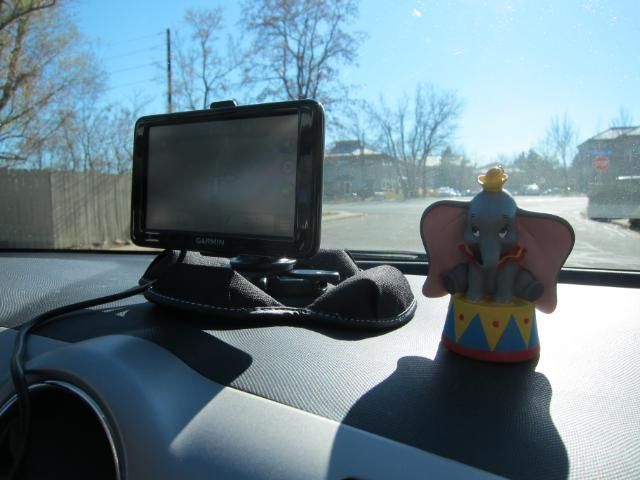 I tweeted (and will be using this color font to denote tweets in the rest of this road trip report): Officially on our way! #californiabound
Our first stop as we pulled out of our neighborhood was going to be the bank. We were going to have a need for quarters later in the evening and wanted to break a $10 to get them. Unfortunately, as we pulled up to the bank and parked, we realized we had a problem.
Not a good idea to plan on going to the bank on Veteran's Day. #roadtripproblems
Oh well, there was really nothing we could do, so we hit the road again. Now we were officially heading out of Boulder and saying goodbye to our beautiful flatirons.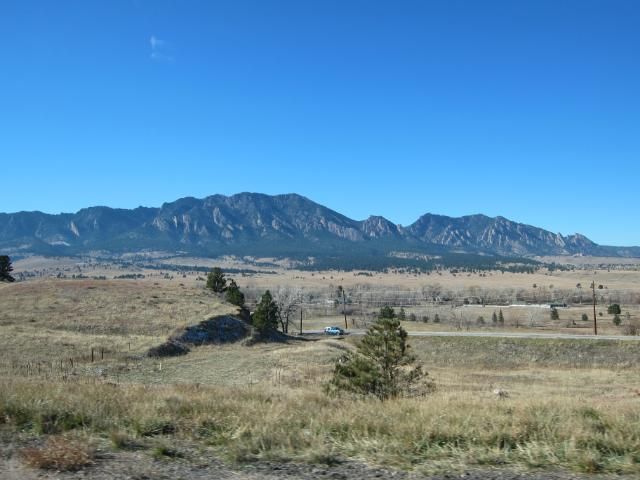 Duffy was up with me in the passenger seat while Tracy drove.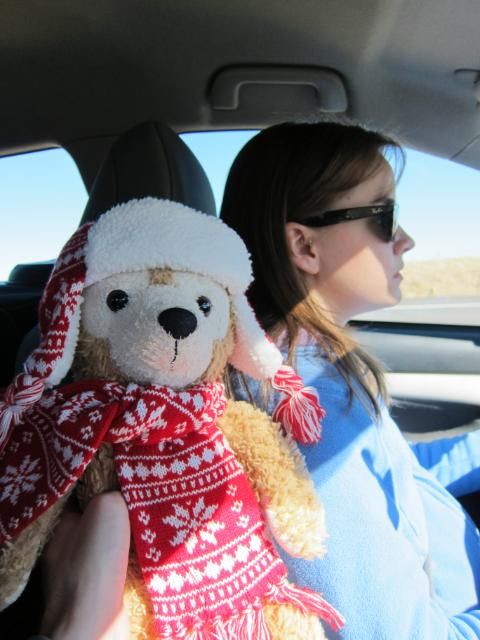 Right after we left Boulder, we encountered this:
Just saw our first ridiculous billboard for a "family nudist resort."
I wish I was kidding… Now that we were officially underway, we settled into the road trip mentality a little. We had loaded up an audiobook for the drive: Twilight by Stephenie Meyer. Go ahead and judge us. Here's a little bit of our Twilight history (which is nowhere near as extensive as my Harry Potter history in the last trip report).
Back before Twilight was the "thing to hate" in the world, they were just a series of books that came recommended via the Harry Potter fan community for being fun reads. I've been an audiobook listener for years, so I downloaded the first book and quickly made my way through it. While no great literature, the books are undeniably addictive. I think I listened to all three of the books that were out at that point in just a couple weeks. Then I voraciously devoured the fourth book when it came out that summer. As we prepared for the movies to start coming out, sensing it was about to be the "next big thing," I coerced Tracy into starting to listen to the audiobooks. She too was hooked.
After reading the books, we went through the same experience as the rest of the world watching the movies. Each time we would see a new film in theaters, we'd think it was good the first time before watching again on DVD and realizing they were just awful for the most part. But we were always still hooked enough to keep coming back. And with the last movie coming out just a couple days after this road trip, we thought it would be fun to revisit where it all began with the first book. After all, we did owe a debt of gratitude to the franchise for giving us thousands of dollars when Tracy was in this commercial—but that's a story for another time. We fired up the audiobook as we drove. And we were just getting to the pivotal scene where Bella sees Edward for the first time across a crowded cafeteria when Dumbo gave us a scare.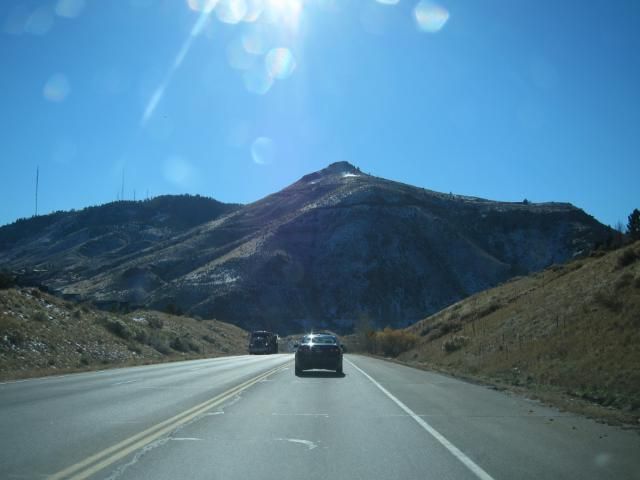 Obviously, the car was loaded down. We had at least five hundred extra pounds in the backseat. So, naturally, the pickup from our normally spritely car was less powerful than usual. Still, we weren't prepared for Dumbo to jolt as we were climbing uphill and feel like he shifted out of gear for a few seconds. It quickly recovered, but we were nervous to say the least. Luckily, the grade here was one of the steepest it would get to on the trip at such high speeds. I was tweeting and photographing at regular intervals as we progressed.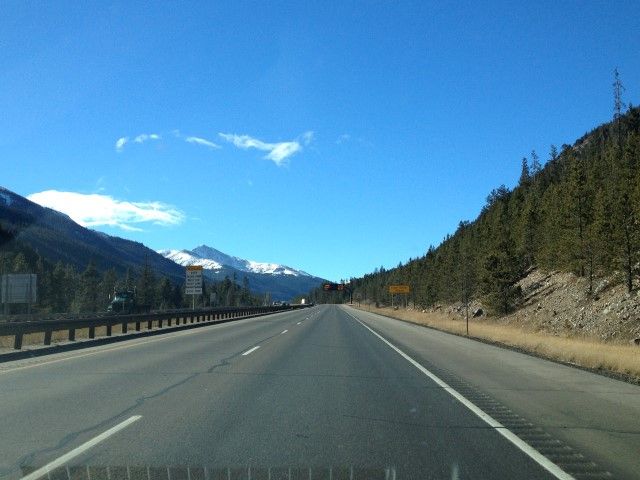 Through our first tunnel. Guess we're in the mountains.
We're through the Eisenhower Tunnel and over the continental divide.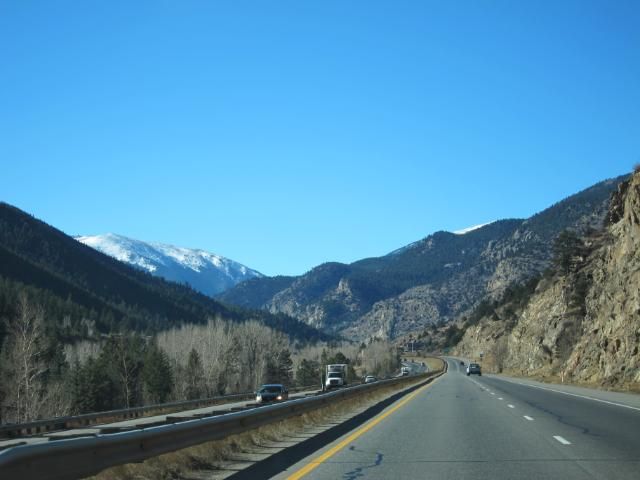 Lunching in Silverthorne. Hoping our car can handle the rest of these mountains when carrying an extra 500 lbs
Reaching Silverthorne, which is just past the Continental Divide, we stopped for lunch at McDonald's.
While we devoured our food, we were unquestionably still a little nervous about the next portion of the trip. It was time to brave Vail Pass. Luckily, we quickly realized that the road condition reports we were relying on from the Department of Transportation were slightly overblown.
CDOT has these road conditions listed as wet with icy spots #incorrect
We started moving uphill and noticing just how beautiful the mountains were looking.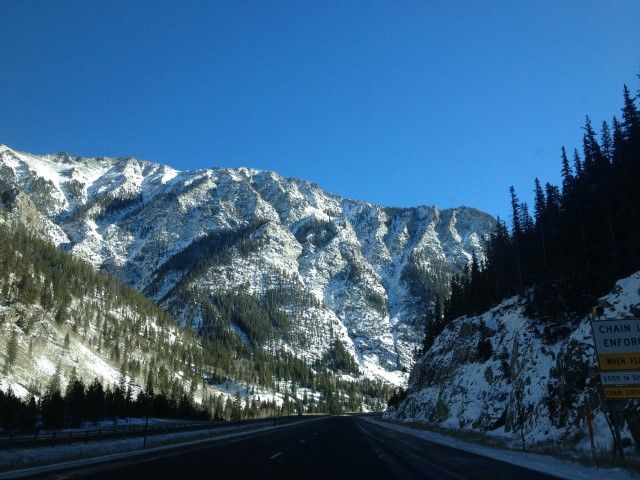 We travelled up for a while, and we kept anticipating the road becoming winding and treacherous, but it never happened. And then we passed a road sign that said we were at the summit of Vail Pass. We never even knew we were close to it!
Done with Vail Pass!! #anticlimactic
Once we were past the pass, we went downhill for quite a while. Twilight played on, Dumbo didn't give us any more scares, and the mountains kept looking pretty.
Then everything began to flatten out again.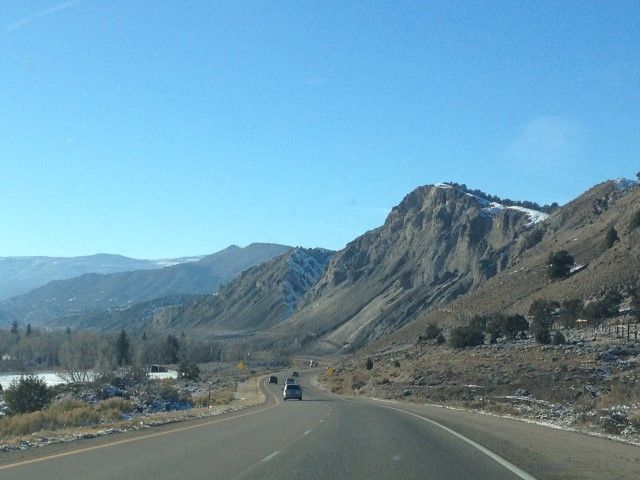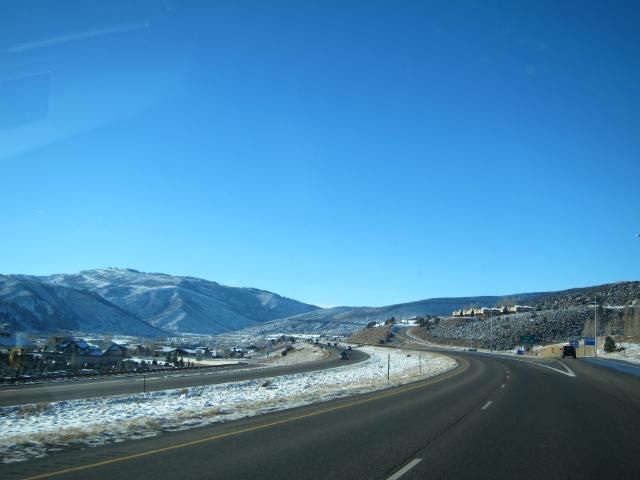 Duffy and I were enjoying ourselves in the passenger seat.
And Tracy was doing an excellent job driving.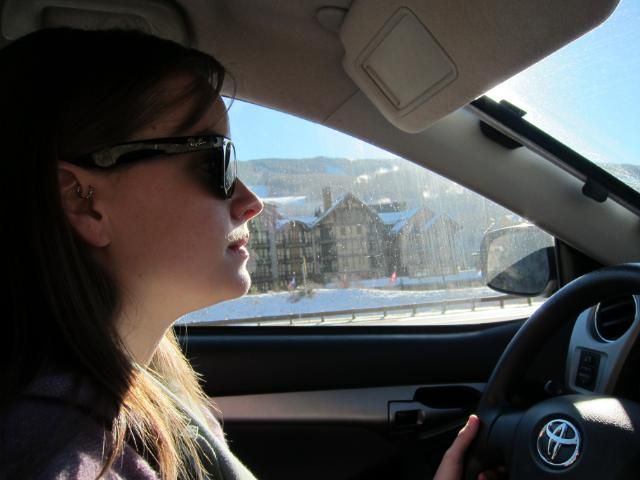 The snow, while pretty on the mountains around us, never touched the roads. They were almost entirely dry for the whole trip.
Yup, we bought chains for this trip, haha. #overpreparedbetterthanunder
The terrain began to change again as we started toward Glenwood Canyon.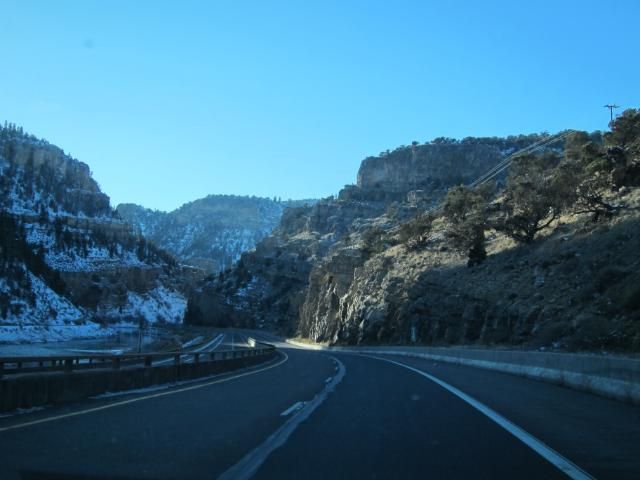 The canyon itself was actually quite beautiful with its juxtaposition of sun and snow.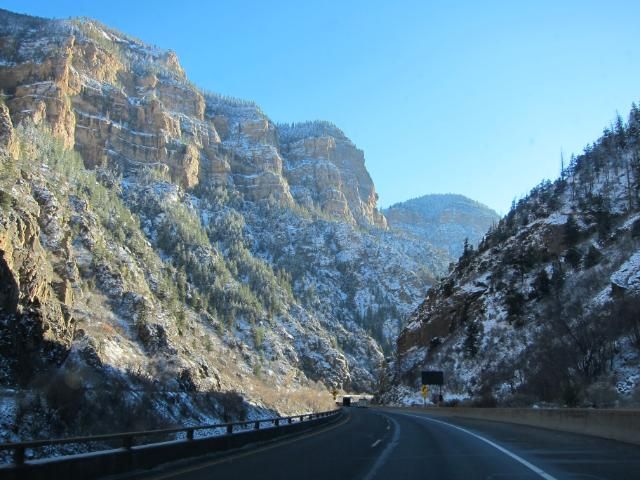 And just after that, we arrived at our first night's destination. Our first day of driving was intentionally not too long, but we got to a destination where we were excited to spend some time—Glenwood Springs, CO.



Share