Chapter 13
Who Knows Where a Dream Might Lead
---
Previous Post | Next Post
Table of Contents
When we got to our seats, we saw that the red carpet interviews going on outside the theatre were being live-streamed onto the big screens on either side of the stage. We only saw one father and daughter talking about how excited they were, however, before it was time for the show to actually start.
First, Jimmy was introduced and came running up onstage to ask us how we'd enjoyed our first full day on board (spoiler alert: we'd enjoyed it more than we could have imagined). He also pointed out that we would be gaining an extra hour tonight as we transitioned into the Alaskan time zone. We laughed when he asked what we would spend that extra hour doing and 80% of the room said "sleep" (us included) while a significant minority shouted "party." Obviously this was a Disney Cruise, not Carnival. I'm sure Jimmy had plenty else to talk about, but I can't remember what offhand. Before too long, however, he introduced the cast of The Golden Mickeys and started the show.
If you haven't seen The Golden Mickeys, I highly recommend it. The show tells the story of a bumbling stage manager named Ensign Benson (say it out loud and you'll get the pun) who is forced to host a Disney awards show when the scheduled talent is delayed. She then joins onscreen representations of big names in the Walt Disney Company like Tim Allen, Anika Noni Rose, Bob Iger, and more in introducing different performing acts.
The characters introduced include favorites like Snow White, Quasimodo, Sebastian, Mulan, and more as they take the audience through awards for classics, heroism, romance, and villains. Music is key in this show (as in all Disney performances), and it featured some of our favorite songs. A few of the standouts of the night were Tarzan—who used inhuman upper body strength to do crazy acrobatics—and Cruella de Vil and her "dalmatians."
Of course, our favorite character was Ensign Benson herself. I don't think the character is traditionally British, but the performer on our cruise was, and it totally fit the part. In fact, she embodied the part so incredibly well with her awkwardness and bumbling that we found ourselves truly rooting for her transformation into a more confident woman by the end of the show. I'd heard clips of the song she sings in the finale on old DCL-related episodes of WDW Radio, though I'd never known where the tune came from. I particularly enjoyed her rendition, and I just thought the whole show was so fun overall.
We started the walk back to our stateroom still humming several of the songs we'd heard (always a good sign, in my opinion). As we walked in, we saw that Jay had been in to turn down our bed and had left a towel lobster this time around.
I really like the decorative pillow they put out for bedtime. It reads, "A dream is a wish your heart makes when you're fast asleep…"
By now, the sun was starting to set—honestly, we were already being so thrown off by the daylight hours because it felt so early even though it was about 10:00pm.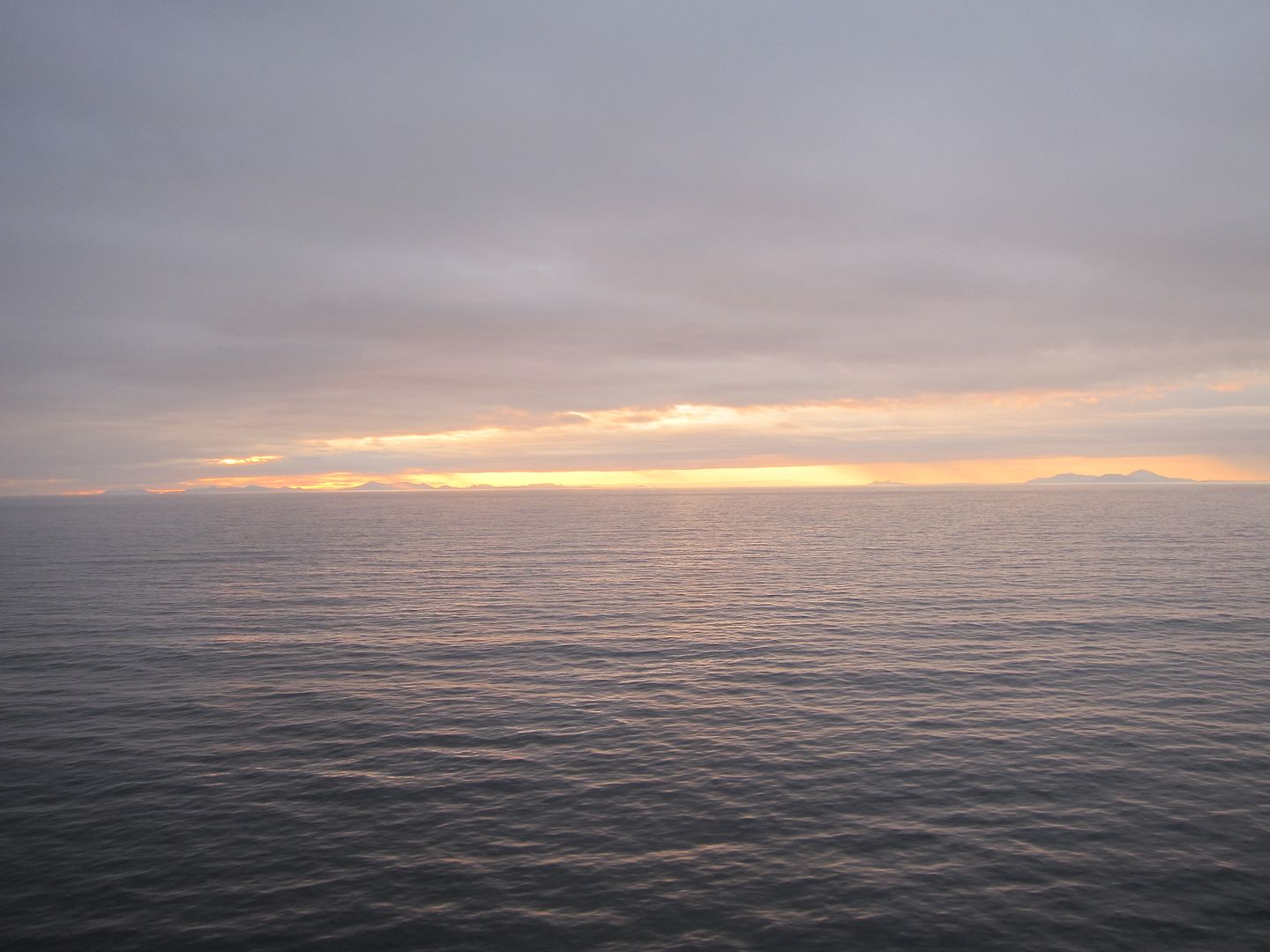 The sunset itself was so pretty that I ran up to Deck 9 to try to snag a picture as it sank below the horizon.
It was still quite chilly out today (it had never gotten very warm because of the on-and-off rain), so we quickly ducked back inside and went down to Deck 4 again. It was time for the second round of character meet-and-greets with several of the classic characters we'd missed when they were out the first time. While formal night had been fun, you'll notice that we decided to change back into casual clothes for the rest of the evening.
Daisy looked lovely in her evening gown.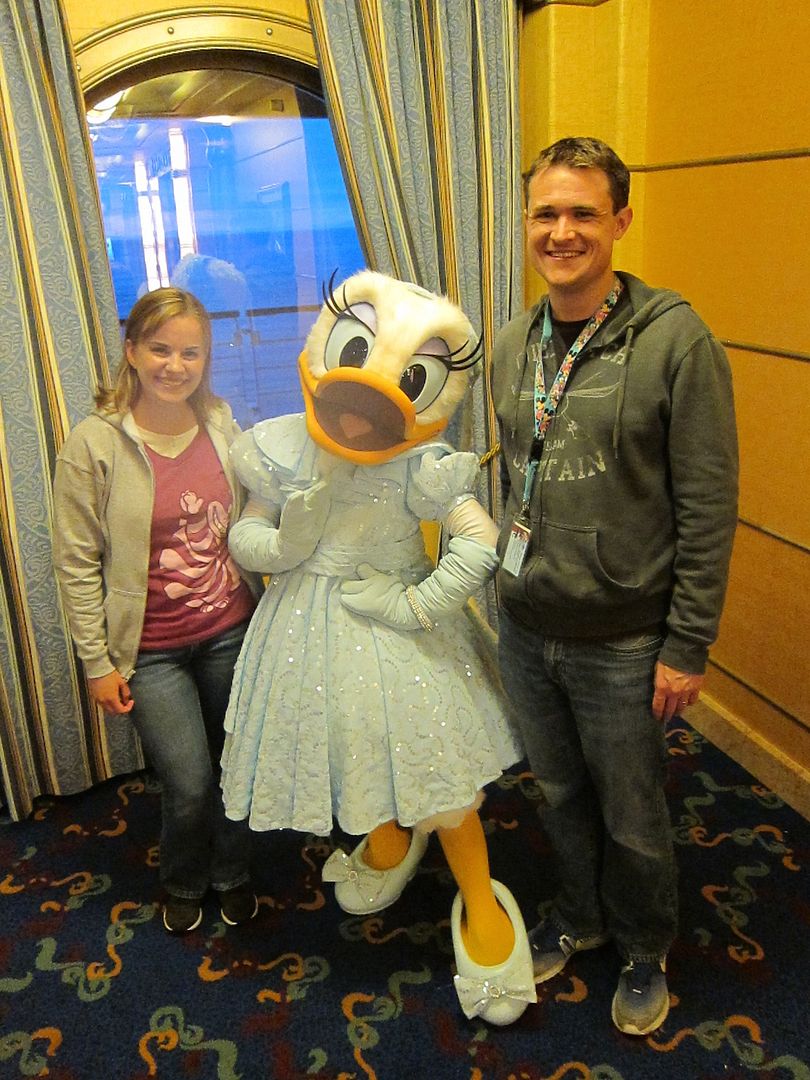 We had just arrived as the characters were getting ready to rotate, so we saw Mickey and Minnie making their entrance again.
I even got a short video.
[kad_youtube url="https://www.youtube.com/watch?v=Cwvw-tdiWAQ" ]
The two mice arriving meant it was time for Goofy to leave, so I sniped a few pictures as he headed out.
There were also randomly several princesses roaming around upstairs, so we stopped to talk with Cinderella briefly. I love how befuddled Tracy looks in this picture.
When I went to stand next to Cinderella, she was one of those princesses who was VERY adamant that I give her my arm instead of putting my arm around her back. She must have thought I looked like the groping type.
Down below, a pianist was tickling the ivories with some wonderful Disney melodies.
Now we started to head toward Wavebands on Deck 3 because it was getting to be almost time for "Match Your Mate." When we got to the doors, one of the cruise staff members was standing outside redirecting everyone into Diversions. Apparently Magic Dave's show was running over and was quite popular, so they'd set up overflow seating and were simulcasting his magic/comedy act on the TVs in there.
We grabbed seats in Diversions (we noticed our table mates a few tables away had done the same) and watched the end of the magic show. Obviously we'd missed quite a bit of it, but it was still pretty fun. I'm honestly blanking on what exactly the point of the final trick was, but I remember it was quite elaborate and I think it had something to do with sleight of hand surrounding a dollar bill that had been written on by one of the audience members. I do remember that the volunteer was quite drunk and Magic Dave was having quite a time poking fun at him. As the show came to an end, people started flooding out of Wavebands and we were allowed in just as "Match Your Mate" was getting started.
I feel like my memory is failing me because I can't remember the host's name for the life of me, but he was another Brit (the UK was representing today in the entertainment division) with a very dry, cheeky sense of humor.
First off, I should probably note that this game show is the DCL version of "The Newlywed Game," so you can understand what we were expecting. The host led the audience in helping select three couples: one that hadn't been together for very long, another that had been together for an average length of time, and a third that had been together for many years.
Our three couples were a boyfriend and girlfriend (or maybe they were newlyweds) that had been together for about a year, two men who had been together for a few years, and a husband and wife who had been together for something like 30 years. All three pairs seemed like they were up for whatever the game threw at them, and we were pretty sure we had a good bunch.
As with trivia, I don't want to give away the questions for "Match Your Mate" because they are the same for every cruise (and I don't think I should write some of the answers here because I am trying to keep this trip report rated PG). I'll just say that they were the typical questions you might expect regarding dating, living together, and even (*gasp*) sex. All the answers were hilarious and I had trouble choosing between the gay couple and the older married couple as my favorites. In the end, however, Couple #1 (the youngest) actually cheated to win the game when one of them whispered his answer to the other before it was their turn. No one said anything at the time, though, and they were granted their necklace and pass to the Rainforest Room nonetheless. Still, when we would talk to John and Candida about it the next day, they were horrified that the cheaters had been allowed to keep their prizes.
In spite of any sportsmanship issues, we still LOVED this game show. I found myself laughing so hard at times that my sides hurt, and I thought the host and contestants all did an excellent job of being entertaining. This is an event that I imagine we'll want to check out on pretty much every cruise we take because it has a huge repeatability factor (the questions never change, but the people do every time). I would highly recommend it to anyone who is of-age.
It was late when we were done with "Match Your Mate"—probably just after midnight—and we quickly showered when we got back to our room. Since we were turning the clocks back an hour, we could still set the alarm relatively early and not have to worry about missing out on too much sleep. We were especially excited because Jimmy had told us earlier that when we woke up on Day 3, we'd officially be in the waters of Alaska. I'll admit, we did pop open the chocolates that had come with our champagne and bathrobes before officially hitting the hay.
But before too long, we'd sailed off to Dreamland.
Previous Post | Next Post
Table of Contents
Support the Wandering Mouseketeers and get yourself a little something! Do your online shopping via our Amazon link!
Follow



Share