Chapter 15
Bratswurth
---
(Originally posted July 31, 2012)
We continued our circuit around the world, passing by our home country.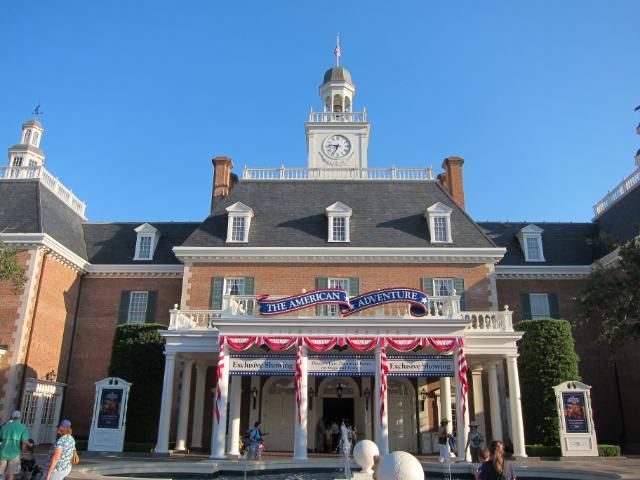 On our last trip, we saw the Voices of Liberty perform and then went to the American Adventure for the first time. Unfortunately, on our one day in Epcot on that trip, the temperature was over 100 degrees and we got to the USA late in the afternoon. That basically meant that try as we might, there was no prayer of us staying awake once we hit the comfortable seats and the air conditioning in that theatre. I think Tracy lasted about 5 minutes while I lasted about 10. I really want to see the show in all its glory someday, but this was not that day either. It was early evening and it was hot, and if we had tried to watch it, I don't know if we would have lasted even a few minutes before our eyelids got heavy. So we passed by America and on to Italy. By this time we knew we needed to pick up the pace if we wanted to get to the end of World Showcase, eat two dinners, and ride two rides before IllumiNations.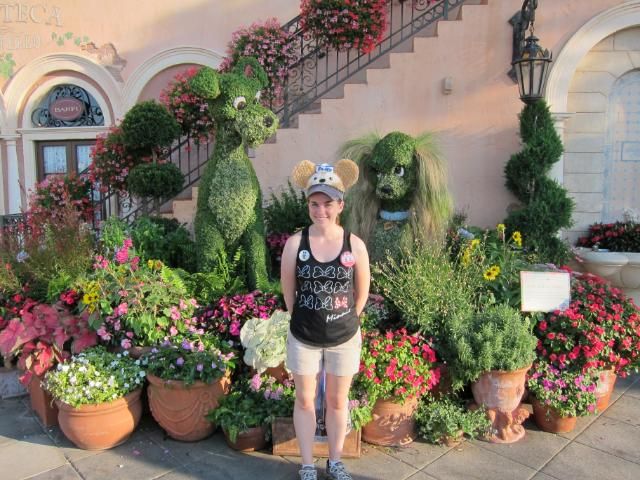 We only had enough time to peek into Italy before moving along.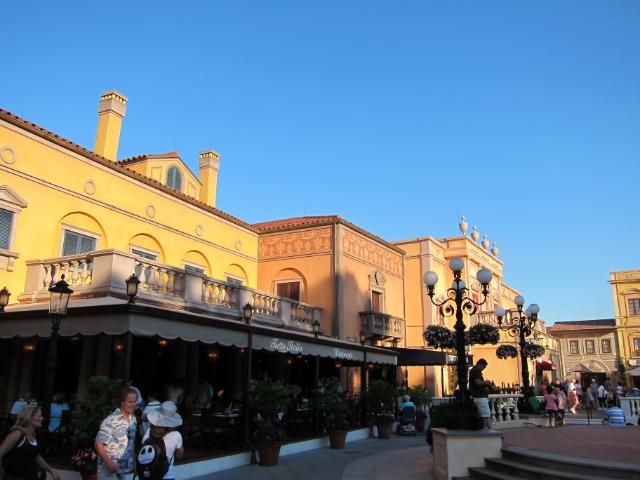 On the path between Italy and Germany, we stopped to look at the trains.
Finally, we reached the location of our next meal, Sommerfest!
Last winter, we went to the pop-up holiday market that they have in Columbus Circle every year. While strolling the booths, we came across one German booth that sold bratwurst and sausages. On their counter, they had a sign that said "The Bratwurst Supplier of Epcot in Walt Disney World." We bought brats there for dinner that night, and they were delicious! They weren't greasy like some brats, but they had a really nice flavor. Ever since then, I couldn't wait to try one of those bratwursts again, so I jumped at the chance when we were making our list of Epcot counter service restaurants.
Now for a word about bratwursts. Several years ago, Tracy and I were big fans of the reality show Newlyweds: Nick and Jessica, which followed Nick Lachey and Jessica Simpson right after they got married. The pair had such a funny dynamic and she just came across as so dumb that we always enjoyed watching for a little bit of light entertainment. In one episode, Jessica and her mom were eating bratwurst and kept referring to them as "bratswurth," so for years that is how we have referred to the food.
We ordered a Bratwurst with sauerkraut, a Pretzel and a Coke to split.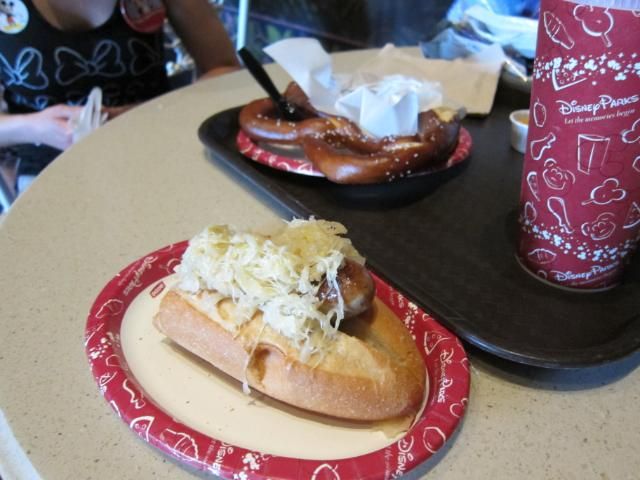 The brat was as delicious as I remembered, the sauerkraut was good, and the pretzel was soft and tasty. This time we tried to be a little smarter and didn't finish the pretzel because we knew we still had another dinner ahead. Alas, we still got pretty full on our half-bratswurth alone.
We didn't have much time to explore after dinner #1, but we stopped quickly into the crystal store because all the stuff in there is so cool.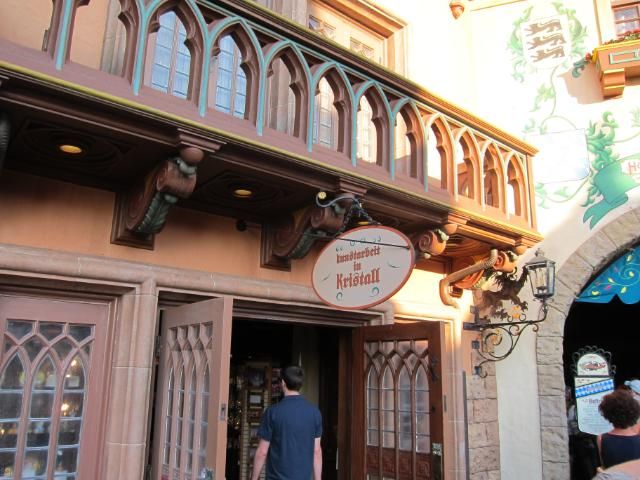 And of course we went into Der Teddybar because that's the best name for any store anywhere.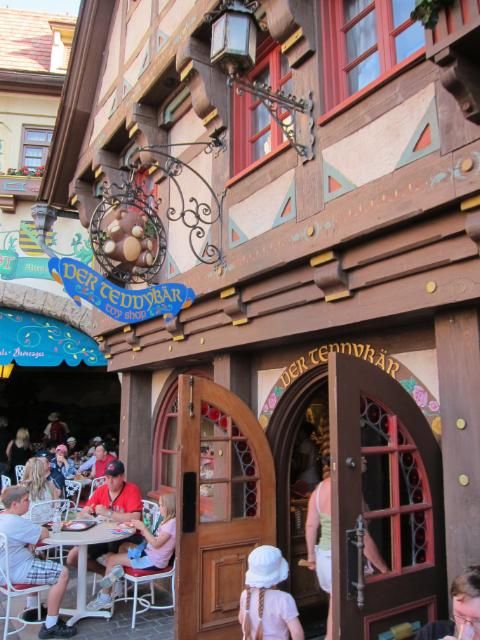 On the way out of Germany, we stopped at Snow White's wishing well.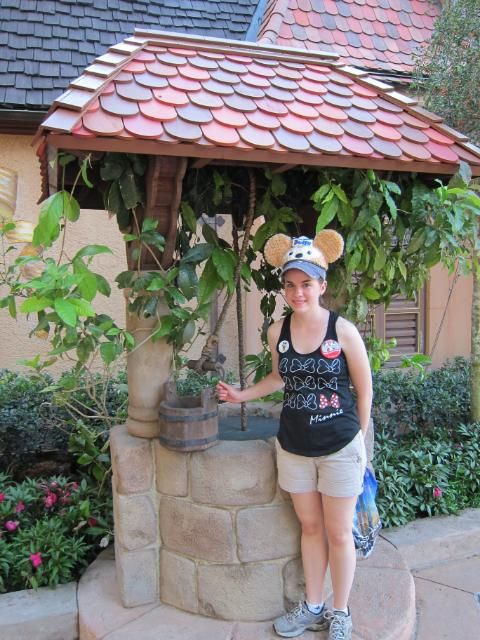 We hurried by China because time was marching on too quickly.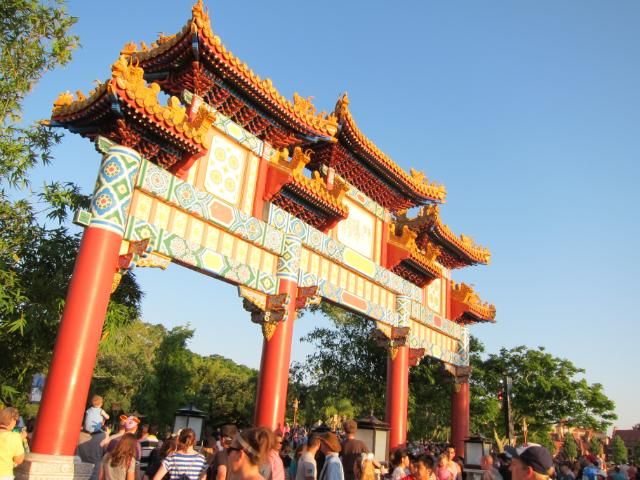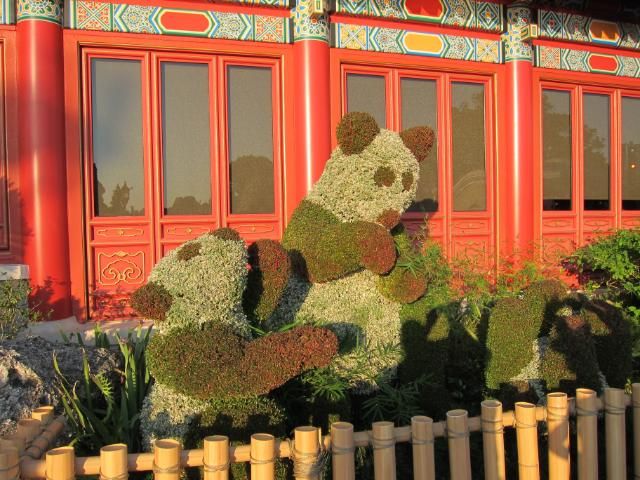 Our next actual stop was Norway.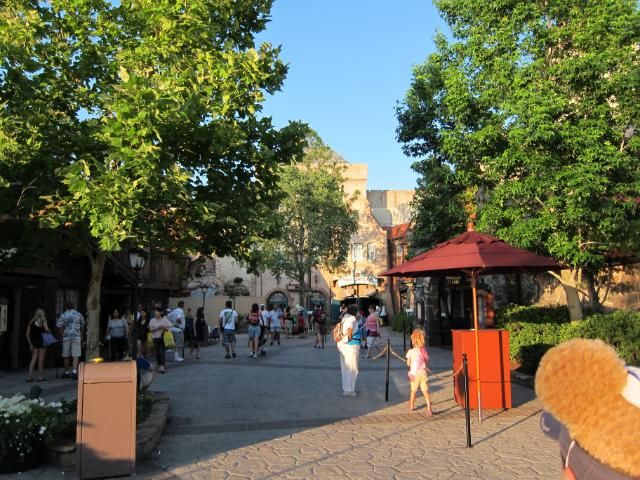 We were annoyed that the wait for Maelstrom was posted at 20 minutes (1.1 crowds my foot), but we got in line anyway.
The line took a while—close to the posted time for once—but we did finally get to the front. This mural is one of the creepiest things in all of WDW. The boy is smiling demonically while he guts a fish.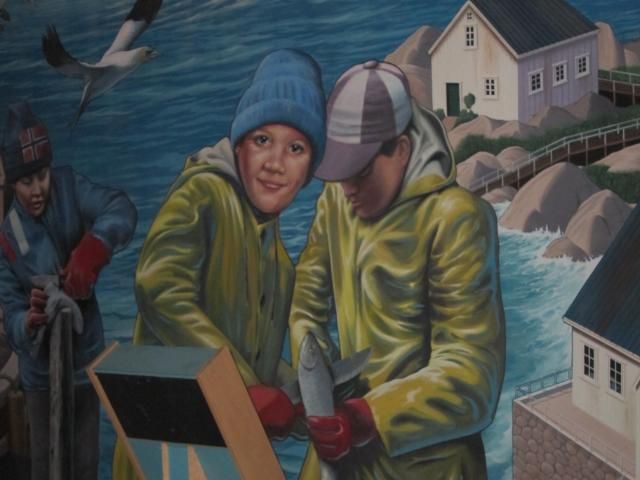 Maelstrom is just plain bizarre, and that's why I love it. Between the trolls and the narration, it's always a fun time. But after we went back, back, over the falls, we returned safely to port and moved along. We did not stop to watch the movie (someday I would like to put in the time to do that as well), and we moved on into the gift shop. We posed with everyone's favorite troll.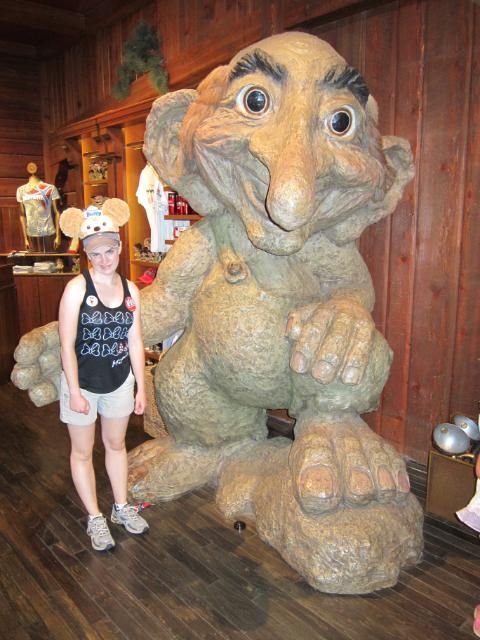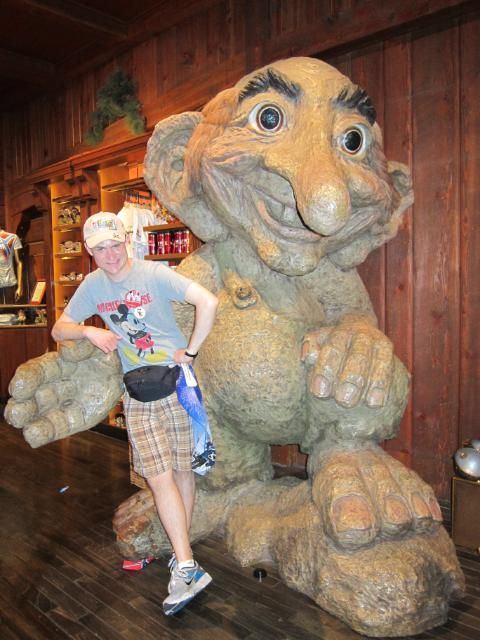 Neither of us was hungry at all, but we needed to try another snack that everyone raves about, so we stopped into Kringla Bakeri og Kafe.
We needed to try… SCHOOLBREAD!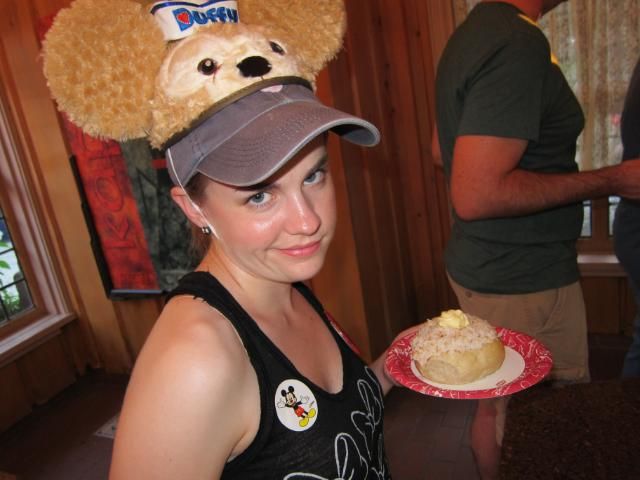 We sat for a few minutes and ate our schoolbread. This also didn't quite live up to the hype, but I think it might have just been our particular piece. The bread wasn't as soft as everyone says it usually is, and I think I was just too full to fully appreciate it on the whole. Oh well, now I know I like it and next time maybe can eat it on a slightly emptier stomach.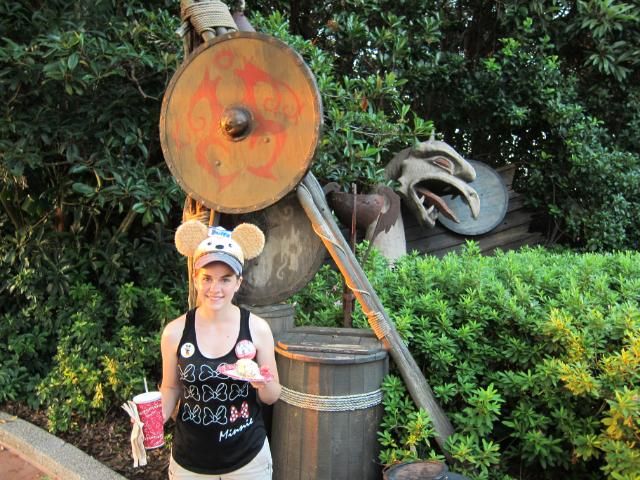 While it probably wasn't the smartest idea, we still had another quick service credit to use on the day, so we made our way toward Mexico and La Cantina de San Angel.
This area was under refurbishment on our last trip, though there was a stand offering many of the same menu items. What we got then, we wanted now because they had been delicious. We ordered the Nachos, Churros con Cajeta, and a Pineapple Jarritos. Our schoolbread is also still photo-bombing this picture.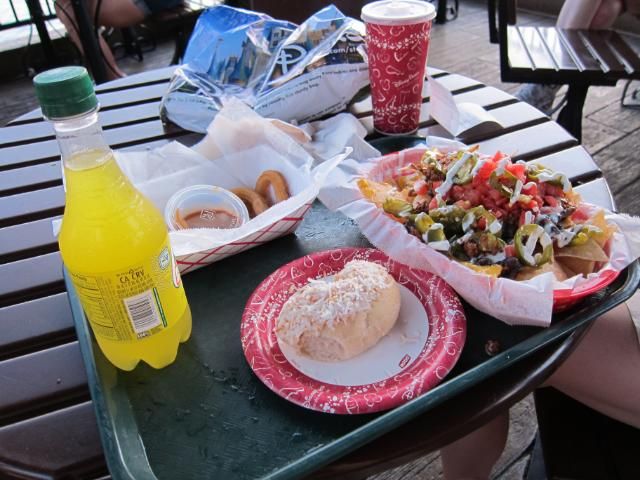 These nachos are SO GOOD. They're loaded with toppings and incredibly tasty, but I could only eat a few chips before I started feeling full to bursting. It was a really sad moment. The churros were good, but the sauce was a little weird. The "milk caramel" was not what I was expecting, and I know Tracy really didn't like it. The jarritos, however, was very refreshing! We ate what we could fit, which really wasn't much, and then we moved into the Mexico pavilion.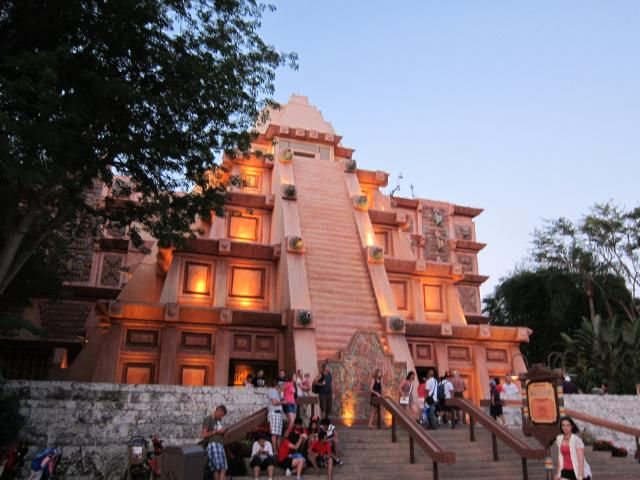 Share