Chapter 19
The Neverending Safari
---
(Originally posted August 1, 2012)
Other than when we saw Festival of the Lion King, we had never set foot into Camp Minnie Mickey. It was our loss apparently, because we later found out that it was the home of several characters who you can't meet anywhere else. Unfortunately, since our trip, they have retired several of these characters, so we don't know if we'll ever get to meet them again. First up were Thumper and Miss Bunny. It's funny that they never gave Miss Bunny a proper name, and also that this must be her before she and Thumper ended up together (when I assume she would have changed her name to Ms. Bunny).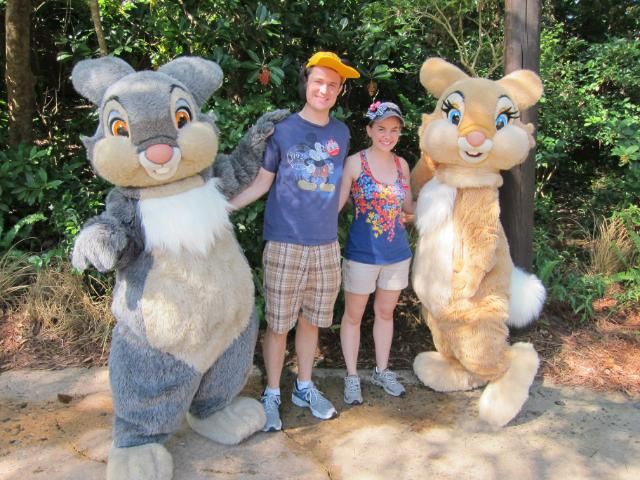 Next up were Chip and Dale. Considering they're almost like an offshoot of the fab five, we rarely find a good time and place to meet Chip and Dale on our trips. When we were in Disneyland, we met them at a character breakfast. We made sure to Google them before they came around so we were 100% sure which was which.
Next up was Meeko!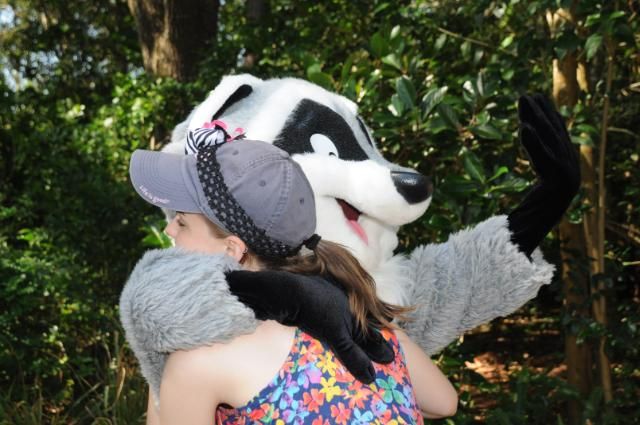 Now for a tangent about raccoons. They are the cutest thing ever!! We live a block away from Central Park, and every evening this spring and summer, we have gone for a walk around the small lake by our apartment. A couple months ago, we noticed that there were a lot of raccoons in the trees around the water. Then they started having babies, and suddenly there was a raccoon infestation. A cute infestation though. Now every day at 7:30, we go outside for racooning hour. We just walk around and see them up in the trees, and watch as they root around or scuffle with one another or peer down at us. Anyway, our trip preceded the raccoon fascination by about a week, or we would have been more excited to meet Meeko than we already were.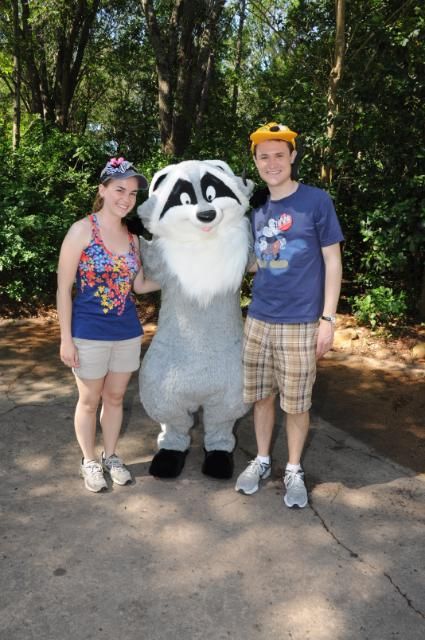 On the way out of Camp Minnie Mickey, we passed by these guys.
We found this hidden Mickey in the ground.
It was time for our Fastpasses for Kilimanjaro Safaris, so we headed back to Africa again! Animal Kingdom is so spread out, and I have never figured out a logical touring plan that doesn't take us back and forth across the entire park multiple times. I guess this is why Animal Kingdom is always an exhausting day.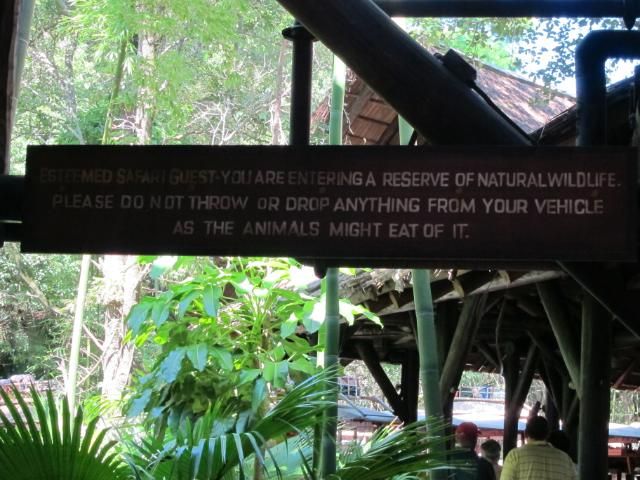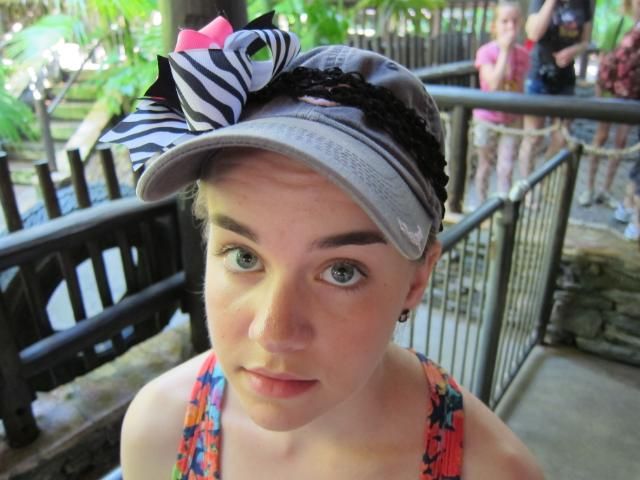 We were off on our safari, and this one was a doozy. Our guide's name was Alex. He was on the Disney College Program and seemed very into his job. He was already a good guide as he drove us through the first part of the reserve.
As we got up to the elephant area, our vehicle came to a halt.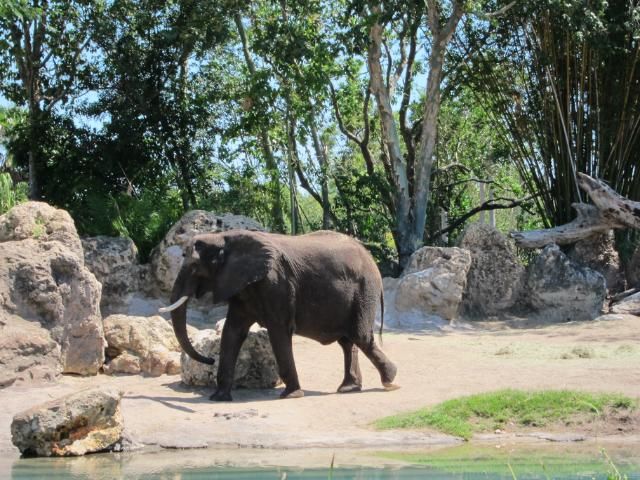 Apparently up ahead, the addax—those antelope with the spiral horns from earlier—were in the middle of the road and refusing to move. So we began waiting. And waiting. And… waiting… Once we had been stopped for ten minutes, everyone was getting a little antsy. Alex started asking us if anyone had any questions about the reserve. Someone asked how big the reserve was and Alex quickly responded, "About 800 square miles." At this, I started laughing to myself, because Alex was trained, like all Disney cast members, to put story above all else. That meant that he was not going to answer these questions as a cast member driving around Kilimanjaro Safaris in Florida, but rather as an adventure guide driving around the Harambe Wildlife Reserve in Africa. In our vehicle, however, Tracy and I seemed to be the only ones to realize that fact. Everyone else was very impressed by the fact that this reserve was somehow WAY bigger than all of Disney property… The questions kept coming and the other guests just got more and more confused.
"Do you feed the animals?"
"Well the herbivores eat the plants around the reserve, and the carnivores… Well they take care of themselves."
"So you don't keep the animals separated at all?"
"No, we just let them wander."
And it went on for another ten minutes. That's right, we were stopped for over twenty minutes while those addax did whatever they were doing. At one point, Alex got a call on his radio letting him know that this delay had caused them to close the entire attraction. And still we waited. We were getting hot in that car, and right as we were really just wishing the ride could be over, we started moving again. Finally.
At least we got a good view of the cheetahs as we passed by them.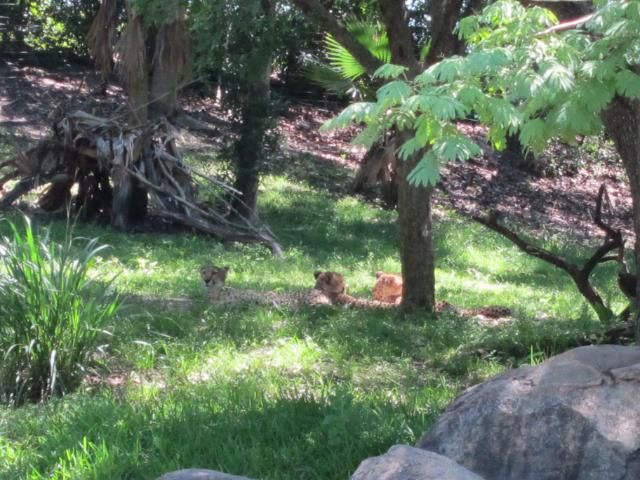 As we passed the addax, we shook our fists at them. When we pulled into the exit, we had officially been in our vehicle for an hour. We made a mental note to mention Alex at guest relations because he had handled our long pause like a pro. While we were stopped, he told us a story about another time when the ride kept being stopped by animals in the road. On that occasion, it had been the giraffes. He told us that his car had been stopped in the savannah and a giraffe had walked right up to the vehicle and stuck his head through the window of the truck. That must have been amazing! I'd take a giraffe encounter over those pesky addax any day. I still love Kilimanjaro Safaris, but it was safe to say we'd had enough of it for one day.
Once we had stretched our legs for a few minutes, we regrouped and decided where to go next. While trying to figure it out, we passed by DiVine.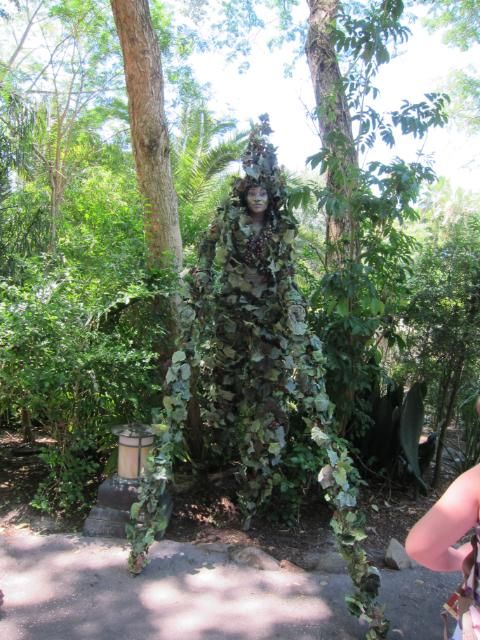 All that sitting in the heat had made us hungry again, so we decided it was snack time. We stopped at the Egg Roll stand and bought two as snacks.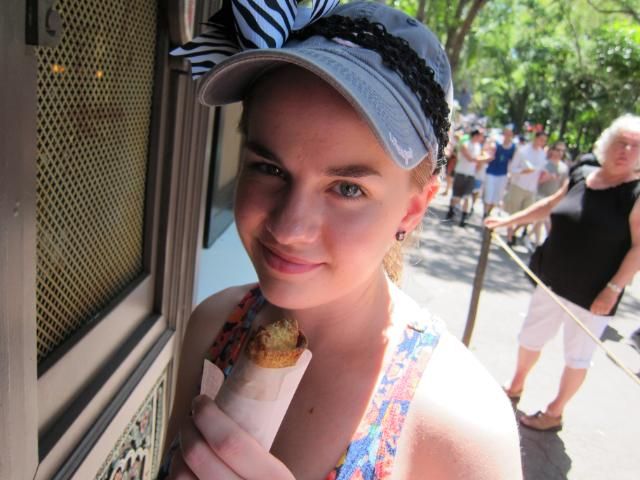 Tracy got the Shrimp and Pork while I had the Vegetable. They were good! Pretty standard egg rolls, but good. Next up, we decided to go to Dinoland U.S.A.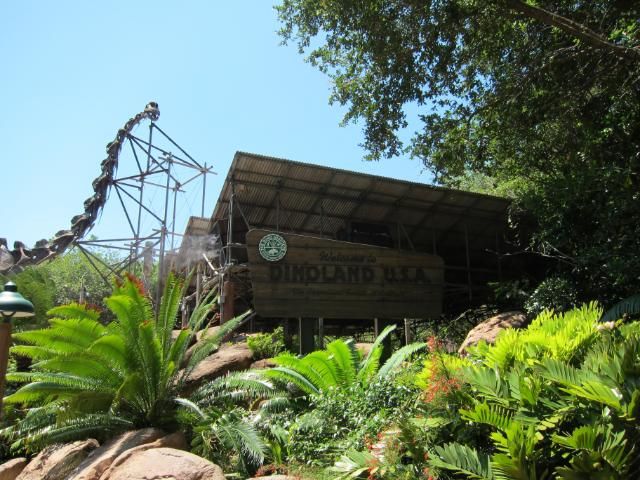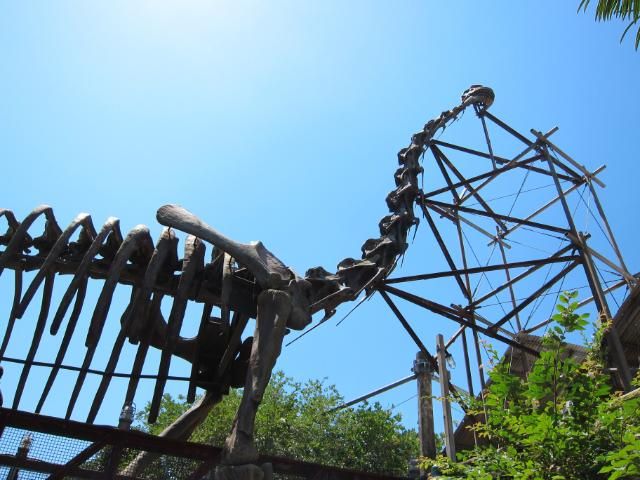 It was time to ride Dinosaur!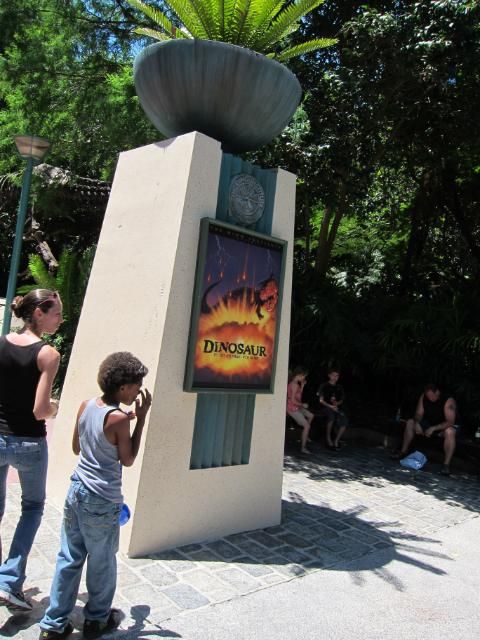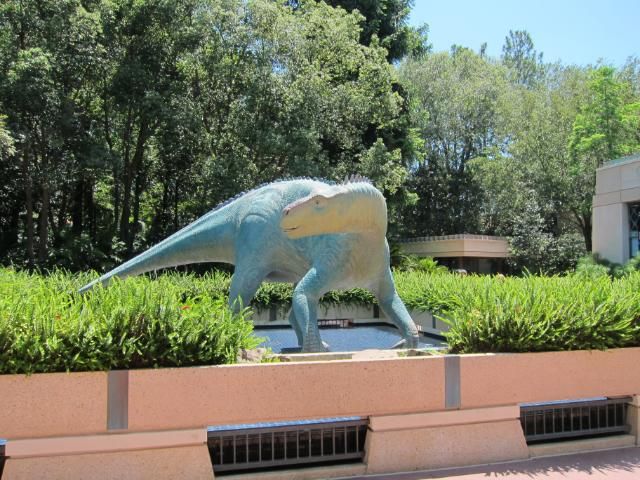 We both really love this ride. After riding Indiana Jones in Disneyland, I must say I love that one a little bit more, but they're both great and make such good use of the same technology. Tracy always laughs at me during this ride because I jump at sudden loud noises, and there are a lot of them on Dinosaur. I usually am screaming in the picture, but in this one I apparently kept my cool.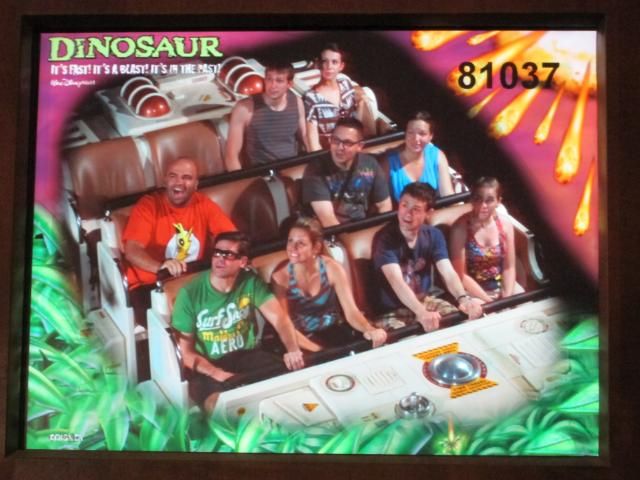 After riding, we headed out of Dinoland.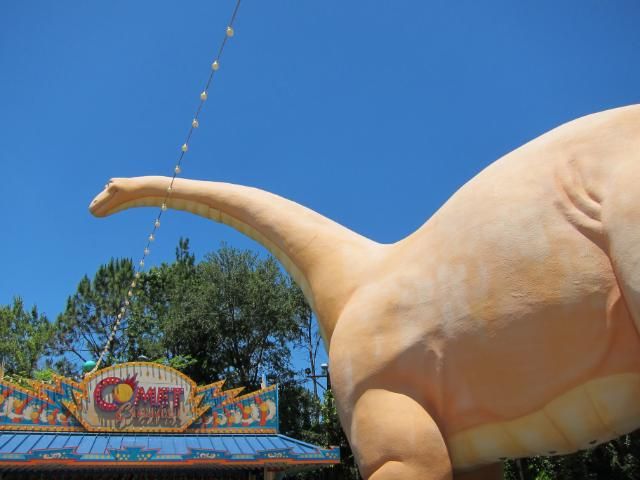 We made our way back toward Asia.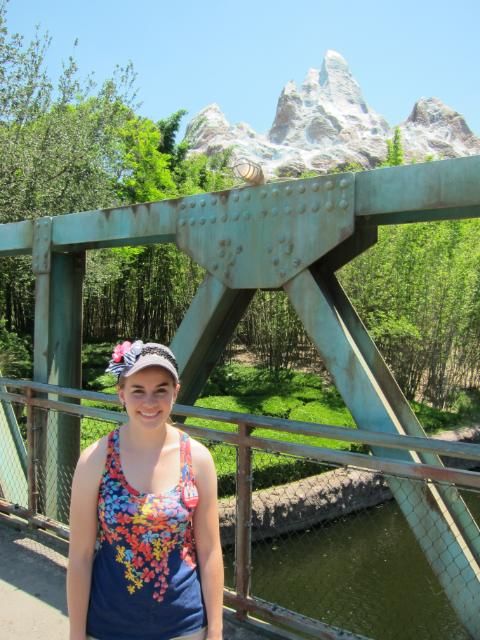 I know it's hard to believe, but we were hungry! Lunch time! They renamed the Yak and Yeti counter service the Anandapur Local Foods Café since our last trip. Luckily the menu hadn't changed, so we knew what we wanted. Last time we were in Animal Kingdom, we tried the Honey Chicken and the Chicken Fried Rice at this location, and we thought both were delicious! This time, the fried rice wasn't included as part of the dining plan, but we wanted it anyway. We ordered two orders of Honey Chicken with a side of Chicken Fried Rice, one Frozen Lemonade, and one Banana Pudding. That's right—two meal credits at one restaurant. We thought about splitting here and then again at Flame Tree Barbeque, but we had already eaten too much this week.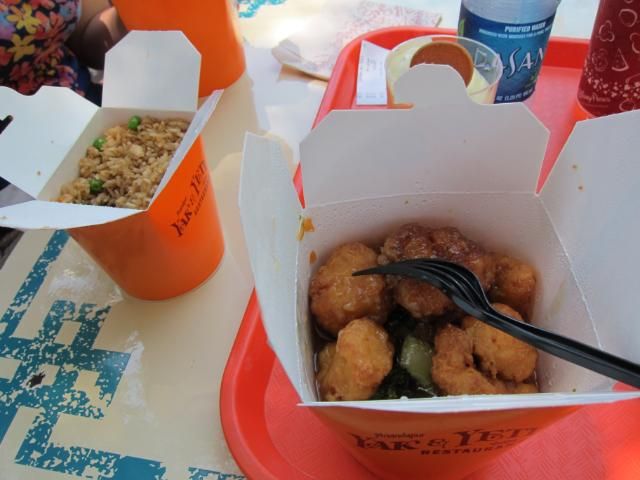 The chicken was really good. I finished all of mine despite going in thinking I wasn't that hungry. Unfortunately, the fried rice had peas in it, which I am allergic to. We wished we had known that in advance so we could have asked for it without them. Oh well. Tracy still enjoyed the fried rice.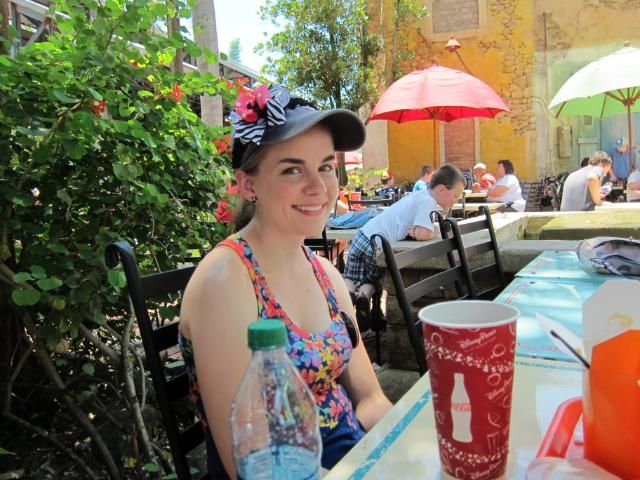 There were lots of birds enjoying snacking around our table, so we had fun watching them. We finished lunch (as much as we could), bused our table and moved along. We had a few more things we wanted to see in Animal Kingdom before calling it a day!



Share