Chapter 18
Reaching the Summit
---
(Originally posted August 1, 2012)
After we returned from our safari through Harambe, we left Africa and went to get some pictures of/with the Tree of Life.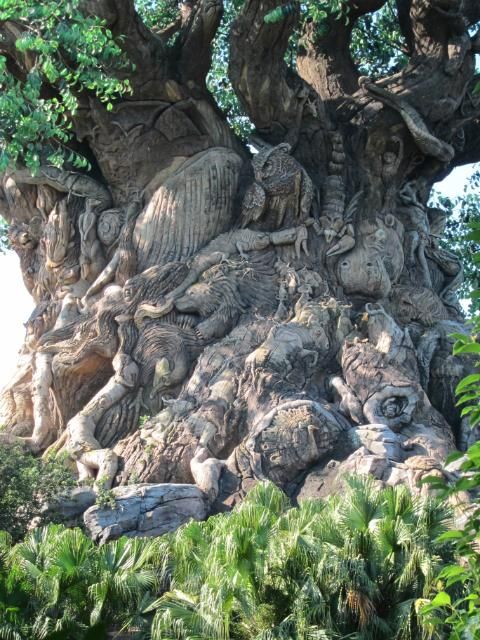 You'll notice in most of the pictures of me starting on around this day and going forward that my eyes become increasingly redder. No, I did not catch pinkeye from all of the children; my contacts just did not react well to my wearing sunscreen on my face. As it sweated down into my eyes, they got progressively itchier and redder.
We moved along into Asia, as there was a certain mountain there that we needed to tackle.
On the way, we saw this monkey having a grand old time swinging all around on these ropes strung around his enclosure.
He was so fun to watch! I can't tell you how many people just walked by and didn't notice, however. People need to get their priorities in order in Animal Kingdom! We took some pictures in the rickshaw.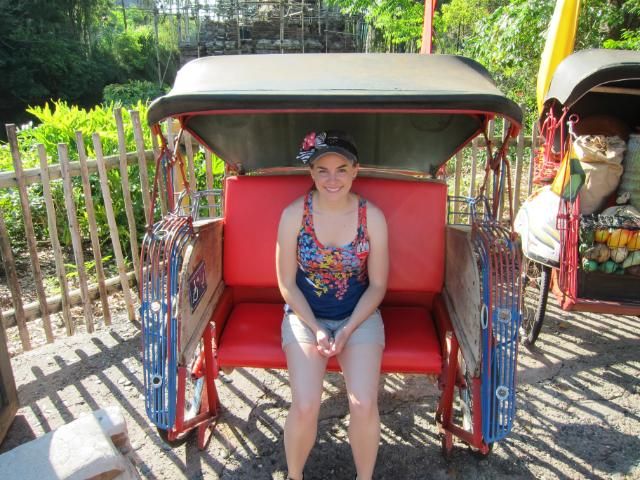 Tracy found this hidden Mickey on our last trip and is very proud of it.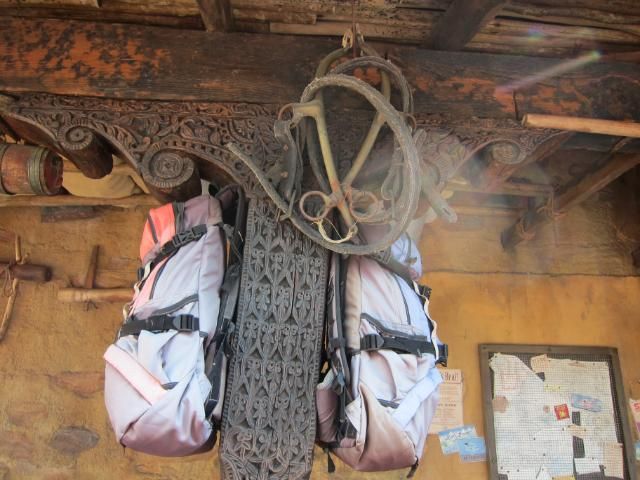 We made our way toward Expedition Everest.
Tracy is always very nervous about this ride. She doesn't like the feeling you get in your stomach during the drops in roller coasters, which is why she refuses to ride Splash Mountain. Most of the drops in Everest aren't quite as bad because you're already in motion for them. The exception, of course, is the backwards drop toward the beginning of the ride. Knowing that is coming, Tracy always gets close to taking the last-chance exit rather than riding.
She was a good sport, as always, however, and buckled down and rode. She definitely enjoyed it more than she anticipated. I was the one who actually had a bad experience this time. I was feeling a little lightheaded going in, and started feeling really dizzy on the ride. I tried to focus on just getting through the ride and taking in as much as I could, but I was very glad when we pulled back into the station. I barely even registered the "C-mode" Yeti. We've never had him be entirely dark before this trip. Everest is usually one of my favorite thrill rides, so I was bummed to have had a bad time on it, but hopefully next time I'll do better. Tracy took a picture of my windswept hair after the ride.
There we are in the back of the picture.
We always like this Yeti plush. He's a little ridiculous, but he's cute, and one of these days we will buy him.
Speaking of plushes, we found several we wanted at one of the stands by Everest, and we posed with them.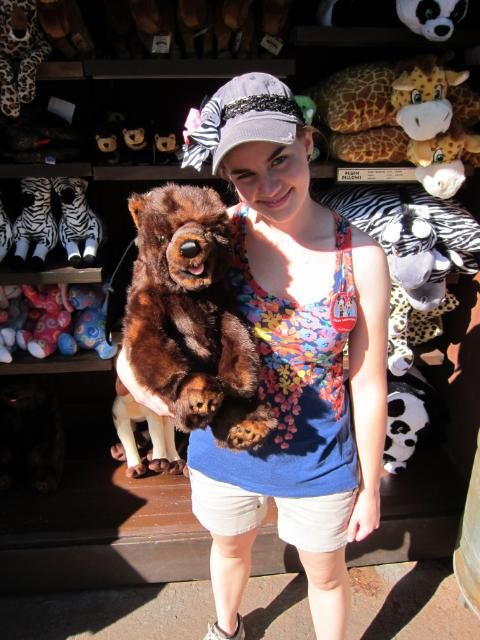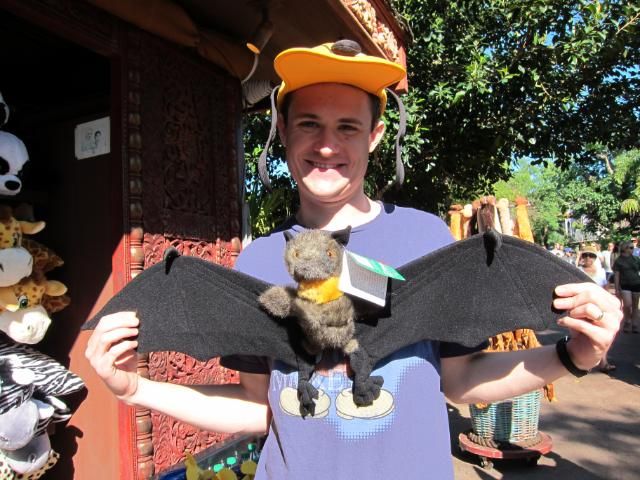 We started making our way back toward Africa to get Fastpasses for another go on Kilimanjaro Safaris. On the way, we stopped for some Photopass pictures.
Our first magic shot of the trip. I was sad because the only one the photographers wanted to do this whole trip was Tink.
We made it back to Africa and got our Fastpasses. We figured now was as good a time as any to take a stroll through the Pangani Forest Exploration Trail.
Once again, our first animal sighting was an Okapi, but this time with a baby!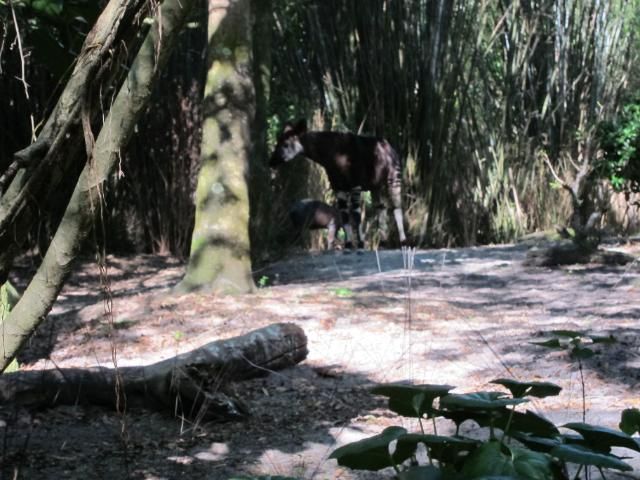 Gorillas kind of freak me out. They're way too similar to humans…
I highly recommend walking down this trail as well as the Maharajah Jungle Trek on every visit to Animal Kingdom. Some of the most fun animals are tucked away in these semi-hidden gems. Once we were done with the Pangani Forest, I needed a snack. One of the things that set off my dizziness is hypoglycemia, so there are many times per day when I just need a boost of sugar to make me feel better. The first restaurant we passed was Tamu Tamu Refreshments.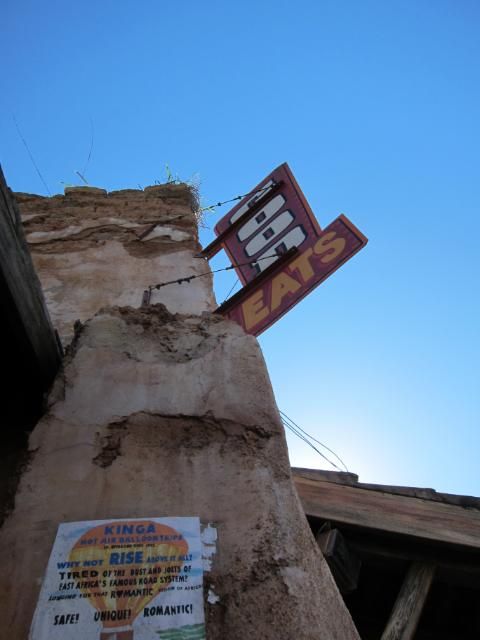 They still had their breakfast menu up, so I decided to order some French Toast Sticks.
These were quite tasty. I didn't know if I should expect much more than Ego-style French toast bites, but they were definitely better! And more importantly, I started to feel better almost immediately. I was all ready for our next stop—Camp Minnie Mickey!



Share