Chapter 75
Stars—They're Just Like Us
---
Previous Post | Next Post
Table of Contents
(Originally posted October 13, 2013)
After successfully finishing Tracy's first workweek, we headed to the parks on Friday evening to celebrate. We decided to head straight there after she got home so we could eat dinner at DCA.
After going into the park, we went straight back to Hollywoodland. I headed to the bathroom, and as I left, I thought I saw a recognizable face passing by me. I told Tracy who I thought I had seen, and we creeped outside the bathroom for a few minutes waiting for him to come out for confirmation. Eventually, he emerged, and my suspicions were confirmed. It was James Franco. (P.S. This was a sly cellphone picture taken with zoom. I didn't walk up to him and snap a photo with my camera.)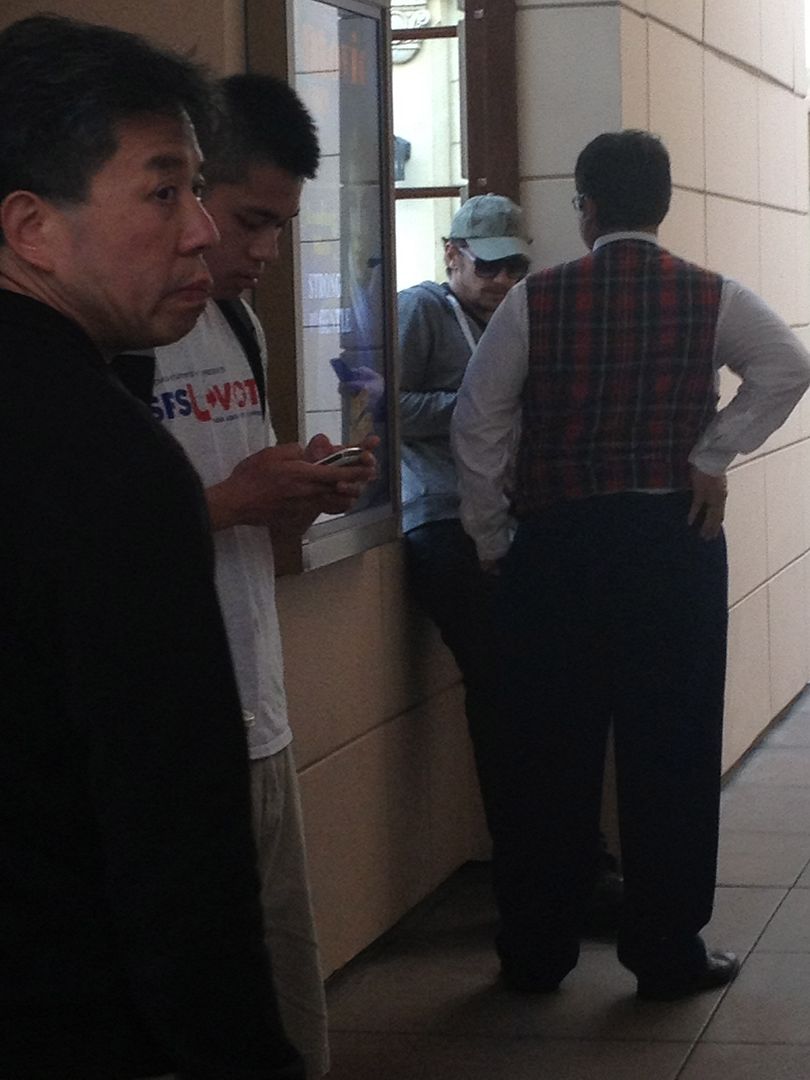 Celebrating our second California celebrity sighting, we walked over to Award Wieners to get some dinner. We had come to the conclusion that Disney hot dogs aren't a big enough meal to split, so we actually had to get our own meals here. Tracy opted for a Chili Cheese Dog.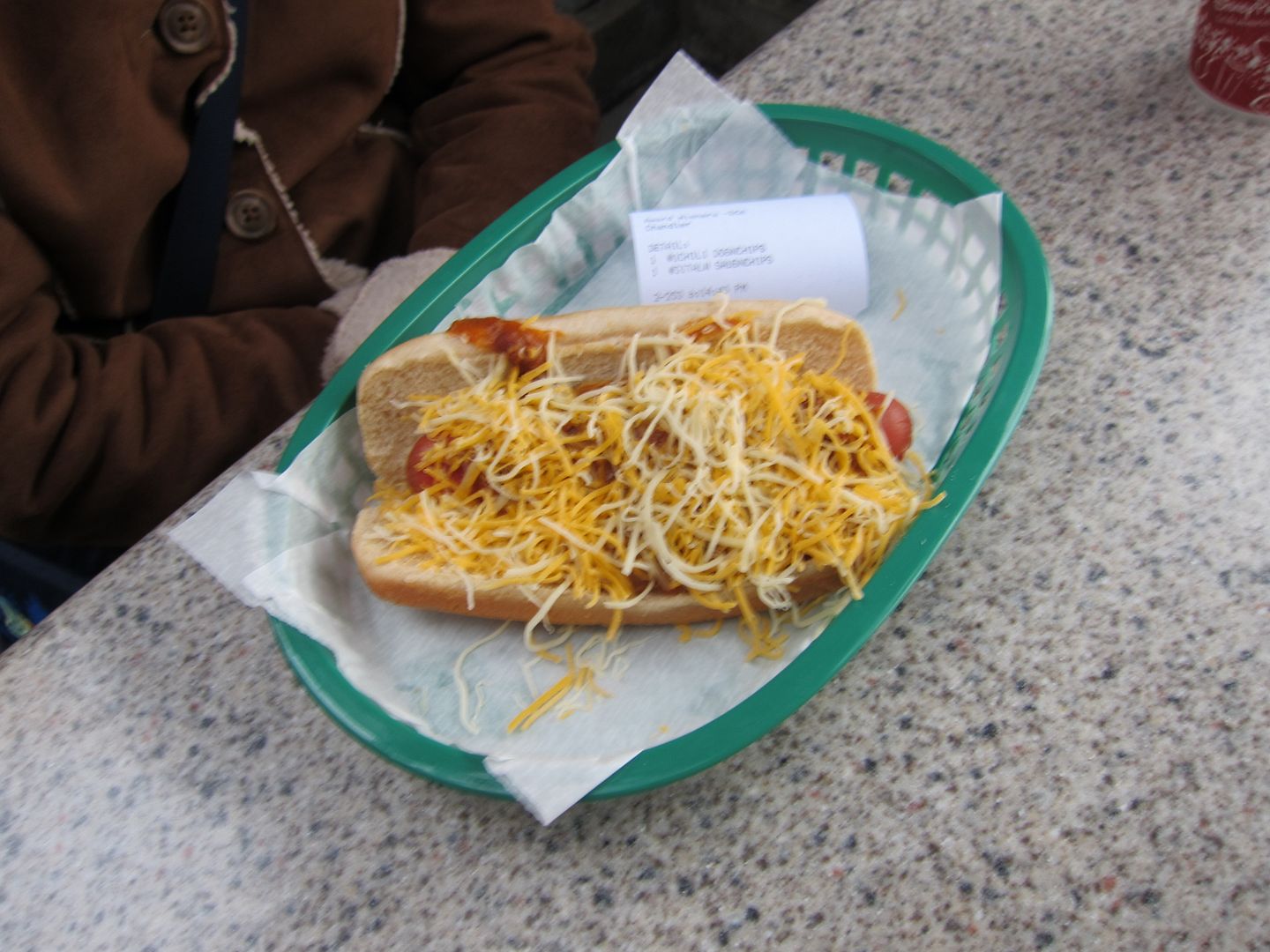 And I got the Sicilian Sausage.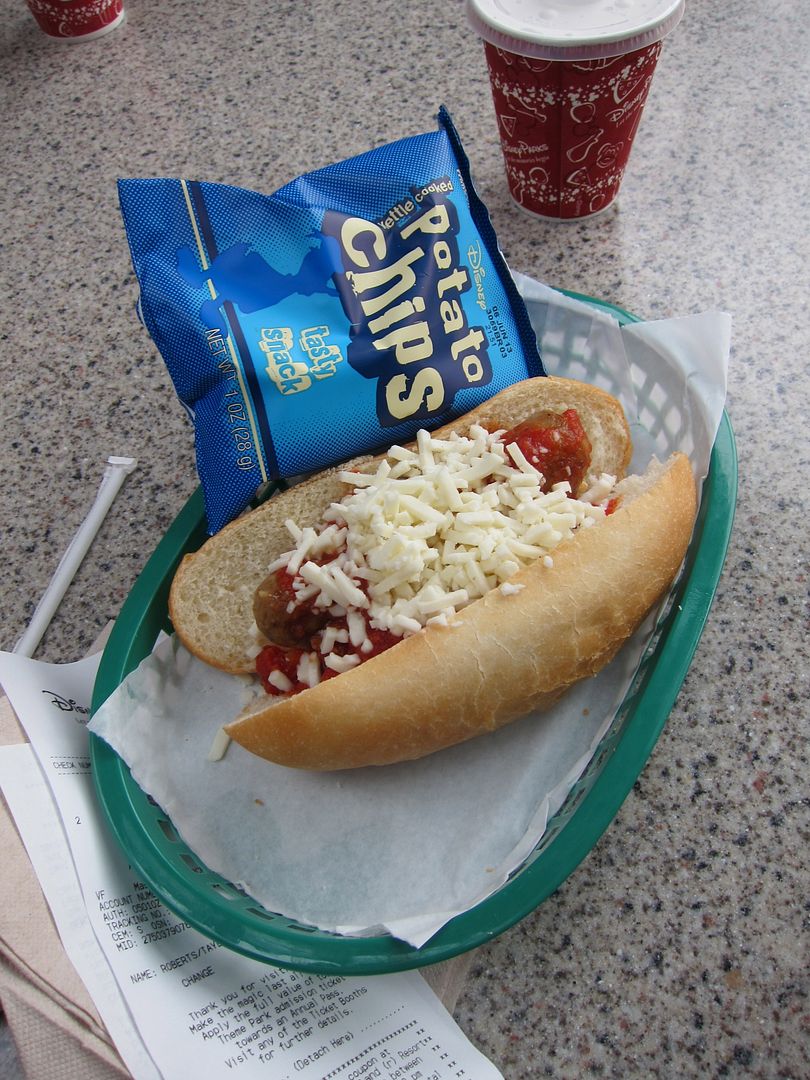 Both of our meals were good, though they weren't anything too special. If anything, Tracy was a little disappointed in her Chili Cheese Dog after we had loved the ones at Casey's Corner in WDW. We sat in the area behind Award Wieners to eat, and I liked looking at all the Muppet Vision gag props back there. They were very punny. Unfortunately, that area acted like a wind tunnel, so we got pretty cold while we ate and were quite ready to move along when we finished.
We walked over to Condor Flats (Francisco was out) and rode Soarin', and then we walked to Paradise Pier to go into the Duffy store. After much back-and-forth, we had decided we wanted to buy the little Easter Duffy who popped out of an egg. Unfortunately, we had dawdled for too long, and he was sold out.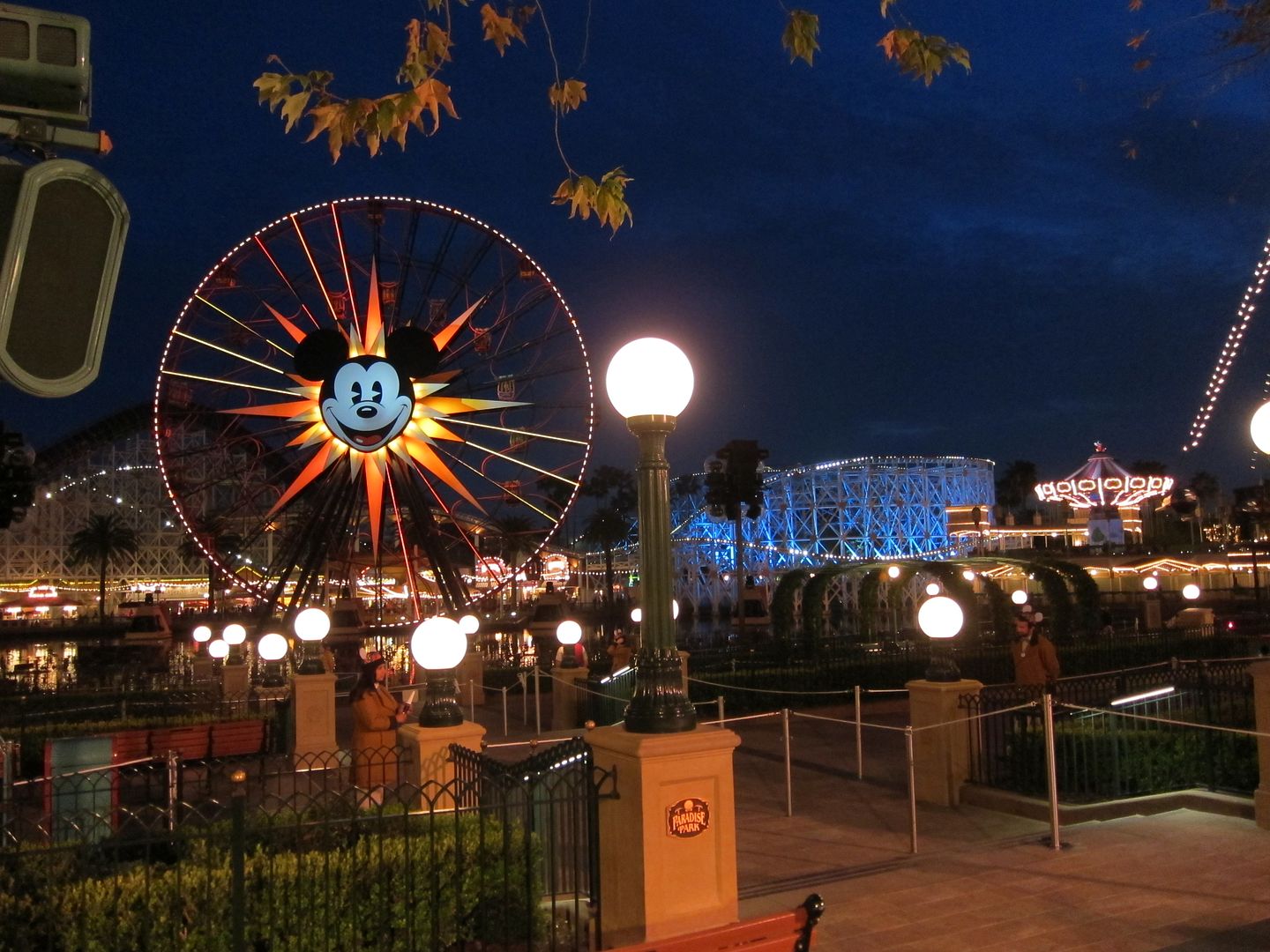 We rode Toy Story Mania and Jumpin' Jellyfish before heading toward the park exit. We stopped in at Elias and Co. to see if they had any Easter Duffys remaining, but they were out too. We even asked them to call World of Disney, but they were sold out there as well.
Hopping to Disneyland, we started on the west side of the park and rode Pirates, the Haunted Mansion, and Winnie the Pooh. Sometime in between those attractions, Fantasmic! started, and we watched while we walked by, hoping to see Mickey to do his "fire fingers" (Tracy's favorite part of the show).
As the fireworks started, we popped into the Adventureland Bazaar. Tracy really wanted the Cheshire Cat pillow pal, but we couldn't justify spending the money just yet since she had just started working and now I wasn't making money yet.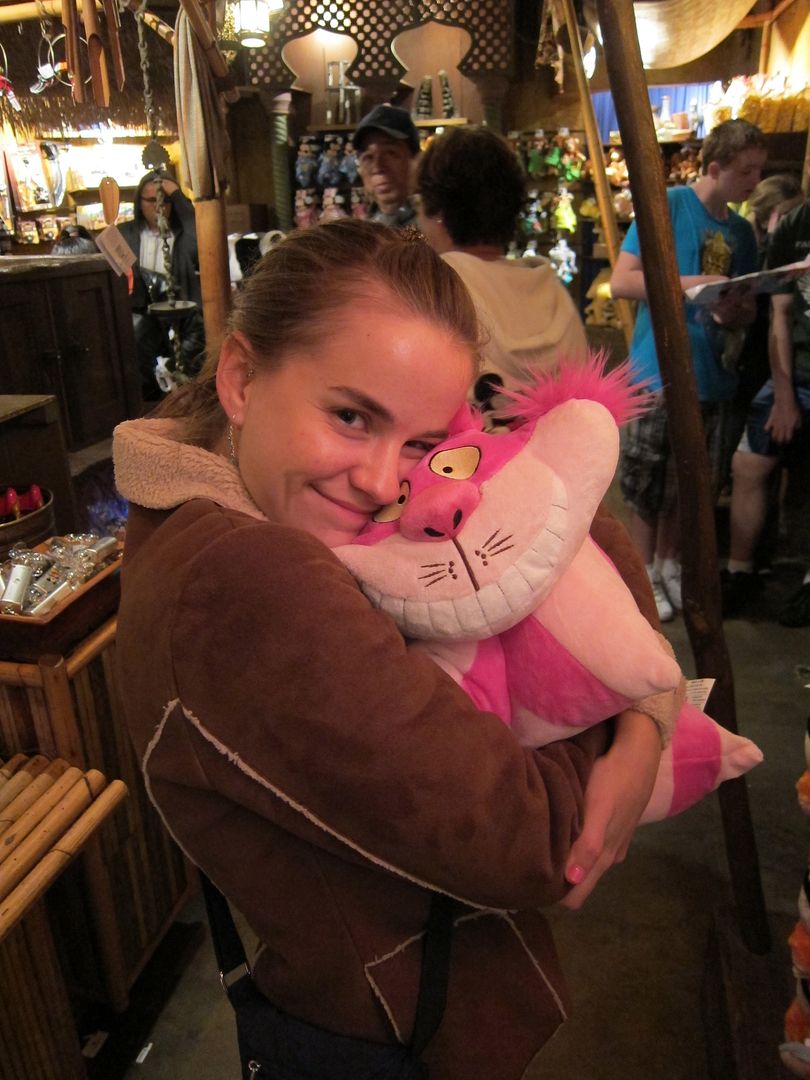 Sadly putting back the pillow pal, we crossed over to Tomorrowland and rode Space Mountain (we did another cat pose in the picture).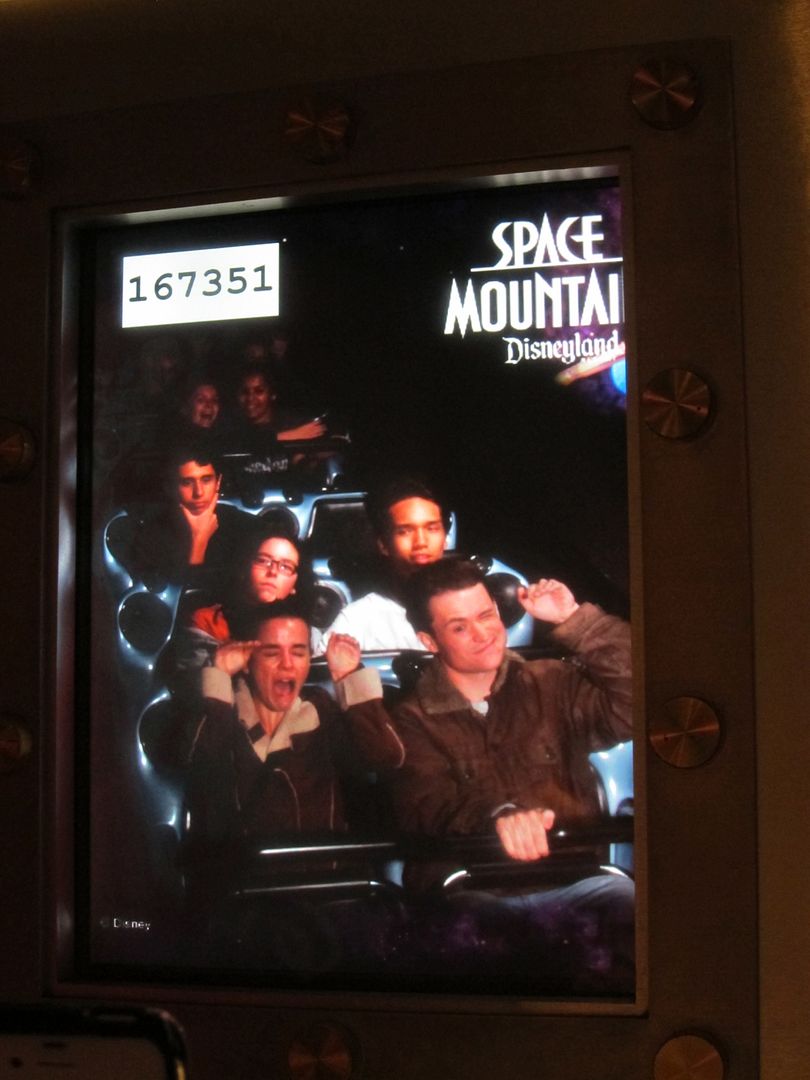 After the attraction, Tracy's neck was hurting, but we stopped into Starcade and happened to stumble upon the last Easter Duffys available on property.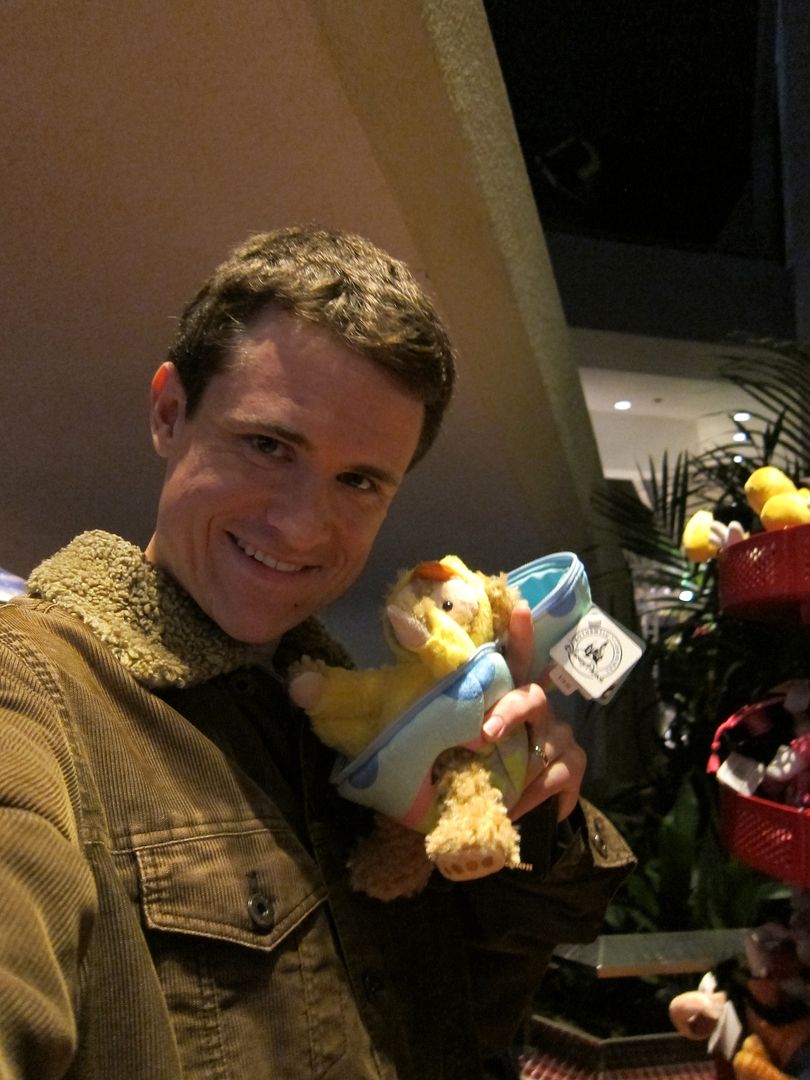 He was adorable, but I had to resort to the same logic Tracy and I had used when deciding about the pillow pal. If we couldn't afford that, then we couldn't really afford this Duffy either. Unfortunately, we put him back. Maybe next year.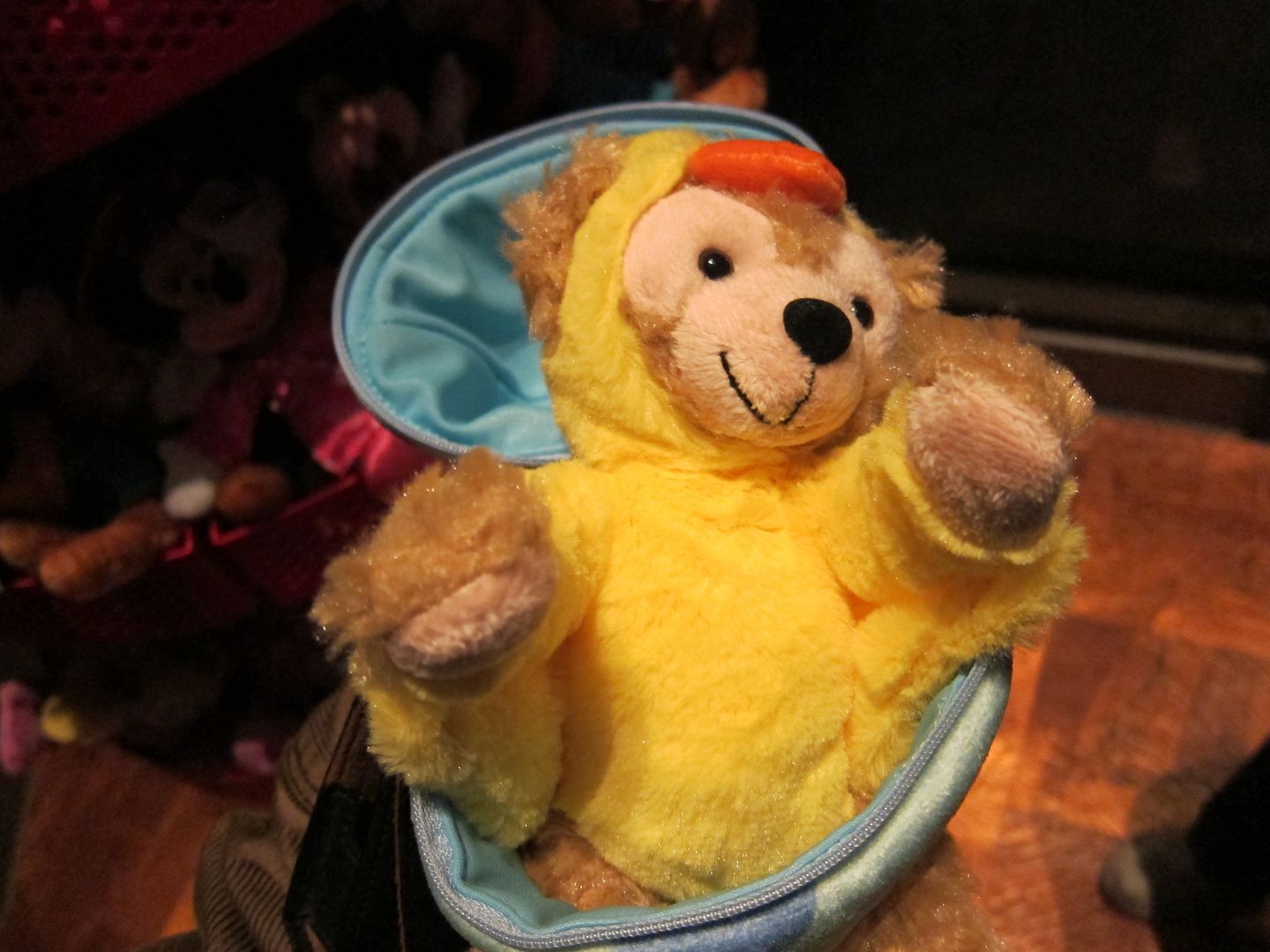 Now we were ready to head out, so we exited the park and went home.
March 30-31, 2013
Saturday didn't start off great. We both seemed to have woken up on the wrong side of the bed, and it didn't help that we encountered a parking nightmare. We headed to Toy Story to be on the safe side, but found that it was closed. Driving around to Mickey and Friends, however, it was (remarkably) open. We had been worried because, for once, we actually wanted to be at the park by a certain time. Today was another Limited Time Magic opportunity that we didn't want to miss.
When we arrived at Disneyland, we were greeted by cast members handing out Peeps (because this was the day before Easter).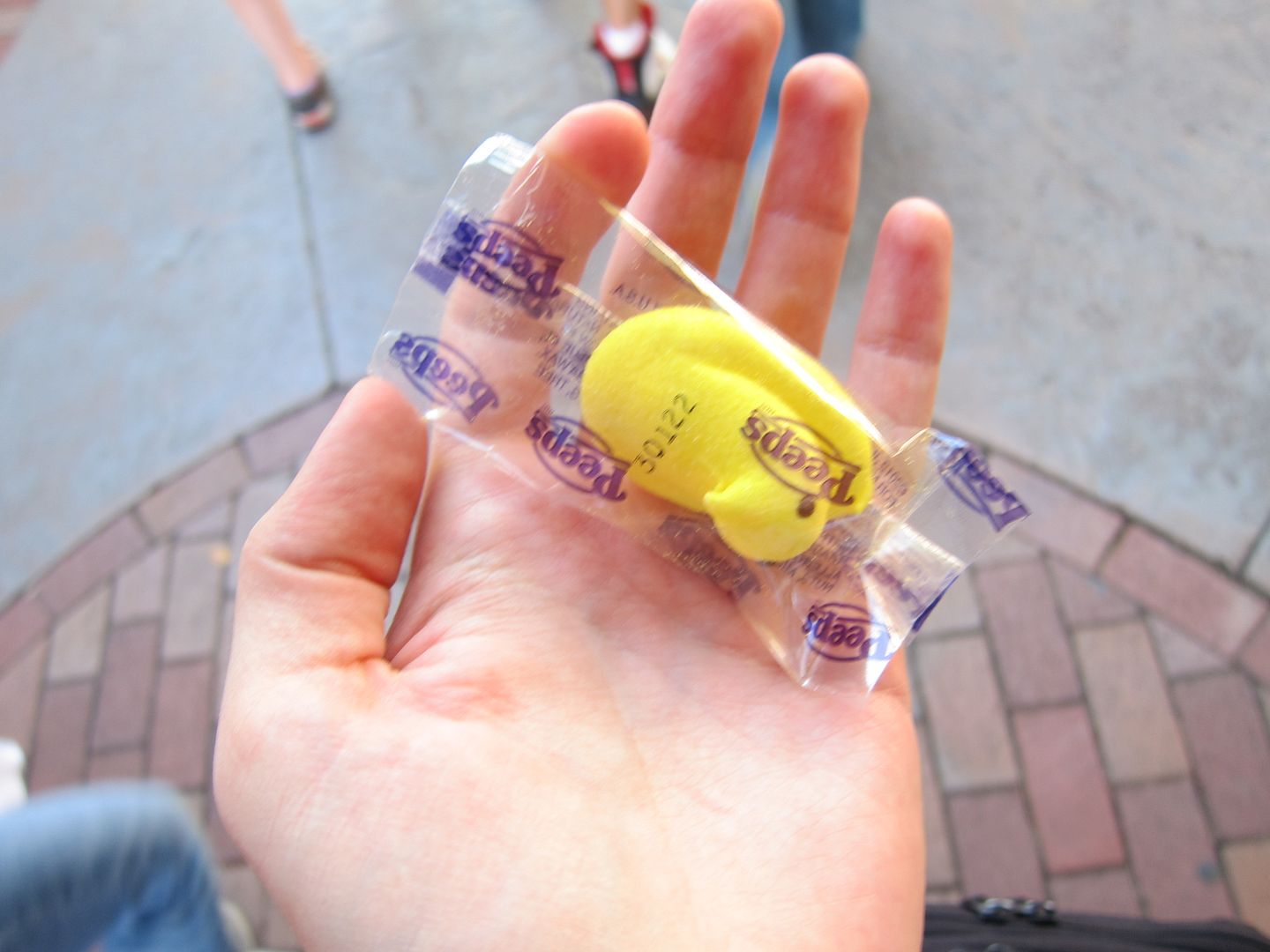 They were little, but they were tasty.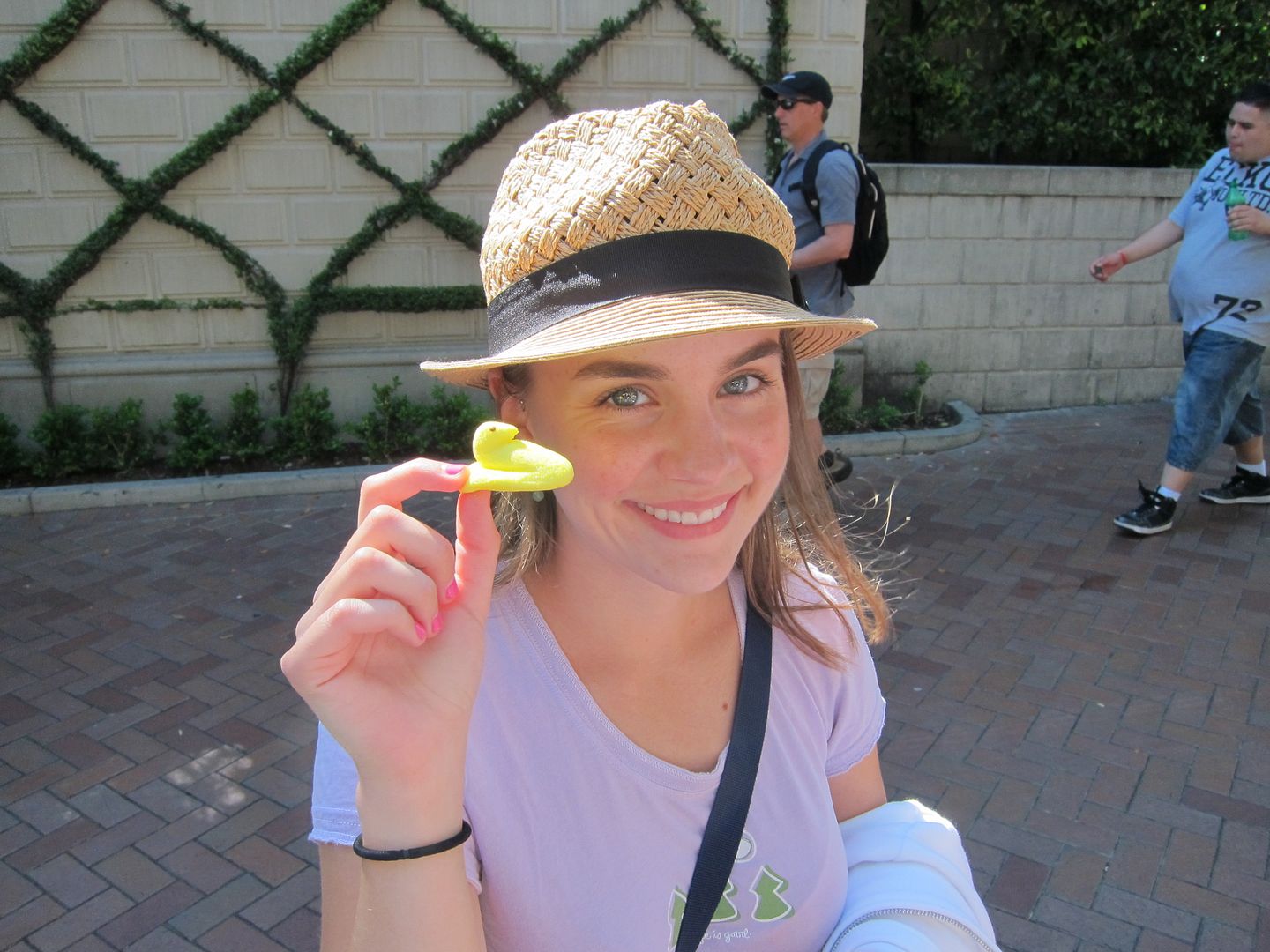 In spite of our parking struggles, we had made it just in time for the Bunny Hop! We asked a cast member where it was going to take place, and she gave us the wrong information. Luckily, we asked another cast member just in the nick of time for us to get to Town Square as the float with the Dapper Dans, Mickey, Minnie, and the Easter Bunny on it began to roll out from backstage.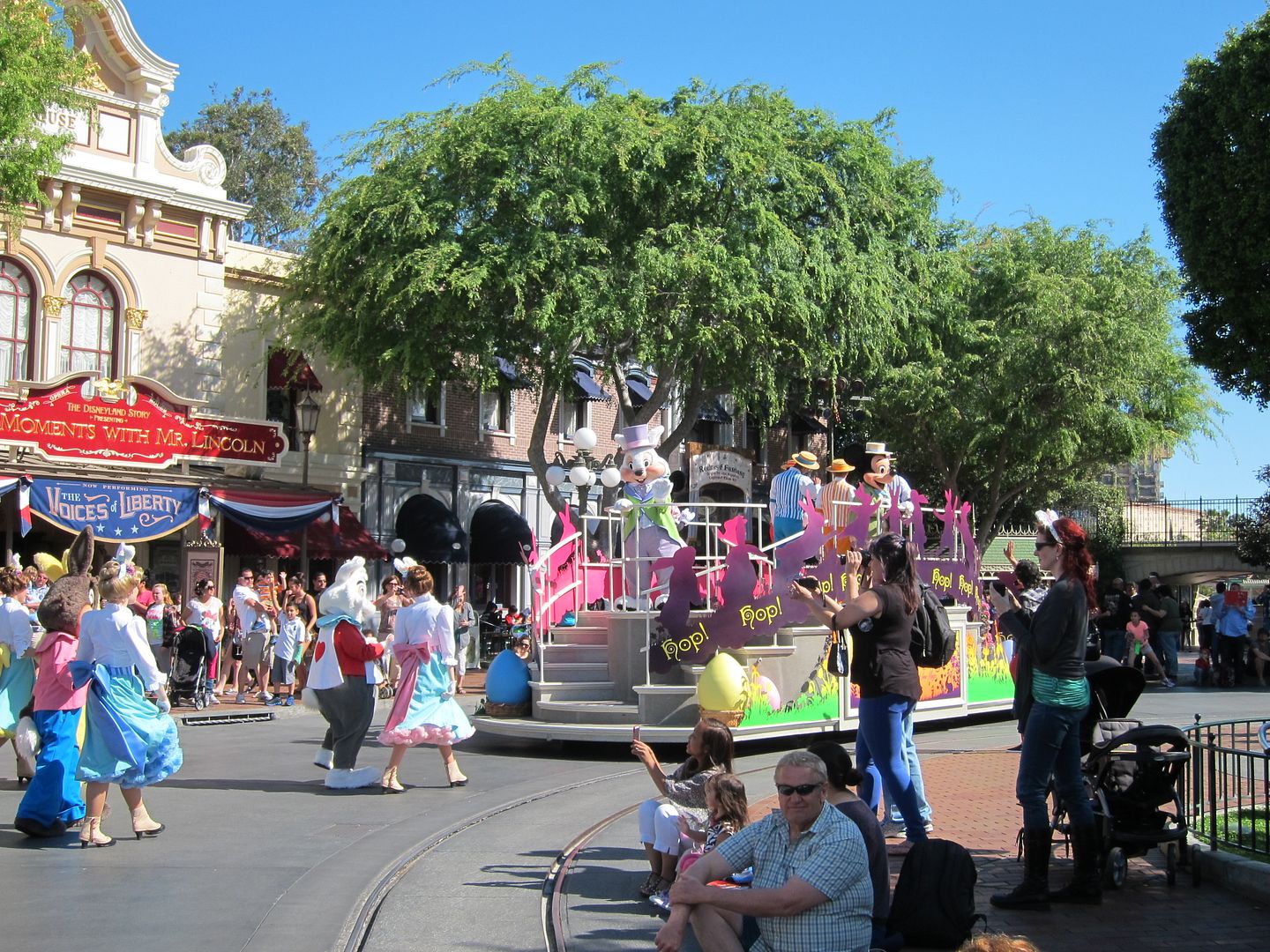 Behind the float were all four Disney bunnies—The White Rabbit, Brer Rabbit, Rabbit (from Winnie the Pooh), and Roger Rabbit (who was making his first appearance in the parks in over ten years!).
First, the bunnies all processed behind the float while the Dans sang a song about spring.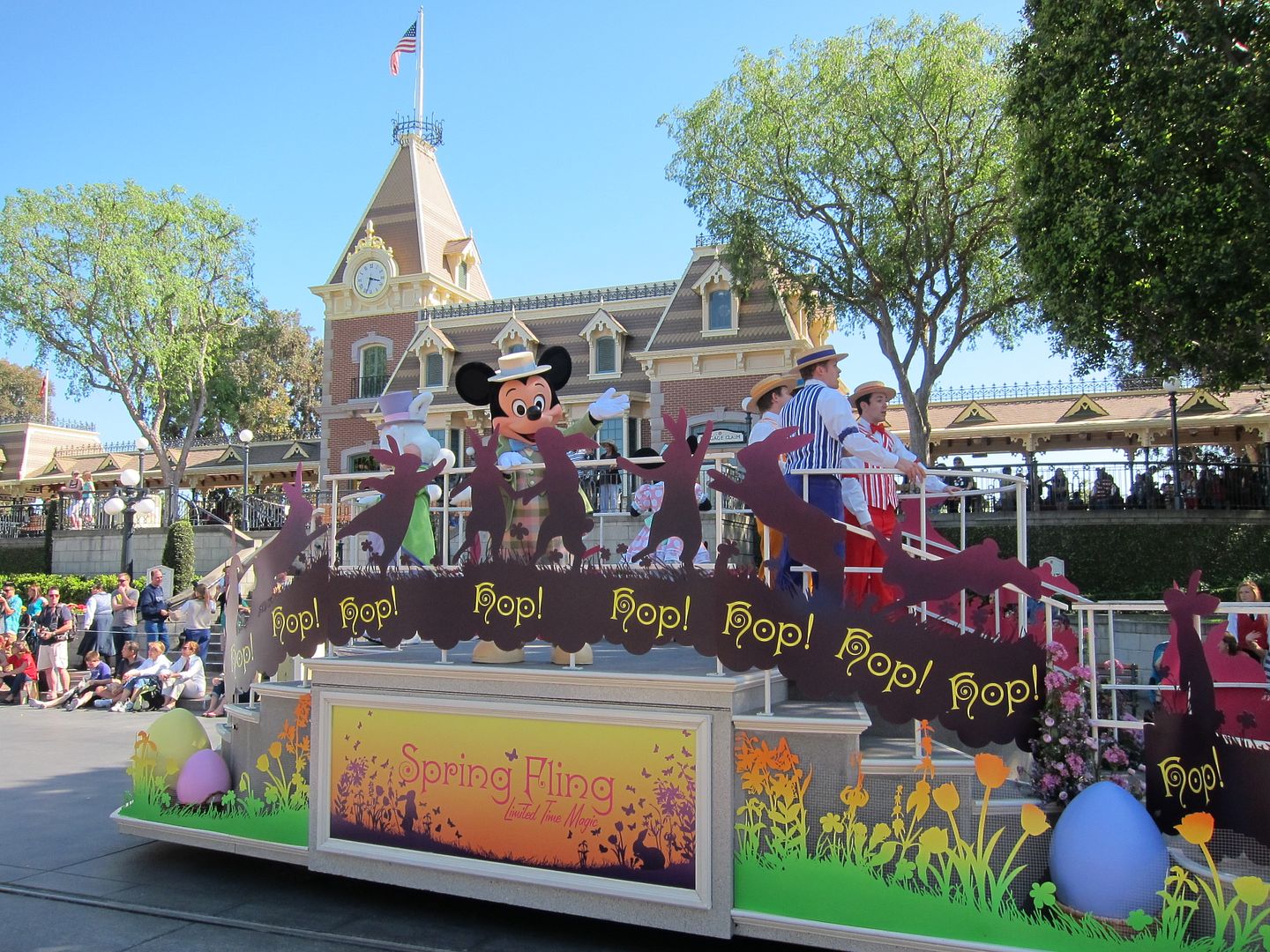 Next, all the characters disbursed onto Main Street.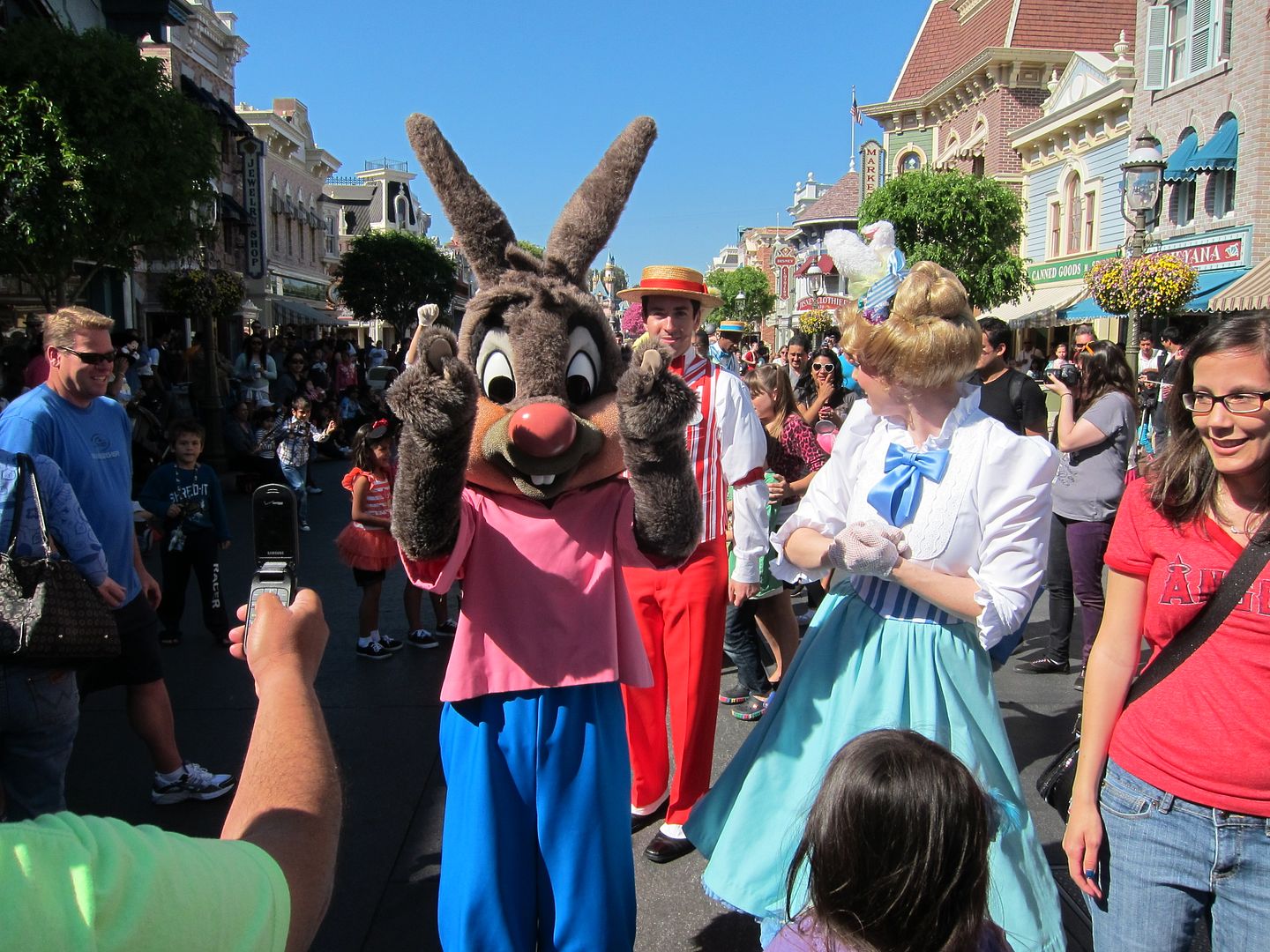 After a few minutes, the familiar music for the "Bunny Hop" began, and the Dans reminded us how the steps go. The song played for probably almost five minutes, with everyone on Main Street dancing along.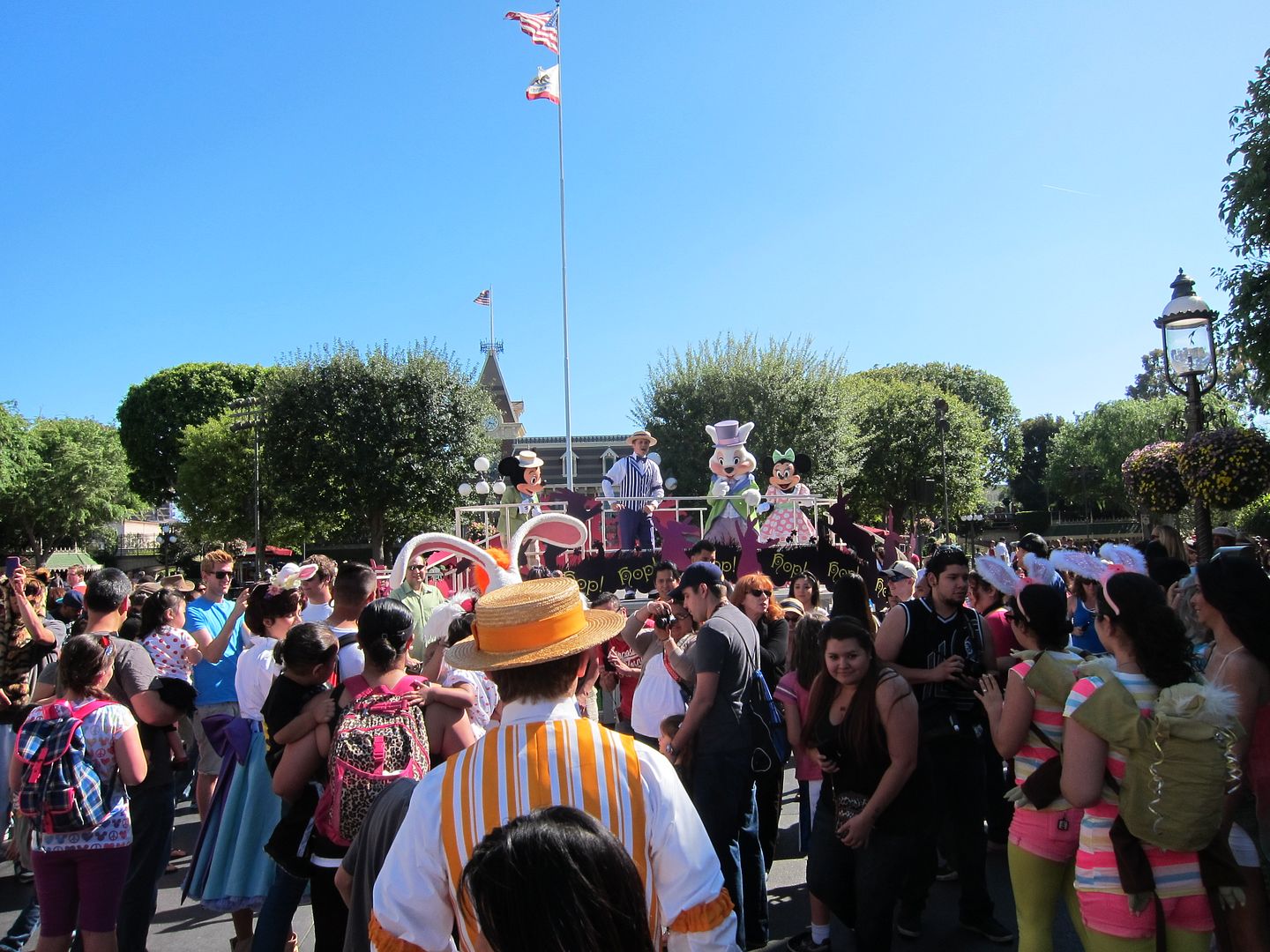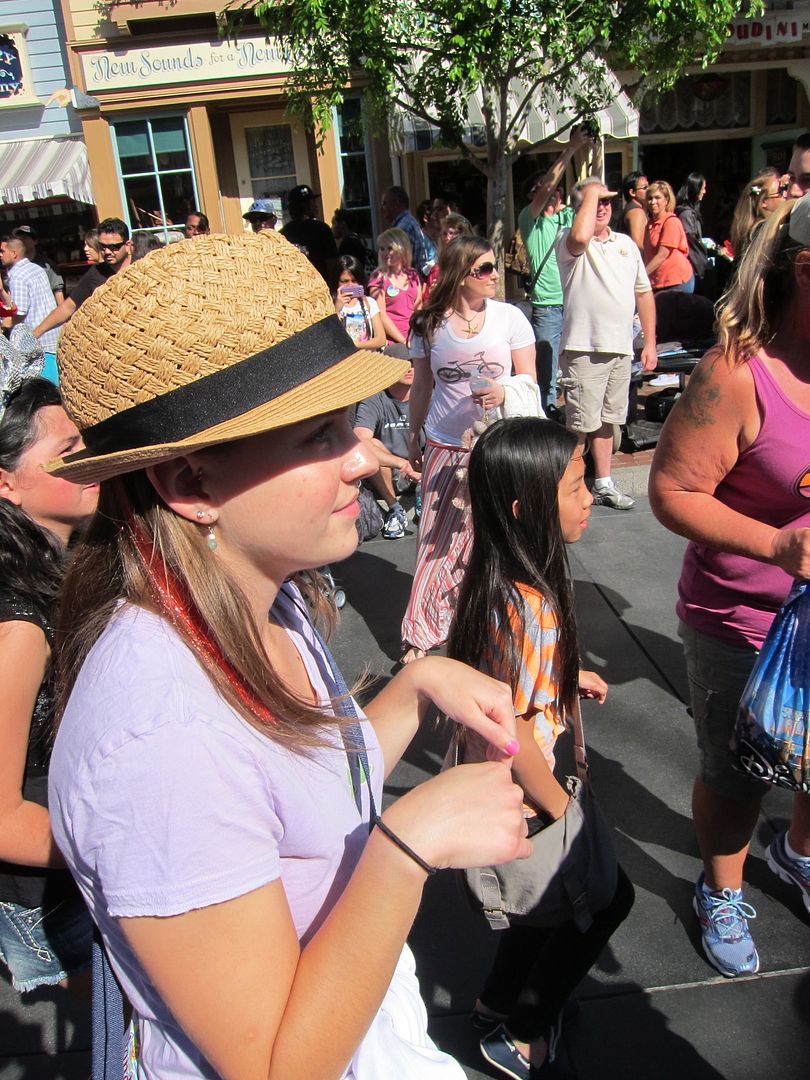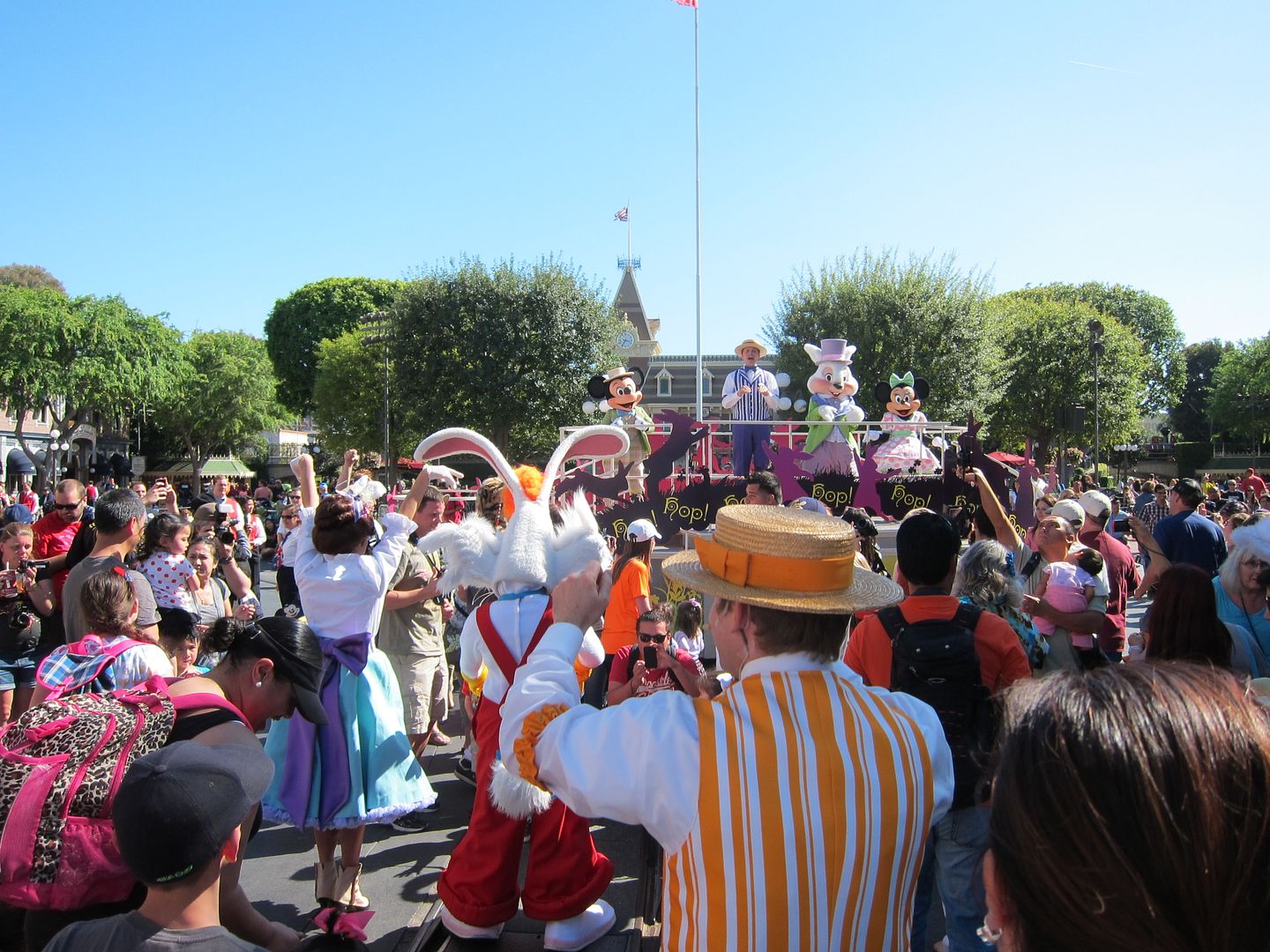 Finally, when the song was over, the characters were quickly ushered backstage so that the parade could start.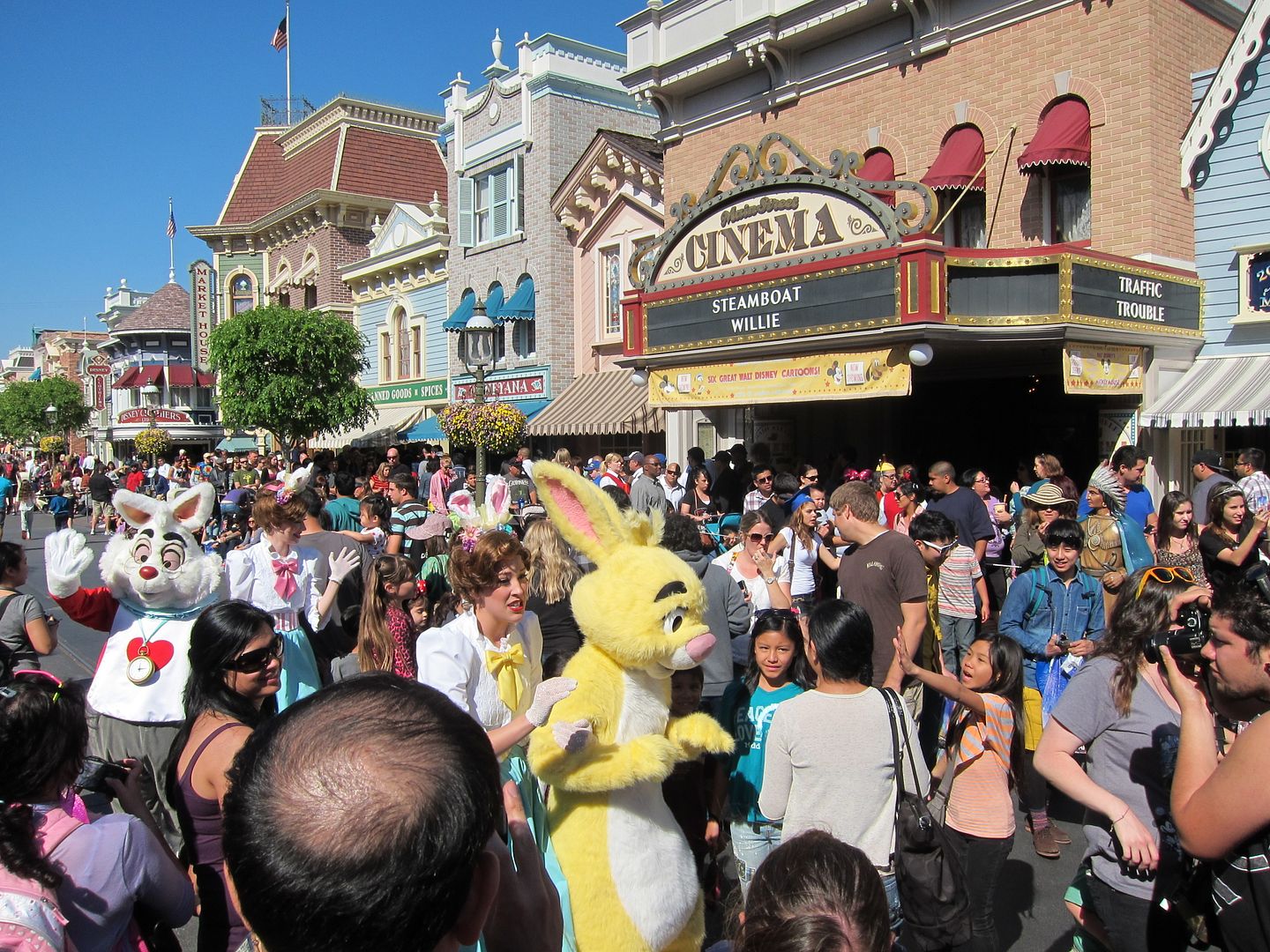 The whole event was the epitome of silliness, but it was a lot of fun. It felt very whimsical, which is one thing Disneyland can always use more of.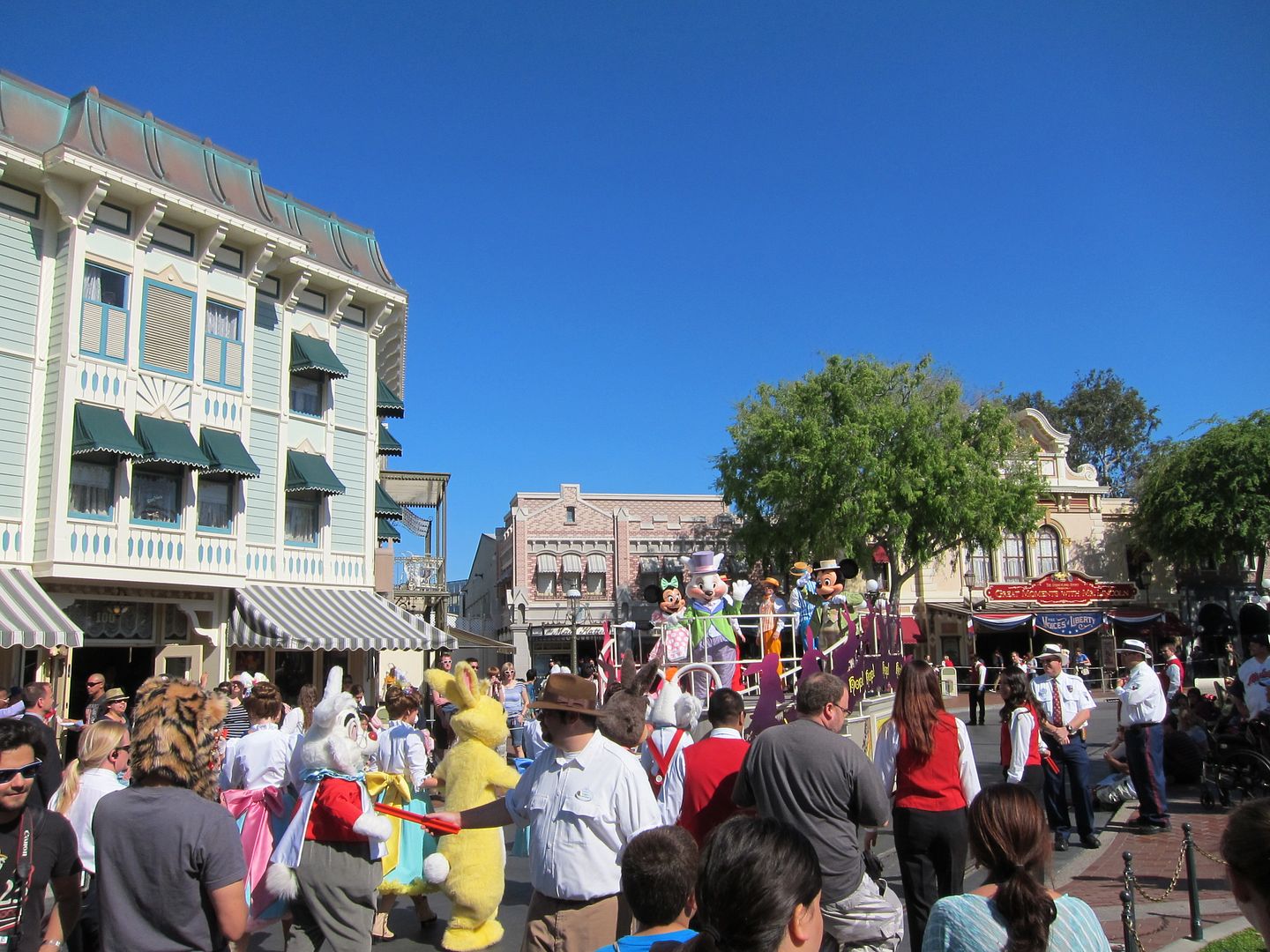 Previous Post | Next Post
Table of Contents
Follow



Share