Chapter 76
Spring Has Sprung
---
Previous Post | Next Post
Table of Contents
(Originally posted October 15, 2013)
The fun of the Bunny Hop had successfully broken Tracy and me out of our bad moods. We were done in Disneyland for now, however, so we (bunny) hopped to DCA.
Once there, our next planned stop was the Redwood Creek Challenge Trail where there was yet another piece of Easter Limited Time Magic. As we arrived, we saw Dug was doing a meet and greet, so we posed with him.
The special event here was another egg hunt, though this one seemed much more compact than the search through DCA. We had to use the locations of the eggs as clues to spell out a message on this map.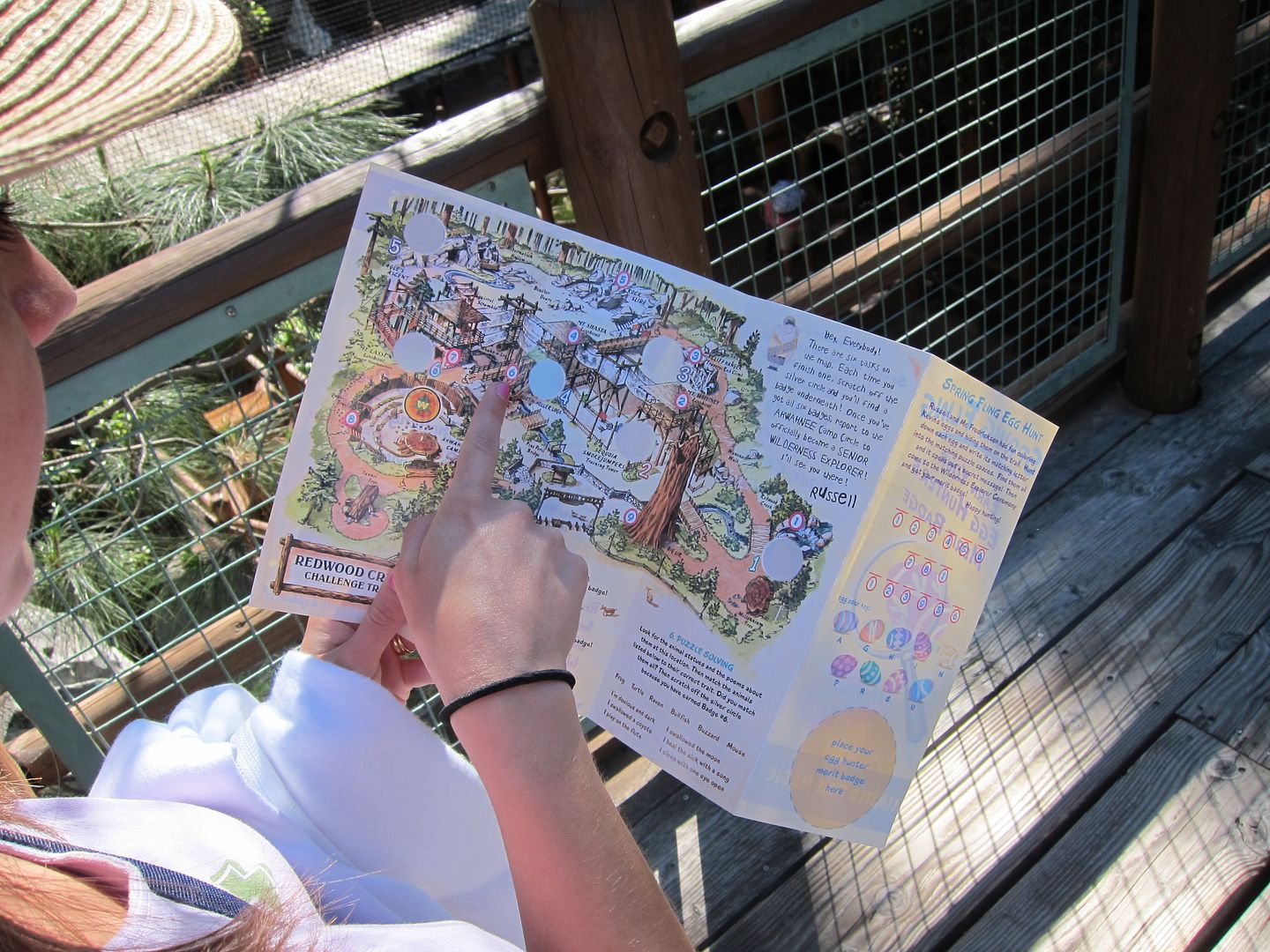 Now, we were able to figure out the message after finding the first egg, but we still looked around for all of them just because it was fun.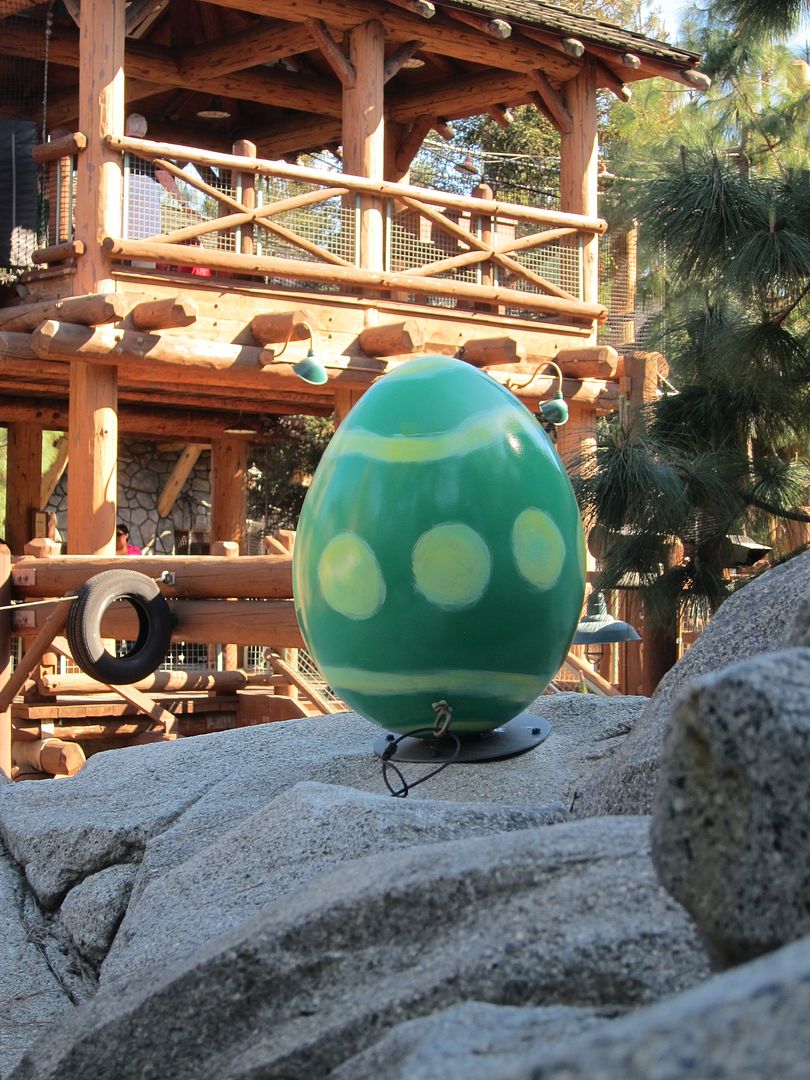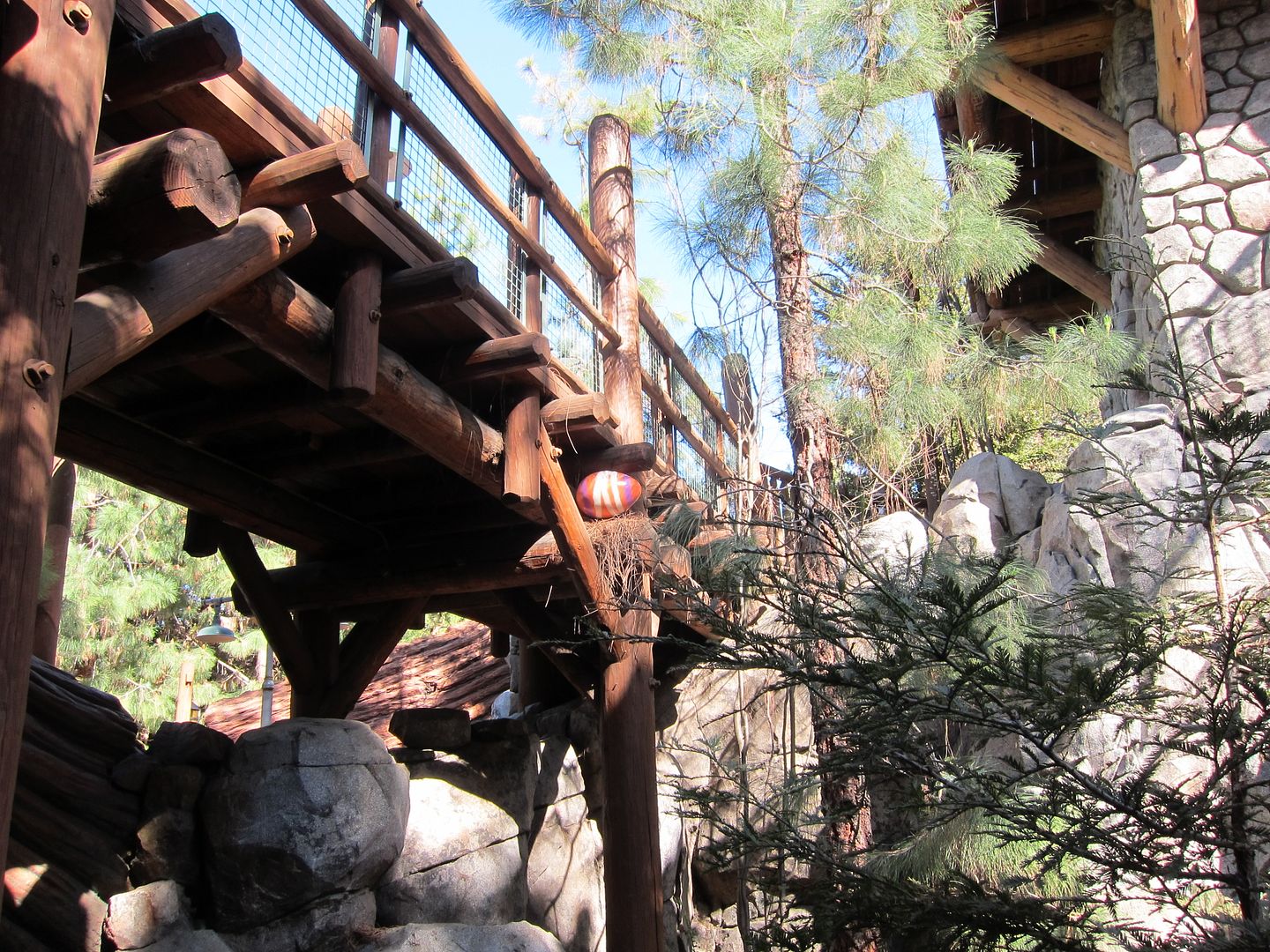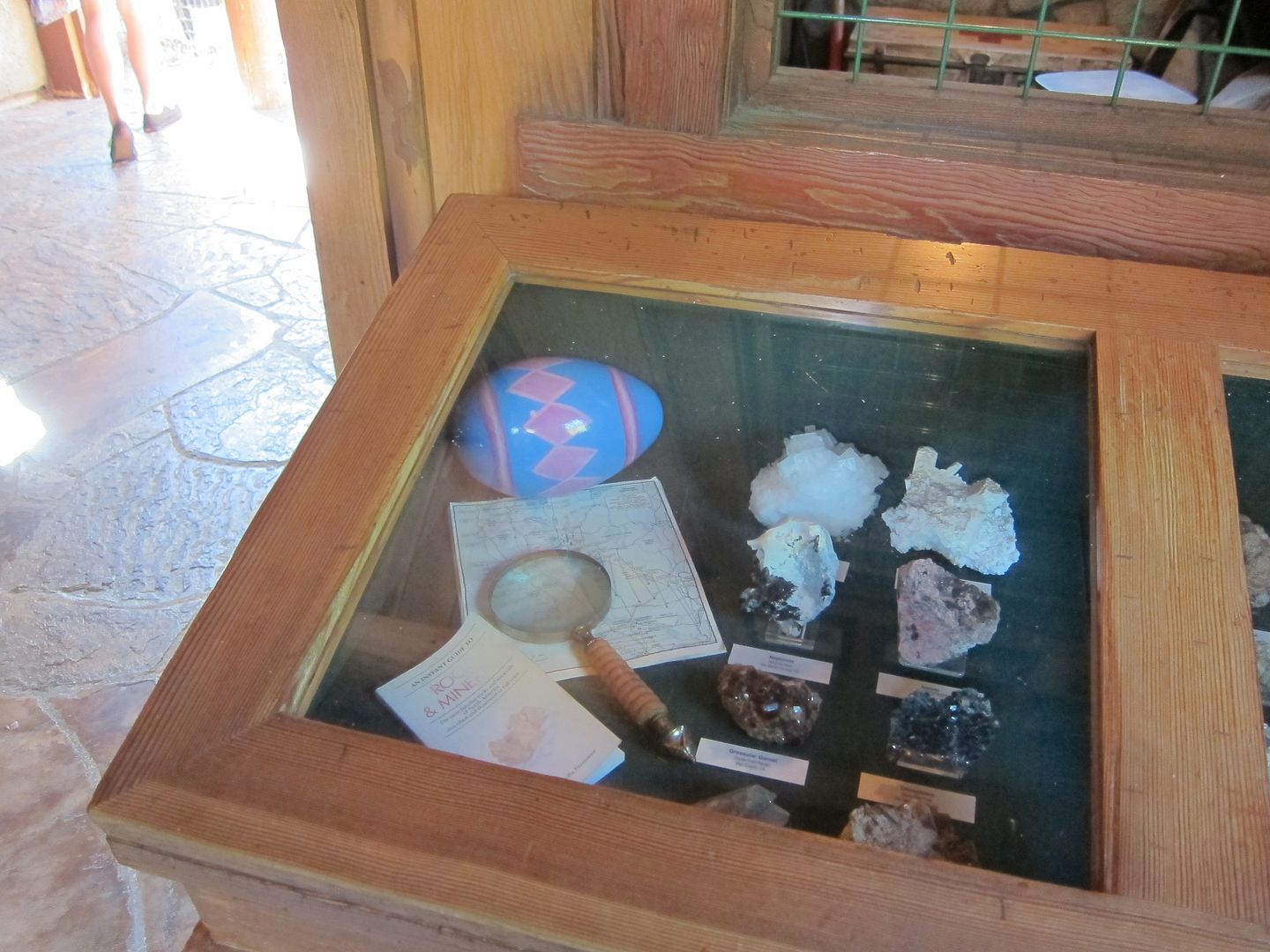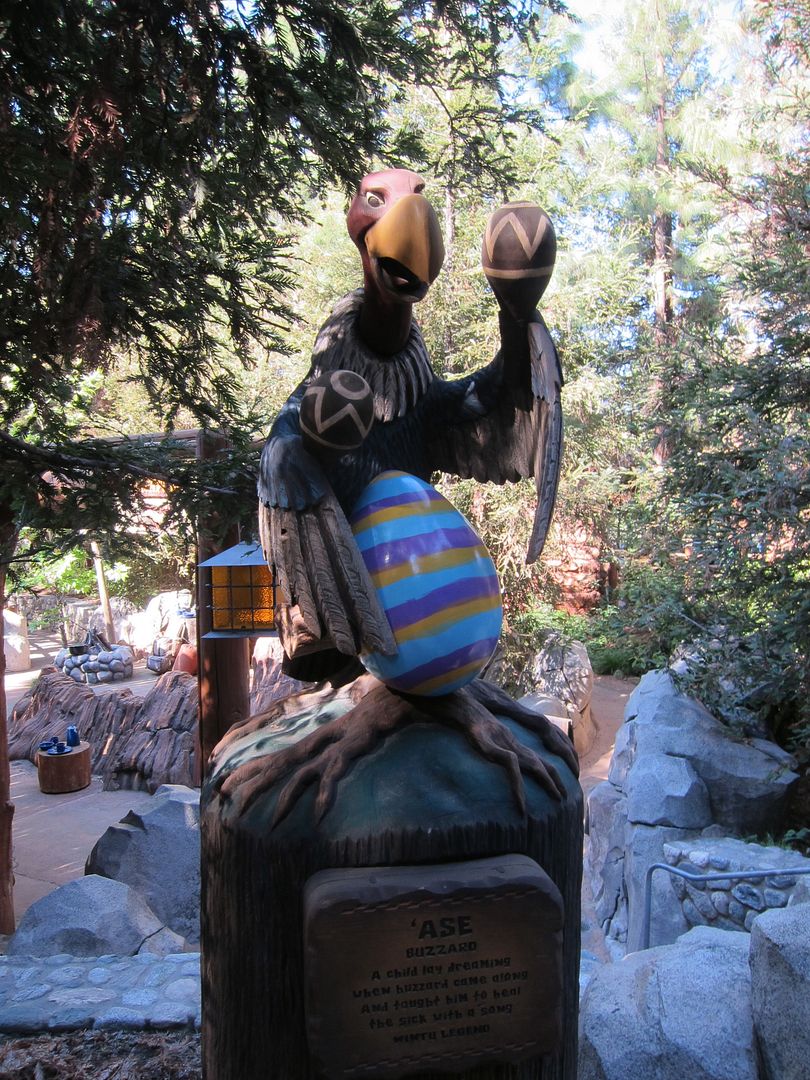 In the end, we filled in the message with a crayon: "Spring has sprung!"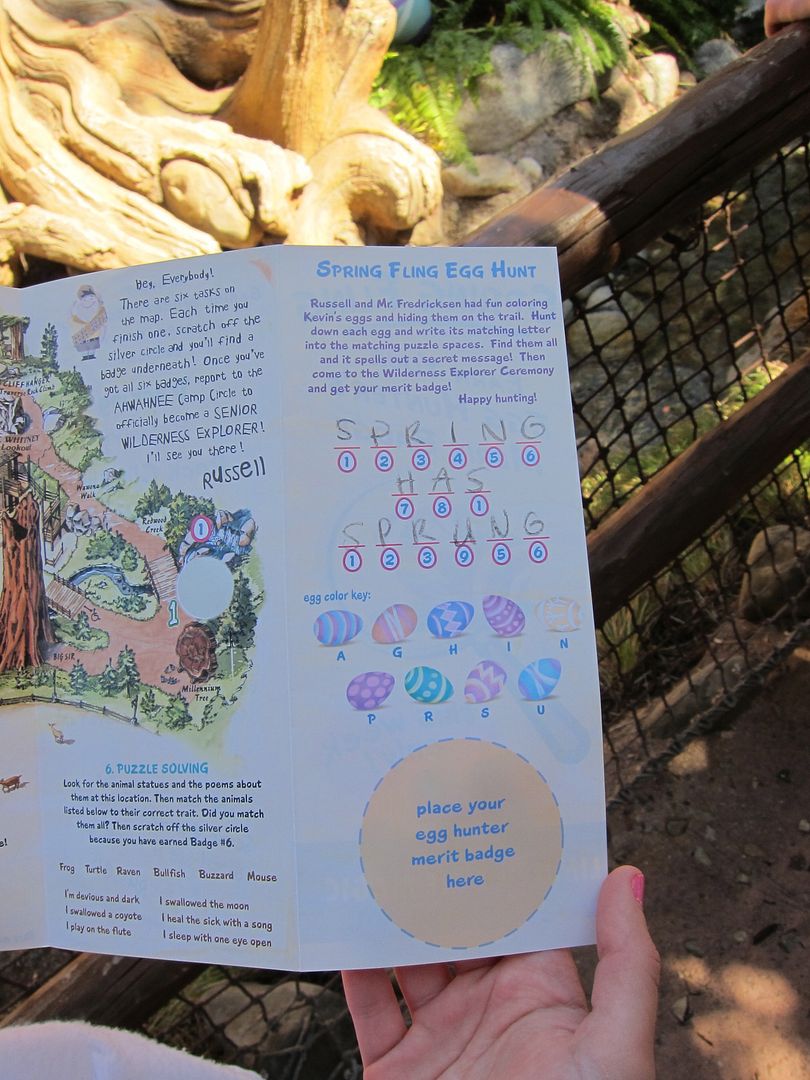 We had never spent much time in this area of the park before, but it's really beautiful. With all the trees and flowers, it's easy to forget that you're in the middle of DCA and not in the woods somewhere.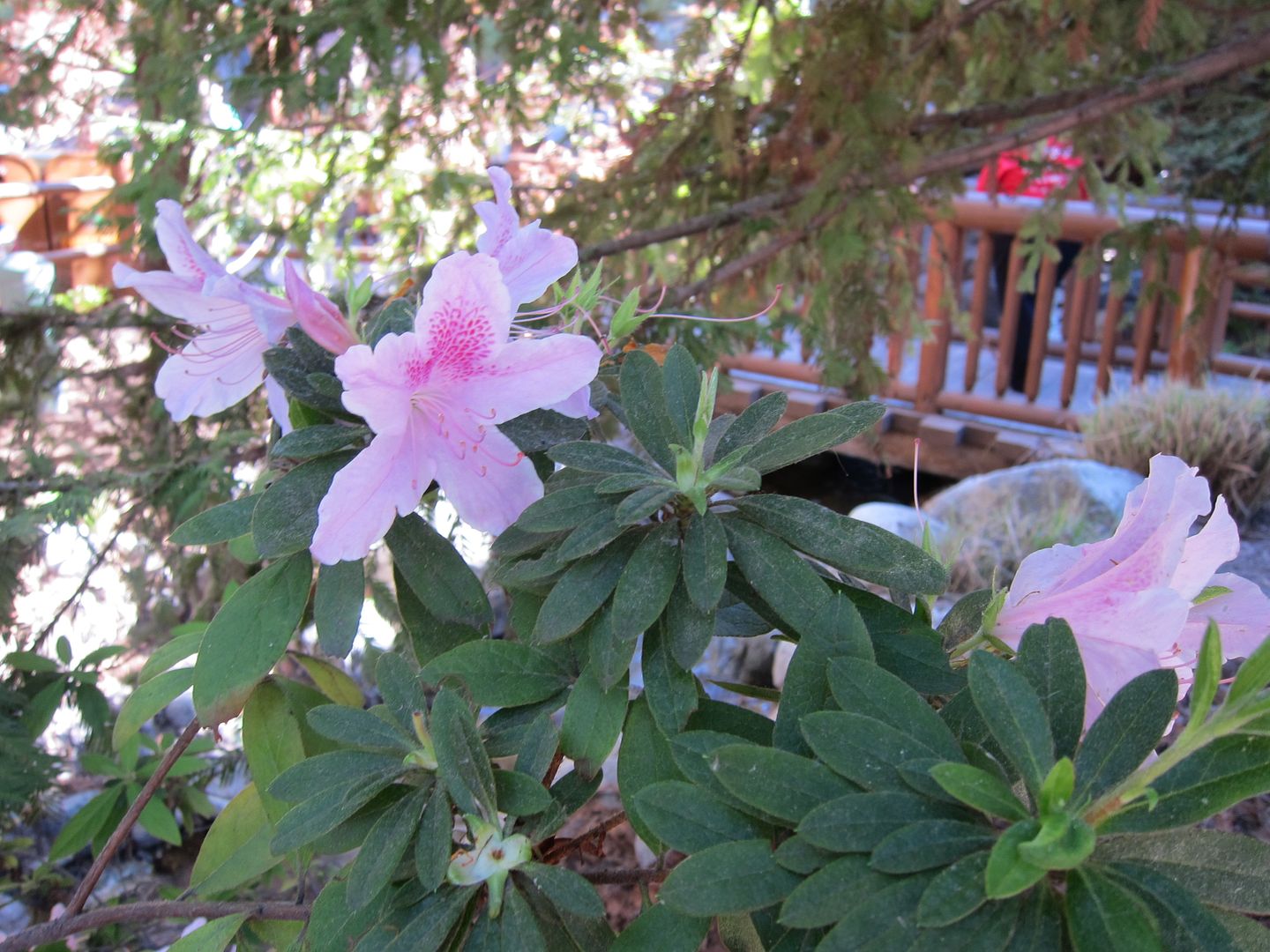 As our reward for finding all the eggs and solving the clues, we got to go to a special version of the Wilderness Explorer Ceremony.
Russell came out and told us all about being Wilderness Explorers ("A wilderness explorer is a friend to all, be it plant or fish or tiny mole!"). He also helped us find Kevin!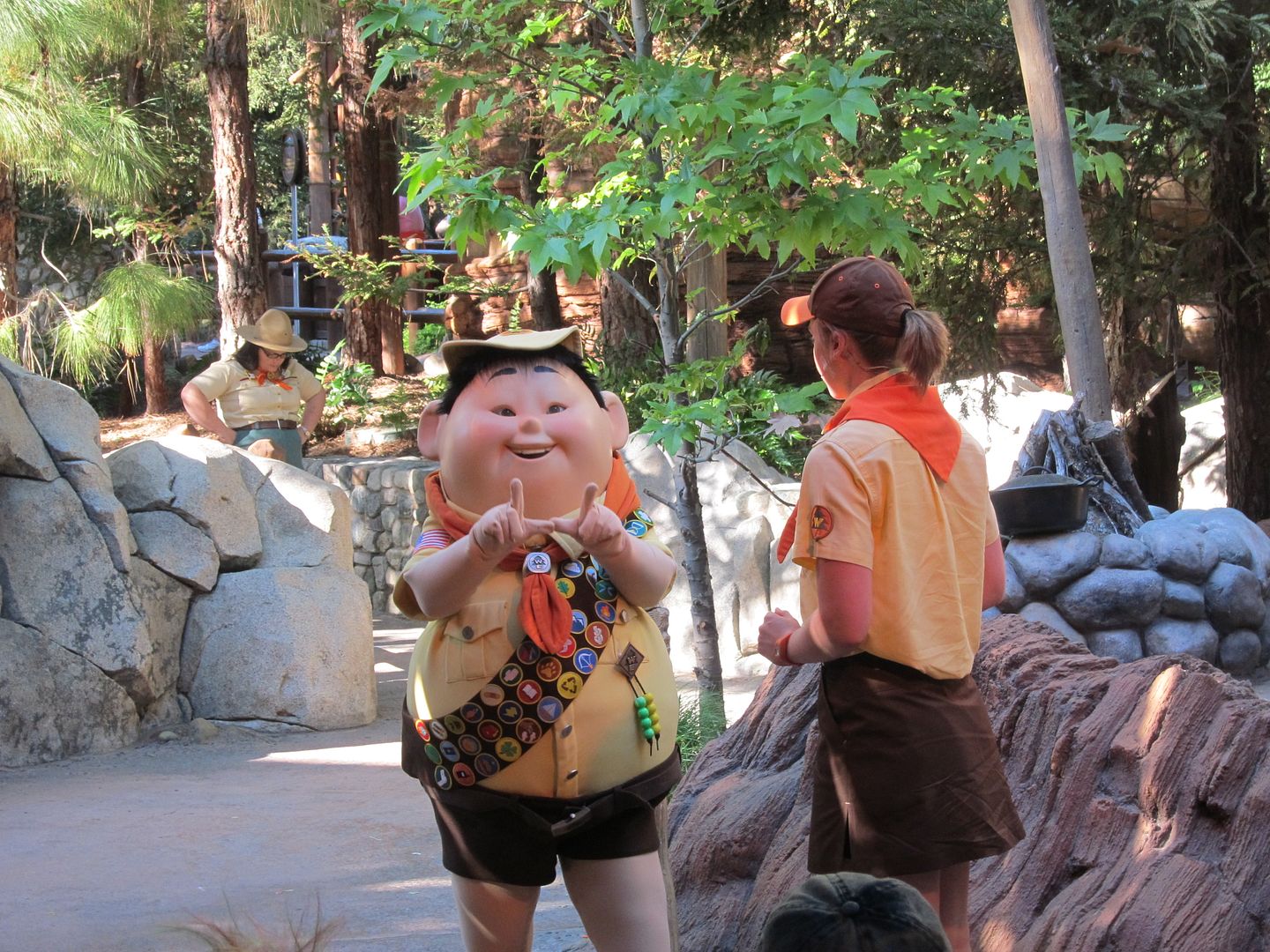 Finally, as the ceremony drew to a close, Carl came out wearing some very festive bunny ears!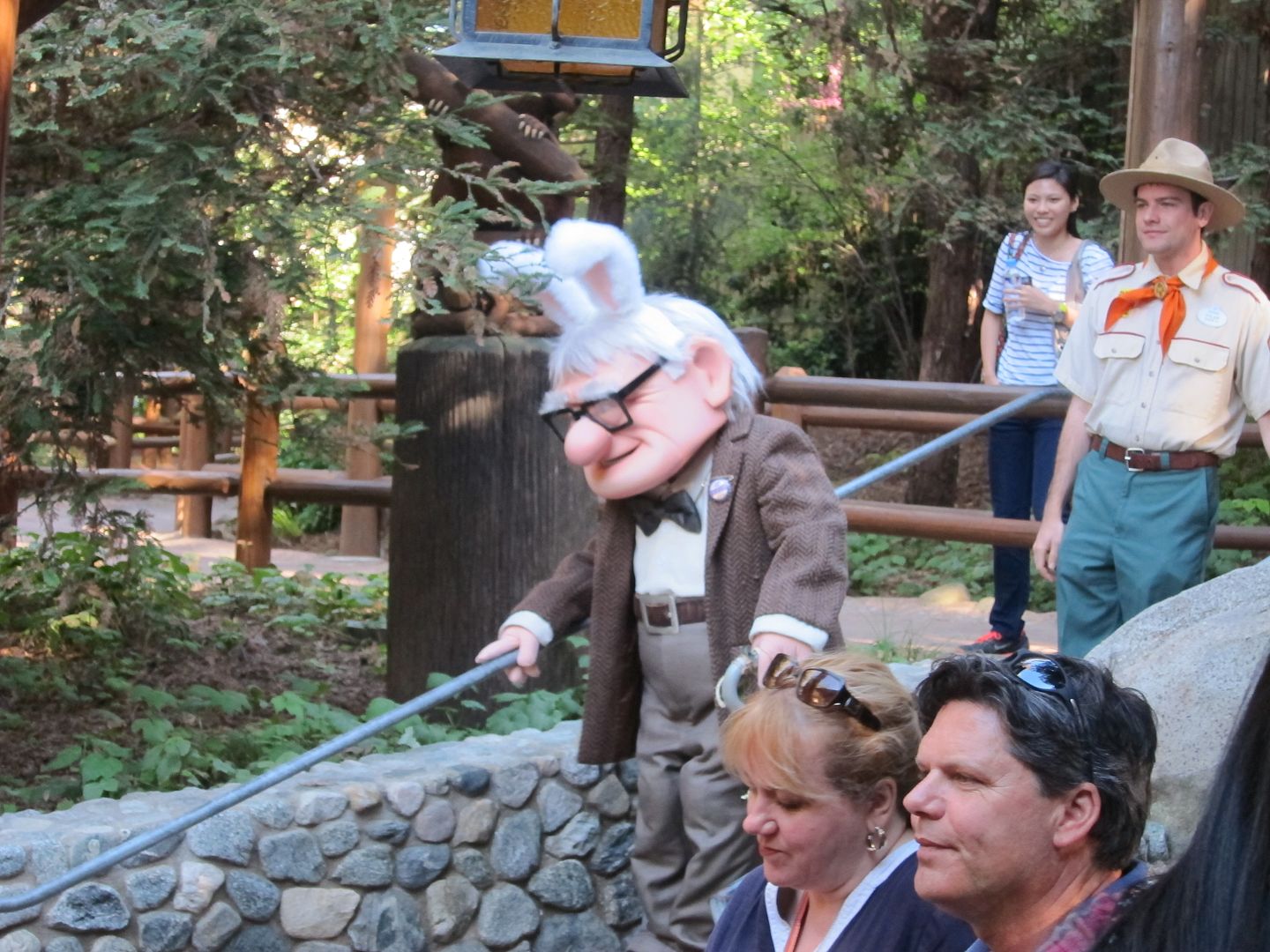 After the ceremony was over, we all got in line to take pictures with the pair of characters.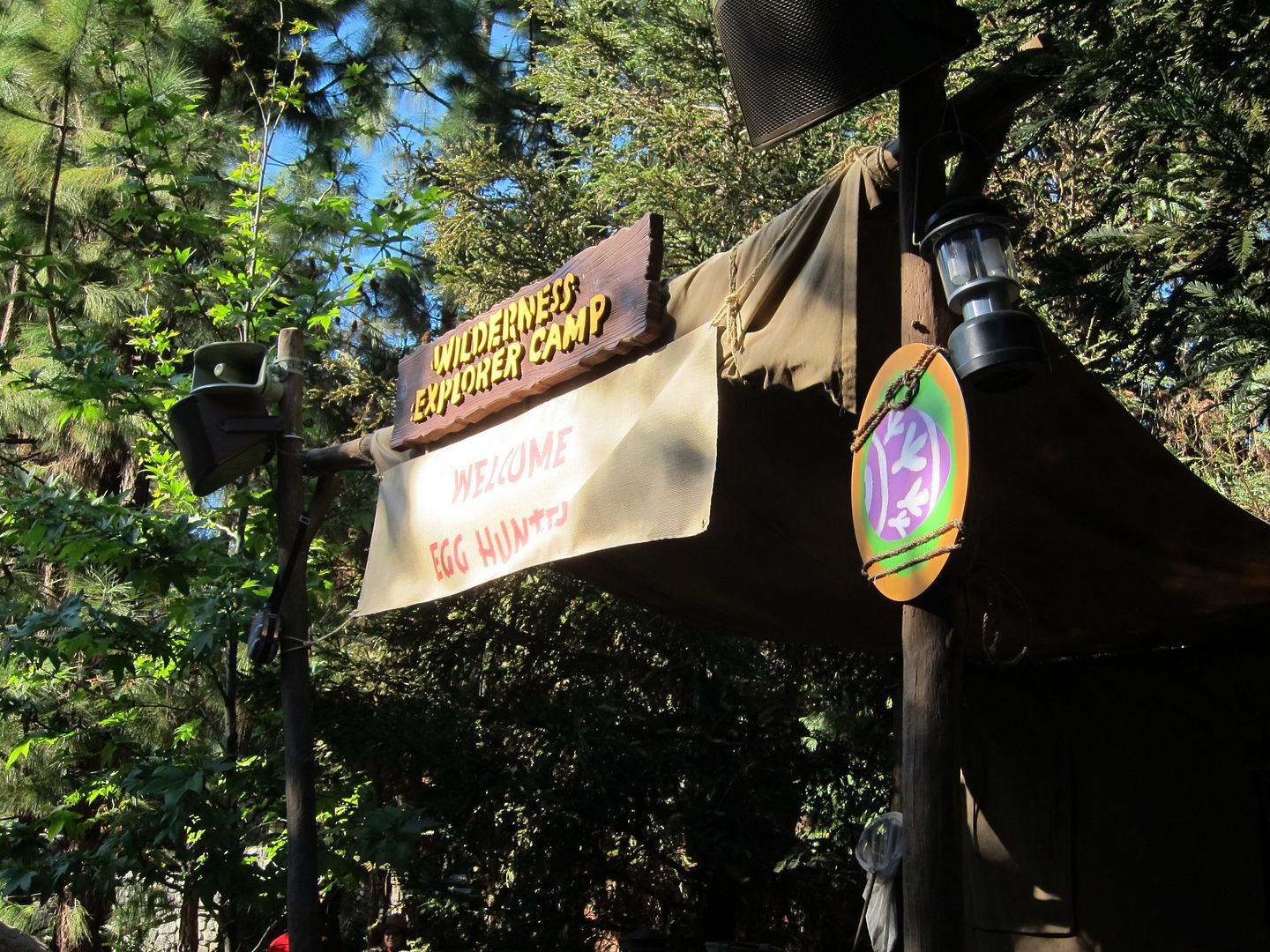 They were among my favorites of the characters we've met. I love Up and think it's one of the best Pixar movies ever made.
By the time we were done at the Challenge Trail, it was almost dinnertime. We walked over to Cars Land and took a ride on Luigi's Flying Tires to kill a bit of time. Unfortunately, we got one of the older tires, which looked like it had been through the ringer in the last few months. The tire must not have held air as well as the newer ones because every time we made impact with anything, it was a little painful.
After riding, we went back to the Cozy Cone Motel for another Chicken Verde Cone.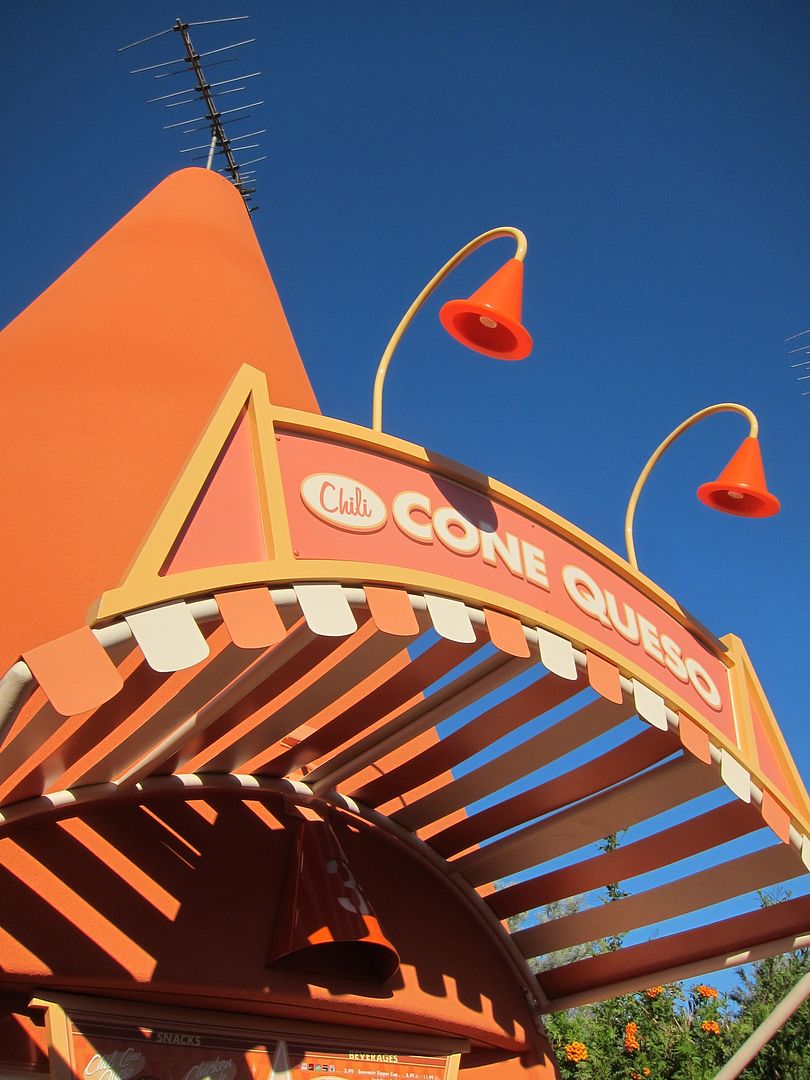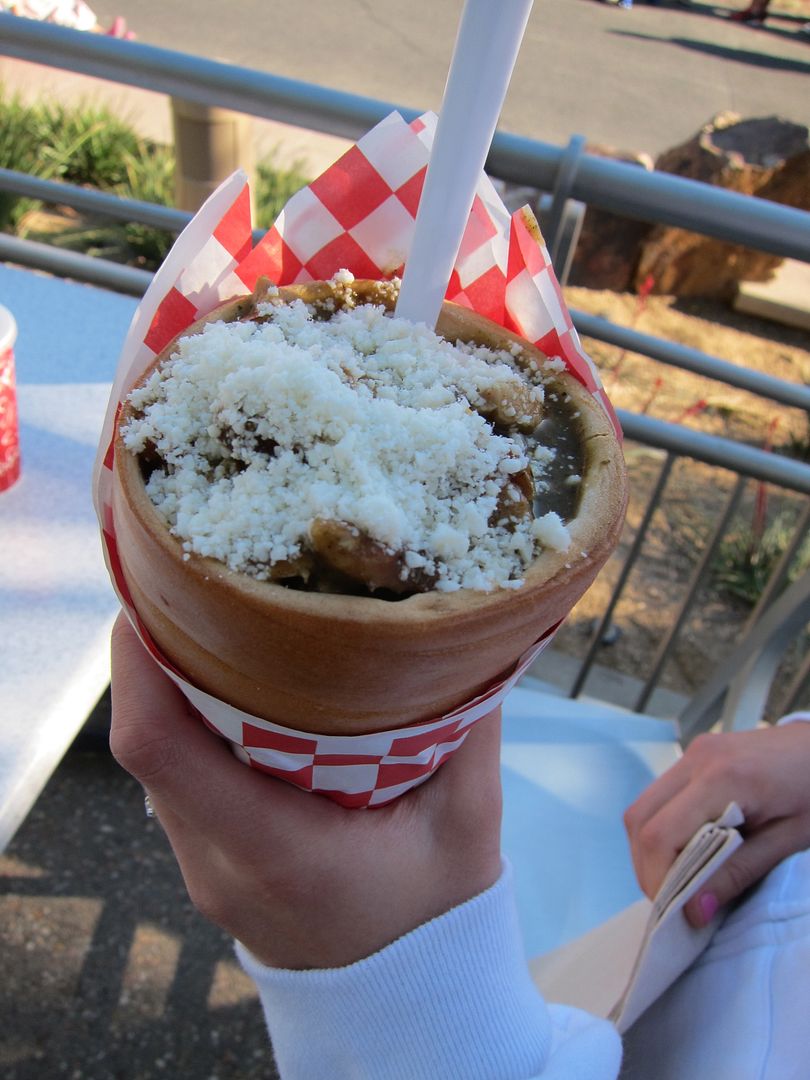 It was just as delicious as the last time we had enjoyed it, and we liked eating it outside Flo's while people-watching.
After dinner, we got Radiator Springs Racers return passes for later, and then we walked over to Paradise Pier to ride Toy Story Mania. Using the tricks we had learned online (and the experience we were gaining as we rode several times), we were both getting better. Working as a team definitely helps you do well on this ride, and we were starting to get our technique down to a science.
We walked out of DCA via Condor Flats, and we saw Francisco on our way (though I didn't get a picture of him). We also saw this hummingbird, who kept trying to eat something on the rock wall. He seemed a little off…
It was getting chilly, so we took the tram back to the car to get our jackets. On the way to the parking structure, we saw a Disneyland Cat to the side of the tram. I must have thought I could get him in this picture, but I certainly don't see him.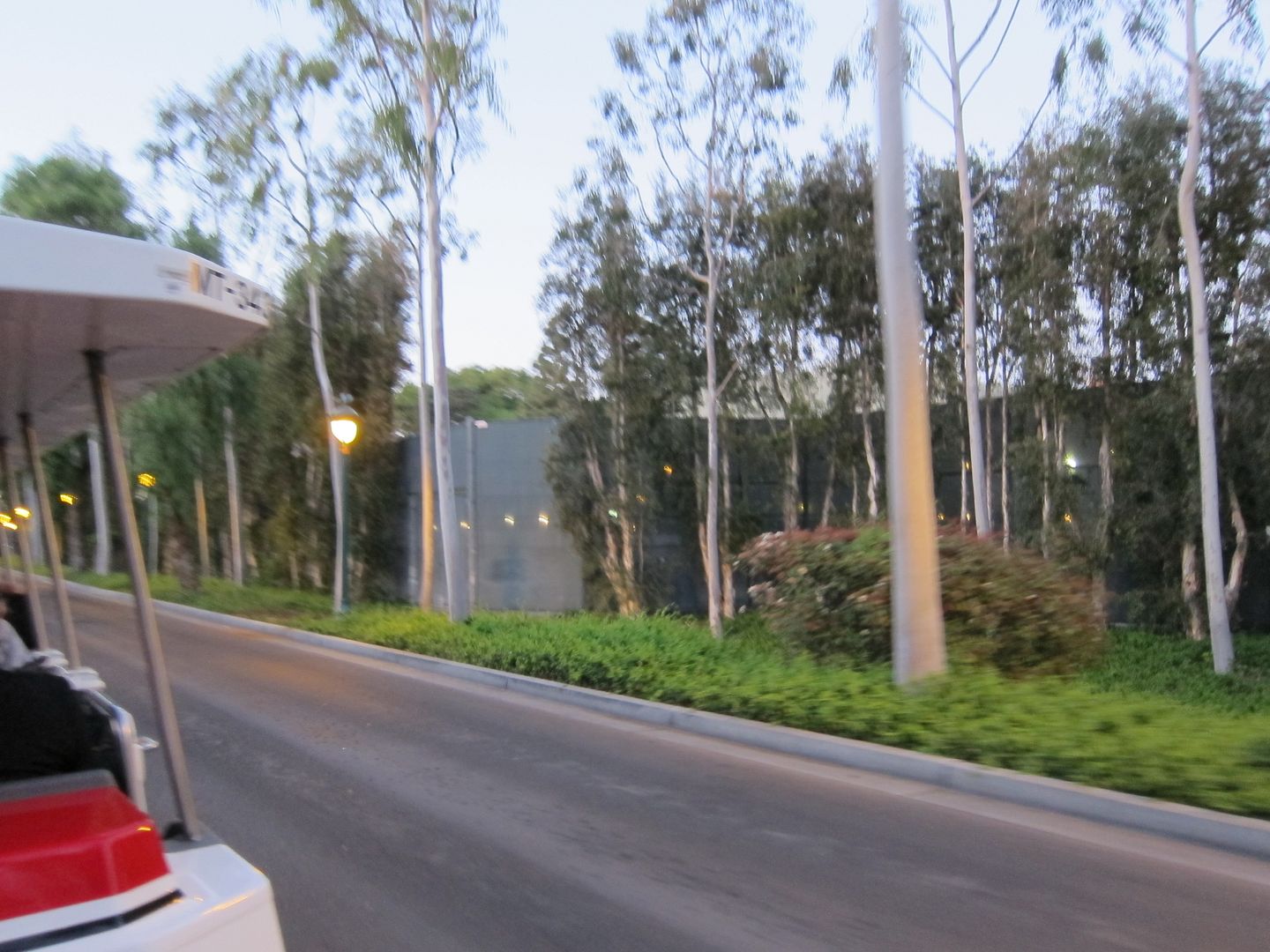 On the tram back to the parks, we counted a total of FIVE Disneyland Cats along the route. Our favorites were three who were gathered around one of the drainage ditches. The way they were all situated, it looked like they were trying to fish in the ditch using their tails as fishing lines. I wish I had a faster camera so I could have snapped their picture!
Returning to DCA, we used our passes for Radiator Springs. We got the Ramone side and won our race!
We hopped to Disneyland and went straight back to Frontierland to buy a Churro from the cart there. This was the first time we had gotten a regular Disney Churro (though we had eaten the churro cone at Cozy Cone). It was delicious!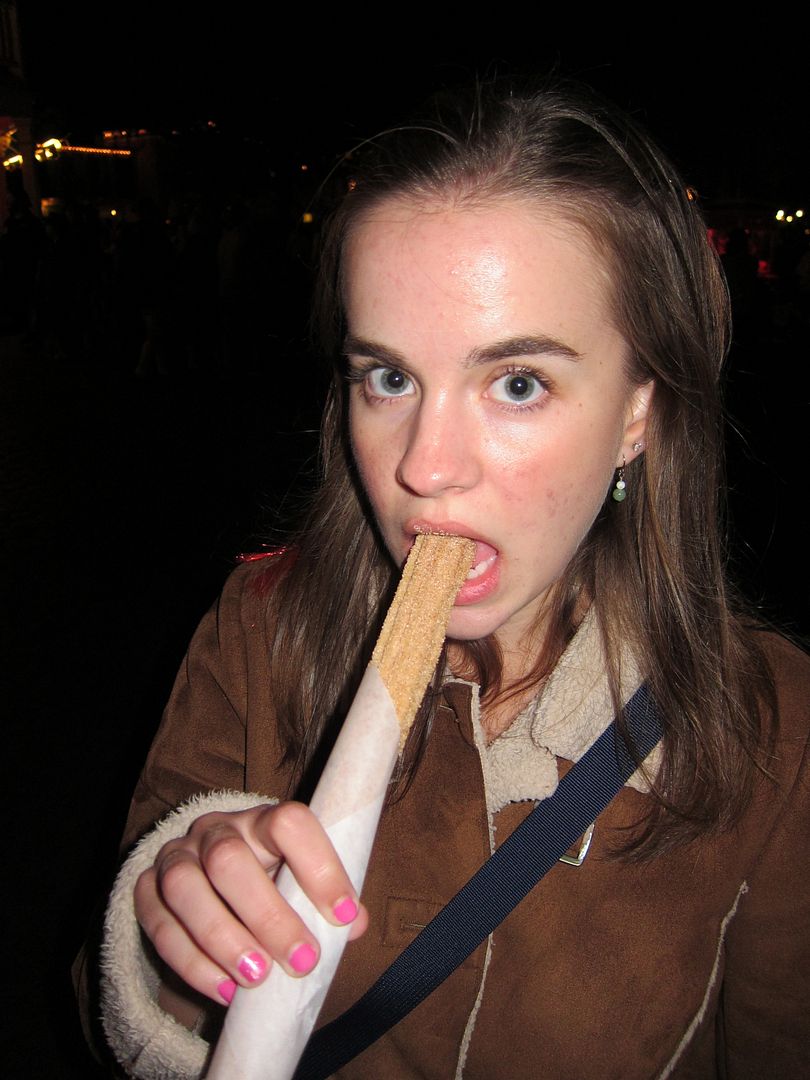 While the crazy crowds queued up for Fantasmic!, we decided to ride Pirates. We got done with the attraction just as they were starting their intense crowd control tactics that they do before the show starts on the Rivers of America, so we climbed aboard the Disneyland Railroad to avoid being herded like cattle. We took the train to the Toontown Depot, and then got off to ride "it's a small world." The hula dancer who had been missing since the ride reopened a month before was back today, but now two others were gone. Small World DRAMA!
Previous Post | Next Post
Table of Contents
Follow



Share