Chapter 77
In My Easter Bonnet
---
Previous Post | Next Post
Table of Contents
(Originally posted October 16, 2013)
We headed to the front of the park via Tomorrowland, and we were just about to leave when the fireworks started. We walked up the stairs of Main Street Station and realized we could have a very good view of Remember from there. We decided to stay and watch the show.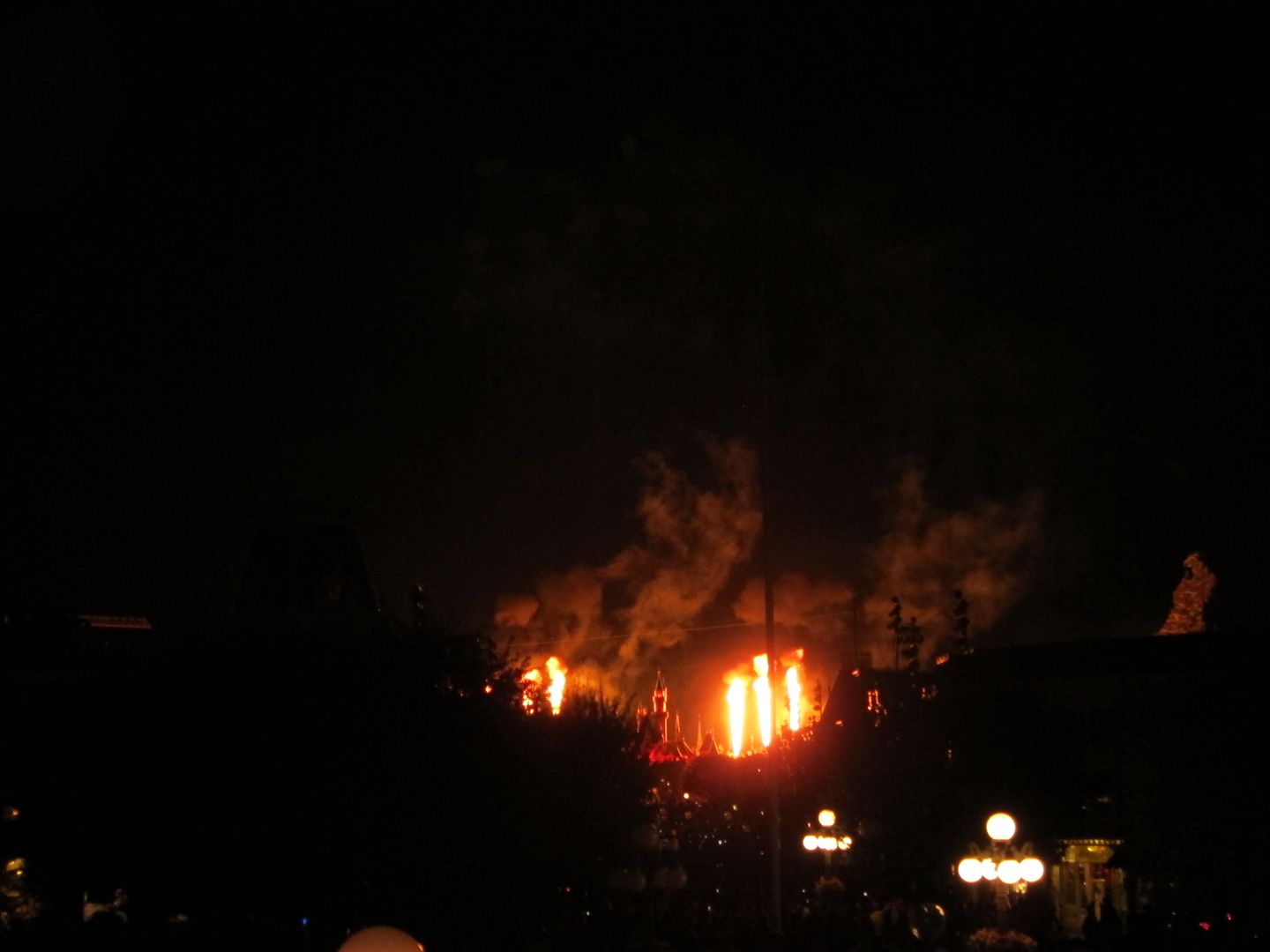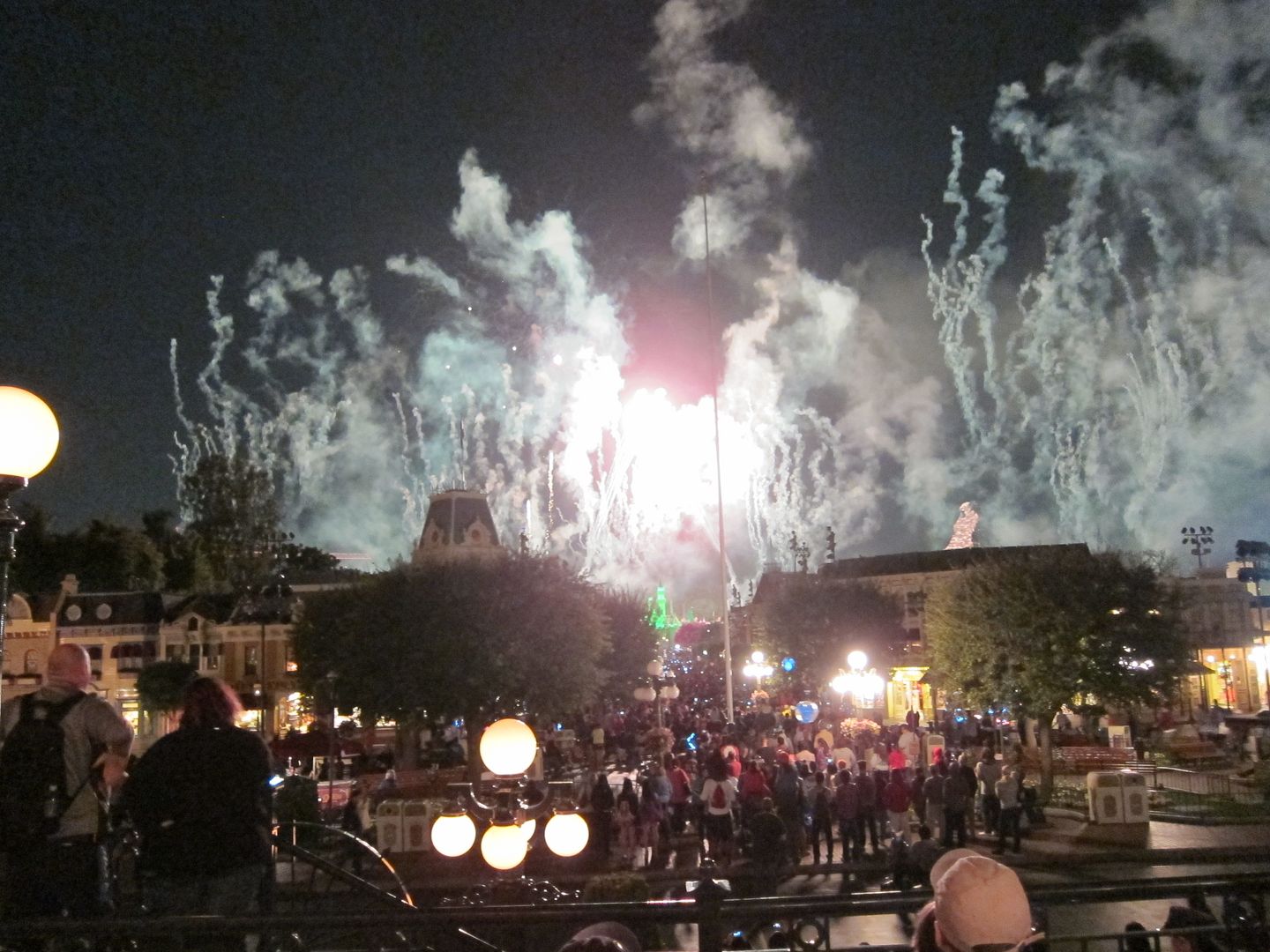 Since we were able to get to the park exit so quickly after the fireworks, we beat the crowds and had no problem getting a seat on the tram to head home.
The next day was Easter Sunday, and we expected the parks to be a nightmare. Still, we had one last piece of Limited Time Magic that we had to see before all the Easter celebrations came to an end, so we went to Disneyland after lunch.
We parked at Downtown Disney because we weren't planning to be there too long, and we rode in the front of the Monorail to enter Disneyland.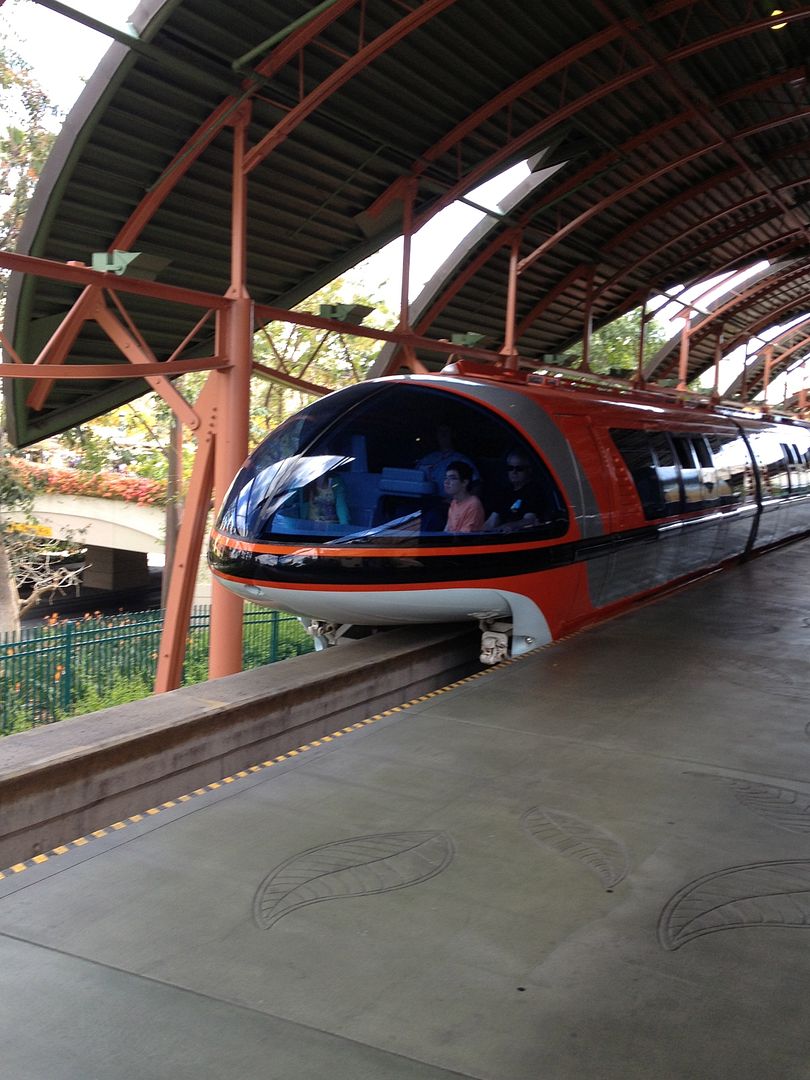 We hurried to Town Square because the reason we had come today was to see the Easter Bunny before he left for the season. Unfortunately, we reached the line for him just as it was being cut off, and the cast member told us he wouldn't be back until after the parade (which was more than two hours away).
Thinking we would have to give up on the bunny after all (our free parking would be up just as he would come back out), we went to the Emporium. After much consideration, Tracy had decided to buy the Cheshire Cat pillow pal after all. She was so happy to finally get to hug him!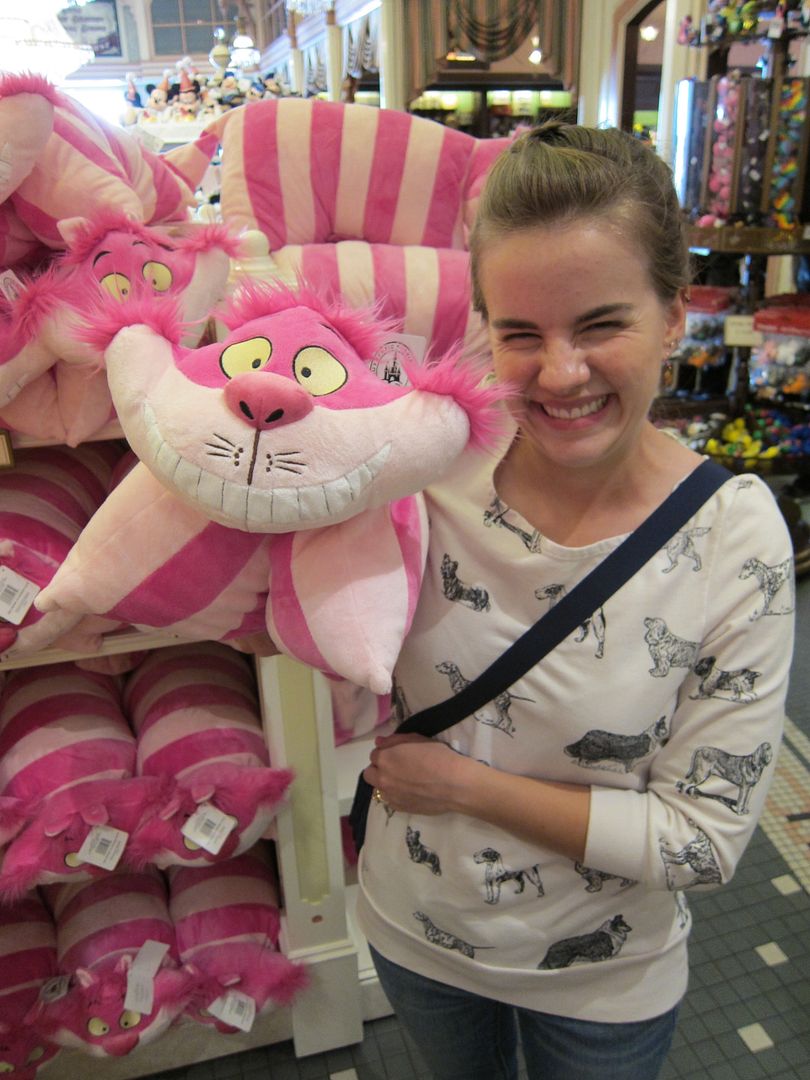 Our purchase made, we hopped to DCA—and noticed that it was much less crowded today than we were expecting for a holiday. We went back to Pacific Wharf and bought a loaf of bread to have with our Easter dinner.
Next, we went to the Animation Academy and learned to draw Tigger.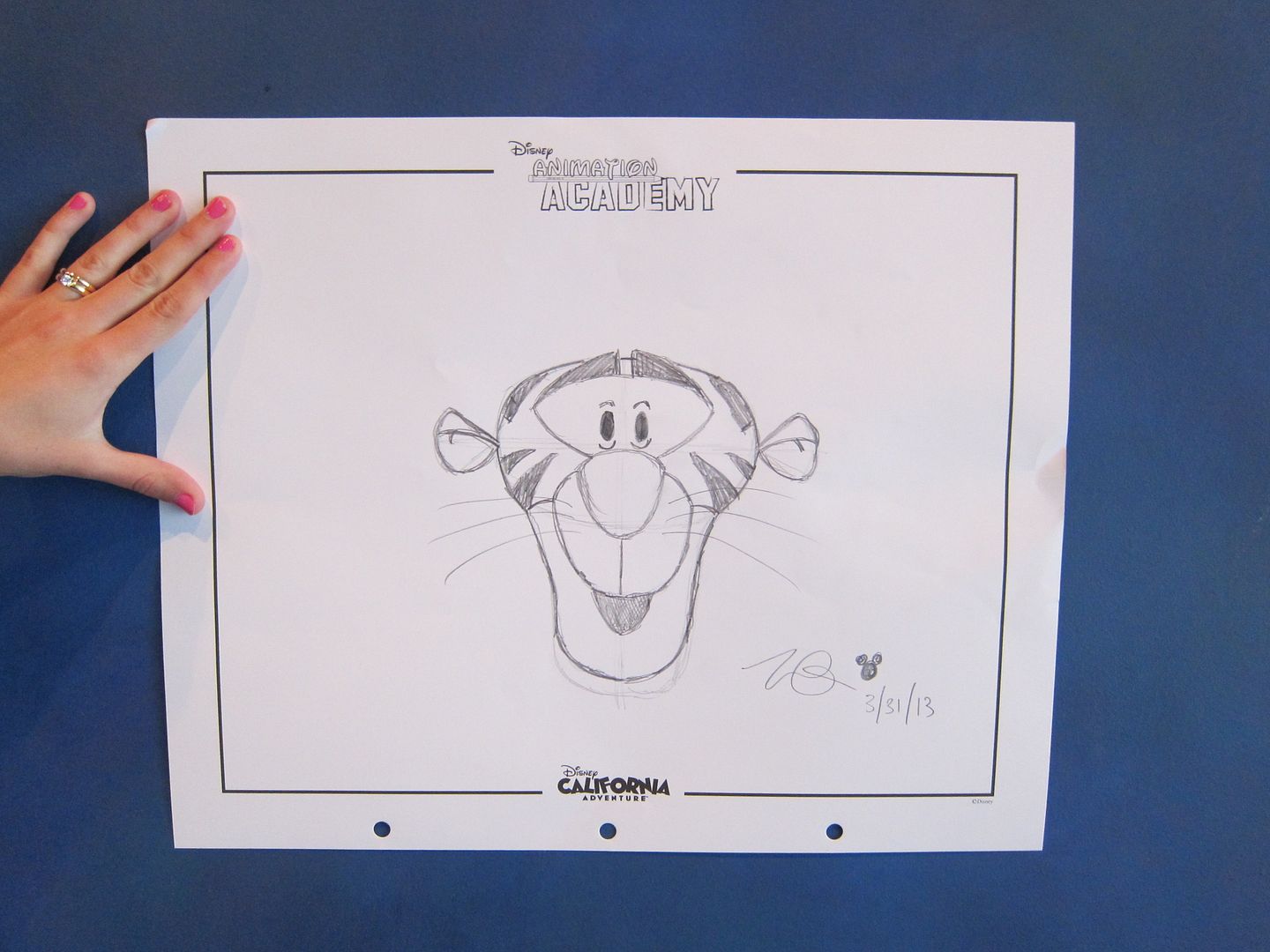 Hopping back to Disneyland, we confirmed with a cast member that the Easter Bunny wouldn't be back until after the parade. We were about to leave when we had the idea to check if Pancho happened to be out in Big Thunder Ranch.
We made our way back to the Ranch, and OUR DONKEY WAS THERE!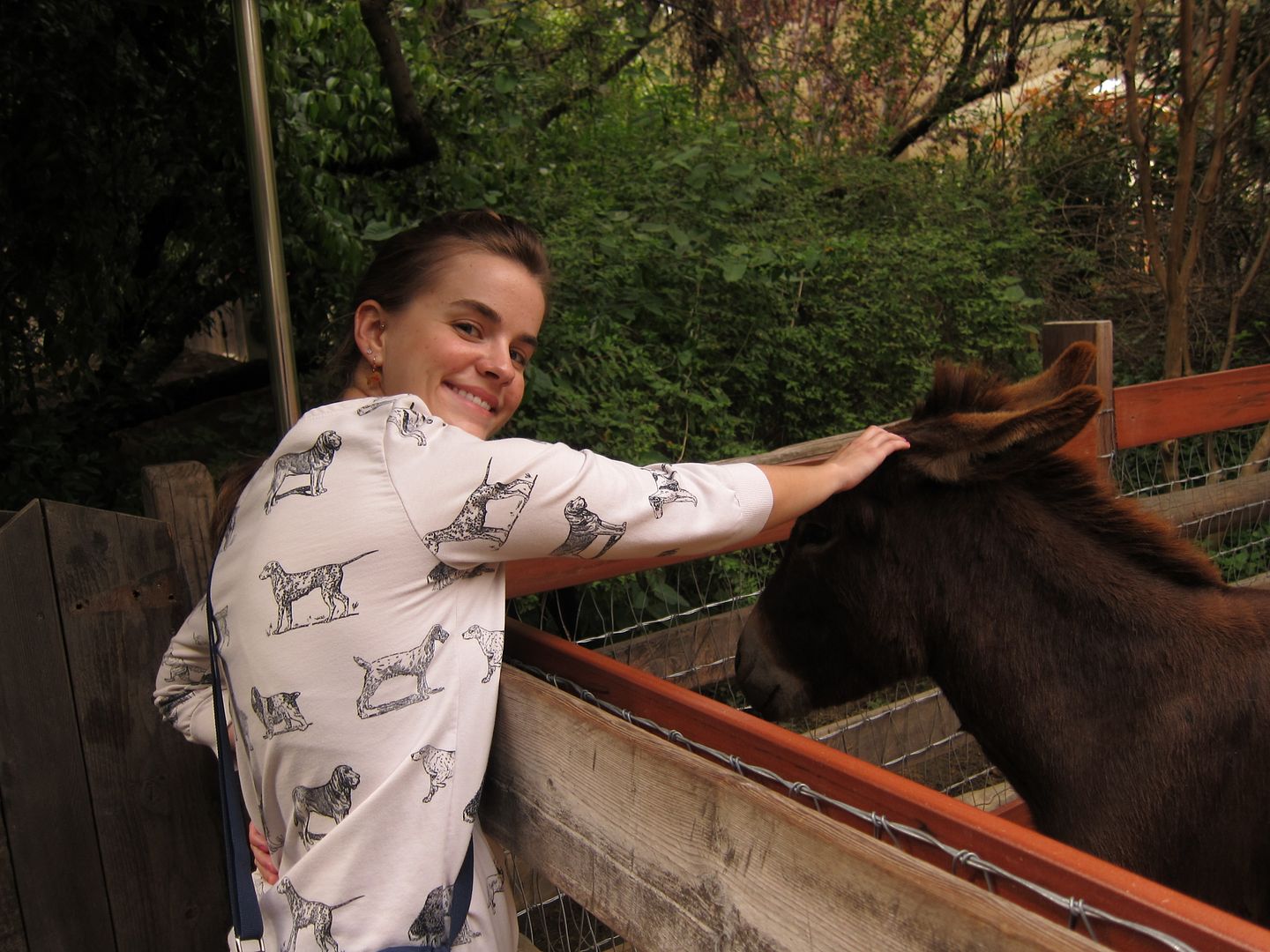 Not only was Pancho out, but he was just as sweet as we remembered from a year and a half earlier.
After we pet him for a few minutes, he went away to do his business and scratch an itch.
We didn't care at this point, though! We were just so happy to have FINALLY gotten to meet him again.
The parade was finishing up as we made our way back toward Main Street. We were just about to exit the park when we decided to just wait for the Easter Bunny—even if it meant paying a few dollars for our parking. We queued up, and before too long, he appeared!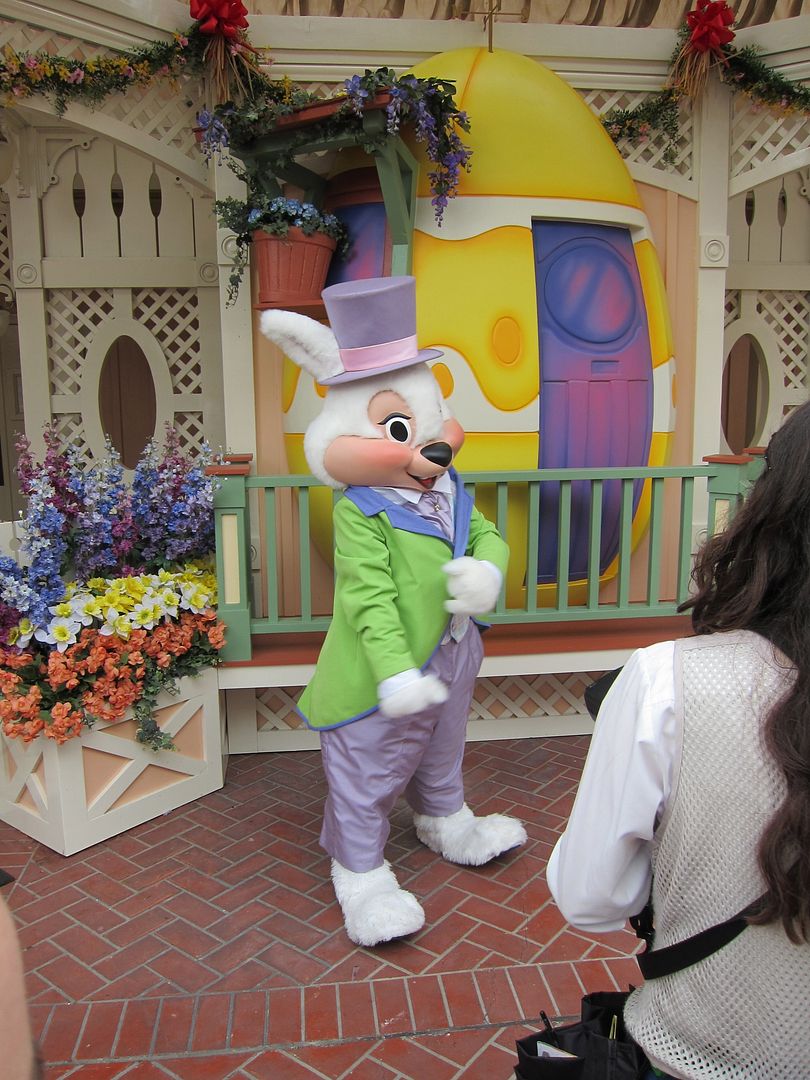 While we waited in line for the Easter Bunny, Mickey and Minnie came out in their Easter outfits too, but we couldn't justify waiting extra time for them as well so we had to settle for some far-away pictures.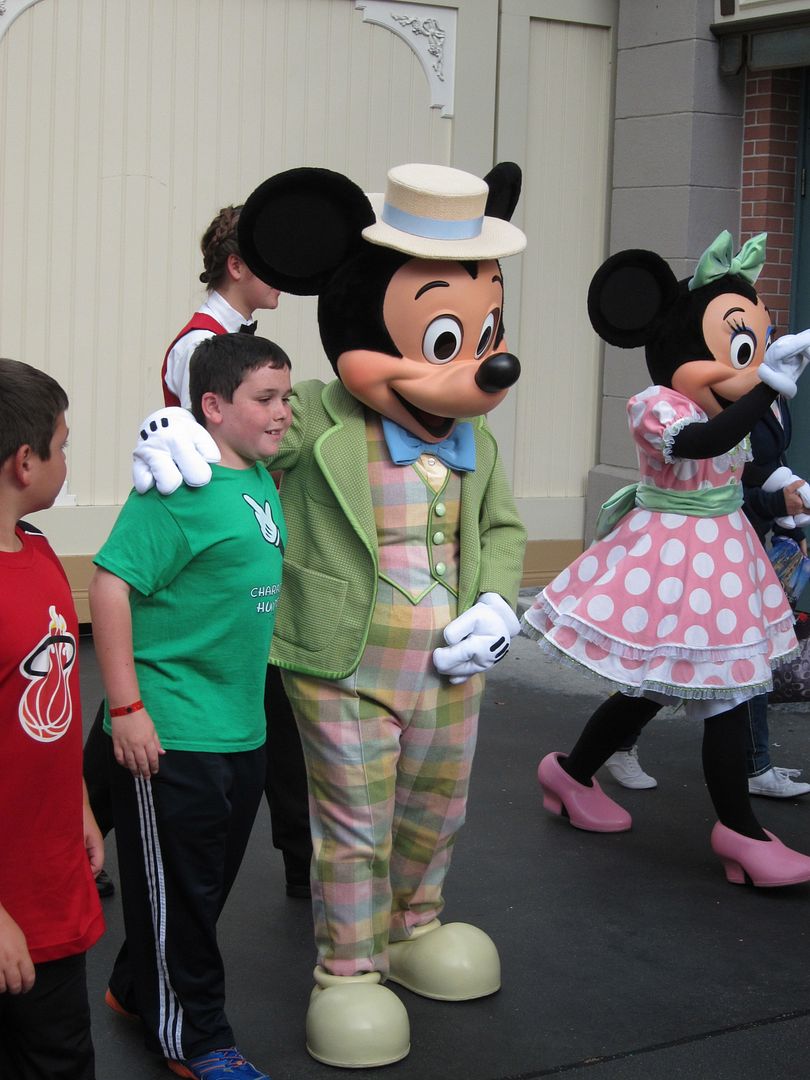 We made it to the front of the line and posed with the big bunny himself.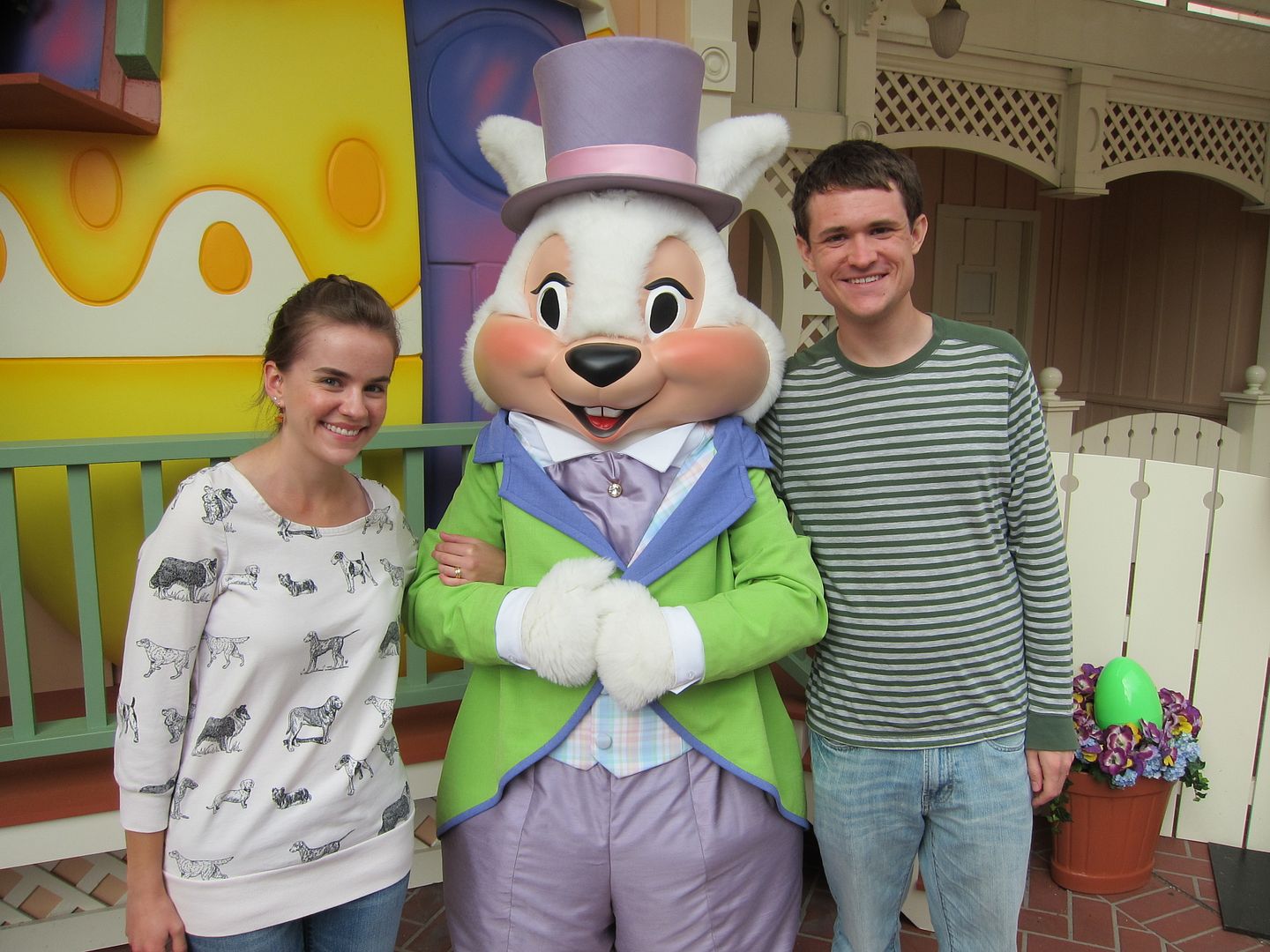 And now, we booked it out of Disneyland and speed-walked all the way back to the Downtown Disney parking lot. We ended up having to pay $2, but we decided it was worth it to have gotten in the last of our Easter goals.
Now we headed home and had another of our homemade bread bowls of soup for our Easter dinner.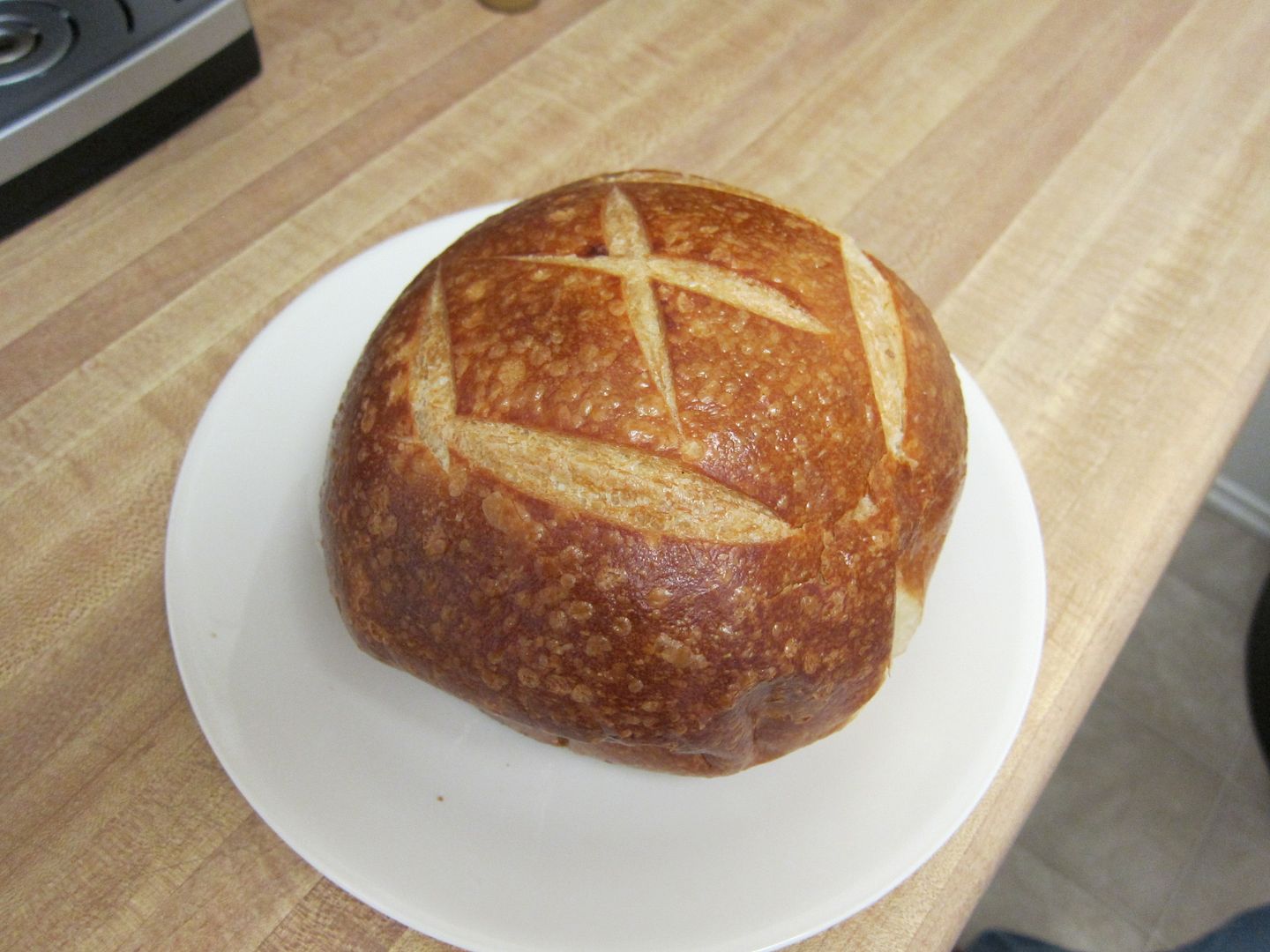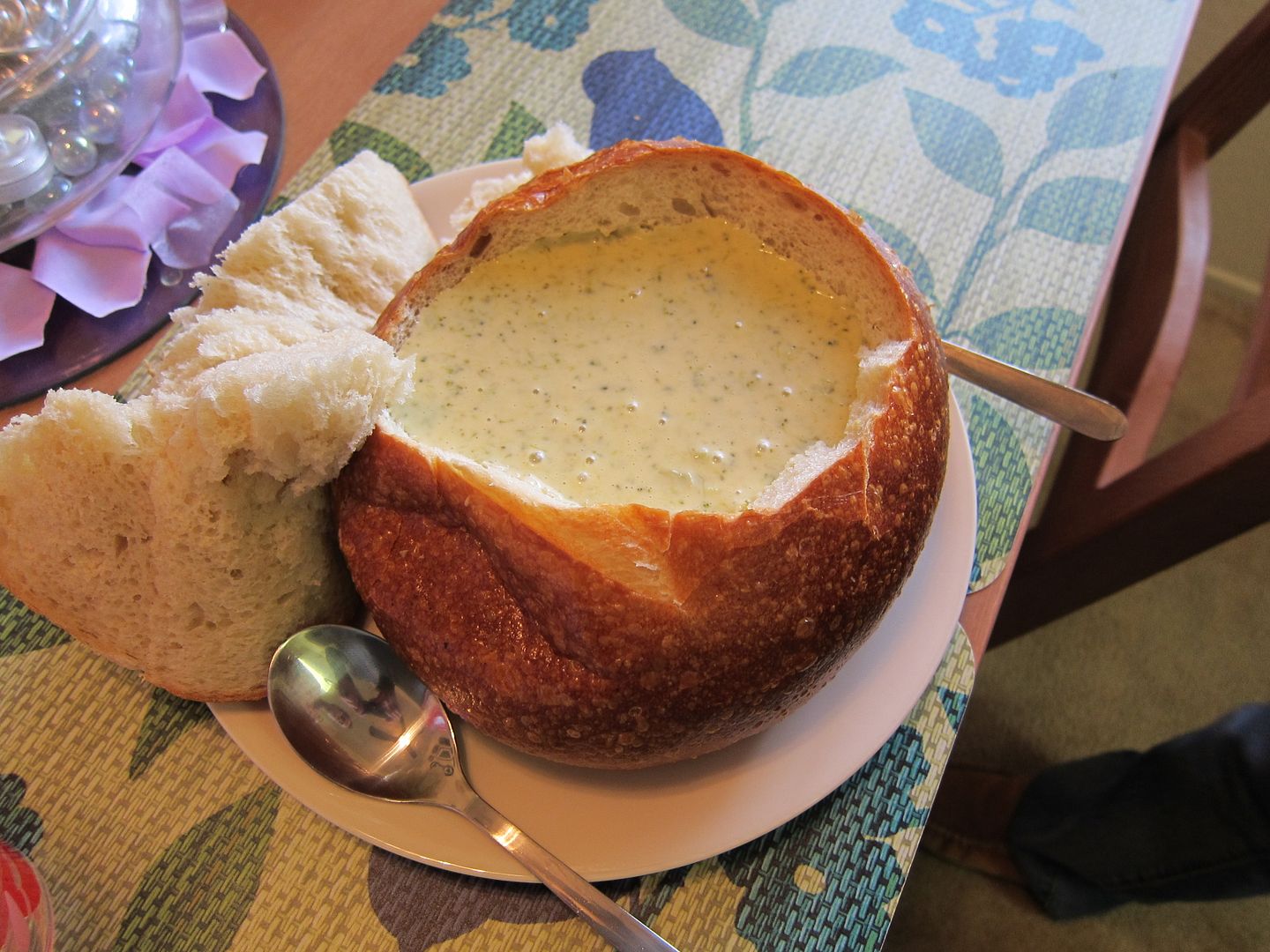 After dinner, we had one last Easter task left to accomplish: dying eggs! Now, we don't really do anything with our eggs once we have dyed them, but we still enjoy coloring a few each year just for fun.
Tracy very carefully measured out the amounts of vinegar for all the colors.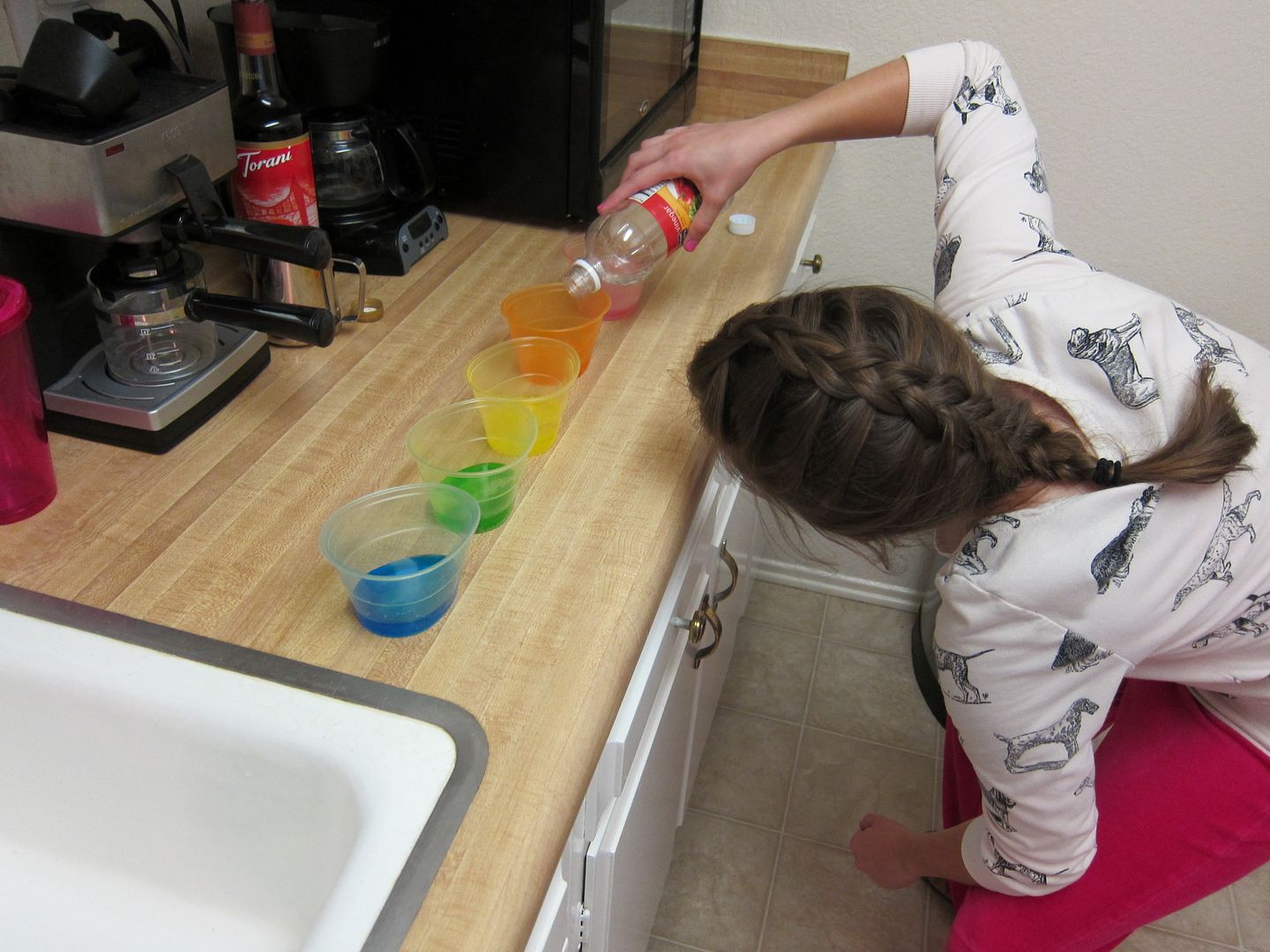 We only boiled six eggs, so we would each dye three. Usually we've done a whole dozen, but then they end up going to waste, so we cut back this year.
Since Tracy was still fawning over Pancho after our meeting earlier, she made an egg with him on it.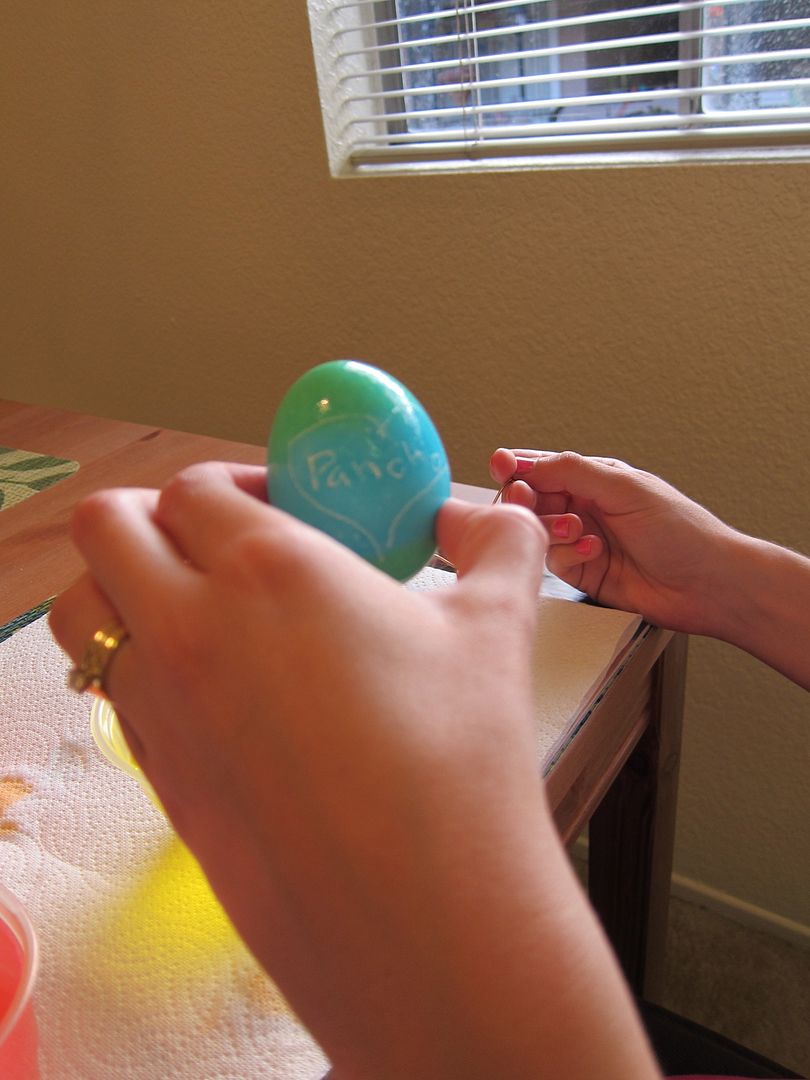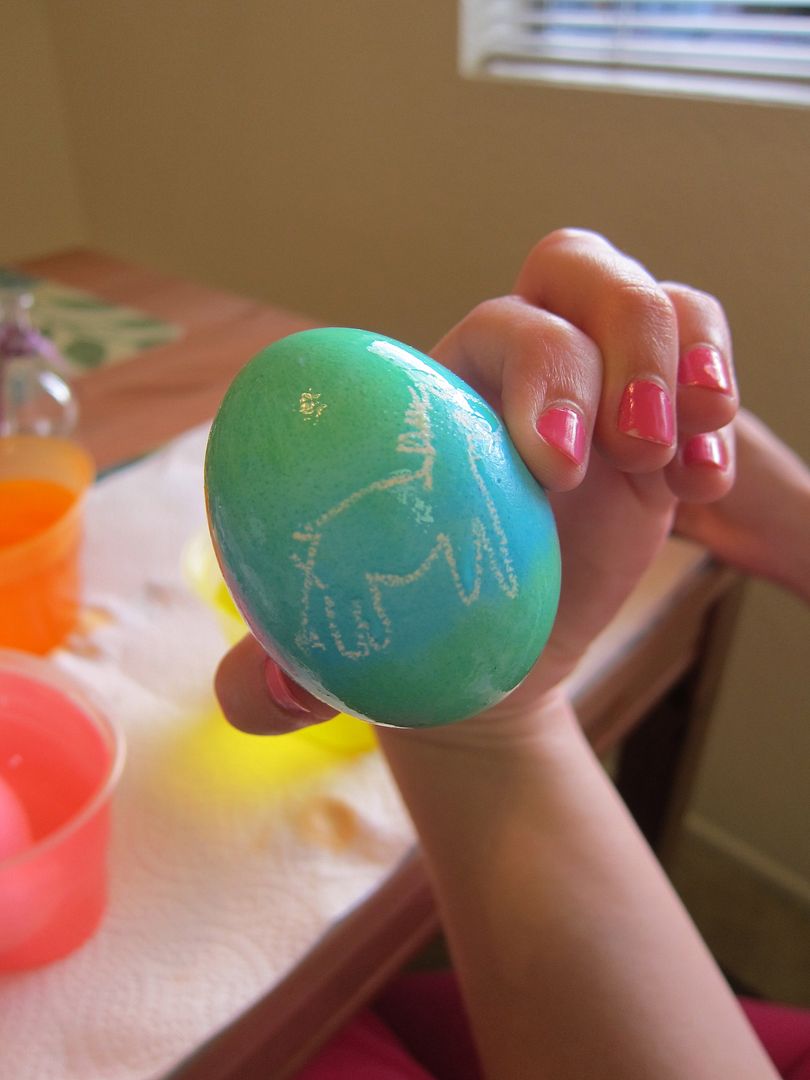 I drew some cats on this one.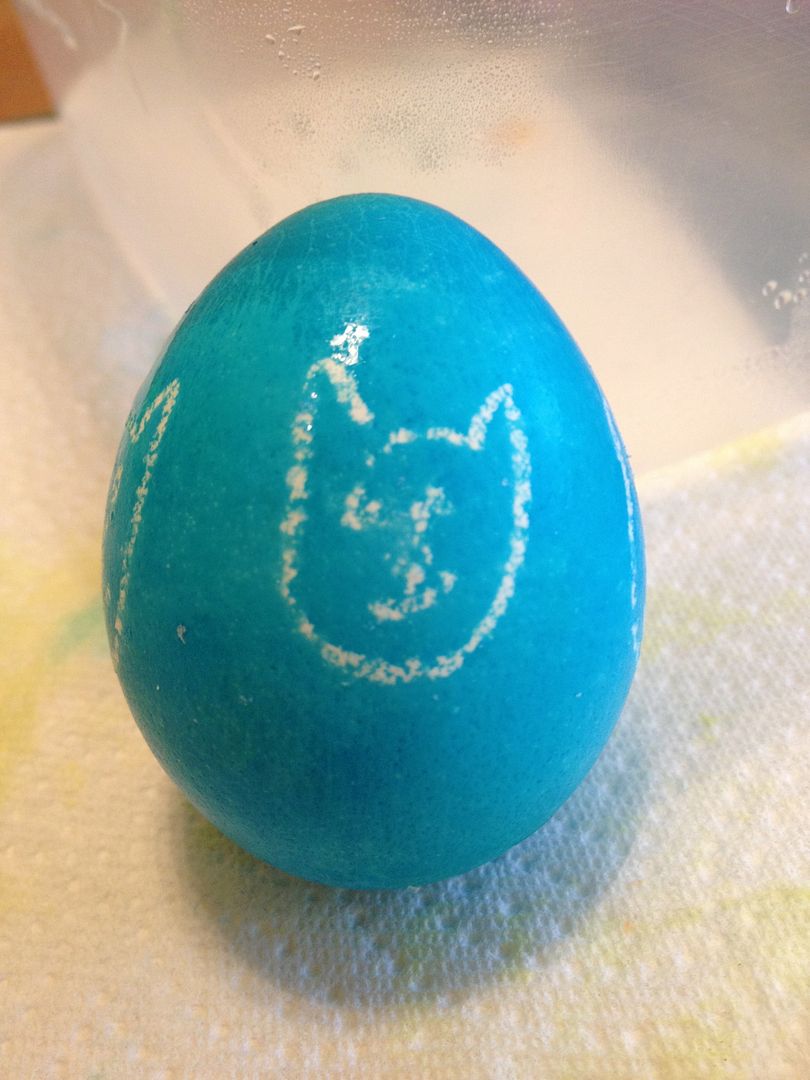 Tracy did a Duffy egg.
And I drew an Easter Bunny!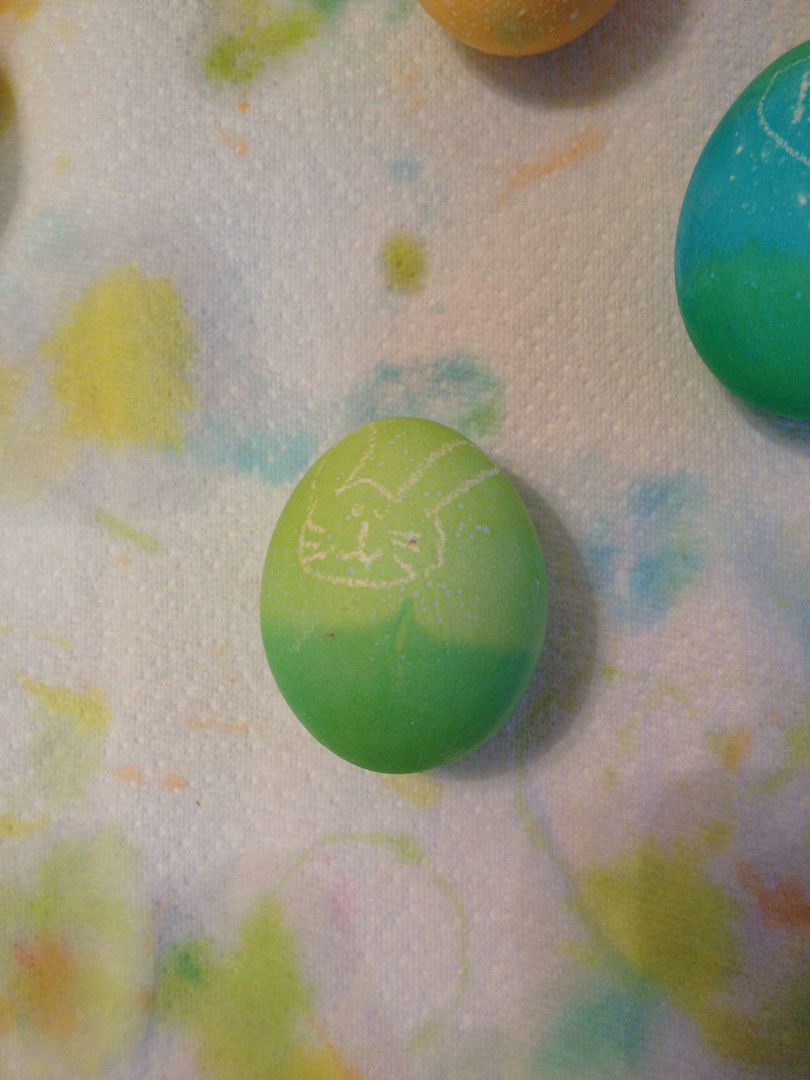 On the whole, it was a fun experience as always to dye our eggs. We also enjoyed eating them in the subsequent days.
Overview of March 2013
Random Photo of the Month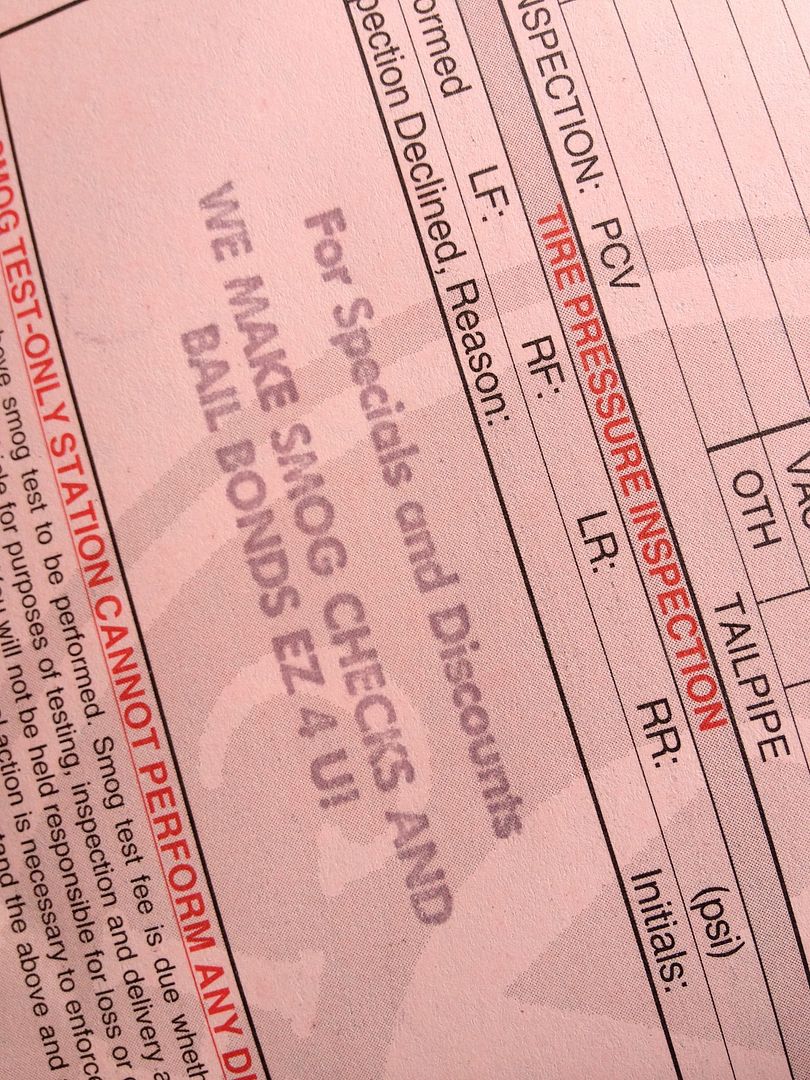 When we went to get our smog check before we registered our car, we were relieved to find out that we could get a bail bond in the same place if that were ever necessary…
Total Days This Month Spent Visiting Disneyland Parks
27
Total Days Spent at Disneyland Since First Getting Our Passes
32
Disney Movies We Watched
Alice in Wonderland (Neither Tracy nor I had really had this movie in the must-watch rotations as kids, and after seeing it again, I can understand why. I know that Disneyland-lovers are supposed to love Alice in Wonderland, and I really DO love all the Alice references in the park—it's probably one of our favorite dark rides. The movie, though, is just a little too random and out there for my taste…and I know Tracy agrees. There's really not a storyline, and while we loved some aspects of the movie—the Cheshire Cat, for instance—the film on the whole just didn't really do it for us)
The Lion King (Conversely, I would probably say The Lion King still holds a place in my heart as my favorite Disney movie of all time. We finally watched the Blu-ray in March after it had been sitting around on our shelf for over a year, and it was magnificent. It just really holds up after almost 20 years. The animation is spectacular, the storyline is epic, and the songs are perfect. I must have watched this movie more than 100 times as a kid, but it never gets old)
Favorite Disney Snack
Cookie Ice Cream Sandwiches from PCH Grill (I don't know if these should count as a snack because they were a dessert at our sit-down meal, but they just deserve mentioning again because they were THAT GOOD. I want to have more of them NOW)
Favorite Disney Meal
Chicken Verde Cone from Cozy Cone Motel (We had two of these in one month, which I think is the ultimate sign of a meal we really enjoyed. They're spicy without being TOO spicy, and the cone itself is delicious bready goodness)
Favorite Guilty-Pleasure TV Show
The Suite Life on Deck (I can't even use the defense that this was a show Tracy and I watched together, because it was all me. When she first went back to work, I was in the market for a Netflix show that I could have on in the background that was totally mindless and would be light and fluffy for me to watch. I sampled several different Disney Channel original series, and this was the first one that didn't totally bug me. In fact, I found it pretty fun, and I made it through the entire series—three seasons—in about a week and a half. Oops?)
Previous Post | Next Post
Table of Contents
Follow



Share