Chapter 82
Workin' Hard
---
Previous Post | Next Post
Table of Contents
(Originally posted October 23, 2013)
April 15-19, 2013
It was back to work as usual on Monday (I know these weeks are suddenly much more boring now that we had to do real-world stuff instead of living at Disney).
Tuesday evening, we headed back to the parks for a little while. We went over after dinner, and they had us park in the Chip and Dale lot for the first and (as of now) only time. We went to DCA and started our evening by looking for Francisco by Soarin', but he was nowhere to be seen. We rode The Little Mermaid, Jumpin' Jellyfish, and Mickey's Fun Wheel before heading to Toy Story Mania. I broke 200k for the second time ever, and was pretty proud of my score.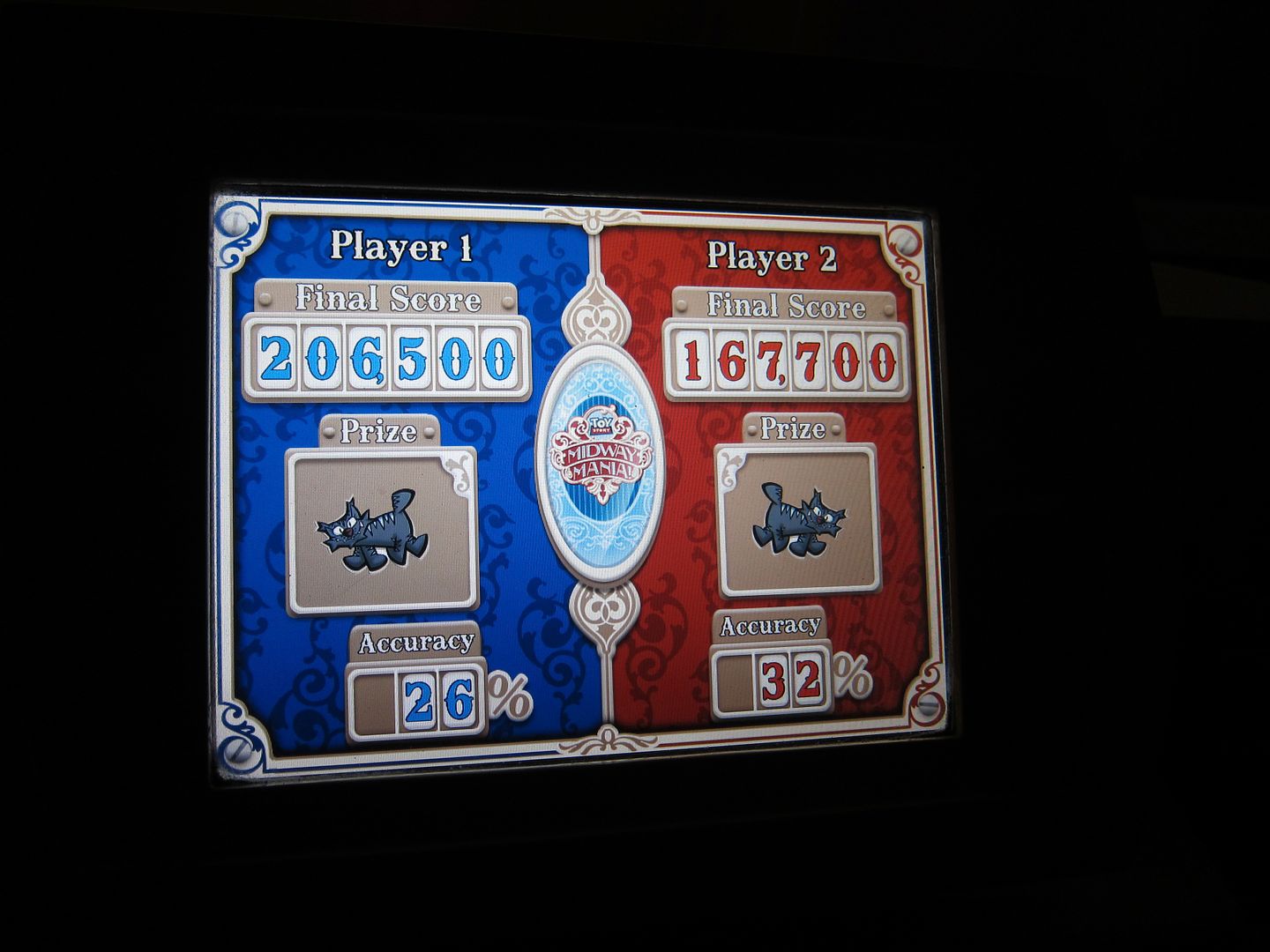 We traded lots of pins before walking over to Hollywoodland to ride Monsters, Inc. We had never really explored the whole queue here, and it's chock full of great theming.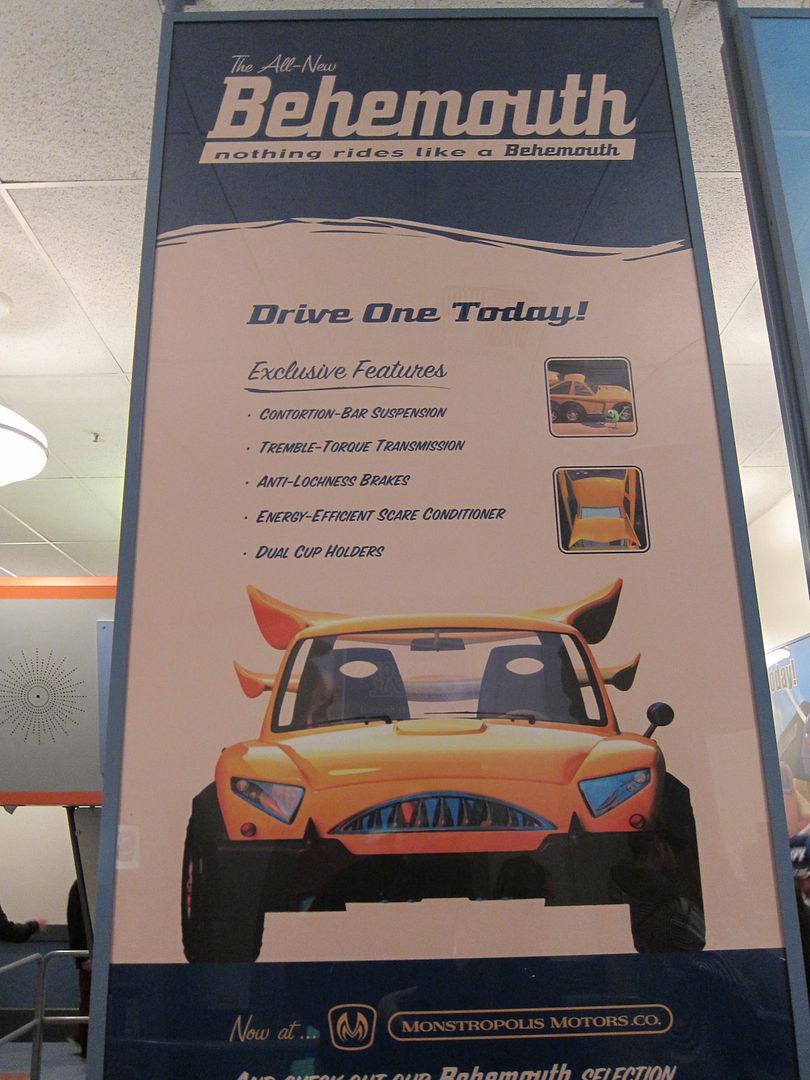 After the ride, it was getting pretty late, so we headed to the exit and went home.
On Wednesday, we didn't go to the parks, but I did play with Crooky and some string.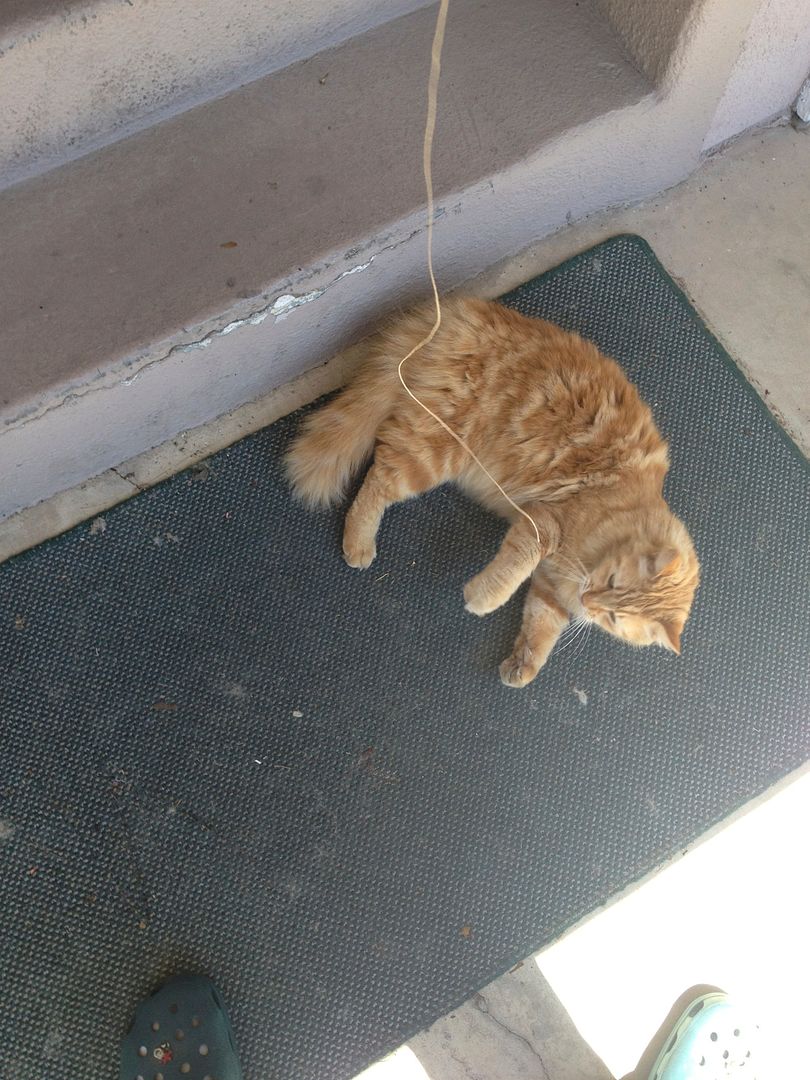 Thursday, we were back at the parks after dinner. Even though we arrived when Disneyland was only going to be open for another hour and a half, we still wanted to make the most of the time we did have. As we started at Disneyland, we were walking back toward the bathrooms on the east side of Town Square next to Ariel as she interacted with a group of kids.
She was asking one of the little ones what rides he had done, and when he said Star Tours, her response was funny: "Oh, you must be brave as a tiger fish. Flounder is too scared to ride that!"
This interaction got us in the mood to ride Star Tours for the first time in a while, and we got a combination of Tattooine and Coruscant.
After Star Tours, we wanted to go ride the Mark Twain because it had just reopened from a long refurbishment, but it was already done for the night.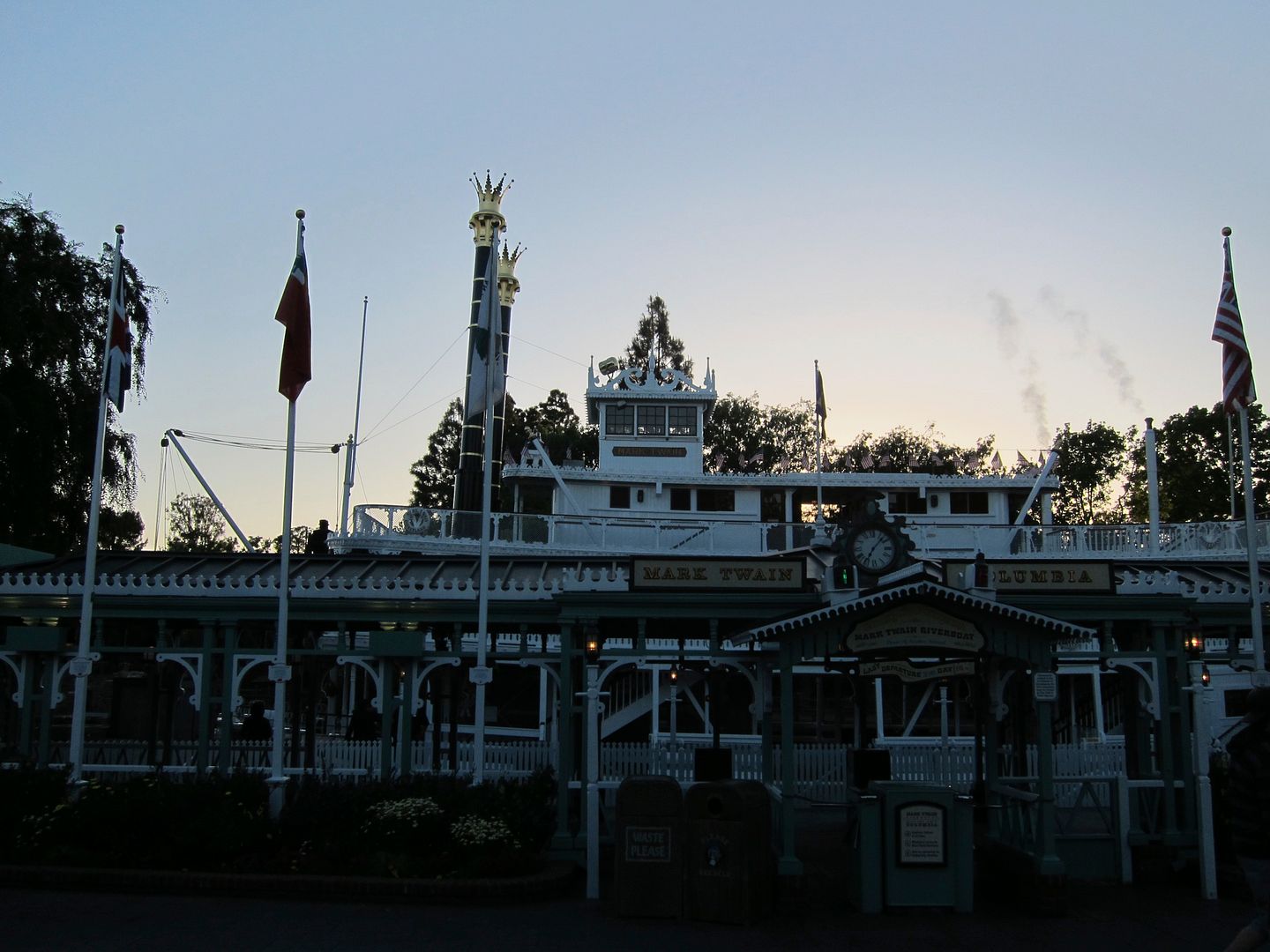 Instead, we headed to Fantasyland.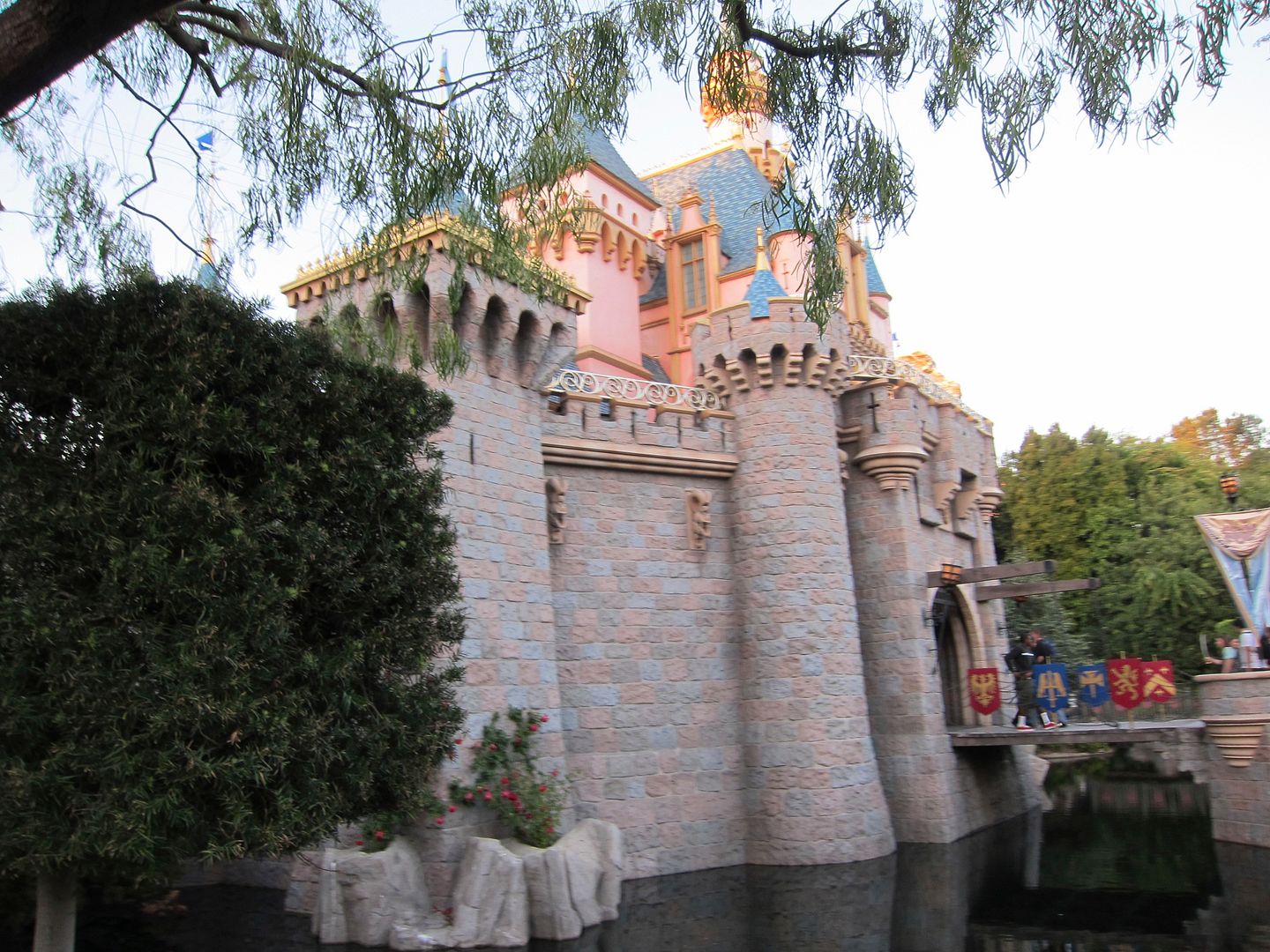 We rode Mr. Toad before going to the Carrousel, where Tracy got Jingles!
Unfortunately, someone on the attraction kept not listening when the cast member announced that if parents wanted to stand, they had to do so between two horses. After announcing it about five times, the cast member had to stop the ride to go talk to the person individually. Once the ride was stopped, it had to undergo a reset process before it would start up again, so we ended up sitting astride our horses for at least 15 minutes in total between the first ride, the reset, and the second ride. No matter how much we love Jingles, we were still excited to get off when the ride was finally over.
We rode Dumbo next, and it was very pretty at dusk.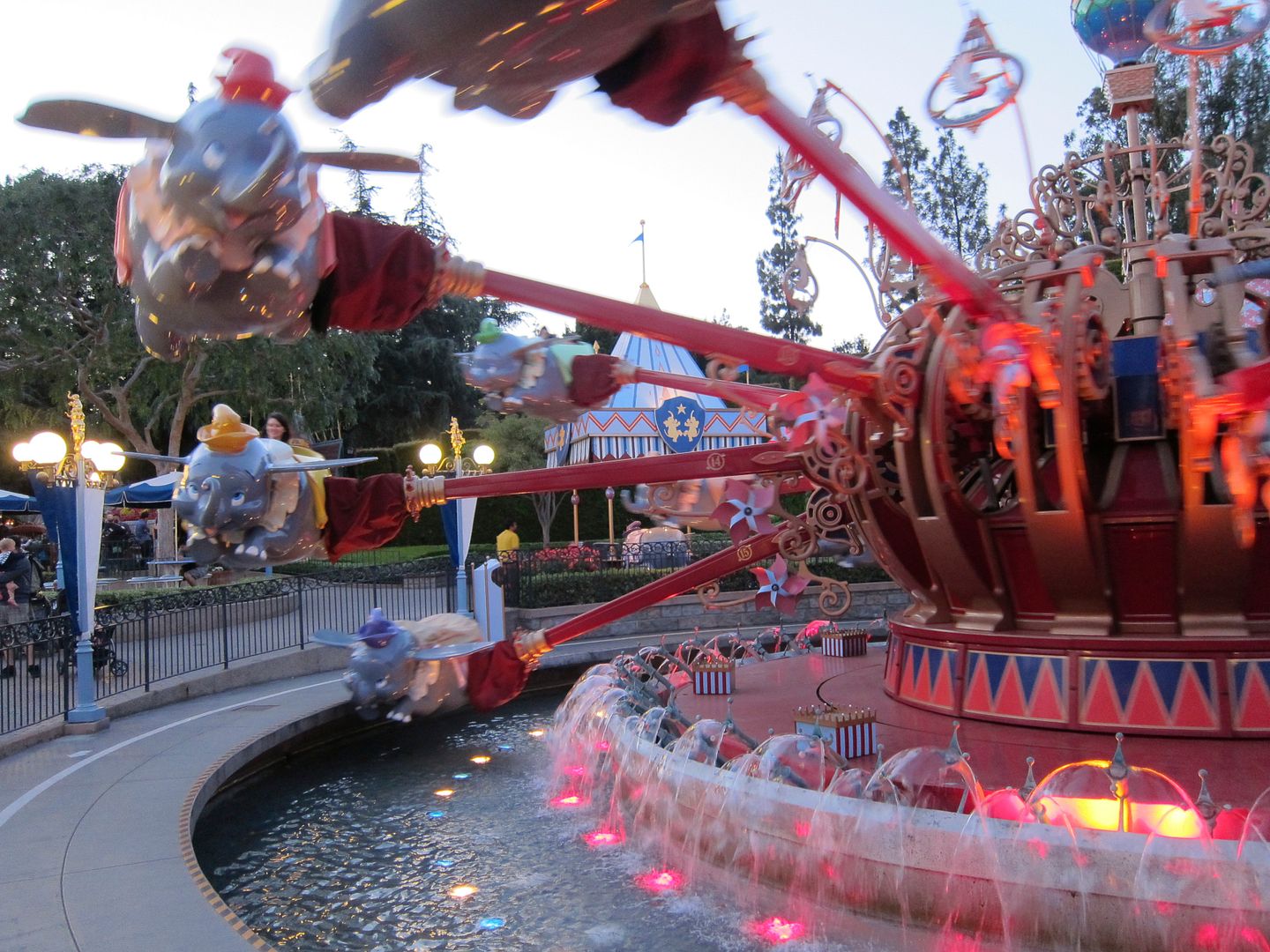 Finally, we took a ride on the Storybookland Canal Boats as the park was just about to close.
Once the park was closed, we still decided to stick around for a while because we weren't in the mood to leave just yet. We walked around Frontierland, New Orleans Square, and Critter Country just to enjoy the atmosphere.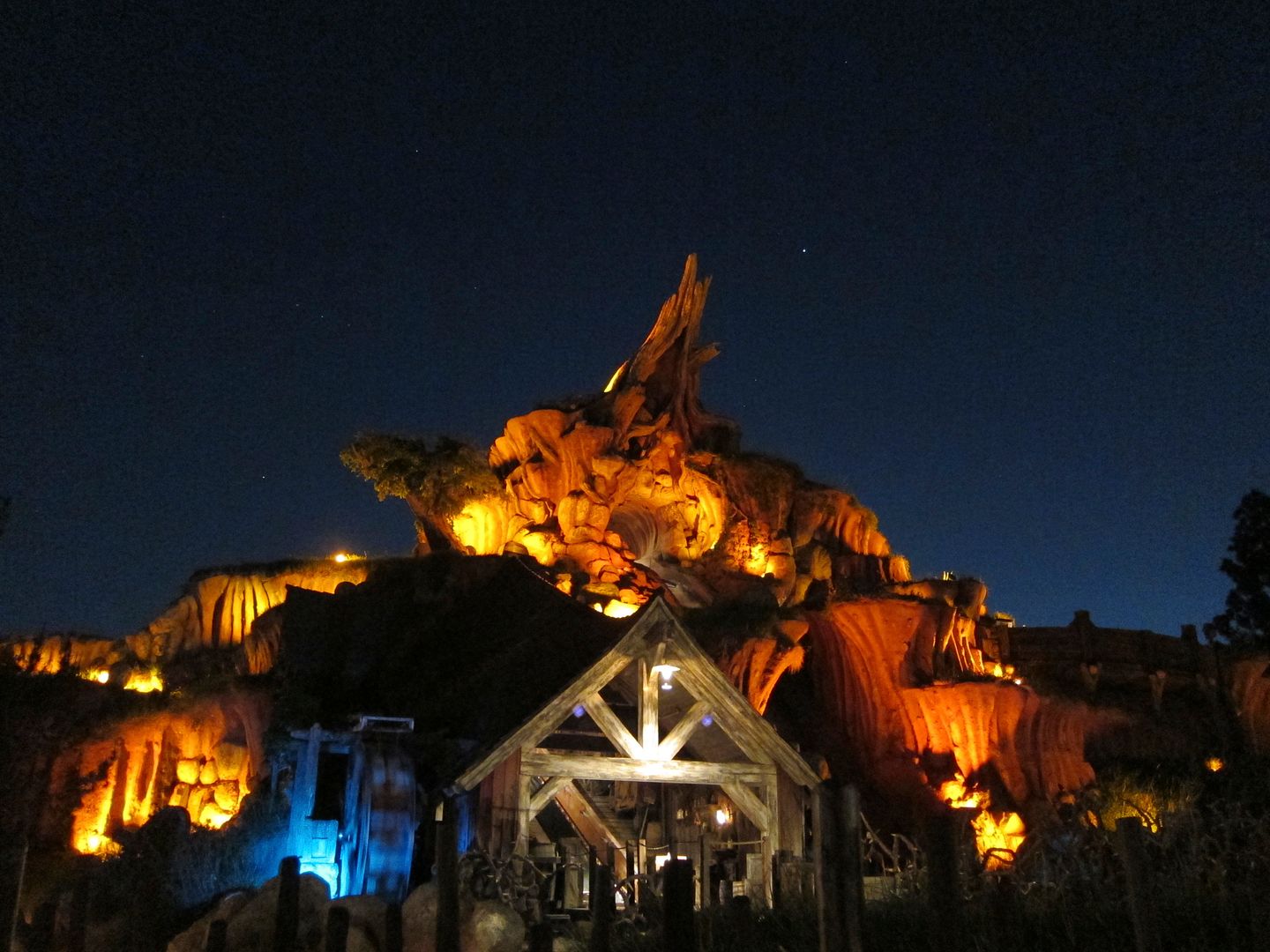 After we had outstayed our welcome toward the back of the park, we started toward the exit. Arriving on Main Street, we stopped in at the Penny Arcade and bought a Red Velvet Cake Pop.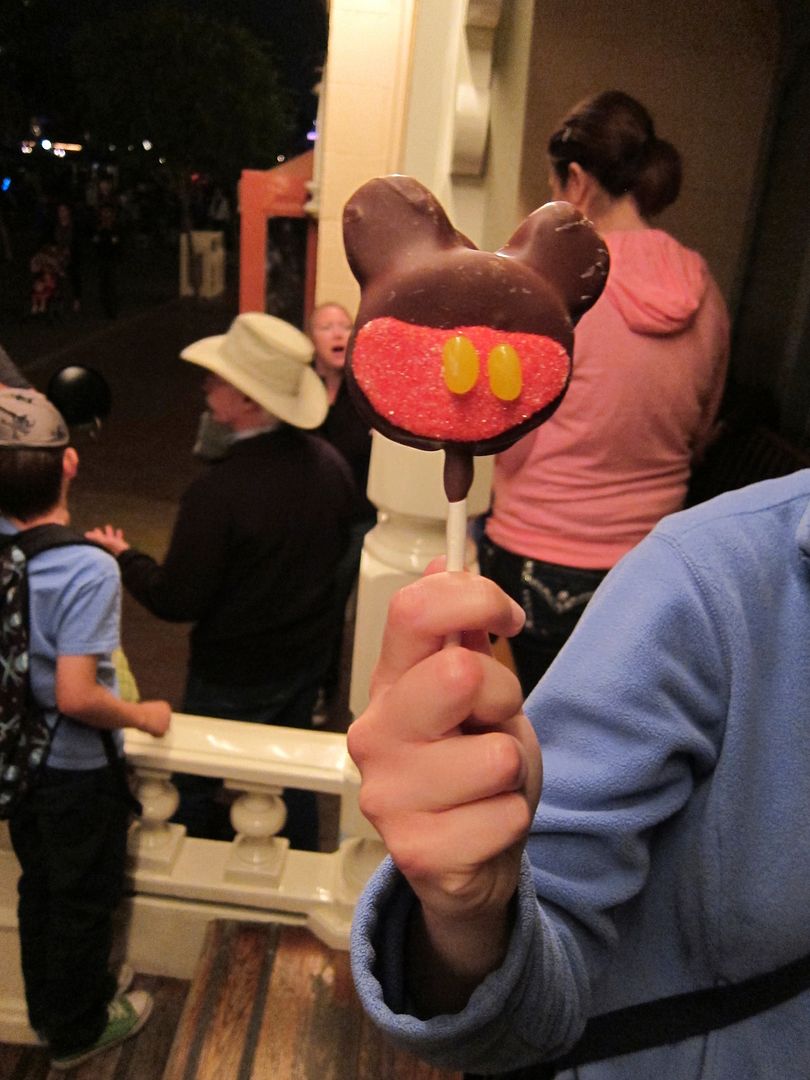 We took it to our porch to eat it, but the bench wasn't available initially, so Tracy and I had to sit on chairs that were spaced across the porch from one another.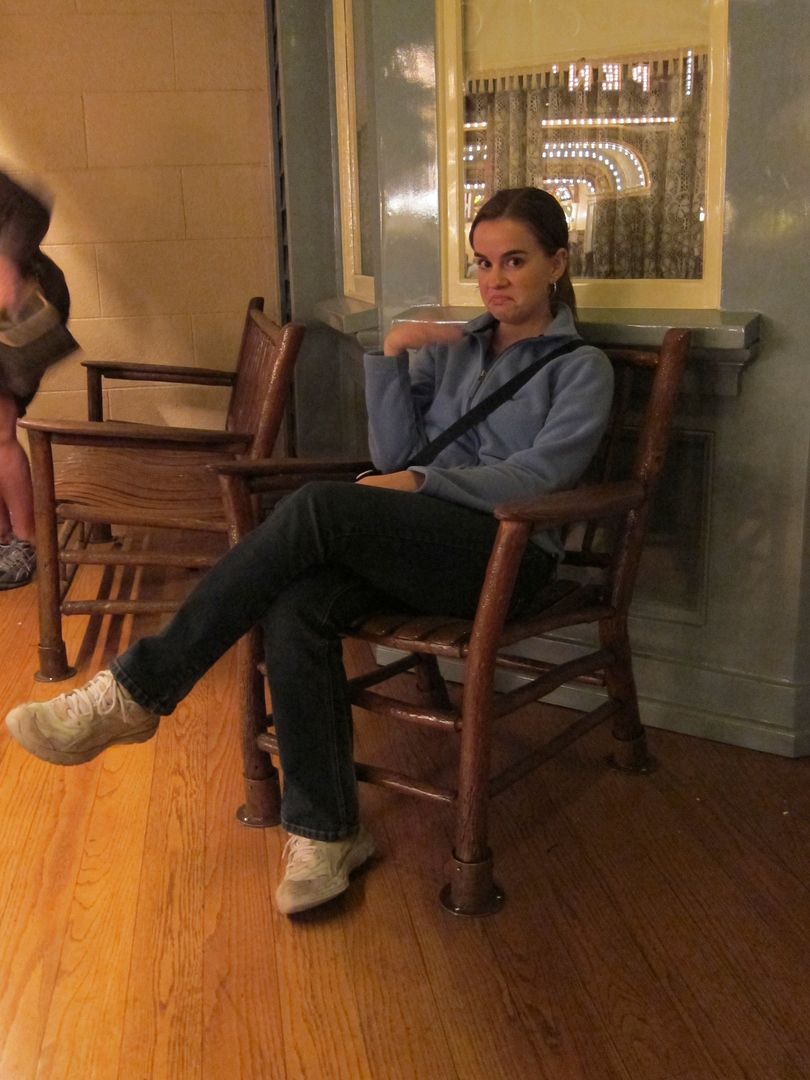 Eventually, though, the bench cleared out, and we sat there for almost an hour just watching as the park emptied.
Finally, we decided we should probably head toward the exit ourselves, but not before taking some more pictures.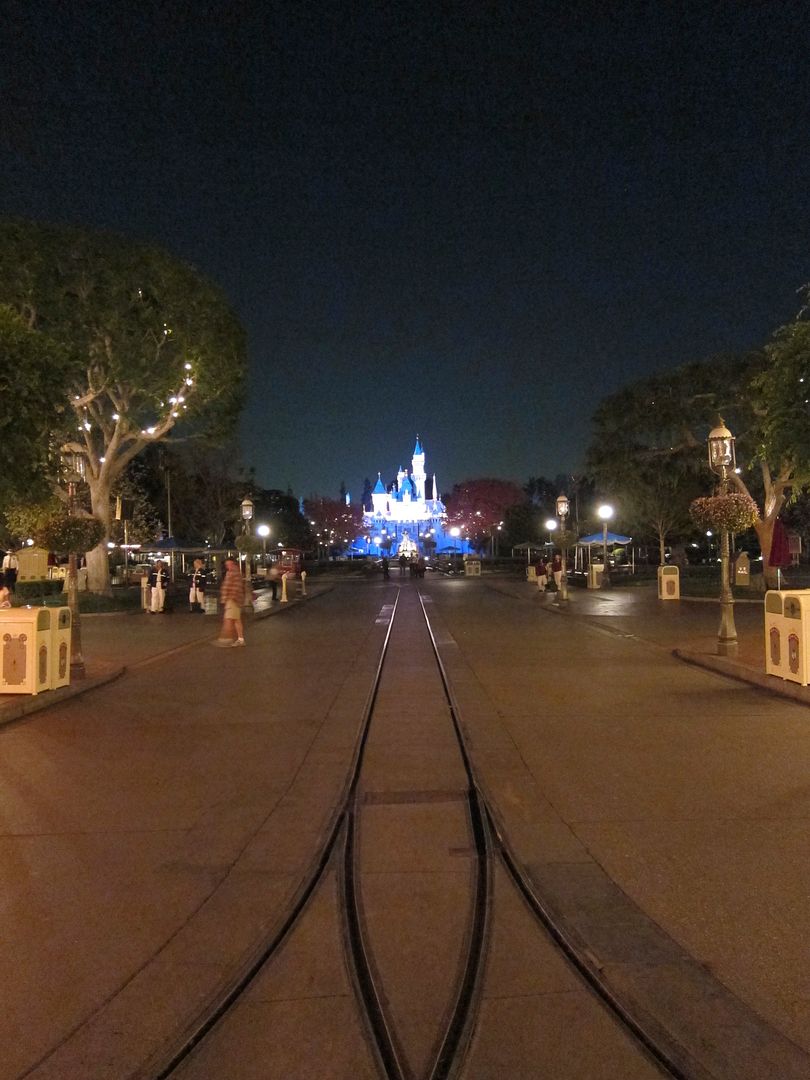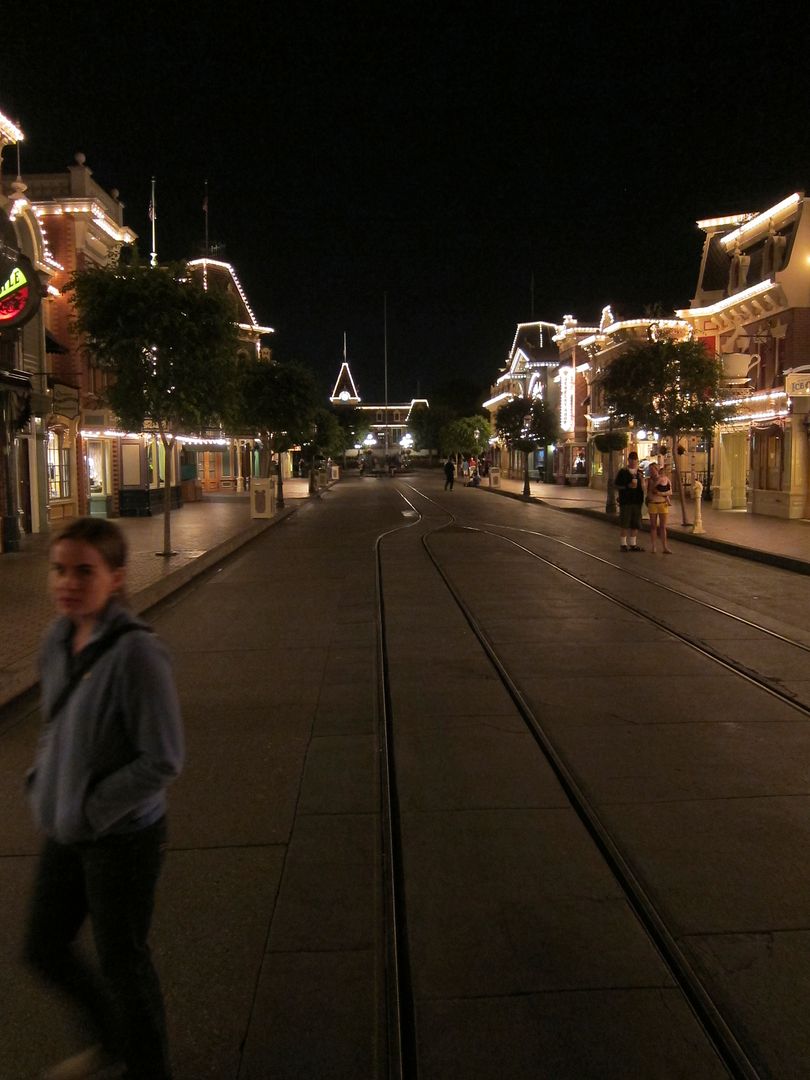 Here's our porch as viewed from the street.
We also realized it's in the building where Rolly Crump's window is—which is only fitting, since he was the first Disney Legend we saw in person.
As you can see, we were some of the only people left on Main Street when we finally did start to leave. I think it's so cool being in a practically empty Disneyland.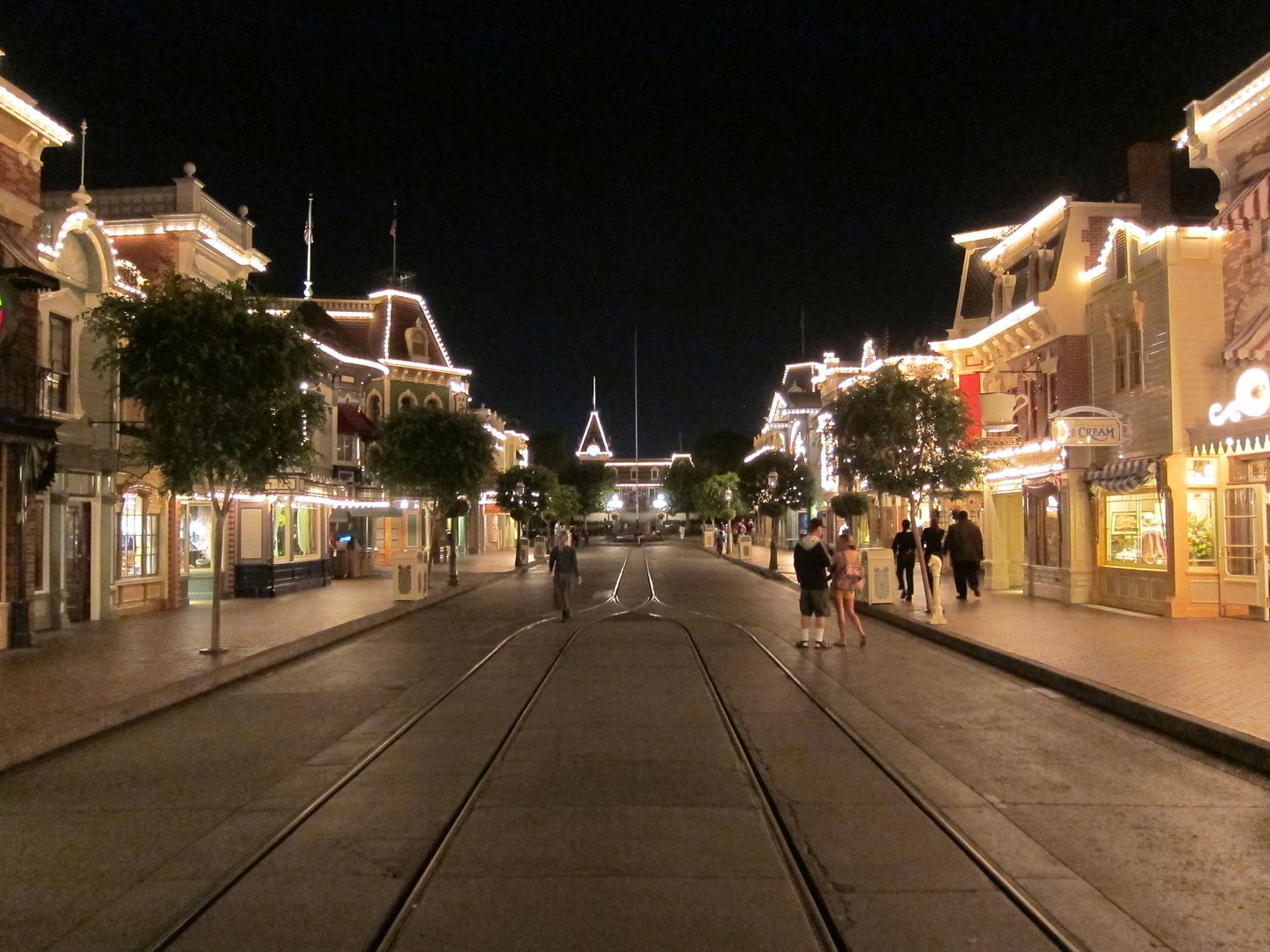 Since we were basically all alone, we had no qualms about skipping down Main Street en route to the exit.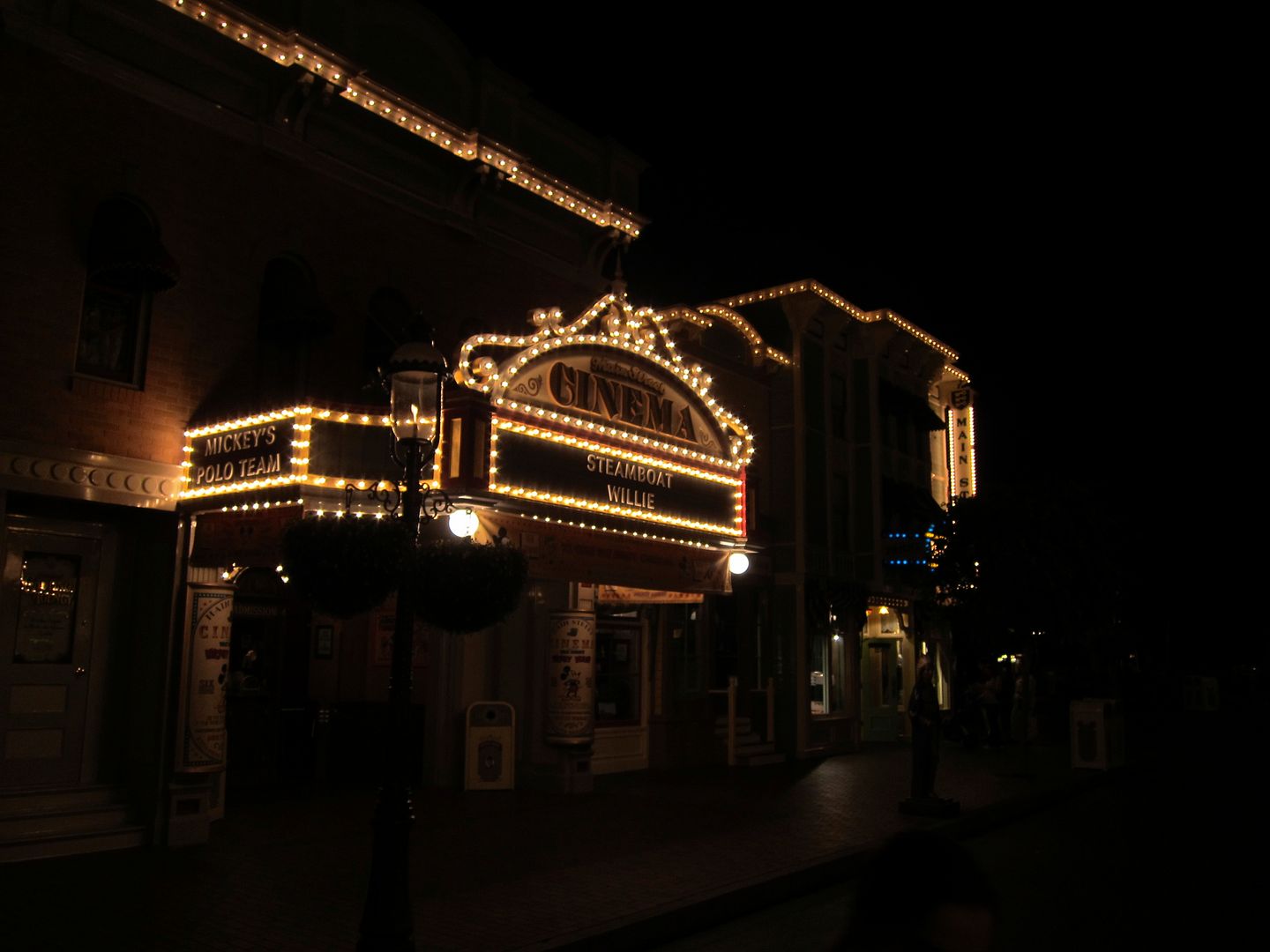 There was no problem finding a spot on the tram at this hour, so it was easy to get back to our car to head home.
Friday evening, I had an eye doctor appointment. After that was done, we went back to Bruxie in Old Towne Orange and tried their Sausage, Egg, and Cheese Waffle Sandwich.
This was okay, but nowhere near on the level of the Chicken and Waffle Sandwich we had come to know and love.
April 20-21, 2013
Saturday was actually a complete change of pace. CoolTech had organized a company day at the beach, so we made our way over there after lunch. The beach they had chosen was actually a great option. It was Huntington State Beach, which is a couple miles south of the main Huntington Beach pier. It was MUCH less busy than any of the beaches we had been to thus far (except Seal Beach, I guess). The beach itself was HUGE. The span of sand between the parking lot and the ocean was probably at least a half-mile.
The CoolTech group had claimed a fire pit, planning to build a bonfire for roasting marshmallows after dark. Since it was only about noon, we were obviously planning to hunker down for a while. Tracy and I had bought beach chairs the previous evening at Target, and we set those up in the group with the rest of the crew. People came and went throughout the day, and I got to meet a few people who hadn't been at the baseball game. I also got to get to know some of Tracy's closer friends a little better.
We walked up to the ocean a few times, though we mostly just hung back by the fire pit.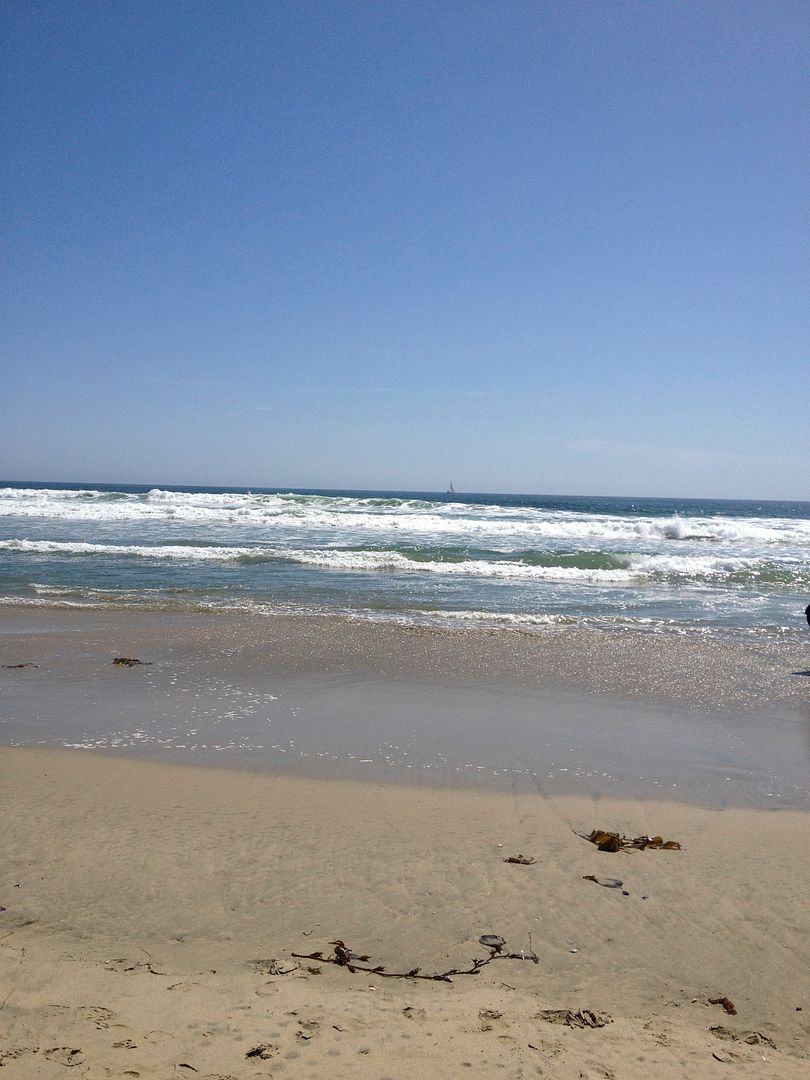 The afternoon went by pretty quickly considering how long we were there. A lot of the group didn't come until almost dinnertime, but they luckily brought some potluck-style food with them to share. Eventually, the sun began to set, which was absolutely beautiful.
Once it was dark, some folks started the bonfire.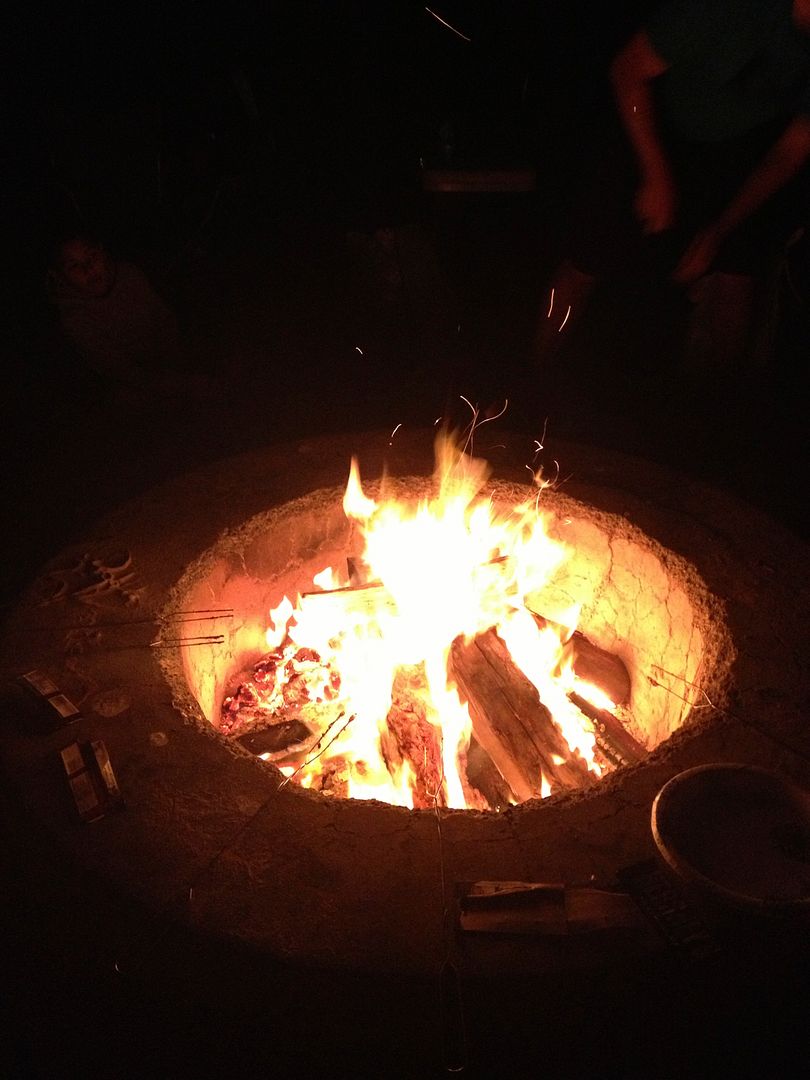 We toasted marshmallows to make s'mores while we hung out. Eventually, at around 10:00pm, we finally left the beach—having spent a VERY long day there. Tracy and I had both gotten sunburned in some areas where our sunscreen had been washed away by the water or rubbed away by the sand, so that was unfortunate. On the whole, though, it was a really fun day!
Previous Post | Next Post
Table of Contents
Follow



Share