Chapter 87
Dude, Love Is in the Air
---
Previous Post | Next Post
Table of Contents
(Originally posted October 29, 2013)
Since I was wearing my Duffy shirt, we couldn't NOT go meet him, so that's where we headed next. He wasn't there yet when we arrived, but he quickly came out, and he liked my shirt a lot!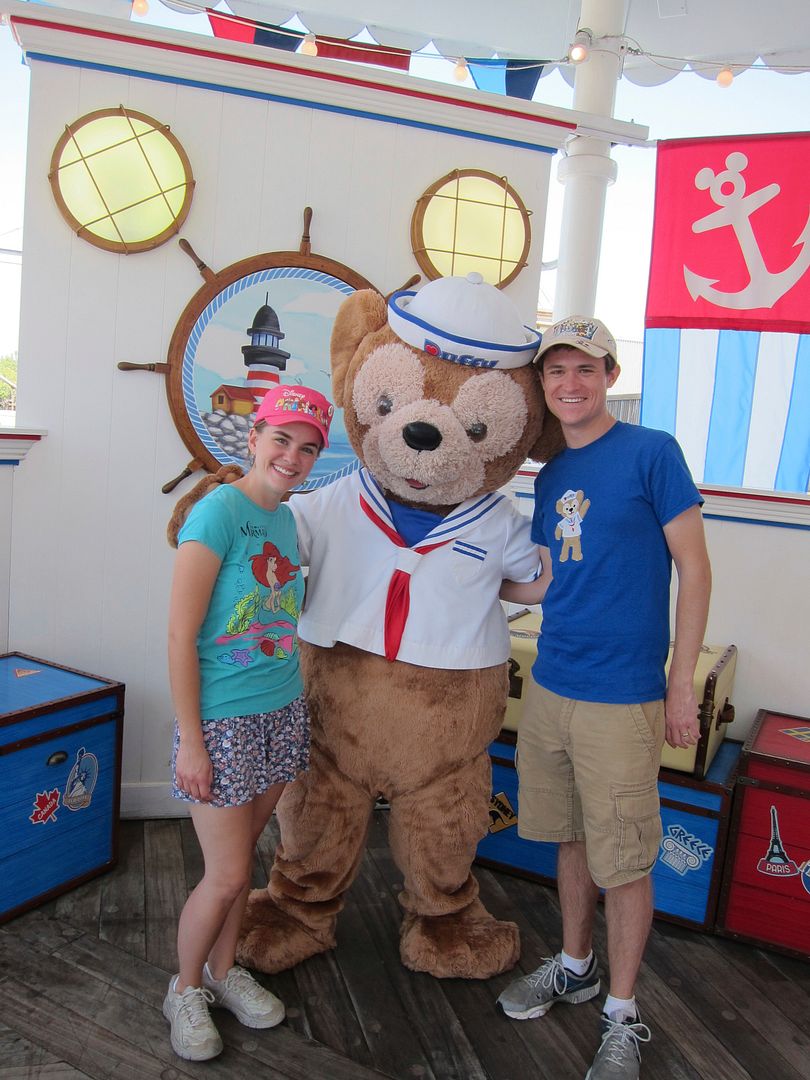 We went to Paradise Pier next and rode Mickey's Fun Wheel before deciding we were ready for a snack. The Caramel Corn at the cart looked delicious, so we decided to get some.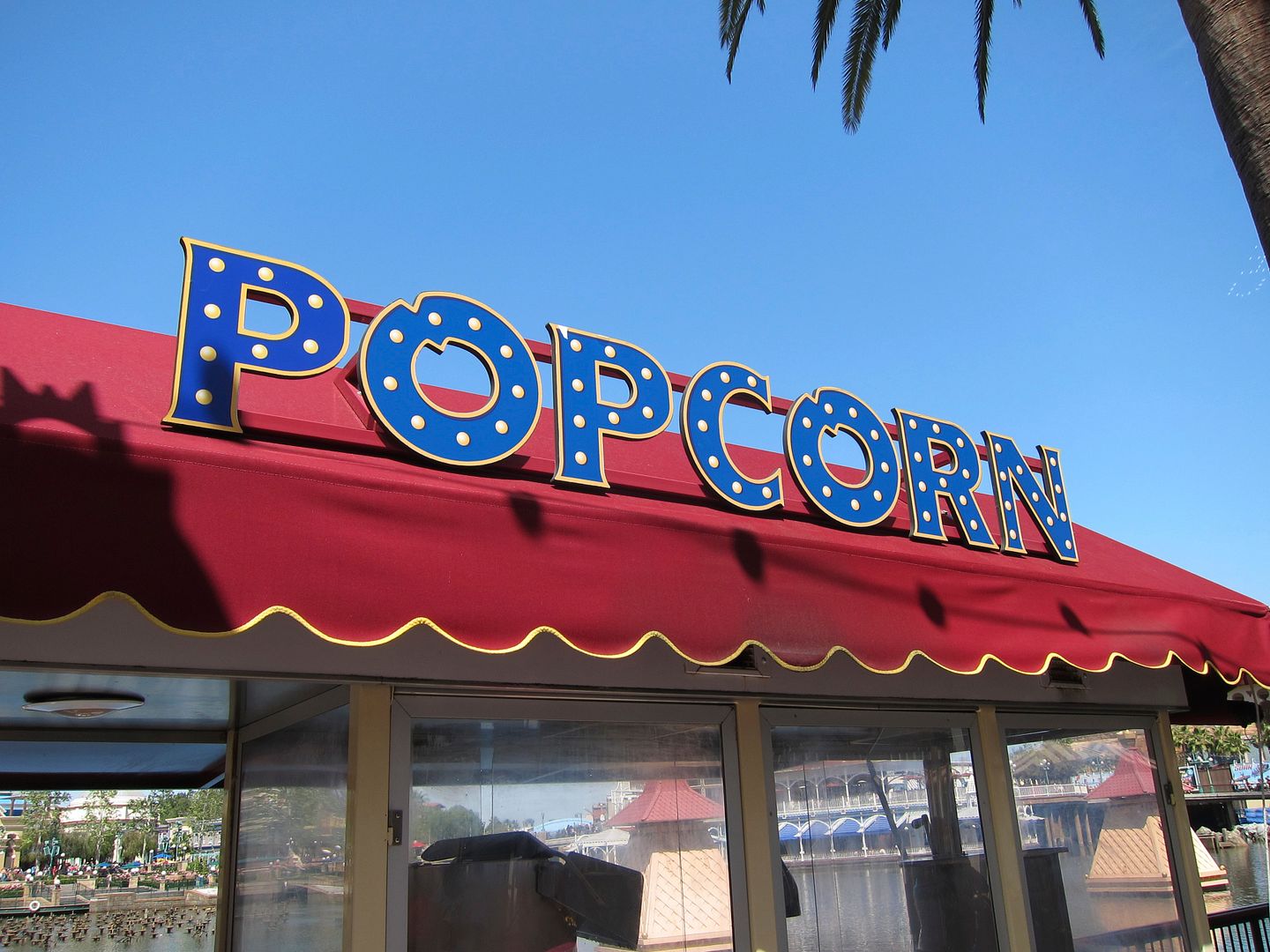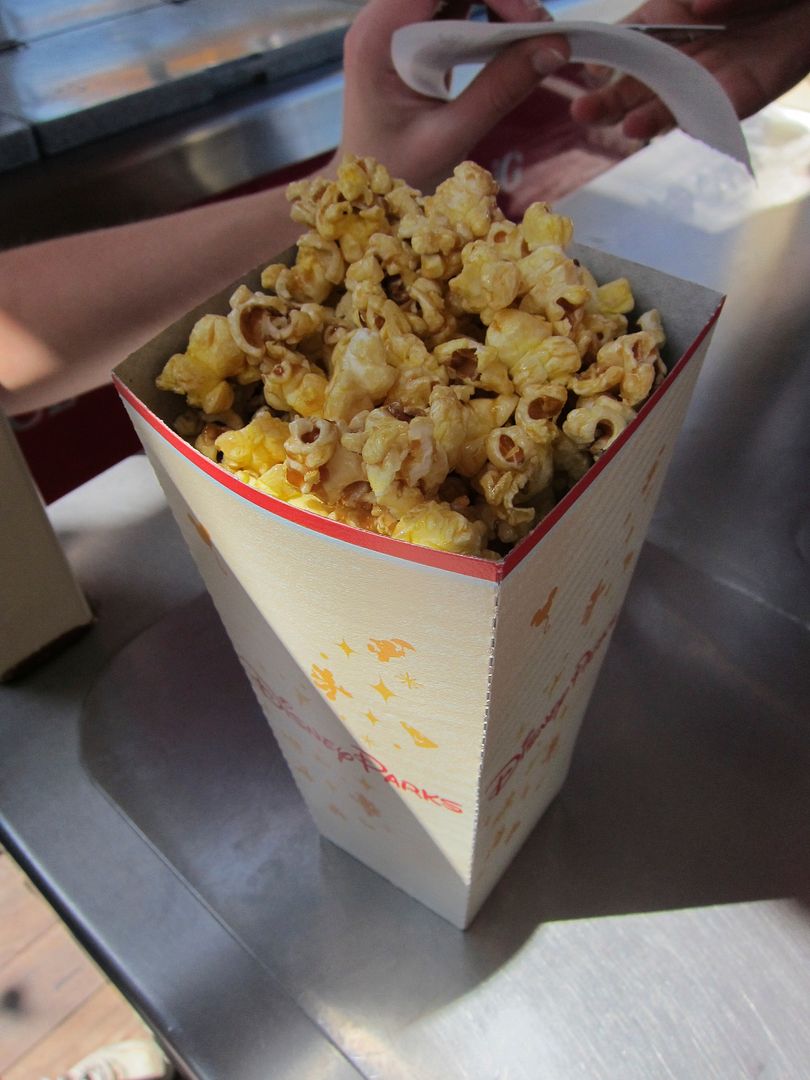 This was SO GOOD but SO STICKY. I'm sure I was close to losing several fillings. After devouring the whole container, we went on the Silly Symphony Swings (risky right after eating, but fine in the end). Next, we headed to Cars Land and got a return pass for Radiator Springs Racers.
While waiting for our time, we walked to the Animation Building and got in line for the next showing of Turtle Talk with Crush. We had never seen this show before and were interested to see how it was. We ended up having to wait for about a half-hour because the show was running way late (I wonder if they had a "protein spill" incident). Tracy tried to nap on one of the couches while we waited.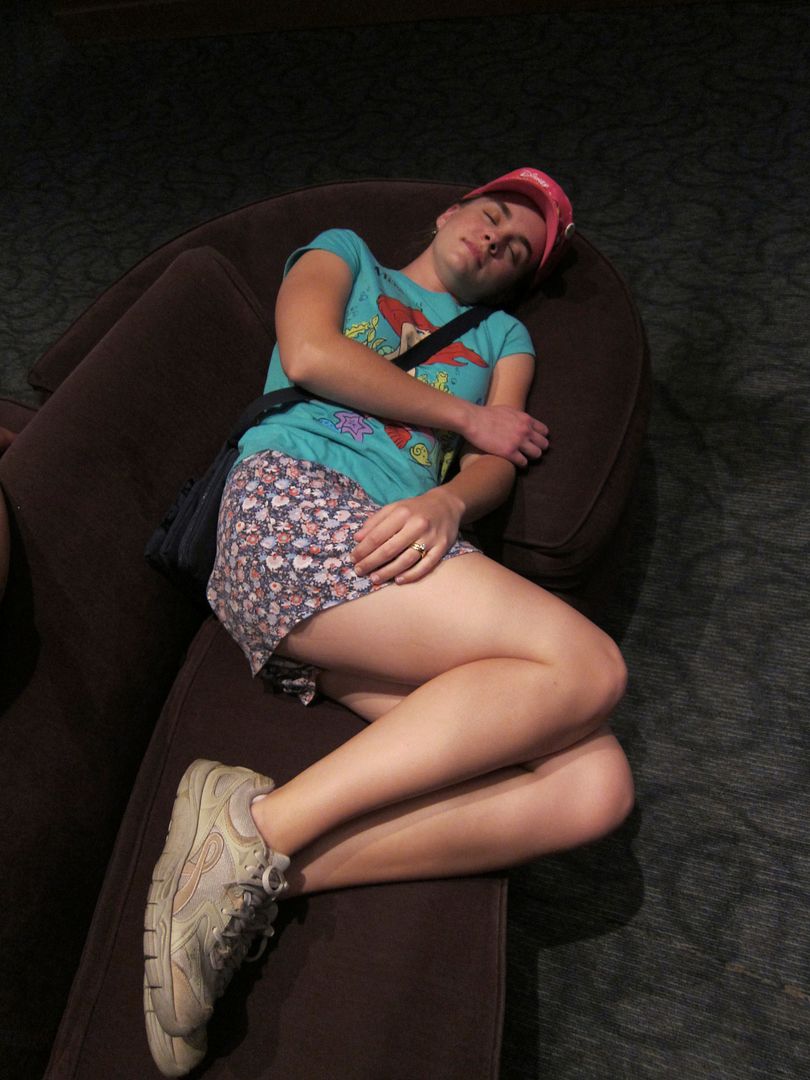 When we were allowed in, we took our seats, and the show began.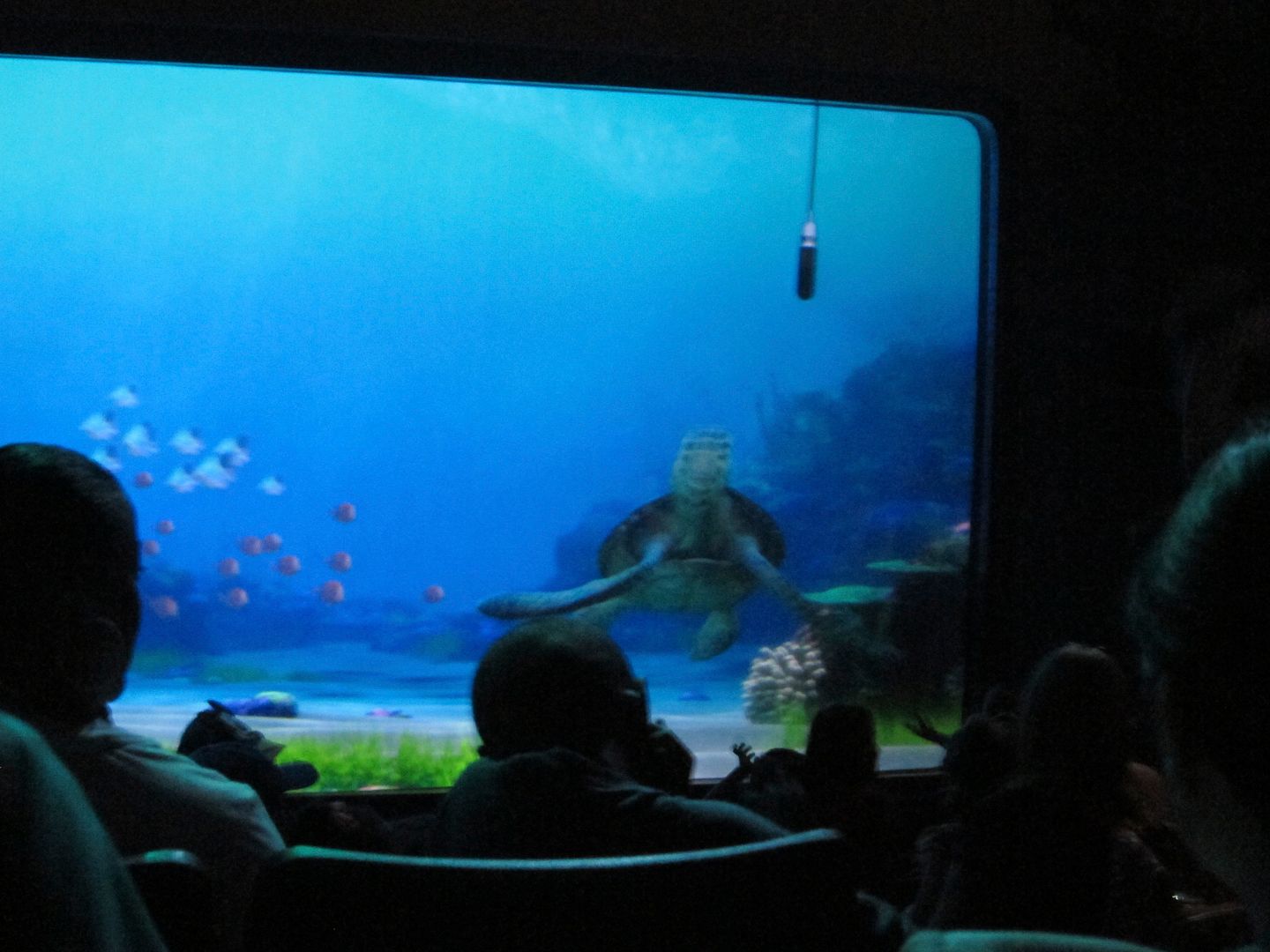 Now, while this show is more geared toward younger viewers, it's still VERY impressive from a technology standpoint. I was amazed at how well Crush was able to improvise as he talked with all the audience members, and also by how well the audio synced up with the video on screen.
After the show, we went back to Cars Land. It wasn't quite time for our return pass, so we decided to ride Luigi's Flying Tires instead. Unfortunately, we got stuck in a corner, so it wasn't our best ride.
When the time came to ride Radiator Springs, we got Guido's side and won the race!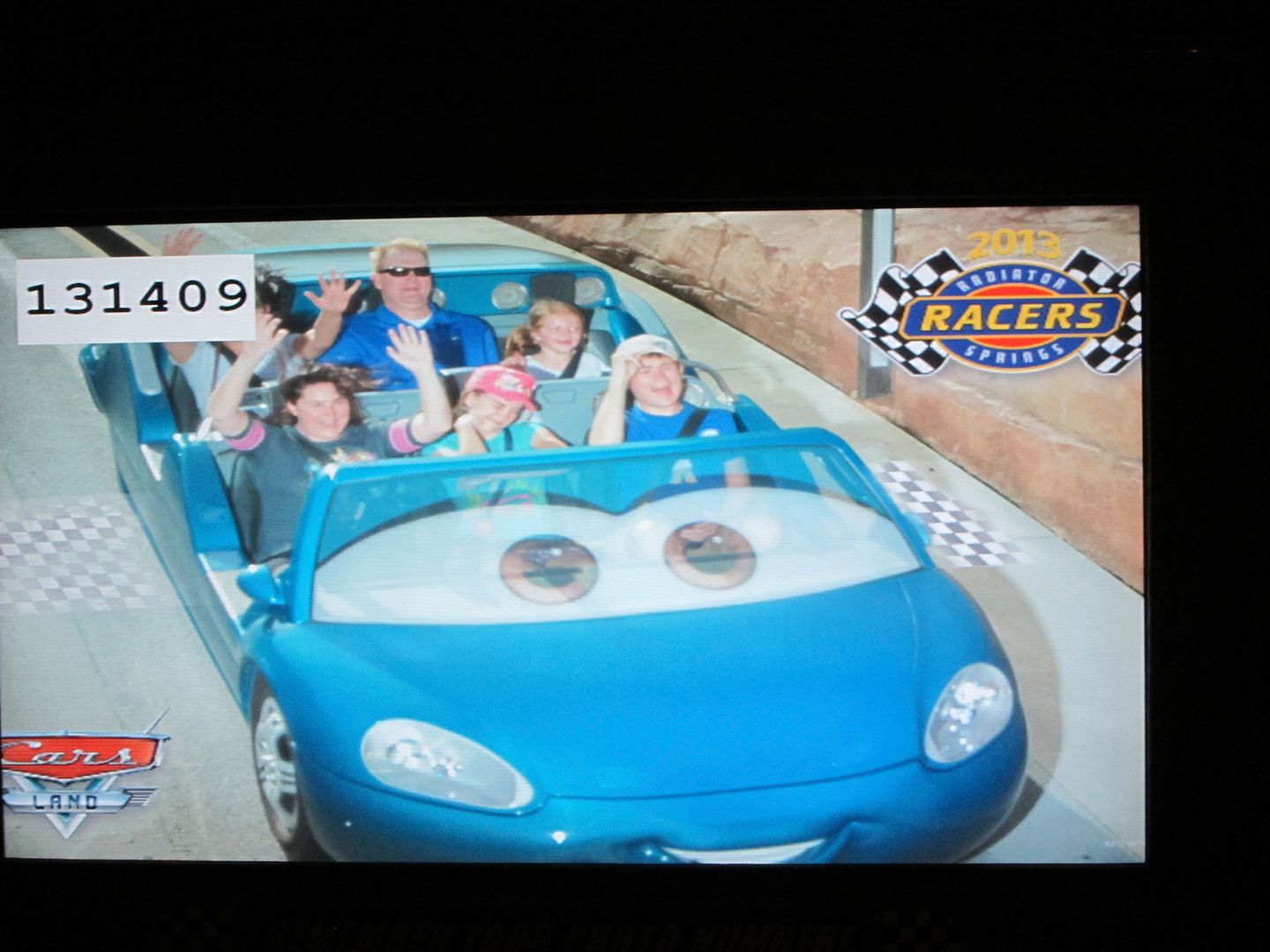 As we got off the attraction, we noticed that there was a TV crew filming a group that was boarding on the wheelchair-accessible entrance. We didn't recognize anyone in the family, but based on the size of the crew, we were guessing it was some reality show.
By now, it was getting toward dinner time, so we decided to head out and go home to prepare for the week ahead.
On Tuesday, we went to the parks after work. We were feeling a little disappointed because Tracy's parents—who were supposed to be coming for a visit that week—had just canceled on us at the last minute. They rescheduled their trip, in part, because there was going to be a snowstorm in Colorado, and in part because we were going to be going to Colorado ourselves in just a few weeks.
That's right—perhaps the biggest perk of Tracy working for CoolTech is that their other offices are in Boulder and Denver, and the employees travel a lot. Since Tracy's airfare, meals, hotels, and rental car would all be paid for on these business trips, it only makes sense for me to buy a plane ticket and tag along, so we've actually been visiting our home state quite often. Our first trip was going to be coming up at the end of May, so Tracy's parents decided to reschedule their visit until the beginning of July. We understood the reasoning, but we had still been looking forward to having company, so we were a little sad.
As we arrived at Disneyland that evening, the park was getting ready to close a little early. We had read on Twitter that they were setting up for a big, secret event, though word quickly spread that it was going to be Mariah Carey and Nick Cannon's 5th-anniversary vow renewal ceremony. When we arrived at the park, we went straight to the hub to gawk at all the setup along with everyone else.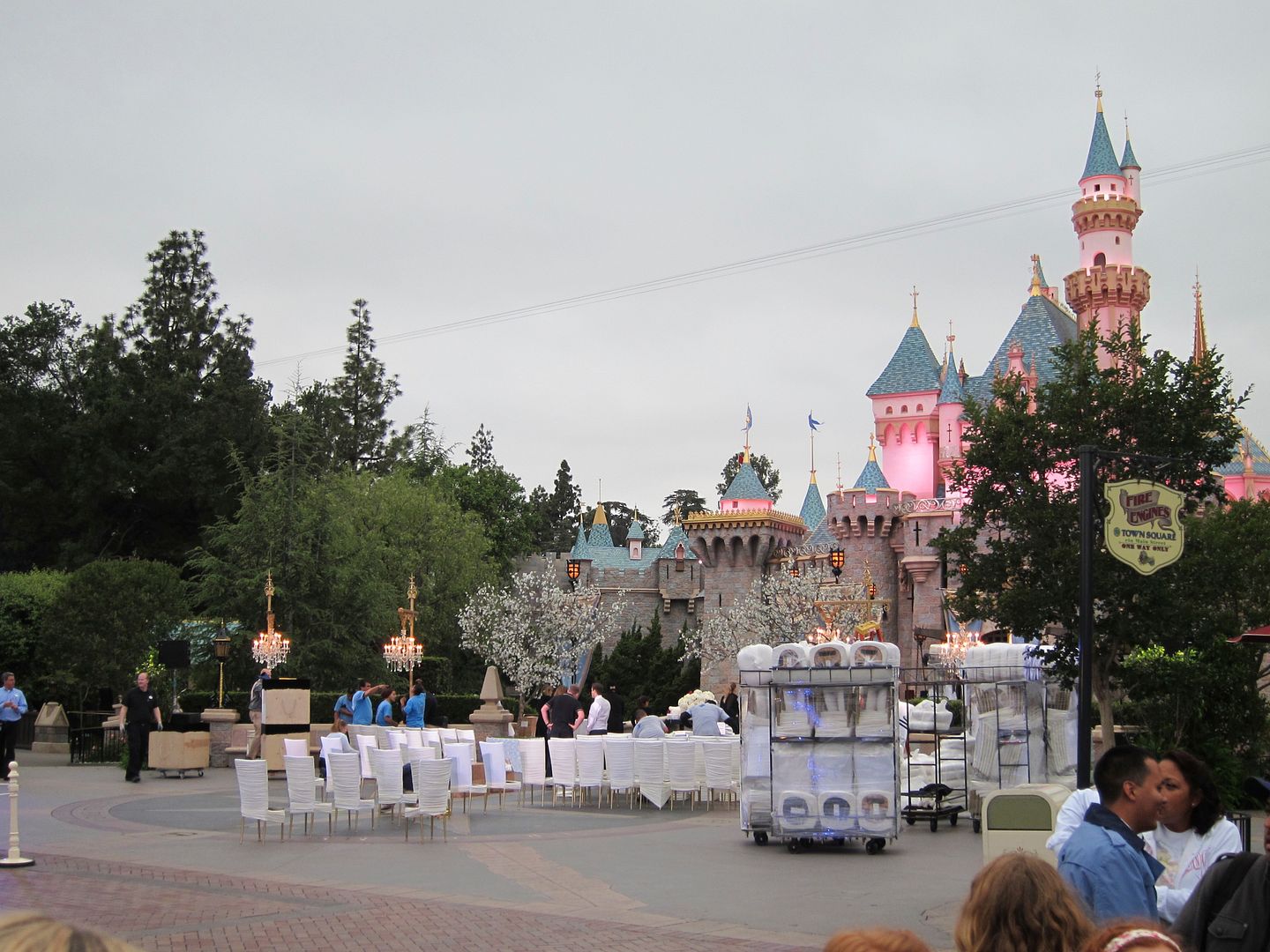 They were setting up to film for Entertainment Tonight right in front of the castle.
While we were standing around observing, someone came up to the cast member next to us and said they were Nick's business partner and where should they go to check-in for the event? We definitely didn't recognize the guy, but it was ALMOST a celebrity sighting…
The parade was about to start, so we made our way toward Fantasyland to try to avoid it. As we got back there, though we hit a rope and were informed that Fantasyland was closed early as part of the special event. The only attractions still open back there were "it's a small world" and Alice in Wonderland, so we rode both before going back to the hub to see what kind of progress had been made in setting up for the ceremony.
I don't have a photo that shows it very well, but the castle was bathed in a whiter light than usual. It was pretty.
They had also finished setting up the chairs and put up some beautiful floral arrangements.
As we stood there, they were getting ready to actually start rolling on the Entertainment Tonight episode. We saw two of the hosts getting ready to film (notice the soapbox the one is standing on. Ah, the magic of television…). I didn't recognize either of these women since I don't watch the show, but I texted this picture to my mom. Since she DOES watch E.T. sometimes, she told me the gal in blue was host Nancy O'Dell. She didn't recognize the woman in red, though.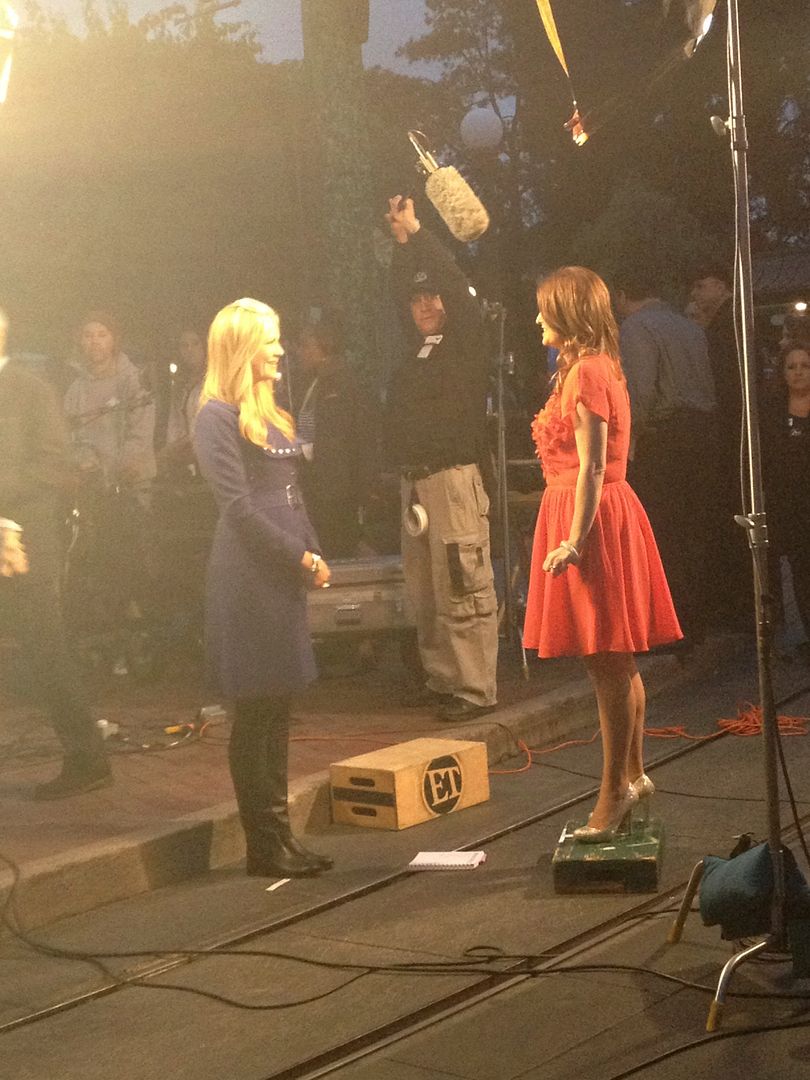 After a while, we got tired of standing around—plus, it was getting pretty cold. Tracy had a hankering for hot chocolate, so we made our way over to Jolly Holiday to get some.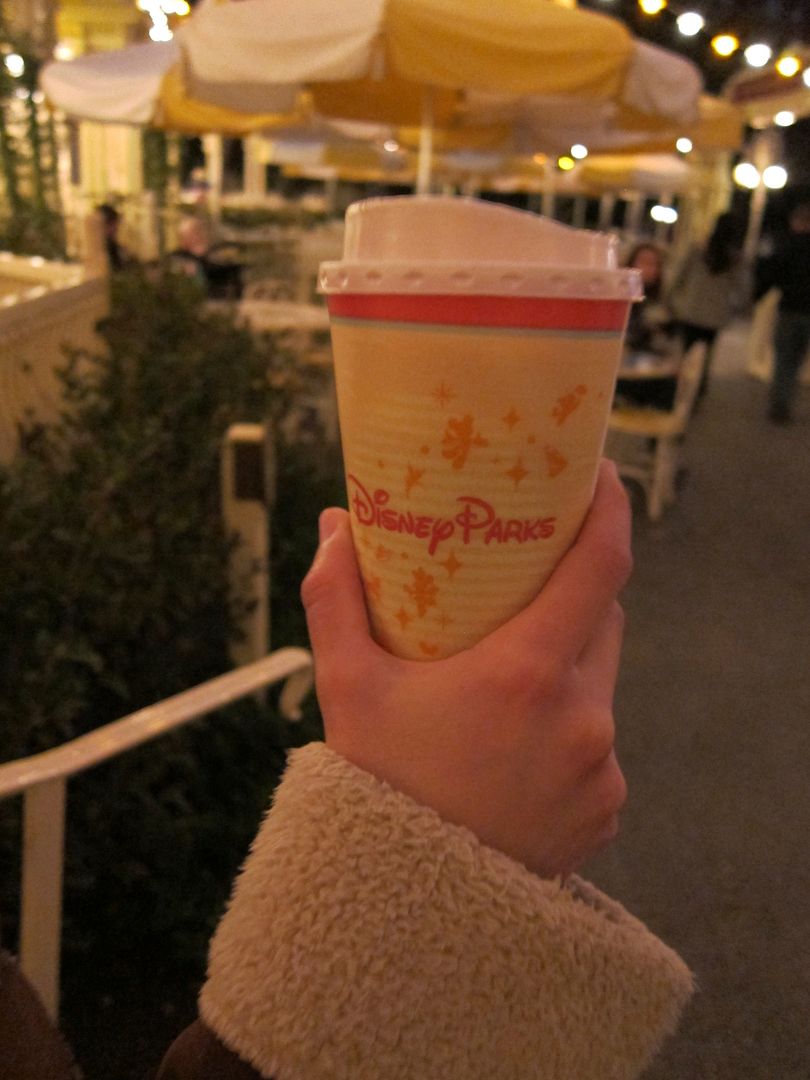 It was really delicious, and just what we wanted on this chilly evening.
Disneyland was closing for the special event to start, so we headed over to DCA. We walked over to Condor Flats, and FRANCISCO WAS BACK! We were so excited because we thought he might have been gone for good after not seeing him for about a month.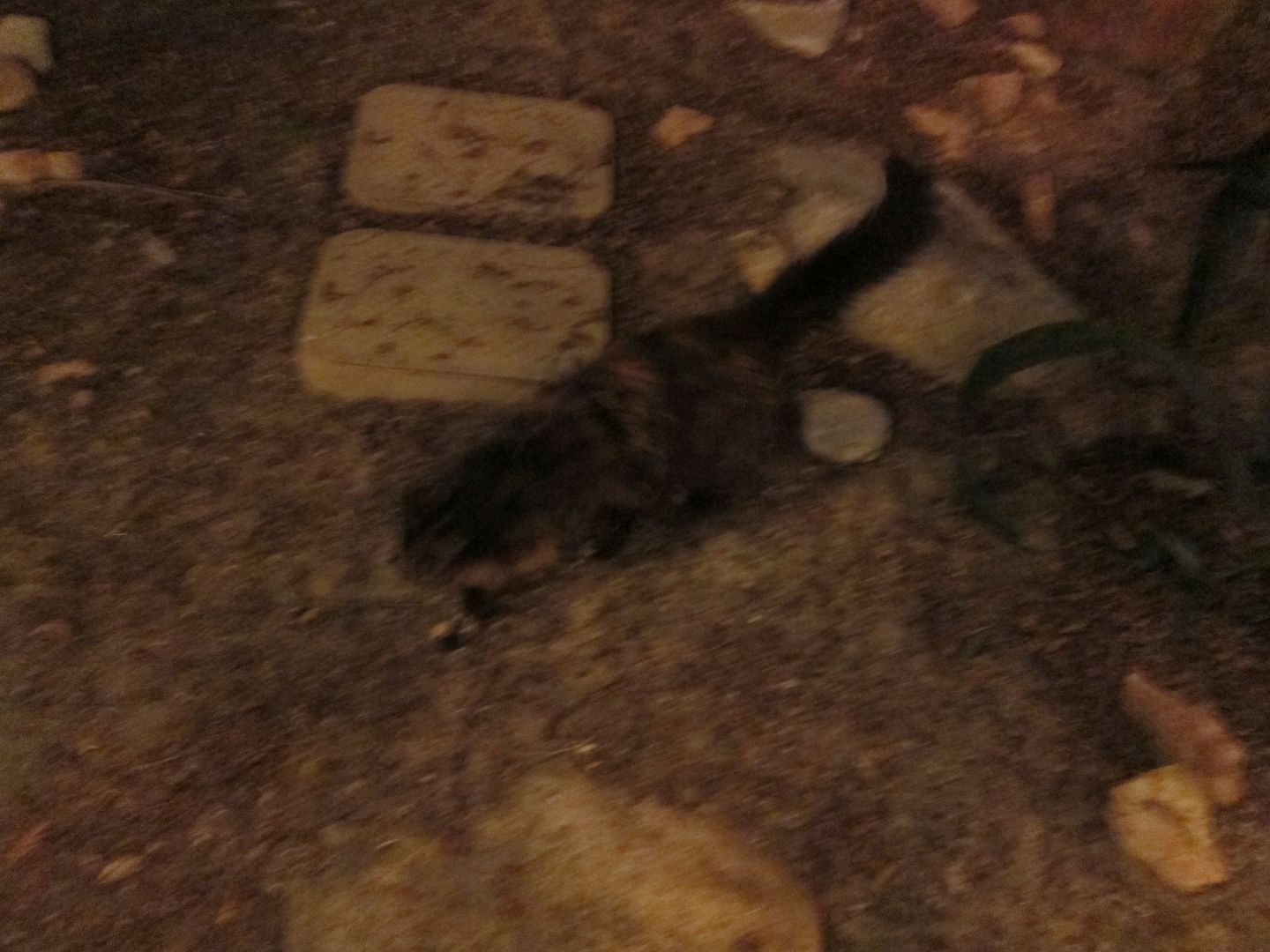 We didn't stay at DCA for too long, just riding Soarin' Over California once before leaving, but this interesting evening had at least brightened our spirits after the disappointment from earlier in the day.
Overview of April 2013
Random Photo of the Month

CoolTech had a "spirit week" right after Tracy started, and one of the days was "Anchorman Day." They all wore moustaches and drank scotch. Here's Tracy's moustache.
Total Days This Month Spent Visiting Disneyland Parks
14
Total Days Spent at Disneyland Since First Getting Our Passes
46
Disney Movies We Watched
High School Musical (I don't know if I've ever fessed up on my trip reports to us being fans of the High School Musical series. We watched the first one to be ironic many years ago, and while we thought the movies were ridiculous, they're also totally enjoyable. We even went to see High School Musical 3 on opening night in theatres… Anyway, we got in the mood to watch the first one again this month and it was everything we expected it to be. Which is to say it was awesome)
Favorite Disney Snack
Mickey-Shaped Beignets from the Mint Julep Bar (I know I said they aren't necessarily as good as the ones from Ralph Brennan's, but they're still delicious. And they're shaped like Mickey Mouse)
Favorite Disney Meal
Fried Chicken from Plaza Inn (There's a reason this fried chicken is so renowned. It's absolutely worth the hype!)
Favorite Guilty-Pleasure TV Show
Good Luck Charlie (I needed another light, fun show after I quickly finished The Suite Life on Deck, so I turned on Good Luck Charlie. It turns out that this is actually a pretty high-quality show. It definitely feels more like a family show than a kids show, so I really enjoyed it. Again, I probably made it through the entire series in about a week or two. Oops?)
Favorite Movie to Watch When I'm Sick
The Parent Trap (When I was a kid, I would always turn on the 1998 remake of The Parent Trap when I was having trouble sleeping or needed a pick-me-up. It continues to be my go-to movie when I'm feeling sick, like I was at the beginning of April. I can put it on, fall in and out of sleep, and still know exactly what is happening at all times in the movie. Plus I probably know the entire script by heart.)
Previous Post | Next Post
Table of Contents
Follow



Share