Chapter 88
I've Got a Bad Feeling About This
---
Previous Post | Next Post
Table of Contents
(Originally posted October 30, 2013)
May 1-3, 2013
Does it feel to you like April sort of flew by when compared to March? It did in real life too. Before we knew it, May had arrived. We arrived at Disneyland on May Day before dinner. They had us park in Pinnochio (for the first and only time), and then we headed straight to DCA. We walked back through Condor Flats, saying hi to Francisco on the way, and went to Corn Dog Castle in Paradise Pier. It had been a while since we had gotten our Hot Link Corn Dog, but it was delicious as usual.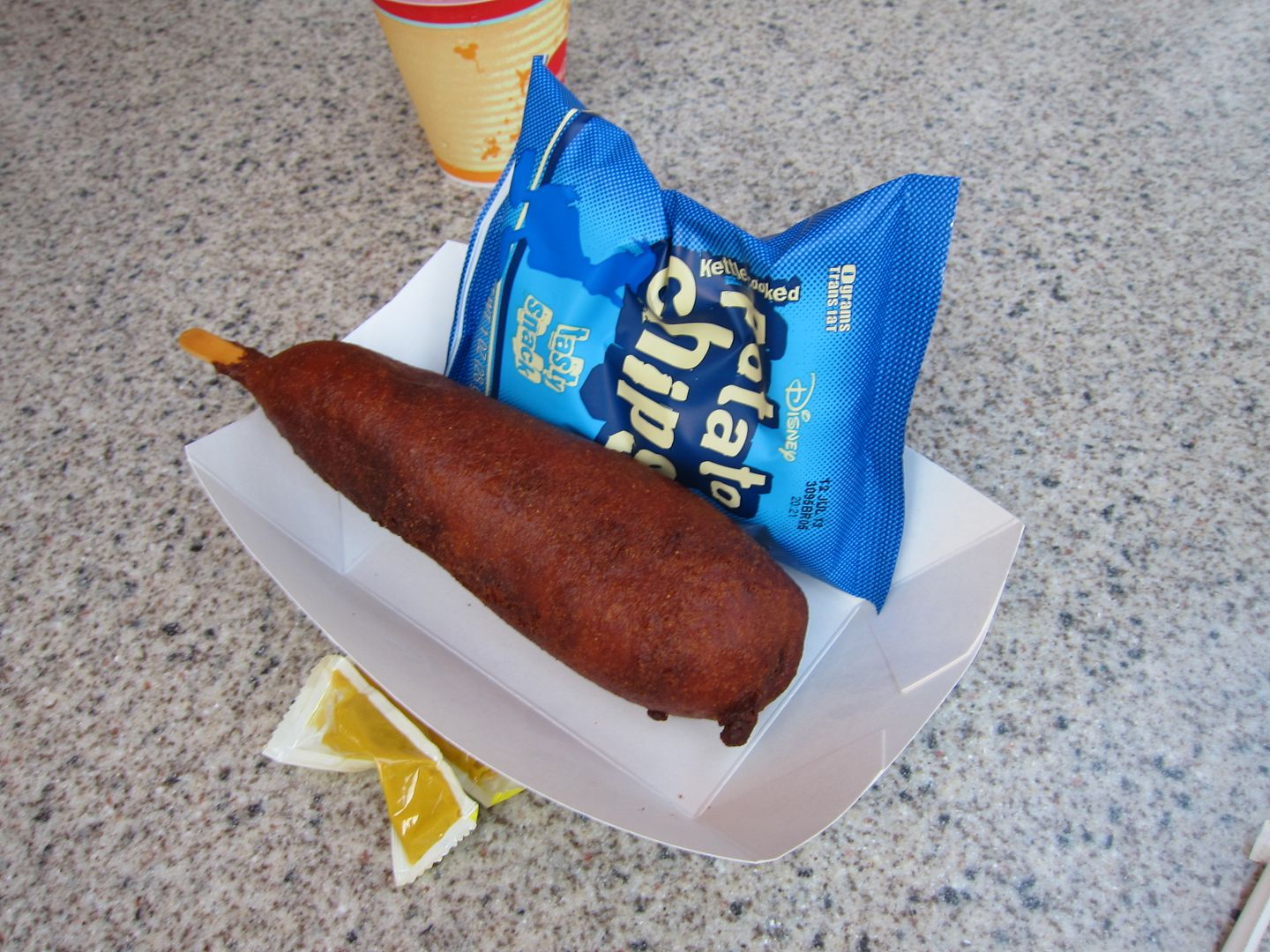 We rode Toy Story Mania, and Tracy got her best score to date. She's the one on the left. You can always tell which of us is in which seat because my accuracy is always awful compared to Tracy's.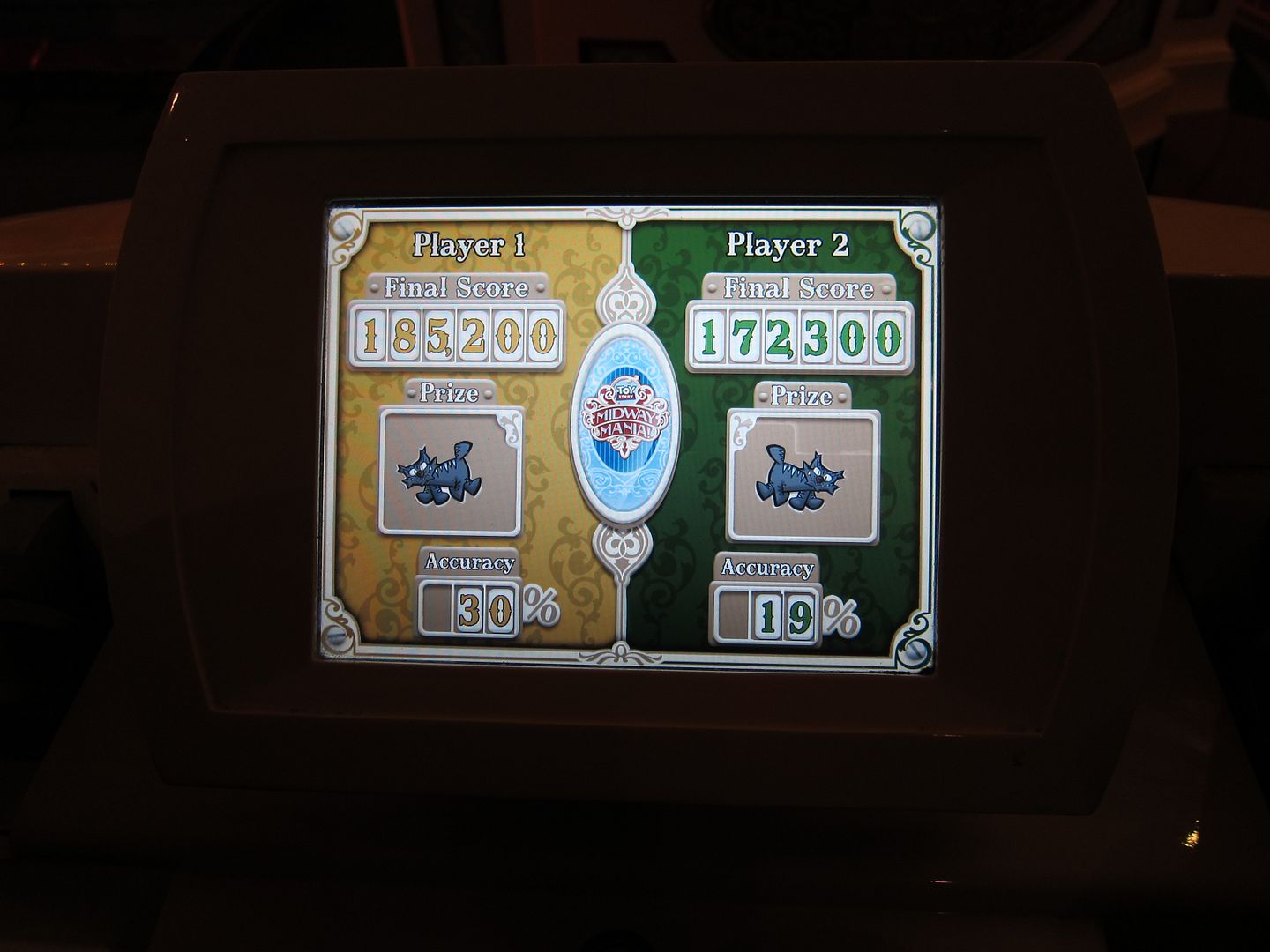 She ALMOST broke 200k finally, but her gun started acting up in the quick-fire bonus round, so she didn't get the score she deserved.
We rode the Fun Wheel next, and while we were high above the park, we could see that the crane had finally been taken away from the Big Thunder Mountain construction in Disneyland. We hoped that meant they were running ahead of schedule (though now we know they were actually way BEHIND schedule…)
We rode The Little Mermaid next before heading to Trolley Treats to grab a snack. We decided on a Marshmallow Wand because those are always delicious.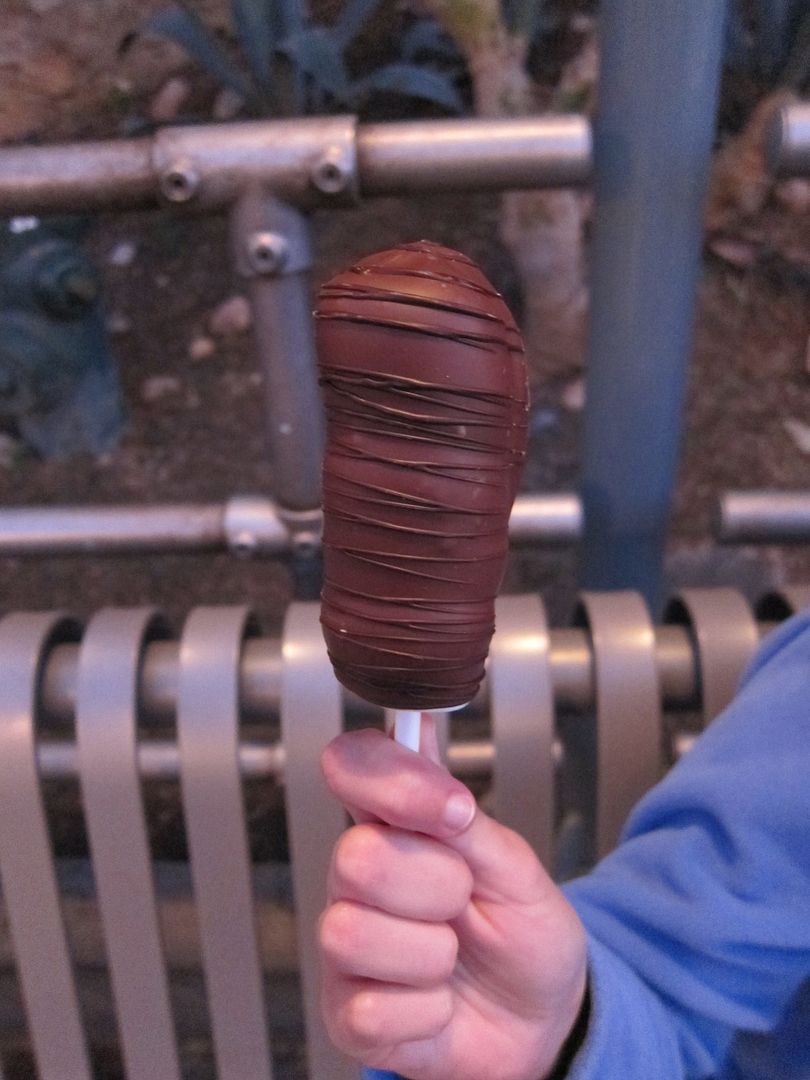 Taking our dessert over to Condor Flats, we watched Francisco while we ate.
After we finished eating, we headed to Carthay Circle and caught the Red Car Trolley all the way to the Tower of Terror. We walked back through Hollywoodland and rode Monsters, Inc. Tracy had noticed on one of our last rides that when Randall is getting beaten up by Boo at the end of the attraction, his camouflage morphs into the Haunted Mansion wallpaper at one point. I wanted to see since I had never noticed this before, but on the first ride-thru, it didn't happen. We had nothing better to do, so we decided to ride again, and this time, I finally saw it! I love that kind of little detail.
By now, it was getting a little late, so we exited via the shops along Buena Vista Street and headed home.
We didn't make it back to the parks until that weekend because Tracy had a Cinco de Mayo party at work on Friday.
May 4-5, 2013
Saturday morning, we awoke to find Twitter all abuzz with celebrating May the Fourth (aka Star Wars Day). With this being the first occurrence of the "holiday" since Disney bought Lucasfilm, we were excited to see what they would be doing in the parks.
We parked at Mickey and Friends, rode the tram, and headed to Disneyland. Of course, our first stop was back at Big Thunder Ranch. Pancho was in jail and didn't seem to be too happy about it with the amount he was pacing.
Lucky, one of our favorite carriage horses, was in the horse pen. He was SO nice! Often, the horses seem like they don't love being in the petting zoo, but he just lapped up all the attention.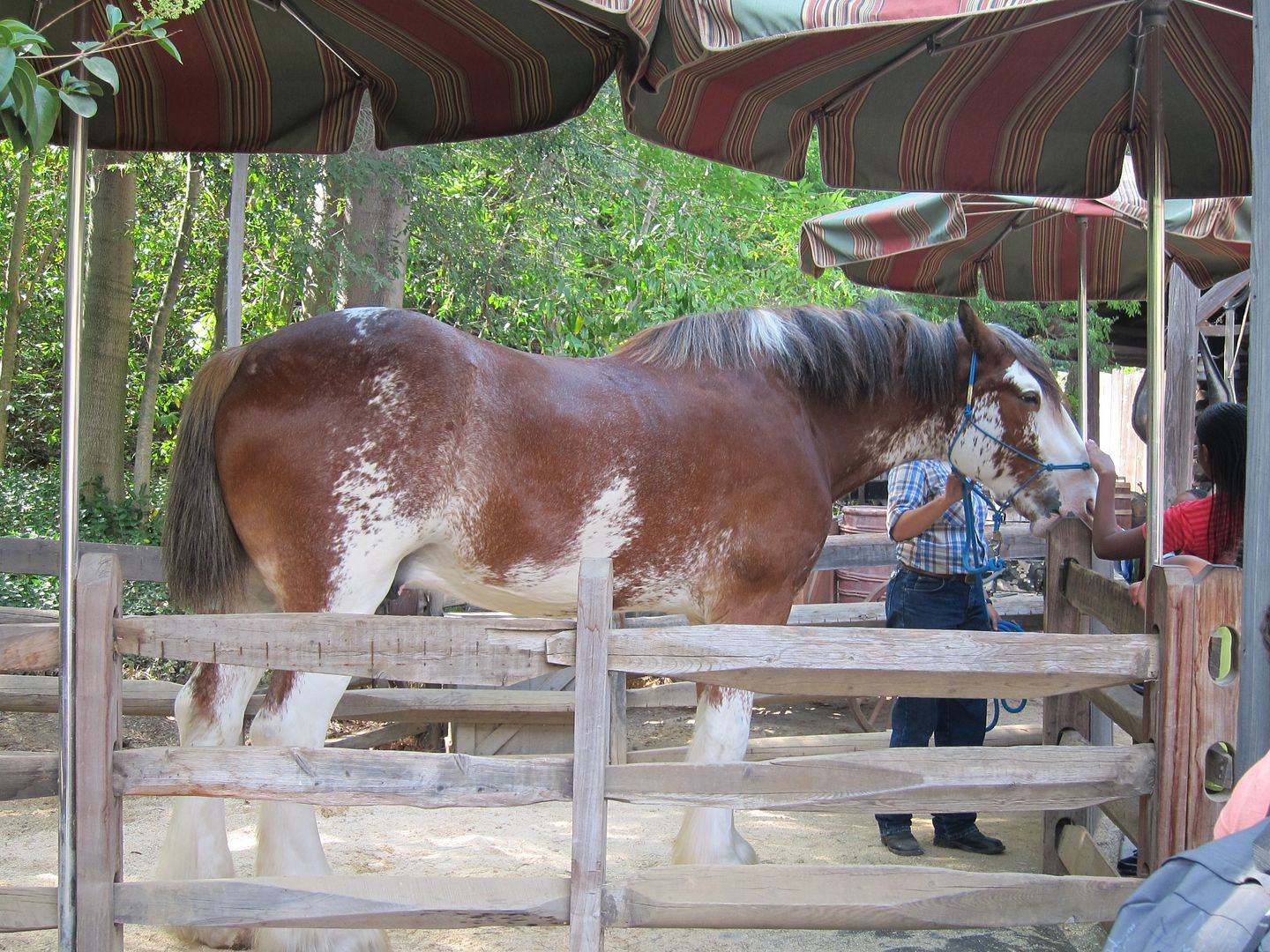 We had just watched the AMAZING Disney Parks Blog video about Pongo the goat, so we wanted to go meet him. Unfortunately, he was sleeping when we found him.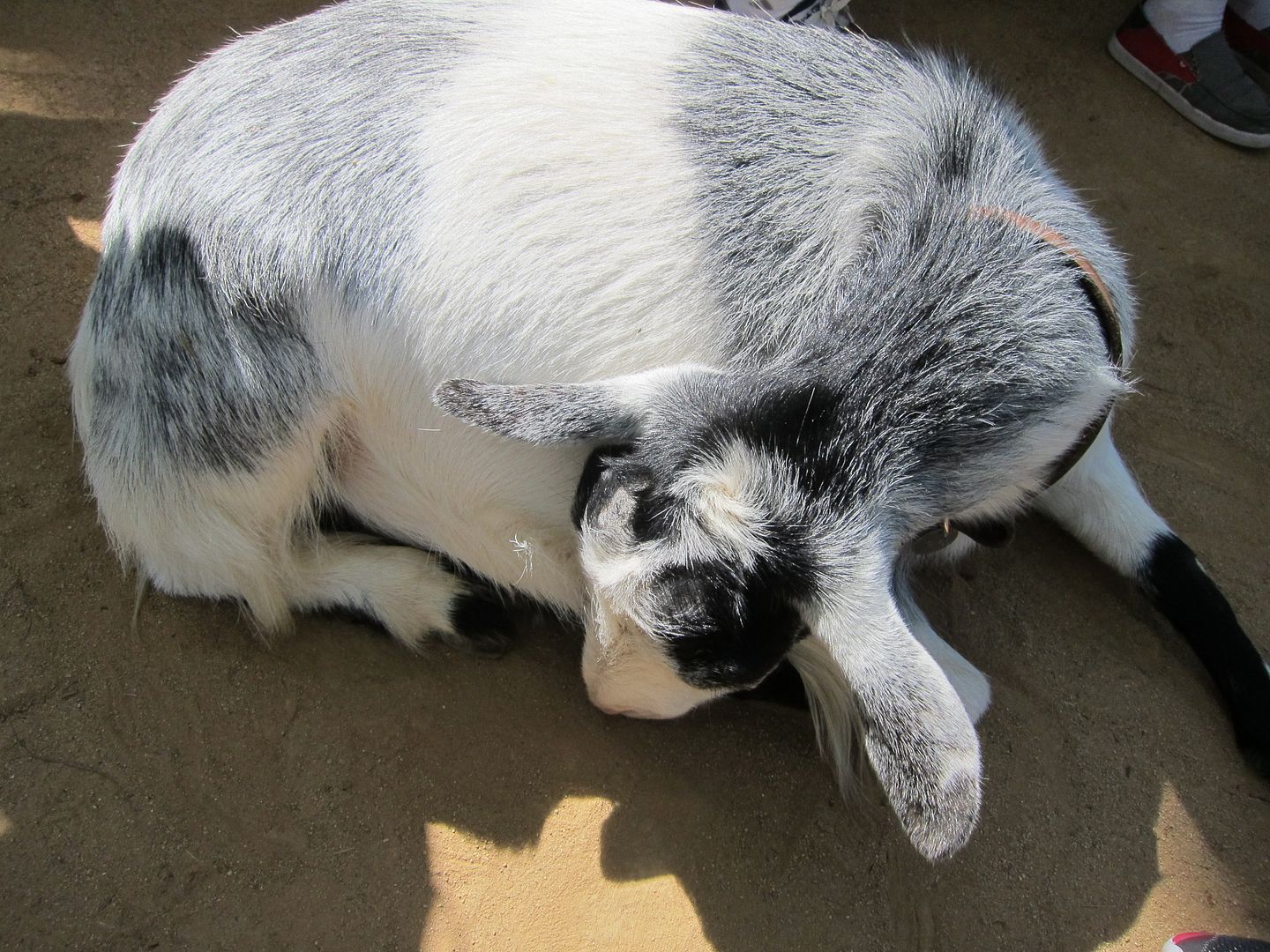 We hung out with the other goats instead, which made for a pleasant few minutes.
Once we were done at the Ranch, we headed to Fantasyland. Casey Jr. had reopened after its long refurb, so we rode that.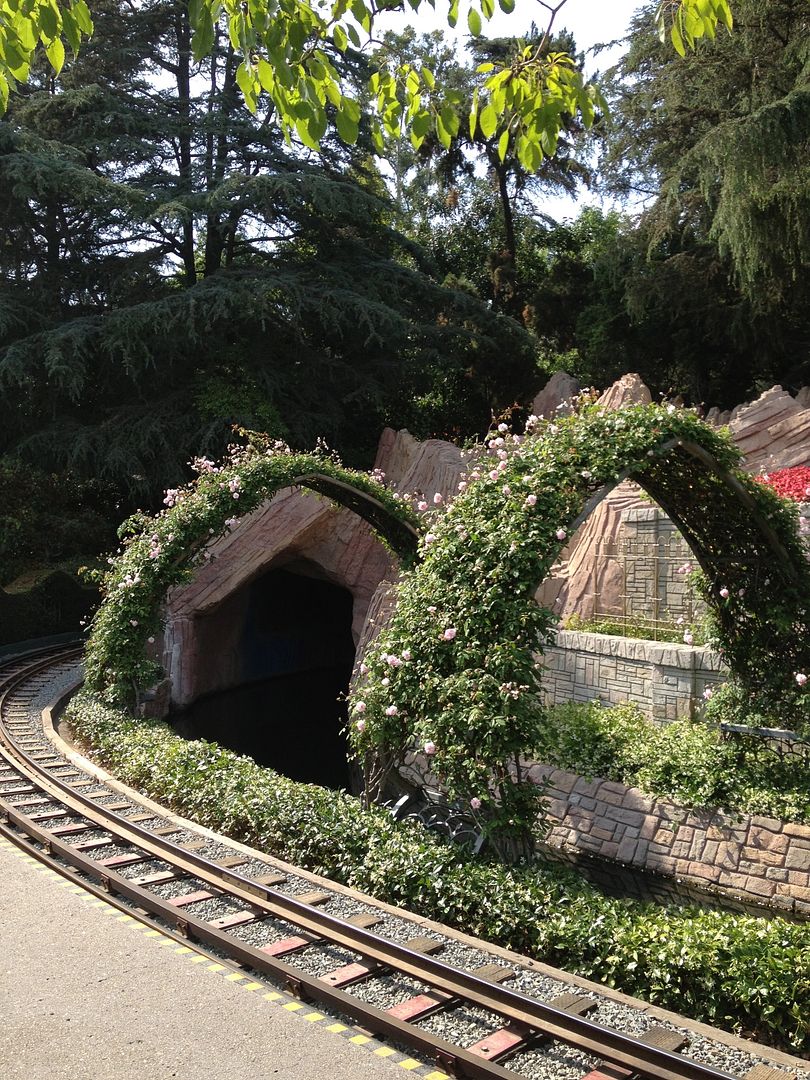 Again, it had beautiful columbines planted in the exit area, so I had to take a picture.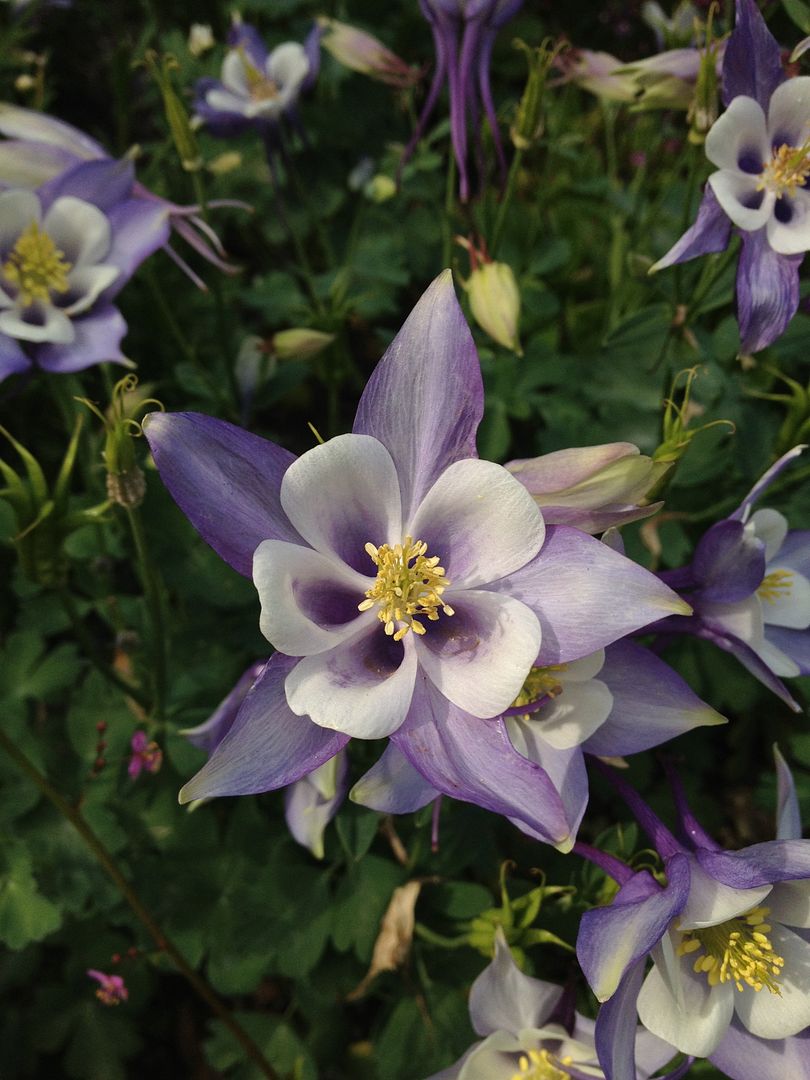 We went to ride Alice in Wonderland next (mostly to avoid the parade). While we were waiting, we noticed several people in the queue with shirts and clipboards indicating they were doing the Micechat Gumball Rally. We knew there was a group of Liners doing it as well, but we never ran into them.
As is often the case during the parade, there was no line at all for the Mad Tea Party, so we decided to go for a spin (literally).
We still don't spin the wheel at all, but Tracy kept threatening.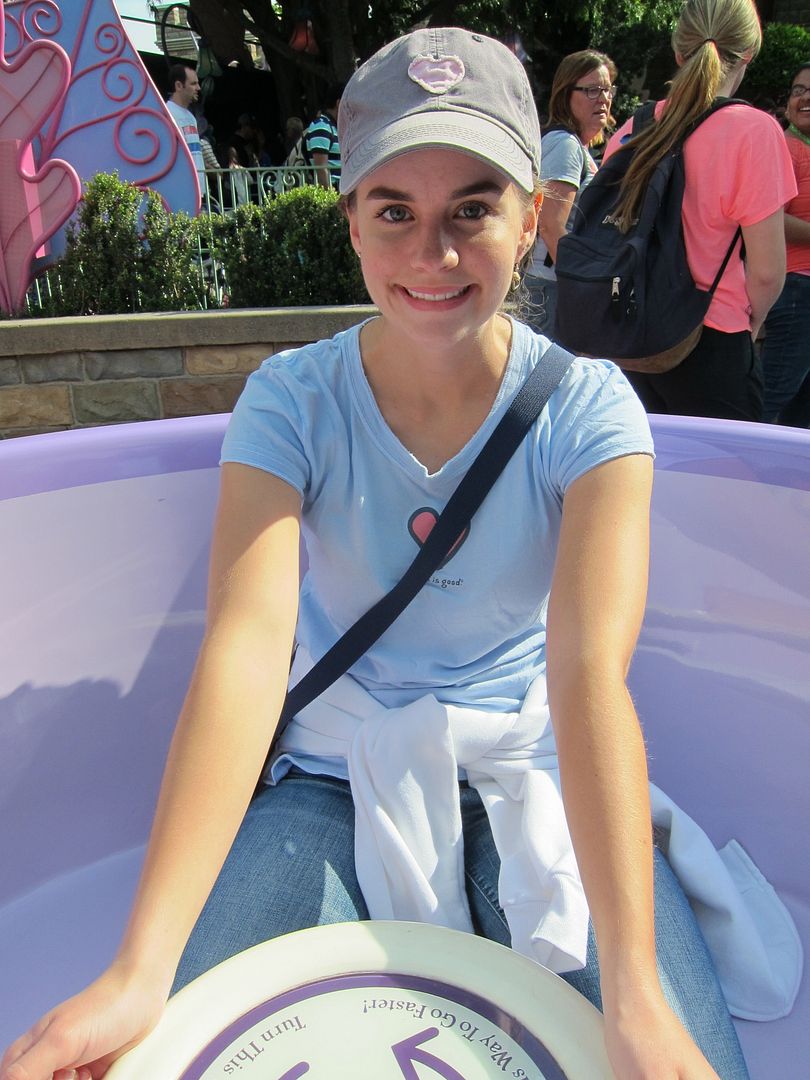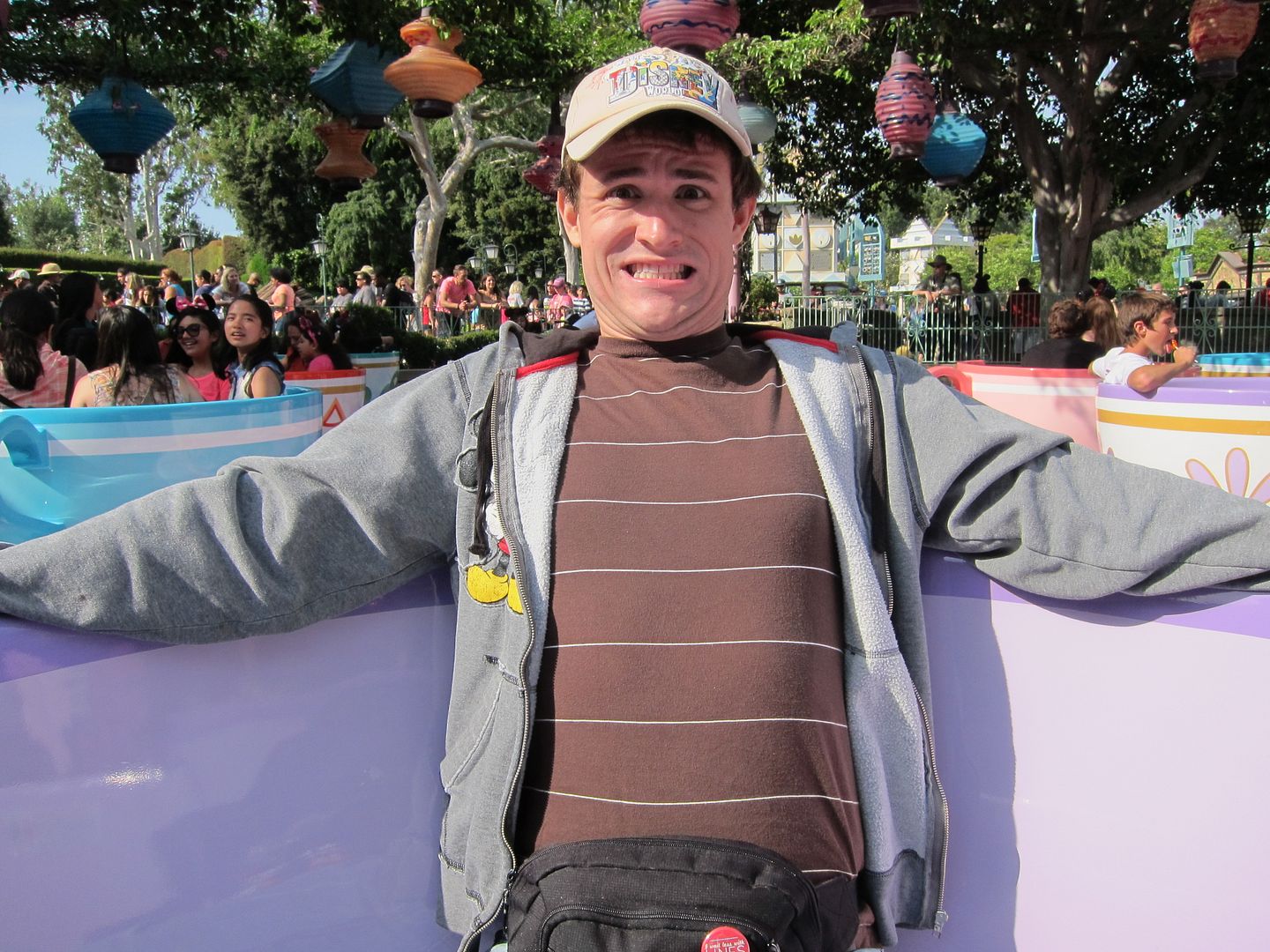 After the Tea Party was done, we went to Tomorrowland to ride Buzz Lightyear. The ride got stuck right when we were in front of Zurg in the first room, and I kept hitting his target. By the time the ride started moving again, I had scored over 700k points!! Not only was it one of the first times I'd ever won on this ride, but I was actually ranked 28th overall on the day!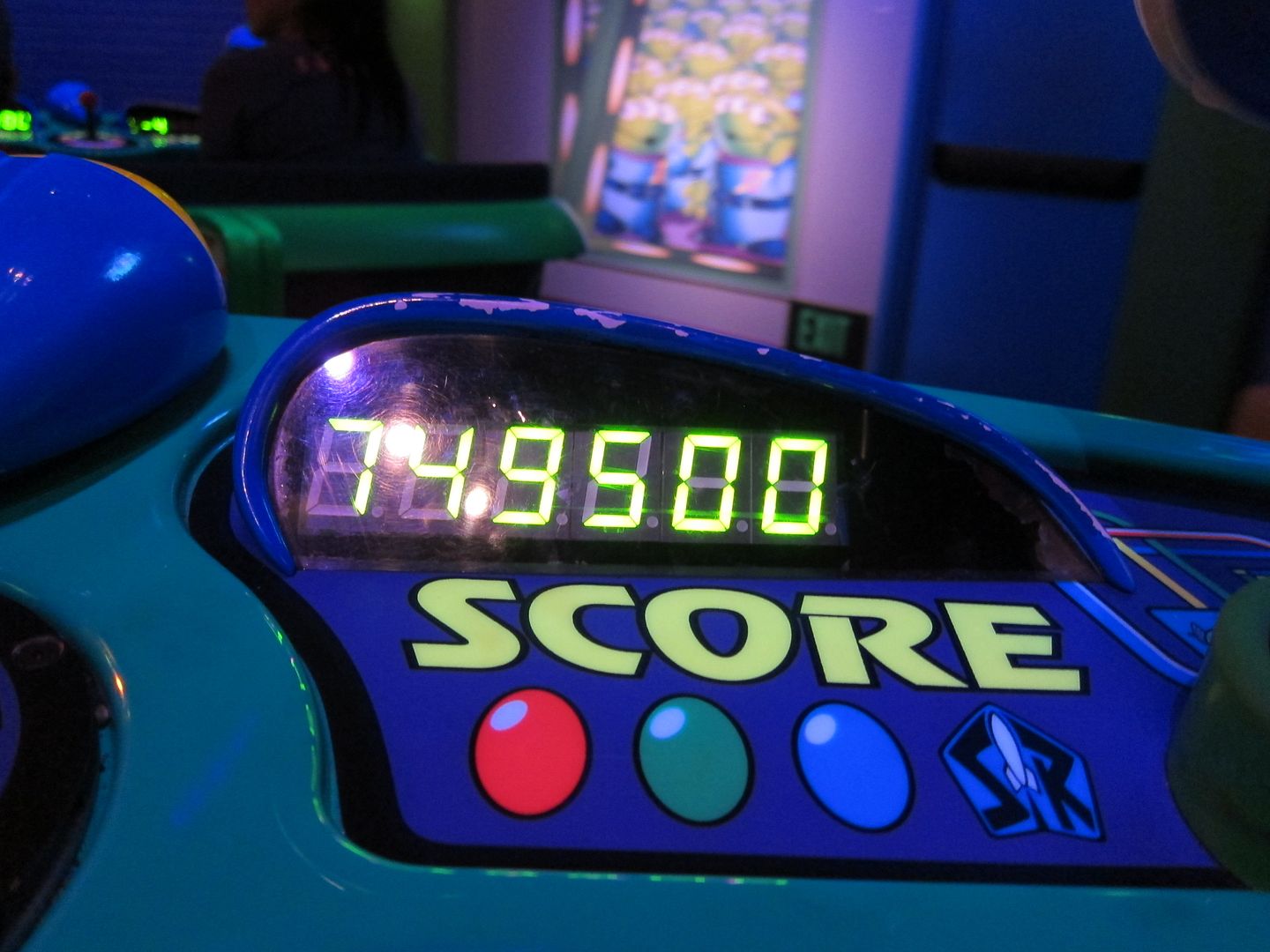 I might as well just quit riding Buzz Lightyear ever again, as I will NEVER beat that score.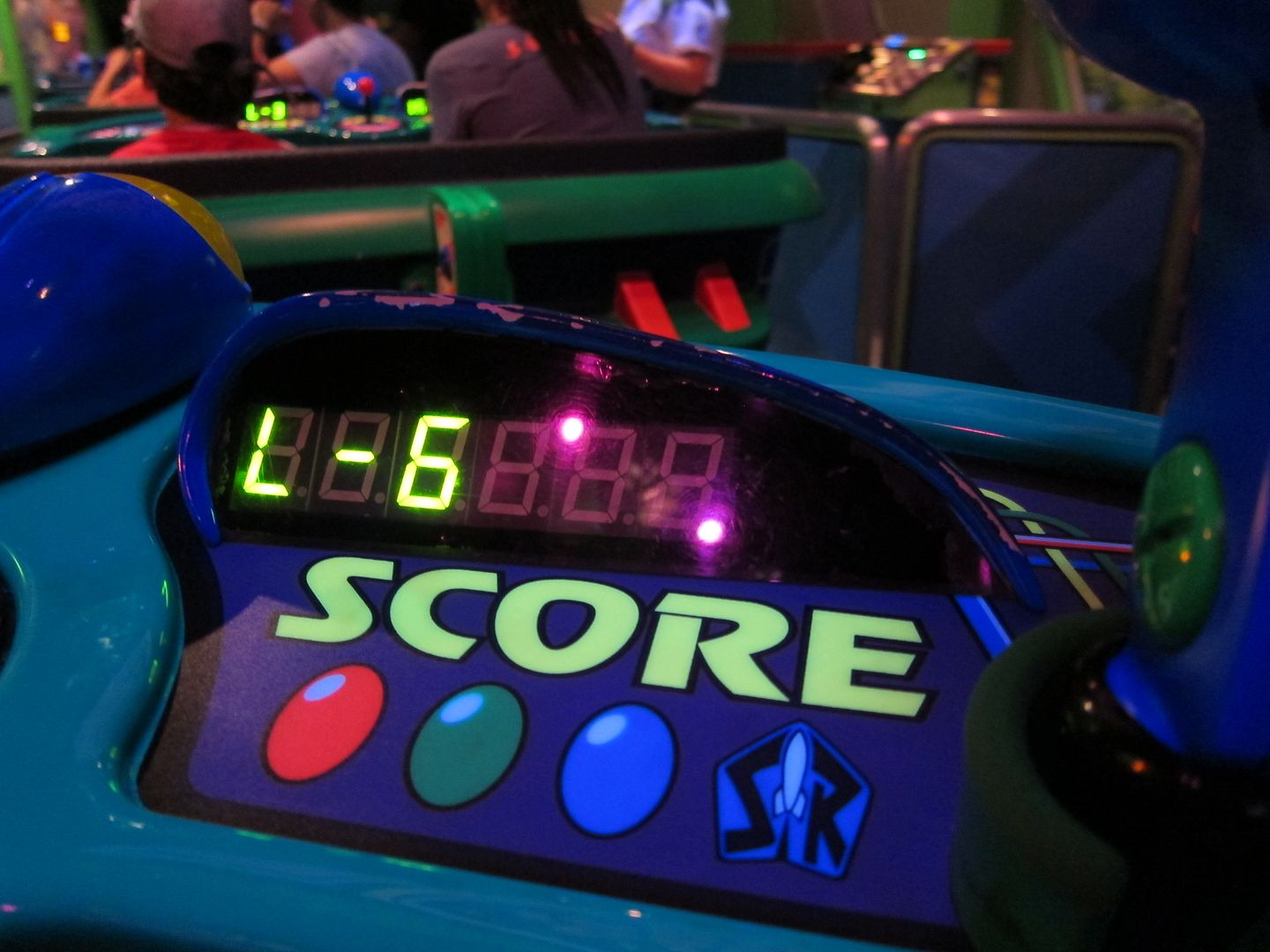 Once back in Tomorrowland, we were interested to find out if there was any May the Fourth merchandise left in the park, so we went into the Little Green Men Store Command. As we figured, the limited edition pins had sold out within hours of park opening. There were some t-shirts left, but they were too expensive.
Giving up on shopping, we decided this day couldn't be complete without us riding Star Tours.
We were sent to Tattooine and the Death Star, which I thought was a pretty good combination for Star Wars Day.
Trying to decide what to have for dinner, we were lured by the Limited Time Magic they had today only. It was the R2-D2 popcorn bucket that we had been wanting to get, but it was filled with fries instead, and it came with a Parmesan ranch dipping sauce. Yes, the official name was May the "Fries" Be with You.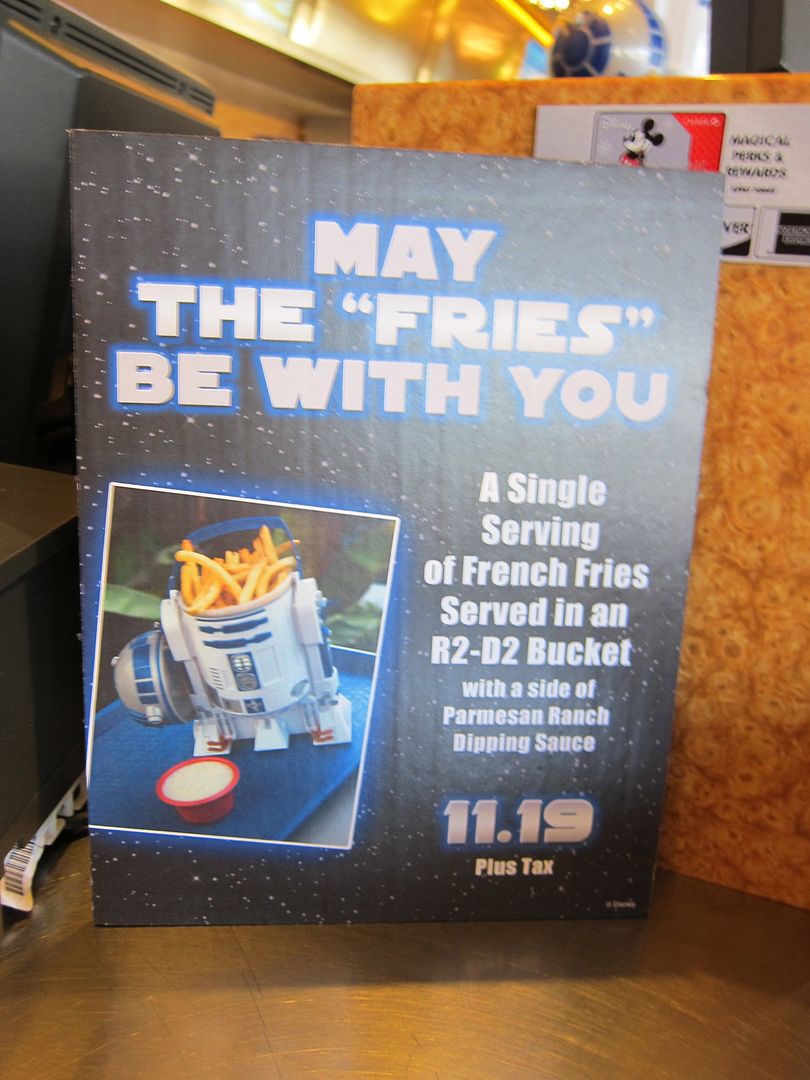 The bucket was everything we were hoping for, and the fries were really good. The true standout, though, was the dipping sauce! It had fresh-grated Parmesan cheese in it, which was absolutely delicious! We devoured the fries very quickly, but we decided the purchase had been a sound decision (even if it had come at an astronomical price).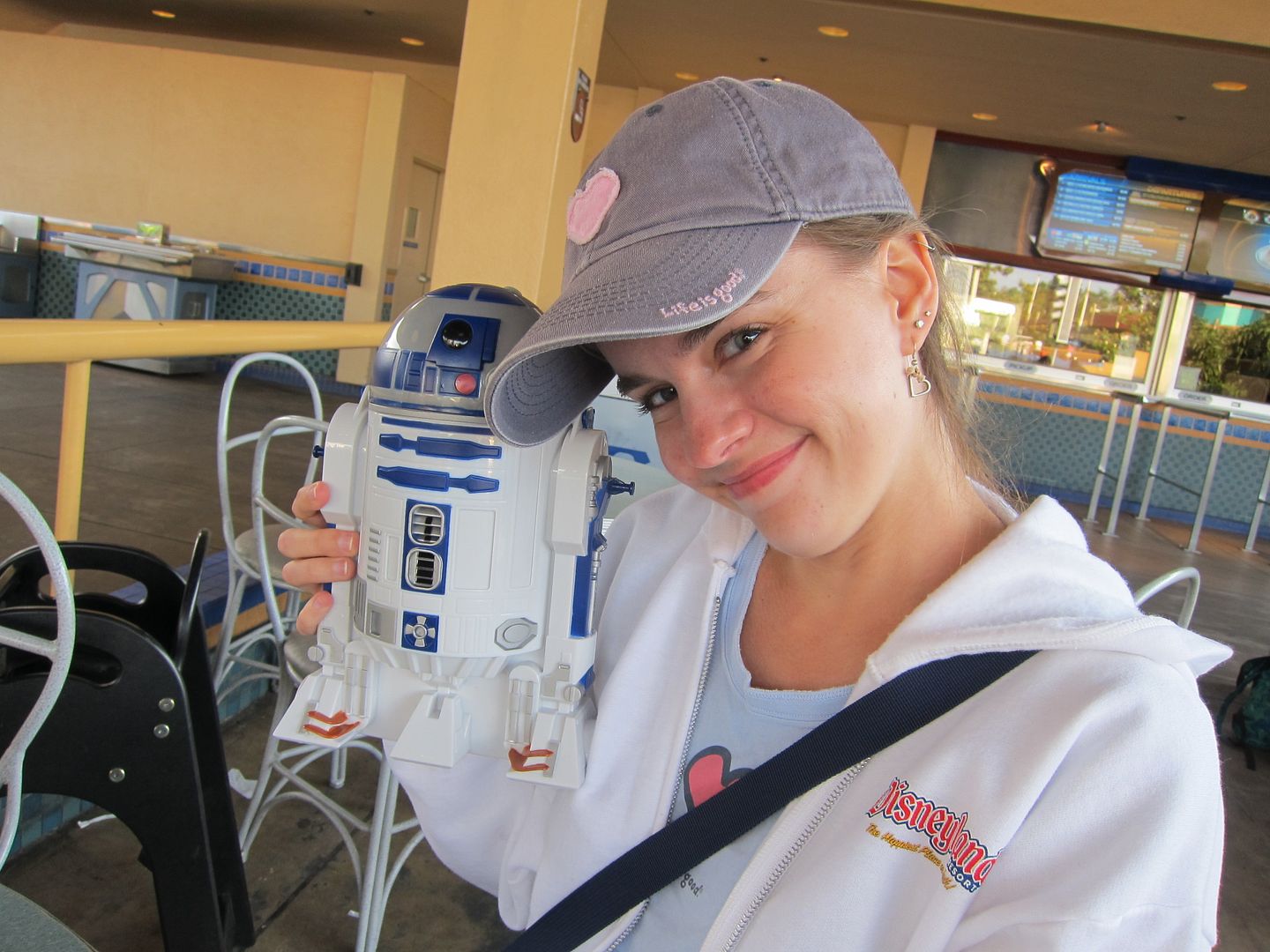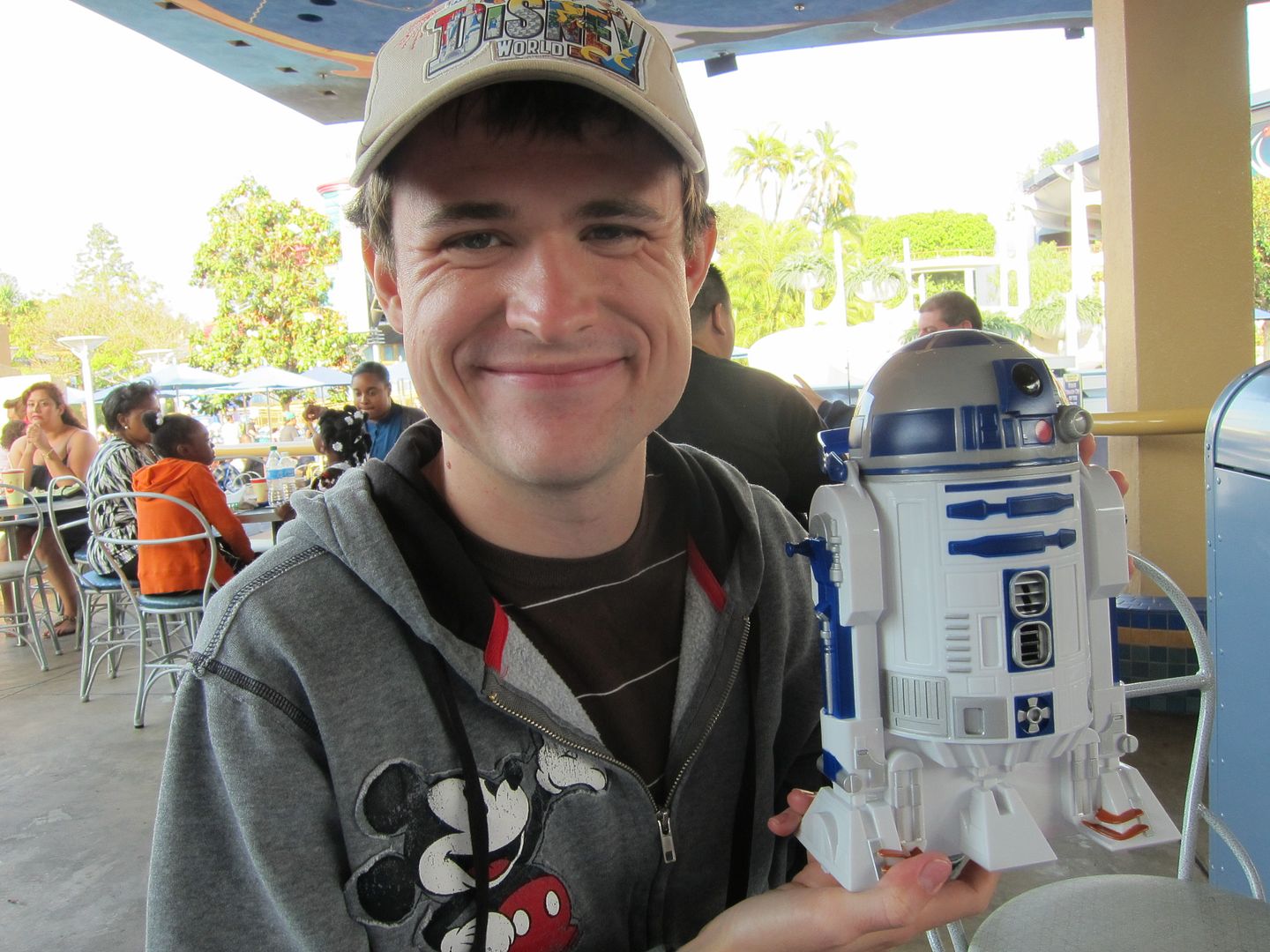 Maybe I've never expressed how much we love R2-D2, but he's our favorite Star Wars character.
We rode the Haunted Mansion and Pirates next before realizing we needed to grab our jackets from the car. On the way out, I took some pictures of the poster for Magical. It had just returned that weekend, so we were excited to see it for the first time.
While I had mostly only read negative reviews of the show, we were thrilled at the prospect of seeing Dumbo fly.
We took the tram to the parking structure, but after we got our coats, we walked back to Downtown Disney. Obviously, fries weren't going to be a filling dinner, so we decided to supplement them with an Earl of Sandwich. On the way, we passed through the Disneyland Hotel grounds and saw this lovely Disneyland Cat.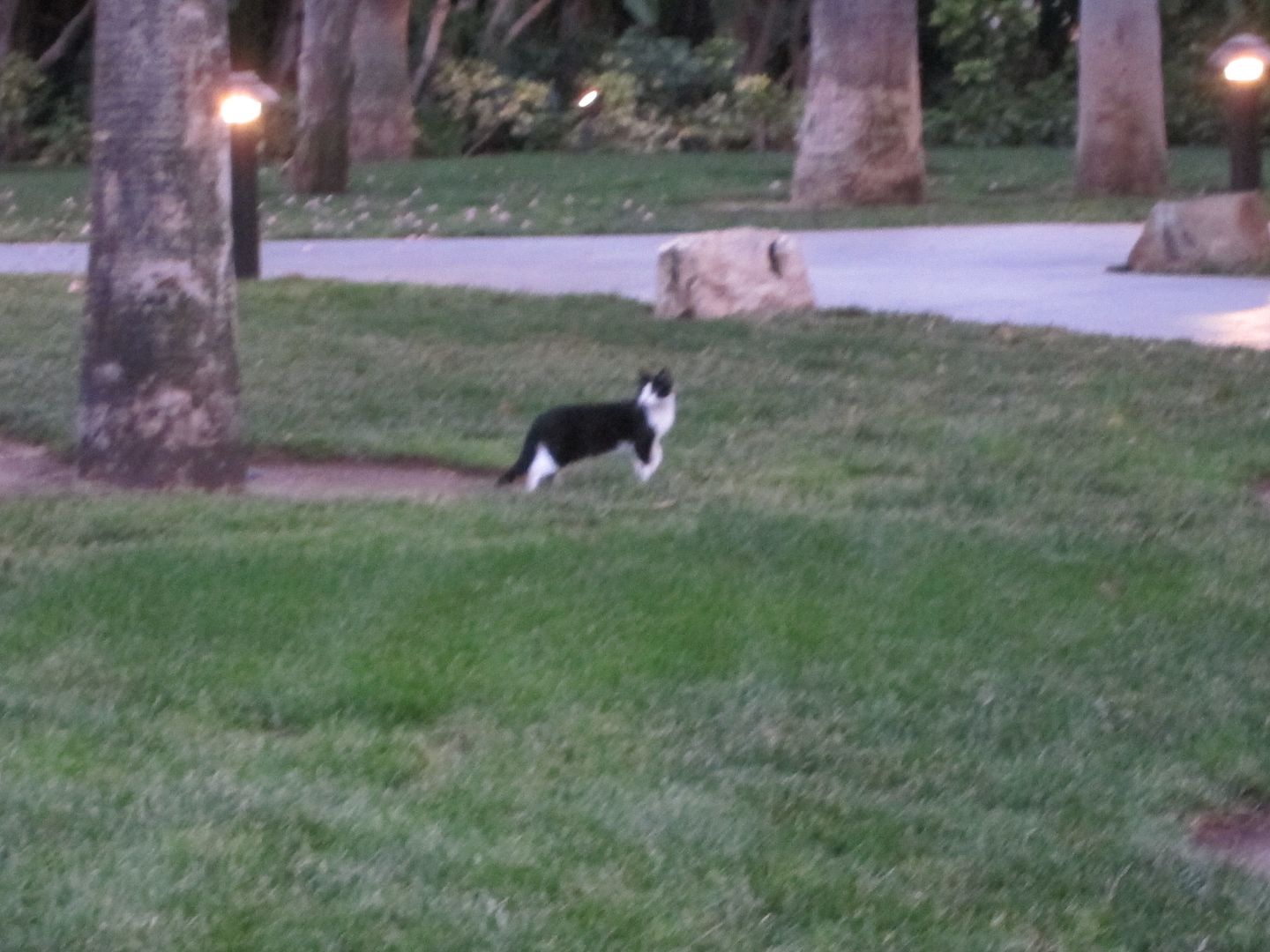 For our sandwich, we decided to get the Italian since it's Tracy's favorite.
The dressing has too much onion and always disagrees with me, so we got it on the side for Tracy. I put some mustard on my half and was pleasantly surprised how good it still tasted.
After eating, we took the Monorail back into Disneyland. We decided to ride Space Mountain because it had only just reopened after OSHA shut it down for several weeks. As we made our way through the Fastpass queue, we accidentally followed the family in front of us when they went the wrong way in line and found ourselves in a totally wrong area about to head through a cast member door. After backtracking, we found the right way and really enjoyed our ride.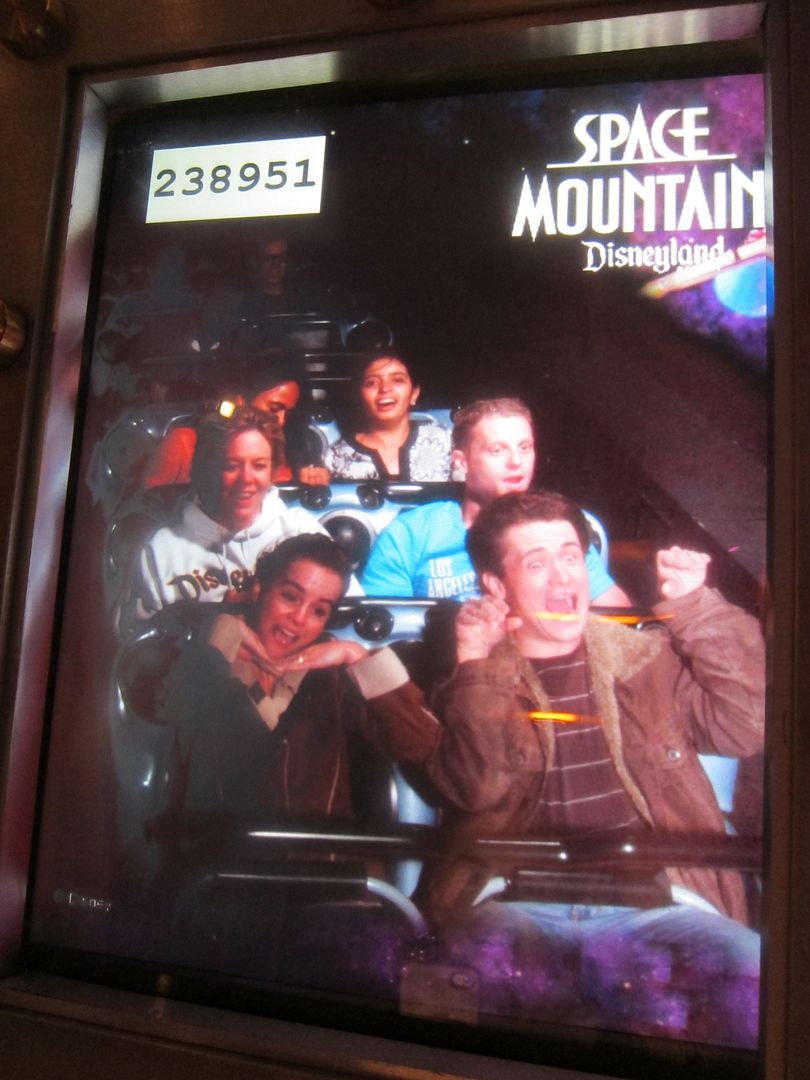 It was almost time for the fireworks to start, so we camped out and grabbed a great spot in the hub. Unfortunately, as show time approached, we heard the dreaded announcement that high winds were delaying the show. They kept leading us on as though it might still happen, but in the end, it was canceled (womp, womp).
Starting toward the exit, we found ourselves in the throng of people who were also leaving. Rather than continue with the crowd, we decided to stop off at our porch and sit for a while as the park emptied a little. As is always the case, there was lots of amusing people-watching to be done from that spot.
After the masses had gone away for the most part, we also went to the exit and headed home.
The next day, we went on our first Craigslist expedition since we had finished getting all our furniture after moving here. I had been wanting a keyboard so that I could hone my piano skills a little in my downtime when Tracy was at work. I took lessons for many years as a kid and basic keyboarding in college, but I'm far from great. We ended up finding a cheap one on Craigslist and made our way into the heart of suburban Irvine for the first time to pick it up.
As we predicted, we loved the atmosphere in Irvine. It feels so residential with all its tree-lined streets. If only it were closer to Disney and had ANY affordable housing, we could totally see ourselves living there. After the transaction went down, we loaded the keyboard in the back of Dumbo (putting his hatchback to use once again) and brought it home.
After we had gotten the keyboard home, we went to check out a new restaurant that had opened recently in Orange Circle. Linx is a sausage place, and we got a DELICIOUS bratwurst. The fries it came with were also DELICIOUS. Best of all, the restaurant was really cheap, so we were excited it was there.
Previous Post | Next Post
Table of Contents
Follow



Share