Chapter 70
Maximum Efficiency
---
Previous Post | Next Post
Table of Contents
(Originally posted October 4, 2013)
The next day was St. Patrick's Day, so we put our corned beef in the crockpot and headed to Disneyland after lunch. Apparently everyone in the county was also going to Disneyland this Sunday afternoon because Mickey and Friends was full, so they sent us to the area of the garage usually reserved for cast member parking. This should be a great location being on the first floor, but to get to the tram, you have to walk upstairs, cross the entire second level, and then take the escalator back down. By the time we reached the park, neither of us were really in great moods anymore.
There were long lines for both parks, so we decided on DCA. We walked back to Hollywoodland with the express purpose of going to the special Disney Visa meet and greet spot. When we arrived, we were some of the only ones there, and we quickly got to meet Stitch. Unfortunately, Stitch was seeming a little down this afternoon. We were pretty sure that he might have been hungover from some antics the previous night. Still, we enjoyed meeting him because he's really not prominently featured around Disneyland.
(Note that I actually had to scan this picture in because we didn't have any record of our meeting with Stitch except our free Disney Visa PhotoPass print. Ghetto.)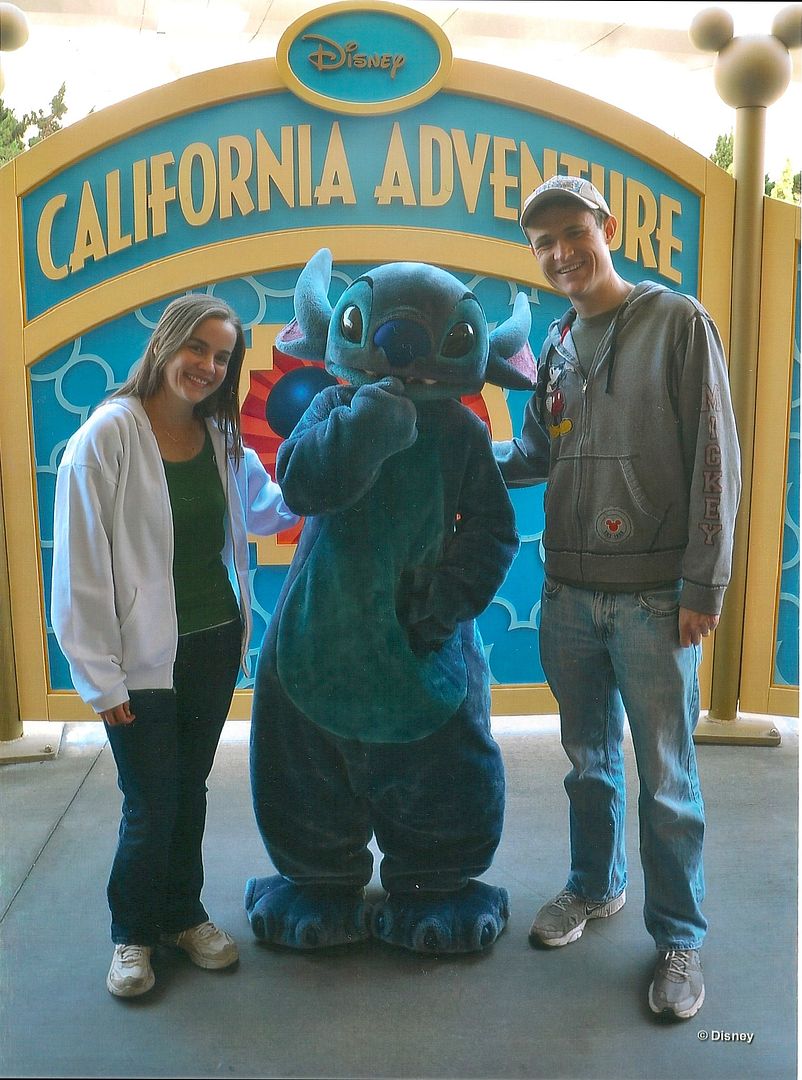 Still in character mode, we went over to Paradise Pier to see if we could meet Duffy. Unfortunately, we found ourselves in a similar situation to the last time we had tried to meet our bear friend. The character attendant said he should be out soon, but we saw no sign of him after several minutes. While we waited, we looked around in Duffy's store, and Tracy wanted this children's t-shirt because it featured Pluto.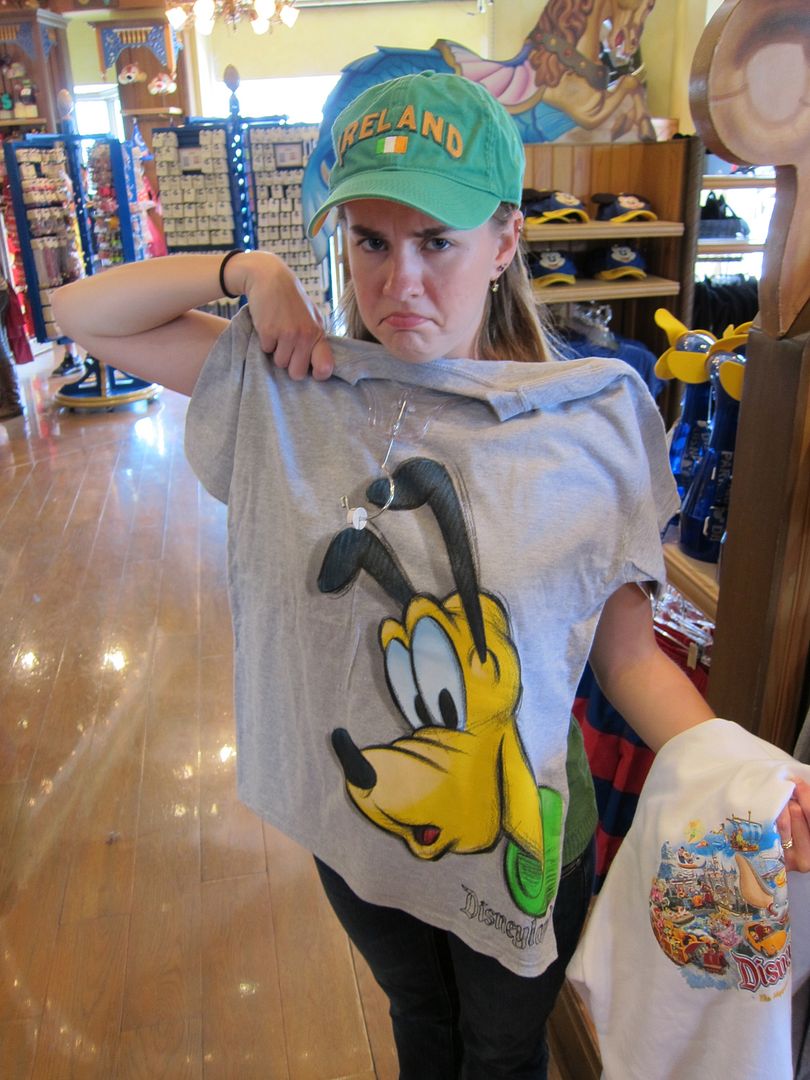 Still not seeing Duffy, we decided to kill some time by riding The Little Mermaid, and when he wasn't out after that, we went over to Toy Story Mania. Tracy had a faulty gun, but I got my best score yet!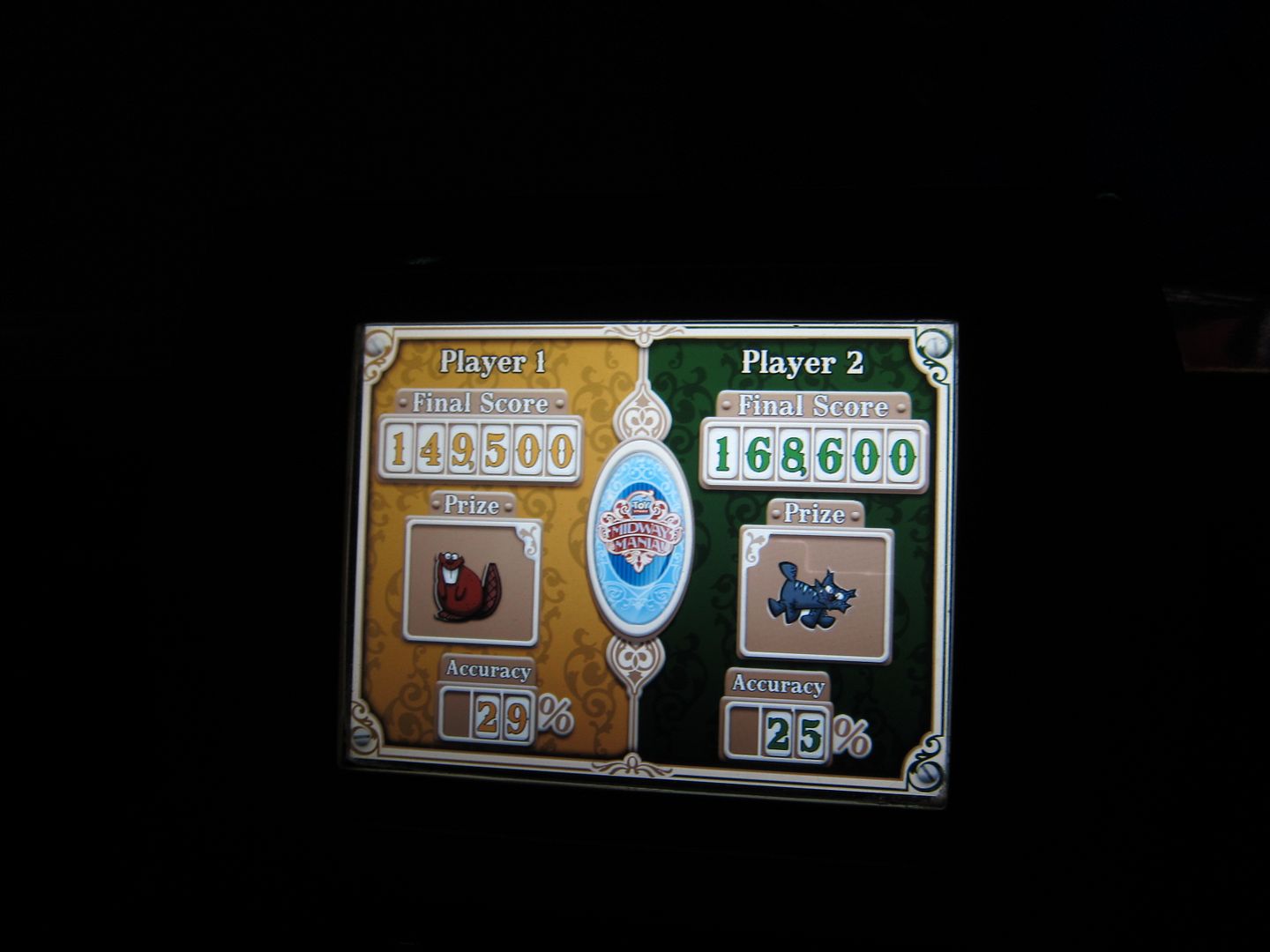 We decided to look for Duffy one last time, and he was FINALLY out! I like to think he appreciated our perseverance.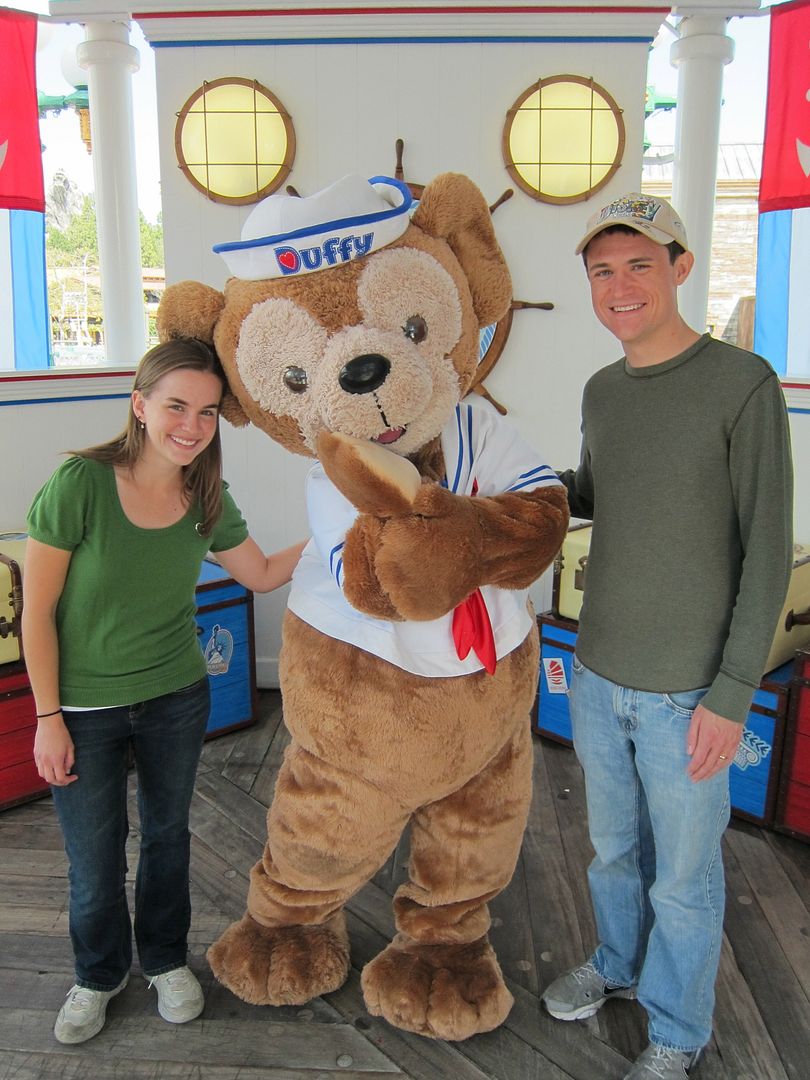 Not really sure what to do next because the park was SO crowded, we walked up Buena Vista Street and sat down on a bench near the entrance. Pulling up Twitter, we happened to see a tweet from @diningindisney who said she had left some Space Mountain Fastpasses hidden in one of the gas pumps at Oswald's Filling Station. We were right nearby, so we checked to see if they were still there. Seeing that they were, we decided that we weren't really in the mood to hop to Disneyland when the crowds were so heavy, so we left the Fastpasses for someone else to use. We also decided to add to the magic by grabbing a pair of Soarin' Over California Fastpasses and leaving them in the same spot.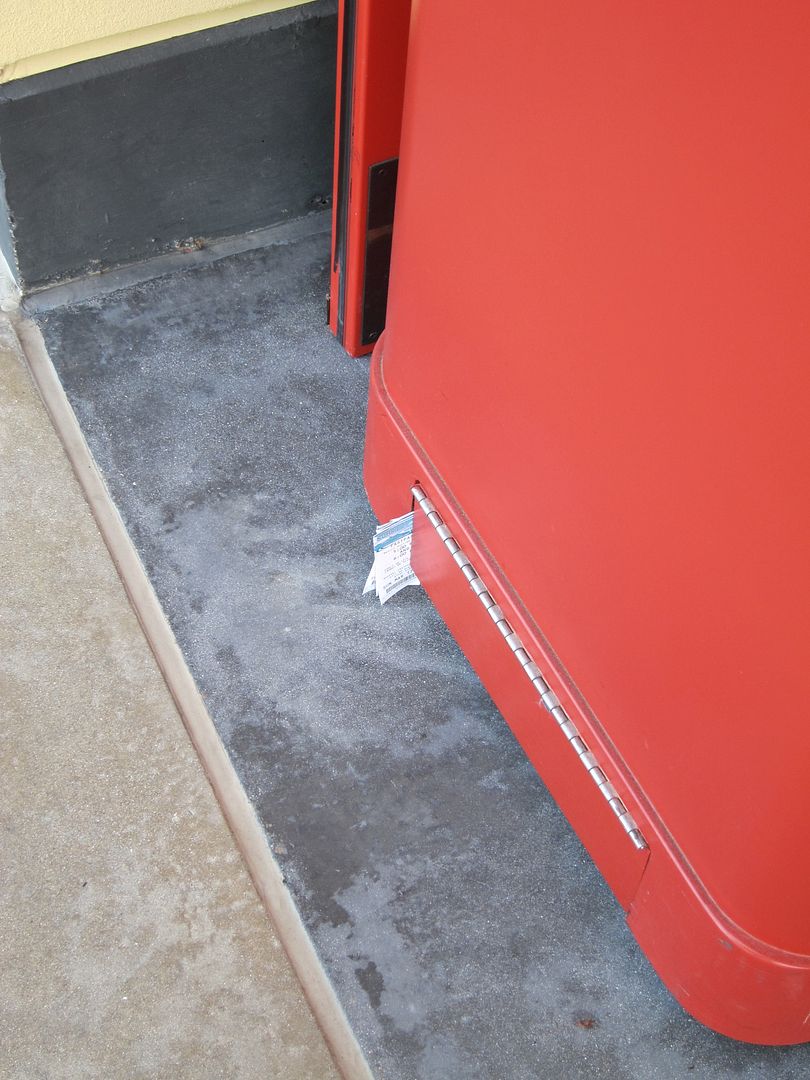 It was a fun little moment of connecting with other Disney fans via Twitter, and I know a family did eventually grab and use all the Fastpasses.
In the end, we did decide to hop to Disneyland, but since it was so crowded, we just decided to ride the train. Almost completing the loop, we got off at Tomorrowland and rode Buzz Lightyear on the way toward the exit. By this point, we had gotten sick of crowds, and we had some delicious corned beef and cabbage to eat and Guinness to drink when we got home.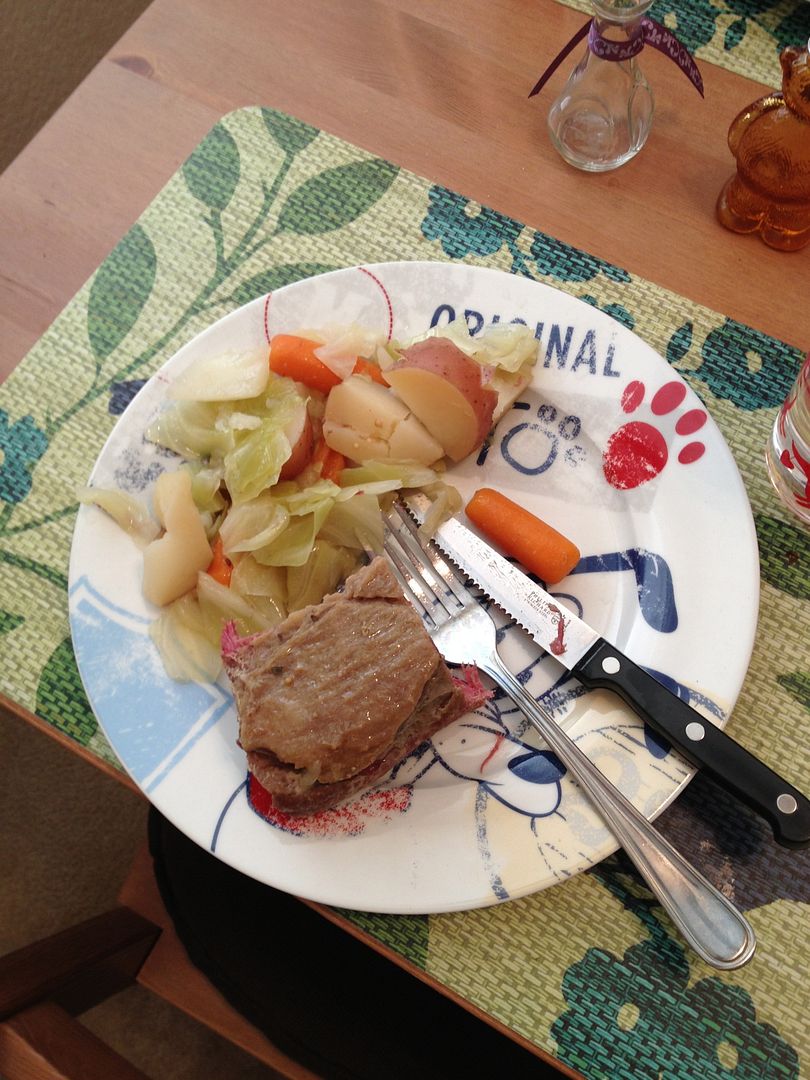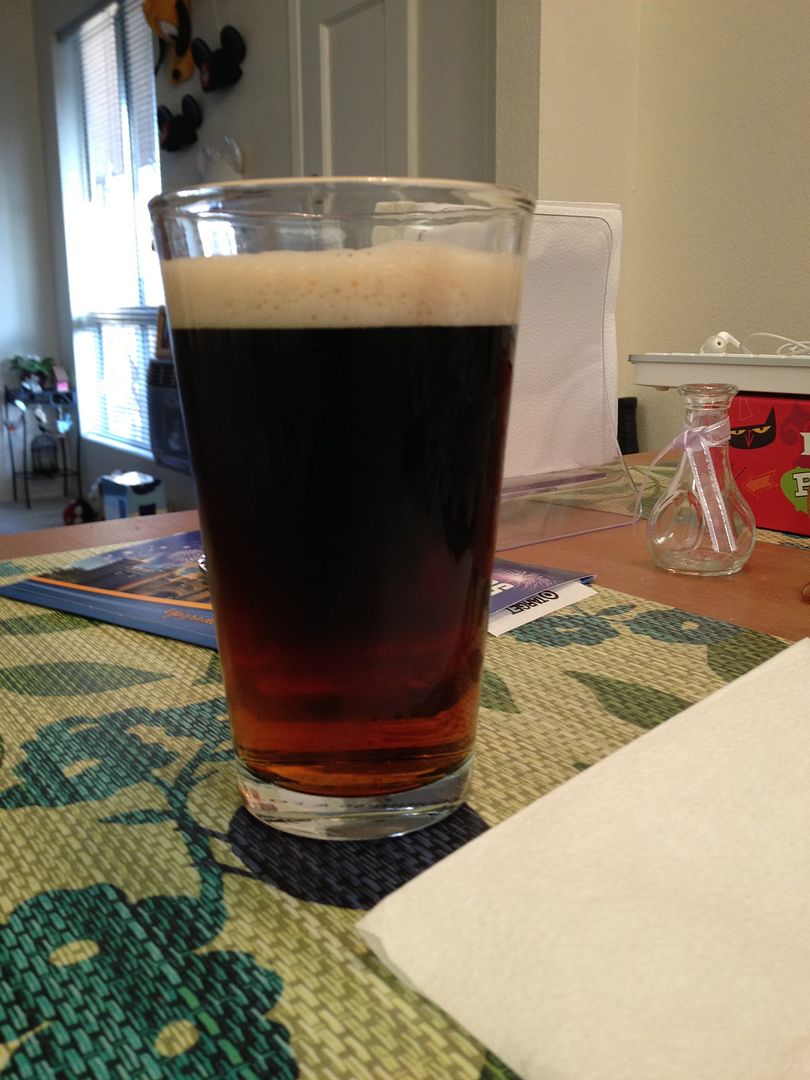 Monday began a packed week filled with things we wanted to get done before Tracy started work. The most pressing task was to register our car (which we actually needed to do in California finally, now that one of us had secured employment). First, we had to pass a smog check, which Dumbo was able to ace with flying colors.
After he did so, we headed to Disneyland. We arrived, parked, and took the tram, but rather than going straight to the parks, we headed to the Studioa 365 store. Tracy had decided that she wanted to buy one of the colored hair streaks they give the teens who go there for makeovers. The cast member looked at her a LITTLE funny during the transaction, but mostly didn't bat an eyelash.
We entered Disneyland and went straight to the bathrooms so that Tracy could put in her new accessories.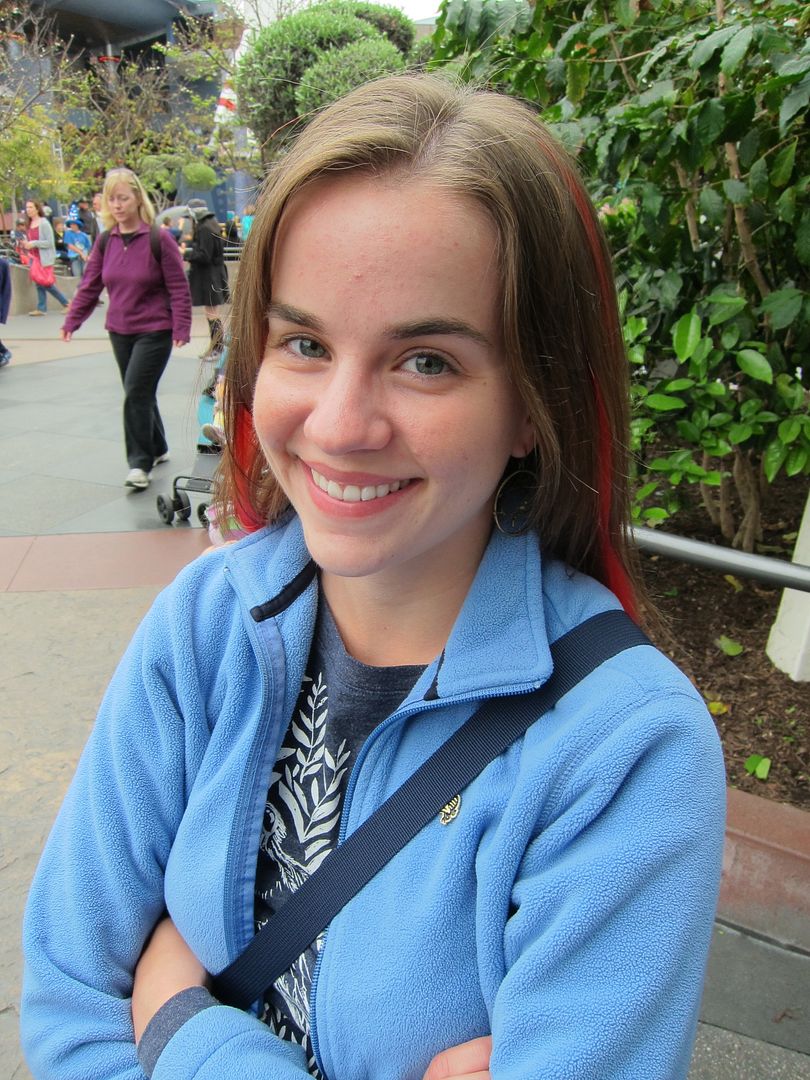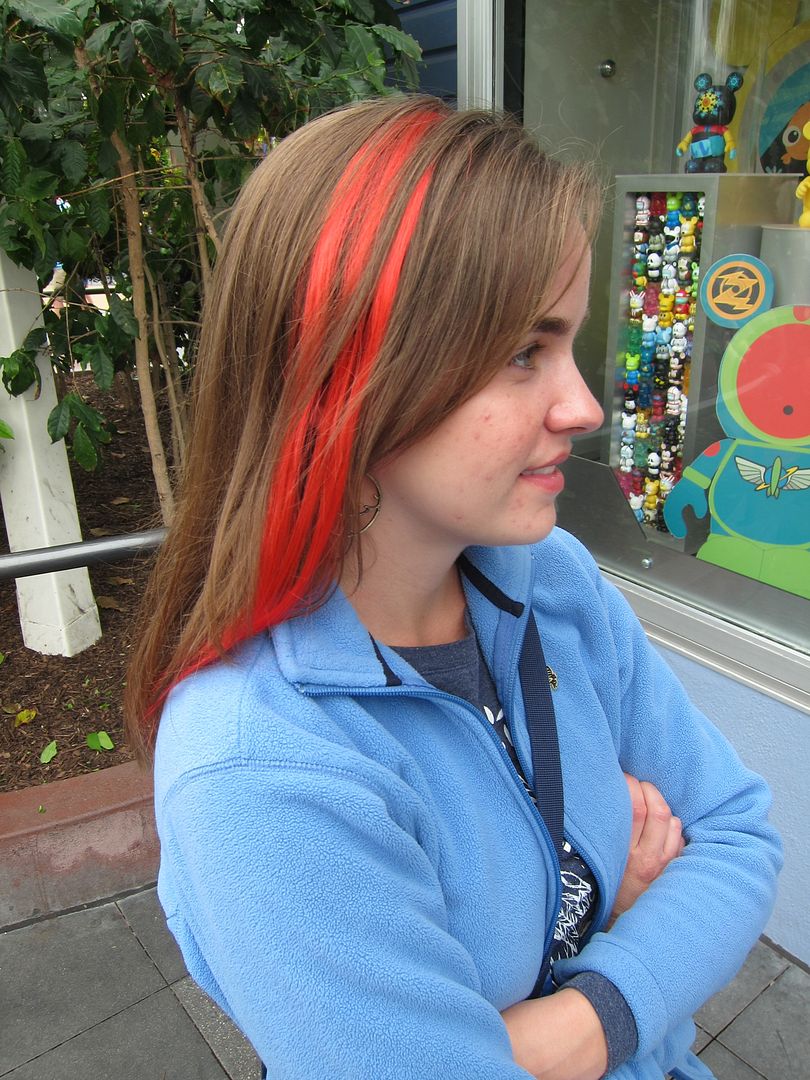 We started in New Orleans Square with the intention of riding Pirates, but the line was too long, so we went to the Haunted Mansion instead (this order of events would happen quite frequently during the busy season). Next, we walked to Tomorrowland and rode Star Tours.
After a perfectly pleasant trip to Kashyyk and Naboo, we were exiting our row when Tracy tried to calmly tell me, "There's a bee on your jacket."
Now, I should mention that I am very afraid of bees. The fear stems from the fact that I may or may not be allergic to them. I had a nasty sting when I was younger and the doctor at the time told me that because of how much it had swelled, there was a decent chance that I might have an allergic reaction if I were to be stung again. Ever since then, bees and I have not gotten along.
I immediately shed my coat into the aisle, which made Tracy jump because she was afraid the bee would land on her. Luckily, after we both got free of the row, we went back for my jacket and the bee was gone—having escaped somewhere into the ride vehicle where it could terrify the next person. I had the heebie jeebies for the next several minutes as I realized that I had ridden the entire length of Star Tours with the bee on my jacket.
Still doing my best to get over my trauma, we headed over to Buzz Lightyear. The ride stopped for at least five minutes while we were right in front of a target, so we were able to rack up pretty decent scores. I got over 150k and Tracy broke 200k.
We continued into Fantasyland and rode Casey Jr. before leaving Disneyland and hopping to DCA. Once there, we walked straight back to Corn Dog Castle because we were very hungry for dinner. As always, our Hot Link Corn Dog was SO GOOD.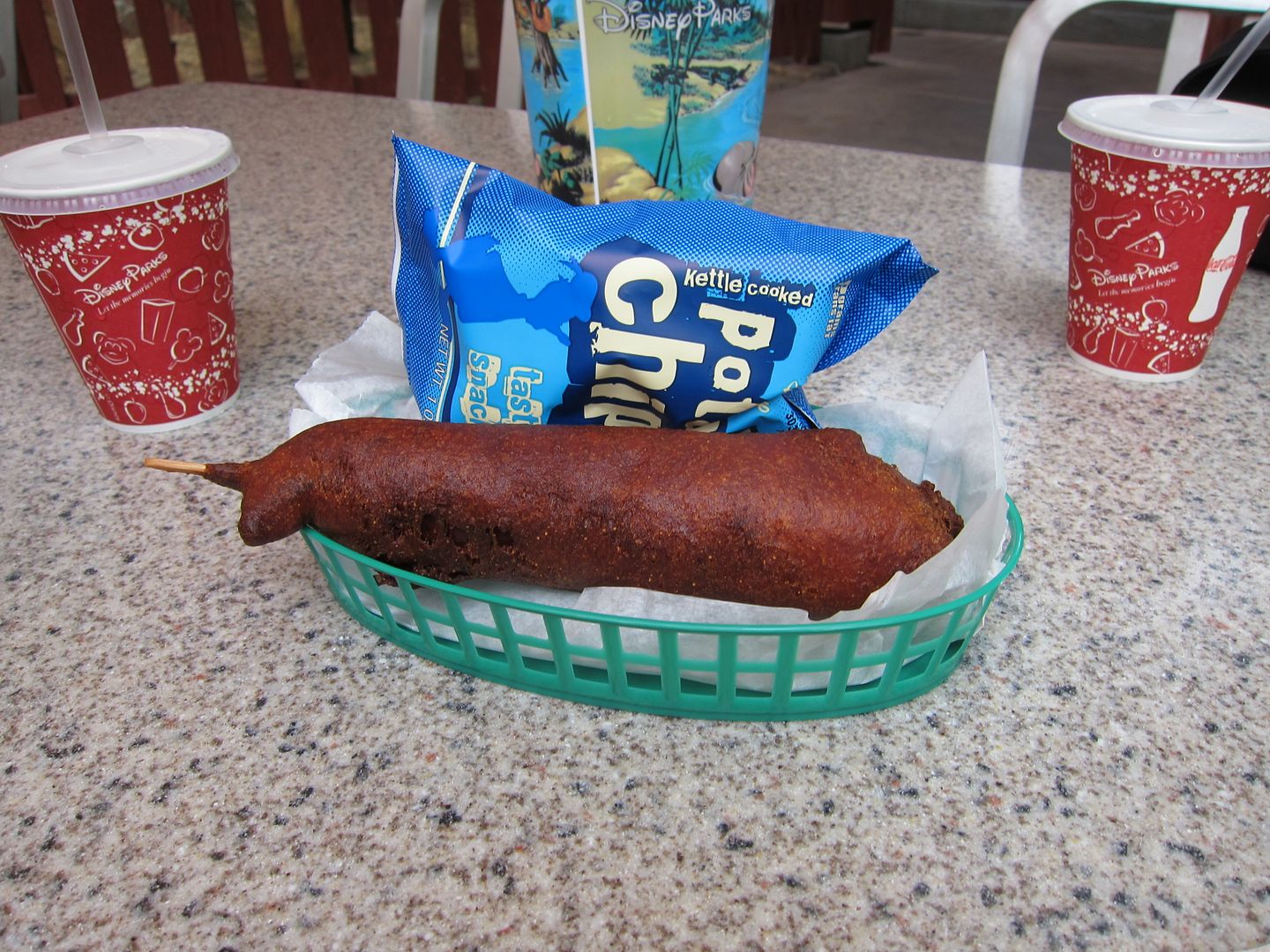 Going into Paradise Pier, we rode Toy Story Mania, and I FINALLY broke 200k points there! We were doing great at the Toy Story attractions today!!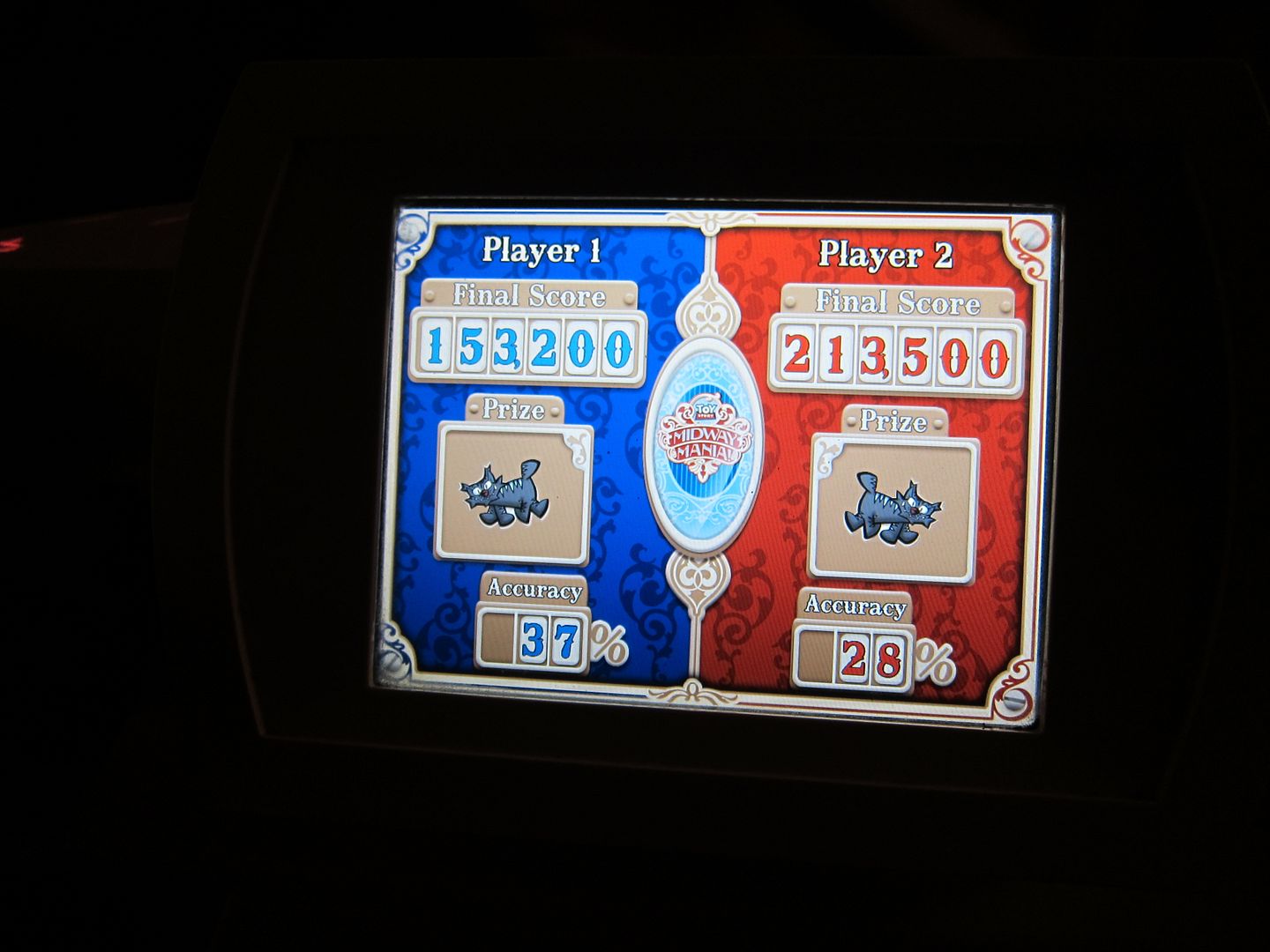 I got "best this hour" this time around, which (of course) prompted Tracy to throw my own words back at me: "What, did this hour just start or something?"
We rode Jumpin' Jellyfish on our way out from Paradise Pier, and then went to Hollywoodland to check the Animation Academy schedule. Donald Duck was being drawn in about 20 minutes, so we decided to come back for that after riding Monsters, Inc. while we waited.
Here's how our Donald drawings turned out.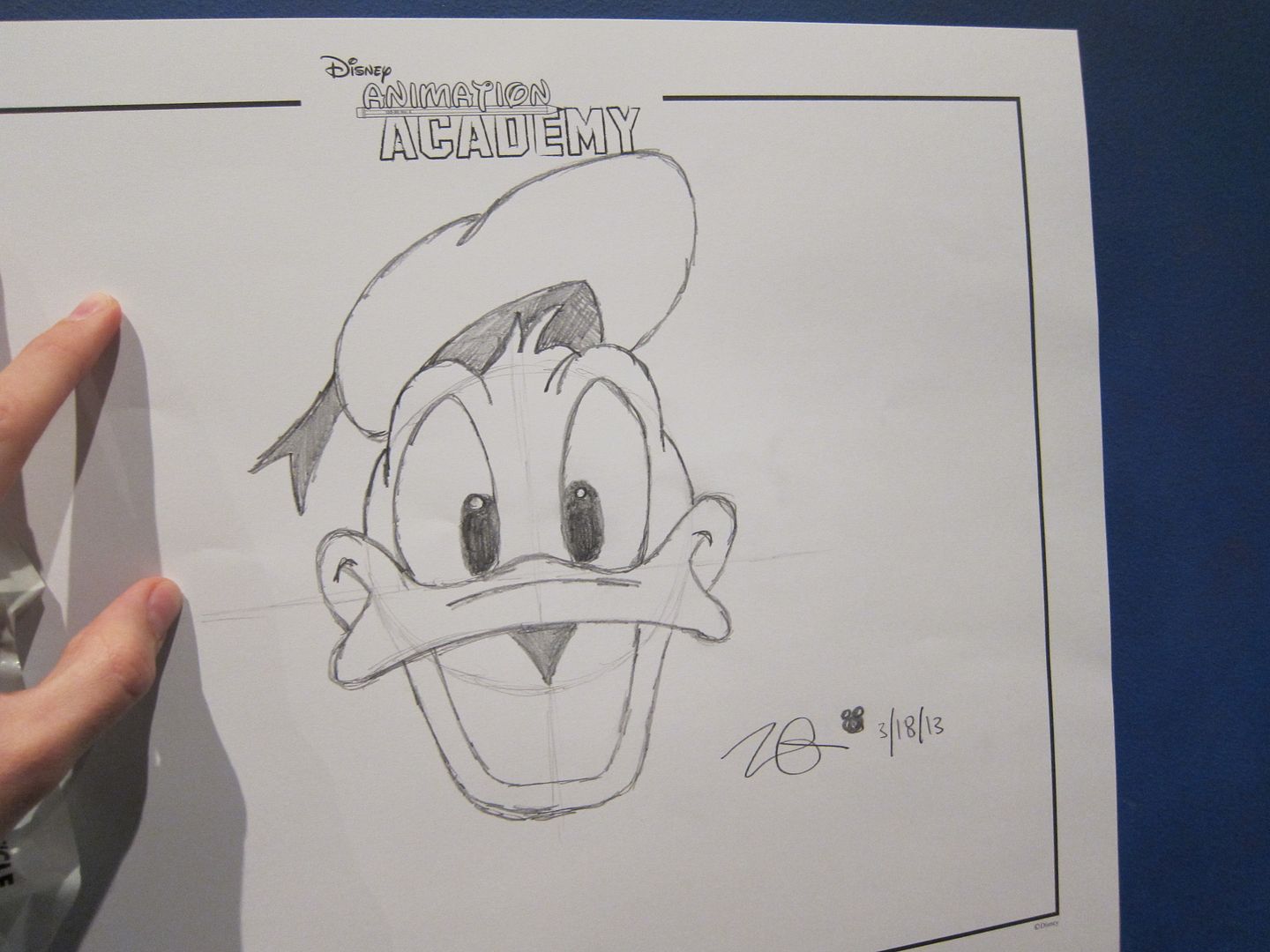 Deciding it was time to head out, I took one last picture of Tracy's sweet hair before we went home.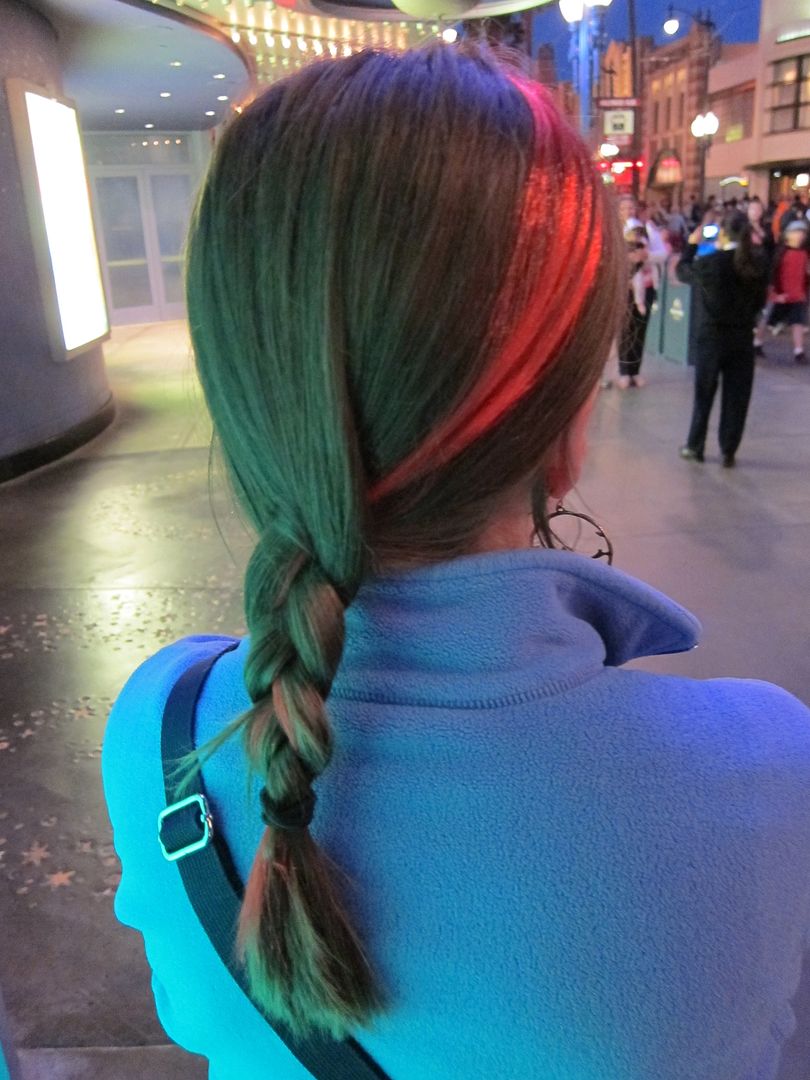 March 19-24, 2013
The next day was about as un-Disney as it is possible for a day to be. We had to go to the Department of Motor Vehicles to register our car and get our CA driver's licenses.
Now, I know many of you are reading this report from overseas and have never had to deal with the hell that is the DMV. Even though we had experience getting licenses in both CO and NY, we weren't even ready for just how awful the CA version of this "delightful" government office could be.
I happened to know from an episode of Two and a Half Men that you can schedule an appointment at the DMV in CA (which is strongly recommended). We did so online about a week in advance and had an appointment at the Fullerton branch after lunch. Arriving at the facility, we first waited in line to get a number so we could wait in line again. Our line (having an appointment) was predicted to take about 20 minutes. For those without an appointment, the estimated wait was 4 hours.
Before we could go through the process of actually registering our car or getting our licenses, we first had to have Dumbo inspected by someone outside whose job was to make sure the VIN number matched up with our paperwork and who basically had to do their best to ensure the car wasn't stolen. Unfortunately, there were two lanes outside where you had to go to get inspected. The first was the line that we were in and the second was the line for people who needed to take a driving test.
Now, there was only one person working the two lanes at any given time, and the protocol stated that people there to take driving tests were given preference over those in our lane no matter what. This fact meant that we got to sit in our hot car for almost an hour while person after person drove up to the other lane and were immediately able to begin their tests. Meanwhile, all we were waiting for was someone to read a number off our car's dashboard—but that was far too complex for them to handle.
When someone finally DID decide to help us, he literally spent more than 15 minutes trying to read the number off our dashboard so he could write it on the form. The number is also located inside the door and on the engine, but he was adamant that he had to read it off the dash or it wouldn't count.
Finally being sent back inside, the rest of the registration process as well as getting our pictures taken for our licenses was fairly quick (as quick as the DMV can be). Once we finished all the paperwork, however, it was time to take the dreaded written test.
Now I don't know if there are states other than CA that require you to take the written test again when you were previously licensed in another state, but CA is notorious for it. They are also notorious for how difficult the test is. We had gone to the DMV website and studied up on all four 30-question practice tests that were available there, assuming that all the possible questions MUST be represented in these practice tests. Alas, when we actually got our respective test papers, both Tracy and I found questions that were totally unfamiliar. You are allowed to miss up to 6 questions on the test, and neither Tracy nor I were convinced we would pass. Luckily, I only ended up missing one while Tracy missed two, so we were officially stamped as CA residents.
In the end, our DMV experience took about two-and-a-half hours from start to finish—and we considered ourselves lucky.
I don't know why we didn't go to Disney that night—lord knows we had earned it—but we must have gone home and collapsed or something.
The next day, we headed over after lunch and arrived slightly earlier than had become our norm. In spite of being early, the parking situation was horrendous and we found ourselves at the very back of the Mickey and Friends structure. Finally making it to the tram, we started our afternoon at DCA.
We went to the back of Hollywoodland to try the Disney Visa photo spot again, and Stitch was there yet again. This time, however, he was much more animated. He even offered us some of his boogers to eat (which we thought was quite generous).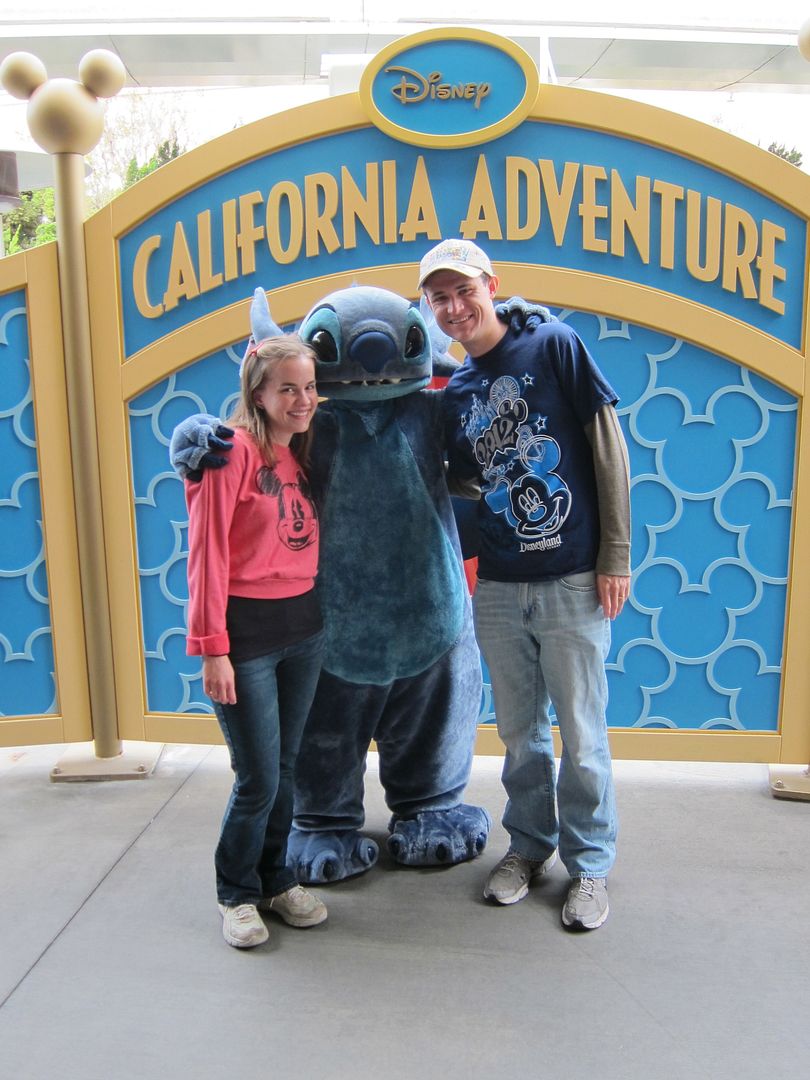 As we exited out of that section of the park, we passed through a shop, and Tracy found this shirt that she wants.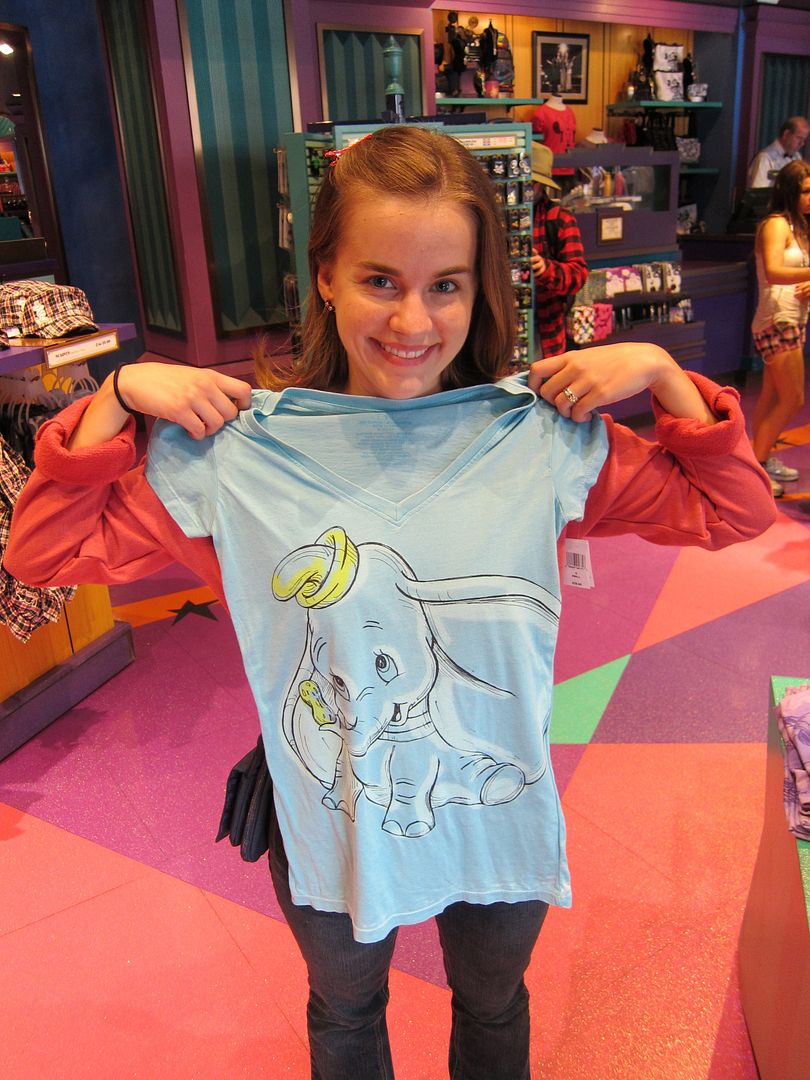 Walking through Carthay Circle, we saw that Five and Dime were performing.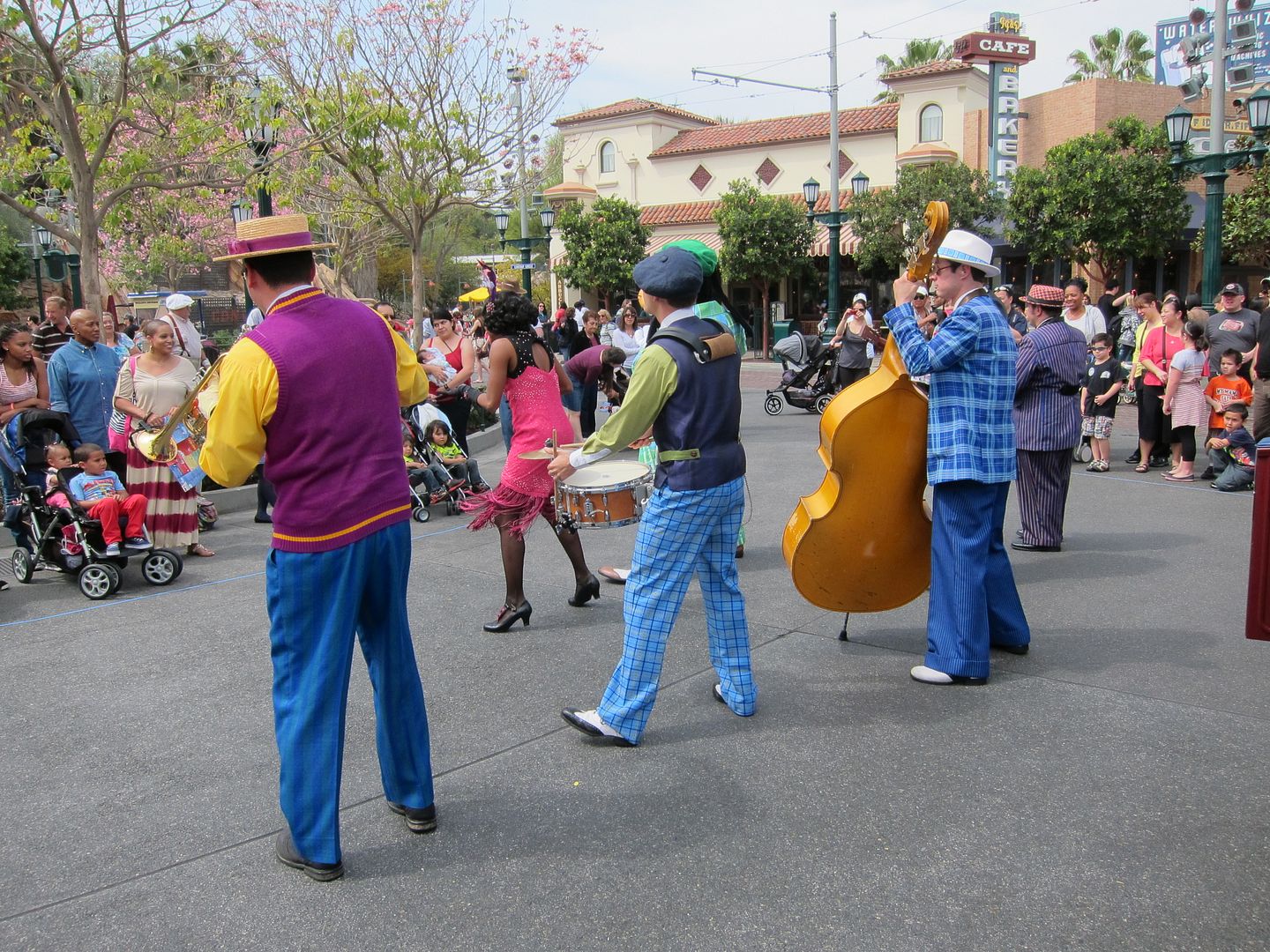 Tracy was able to spot this great Hidden Mickey in the tire treads of their car.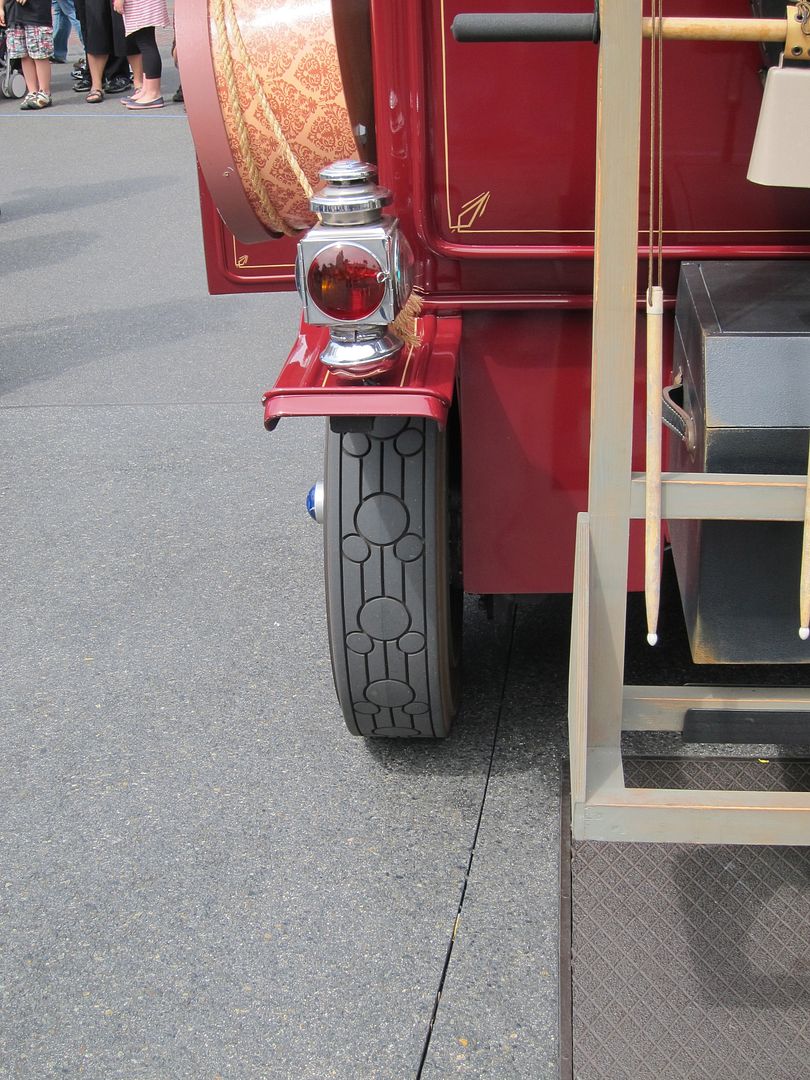 For some reason, we've still never sat and actually watched this show from start to finish, but today wouldn't be the day when we remedied that oversight. We had other plans…
Previous Post | Next Post
Table of Contents
Follow



Share