Chapter 97
Comfort Food
---
Previous Post | Next Post
Table of Contents
(Originally posted November 10, 2013)
June 10-14, 2013
Tracy wasn't feeling well on Wednesday, so she came home sick from work. Luckily, as the hours went on, she started feeling better, so by that evening we were ready to hit the parks.
After parking at Mickey and Friends and riding the tram, we headed to World of Disney to look around. One thing we are almost always awful about doing at Disney is looking straight up to see all the details the Imagineers put in above your normal eye line. At World of Disney, I swear we had never noticed all the Pooh characters.
Heading into Disneyland, we went straight back to New Orleans Square, but there was still no music box. We headed over to the area by Pirates next and stopped into Le Bat en Rouge. If you look at the ceiling in there, you can see some great vintage posters.
I especially liked this one for the Titanic.
We decided while in that store to make a purchase we'd been hemming and hawing about for months now. The new Park Starz 2 series of Vinylmations had so many great designs that we were willing to put our disdain for blind-box vinyls aside to actually buy a random one. We honestly wanted all but two of the figures, so we thought we couldn't go wrong.
Of course, we should have realized that our luck is never very good when it comes to this sort of thing, so when we opened the tin, we got one of the only ones we had been hoping not to get.
The puppet from Epcot's Tapestry of Nations Parade just really didn't appeal to us because we never got to see the parade while it was there. Of course, once you buy a Vinylmation, you're stuck with it unless you trade it away or find a way to sell it, so he's still sitting in the fanny pack in case we ever happen to see another Park Starz figure in the trading boxes in the parks one day. Or if any of you old-school Epcot fans are interested in a trade, please let me know.
That evening, getting our last choice vinyl just started a bit of a downward spiral on the night. The grad crowds were way too crazy, and eventually we just decided to leave without riding any attractions or doing much of anything fun at Disneyland. When you spend as many days in the parks as we do, the majority of them are definitely awesome, but occasionally, we'll have a day like this when nothing seems to go our way. In that case, it's actually sometimes better for us to go home than keep feeling sad in our happy place.
Coming off that bad day, things were about to turn around in a major way as the weekend approached. The fun all started on Friday night as we decided to make a donut run. Now, this part of the tale needs a little bit of backstory. We had been told by our friend Anna—who lives right by Disneyland—that the donut shop by her house has the best blueberry donuts you will ever eat.
The crazy thing about this donut shop, however, is their hours. They open each night at 9:00pm and have a crazy line. They are then open all night and close in the mid-morning, but they usually sell out of the blueberry donuts in the wee hours of the night.
We headed over on Friday at about 8:30 and joined what seemed like a (relatively) short line for the 9:00 opening.
As the hour approached, we started to smell a heavenly scent of blueberry wafting out of their chimneys. 9:00 came, and we were quickly able to place our order (we got 8 blueberry and a few other random ones). But then the confusing part started. Time went by, and even though the shop had opened at 9:00, literally no one there actually got any donuts until after 10:00. Instead, we all just sat outside on a pretty chilly evening wondering what exactly was going on.
Once they started calling people's numbers every 5 minutes or so, they would get their orders (most people ordered 3-5 dozen blueberry donuts), and then we would wait another 5 minutes wondering what on earth was taking so long.
As the clock ticked to 10:30 and we sat there wondering what kind of idiots we were for waiting 2 hours for donuts, our number was finally called. We took our donuts (which were served in a pizza box) to our car and ravenously dug in.
We had been waiting for so long that we both swore we would eat at least 2 or 3 donuts each, but after one apiece, we were both feeling extremely full. These donuts are greasy and heavy and truly disgusting. But they were absolutely delicious. I can't remember ever enjoying a donut as much as I loved these blueberry donuts from a random sketchy-looking shop in the middle of Anaheim.
We took home the rest of our haul and ate two more before bed.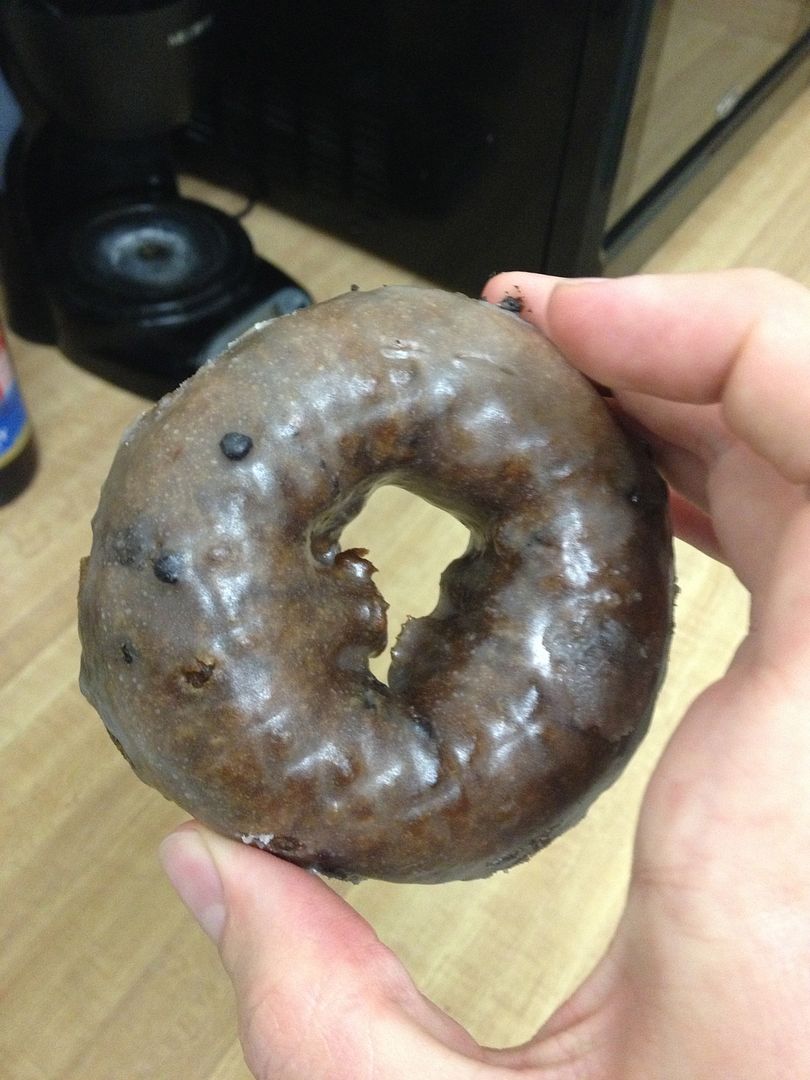 The rest of the donuts would last us throughout the whole weekend and into the next week. They were phenomenal when heated in the toaster over, and when we ran out of blueberry donuts, we began to crave them again. The problem is that, no matter how good they were, I can't imagine EVER waiting for them again. The business model behind M&M Donuts is probably the worst thing I have ever encountered in twenty-some years of dealing with restaurants. How a place could be open and taking orders for over an hour before they served a single person is truly beyond me. And our experience wasn't an anomaly. I later looked through the Yelp reviews and found that a wait of 2 hours is standard (and sometimes, you wait longer).
These donuts are taunting me now just looking at pictures of them, but I can't bear facing the terrible service again to get them. I'm really such a tortured soul, you know?
Now, as if our donut experience hadn't been enough excitement for one weekend, the next update features one of the most amazing experiences we've had since moving here. We truly got to check something off of our Disney bucket list, and we had a fantastic time doing it. How's that for a teaser?
Previous Post | Next Post
Table of Contents
Follow



Share