Chapter 90
Willy Nilly Silly
---
Previous Post | Next Post
Table of Contents
(Originally posted November 1, 2013)
As we exited the Mansion, we walked over to Critter Country. While Tracy was in the bathroom at Hungry Bear Restaurant, someone came up to her and asked, "Do you know where Splash Mountain is? Or… WHAT it is?" Tracy didn't know exactly how to respond, but I think she set the gal straight. Sometimes I'm flabbergasted when visitors know nothing about the parks…
We rode Pooh, and as we exited, we noticed that the characters didn't have long lines in their spots by Pooh's Corner. We queued up to meet Tigger, Eeyore, and Pooh.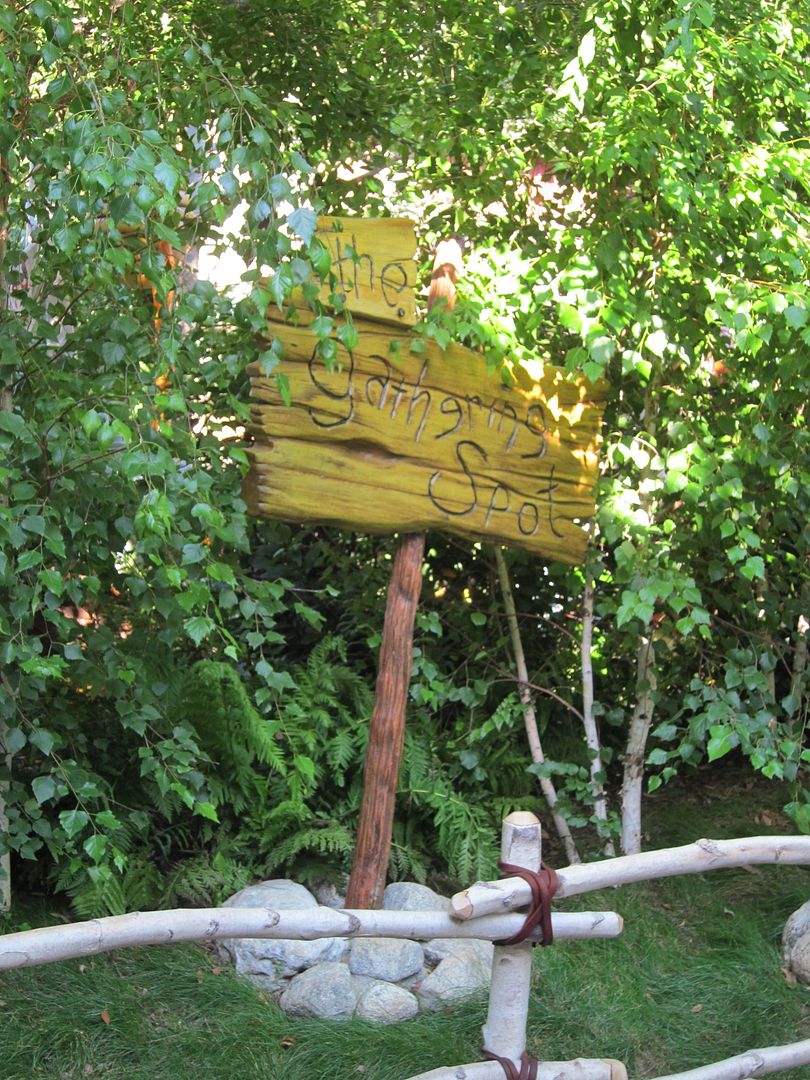 As I think I explained in our WDW trip report, I grew up with the Pooh characters, but Tracy didn't really. Luckily, over the last few years, I have converted her to see how awesome they are.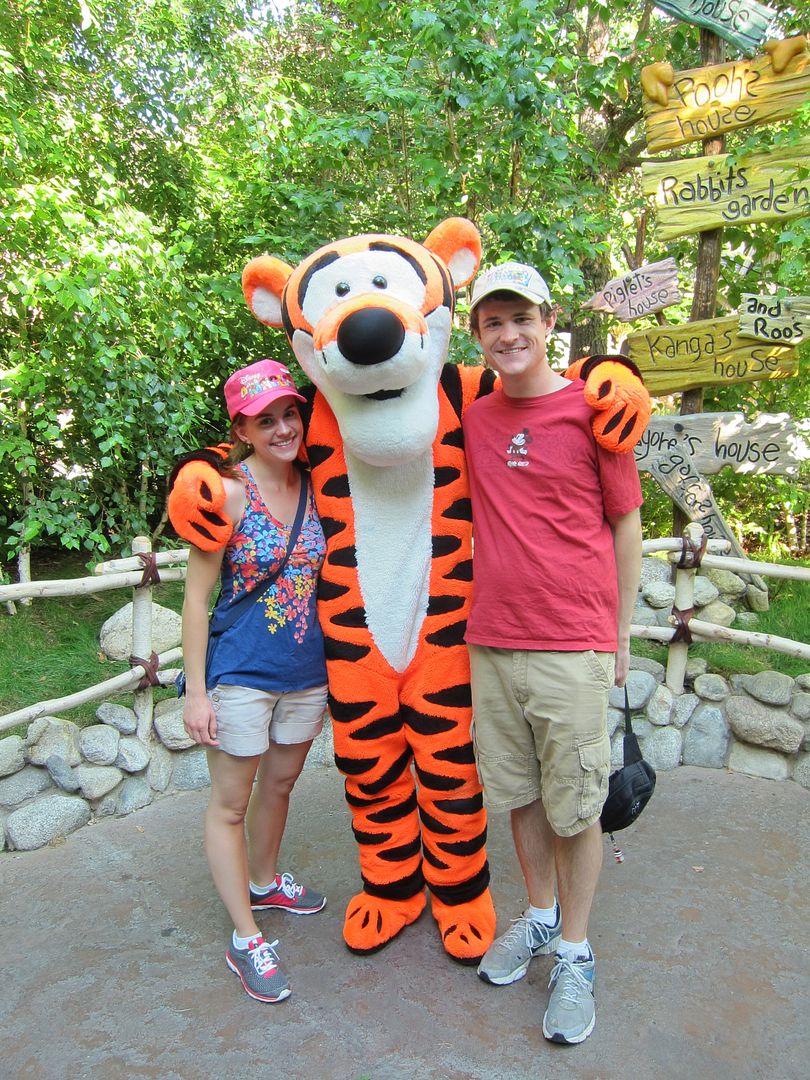 Eeyore was already always one of Tracy's favorites. Mine too.
It was so funny/sad seeing him all alone after we finished our meet and greet. I just wanted to go over and give him another hug!
Last but certainly not least was Pooh Bear himself.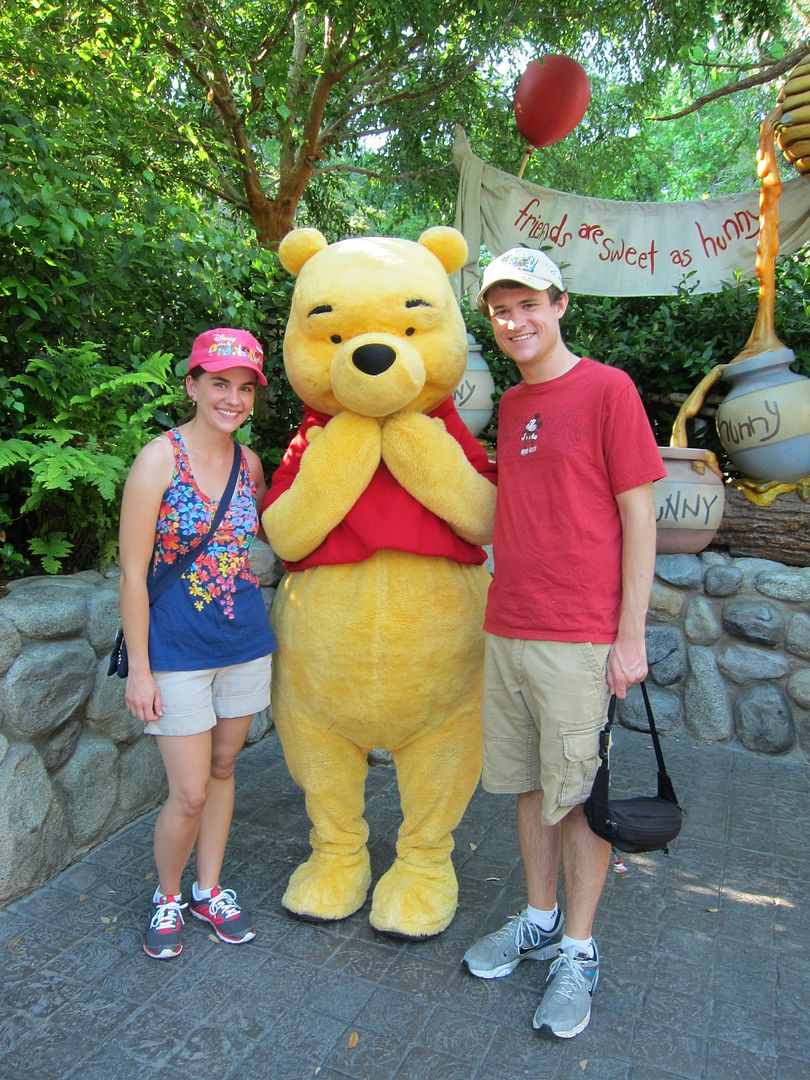 By now, the heat was definitely getting the best of us, so we decided to head out of the parks and go home to camp out in front of our air conditioner. We would be quite all right if summer decided to hold off coming in earnest for at least a couple more months.
May 13-17, 2013
For reasons unbeknownst to me now, real life got in the way of our making it to the parks until Thursday of this week, so we were excited to head over after work.
Starting our night at Disneyland, we walked in and saw that the parade was about to start. Booking it down Main Street, we noticed that there was a wall around our porch indicating they must be doing some refurbishment.
We headed to Adventureland and rode Indiana Jones. While in the queue, it was obvious that Grad Nites were again in full swing, based mainly on the behavior we witnessed while we waited. After Indy, we headed through Frontierland and hopped on the Mark Twain right as it was getting ready to make its last departure of the night. The whole experience was totally different at dusk than it had been during the day, and it was very pretty. While riding, we saw a group of the littlest ducklings I think we had ever witnessed. They must have been days old at most.
By the time we were done with our ride, night had actually fallen on the Mark Twain.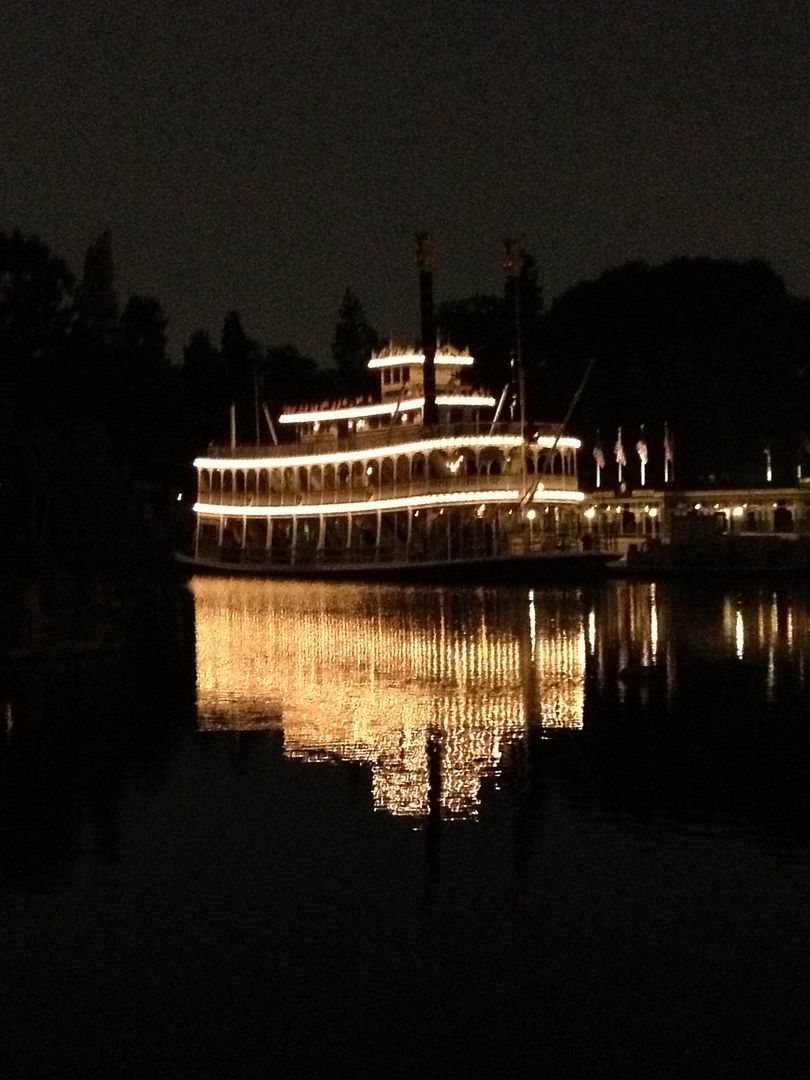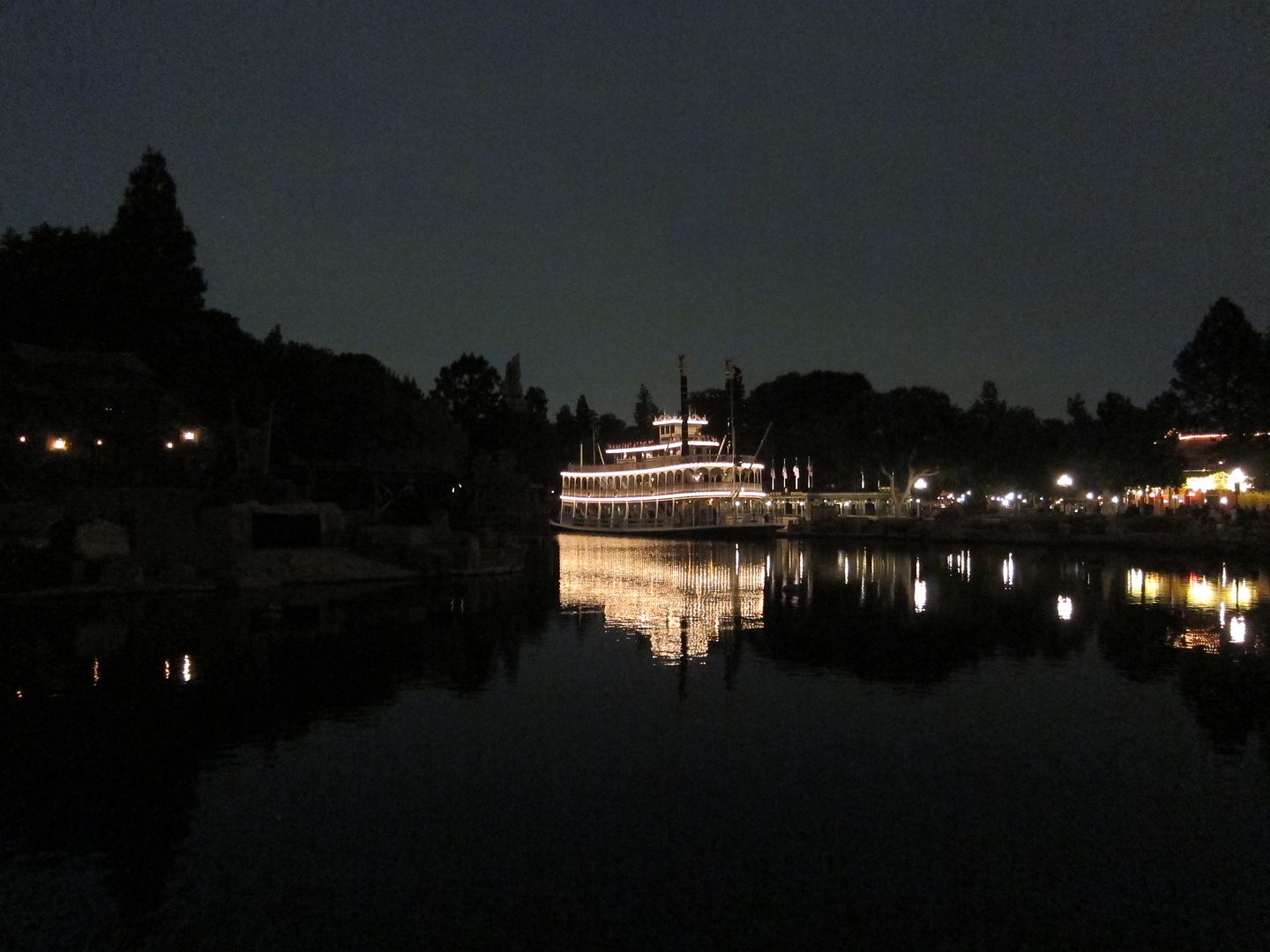 We went over to Pirates and rode. While in line, several of the grads were doing their school's chants, which was a little obnoxious.
Everything was closing for the night after our ride on Pirates, so we started to head toward the exit.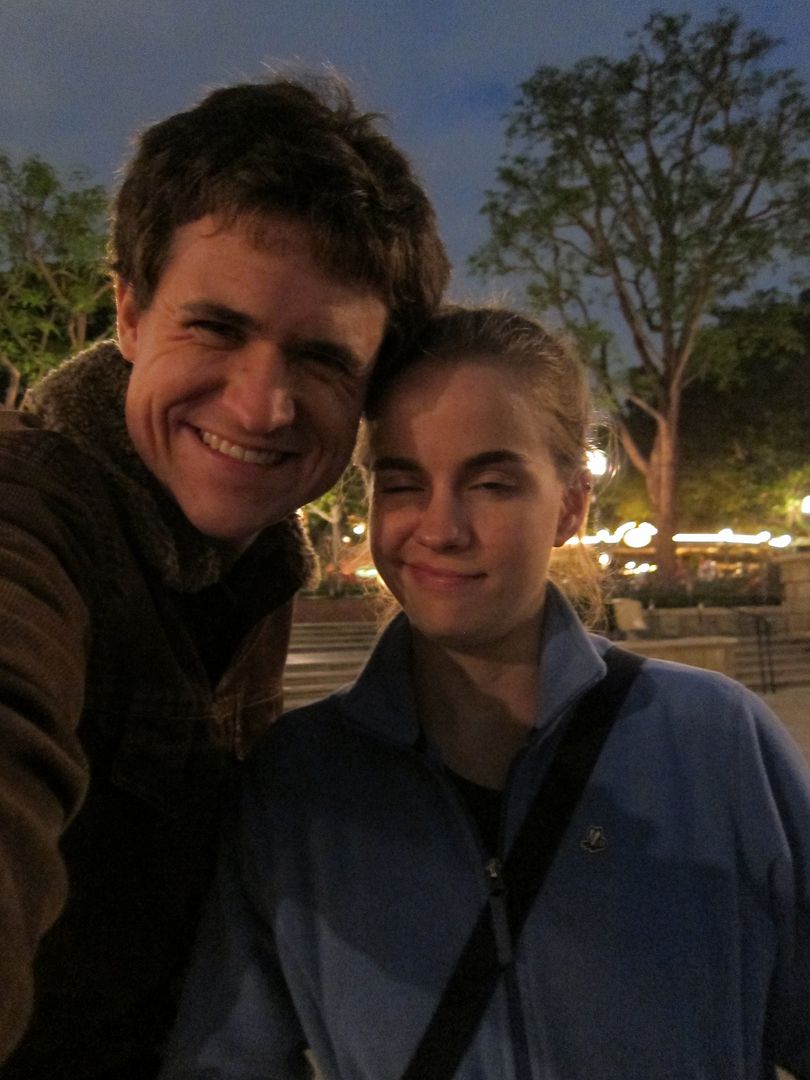 We stopped off at Candy Palace on Main Street and bought our first ever Mickey Rice Krispie Treat.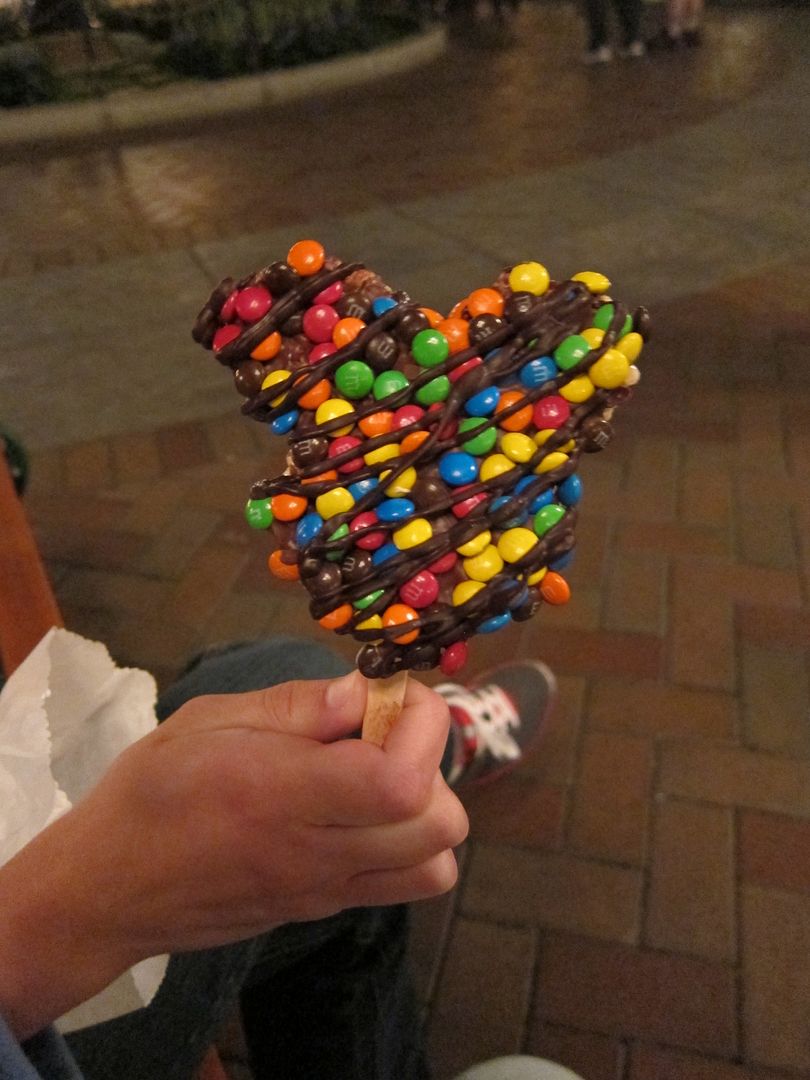 Since our porch was closed, we headed to Town Square to eat it.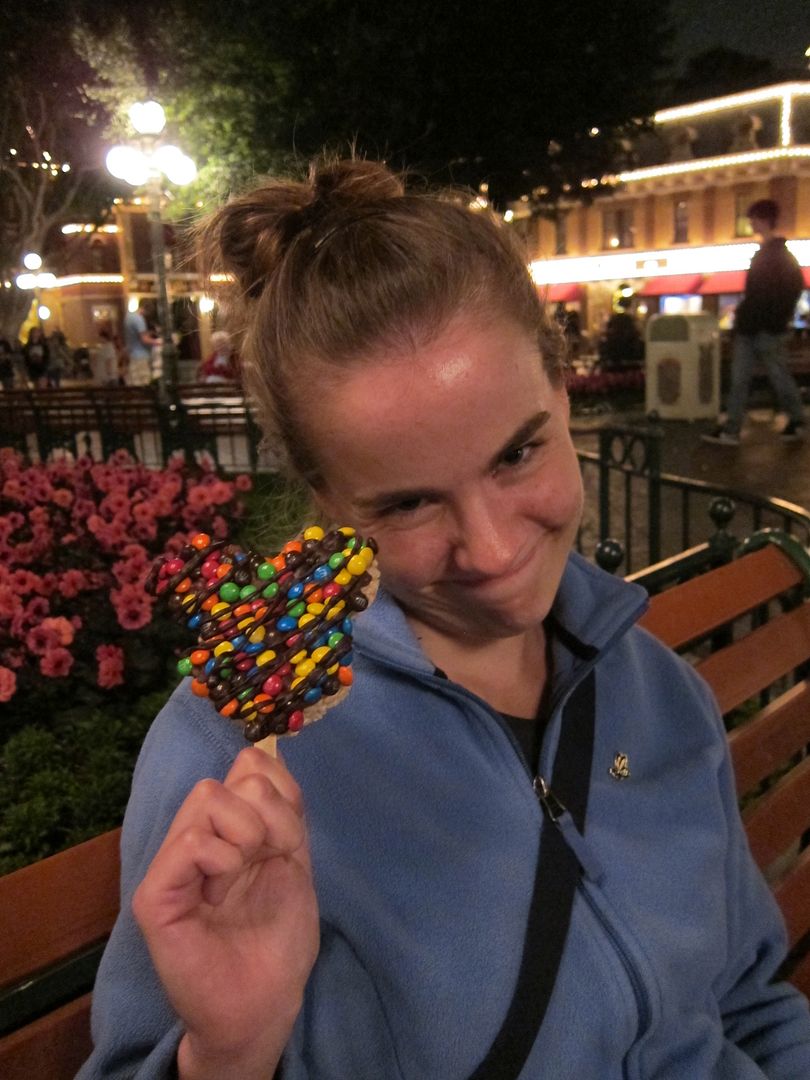 This was SO GOOD. I love Rice Krispie Treats in general, and the fact that it was Mickey shaped and COVERED in chocolate certainly helped the situation. We were very happy with the whole experience.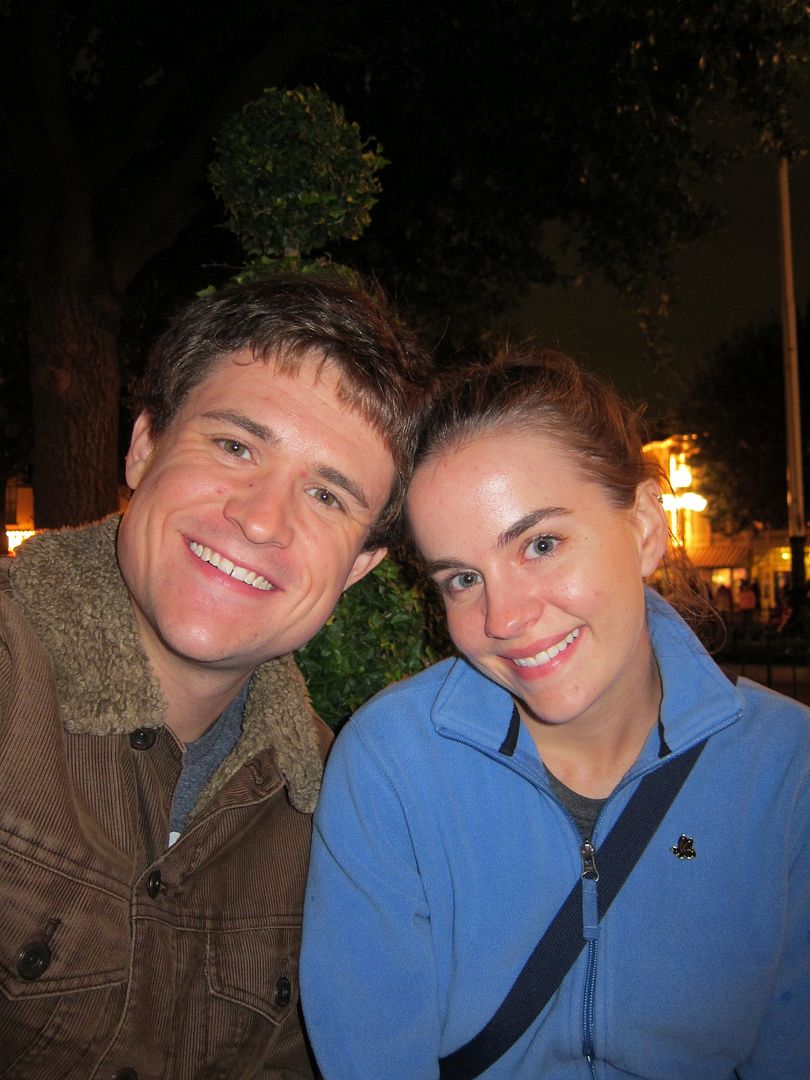 While sitting on the bench, we were just being goofy, dancing along to the Main Street music and enjoying ourselves. It was a very carefree night in the kingdom, which was very pleasant. Also, we liked these ducks we saw.
Eventually, it was time to leave, so we made our way out and back home.
The next day was extra special because Tracy finally got the news that CoolTech was hiring her on as a fulltime employee. She had been working fulltime hours since she started, but now she would get benefits, vacation days, etc. We had to celebrate, so we went to Outback Steakhouse—always one of our favorite chains. I don't think I'd ever been to an Outback that had outdoor seating, but patios are standard in CA. We chose to sit outside even though it was a little chilly because they had space heaters out there. The ambience was pleasant, and our steaks were delicious.
After dinner, we made our way toward Disneyland for the evening. We encountered a huge traffic backup on the way into Mickey and Friends, but the parking situation itself wasn't that bad. There were lots of grads acting loud and rowdy on the tram, which made it clear that this would be another "fun" Grad Nite.
Now, obviously, I've alluded to the fact that we aren't the biggest fans of Grad Nites. I don't really have anything against this tradition happening, but I just really wish they would go back to the days in which the grads had the run of one of the parks on their own away from the general public. When grouped together with the rest of us, they are SO OBNOXIOUS. I'm sure I was just as bad at that age (okay, not as bad as some of them), but Disneyland just isn't the place for teens to be behaving the way that the grads always seem to at these nights. Grad Nites are universally despised by locals and tourists alike, and they have such a bad reputation that I can't believe Disney keeps them going…
Anyway, stepping off of my soapbox, we started this evening off at DCA. We had been slightly horrified with the length of the bag check lines upon our arrival, so we headed into the Grand Californian to enter the parks from that gate instead.
Once inside DCA, we went straight to ride Soarin' Over California. We got put on the right side of the ride for the first time ever, which made for a different view than we were used to. I liked the spot since we were still close enough to the middle, but Tracy felt a little disoriented by our position.
As we got off the ride, Francisco was in his spot as usual. We fed him a goldfish, which he seemed to appreciate, but then he got scared away. As we walked through Carthay Circle past the churro cart, we caught a glimpse of someone we recognized from Twitter/Instagram. It was one of @diningindisney's kids, but since he was alone, we felt too awkward going up to him to say we followed his mom on social media.
Instead, we walked over to Paradise Pier to ride Toy Story Mania. Tracy finally broke 200k, so she was very proud of her score!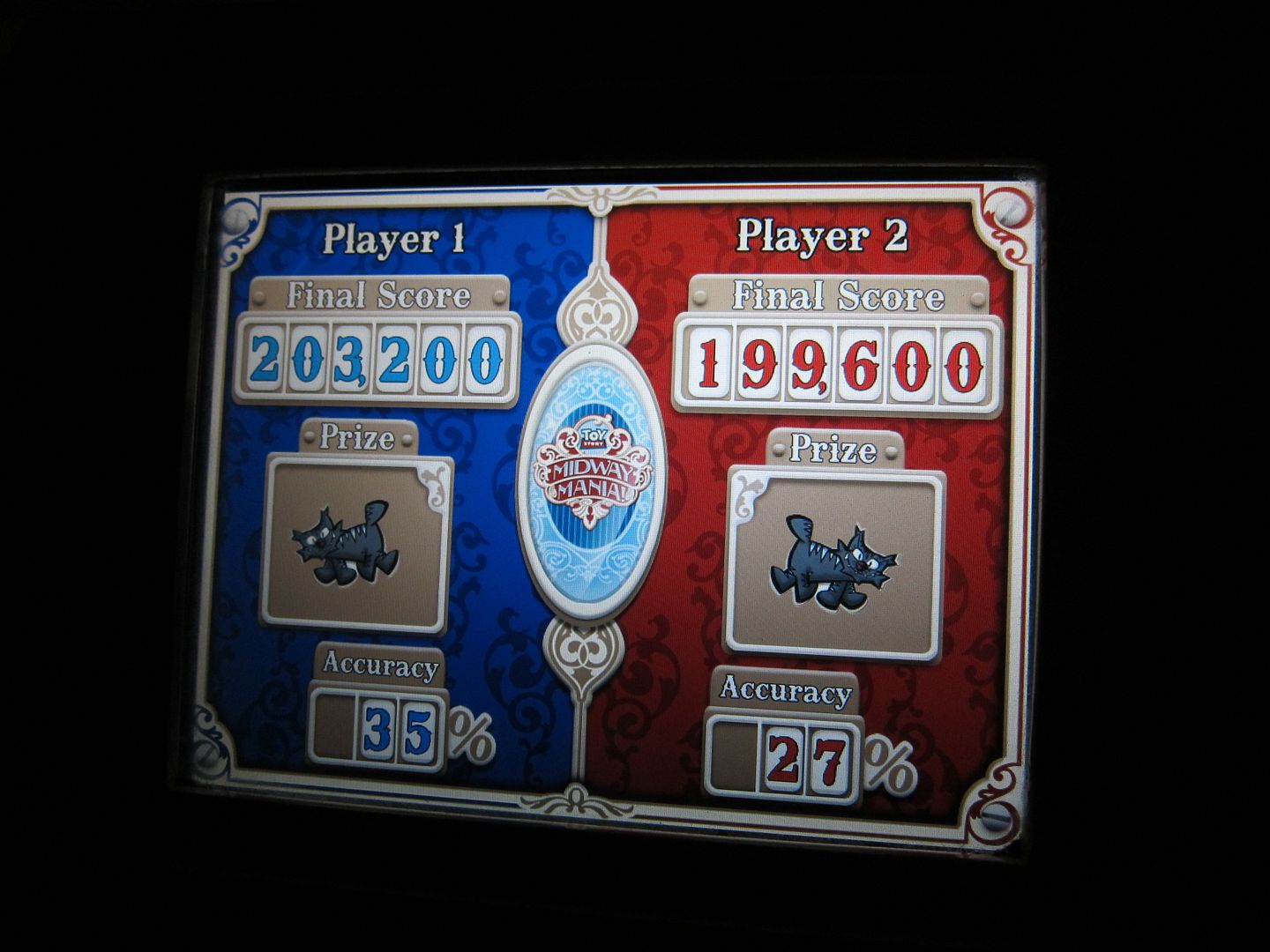 As we got off Toy Story, World of Color was just starting on the bay. We decided to stand and watch from the back. You can't see many of the projections, but it's otherwise a cool view.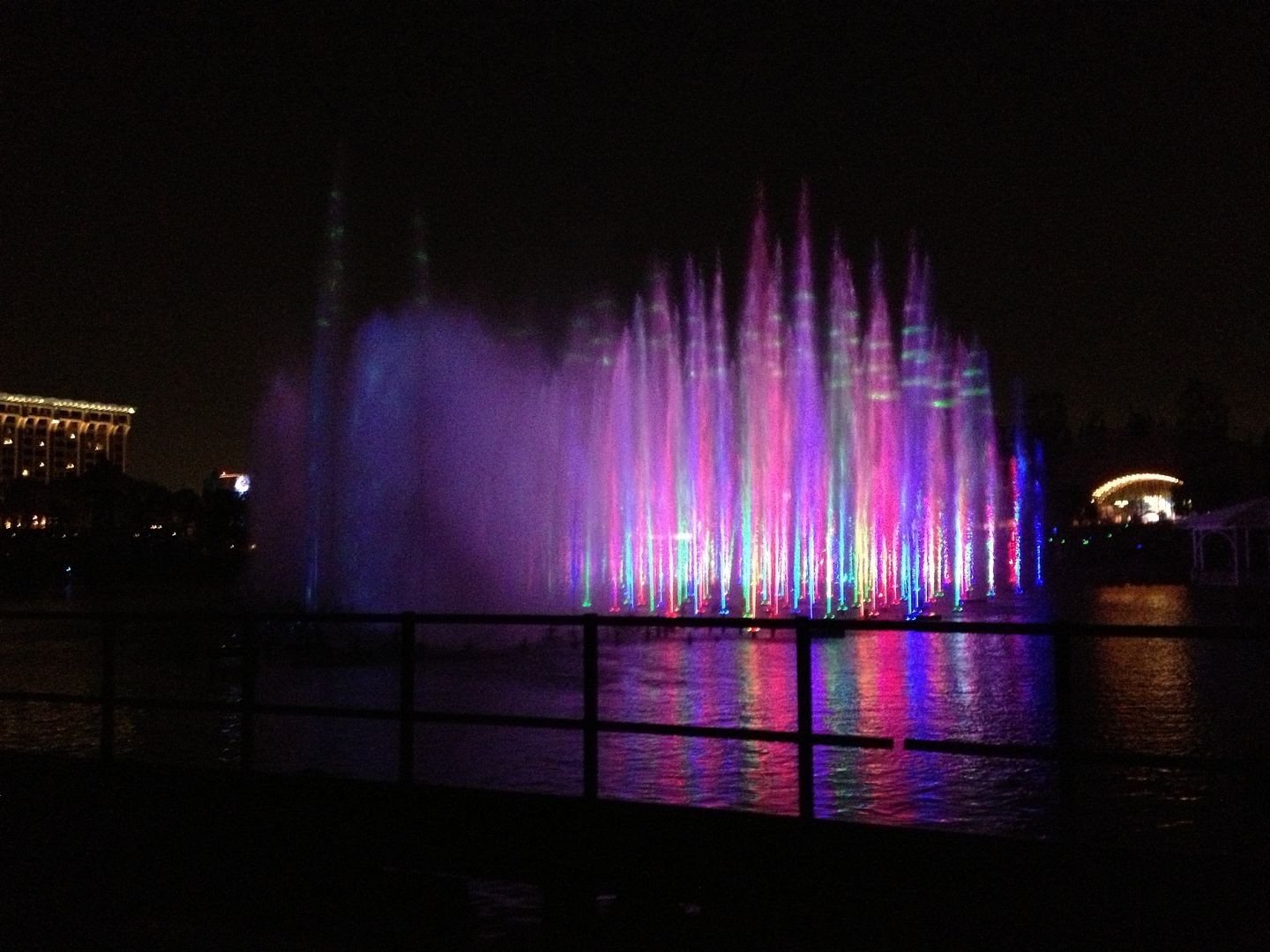 I still always love World of Color, though we've only seen it a few times. It's just such a hassle to get Fastpasses for the first show before they run out, and we rarely stay late enough for the second show. I know… we're old…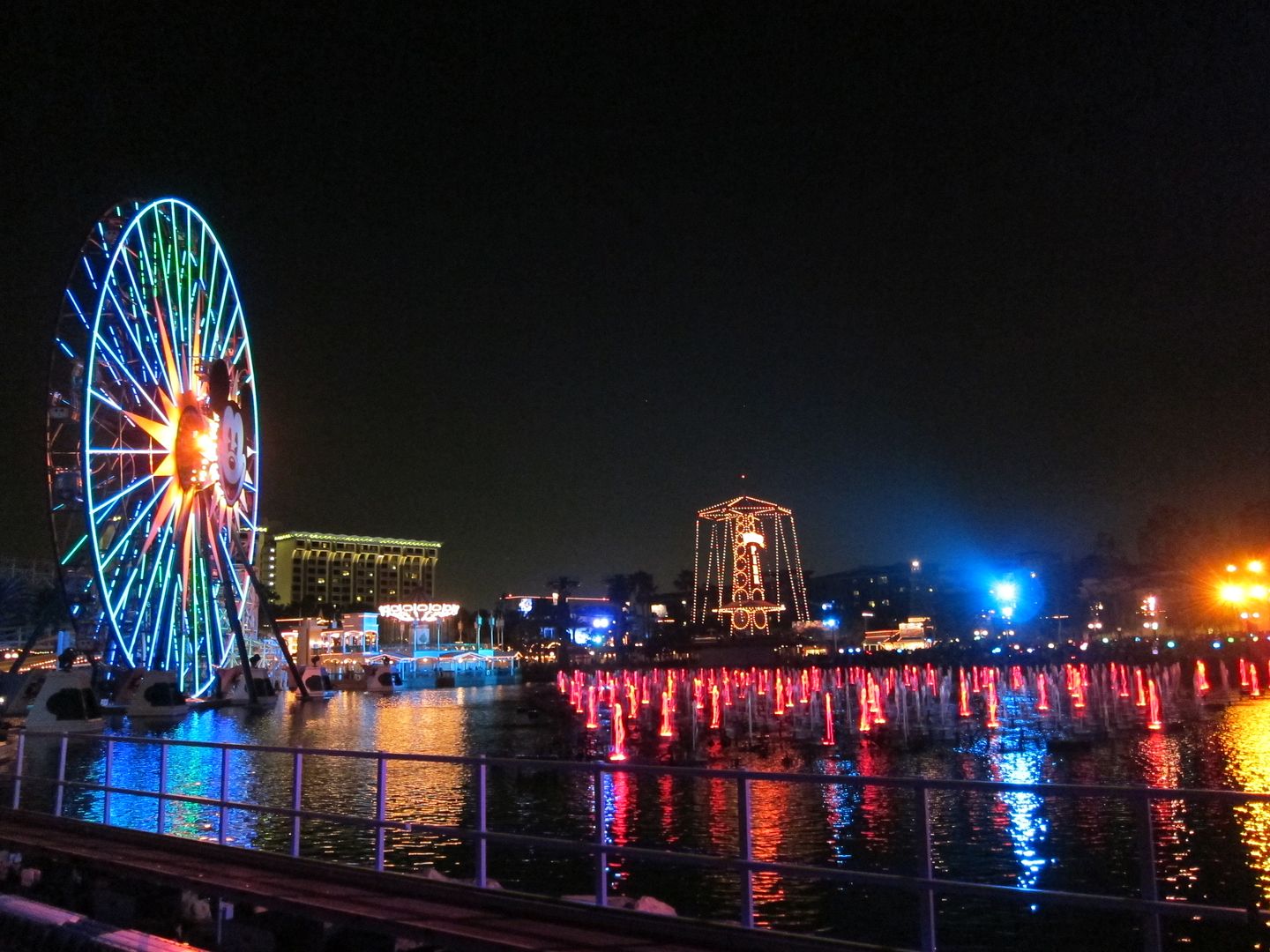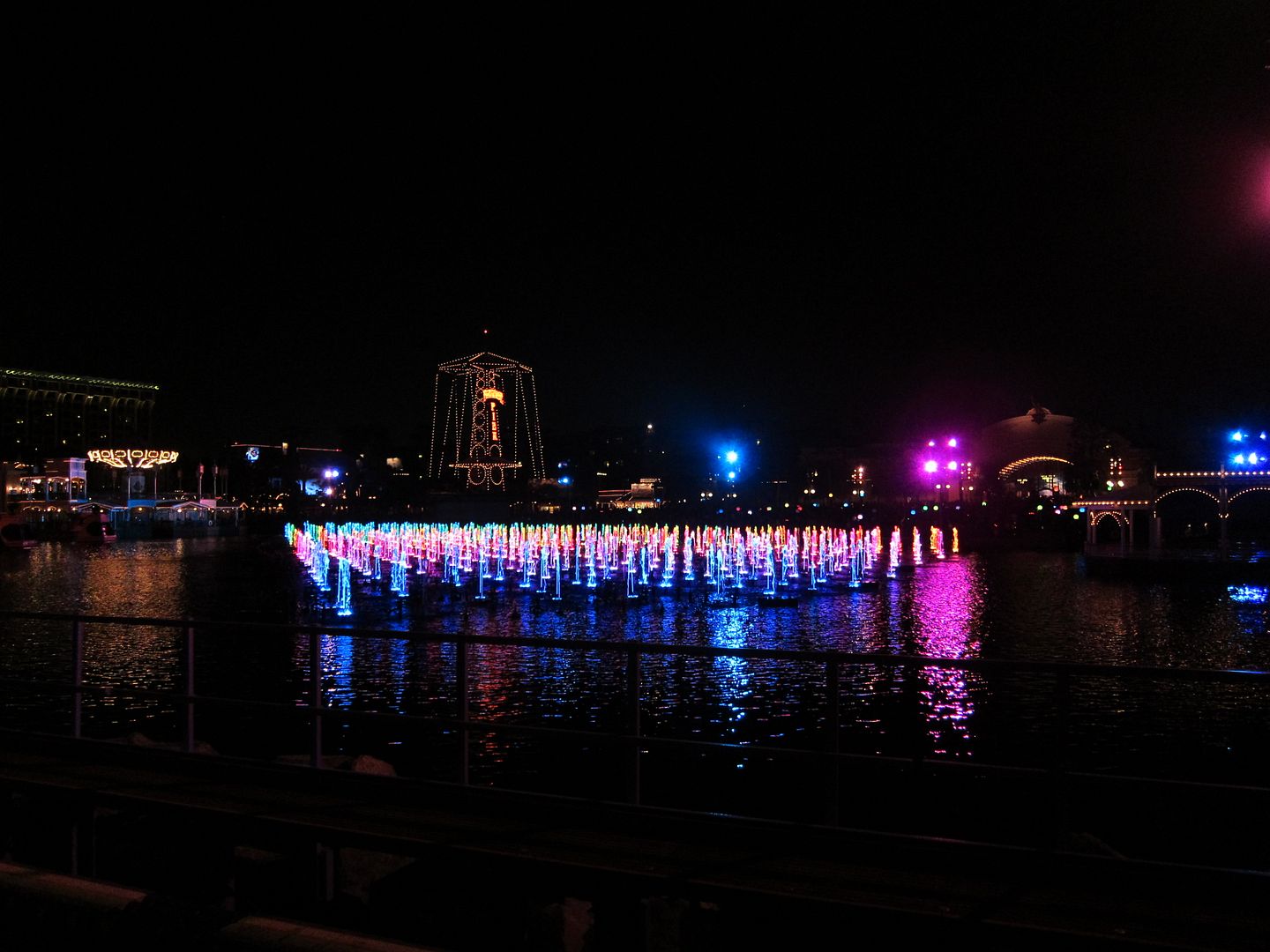 After World of Color was done, we decided to head out.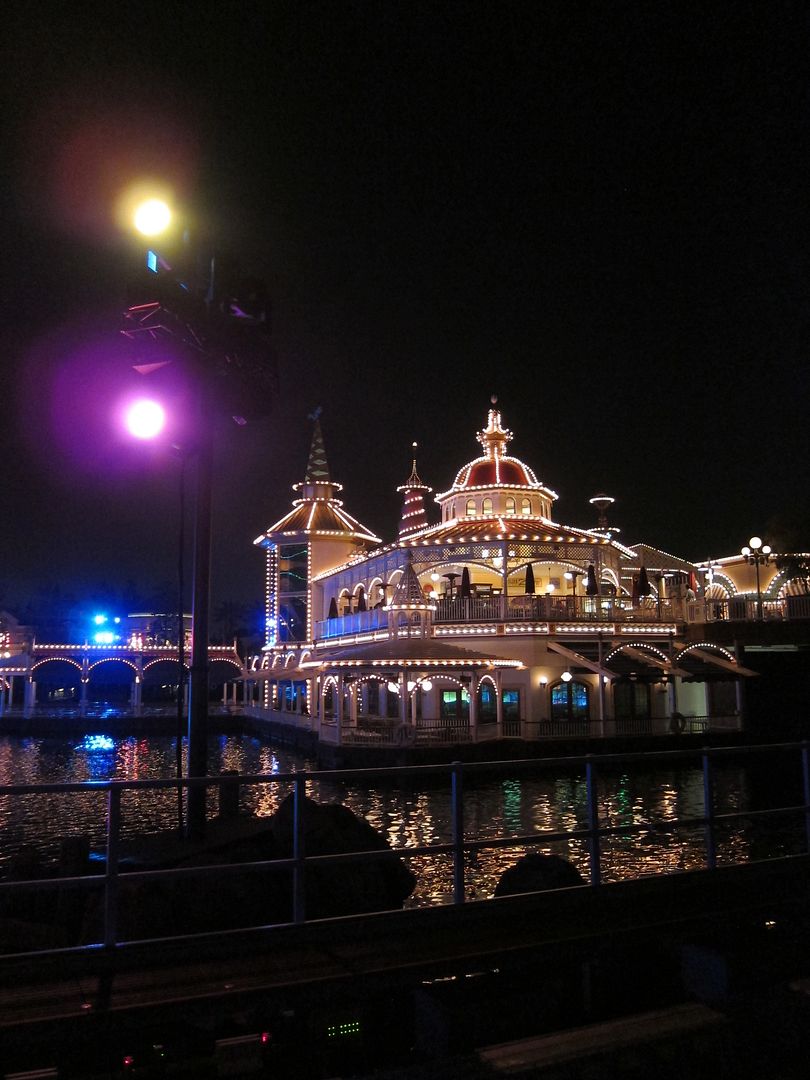 We went back out through the Grand Californian entrance as the fireworks were just starting over Disneyland. We didn't notice it at the time, but we read later that evening on Lines chat that they had stopped the fireworks halfway through the show that night. I guess the winds must have picked up too much…
The tram lines were awful, but eventually we got on board and made it back to our car to head home.
May 18-19, 2013
On Saturday, both Tracy and I got haircuts. We had bought a Groupon for $9 haircuts at a place in Orange with good Yelp reviews, and we had a $10 Groupon credit, so it only cost us $8 for the two of us. I was just doing my usual haircut, but Tracy had decided she was ready for a pretty dramatic change. She asked the woman to lop it off, and this is how her hair looked a few minutes after we arrived.
She wasn't ENTIRELY happy with how it turned out—the woman took off probably a half-inch more than Tracy had wanted—but I think it looked good. And within a few weeks, it had grown to the length Tracy wanted it in the first place.
On Sunday, we headed over to Disneyland after lunch. These flowers in the parking garage had such a bewitching scent, and we really liked them.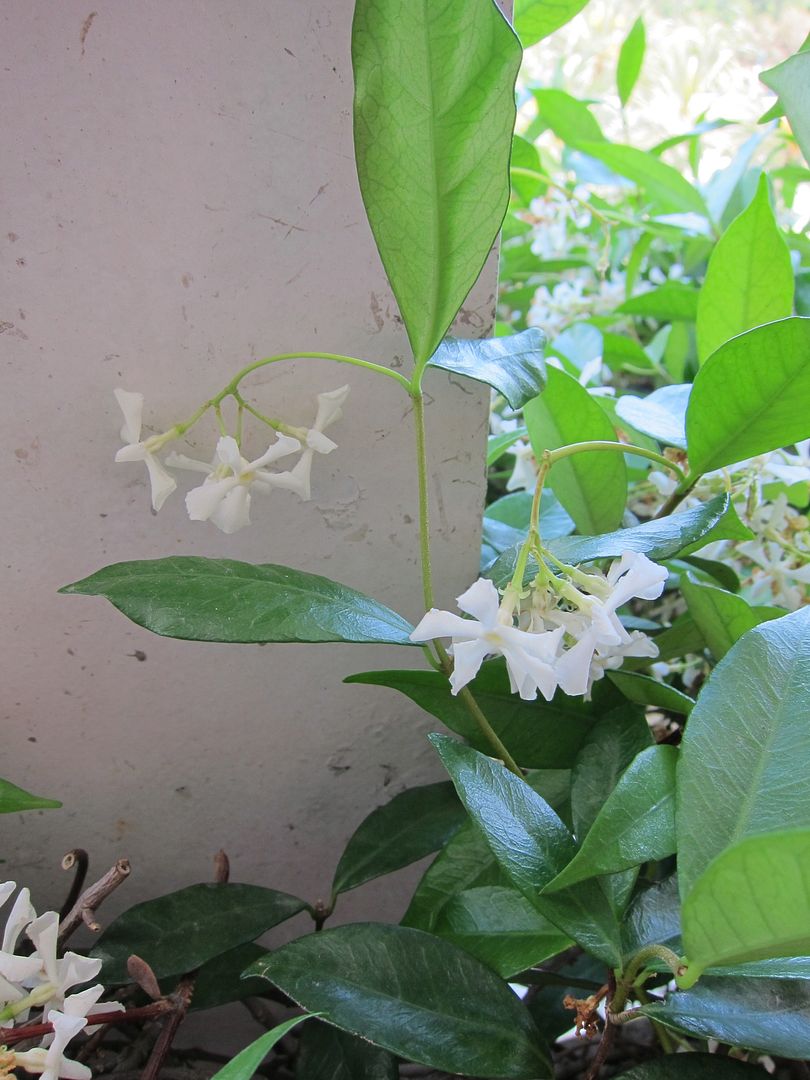 It turns out they are night-blooming jasmine, and they're somewhat of a staple in SoCal. Unfortunately, they only bloomed throughout the month of May before they went back into dormancy, but they smelled wonderful while they did.
We were a little nervous to be going to Disneyland on a Sunday. I don't think I've mentioned this, but we had come to realize that Saturdays were the MUCH less busy weekend days at the resort. From about March thru August, all passes except for Premiums are blocked out on Saturdays, and as a result, both parks felt pretty light crowd-wise on those days. Sundays, on the other hand, usually had SO MANY PEOPLE. Still, here it was a Sunday, and we were going over anyway. At least it wasn't a Grad Nite…
Parking wasn't bad at Mickey and Friends, and before we knew it, we were at the main gates. We started in Disneyland and saw as we entered that Danny was pulling the carriage down the street. Having just missed the chance to ride the trolley, we walked alongside him down Main Street, U.S.A.
We spent a while in Fantasyland, riding Pinocchio, Casey Jr., and "it's a small world." As we walked away from Small World, we passed by a cast member (named Greg) and traded pins with him. We got to talking and he asked about where we were from, whether we were planning to go to the Monstrous All-Nighter the next weekend, etc. After chatting for a few minutes, he asked if we had ridden the Matterhorn yet that day. We said that no, we hadn't, and he asked if we would like to.
Now, as you know, I had been staying away from the Matterhorn ever since our trip almost two years previous, since it had really hurt my neck. That was before the big refurb, however, and Tracy had ridden several times since then. She'd told me that the right-hand side of the track really isn't that bad, especially if you make sure to brace yourself with your legs, so I had been tempted to try the ride again. Greg's offer seemed like fate telling me I should give it a whirl, so we took him up on it.
He walked us to the ride and through the exit and told the attraction cast member to let us on. I took the front seat, and Tracy sat behind me. Within moments, we were off, so I didn't even have a chance to get nervous. So here's my verdict: the Matterhorn is still a very violent coaster. BUT if you are prepared, sit in the front, lean into the curves, and do your best not to let it jerk you around as much as it seems to want to do, then it is doable even if you have a bad back/neck. Now, YOUR RESULTS MAY VARY (I figured that was a good note to put in there in case someone tried to sue me), but FOR ME, it was actually a pretty enjoyable ride. We made a mental note to go fill out a card at Guest Relations for the awesome interaction we had had with Greg.
Previous Post | Next Post
Table of Contents
Follow



Share