Chapter 105
We Built Soak City on Fried Chicken
---
Previous Post | Next Post
Table of Contents
(Originally posted November 18, 2013)
June 20-23, 2013
Later that week, we bought Grumpy a new bowl. I think he appreciated having a little extra room to be able to swim around.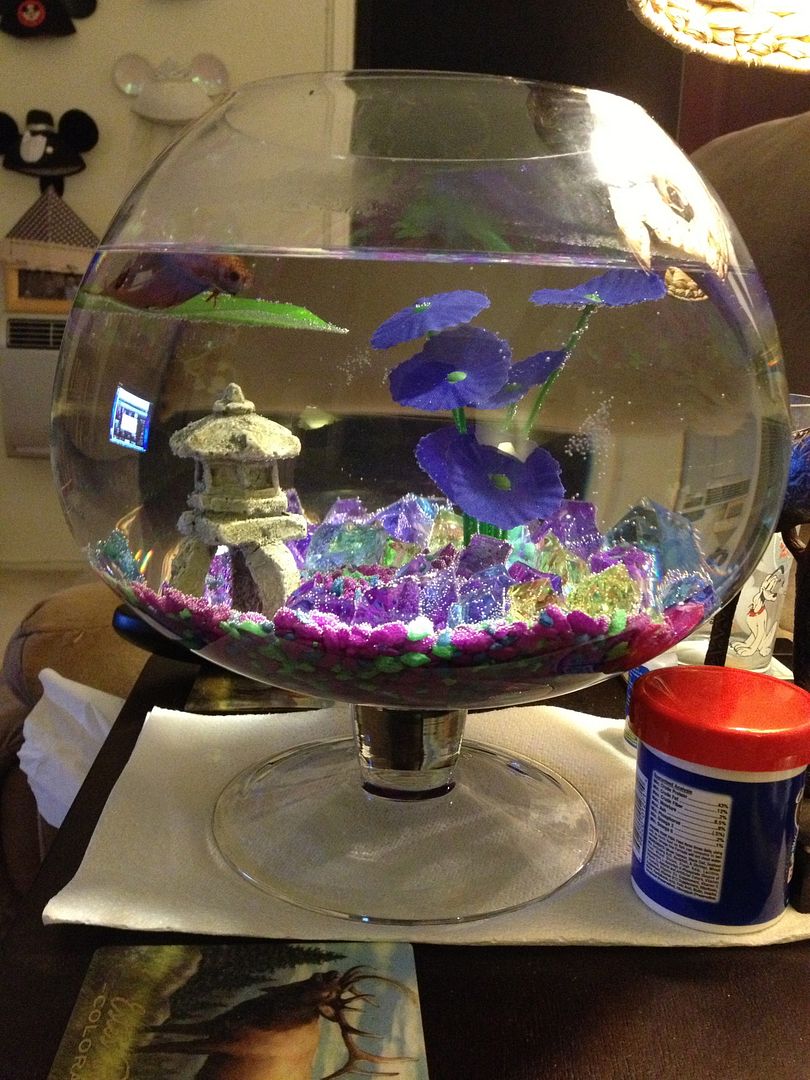 When the weekend arrived, Saturday brought with it another new and exciting experience. CoolTech was having its summer "company picnic" at Soak City—the water park at Knott's Berry Farm. Everyone from the SoCal office was invited to bring their families to enjoy a buffet lunch and we all got free admission to the park. When Tracy and I first pulled up and parked at Knott's, we found the Soak City entrance. There were a bunch of free-roaming chickens outside the entrance… So that was weird. Honestly, weirder than cats in my opinion.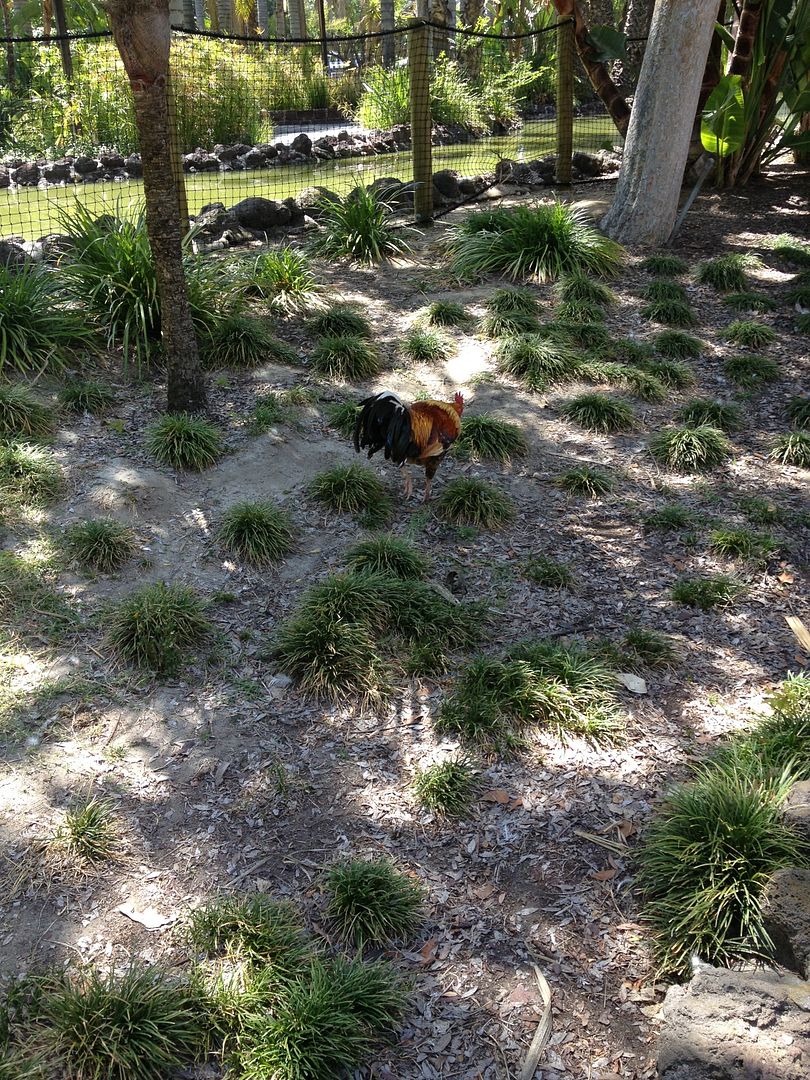 Entering the park and heading back to the picnic area, we saw the buffet spread they had set up for us. Now, those of you who have been to Knott's in the past probably know that it is famous for its fried chicken. Well, here were entire chaffing dishes full of that fried chicken, all for us! It was really good, though I can't decide if it was better than the chicken we are used to at Plaza Inn.
The CoolTech turnout was sparse at first, but I think 30 or so people ended up coming eventually.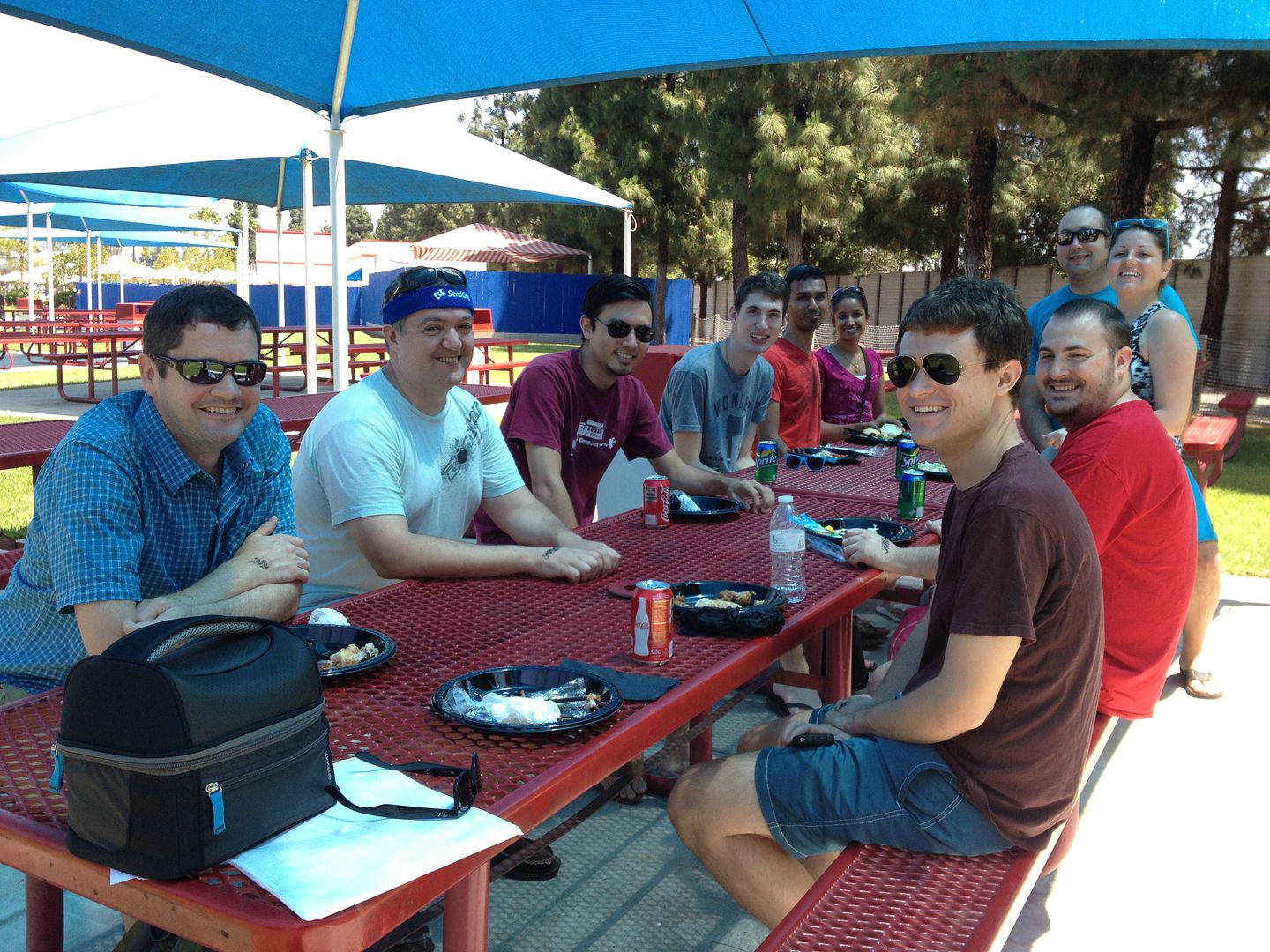 We all sat around and ate for the first hour or so, and then we moved into the park itself. Since only 20 or so people stayed to enjoy the water park, we ended up getting two of the "party cabanas." This was great because we had places to sit in the shade, servers to bring us water, and inner tubes we could use on the slides without having to wait in line to get them.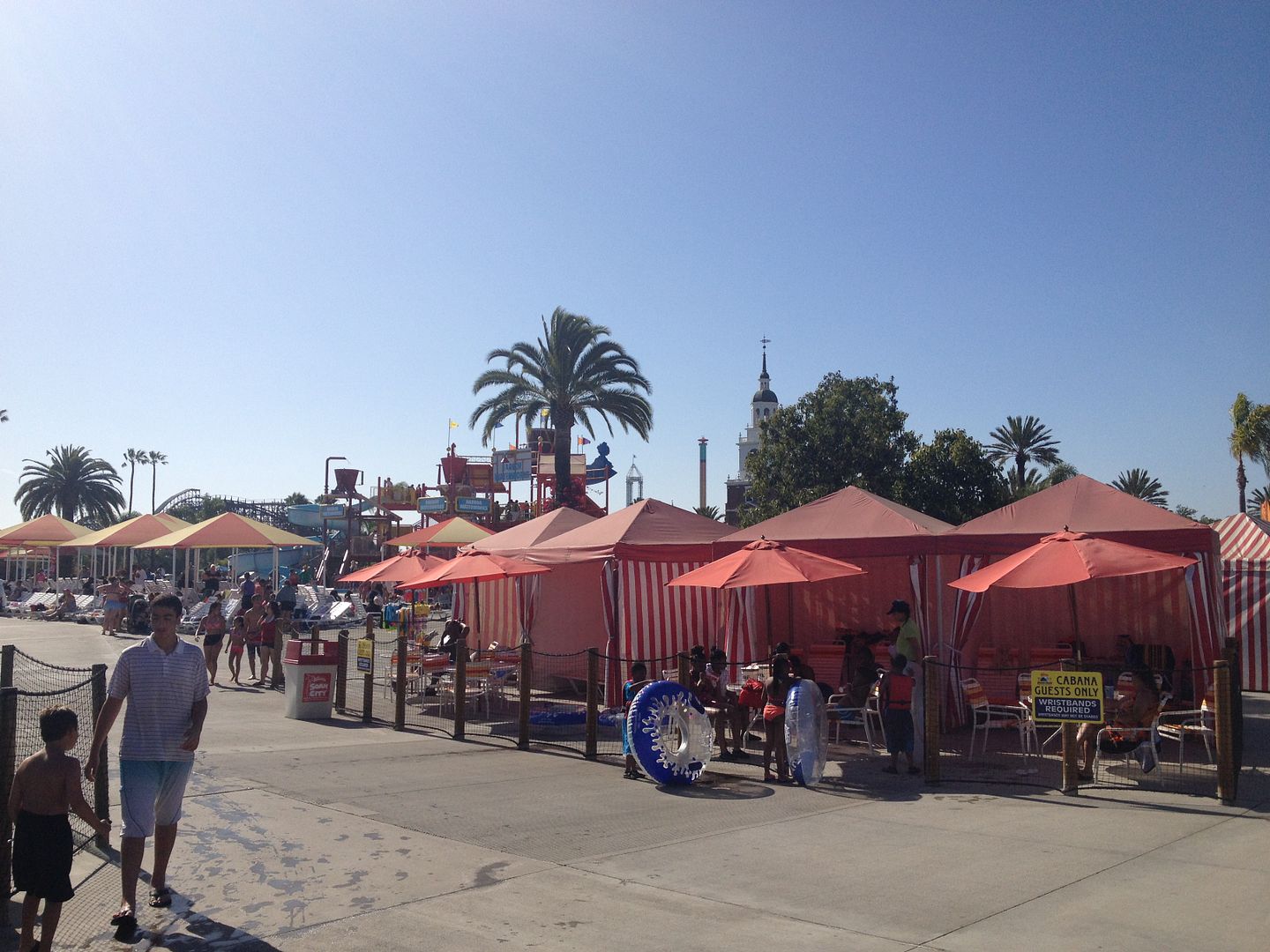 Tracy tried our her new bathing suit because she didn't want to wear one that would have any chance of falling off on the slides…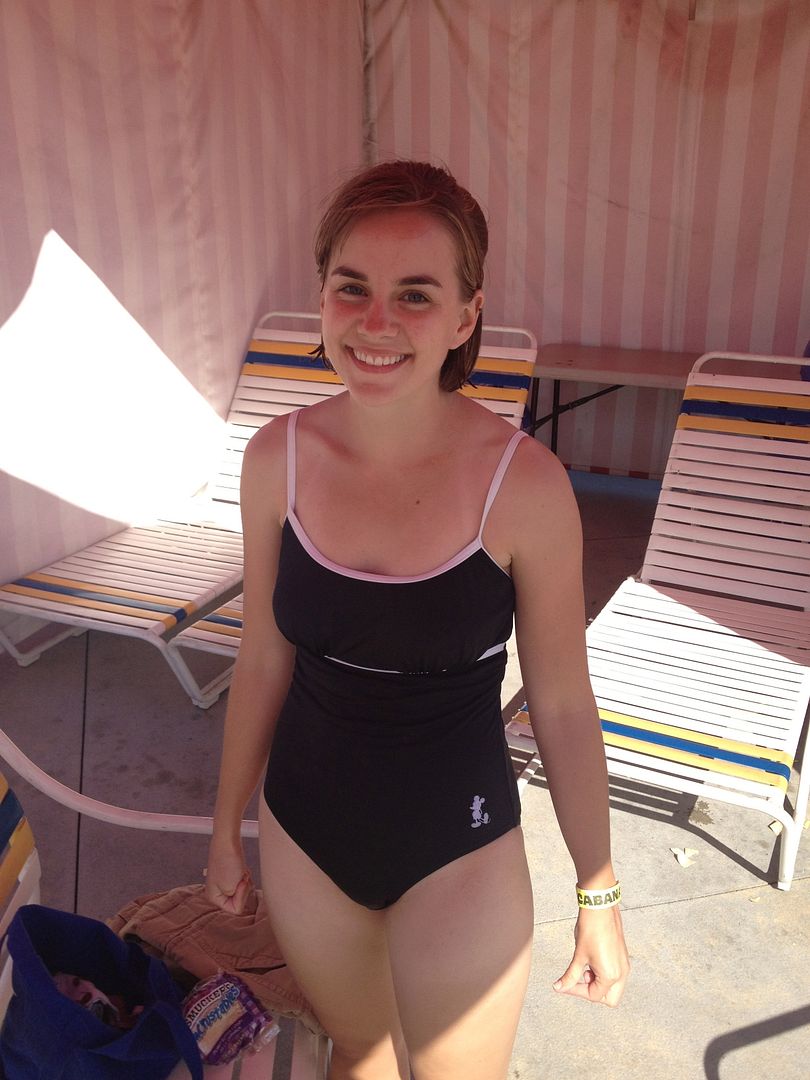 We mostly just sat around with the CoolTech folks for several hours. Most of them didn't really want to do too many slides, and they ended up leaving around 4:00pm. Once we were the only ones left, however, Tracy and I decided we didn't want to leave without taking advantage of the rides. Since it was getting pretty late in the day, she and I were able to do almost all of the slides we thought looked fun with very minimal waits.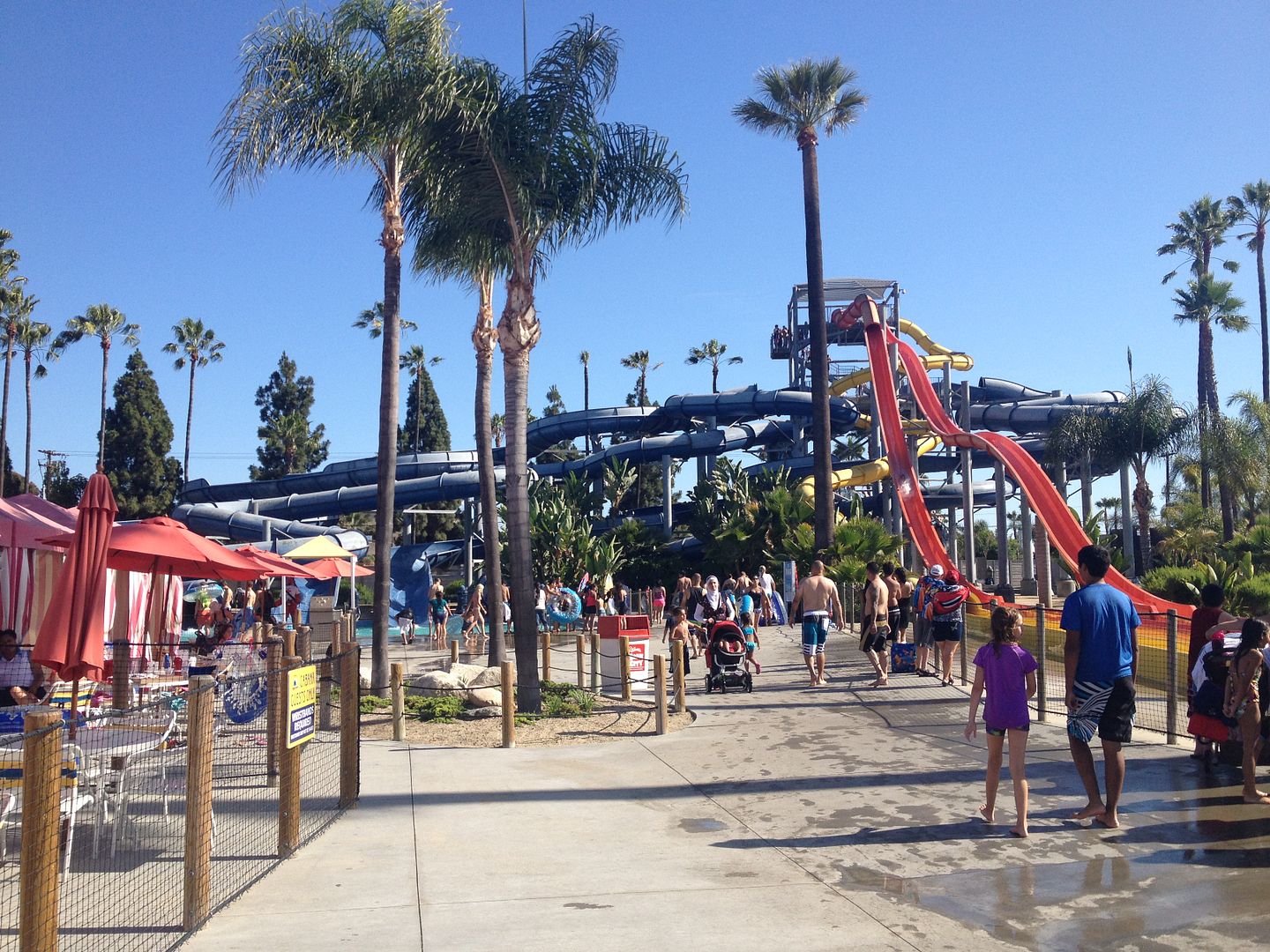 On the whole, we were undecided about this water park. While we really enjoyed all the slides we did, we grew up near Water World in CO—one of the best water parks in the country. Between the smaller size of Soak City and the lack of real variety in the types of slides there, it definitely paled in comparison to Water World. But since the tickets were free, we really couldn't complain!
As we drove out of the parking lot, we looked across the way to Knott's Berry Farm itself. One of these days, we'll have to actually go there. I just can't decide if it will feel worth it to us since we're not roller coaster junkies.
Sunday, we were back to OUR parks as we headed to Disneyland. We arrived before lunch, knowing that we wanted to eat at DCA. We tried to park at Mickey and Friends, but it was apparently closed because of a gas leak… The traffic was gridlocked on Disneyland Drive, but we finally made it to Toy Story and parked. Of course, since everyone was being funneled there, the waits for the buses were way longer than we would have liked.
As we made it to the main gates, I wasn't feeling very good. If I had known how long it would take to get to the parks, I probably would have eaten before we came. Luckily, it didn't take us too long to get into DCA and back to Corn Dog Castle where we got (of course) a Hot Link Corn Dog.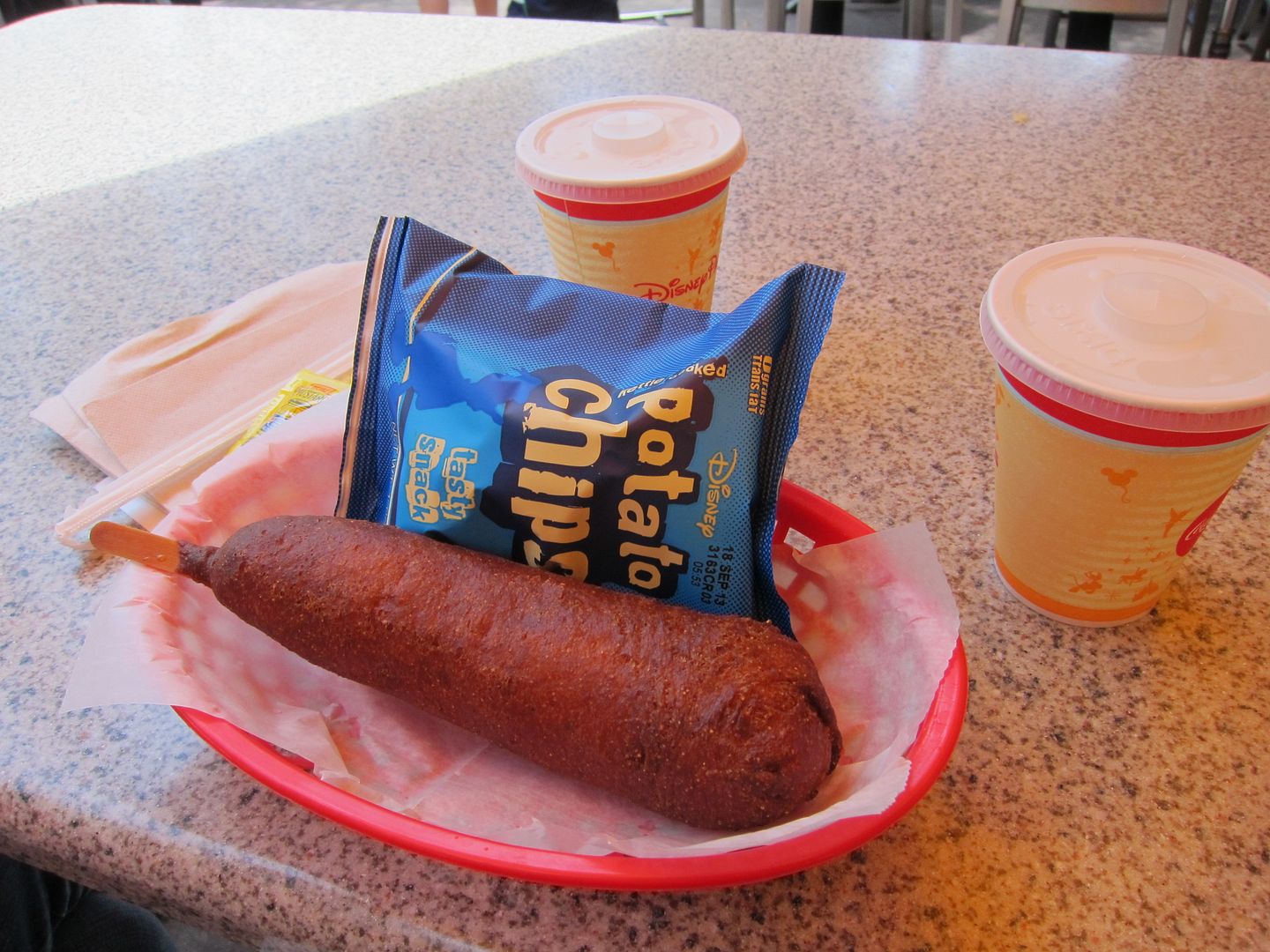 I started feeling a little better after lunch, but the damage had sort of been done for the day and I knew I probably wouldn't last as long today as I may have if we had eaten earlier.
Tracy and I went to Hollywoodland and took a picture of the Hidden Mickey inside the engine of the Lone Ranger train.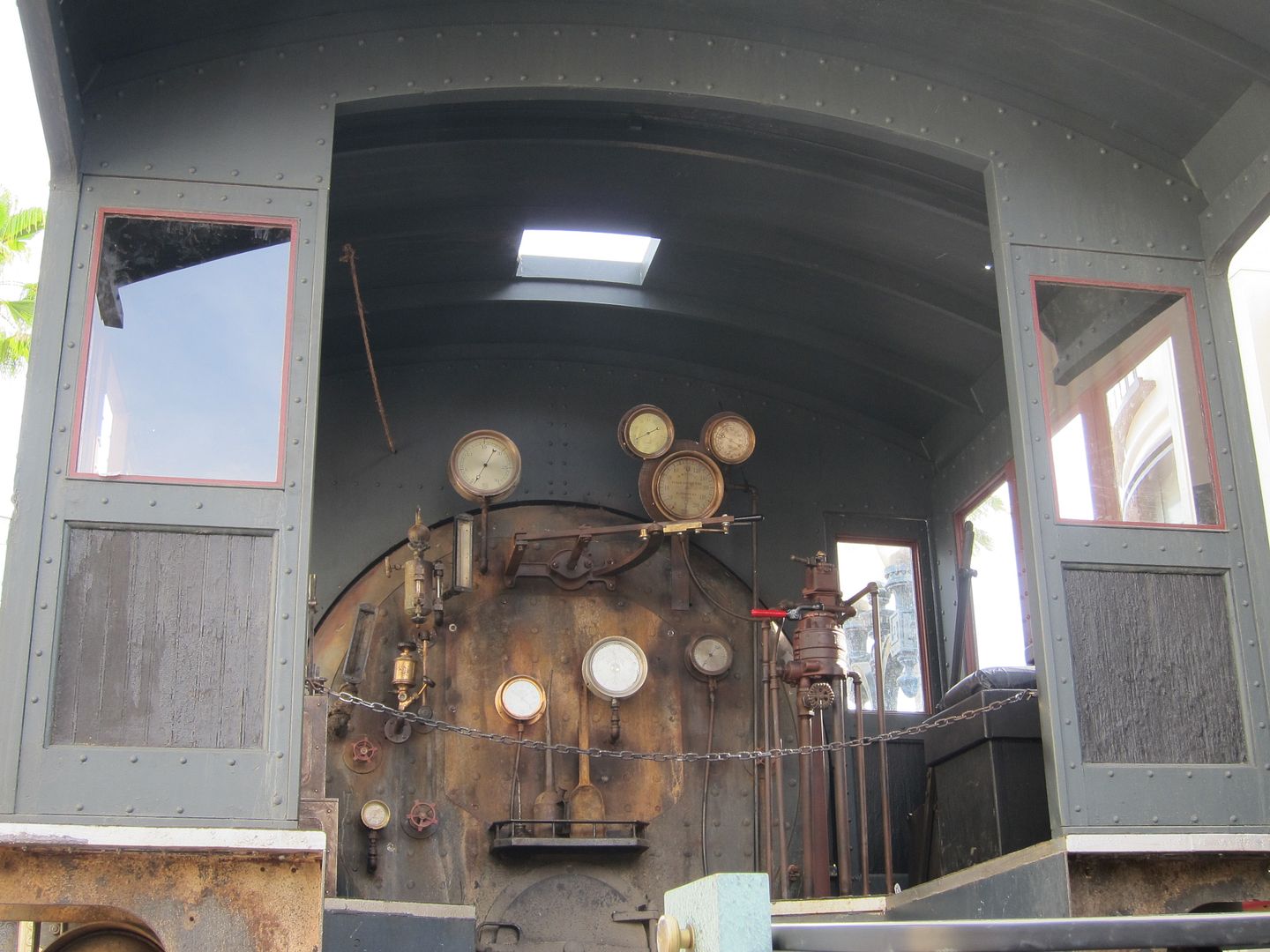 We decided to hop to Disneyland now that I was feeling almost all the way better. On the way into the park, I stopped to take a picture of the sign by the Casting Agency door. I loved some of the notices on there, such as "Openings for Talented Bears."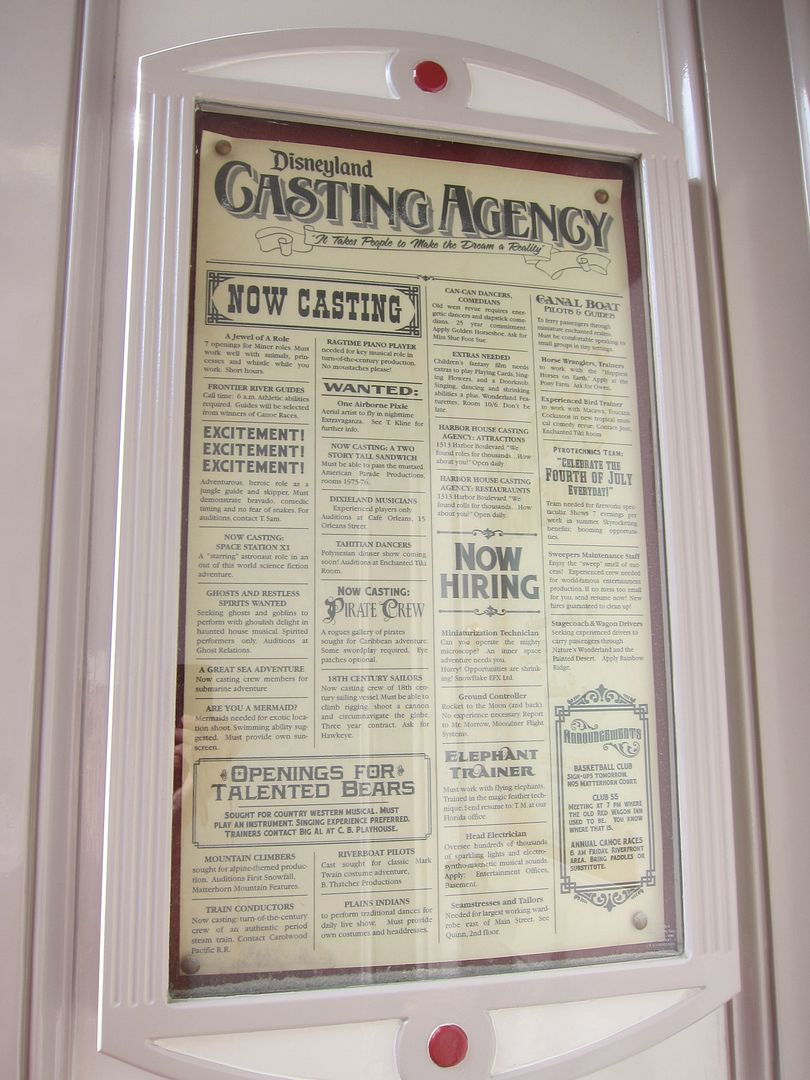 I love this door and how it represents Walt's philosophy and the great work of the cast members all rolled into one.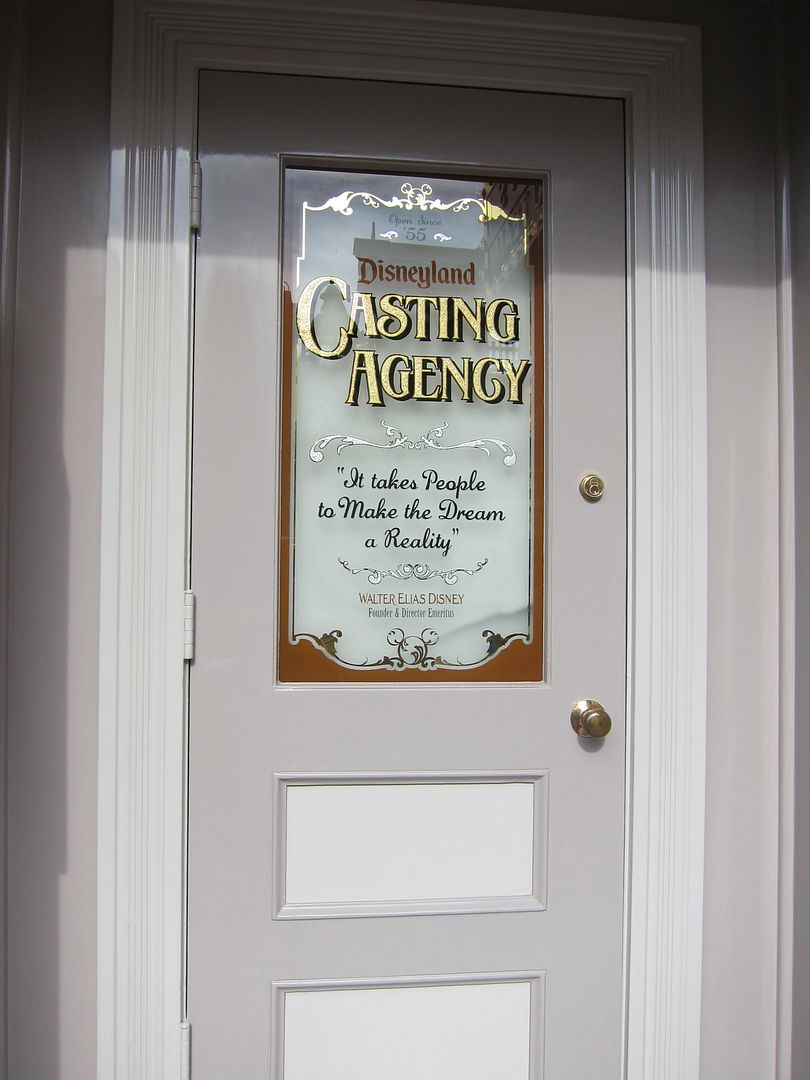 I also liked finding Marc Davis' window on Main Street.
When Tracy's dad was young, he though a chest of drawers was called a "Chester Drawers," so we thought this sign was particularly funny.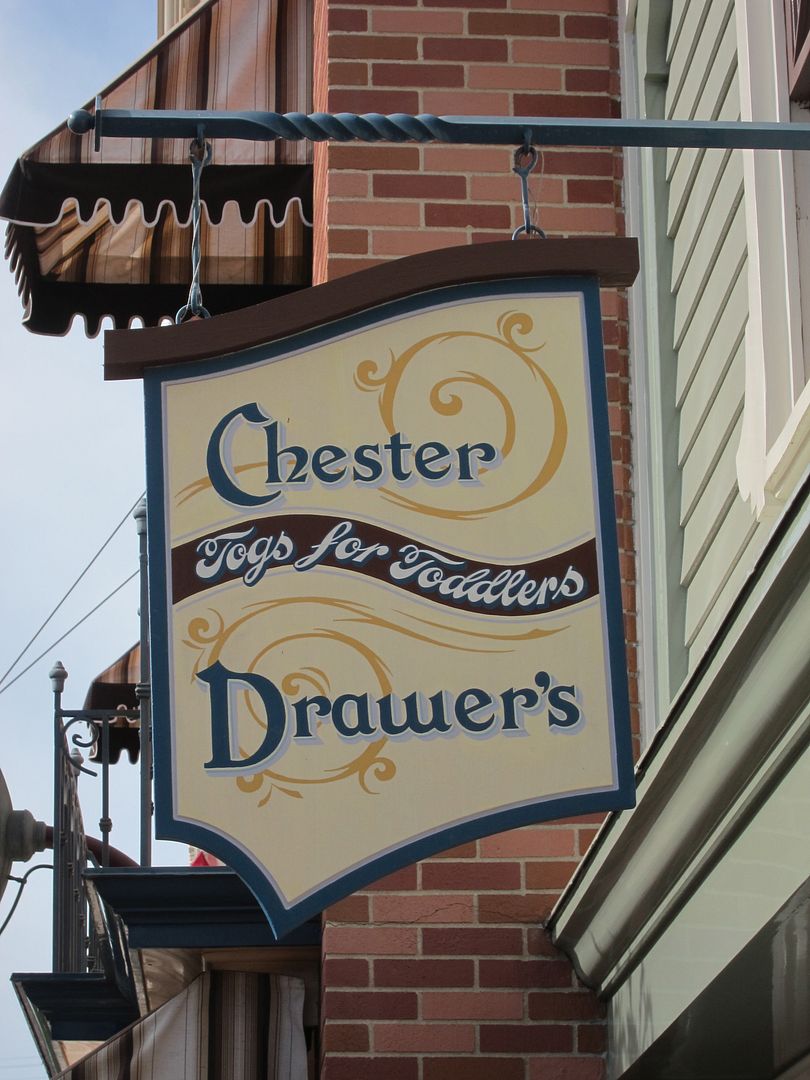 Our first stop in Disneyland was in Adventureland. Today was the 50th birthday of Walt Disney's Enchanted Tiki Room, and they had a great Annual Passholder Limited Time Magic offer for these free souvenir brochures modeled after the ones from the original attraction opening. Tracy and I got ours and thought they were very cool.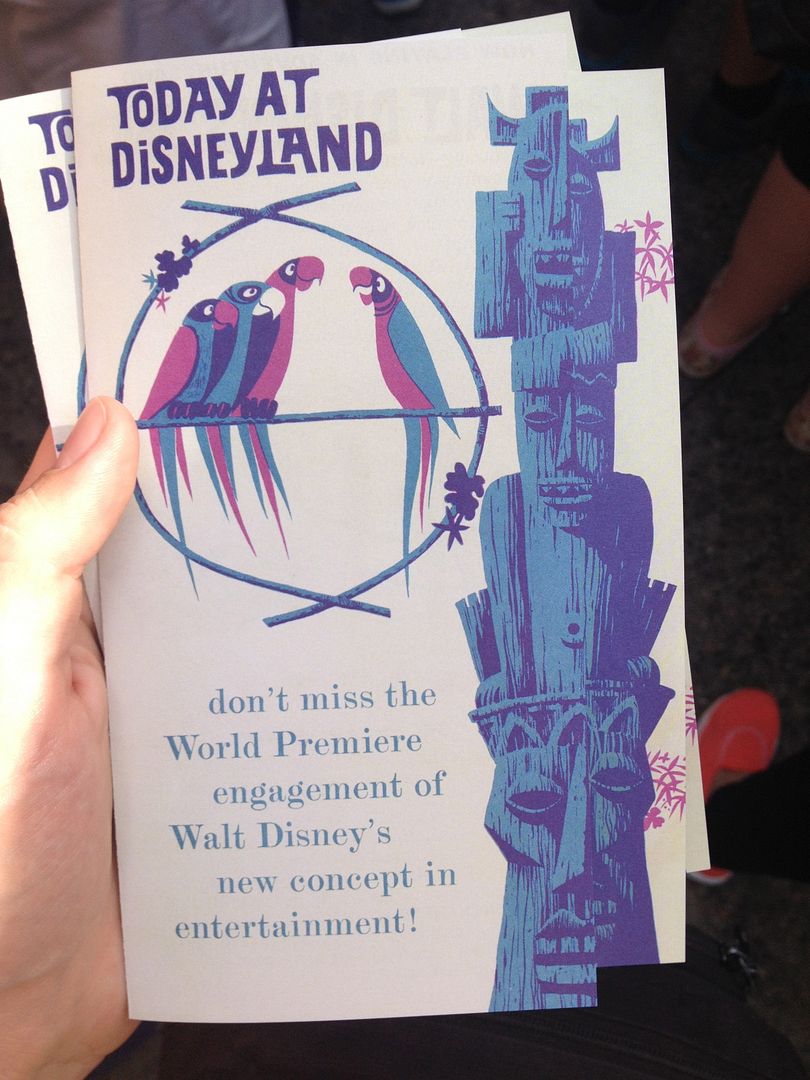 We decided that today's anniversary would be a good time to watch the Tiki Room show, so we got in line amongst a pretty packed crowd.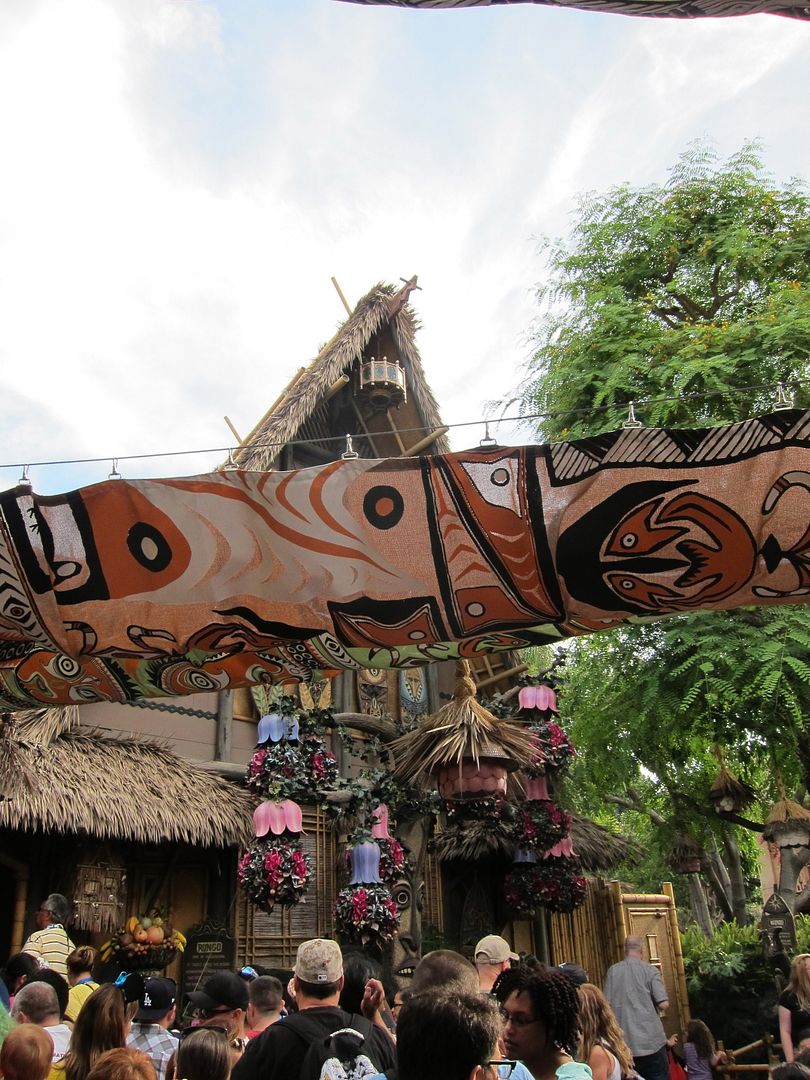 Suddenly, while we were standing there, a kid behind us wet his pants. Obviously, that sort of thing happens at Disneyland all the time, but this kid was being held by one of his parents, and he seemed to have some sort of herculean bladder. In a matter of seconds, it was like a water balloon had popped. The pee splashed down in a wave that soaked the ground around us and threatened to splash up onto Tracy and me, since we were standing just a few feet away. Luckily, we both steered clear of the splash, but the puddle was just there right next to us and we didn't really feel like standing by it in the Tiki Room line anymore. We decided we would celebrate its birthday some other time, and we booked it out of Adventureland as quickly as possible.
Heading back to Big Thunder Ranch, we saw that Pancho was in jail. We walked back into the Jamboree where Billy Hill and the Hillbillies were performing. Since we had only caught the tail end of their show the one time at the Golden Horseshoe, we decided to pull up a bench and sit for a while to watch some of the act. It was very funny, and they are very talented fellows.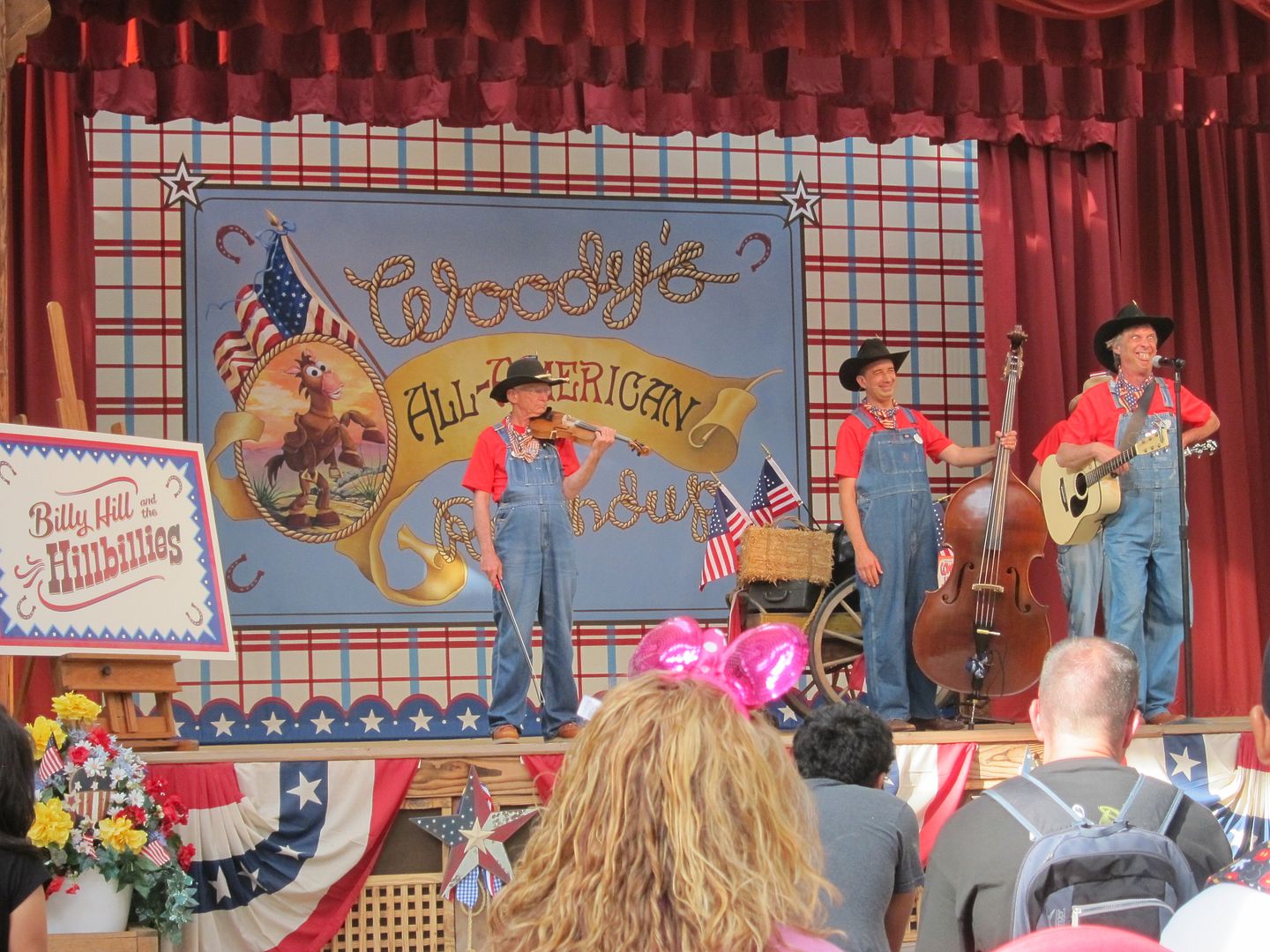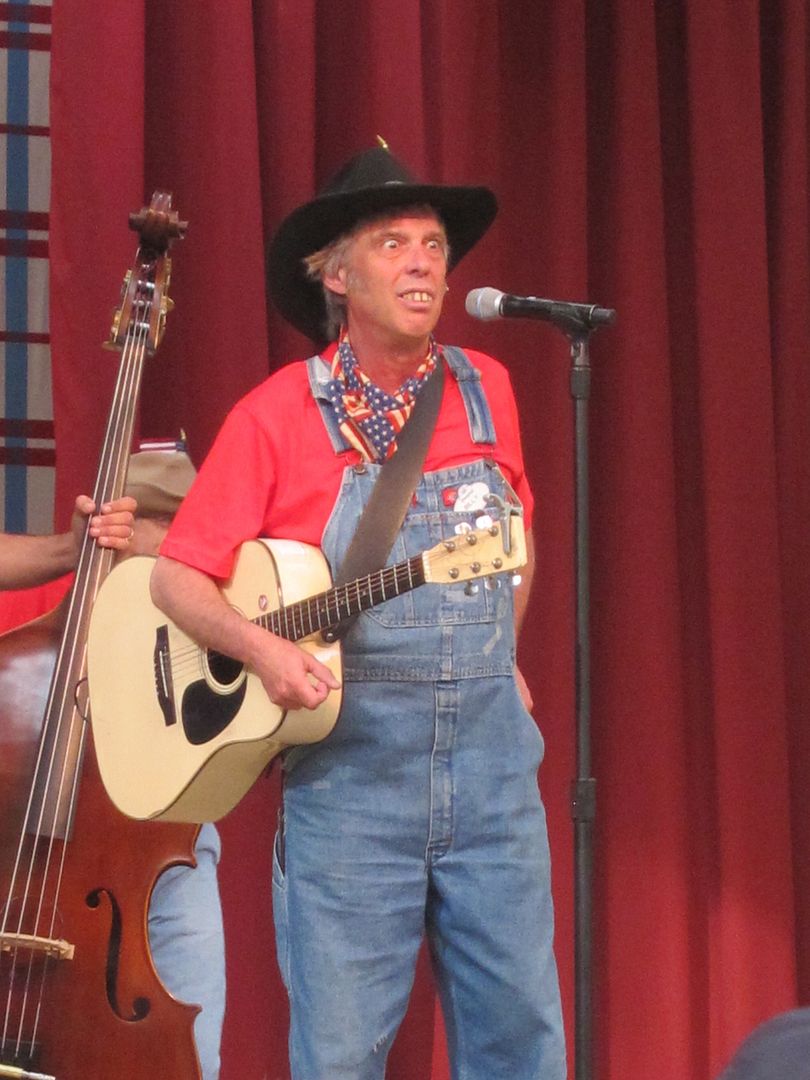 Bullseye came out again at the end, and we enjoyed watching him dance around.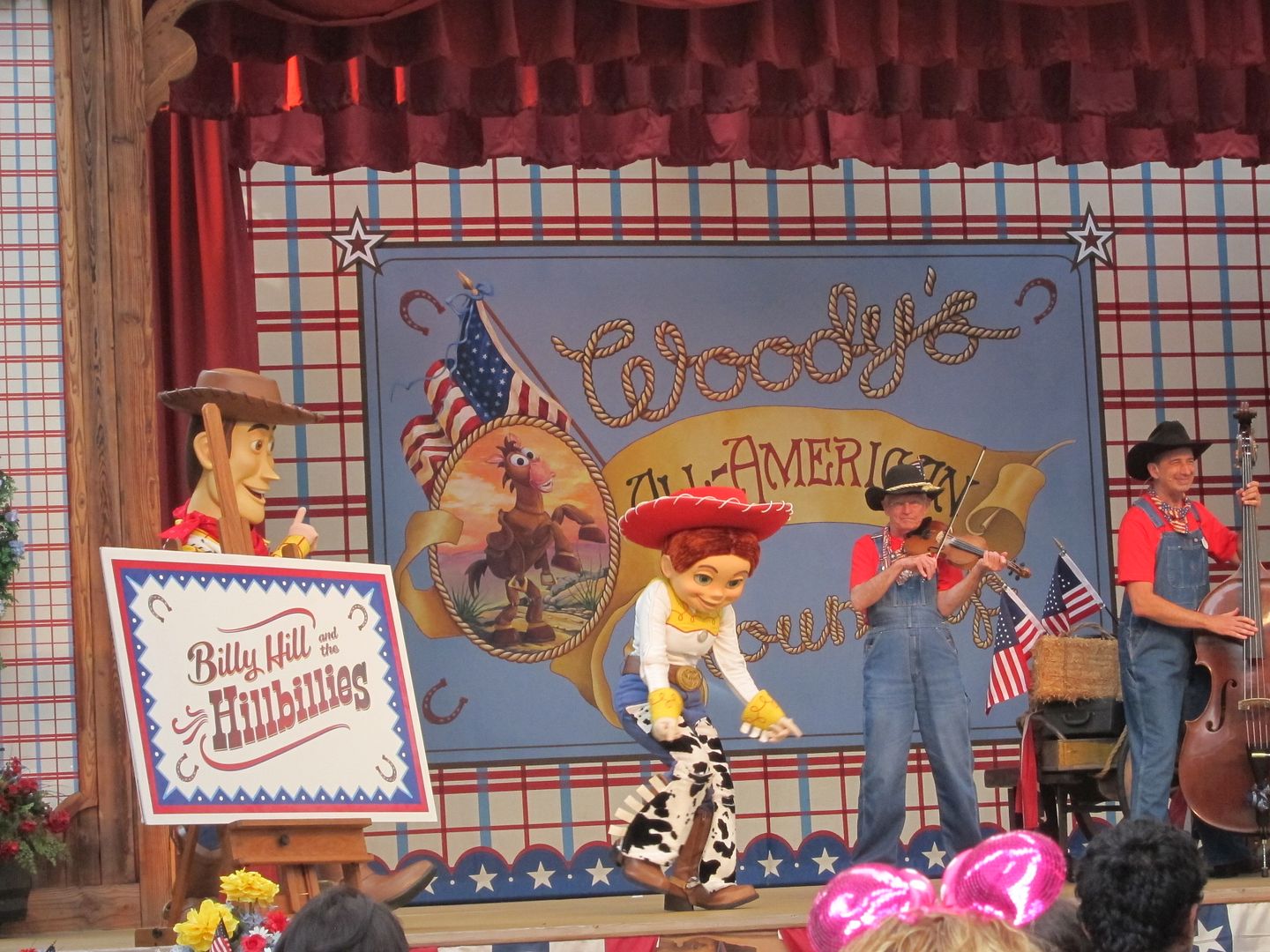 While we sat and watched, we looked over toward the crafting tables and saw that Dale was sitting and coloring with some children. That sight is just SO Disneyland. Nowhere else do the characters get to interact with guests like they do here.
We went back into the Ranch just in time to catch the Running of the Goats. This time, it was for real in that they actually let the goats run free to their backstage area. It was hilarious and adorable at the same time. I wish I could include video here in this trip report, but maybe sometime I'll upload the video of the experience to YouTube and link to it. My favorite part is that the sheep still have to get tethered together before they can run back, and then they trot back very daintily in tandem.
Looking at the time, we realized we needed to book it out of Disneyland if we wanted to get to Bed, Bath, and Beyond before it closed that night. Both Tracy and I wanted to return the pillows we had from there to try out some new ones. We had to zip home, grab the pillows and receipt, and then hop in the car and speed to the store, and we arrived with just about 5 minutes to spare before the Internet told us the store was scheduled to close. Except the Internet lied, and the store was going to be open for a few more hours. Oh well, all our rushing around wasn't necessary, but we were glad to get the errand over with.
Since we were out anyway, we decided to get some dinner at In-N-Out. I don't even know if I've mentioned In-N-Out since we moved here, but we love it. During the first several months living here, we didn't frequent it anywhere near enough, but we've been trying to remedy that oversight recently.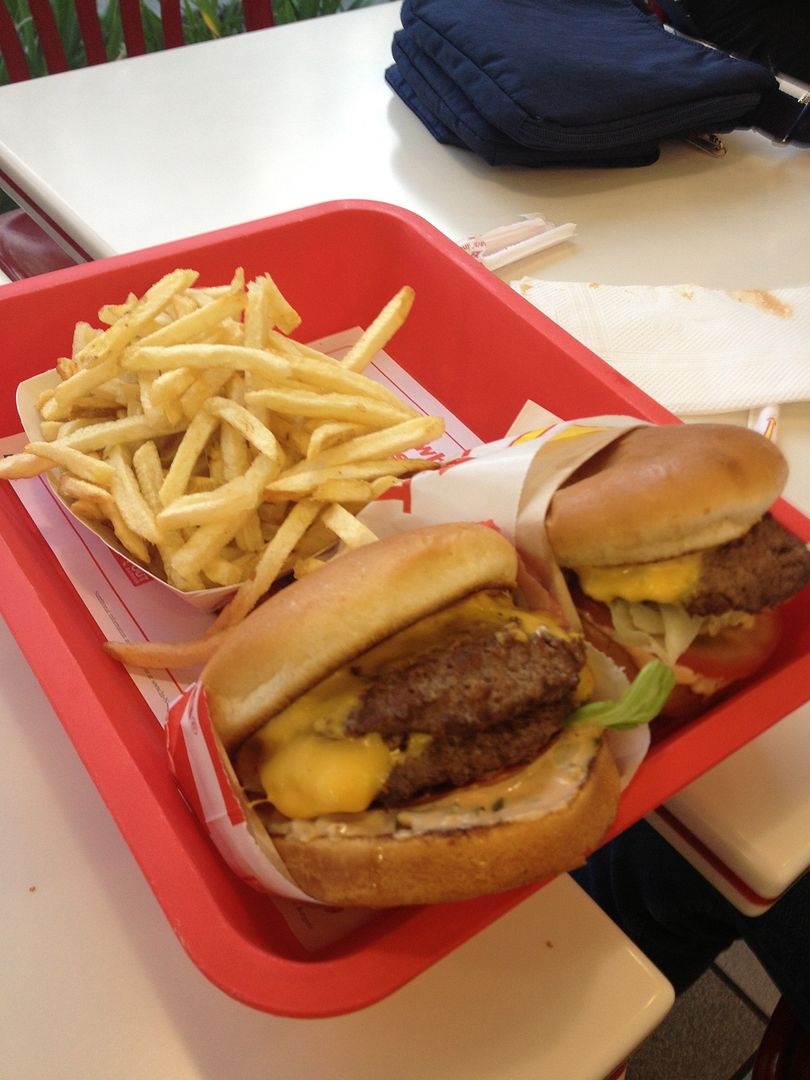 Previous Post | Next Post
Table of Contents
Follow



Share