Chapter 106
Frumps and Snakes
---
Previous Post | Next Post
Table of Contents
(Originally posted November 19, 2013)
June 24-30, 2013
On Monday afternoon, we hurried to the parks after work because Guy from Touring Plans had tweeted to Tracy earlier in the day to let her know that the Haunted Mansion music boxes were back in stock!! After all our time waiting, we knew we had to book it back there before they ran out again.
After parking and riding the tram in, we saw that the parade was blocking Main Street, so we rode the Railroad around to New Orleans Square. We made a beeline straight for the cart outside the attraction, and we saw this waiting for us there.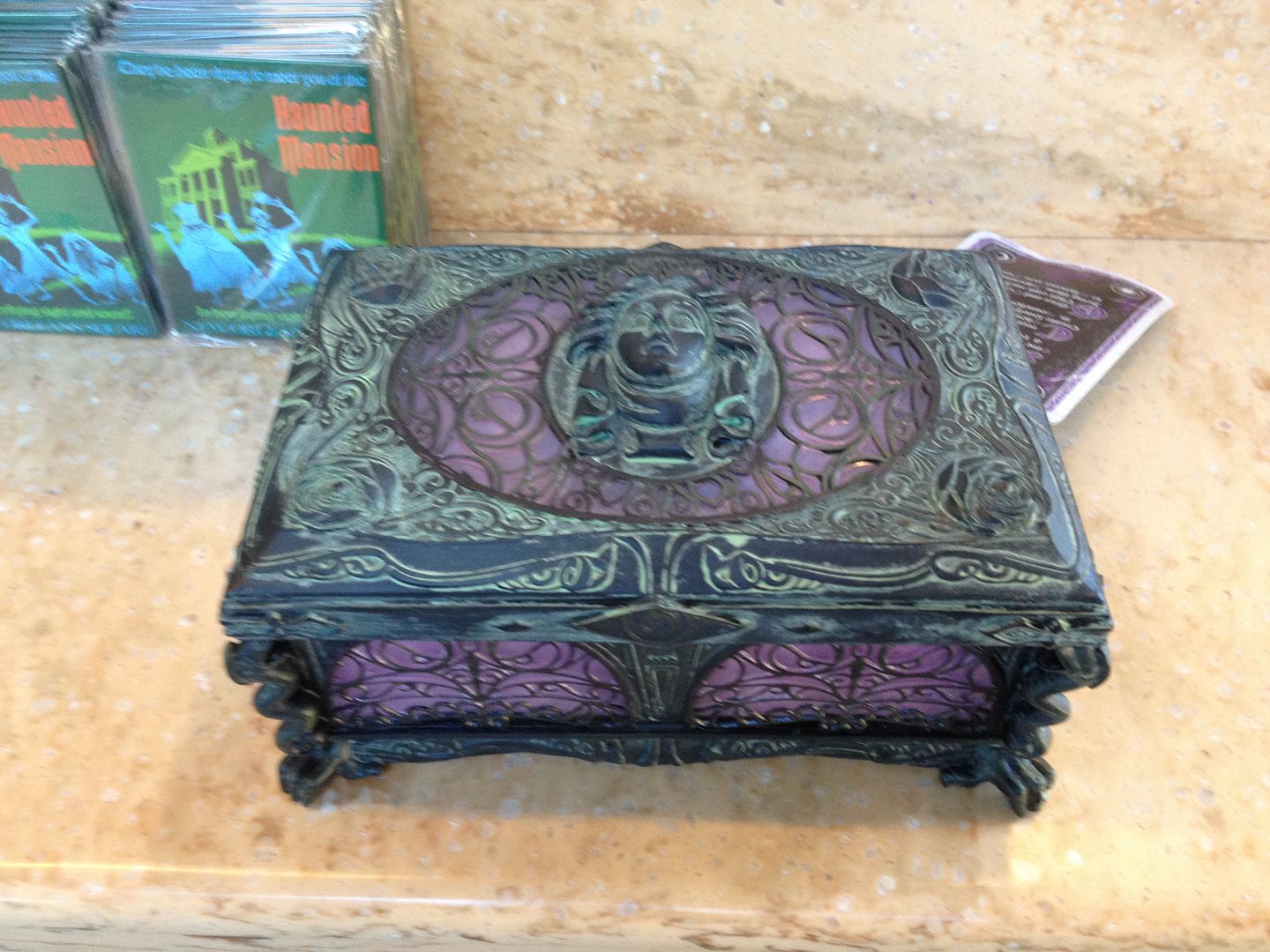 Of course, after trying to find it for the better part of a month, we had to buy the music box. We also ended up buying the attraction poster magnet that you can see in the background of the last picture because I thought it was too cool to pass up.
New purchases in hand, we decided to ride the Haunted Mansion itself. It wasn't the smoothest ride as we kept getting stopped by "playful spooks," but it was fun nonetheless. We wanted to ride Pirates next, but the line was too long, so we made our way toward Fantasyland instead. Deciding to ride Casey Jr., we had just settled into our car when we had a bizarre experience. The guy in the car behind us reached up and physically pushed Tracy and me apart so that he could take a picture of his grandson sitting in the animal cage in front of us through the window that he formed between us. We were both taken aback, and it was one of the weirdest experiences with an actual RUDE guest that we've ever had in the parks.
We rode Mr. Toad and Snow White next before going over toward "it's a small world." On the way, we saw Jason and Brianne, who were enjoying a day at Disneyland without their kids, and we chatted with them for a few minutes before we continued toward our ride.
I think this façade just looks beautiful in any light, but we really liked it at dusk.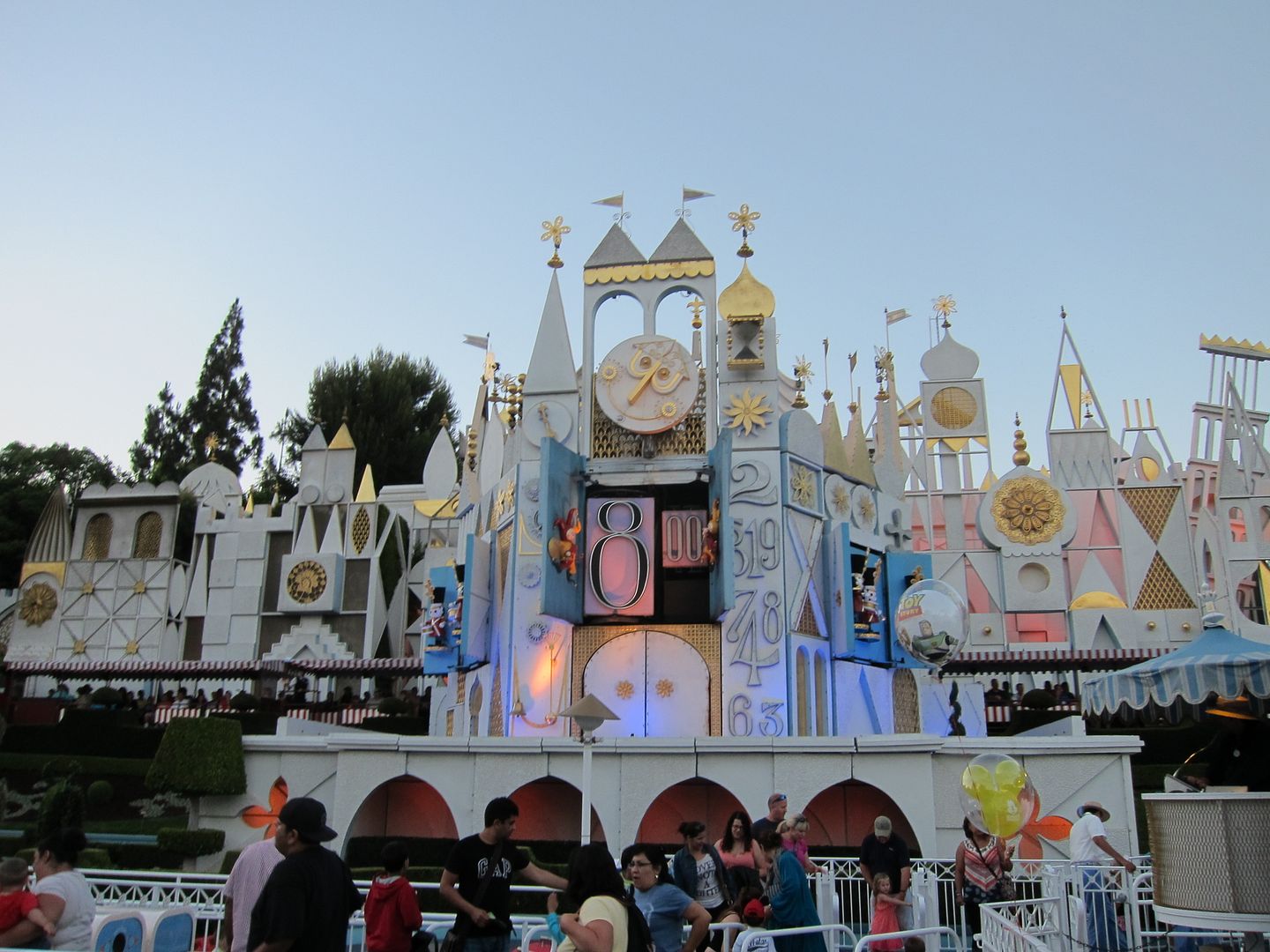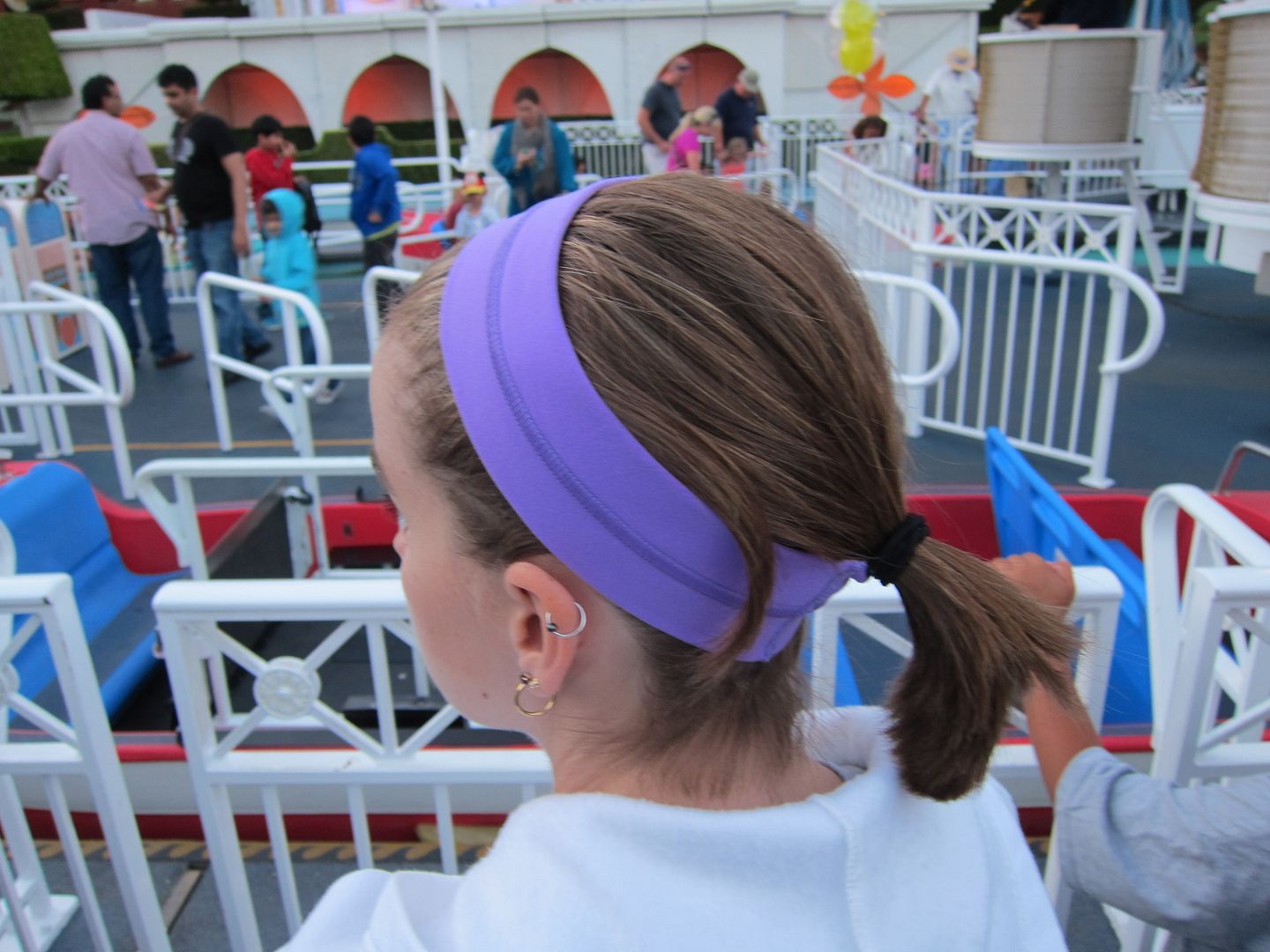 One of the birds in the Australia section was missing.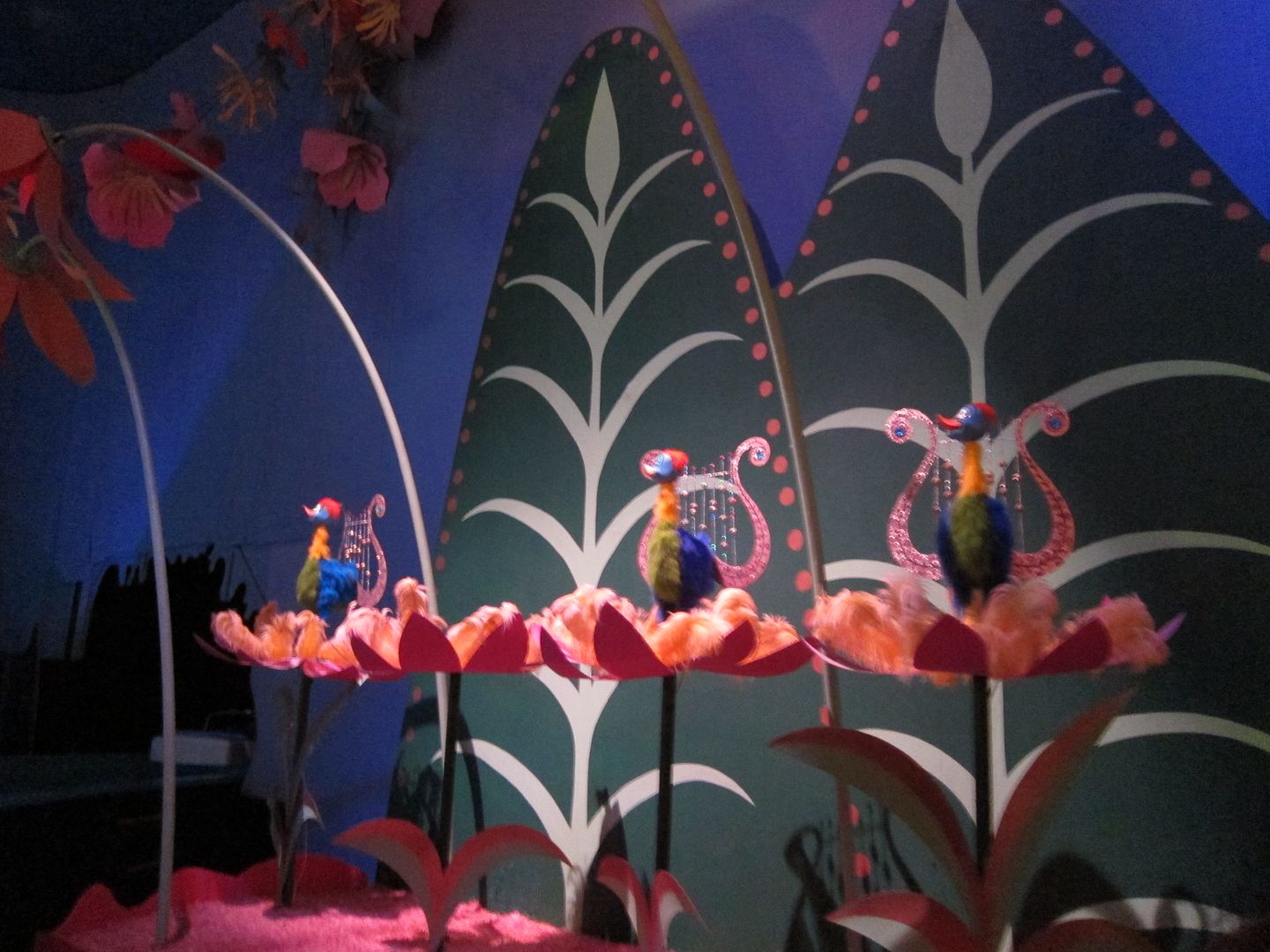 We were almost ready to head out after this ride was done, but we decided to ride the Monorail first before leaving. As we waited for the Monorail to arrive, the Matterhorn looked gorgeous against the sunset.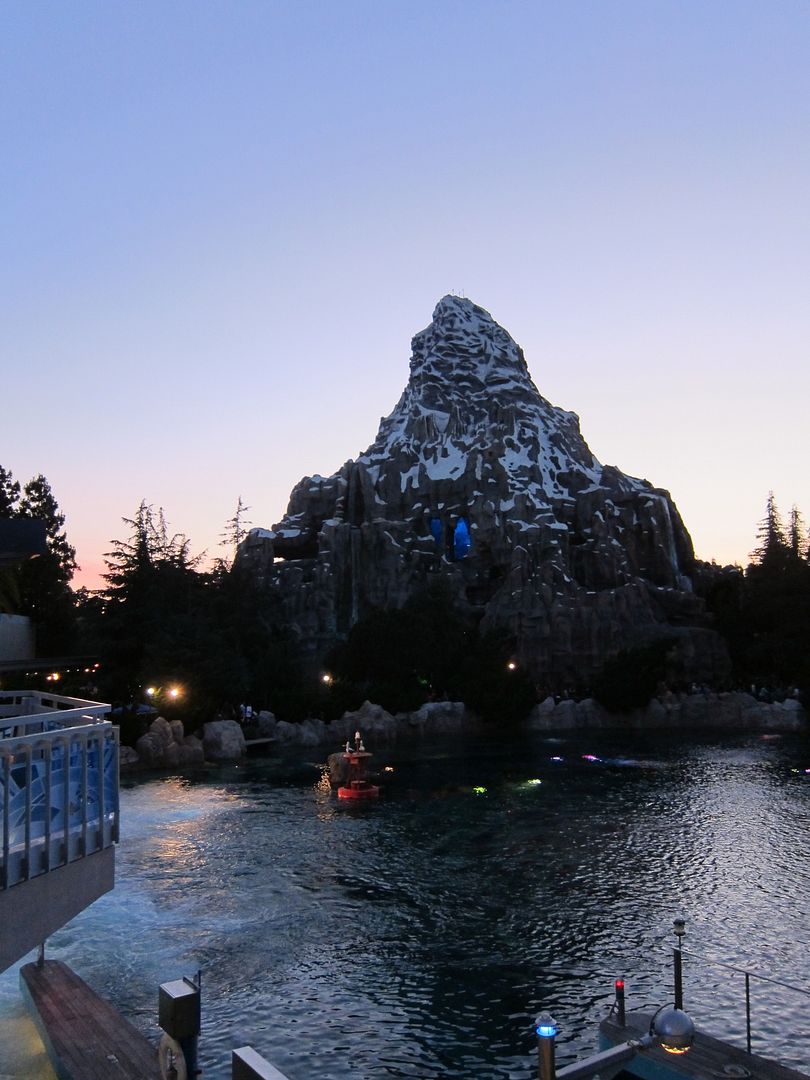 Eventually, Monorail Orange pulled up, and we requested to sit in the back.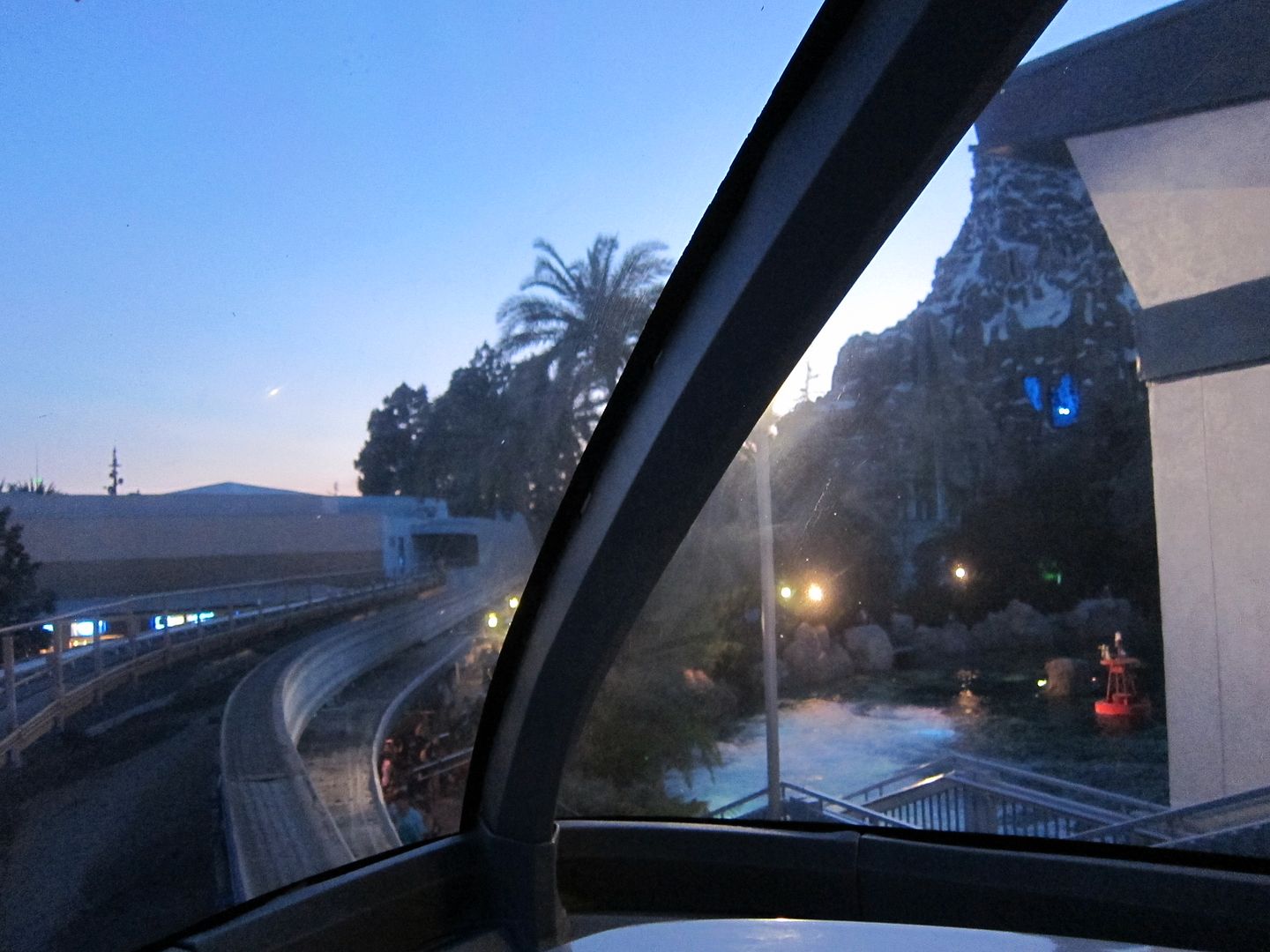 I haven't heard whether they've started allowing people to sit back there again after discontinuing it for a while, but we always like being back there or in the nose so much more than just sitting in the regular cars.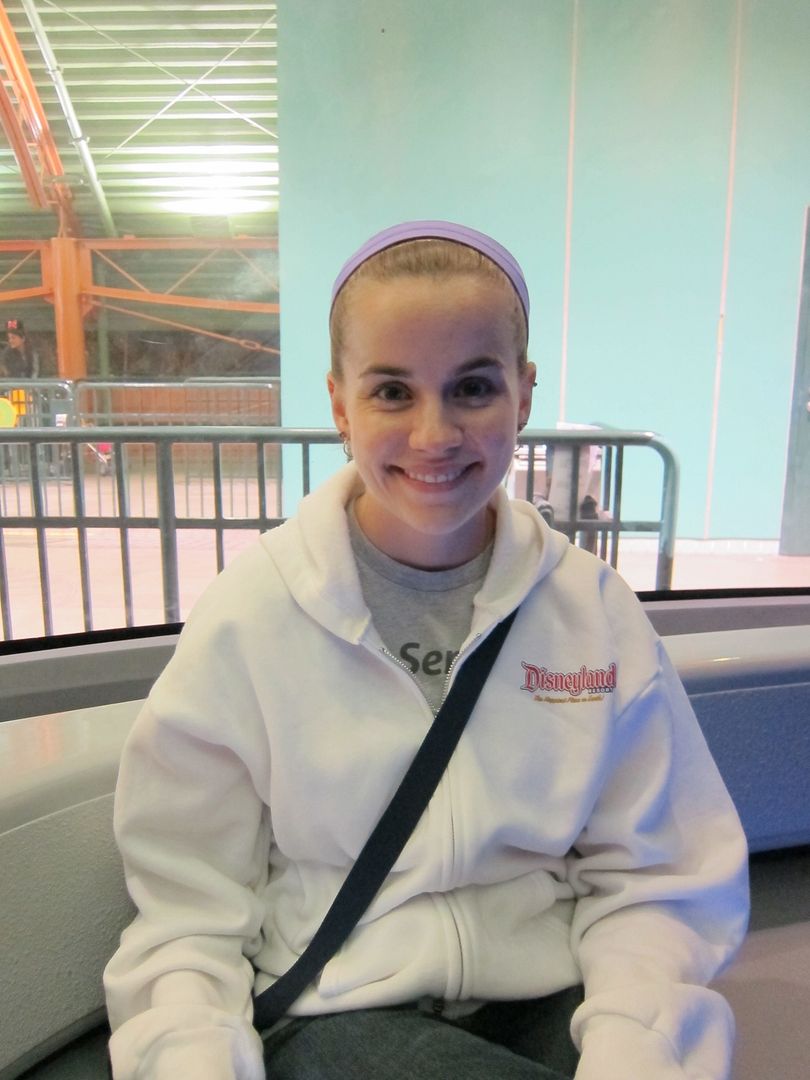 After our ride, we were almost ready to head out, but we stopped at the Tiki Room first to pick up another pair of souvenir booklets. Since each AP-holder was allowed to get one per day, we thought that we might as well get some extras in case any of our Disney friends wanted one.
On Friday evening, we headed back to the parks after work. On the way, we tweeted to Kristen (Disneyfreak616 on the DIS) because we had seen that she was on one of the last days of her Disneyland trip and we wanted to meet up. The Frumps are responsible, in many ways, for Tracy and I getting hooked on DISboards trip reports several years ago, so we wanted to meet her if possible. Luckily, she tweeted back to say she was in the parks that evening and would love to have a quick DIS meet.
When we first got to the parks, we headed to Disneyland and checked out the new Tiki Room displays at the Disneyland Gallery.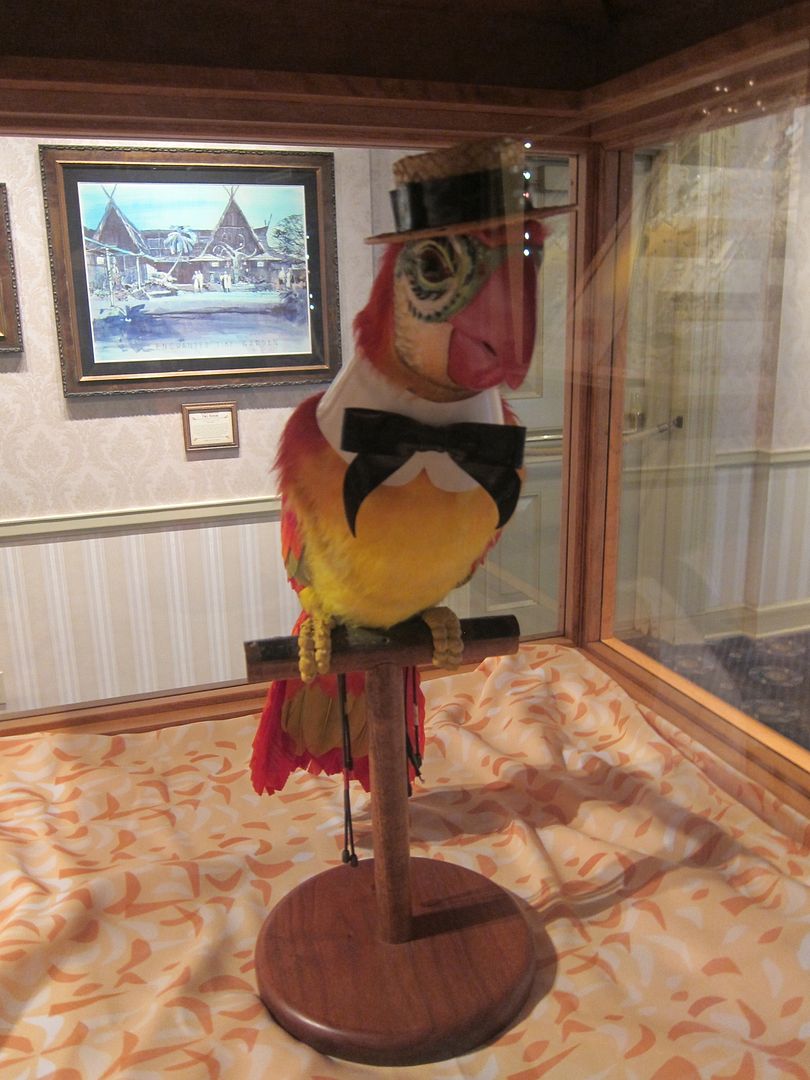 We also realized for the first time that the bench from Griffith Park where Walt had the idea for Disneyland was in that same gallery. Talk about a cool piece of Disney history.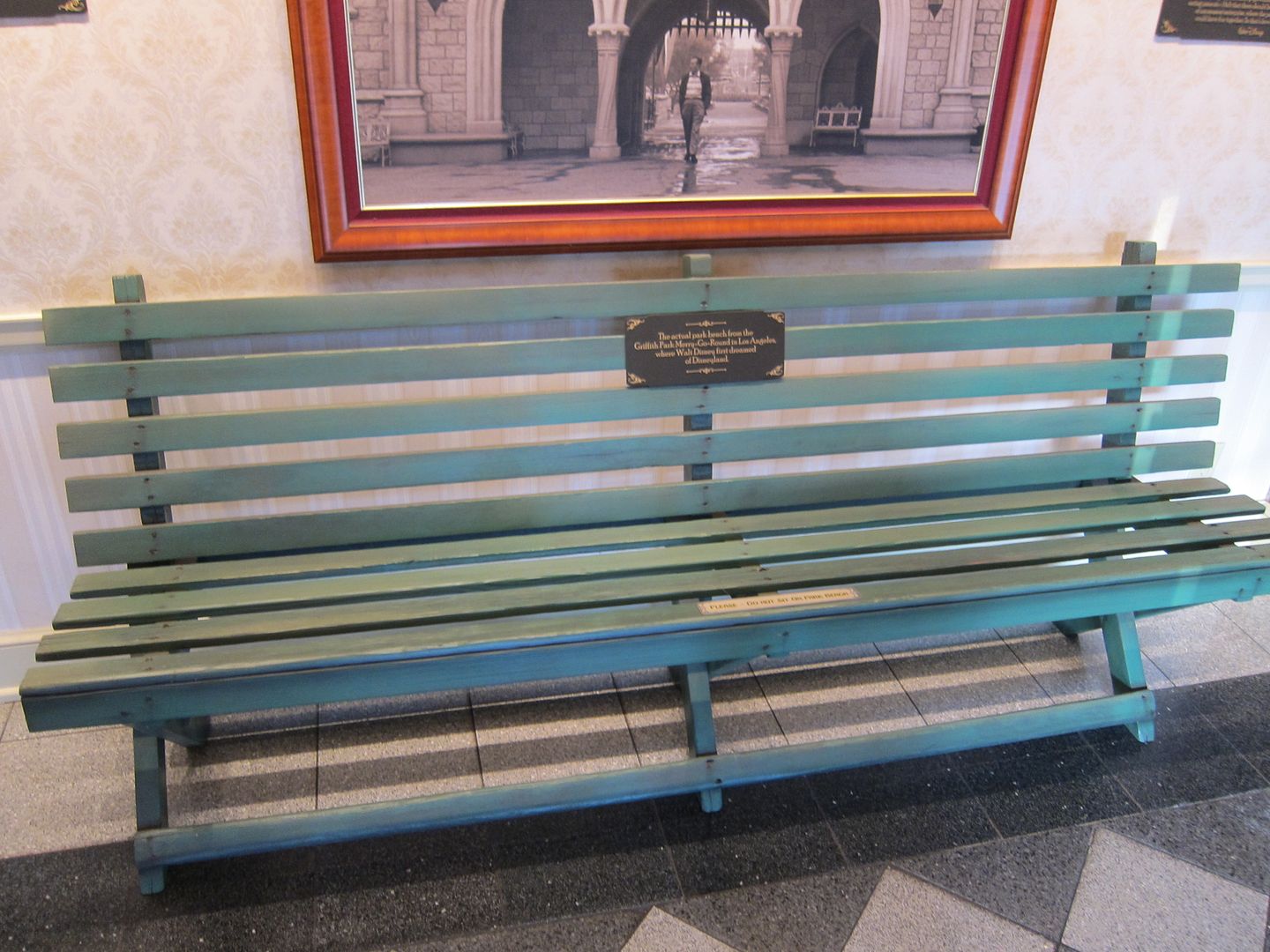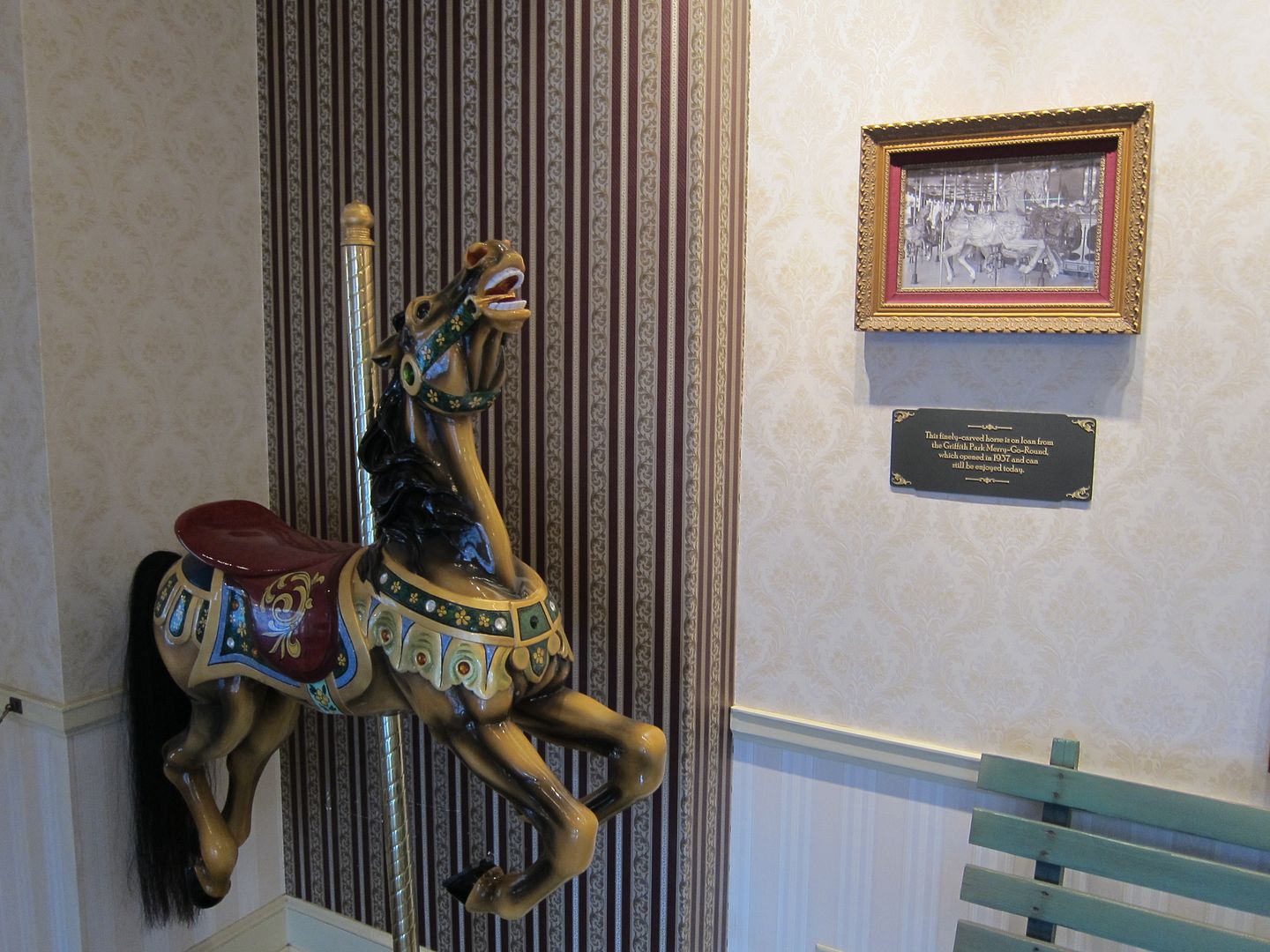 We went over to ride Star Tours, and we stopped into the Star Trader after the ride. Tracy saw this Cheshire Cat button and had to get it to add to her Disney purse.
We were standing around outside Star Trader when Kristen tweeted back to let us know she was at DCA.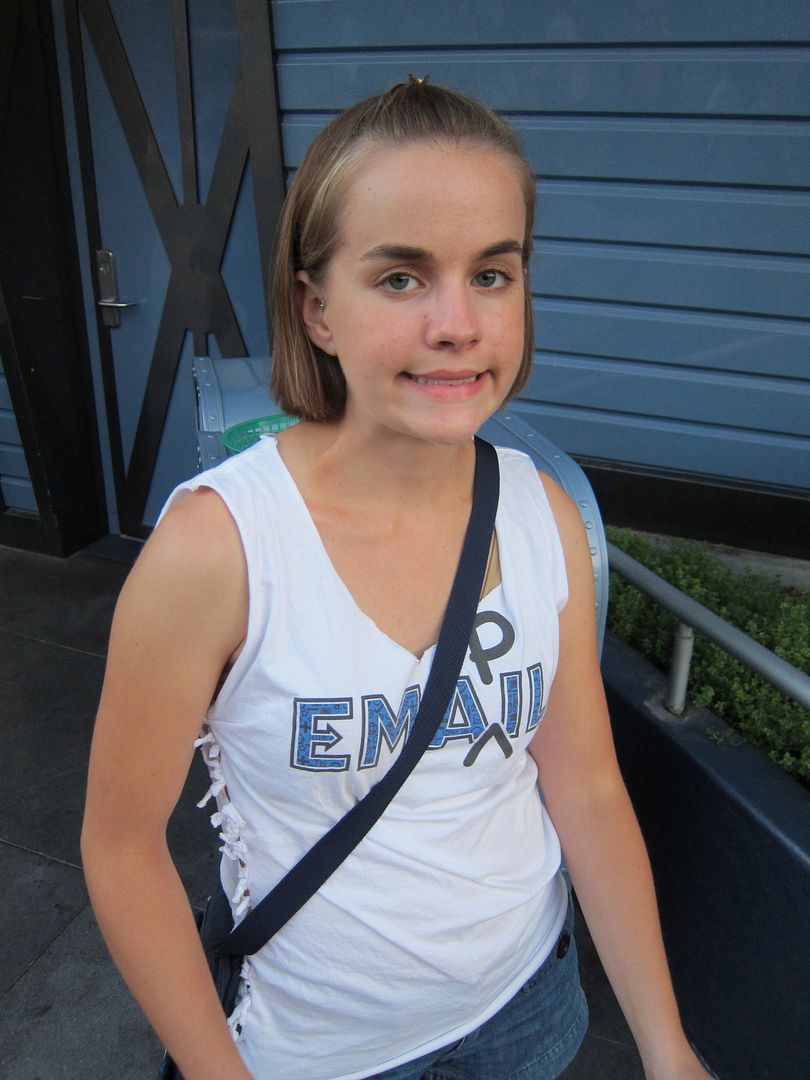 We didn't really have any other important plans for the day, so we started making our way toward the Main Street so we could park hop. We stopped in at Crystal Arts and decided if we ever became rich, we'd need to buy this Duffy.
Hopping to DCA, we found Francisco over by Grizzly River Run. Apparently, he also likes to hang out there when he's not in his spot across from Soarin'.
While he was there, we tried to give him a Goldfish, but he was much more interested in someone else who threw him a huge chunk of their churro. It hit him squarely on the head, but that didn't stop him from gobbling it down.
Kristen had tweeted that she and her family were doing the next Animation Academy class if we wanted to meet up quickly afterward. We still had almost a half-hour until that would be over, be we started to slowly walk toward the Animation Building.
Since we got over there early, we stopped into Off the Page and traded Vinylmations while we waited. Next, we went into the main room of the Animation Building and watched all the beautiful artwork that surrounds you while you sit there. I think that is one of my absolute favorite spots in the whole resort. I could sit there for hours just surrounded by Disney animation. While we were sitting there, we watched the little snippet they play from Up for the first time, and it was more than a little traumatizing realizing they showed the entire Carl/Ellie romance (up through her death) in their little excerpt. Feeling sufficiently depressed, we were glad when it moved on to happier animation.
By this time, we figured the Animation Academy must be about to let out. We started to keep our eyes peeled for people emerging over by the Toy Story Zoetrope. Finally, the crowds began to pour out, and we saw Kristen and her family exiting from a distance. I'm not going to lie—it's impossible not to feel a little creepy when you first see someone you know from the Internet in real life. We didn't really know what to do, but we also didn't want to miss our chance of meeting her, so Tracy and I walked up and said something along the lines of, "Hi, we're the ones who were just tweeting you. We read your trip reports on the DISboards…"
Luckily, Kristen was very nice and not weirded out by the whole DIS meet concept. We chatted for a few minutes about how she had been enjoying her trip and how she was actually excited to be getting back home (she and her brother live on the East Coast, so she was feeling a little homesick). We got to meet her dad Dave and her brother Mike, and they were very nice as well. After talking pretty briefly, they had to go over to Soarin' so as not to miss their Fastpasses, and we didn't want to take up too much of their time, so we said our farewells. The whole meeting had felt a little like a celebrity sighting in the same way that our meet-up with Lou Mongello had in WDW. When we all share so much about ourselves on the Internet, it's easy to feel like you know someone pretty well even though you've never met, so I think it's always cool when we can take the friendships off the computer screen and meet people from the digital Disney community in real life.
Moving on from our quick meet, Tracy and I decided to hop to Disneyland. We had seen on Twitter or Instagram that they were selling candy sticks similar to the giant candy canes from Christmastime at the Candy Palace, so we went over to buy one. Finding them in a display by the register, we tried to pick a flavor. The cast member working there told us that the options were cinnamon, orange, and lemon, but she wasn't 100% sure which was which. Of those options, we wanted orange, and the cast member told us which one she thought was the right flavor. We bought it and headed back out into the park.
Walking over to Pirates, we got on board a boat with just one other family because the Fantasmic! crowds had shrunk the line for the attraction to almost nothing. As we rode, we unwrapped our candy stick, and we immediately knew we had made a mistake. In spite of its orange color, this was actually a cinnamon stick masquerading as another flavor! Now, neither of us particularly DISLIKES cinnamon, but we didn't really want to eat such a giant piece of cinnamon-flavored candy, and we were sad to have wasted money on it. We decided to take it back to the store and ask the cast member if there was any chance we could trade it for the actual orange one. She was very understanding and pointed us in the right direction.
We were much happier with the candy we had wanted in the first place, and we broke it in half to split between us. We exited the park sucking on our candy sticks and listening to the finale from Magical echoing behind us. On the whole, it had been a pretty successful evening.
That weekend, we somehow ended up not going to the parks at all. Saturday, we drove up to Riverside to attend a birthday/housewarming party for one of Tracy's coworkers. Now, what we learned about Riverside is that it is MUCH hotter there than it ever gets in our area. I think the high that day was 109 degrees, and that was apparently pretty typical for the summer. While it was a little ridiculous being outside in that weather, it became more bearable as the sun set. The group went out to the patio for a barbeque, and the sunset itself was quite beautiful.
After a night of fun at Tracy's coworker's house, we decided to accompany some members of the group to Bootleggers—a brewery/bar in Fullerton that they all liked to frequent. It was a cool place, and we enjoyed ourselves. One of the highlights of the night was when we happened to notice that one of the patrons at the bar had brought his pet snake along with him. Tracy is TERRIFIED of snakes, so she was freaked out, but everyone else thought the snake was pretty interesting.
Now, I don't know how exactly it happened (and I do blame alcohol), but somehow, the group approached the snake-owner as we were about to leave and asked him about the snake. We found out its name is Charlie (named after Charlie Bit My Finger) and it's a boa-constrictor hybrid. Tracy was equal parts scared of the snake and fascinated by him, and suddenly, the owner was putting him on Tracy's neck to prove that he wasn't scary.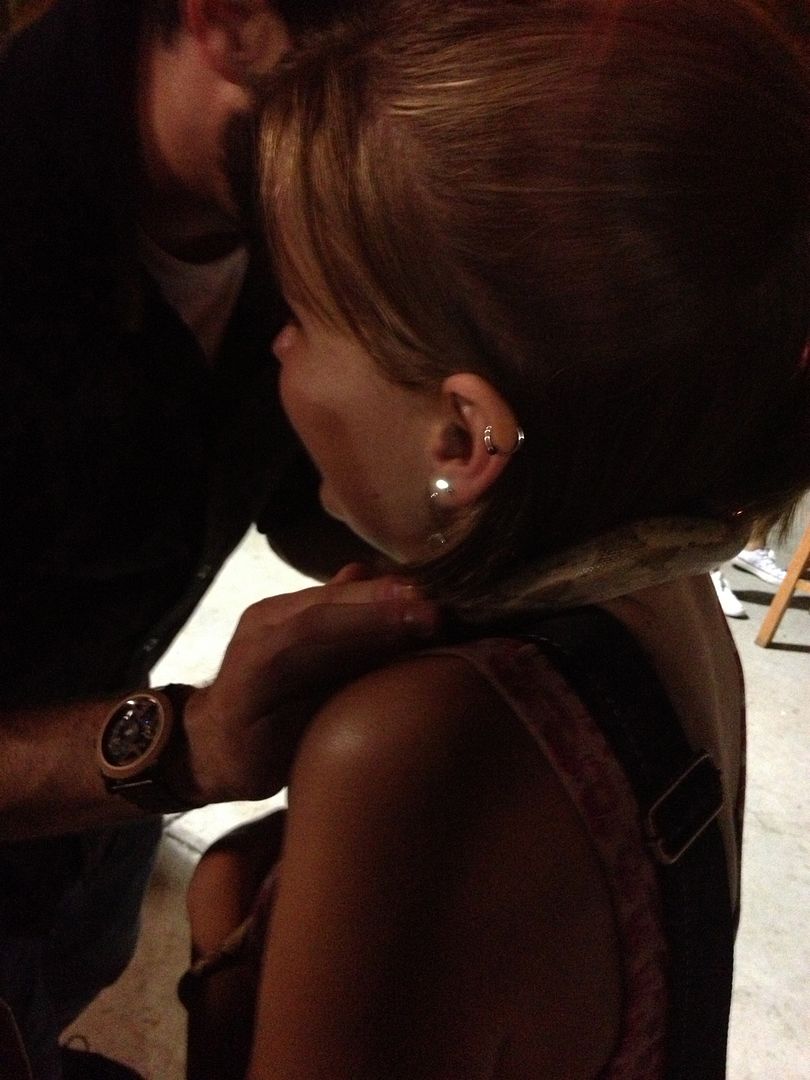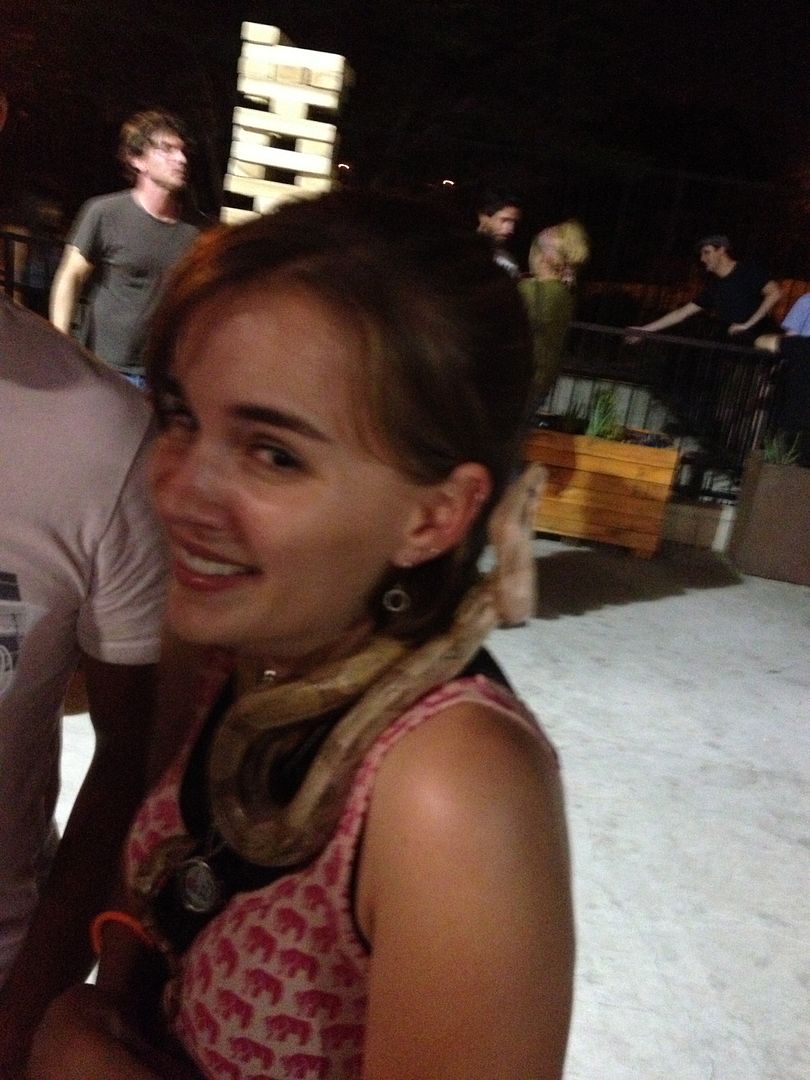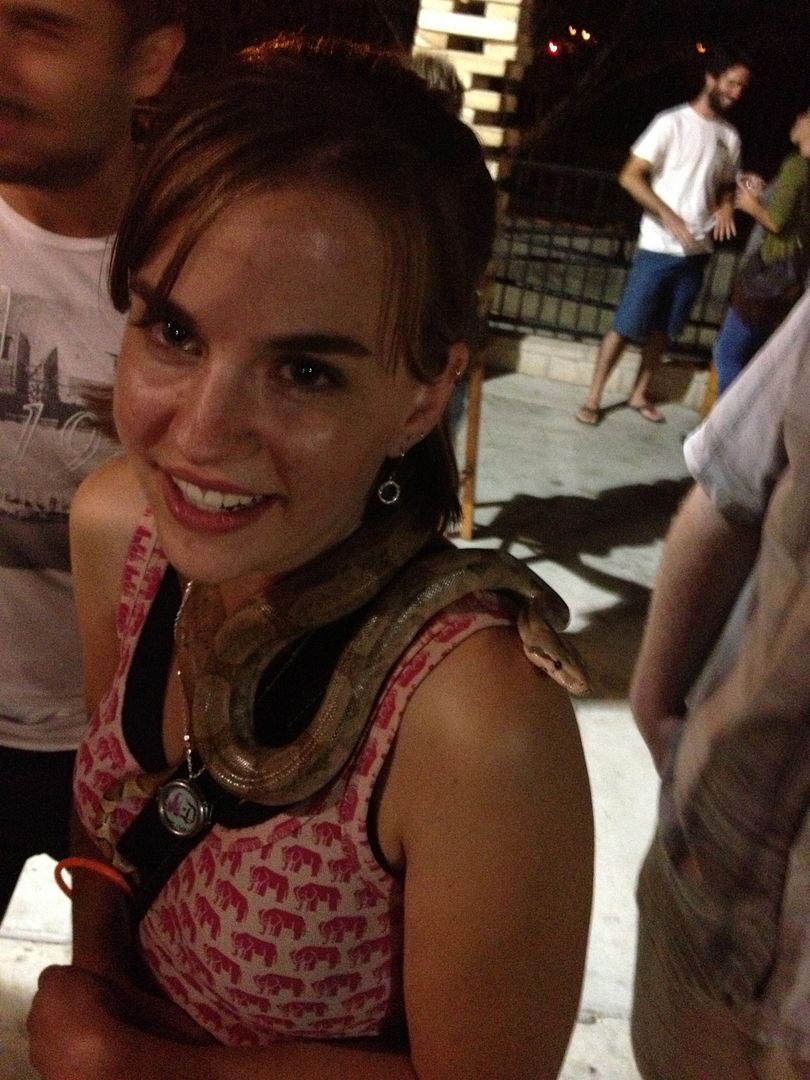 Charlie seemed to like Tracy pretty well, and while she was scared of him, this experience actually ended up being a little like immersion therapy. Ever since this night, she hasn't been quite as afraid of snakes when we see them at the zoo as she once was. So thanks, Charlie.
Sunday, we woke up late after a long night, and we thought about trying to brave Disneyland. The problem was that it was still really hot and it was a Sunday, so we knew the crowds would be awful. Instead, we decided to have a relaxed day at home and simply recharge our batteries a little. We had some excitement coming up in the week ahead, and we wanted to make sure we were well-rested.
Overview of June 2013
Random Photo of the Month

After setting up the music box in our room, I had to check to make sure it wouldn't be a good place for us to keep our Orange Bird sippy cup (check out the very end of Guy from Touring Plans' hilarious merchandise review to see where that joke came from). Alas, it didn't fit…
Total Days This Month Spent Visiting Disneyland Parks
10
Total Days Spent at Disneyland Since First Getting Our Passes
56
Favorite Disney Snack
Peanut Butter Chocolate Chip Cookie from Pooh's Corner (This was hearty and delicious, and we were really glad we had branched out to try it)
Favorite Disney Meal
Queso Fundido from 1901 Lounge (This was a difficult month to pick a favorite meal, and I know the queso was only one of many things we had at the Lounge, but it's the one that sticks out the most in my memory as being SO delicious)
Favorite Guilty-Pleasure TV Show
The Bachelorette (Yes, after we had gotten hooked on The Bachelor this spring, I felt like I needed to see The Bachelorette—would Des find love?? Unfortunately, Tracy found the whole show a little much—which I did too, but I thought it was funny as well—so I was left to watch it on my own for the first several weeks, which made me feel REALLY cool, as you can imagine… I convinced her to watch with me for the last two or three weeks, and boy was it a shocking finale)
Previous Post | Next Post
Table of Contents
Follow



Share