Chapter 107
In-Laws
---
Previous Post | Next Post
Table of Contents
(Originally posted November 20, 2013)
July 1-3, 2013
We headed to the parks on Monday after work knowing it would be the last time for several days. Tracy's parents were going to be coming for their visit starting on Wednesday, and Disneyland wasn't in the plan for them this time around. They aren't huge Disney people (though they don't have anything against it really), but since Tracy's mom was just a few months away from needing two knee-replacements, she wasn't really up for all that walking.
Tracy had been having some stomach problems all throughout this week, but she was feeling marginally better as we made our way toward the parks. We parked at Mickey and Friends and then headed into Disneyland.
As we walked in, we grabbed the current Times Guide, and it said that the fireworks tonight would be the special Celebrate America show in honor of the 4th of July. We hadn't been planning to stay to watch the fireworks, but now we started rethinking our plans.
Patriotic Mickey was out doing a meet and greet, but his line was ridiculously long. Rather than wait in it, we just took a few pictures of him from afar.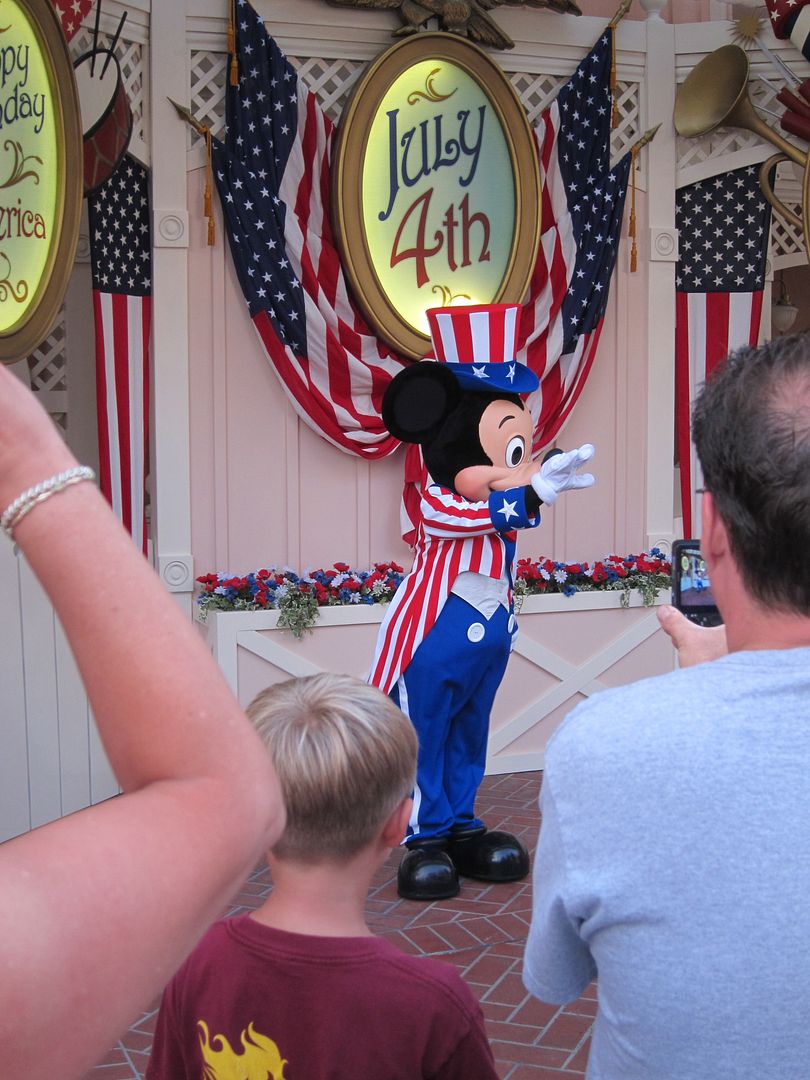 Then Tracy had me pose with Mickey in the background, so it ALMOST looked like we met him…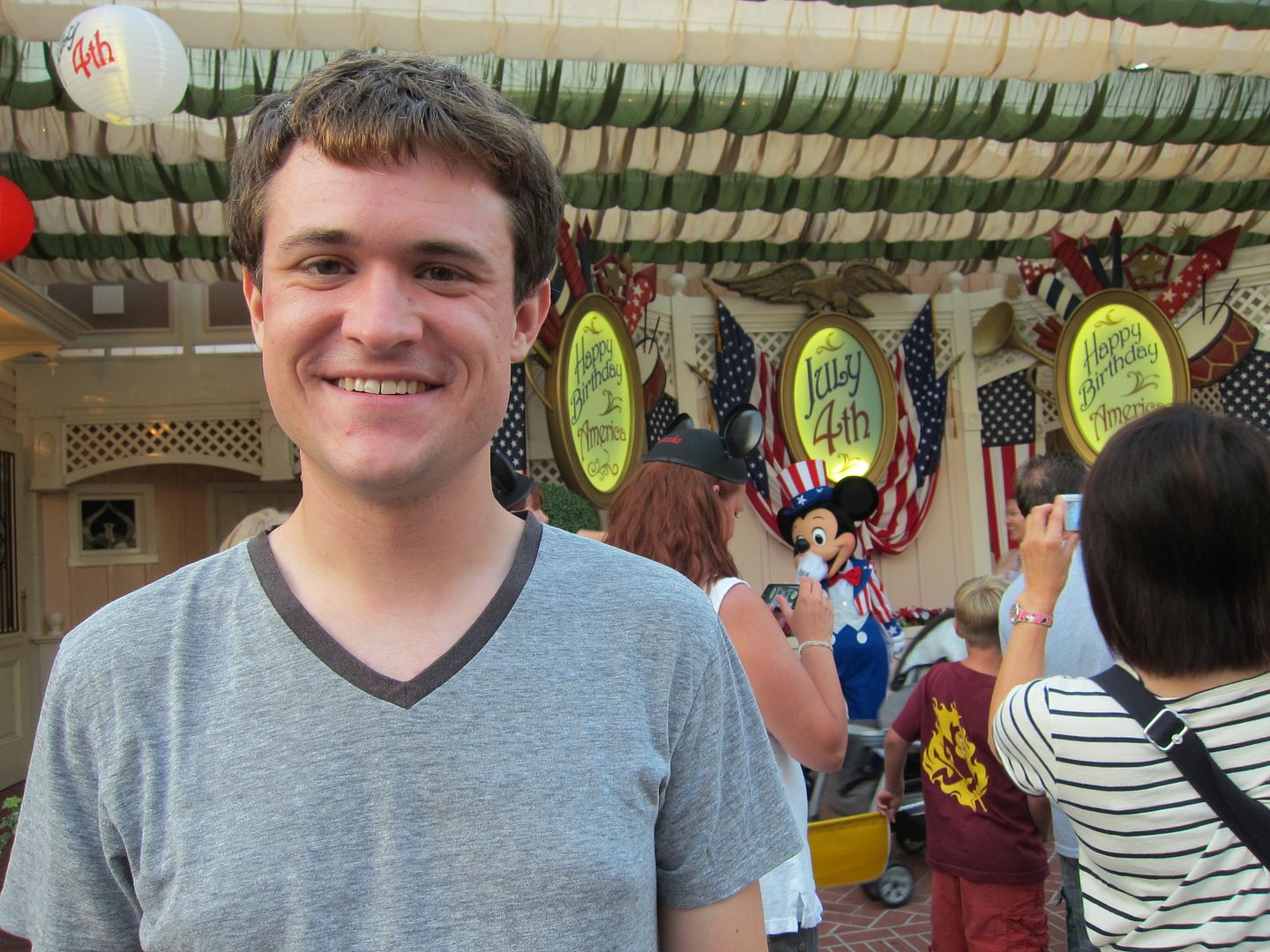 We went into the new Disneyana store where they always have Vinylmations for trade, and we were very excited when we saw the Norway troll from the Park Starz 2 set sitting in the case. Of course, we quickly whipped out one of our trading Vinyls and secured this bad boy.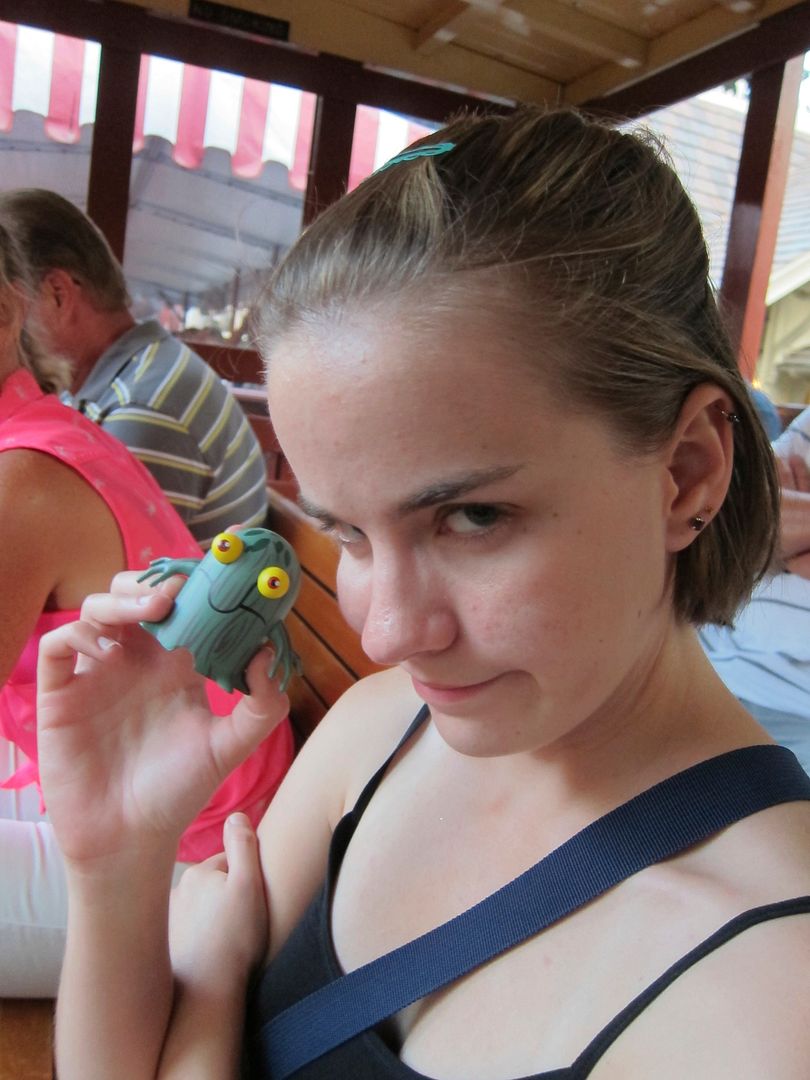 It was already time for dessert, so we headed toward Candy Palace and got one of these very patriotic Cake Pops.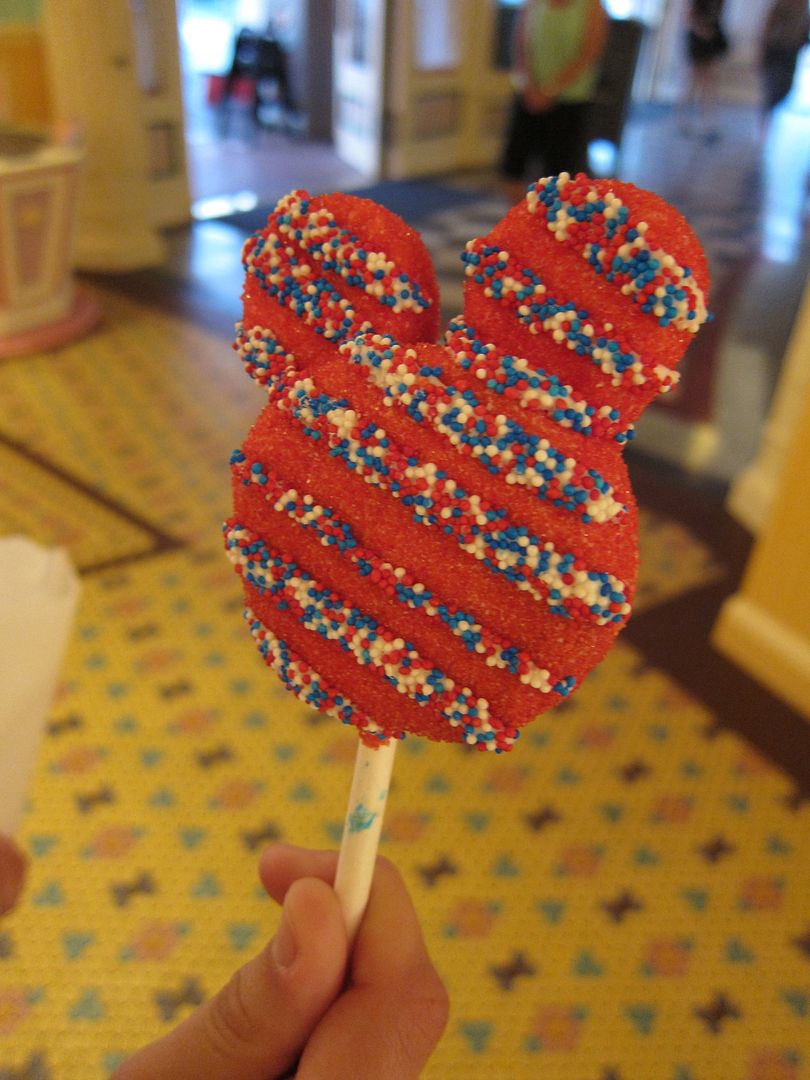 We ate it while we walked over toward New Orleans Square, and we found it was delicious in addition to being patriotic.
Once we got to New Orleans Square, we actually decided to hop aboard the Railroad. Tracy's stomach was acting up again, and she thought this sounded like a nice, tame ride.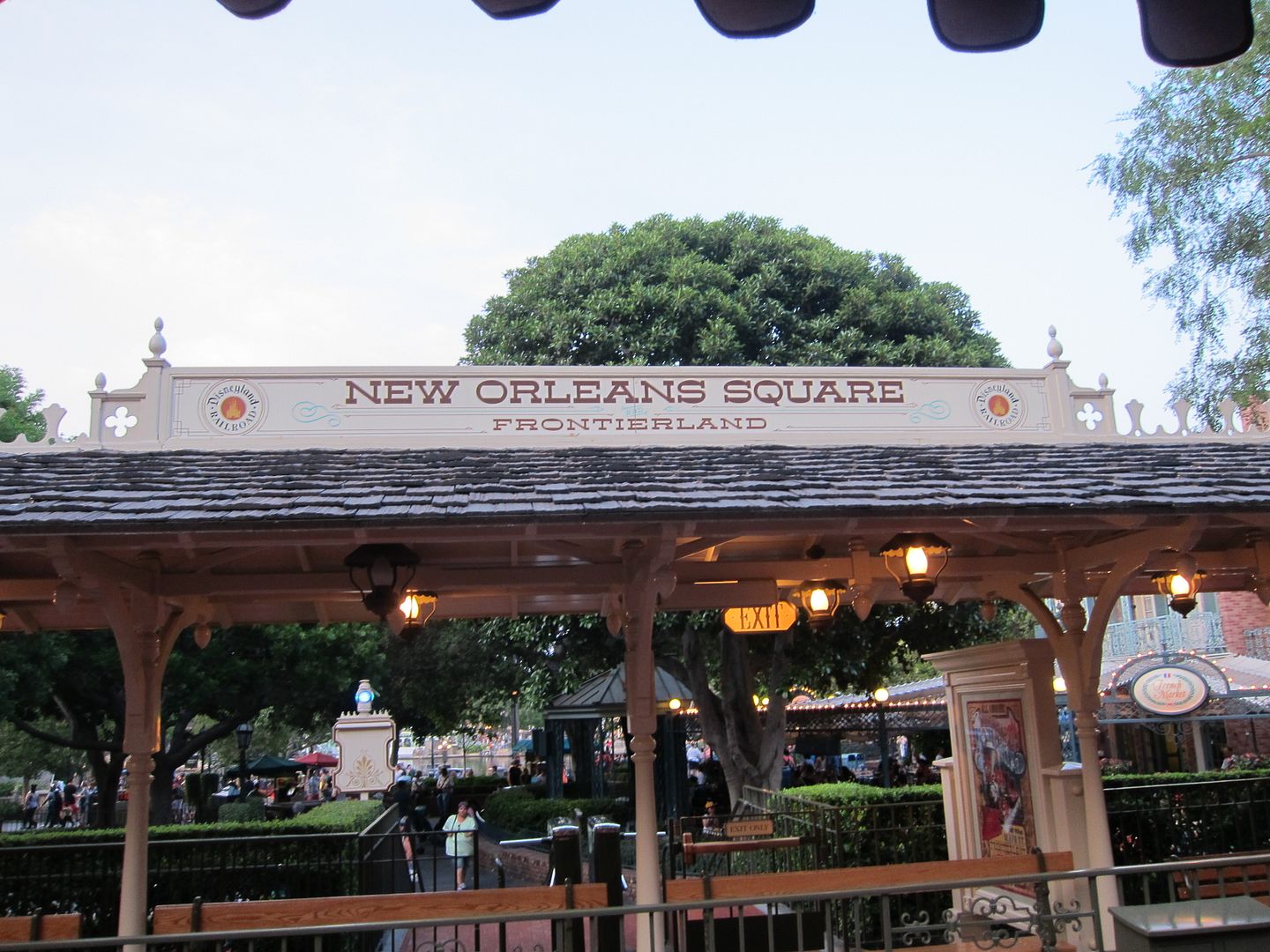 We actually rode the entire grand circle tour one-and-a-half times before getting off at Main Street Station. Tracy had slept through most of the train ride and was ready to go home, but I wanted to quickly pick up a new GAC. Unfortunately, my old one had gotten lost somewhere, and we knew we were going to run into trouble because this was when they were very first implementing the new, stricter rules.
The whole experience was pretty awful (this was when we had the cast member tell us that Disney only provides assistance to disabled people "as a courtesy" and they didn't actually need to do anything for us), but it's not really worth rehashing because the whole GAC issue is moot now—don't worry, I'll provide our full review of the new DAS service sometime in the not too distant future.
The point of this whole story is that we had encountered several VERY un-Disney-ish cast members during this whole interaction, and I was left feeling extremely upset and disheartened. I was mad at the whole company, and I just wanted to leave, but we had actually been wasting enough time at Guest Relations that it was almost time for the fireworks. Tracy (who knew I actually wanted to watch the fireworks in spite of my current mood) insisted that we might as well stay, so we walked up onto Main Street Station as they were starting.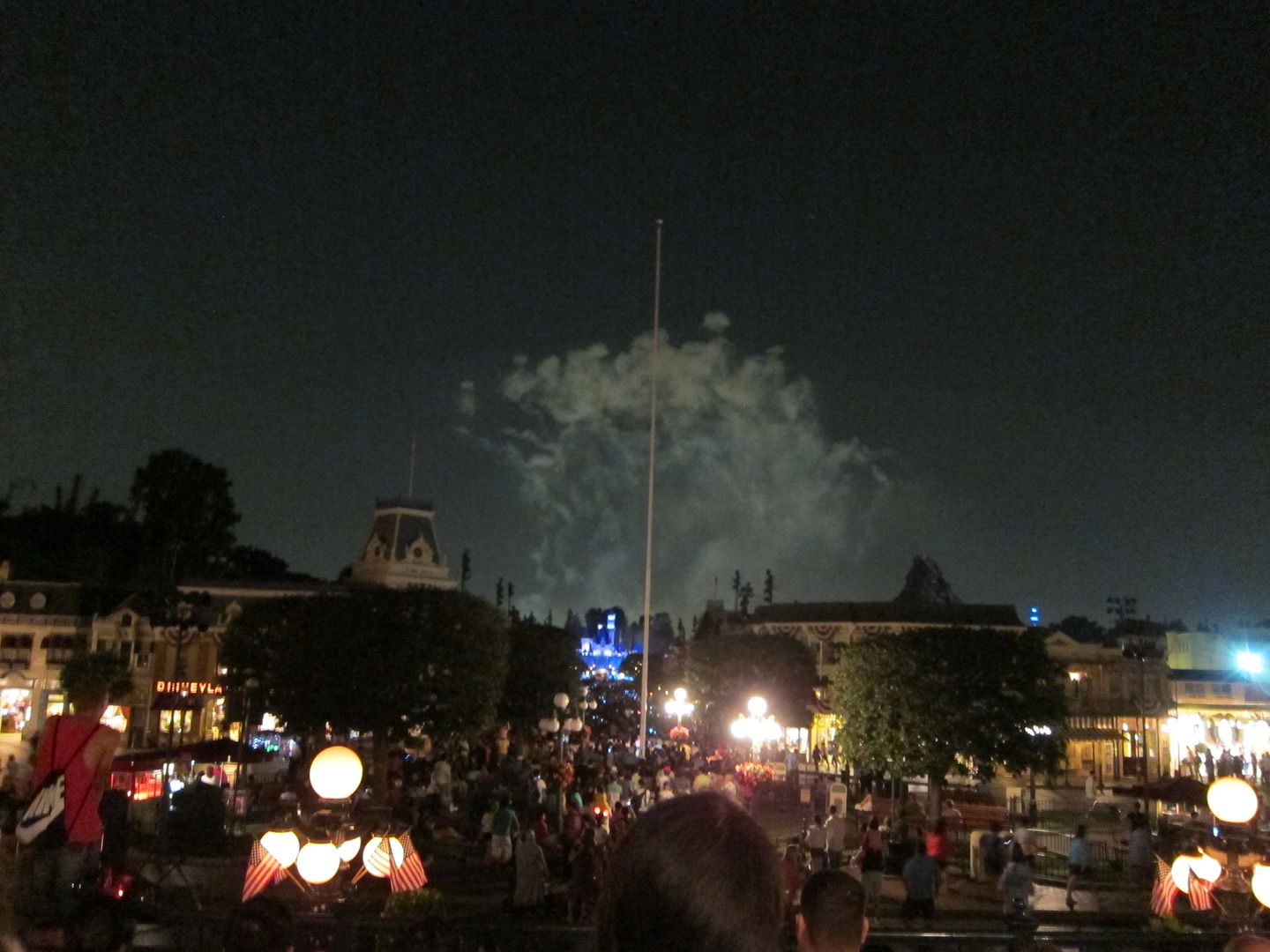 The show was definitely good (and it was a welcome break from Magical), but it wasn't my new favorite or anything.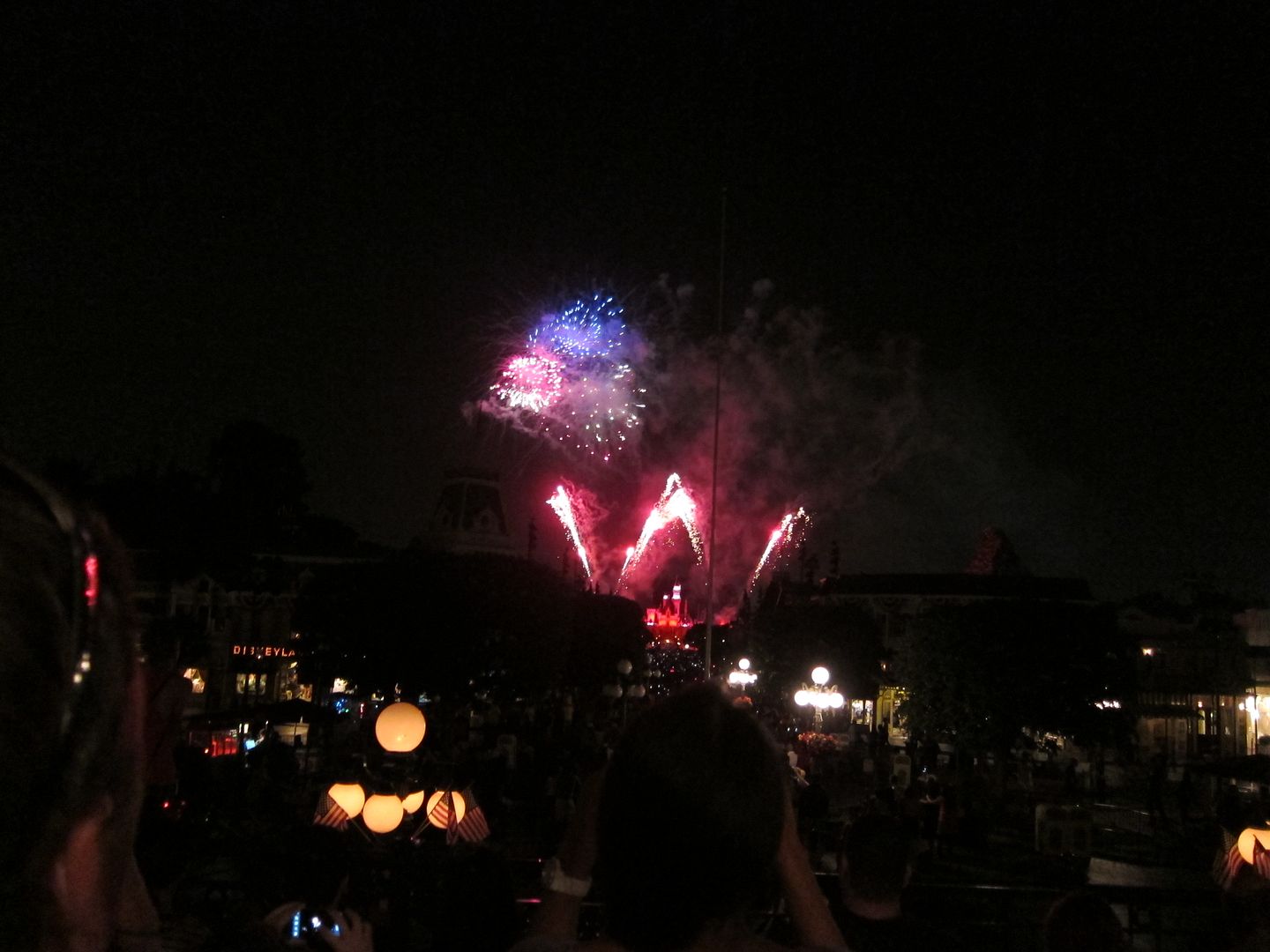 I am always a sucker for the patriotic music that accompanies Independence Day fireworks shows all over the country—I think it really drives home how lucky we are to live where we do—and the fireworks themselves were definitely impressive.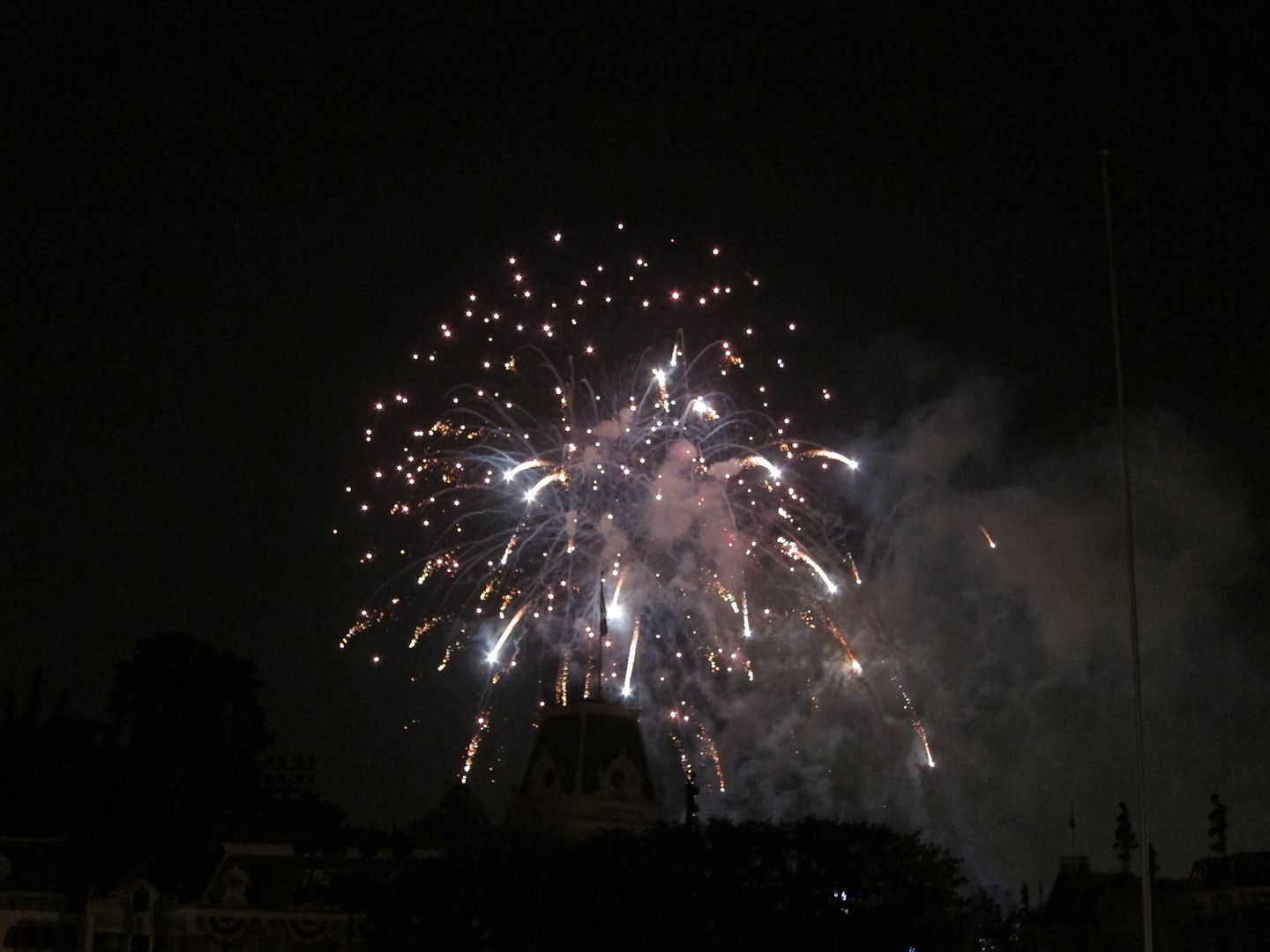 Our view wasn't perfect because there wasn't really any room for us in the roped off section on the station, but we moved around throughout the fireworks and were always able to see them pretty well.
As the show came to an end, Tracy noticed that patriotic Mickey was still out, and he didn't have a line, so we booked it across Town Square and met him right as the crowds started making their way in this direction.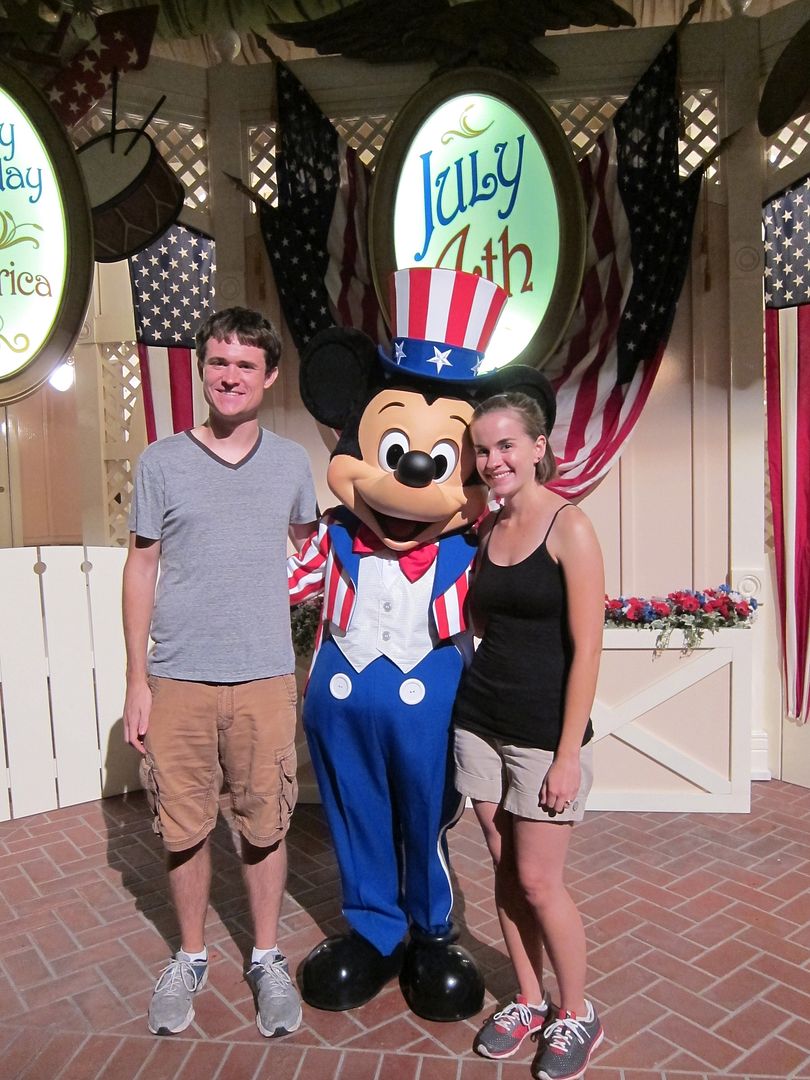 With that, we headed out for the night. I was still feeling frustrated with my GAC experience, so we figured that maybe it was good we would be taking a few days off from the parks while Tracy's parents were in town.
We brought the troll home, and he quickly took a place right next to Duffy on the Vinylmation shelf.
On Wednesday afternoon, Tracy's parents came into town! They checked in at their bed and breakfast and drove their rental car over to the CoolTech office so they could see the place. Then they all came back to our apartment, and we cooked dinner at home for our first meal of their trip. It was great getting to catch up, and they really liked our home and complex.
July 4-8, 2013
On July 4th, Tracy obviously had off from work, so we met up with her parents at their B&B before going to lunch. It was a really cute place in a great location, just a couple blocks away from Orange Circle and practically next door to Bruxie. This proximity came in handy, as Bruxie was where we were intending to eat our lunch on Independence Day. They actually flew in something like 1000 lbs of live Maine lobsters that day to make fresh Lobter Roll Waffles. I don't currently eat lobster, but Tracy was too excited about this menu item to pass it up.
Tracy and her parents both got the lobster while I had the old standby Chicken Waffle Sandwich. Everything was delicious as always.
We hadn't really formulated a plan for what to do after lunch, but I threw out the idea of going to Irvine Regional Park (where the OC Zoo is located). As we drove up, we saw that apparently we were NOT alone in having this "unique" July 4th idea. The lines to get into the park stretched back MANY cars, and there were barely any parking spots to be found. Somehow, however, we happened upon one of the only parking spaces in the lot by the zoo, and we all piled out of the car. We didn't really have concrete plans for what we wanted to do in the park, but we thought it would be fun to rent a couple of the pedal boats that you can steer around the little lake in the park. They were unique from your typical pedal boats in that they were like giant tricycles that sit on the water.
Here are the in-laws enjoying their ride around.
And here were Tracy and me.
We were actually breaking the "rules" by even taking our phones out to take pictures as they warned when we rented the boats that we should secure all electronics lest they fall into the water…
It was really fun to pedal around the lake, but it was also EXHAUSTING. Being the one of us with longer legs, I had to do most of the physical labor, and I am NOT in shape. Plus it was something like 1000 degrees out (okay, it was actually in the high 80s or low 90s), and doing that much work in the heat made it feel like even more of a workout.
For some reason, Tracy's parents seemed to have brought both a heat wave and some intense humidity. It felt as muggy as a summer day in New York almost the entire time they were here, which I'm told is not normal for SoCal.
After we brought our boats back to the dock, we continued to walk around the park. First we came across the ponies who were taking a break from their pony-ride duties.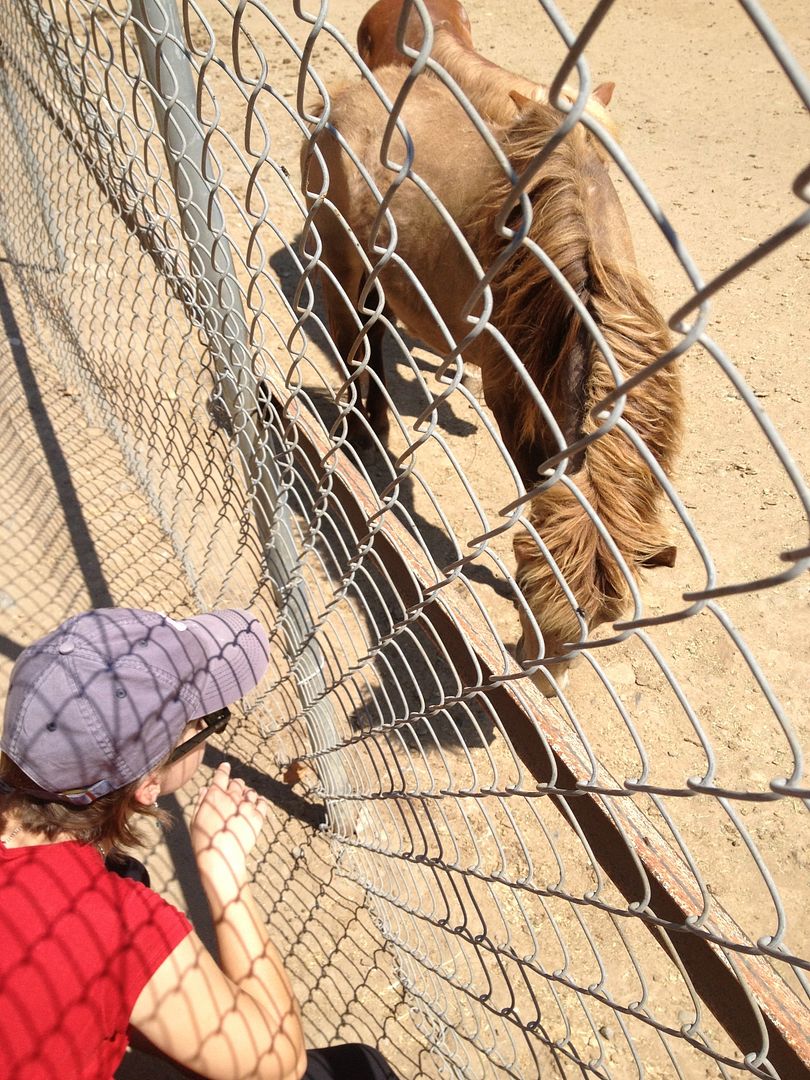 Next, we came to the train. The Irvine Park Railroad was the same train we had wanted to ride during the holidays (when the cost had been $20 per person). Tracy's parents were treating us today, though, so we got to climb aboard (luckily, I think the cost was down to about $5 per person since it was no longer decorated in Christmas lights).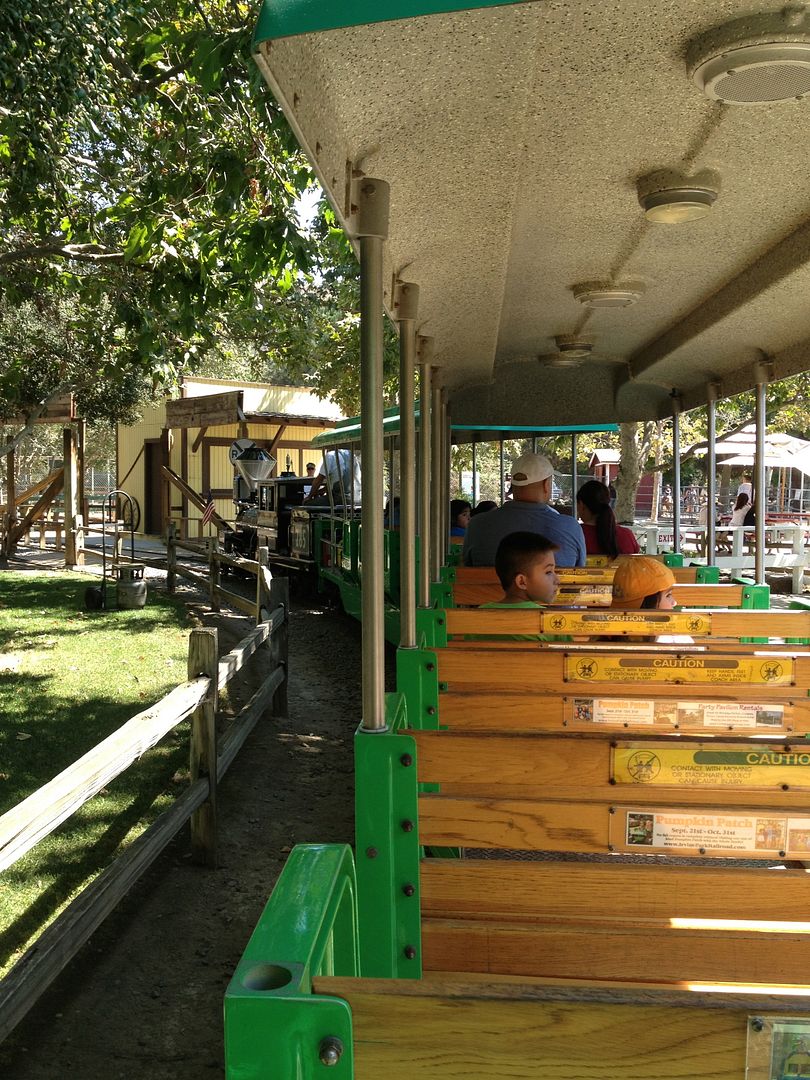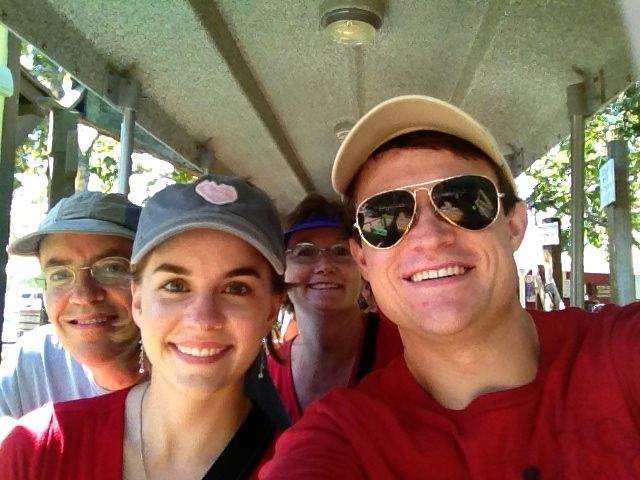 The actual ride itself was really fun. It was definitely shorter than we anticipated, but we got to go all over the park.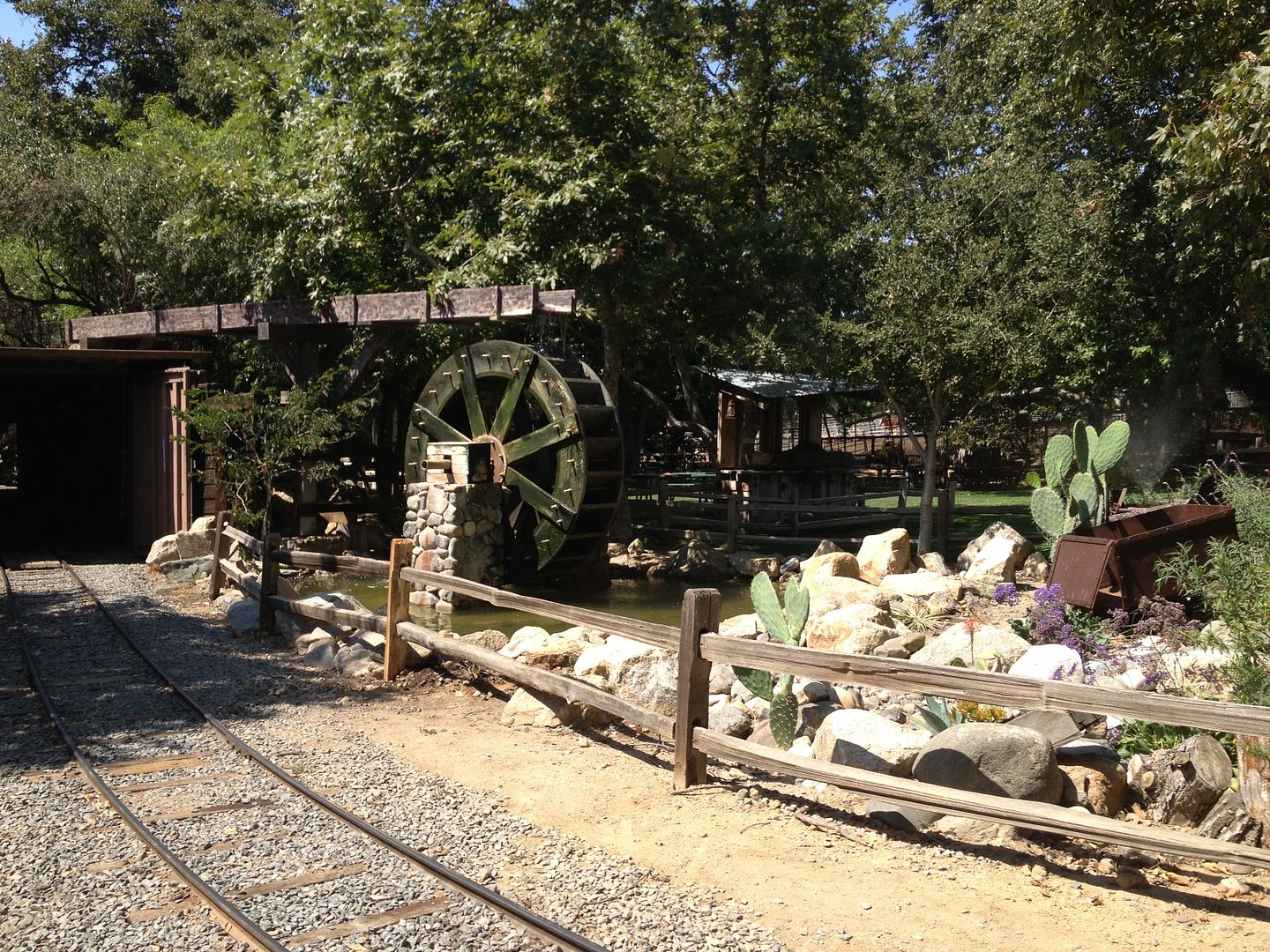 Once we got back to the station (which didn't really take too long), we started walking back in the direction of our car. There were surrey bikes riding by us every few minutes during the whole time we were here, and we kept thinking about how precarious they looked. None of the people driving seemed to know how to either steer or brake, and the paths often went right along the shores of some of the lakes as well as up steep hills and around corners. We had just been talking about that when one group of girls came to a halt in front of us because they couldn't get their bike up the hill. Tracy's dad kindly volunteered to give them a push.
Previous Post | Next Post
Table of Contents
Follow



Share