Chapter 91
How Rude!
---
Previous Post | Next Post
Table of Contents
(Originally posted November 3, 2013)
We went over to Big Thunder Ranch next and Pancho was in the back pen!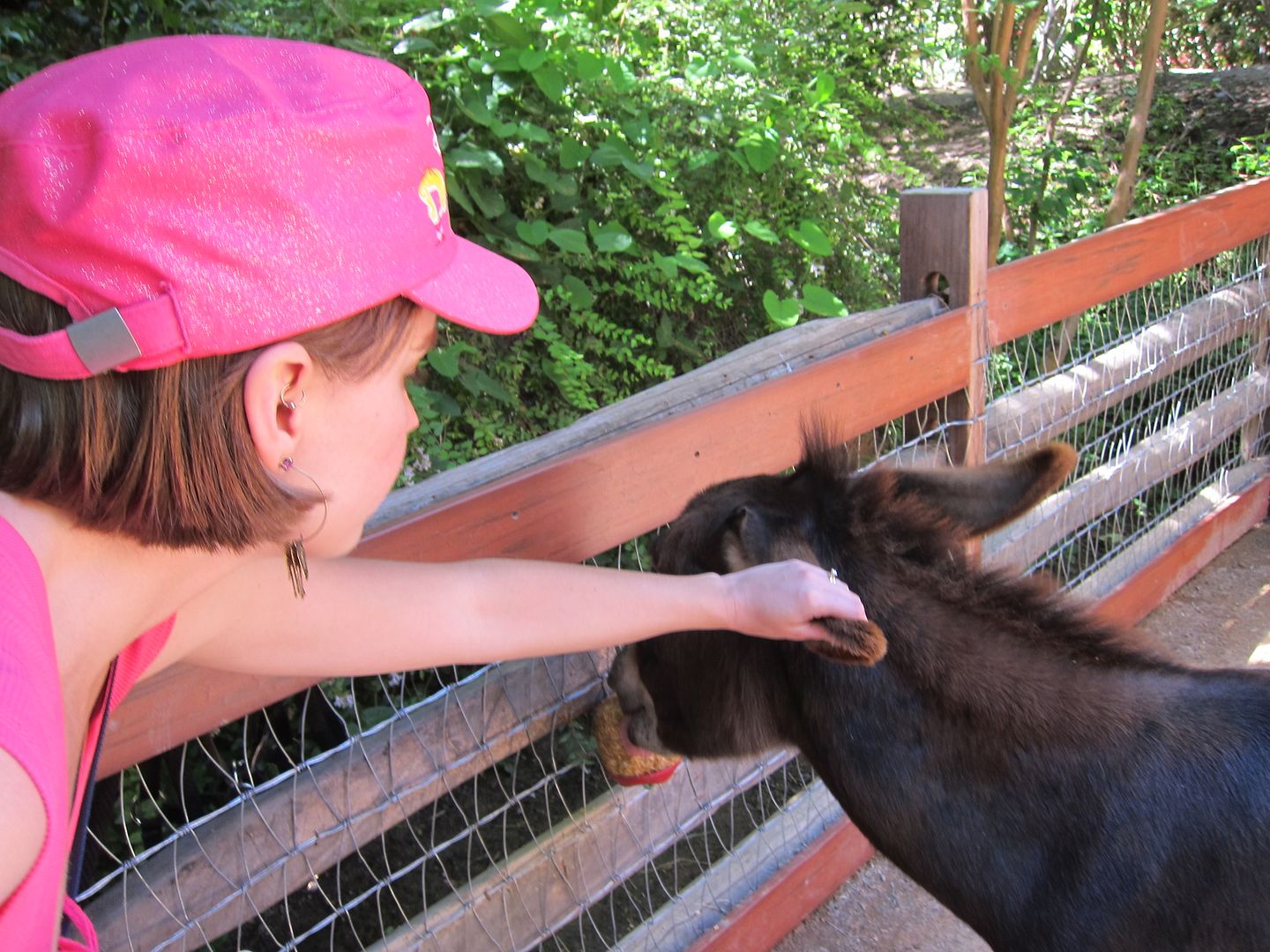 He was being a little standoffish at first, preferring to nibble on his snack rather than get pet, but once Tracy started scratching his rump, he came over to enjoy a nice pat.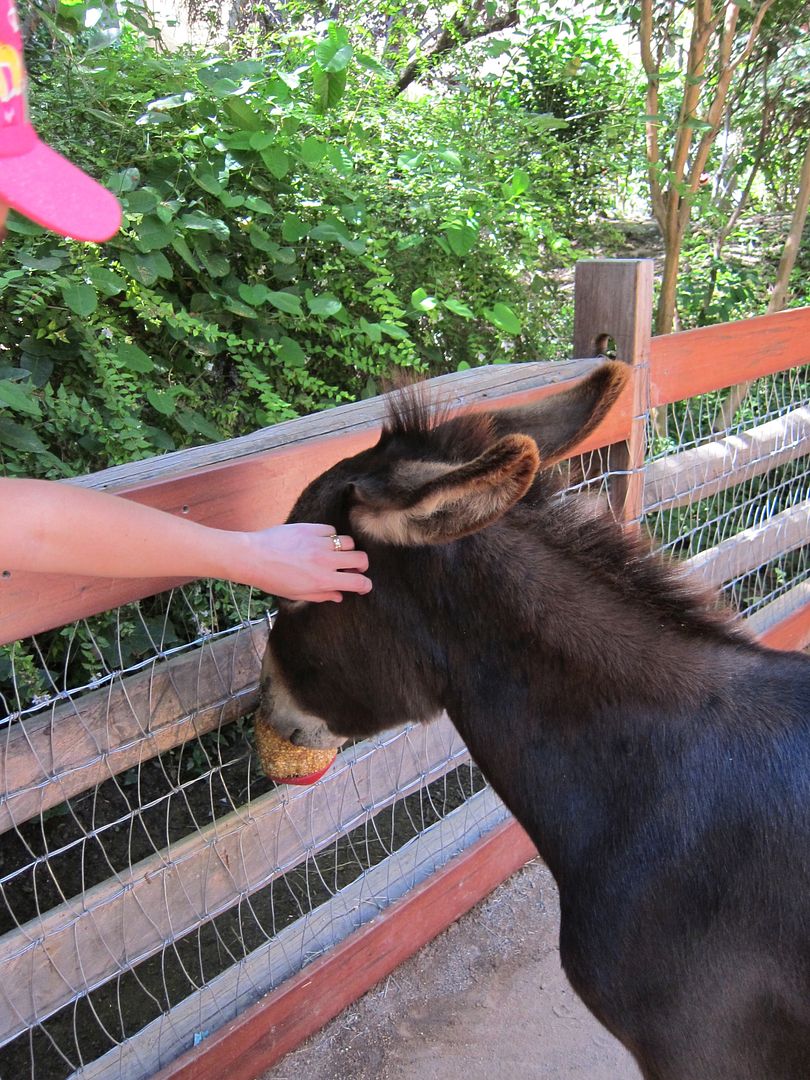 We rode Pirates next before deciding we were ready for a snack. We had been threatening to try the Jalapeno Cream Cheese Pretzel for weeks now, but every time we would get to the restaurants, we would decide to get a Mickey Pretzel instead. Well, this time, as we headed to Bengal Barbeque, we finally followed through to try something new.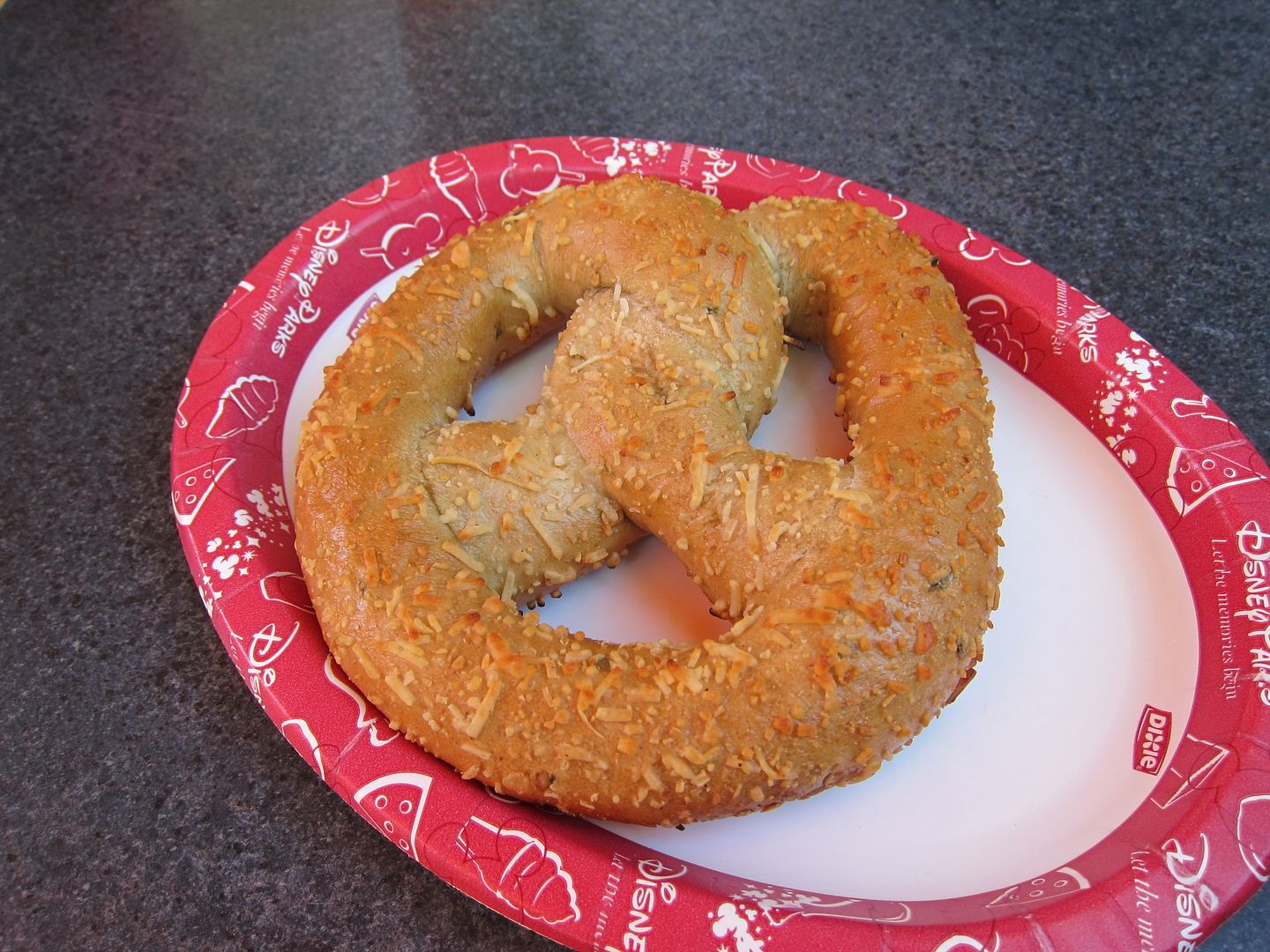 It was really delicious! The jalapenos definitely gave it a nice kick, but it wasn't too cream-cheesey (unlike a certain cinnamon roll…).
We rode the Jungle Cruise next since it was right next-door, and we thought our skipper was pretty good.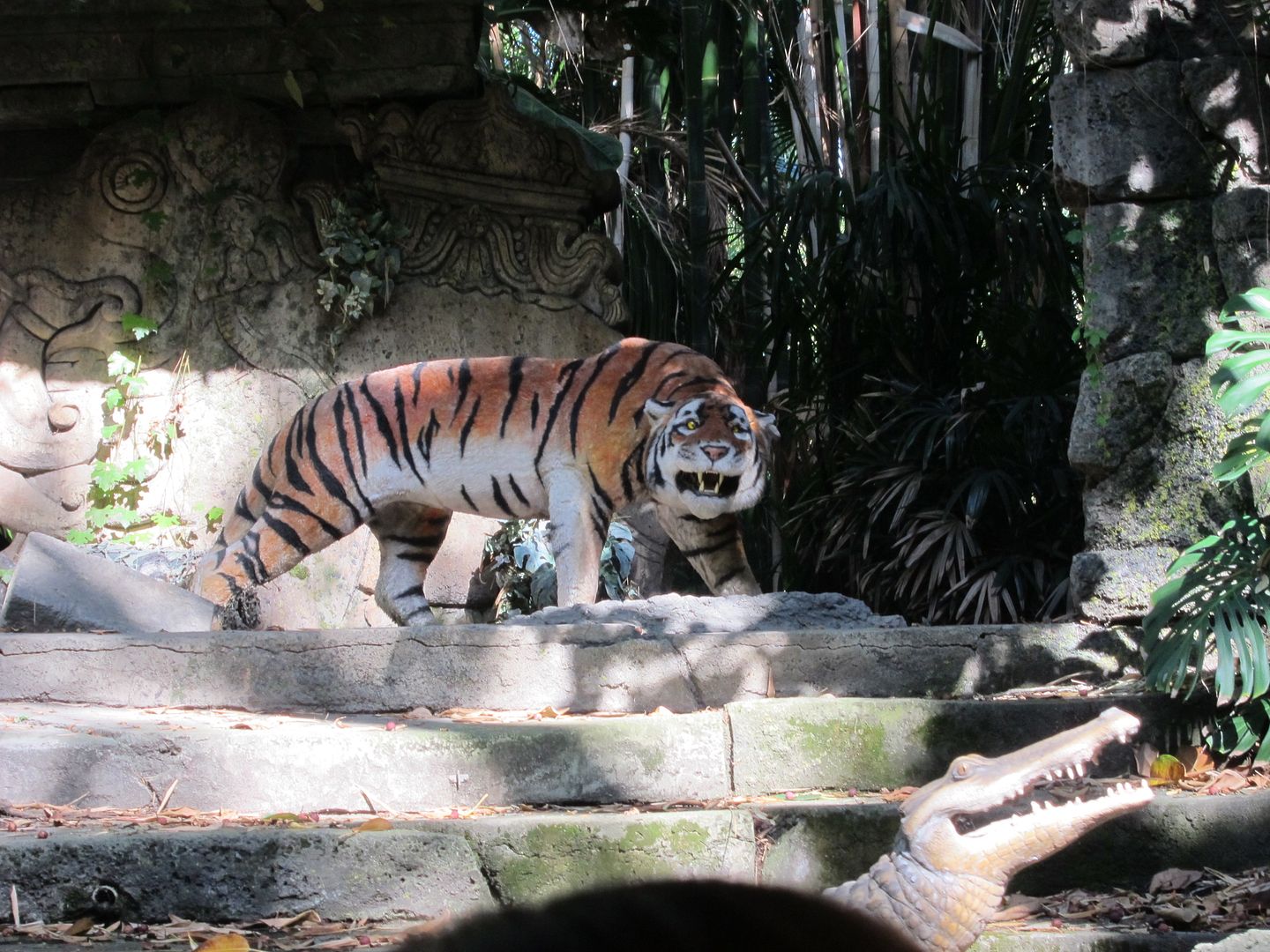 I was obviously in the mood to photograph the jungle this afternoon.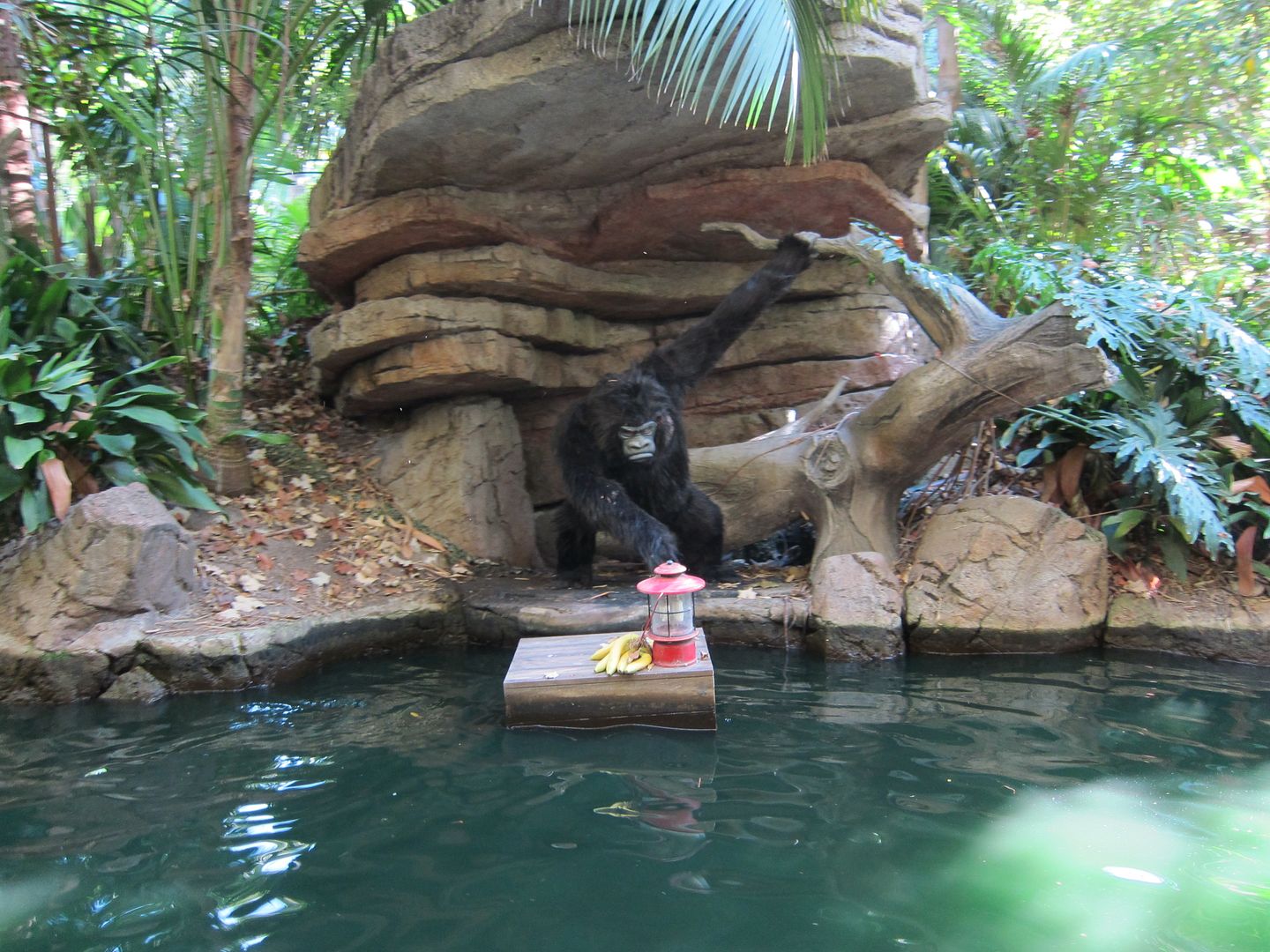 It was getting to be about time to head out, so we made our way toward the exit. On the way, we stopped to fill out a card at Guest Relations for Greg, and then we enjoyed some of the Flag Retreat Ceremony in Town Square.
We were going to head home, but instead, we stopped briefly into DCA. Francisco wasn't out, so we continued out through the exit into the Grand Californian. Tracy had a purchase she had been eyeing for months (literally since we had first come to CA), and now she was finally going to buy it at Acorn's—a Mickey Mouse one-piece bathing suit, perfect for any occasions when she wanted to actually SWIM in our pool without worrying about her suit falling off.
Purchase made, we headed out of the Grand Californian and perfectly timed hopping aboard a tram to take us back to the garage.
May 20-23, 2013
On Tuesday evening, we headed to the parks after work. After parking and riding the tram, we arrived in Disneyland right as a train was pulling out of Main Street Station. We had been in the mood to ride the Railroad, so we decided to wait for the next one.
We were sitting on a bench at the station, and the family who sat down next to us seemed a pretty pleasant lot. They were all wearing matching clothes and talking about what they were excited to do next—I think they were visiting from Canada.
When the train pulled into the station, we all stood up to get ready to board. The family must have stood up a moment before us, and when we stood up, they apologized profusely because they didn't want us to think they were trying to cut in front of us in line. They just kept apologizing for "being so rude," even though they were literally the COMPLETE opposite of rude. Still, once we got on the train (far away from them), Tracy and I couldn't help joking for the rest of the evening about how "incredibly rude" they had been.
We rode around to the Toontown Depot, where we disembarked to head into Toontown itself. I wanted to ride Gadget's Go-Coaster because it's always so fun even though it's a ridiculous ride. We passed through Toontown—an area we so rarely enter at all.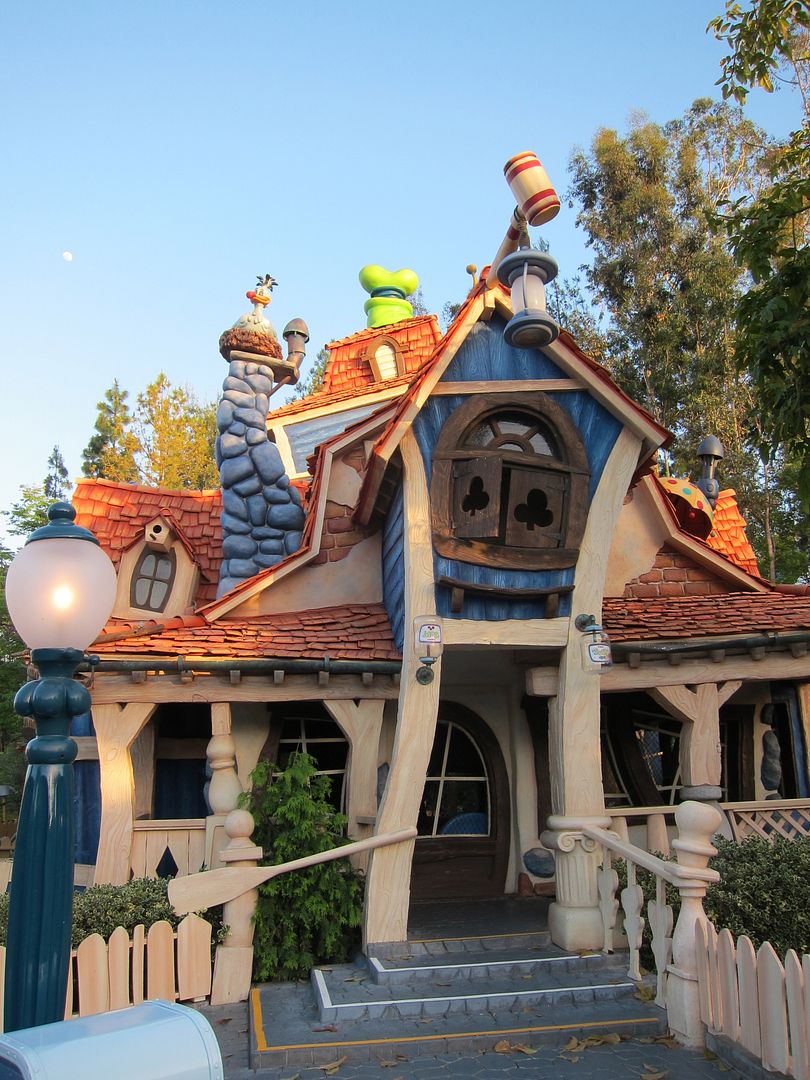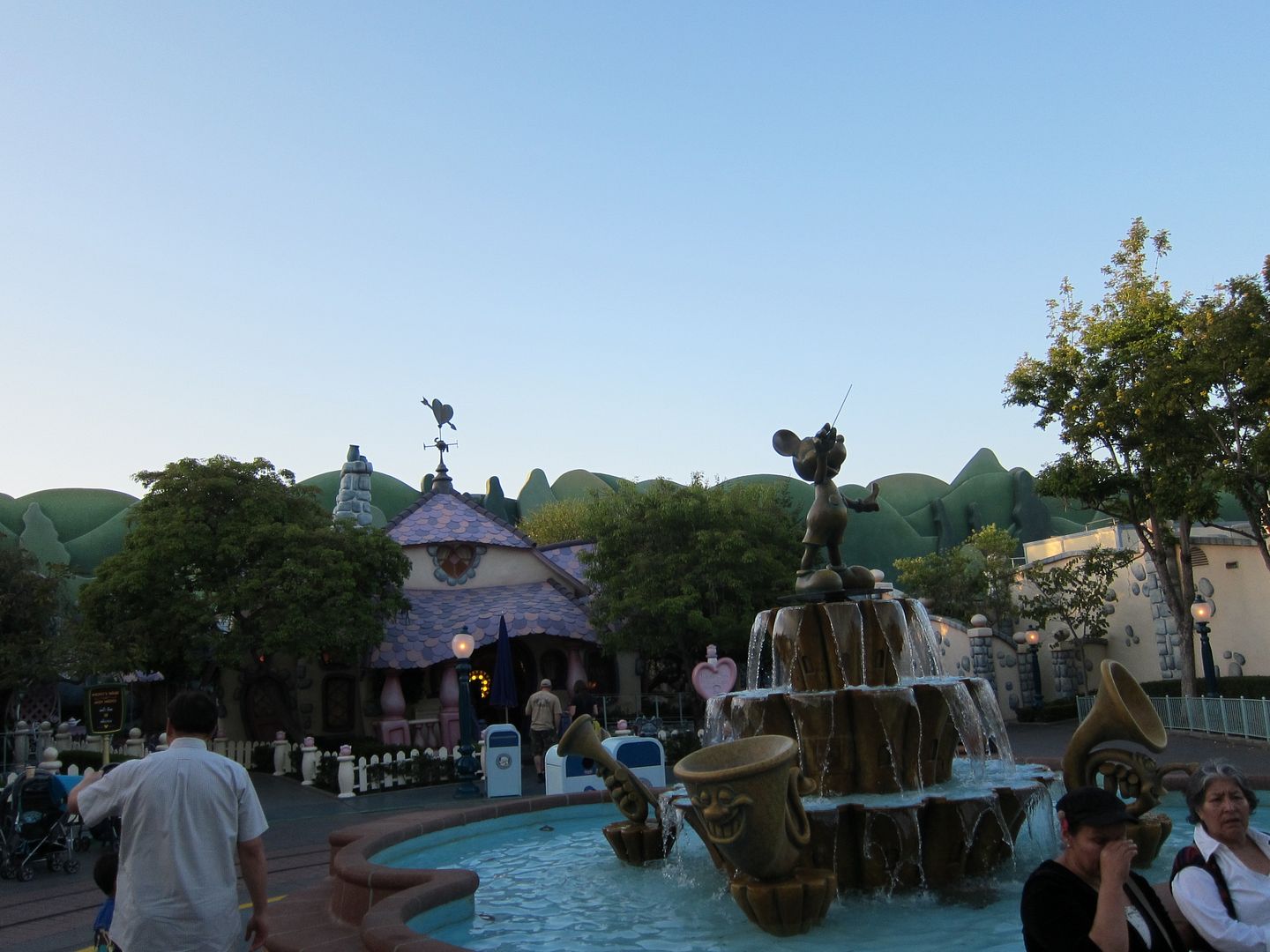 The line for the coaster was a little long, but we decided to wait it out (we would have felt a little absurd using the GAC on this attraction).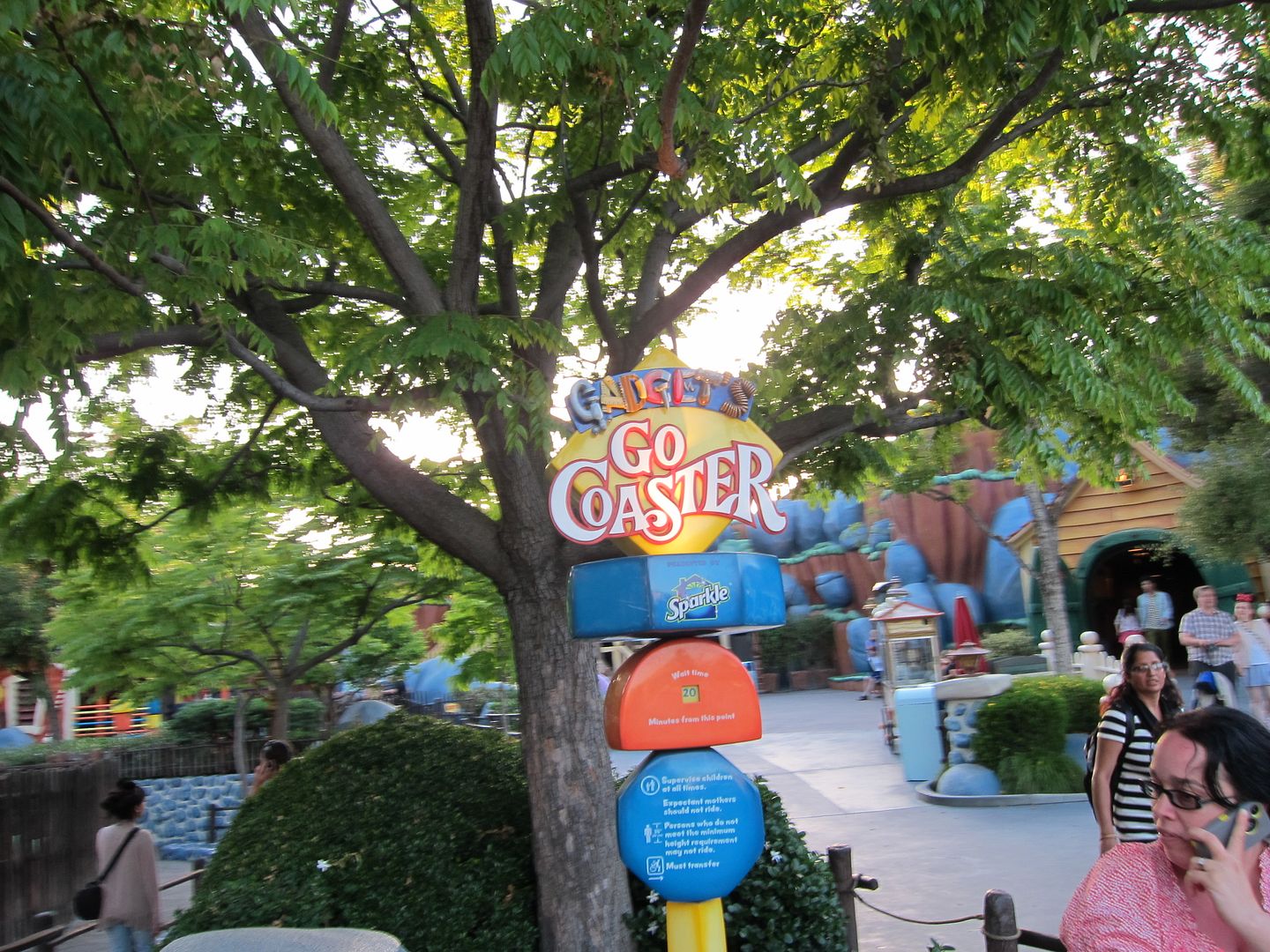 After riding, I tried to convince Tracy to ride Roger Rabbit's Car Toon Spin with me. If you will recall, she rode without me on a day when I was feeling particularly bad. She had HATED the ride, but she couldn't give me an adequate explanation why she disliked it so much. Therefore, I was curious to see for myself.
Tracy finally gave in, but she wasn't happy about it. As we entered the queue, I liked the license plates on the wall.
I also liked the Benny the Cab ride vehicles. I thought they were cute.
Unfortunately, the things I liked about the attraction stopped there. This ride is just way too violent for us. We weren't even spinning the wheel, but it kept giving me whiplash to rival Mater's Junkyard Jamboree. And it felt like the attraction went on forever, hurting me more and more in each new room. I honestly can't even judge how the actual dark ride element of the attraction was because I was so focused on trying not to throw my neck out at all times. It probably doesn't help that I've never actually seen Who Framed Roger Rabbit?, so the storyline of the attraction totally went over my head…
As we left the ride, Tracy's "I told you so" look spoke volumes. Now I know to trust that if she doesn't like a dark ride for some reason, I should probably take her word for it.
As we left Toontown, we passed by the Fantasyland Theatre, which was just getting ready to reopen later that week with Mickey and the Magical Map.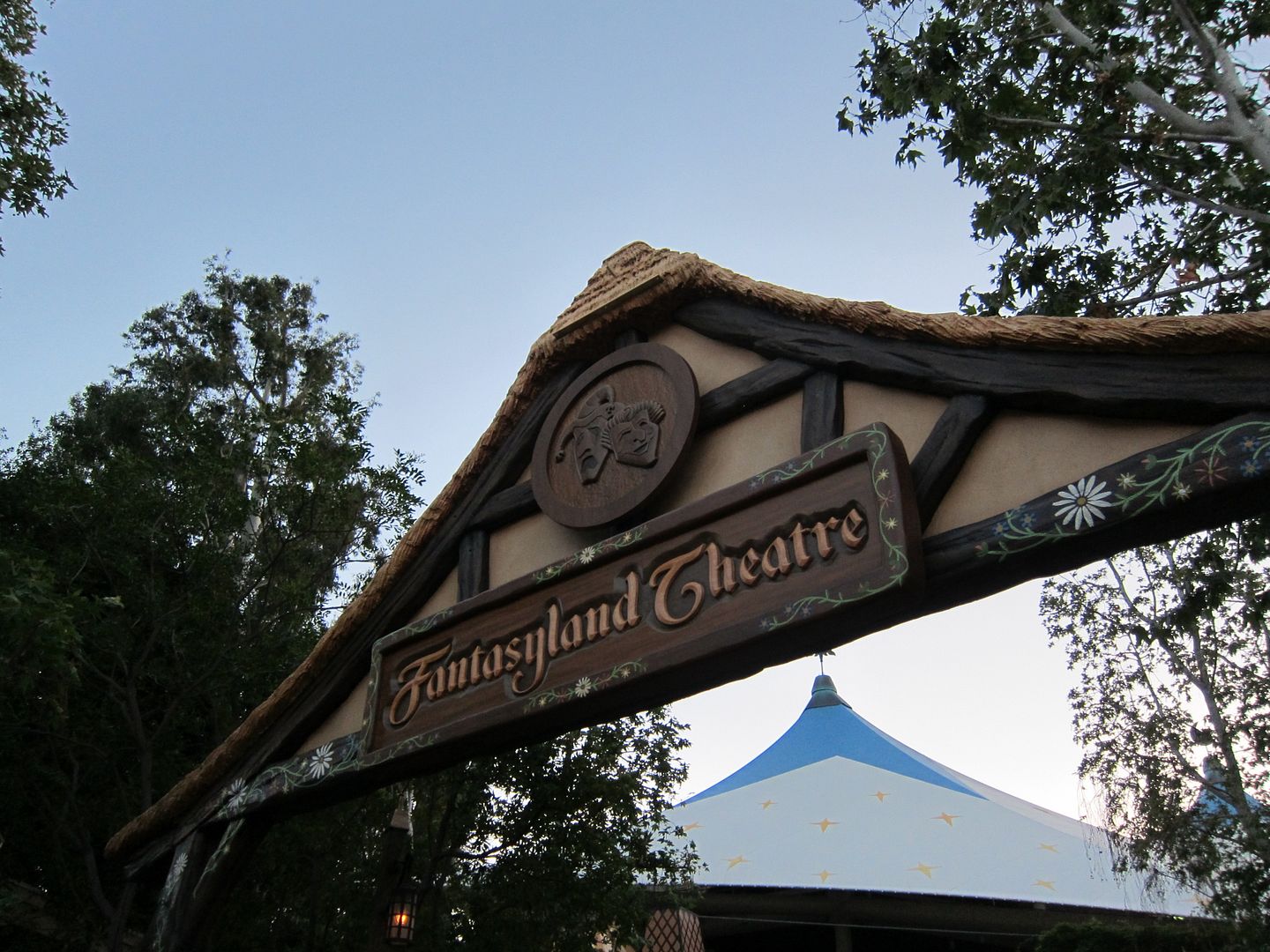 We continued through Fantasyland to ride Alice in Wonderland, and I took this really poor-quality picture of one of the Dande-LIONS.
Next, we headed over to Autopia.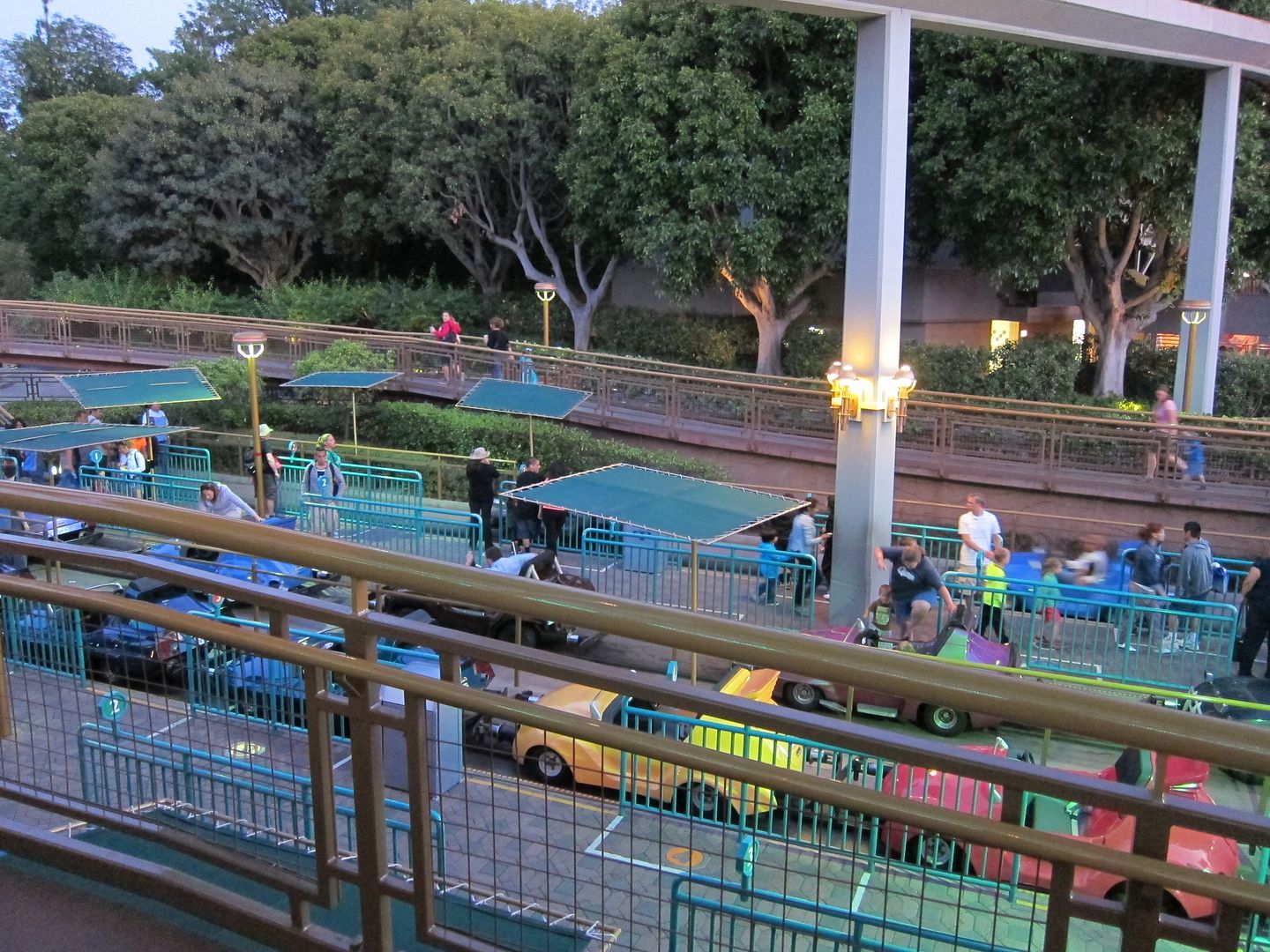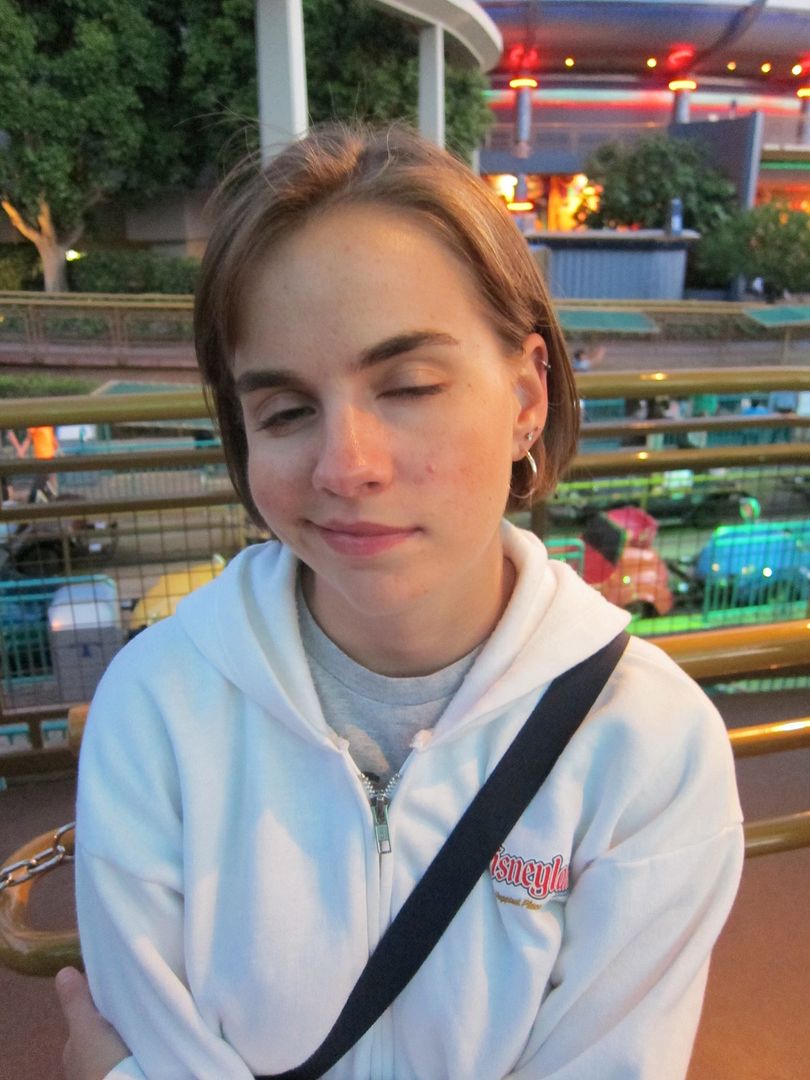 We were stuck in the queue for a while, so I started reading Twitter on my phone. That night was the season finale of Dancing with the Stars, and I had the winner spoiled for me by someone I follow on the East Coast. I hate how the time difference makes TV shows get spoiled. I've had to make it a habit never to go on Twitter after a certain time if a show that could be spoiled is airing that night…
After riding on Autopia with Tracy driving, we headed back to Main Street. We bought a Red Velvet Cake Pop (our first in a long while), and took it to a table on Center Street (the offshoot from Main Street, U.S.A.) to eat.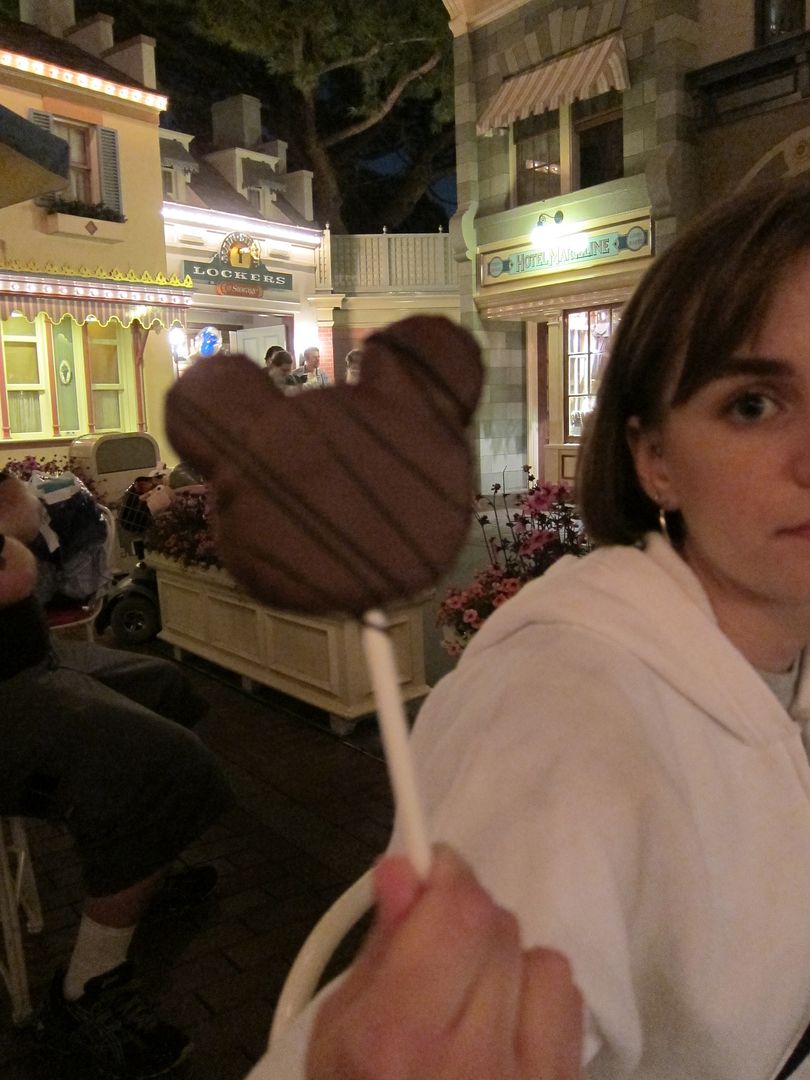 We had never really spent any time back there, so it was fun to feel removed from the bustle of Main Street while still soaking up all the atmosphere.
By now, it was getting late, so we headed out of the park. Tracy had been wanting to look at the new Haunted Mansion music box ever since she had seen a picture of the whole Haunted Mansion merchandise line, but they were sold out of almost everything at the cart outside the attraction. We went to World of Disney to check if they had any of the items, but their Mansion selection was pretty slim. Giving up for now, we headed home.
Previous Post | Next Post
Table of Contents
Follow



Share