Chapter 51
American Experiences
---
Previous Post | Next Post
Table of Contents
(Originally posted July 31, 2013)
Exiting out from Pacific Wharf, we found ourselves with our first view of Paradise Pier.
We decided we were ready for an attraction without any line, and the surefire bet to satisfy that criterion in DCA is always The Little Mermaid: Ariel's Undersea Adventure.
We quickly walked inside and were able to board a clamshell almost immediately.
The easy accessibility is one of my favorite things about this ride, but I really like it in general! I think it's a great dark ride in the spirit of the classics, and the fact that we never have to wait to get on means that we often pop in there for a break from the crowds, the heat, or whatever else is bothering us on any given day. After a short line, voila—we're transported under the sea.
This was the first time we had ridden the attraction since the death of the soft-serve ice cream hair on Ariel, so that was a little sad.
Coming out from the ride, we headed into Paradise Pier proper.
Our first stop, though, was to visit our good friend Duffy!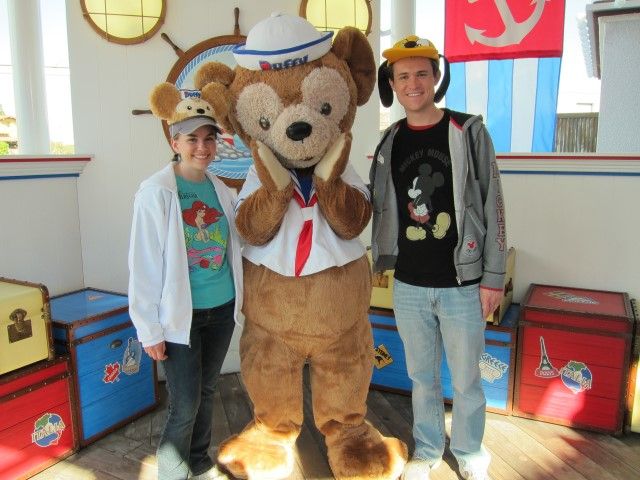 I've already expounded on how we feel about Duffy in my WDW trip report, so I won't rehash that argument now. But I will say that when Tracy met him at Epcot wearing her Duffy ears, he wasn't QUITE as ecstatic as we were hoping. This time, though, he was pretty thrilled, so we were happy about that!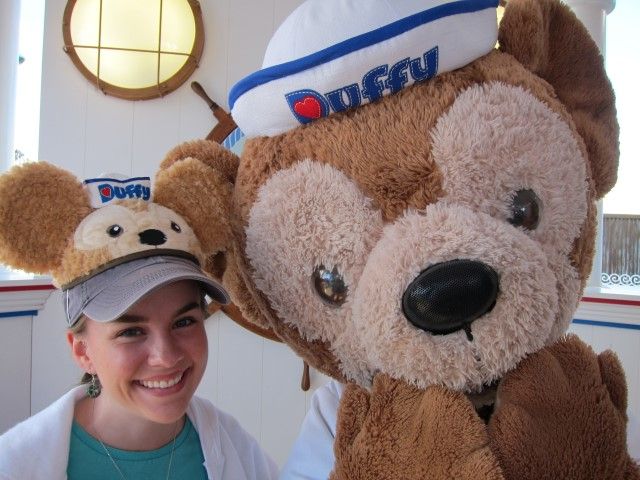 Right across the way, Donald was meeting in his nautical outfit, and he didn't have any line either. We hopped right over and took a few pictures with him.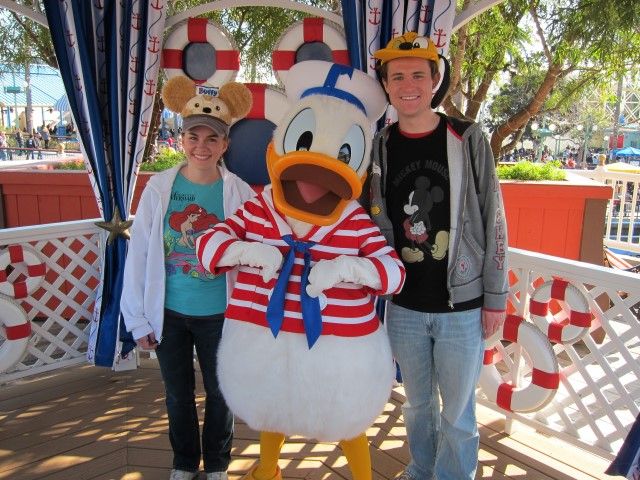 Character distractions done for now, we walked through Paradise Pier.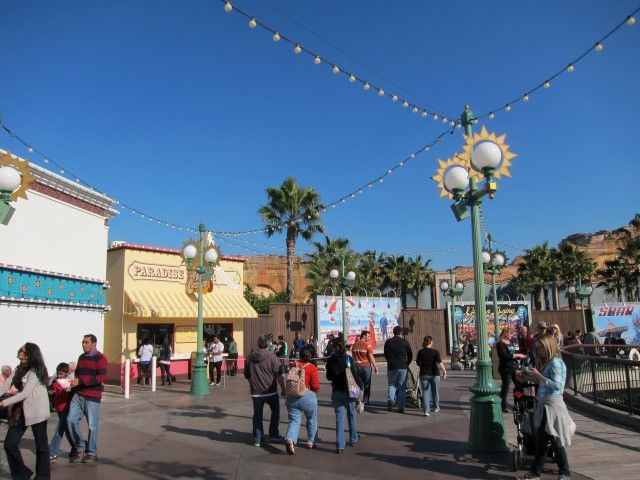 We were itching to ride Toy Story Mania, but the line was in the 45 minute range, so that would have to wait until some other time.
Instead, we decided to go for a spin on Mickey's Fun Wheel.
Before you get too scared for our lives, remember that Tracy and I ONLY do the non-swinging version of this ride. We've seen too many green-faced people coming off of the swinging cars to risk suffering the same fate. Luckily, the line for the non-swinging cars is usually shorter anyway.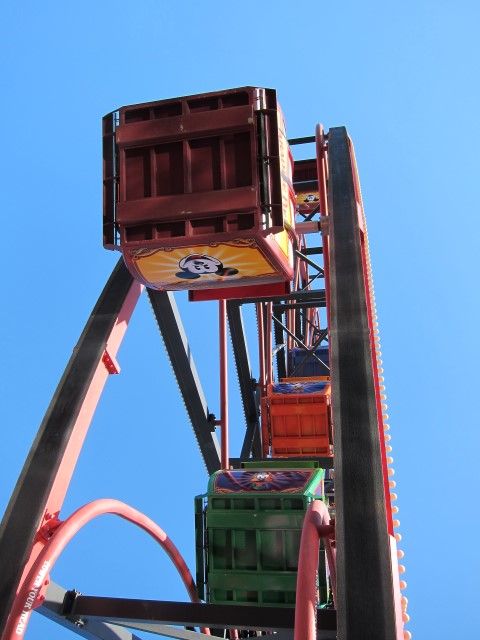 We boarded the wheel, and we were off into the air. Unfortunately, this was one of those days when they were putting groups of two (like us) with other small groups, so we had to ride with strangers. Oh well. What can you do?
Looking down from the top of the wheel, we could see Cars Land, and it brought back memories of looking down on the construction on our last trip here. It was a very different sight this time around.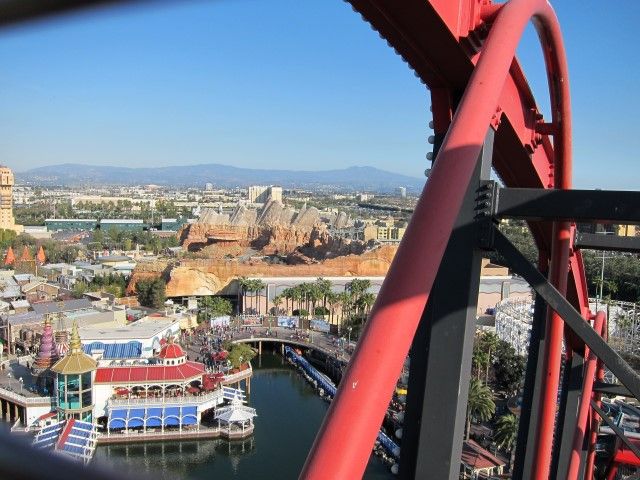 We always love riding the Fun Wheel (from the safety of our stationary car), and this ride was no exception. Ferris wheels are just so relaxing.
Feet back on the ground, we continued the circuit around Paradise Pier and stopped to take a picture from across the lagoon.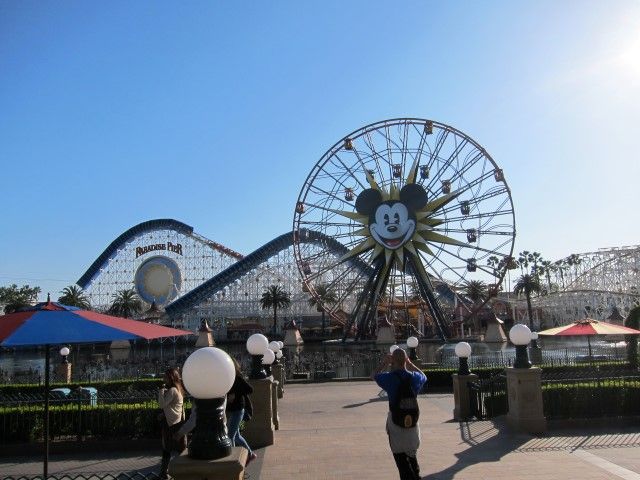 We started to make our way through the Grizzly Peak area and back toward the front of the park.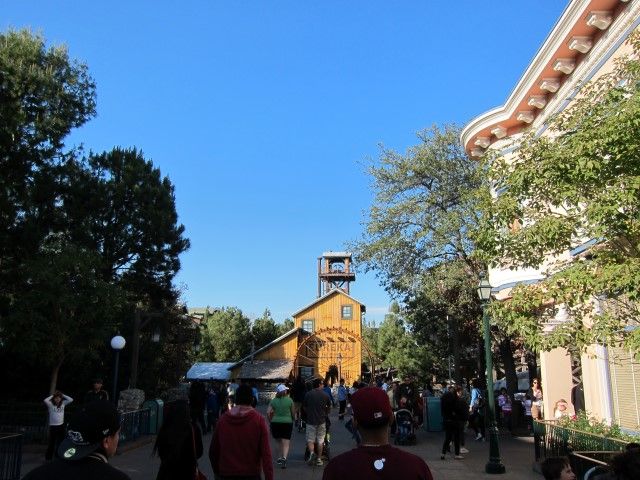 Tracy decided she wants this awesome hat.
When we passed Condor Flats, Minnie's Fly Girls were performing.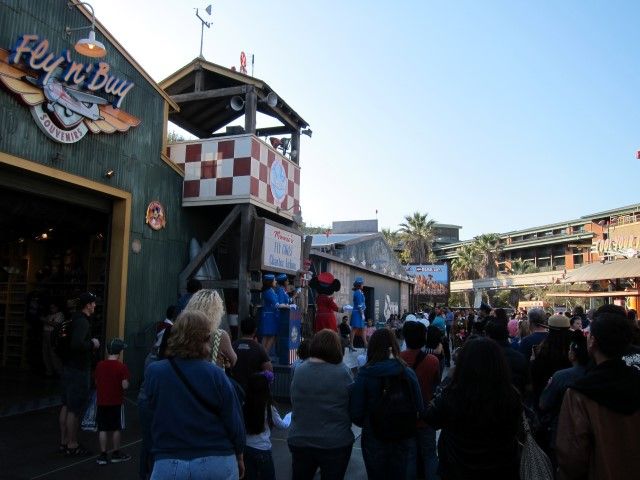 Our next stop was an exciting new venture. I know opinions are mixed among the community, but we were very excited to be able to go to Starbucks at Fiddler, Fifer, and Practical Café!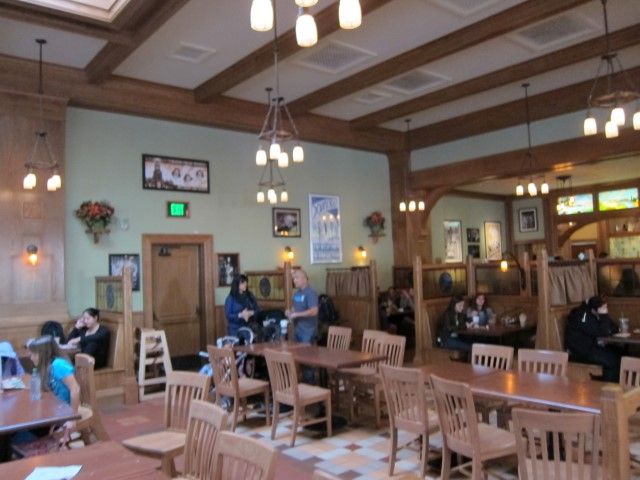 Walking in, it was VERY clear that this was no ordinary Starbucks. It still felt almost 100% like an Imagineered Disney location, which is what I think most of the people who are against the Starbucks presence in the parks don't understand.
When we got to the front of the line, we enjoyed the perk of getting our AP discount on our Starbucks drink. Getting 20% off actually made it cheaper than any of the other Starbucks locations in the area! Not only that, but since Disney and Starbucks had to prepare for the location to be one of the busiest ones in existence, they must have ordered way to much of all the specialty syrups. This meant that we could get a Pumpkin Spice Latte (our favorite fall drink) even though it was the end of February. We were pretty thrilled! Plus, we just love the Disney Parks Starbucks cups.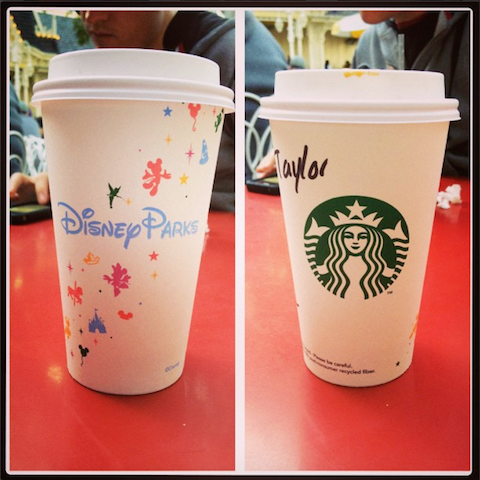 We were actually taking our drink to go and booking it over to Disneyland.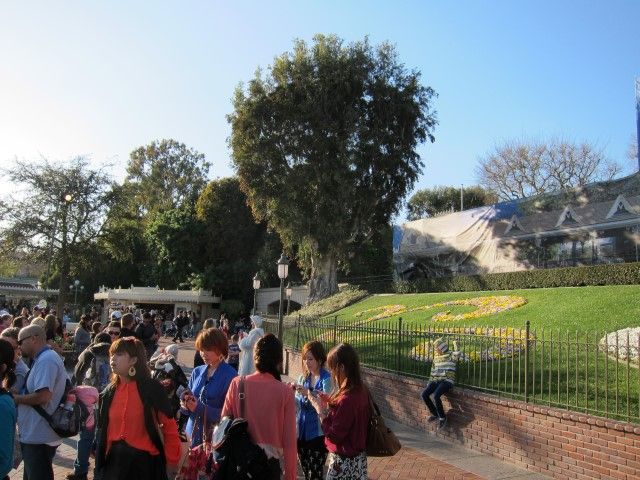 We had our first experience with Limited Time Magic to get to! Since this was President's Day weekend, the Voices of Liberty were doing a special patriotic set before select showings of Great Moments with Mr. Lincoln in the Opera House, and we wanted to see the last show of the afternoon.
We arrived with plenty of time to spare and milled around the lobby of the Opera House enjoying all the cool décor. Finally, we were ushered into the theater (we may have broken the rules and brought our coffee in with us because we weren't about to throw out any of that delicious drink).
The Voices of Liberty came out and performed a beautiful set.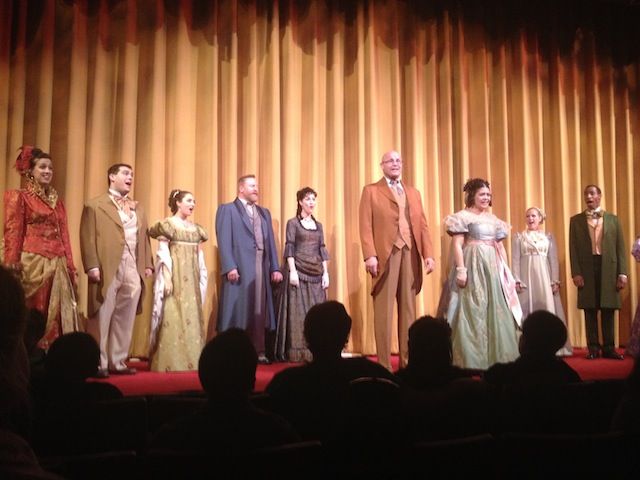 They are extremely talented, and I think it's especially impressive how good the Disneyland Voices of Liberty were despite not being a long-running group like those at Epcot. Unfortunately, this was one of the only times we would see the group perform before they got axed in April. The medley they sang was a really great mix of songs, and we liked how they interspersed speeches from several of America's presidents. One of the singers totally spaced his lines in the middle of one of the speeches, though, which was a little awkward…
After the performance, I will be honest—we just wanted to leave. I was feeling dehydrated after the coffee and just wanted to get a drink of water, so I was NOT in the mood to watch Great Moments with Mr. Lincoln at that time. Still, we didn't want to be "those people" who left the educational/patriotic experience (just like we tried our darndest not to fall asleep on the Hall of Presidents in WDW), so we sat through it. Honestly, it wasn't the way I'd like to experience the attraction, and I really should go watch it again sometime!
Finally, Lincoln sat back down and we were free to book it to the Refreshment Corner, where we got two large cups of water. We sat for a while, resting and rehydrating, and before too long, we were ready to continue our day.
Previous Post | Next Post
Table of Contents
Follow



Share