Chapter 52
Fly, My Pretties
---
Previous Post | Next Post
Table of Contents
(Originally posted August 4, 2013)
After I started feeling better, we decided to head back to the car and grab our coats. Nightfall was approaching, after all, and we knew the chill would accompany it.
When we returned to the esplanade, we decided to head to DCA. We were getting hungry for dinner, and this time we decided to head to a restaurant that we knew wouldn't disappoint us. We walked straight back through the park, therefore, and got in line at Corn Dog Castle.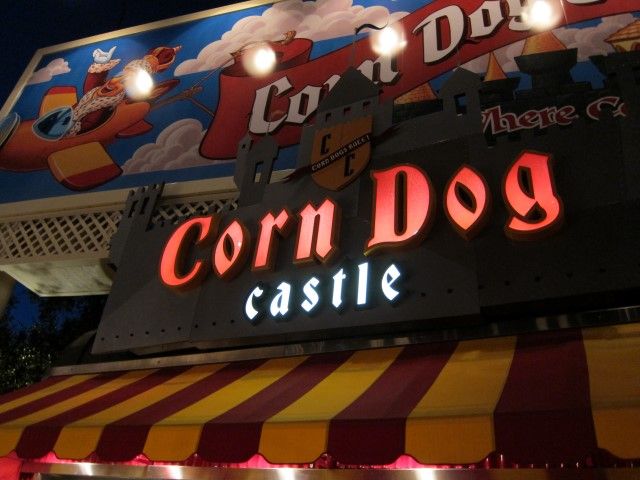 If you remember our visit to this restaurant on our last trip to Disneyland, you will know how much we LOVED our Hot Link Corn Dogs. We decided now to split one of those, however, because getting our own last time had been way too much food. Not only was it a sound decision in terms of portion size, but it made it one of the cheapest meals we could get in the parks.
Our Hot Link Corn Dog came out, and we devoured it. It was SO GOOD—just as delicious as we remembered. With this one food item, Disneyland had redeemed itself from the previous night's disappointments. We also ate and really enjoyed the Disney Kettle Chips that accompany the corn dog. They're really good potato chips (better than we would expect for a side dish).
Appetites sated, we were left to decide where else we wanted to explore tonight.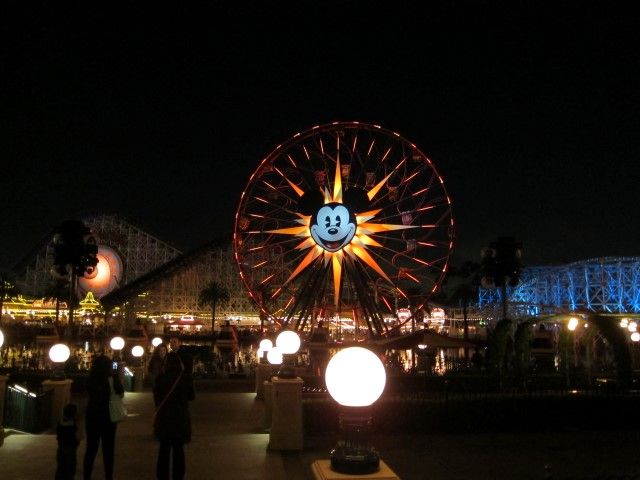 We had heard all about the majesty of Cars Land after dark, so we decided to go in that direction.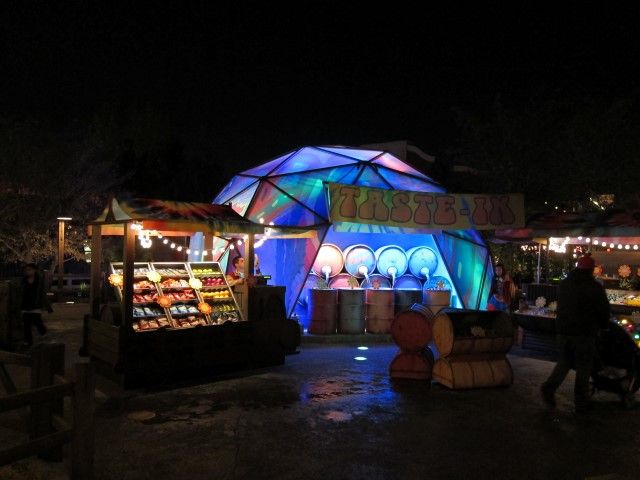 I feel like even our steep expectations couldn't prepare us for how incredible of an experience it is to see this area of the park lit up. The entire lighting design is just BRILLIANT, and it really brings the land to life. I said at the time (and I continue to assert) that Cars Land at night is one of the most beautiful things Disney has ever designed. Of course my camera can't do it justice, but here were some of our favorite parts.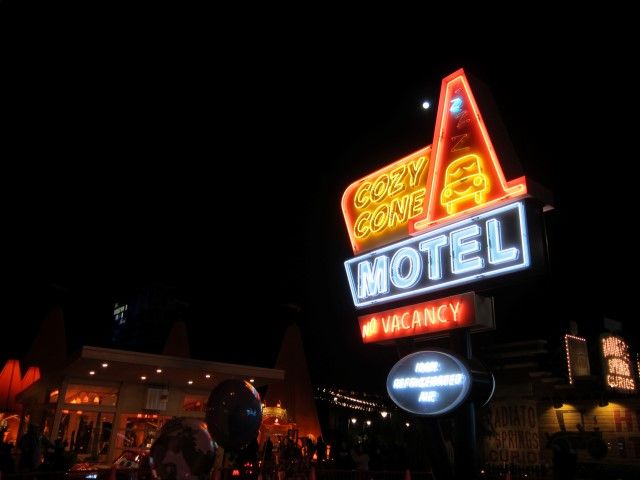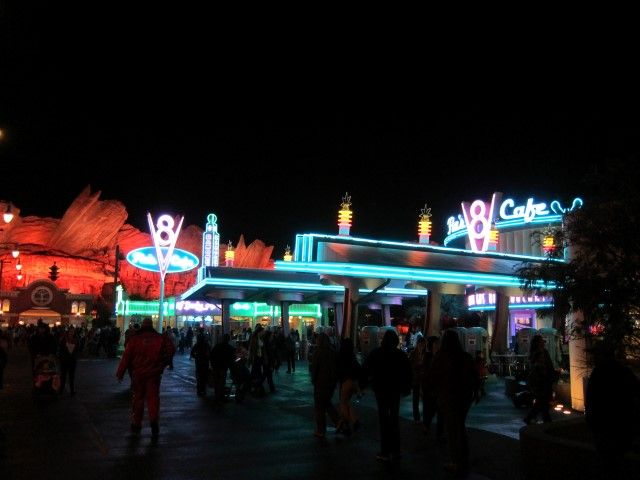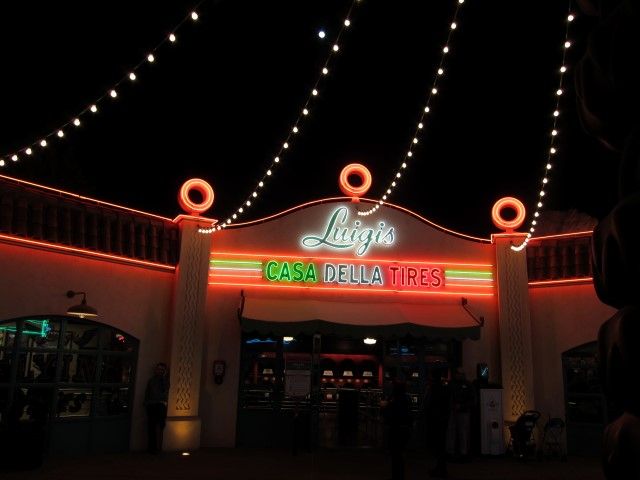 Unfortunately, the line for Luigi's was still pretty long, so we decided to skip it for now and try again later.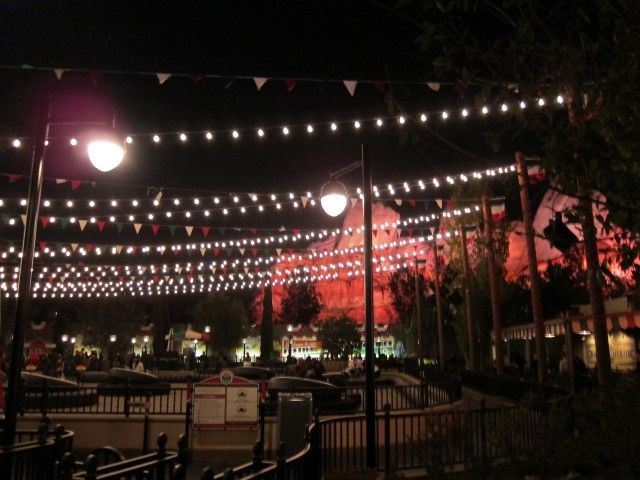 I love the blinking traffic light!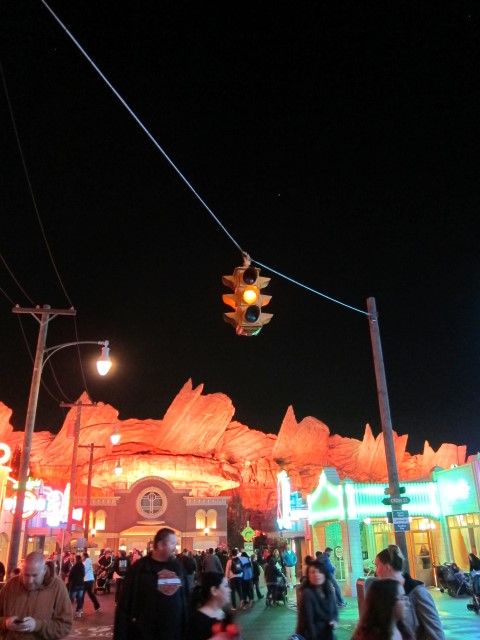 We decided to head over to a ride that we knew wouldn't have a line—because it quite literally never has.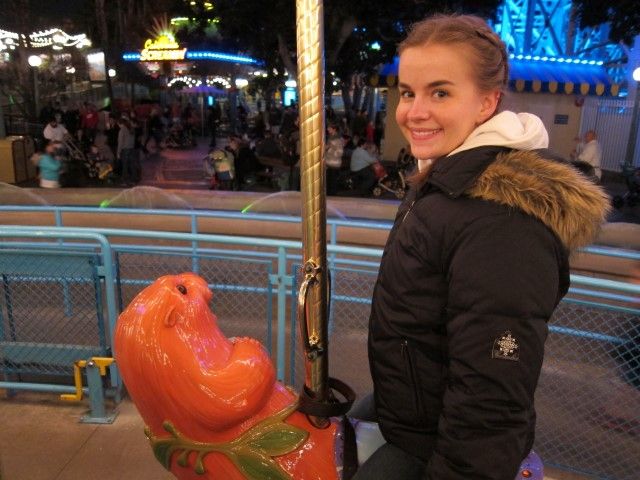 King Triton's Carousel is fun because we like all of the different options for sea creatures. This time, Tracy chose that otter, and I went for a sea lion because they are my favorite animals.
After enjoying our trip around the sea, we went back out of Paradise Pier.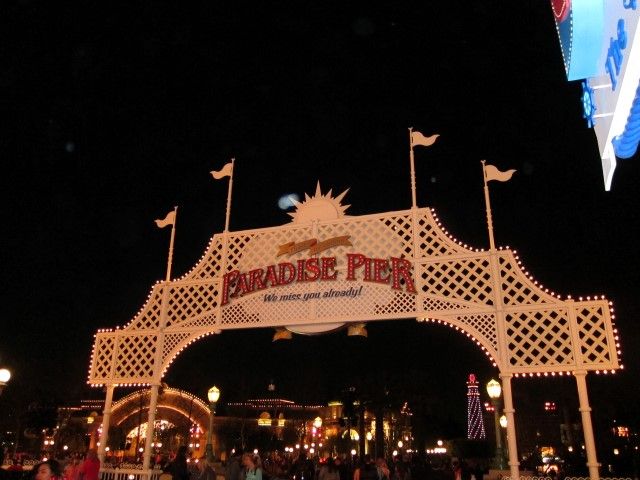 We passed Duffy's spot, and we liked how nicely it was lit up despite the fact that he's never there when it's dark out.
Now we headed back to Cars Land, and Luigi's Flying Tires had almost no wait posted.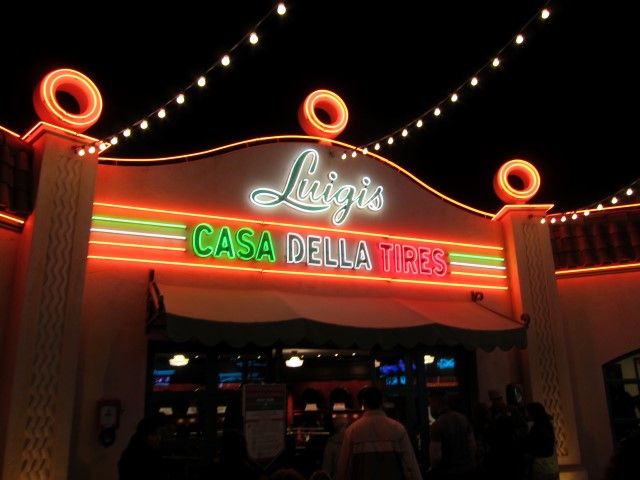 The ride has a really great queue area.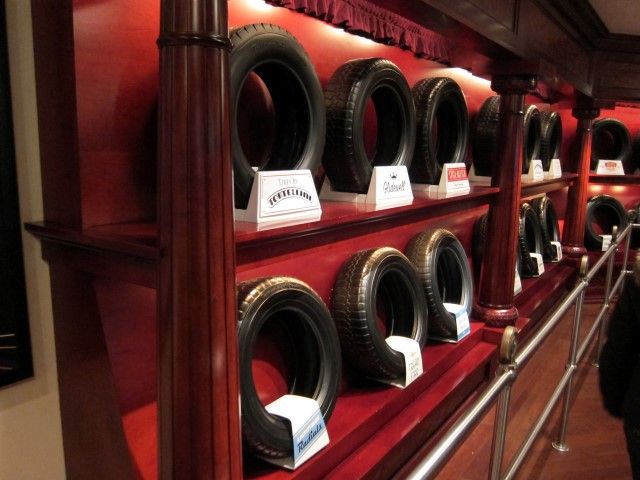 I love how these tires are called "Fettuccine Alfredo."
And I also loved how, since the tires are like shoes for a car, they had this oversized "shoe measuring device" on the wall.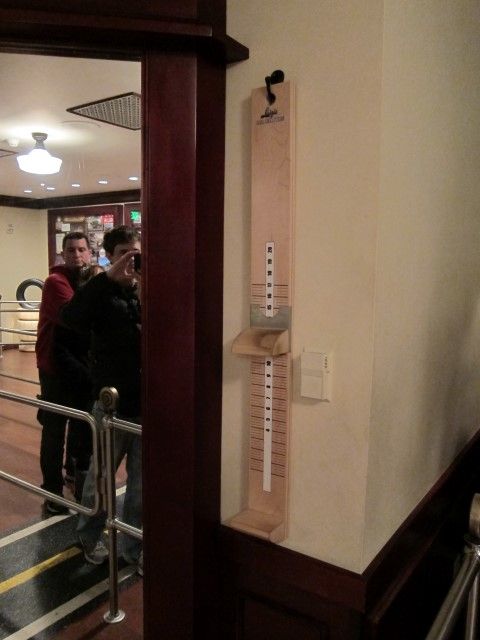 Guido!!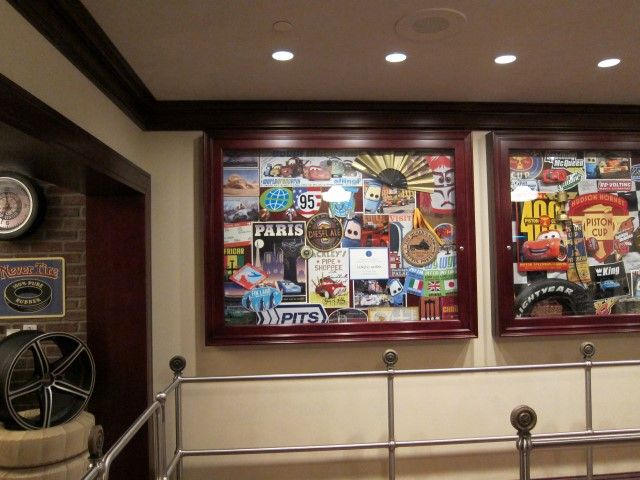 We made it outside very quickly, and were almost immediately to the front of the line.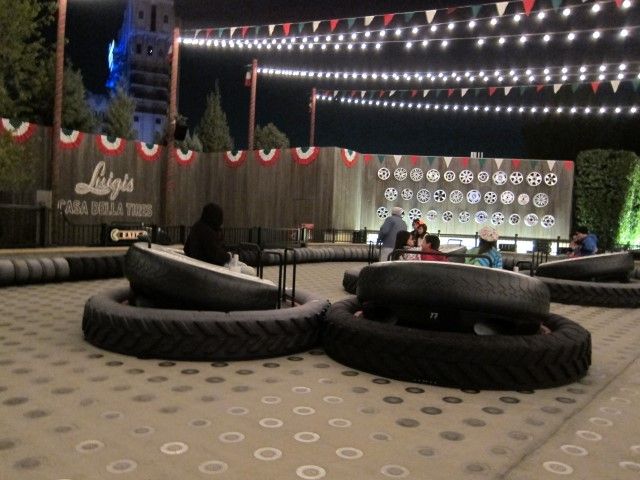 Once we had heard the instructions, we found ourselves a tire.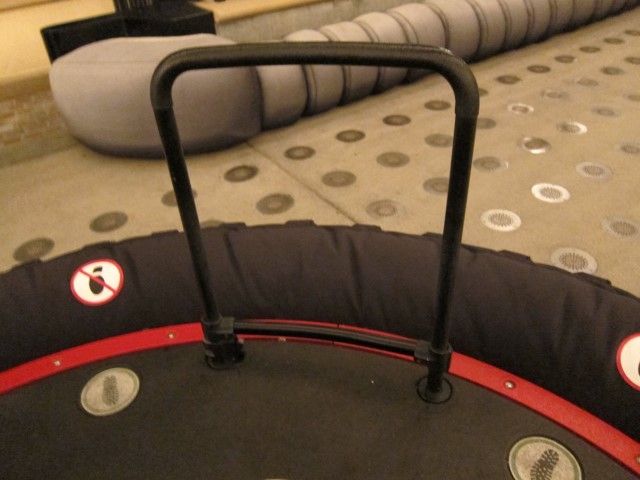 Now, here are my thoughts on this ride. I know it has a very bad rap among Disney fans, but we LOVE it. From the very first ride, we had a blast! Honestly, as long as you listen to the instructions, it's very easy to figure out how to make your tire move. You lean far enough that it starts to go, but not so far that it starts to scrape. You also DON'T try to bounce your tire. Our other major "secret" is that we always try to find the tire that is as isolated as possible. You want to be way far away from the rest of group so that you can pick up speed without getting into a traffic jam. All of these points in mind, we were ZIPPING around that giant air-hockey rink from the first go. We thought it was so much fun, and we continue to think so whenever we ride. Okay, off the soapbox…
Done flying on air, we exited Cars Land via its alternate portal (going into Pacific Wharf) for the first time.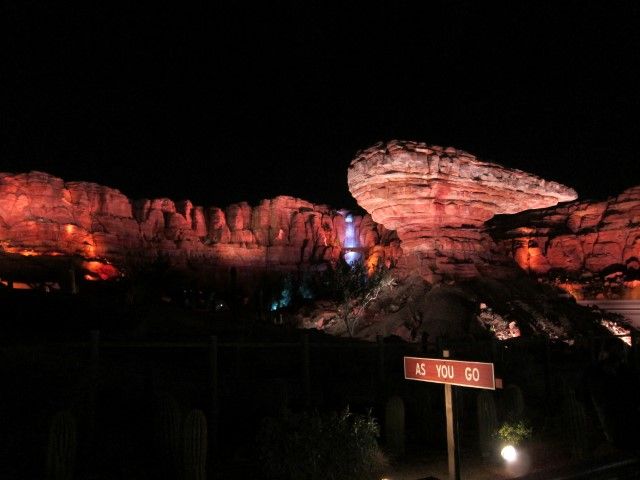 The rockwork and that waterfall are just beautiful from that angle.
Previous Post | Next Post
Table of Contents
Follow



Share