May 24, 2012
Chapter 46
A Very Potter History
---
Previous Post | Next Post
Table of Contents
(Originally posted October 1, 2012)
Waking up for our second to last time to hear Stitch screaming "Good morning! NO SLEEPING" was certainly bittersweet. Sweet only because the phone-ring at the Disney resort is the epitome of annoying, and bitter because it was the penultimate day of our vacation. We had to roll out of bed quite early this morning. I think the alarm was set for 6:30am, which meant we made our coffee and oatmeal in a little more of a stupor than we might usually have done.
The reason behind our early wake-up call was that we had to catch a Mears shuttle from the front of the Riverside lobby building at 7:20. Leaving a few minutes early, we made our way out of our room and across the grounds.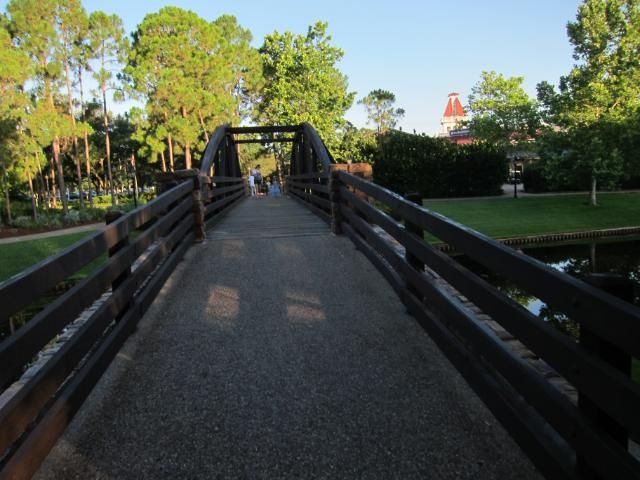 It was more thoroughly deserted at this time of morning than it had been on our other mornings.
When we got to the main building, we grabbed a spot on a bench and started waiting.
We waited and waited until the shuttle was about 20 minutes late, then we started getting a little worried. We called Mears to make sure there was nothing wrong with our reservation. Turned out all was fine and right as I got connected to someone at Mears, our shuttle driver pulled up. Apparently there had been some traffic coming onto Disney property.
Glad that we had allowed plenty of time and were still going to be early, we boarded the shuttle. "To where?" you might ask. On all of our trips to Disney World, starting with the ones I took with my family when I was young, we always included a day at Universal Studios. When Tracy and I went for the first time together in 2008, we continued this tradition, taking a day to hit both Universal and Islands of Adventure and riding practically everything. Then in 2010, when we were planning our honeymoon trip, our Universal plans had to take form around something that was very important to both Tracy and me—the new Wizarding World of Harry Potter.
My Harry Potter history reads a little bit like my Disney history when it comes to how influential a role the books have played in my life. Tracy and I are of the generation that can truly say we grew up with the Harry Potter books. I read the first one in fifth grade, when I (like Harry) was eleven, and it was the only one that had yet been published. At a phase in my life when I really didn't enjoy reading and didn't read much that wasn't required for school, a friend of mine handed me the first Harry Potter book at a book fair and told me she thought I would enjoy it. I ploughed my way through the first book and loved it. It caught my imagination in a way no other book had ever done. Then at the end of fifth grade, the second book was published and I became officially invested in the series. When the third book was published in 1999, it was published first in the U.K. months before the U.S. edition, so I ordered it from Amazon.co.uk just so I could continue the story. Potter-mania had certainly overtaken my generation by the time the fourth book was published. I remember having a sleepover with a friend the night book four was released and signing online at midnight to read the first reviews.
Between books four and five was a long three years during which I started to get into the Harry Potter online fan community. I discovered the mecca of all Harry Potter fan sites, The Leaky Cauldron, and watched their updates religiously. This was also when the first few movies began coming out and I was faithfully in line at the theatre with my mom on the release dates of the first two films. Book five was my first midnight release party. I was coming back from a road trip to Florida with my dad, and we had basically no idea where we would be staying each night. The exception to this was that the second to last day of our trip was when the fifth Harry Potter book would be released, so I made my dad come up with a firm plan where we would be so I could reserve a copy to pick up at midnight. We settled on Lawrence, KS and I was there at Borders to get my book at 12:01. As the Harry Potter books grew more complex, my appreciation of them as solid works of literature grew in addition to my loving the story. Between books five and six, I started listening to Pottercast, the Harry Potter podcast done by the webmasters of The Leaky Cauldron. Not only my first introduction to the podcasting medium, this was one of my first real exposures to the complexity of a fandom. Listening to the hosts talk weekly about a topic that interests you, you start to feel a sense of camaraderie within a community. Always toeing the line between enthusiast and flat-out nerd, it was exciting to know that there were thousands of other people out there with a common interest. It was my first real introduction to the internet as a social medium.
Back home, I started dating Tracy soon before the release of the sixth book. We both read it and talked about it of course, but it wasn't until the build-up for the series to come to a close that we started getting really into Harry Potter as a couple. The seventh book was scheduled to come out during the summer after our freshman year of college. We had outpaced Harry in aging just a little over the years (we were nineteen as he was turning seventeen), but it was still safe to say that we had grown up alongside the characters. Two weeks before the release of the seventh book, the fifth movie was released. Tracy and I were among the millions at the midnight showing. After the movie, we sat for literally hours in Tracy's driveway making predictions about the final book. It was one of the nerdiest nights we've ever had together and I remember it very fondly.
Then, the day was upon us. We had our books reserved at the now-defunct Borders, and would be on hand for all the midnight release festivities. We decided it would be fun to dress up, because when would an opportunity like this ever come again? Tracy has been told all her life that she looks like Emma Watson, so her Hermione costume was a no-brainer. And I figured I could be a passable Harry. While there were Harry Potter costumes available at every costume store in the country, we were broke college students, so we decided to make our own costumes with a little craftiness, clothes from the thrift store, and wands we made out of construction paper. We were pretty happy with the results.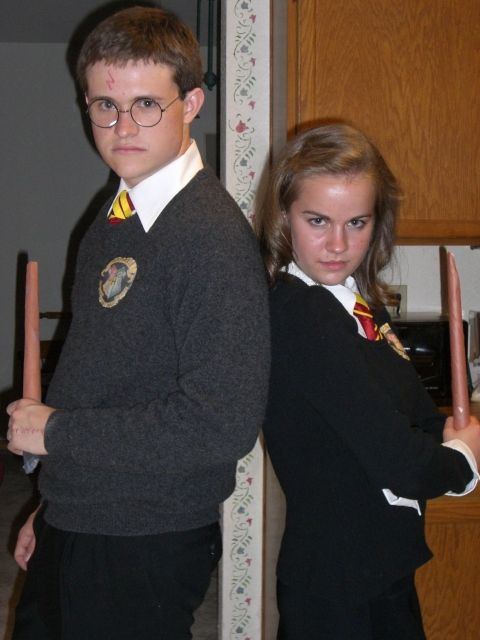 At the Borders release party, we were among the winners of the costume contest, and we even finagled our way onto the local news by lurking near the news truck and happily obliging when the reporter asked if we wanted to be in his segment because he liked our costumes. We got our books at midnight and immediately started reading. Tracy and I were holed up in my mom's living room for hours on that first day. My mom even hung out there too, reading her own copy. Tracy and I stayed on pace with each other throughout the whole book, right up till the end. About 40 hours after we got our books, we both finished the Epilogue and closed a chapter of our lives that had basically lasted for our entire adolescences.
Of course, our journey with Harry wasn't over just because the books were done being published. We still had three more movies, all of which we watched in theatres on opening day. The midnight release at the biggest movie theatre in New York City, which is where we watched the final movie, was insane! We only got there about three and a half hours early because we had had to work that day, and there were so many people in front of us in line that we were stuck in the front row of the IMAX theatre—a viewing position I would never wish on anyone. Still, it was a fantastic experience finishing what we had begun so many years before with hundreds of other people who had all taken similar journeys.
Now, how does all of this relate both to our experience at Universal and to this trip as a whole? Well, literally days before our honeymoon trip to Orlando, The Wizarding World of Harry Potter opened at Islands of Adventure. We knew that a day there HAD to be among our plans for our trip. So we joined the ridiculous masses during the first week of operation at the Wizarding World in 2010. We waited about two and a half hours for the Forbidden Journey ride at the height of the day, though a big reason for that was because the ride kept breaking down. One breakdown lasted so long that Tracy actually took a nap in Dumbledore's office because that's where we were stuck in line. We loved the whole experience of the park, and spent our entire Universal day just in the Wizarding World. Even doing that, however, the crowds made it impossible to enjoy the park in any sort of leisurely manner. Now that it was two years later, however, and things had (we hoped) calmed down a bit, we were on our way back.
After all, we can thank Harry Potter for our being on this trip at all. Had I not started listening to Pottercast back in the day, I wouldn't even know what a podcast was. Then I never would have thought to look for Disney World podcasts, would never have stumbled across the WDW Radio Show, would never have become a part of this Disney fan community, would never have won this trip, and wouldn't be writing this trip report for you all to read. So thanks, Harry. You've had a huge impact on my life. And now, back to the report, and our day at Hogwarts!
Previous Post | Next Post
Table of Contents
Follow



Share