Chapter 47
Walk, Don't Run
---
Previous Post | Next Post
Table of Contents
(Originally posted October 4, 2012)
I honestly wasn't feeling great on the shuttle ride to Universal. I was feeling some of the leftover "roller coaster sensation" of movement from one of the previous day's rides, so I was a little motion sick for the whole drive. Luckily, Universal isn't too far off Disney property. When our Mears shuttle dropped us off, we took the familiar route toward the parks.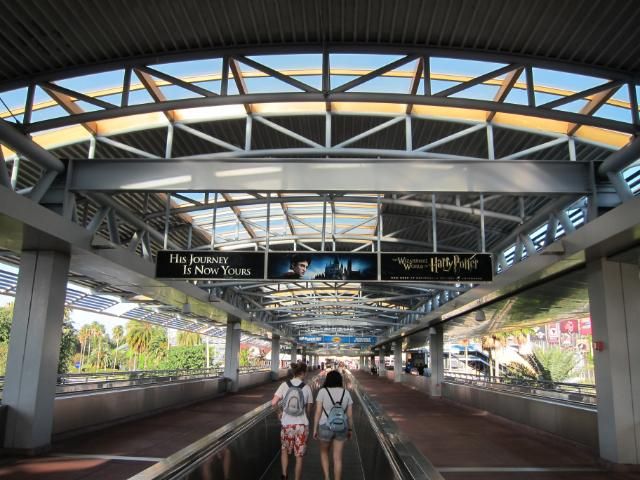 City Walk was already starting to buzz with the many people arriving for the early morning rush to Hogwarts.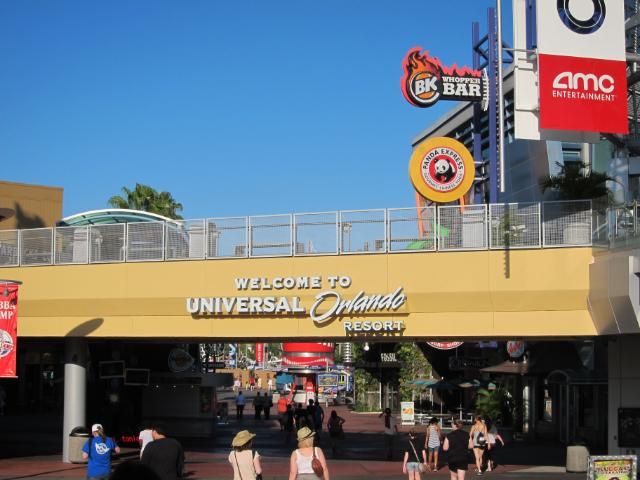 We had only bought one day, one park tickets, so there was no question where we were heading.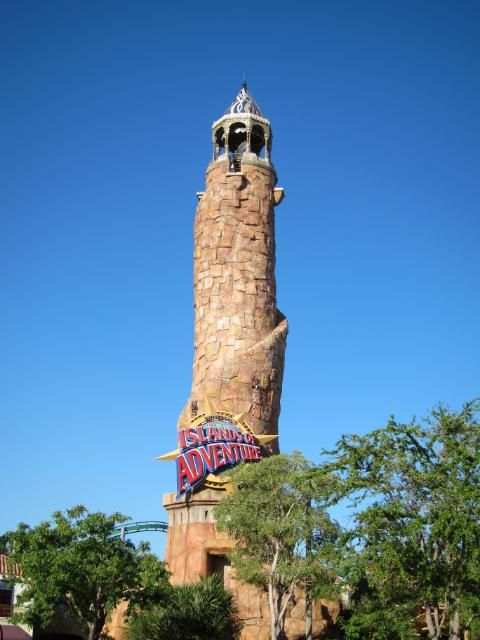 On one of our next trips, I think it would be fun to go back to the original Universal park. I do like several of the rides there. With Harry Potter open now, we just have never really considered spending time outside of Islands of Adventure! Despite the fact that there were plenty of people milling about as they waited for the parks to open in about 45 minutes, we were among the first people to actually line up behind a turnstile.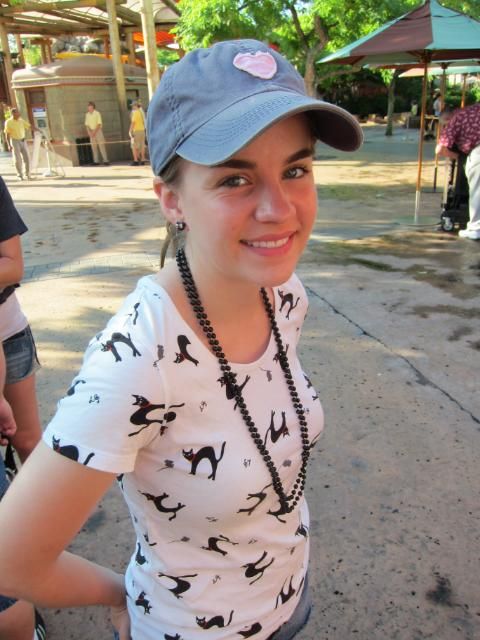 We were a little jealous of all the Universal hotel guests streaming in for their early admission… Maybe one of these trips we'll tack on a night's stay at a Universal hotel so we can take advantage of this perk…
About 20 minutes before we were to be allowed into the park, several of the gates that had been admitting early-admission guests were closed and prepped to admit the general public. This meant that they needed people from the other lines to spread out. Being quick movers, we ended up first in line at one of these new gates. We were right outside and ready to storm through when our time came.
There were some issues getting tickets scanned at our gate, but luckily the employees worked through them with about fifteen minutes to spare before the official opening at 9:00. They actually opened the gates about ten minutes early so we could "walk" to our first destination.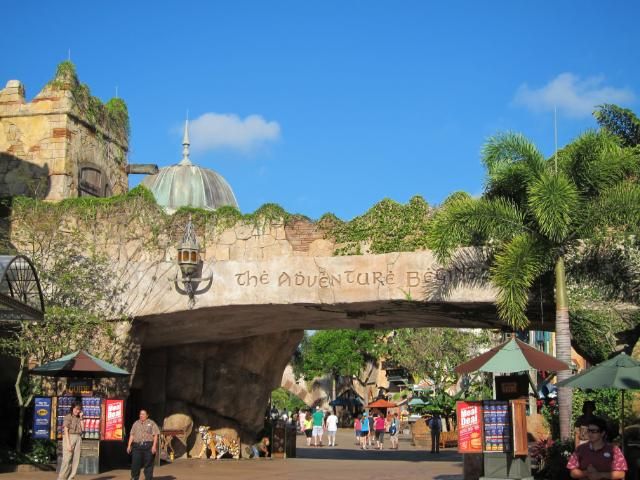 We passed by these festive stilt walkers as we made our way under the arch.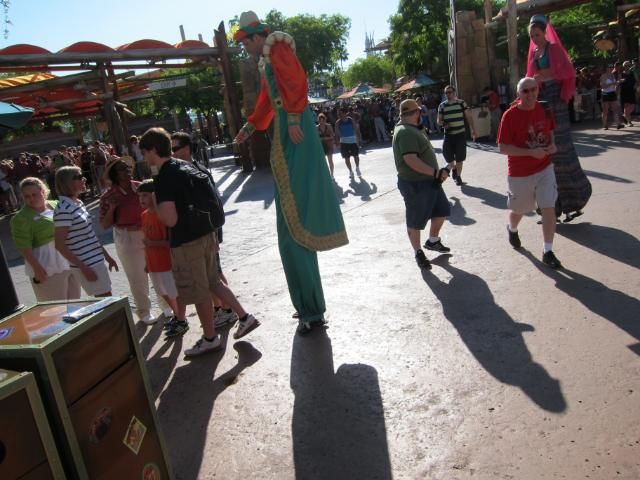 Now, Tracy and I being thoroughly decent people, we actually did WALK to the back of the park. It may have been a power walk, but we weren't among the people who shoved past at a jog/run. It just wasn't worth it!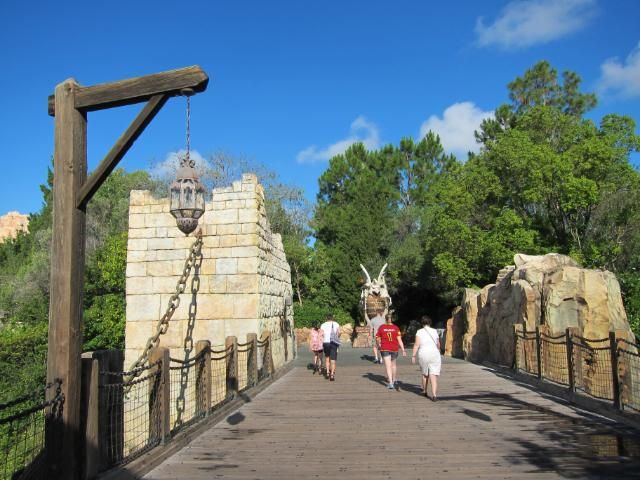 We were able to make our way to the back of the park pretty quickly, and soon started seeing signs pointing us to our destination.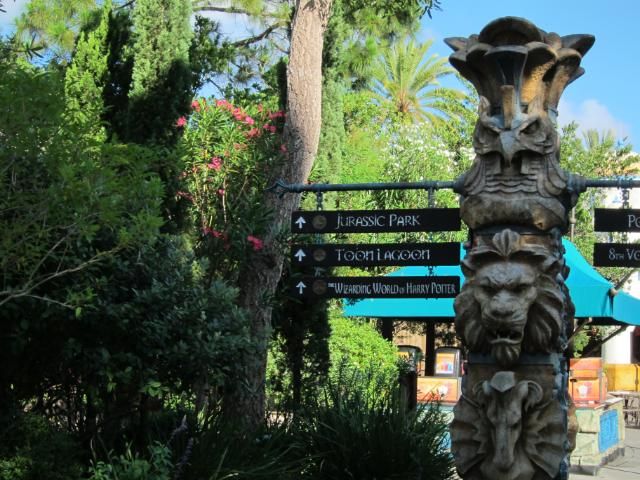 And before long, there it was, beckoning us and welcoming us into a whole different kind of "magic."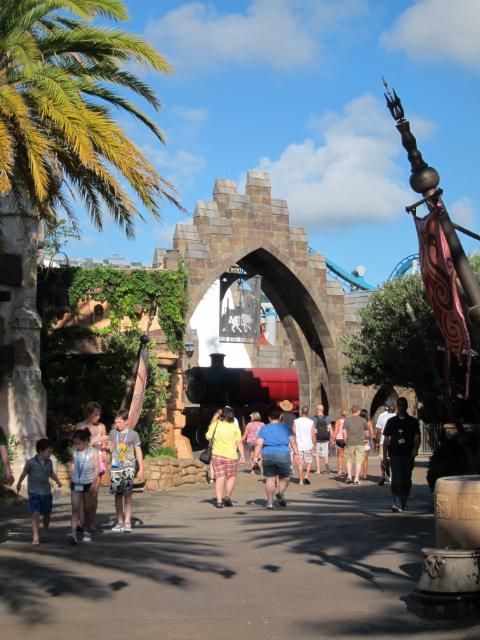 The Universal-equivalent of Imagineers went all-out on the Wizarding World, and the result is truly amazing.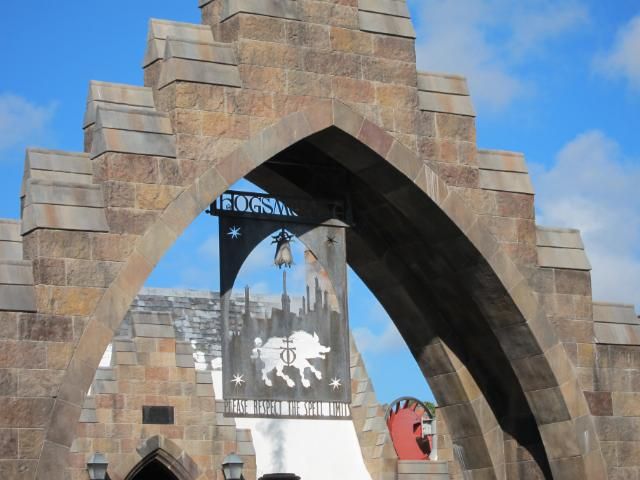 From the moment you walk through those gates on either side of this relatively-compact land, you feel like you have stepped directly into the Harry Potter books/films.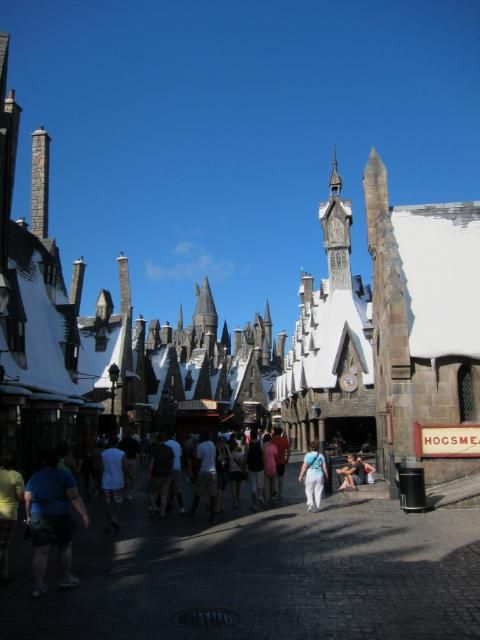 I love the way all the shops in Hogsmeade were done. Each individual and quirky in their own little ways, seeing them all together is breathtaking.
And if we're judging theme park castles on their majesty, the Hogwarts castle looming large over the whole land is truly spectacular.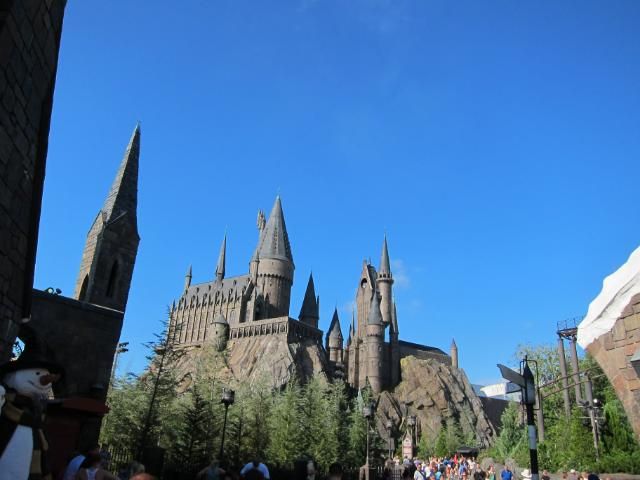 We knew that the Forbidden Journey had to be our first ride of the morning both because it was what we were most looking forward to and because logistically we needed to get on board while the line was still short.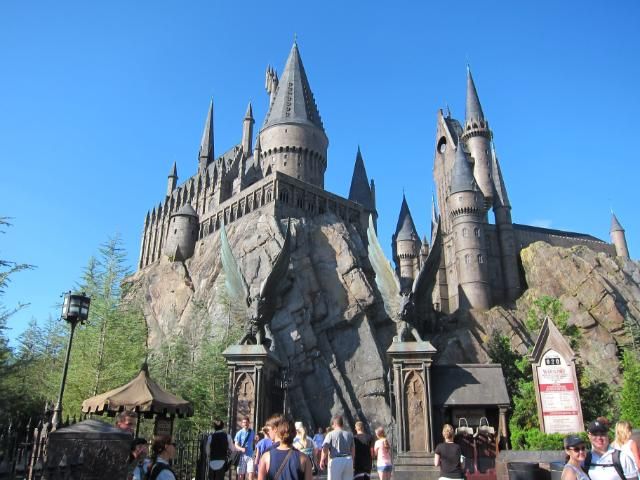 As you approach the castle, you start to appreciate all its dramatic angles.
When we got in line, the sign claimed it was a 30 minute wait. Luckily, we found this to be largely inaccurate.
After passing through the first castle section of the queue, you quickly end up in the greenhouses. This is one of the most clever uses of switchbacks that I have ever seen in a queue as this section probably holds hundreds of people and is definitely the place you wait the longest. When we waited for over two hours on our last trip, I'd say we spent 45 minutes to an hour just in the greenhouse.
Luckily, the greenhouse, like the rest of the queue was totally empty this morning.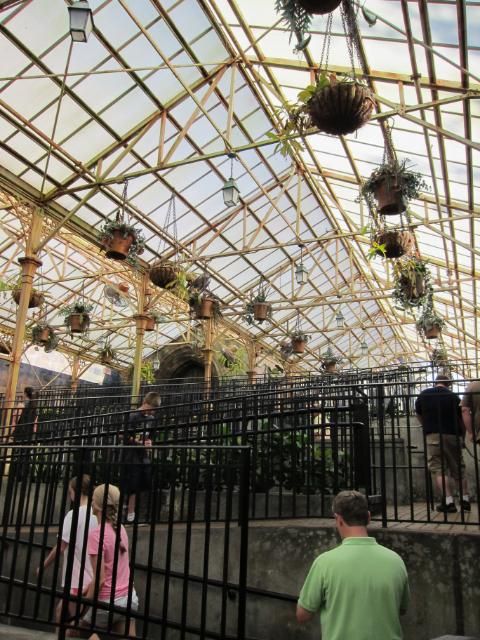 We breezed right through and back into the castle.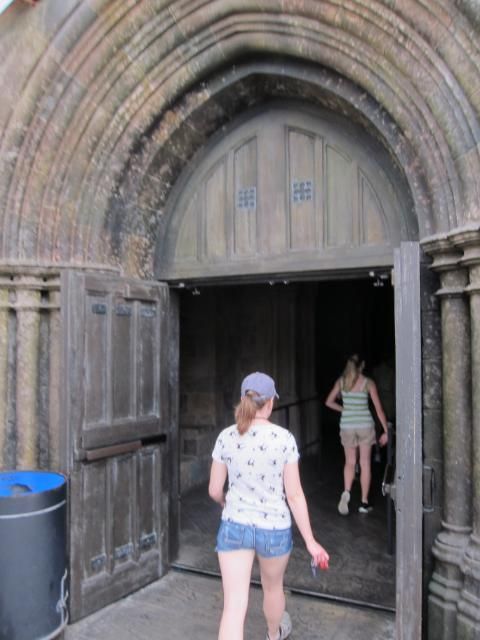 We passed by the Hogwarts architect.
Still moving briskly, we found ourselves back in Dumbledore's office complete with pensieve.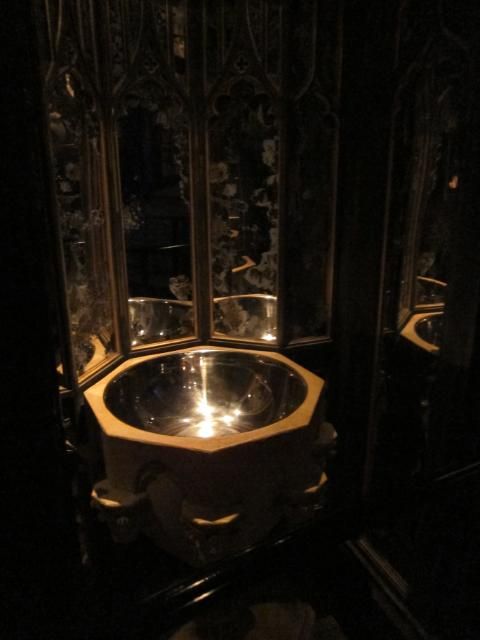 And into the Defense Against the Dark Arts classroom, where Ron was making it snow.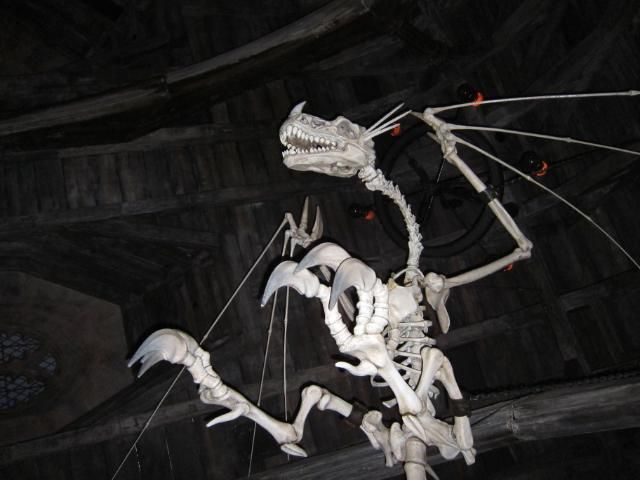 I know we were breezing through it this time, but I have to take a moment out to mention that this ride has my favorite queue of any ride anywhere. I think it was an ingenious idea to make waiting in line fun by making it a tour of the Hogwarts castle. Every detail is there and you get to be really immersed in the world for your whole wait. It makes the attraction feel like it lasts that much longer. Since we never hit any sort of a stop in the line, it came quite suddenly that we were past the Sorting Hat, into the load area, and climbing aboard our "enchanted bench." We began to move sideways, Hermione cast Wingardium Leviosa and we were off!!
Previous Post | Next Post
Table of Contents
Follow



Share