Chapter 45
The Royal Portraits
---
Previous Post | Next Post
Table of Contents
(Originally posted September 25, 2012)
After parting from Lou, we made our way to the dock where we could board a boat back to Riverside. The moon looked cool hanging over Disney property.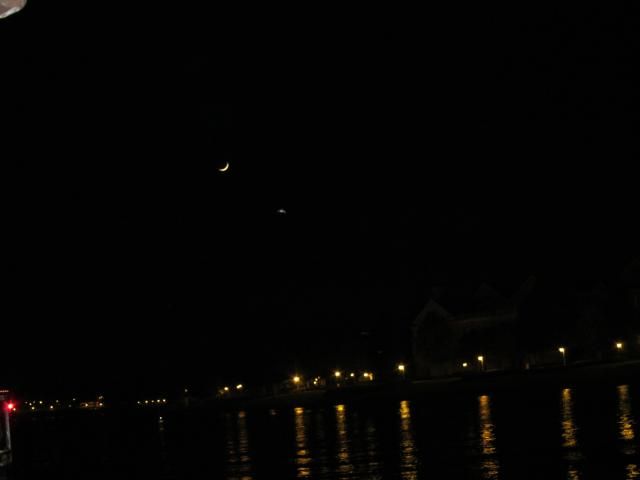 The first boat that came filled up before we could get on, but the second one had enough room for us. We quietly enjoyed the trip back to our resort in a bit of a stupor because we were pretty tired at this point in the trip. After docking, we walked back to our room.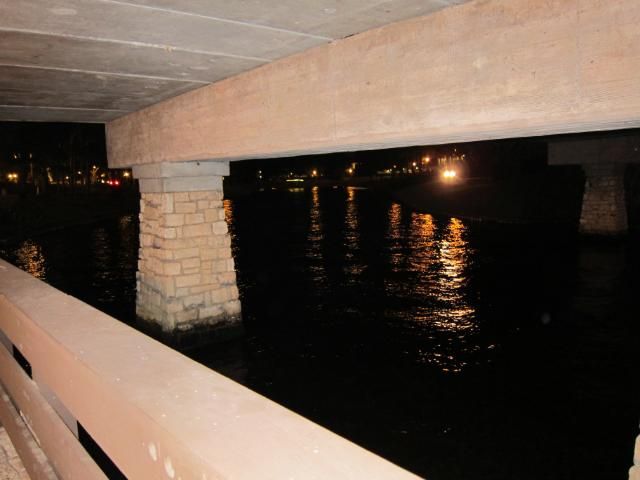 I tried to get a picture of the resort in the dark but it came out mostly as just a picture of the dark…
Returning to our room, we mostly just started getting ready for bed. While Tracy was in the shower, however, I decided to explore our room a little more closely and take some pictures of all the fun little Disney touches to our Royal Room.
Here's Duffy and his puppy friend on the bed. The headboard is where our nightly fireworks displays took place.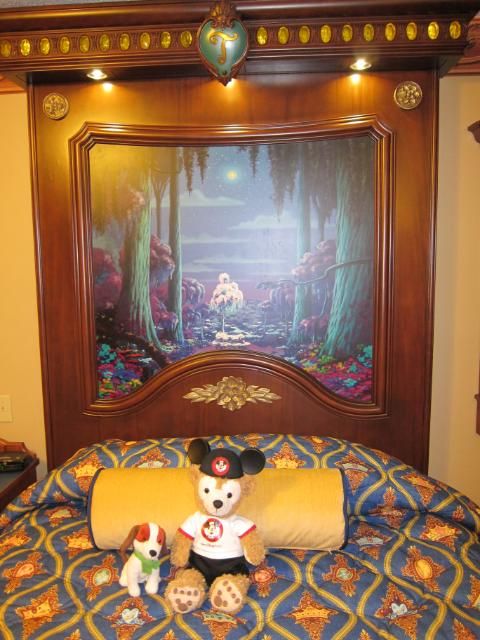 Here's a better picture of the bedspread. We liked all the deep purples in the room.
These are some of the pictures on the walls.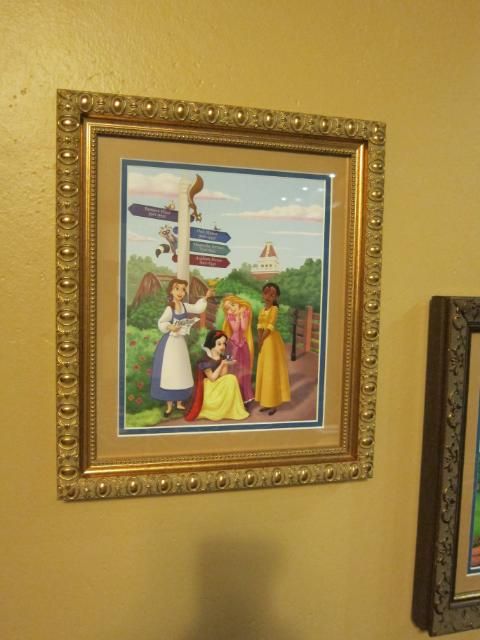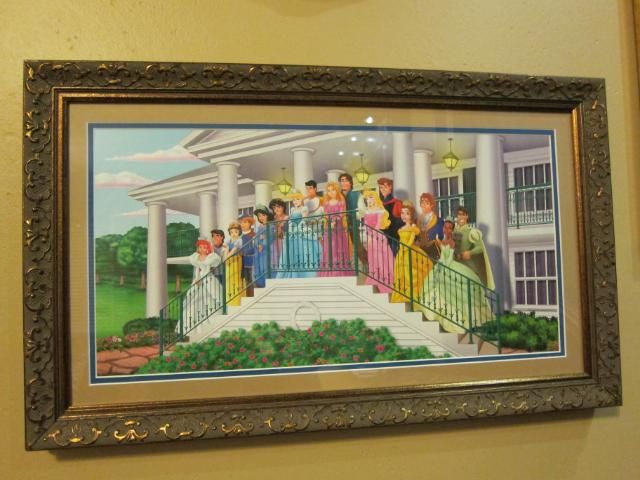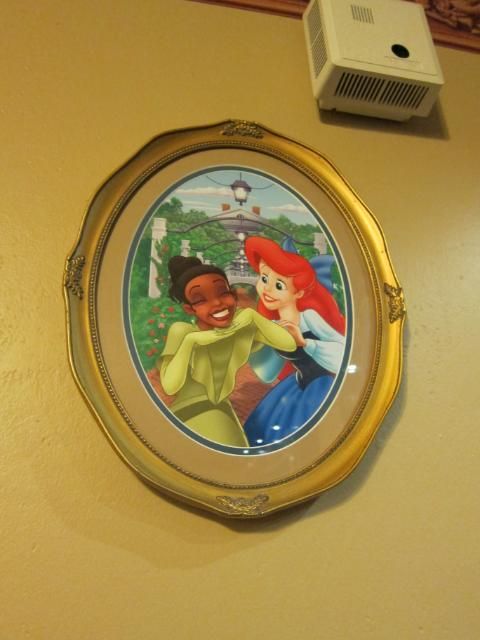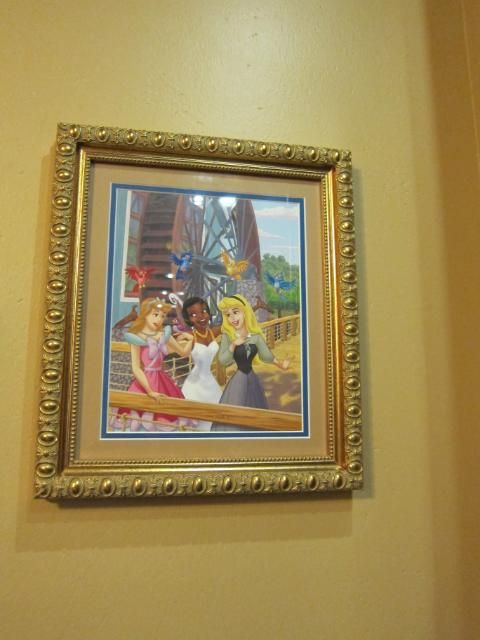 These "tapestries" had silhouettes of each of the princes. Our favorites were the ones who aren't given names in the movies but have them here ("The Prince" for Snow White's prince, and "Prince Adam" for the Beast).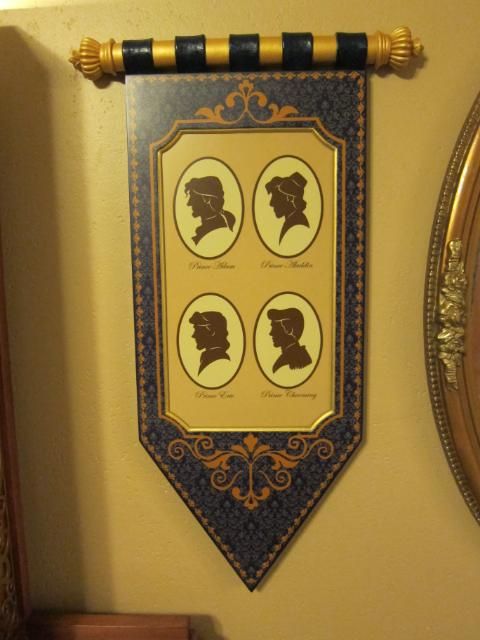 Finally, here is the picture hanging right inside the door next to the coat rack. In real life it's holographic, which is cool.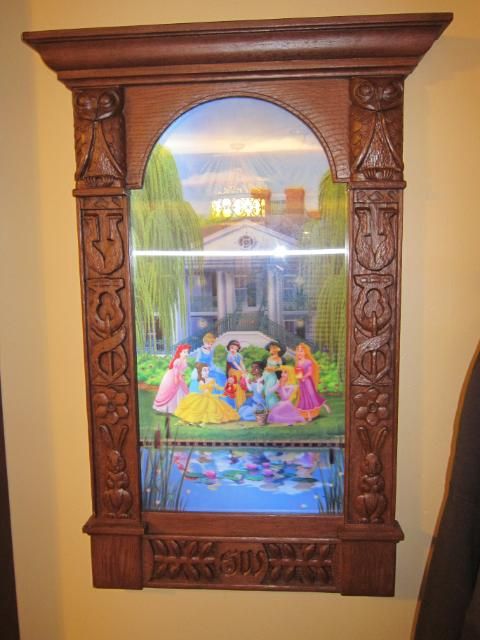 Apparently this evening's pictures mostly covered the art of our room. I did take more pictures of the room's decorations, but those must come at the end of the next day's photos… For now, I know we finished getting ready, watched a little Stacey, and hit the hay. We had a particularly early morning the next day as we prepared to go somewhere magical in a totally different way.
Overview of May 23, 2012
Highs
– Going to several new locations on Star Tours
– Tracy being the rebel spy
– Being able to take things a little easier this day
– Eating dinner at, arguably, the two best counter-service restaurants in Epcot
– Meeting Lou!!
Lows
– Not having quite the experience we hoped for at 50's Prime Time Café
– Skipping Fantasmic! (though it was totally worth it)
Weather
Mid 90s and Sunny
Food of the Day
Beef Udon from Katsura Grill
Previous Post | Next Post
Table of Contents
Follow



Share