Chapter 67
Saying Goodbye
---
Previous Post | Next Post
Table of Contents
(Originally posted January 11, 2013)
As we reached Main Street, I took this picture of the door honoring the WDW cast members.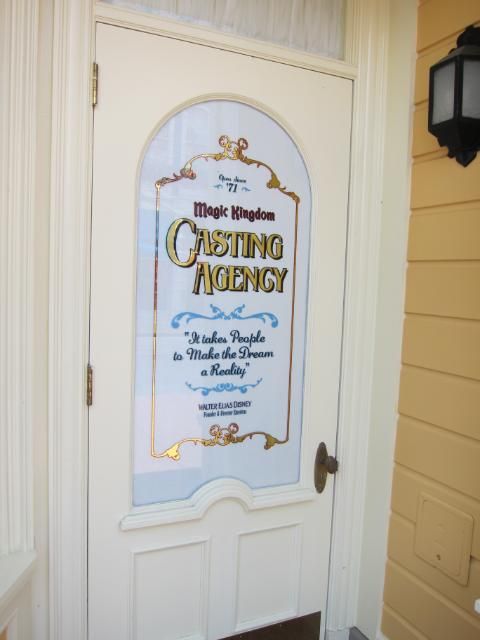 Then Tracy took a picture of me trying to go in the door to symbolize our desire to join the Disney family.
We noticed that this train in one of the Main Street windows had a good friend of ours inside.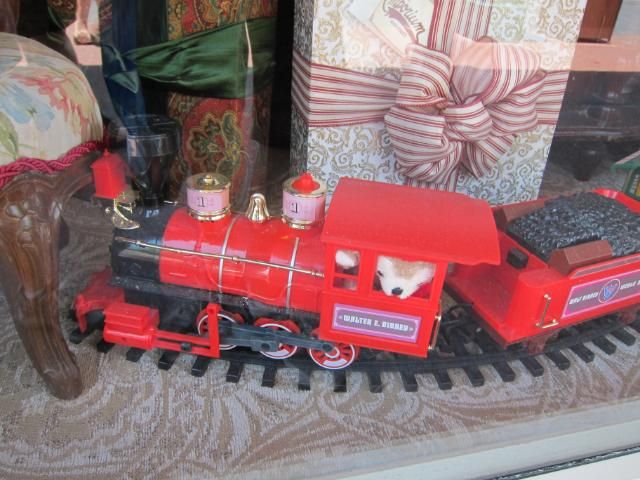 I finally sought out and took a picture of the "Sharing the Magic" statue that depicts Roy O. Disney and Minnie, having heard all about it from Jim Korkis on one of Lou's shows.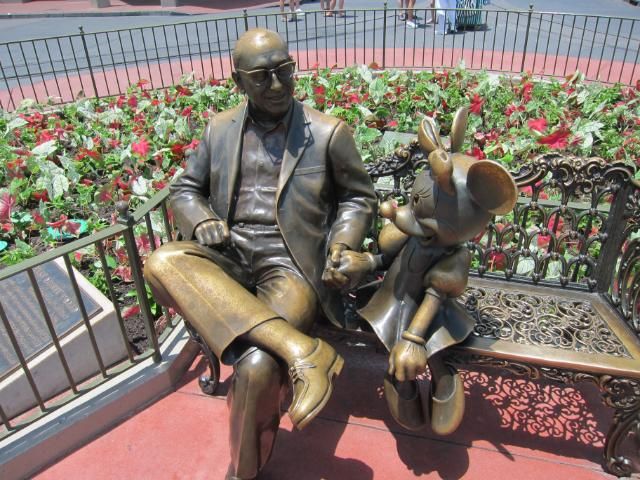 And the dedication plaque for Walt Disney World is right near it.
We saw that the Dapper Dans were singing outside the Emporium, so we went over there and caught the ending of their set. They're just great to listen to!
Although this picture may look like it, we weren't on our way out just yet.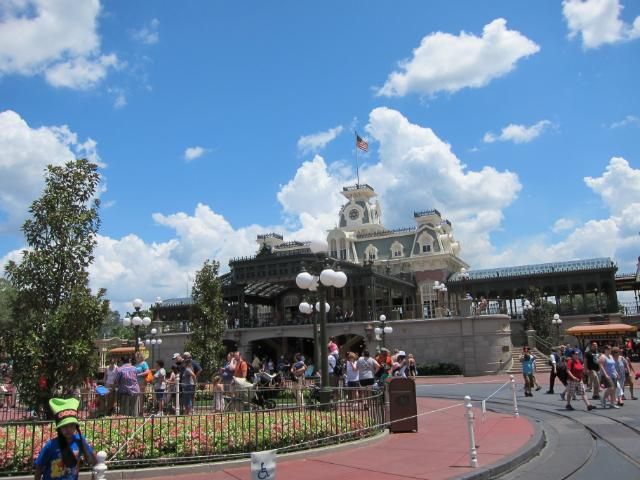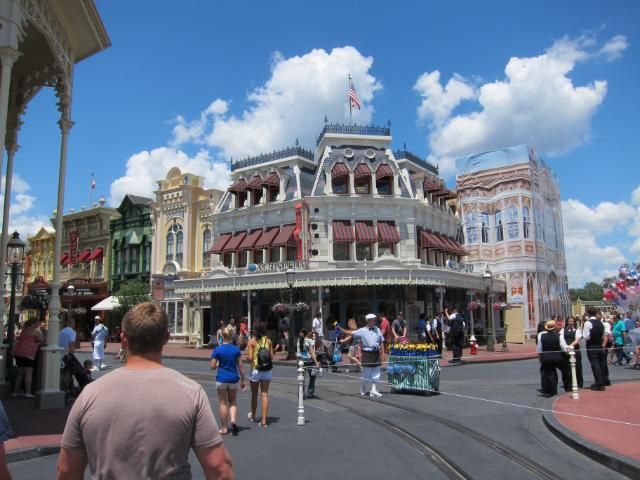 We were actually on our way to Guest Relations to ask them a wild question. While we knew it wasn't exactly the smartest idea, I wanted to find out how much it would cost to upgrade our tickets to a Premier Passport, good at both WDW and Disneyland. We didn't really have the money to spare, but at that time we were assuming we'd be moving to CA in August, so we would at least be able to get lots of use out of our passes and get a hefty discount. Luckily, sense (a.k.a Tracy) talked me out of it. The upgrade would have been extremely pricey, and as is, we didn't make it to CA until November, so we would have missed out on about six months of use.
We stuck around Main Street to do some last-minute shopping.
We went into Uptown Jewelers, and Tracy found a Mickey Mouse watch to buy. Now our watches could match!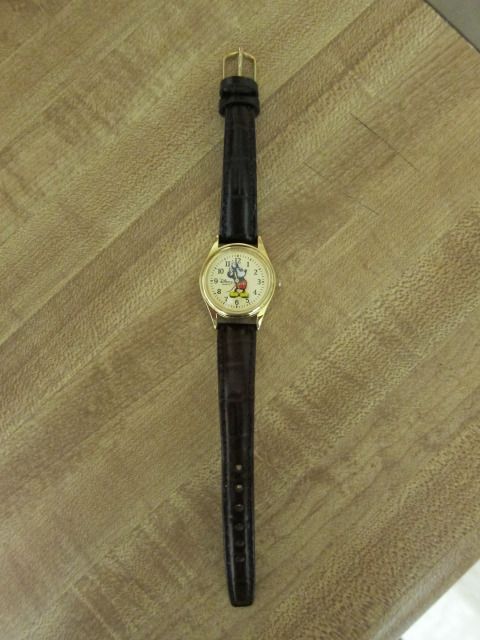 As we exited out of the shops back onto Main Street, we realized we only had about a half-hour left until we needed to be on the bus back to Riverside.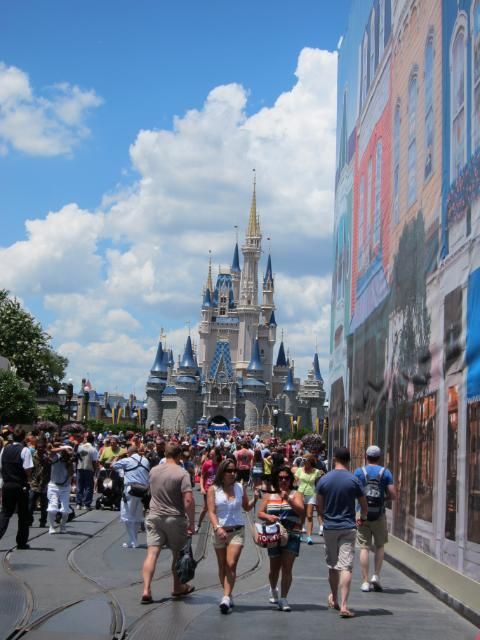 We decided to take one last stroll up Main Street and around the hub. The castle forecourt show was just finishing up, complete with mid-day fireworks.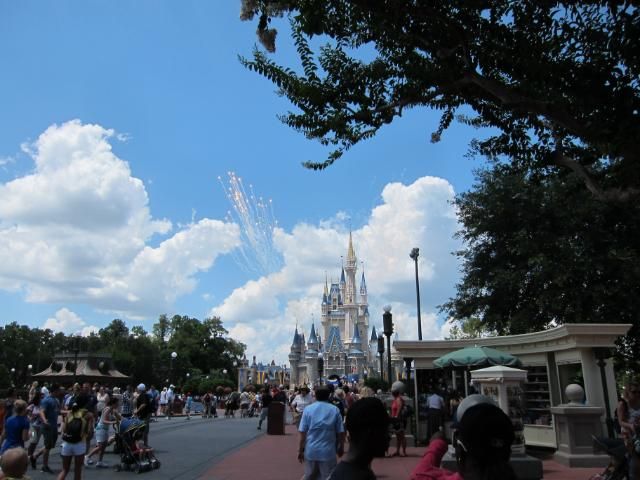 I just love this place. I was already starting to get emotional preparing for the goodbye.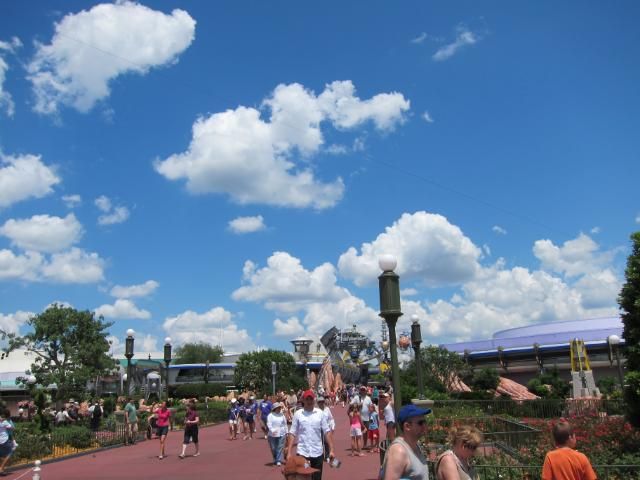 One last mouse ears shot.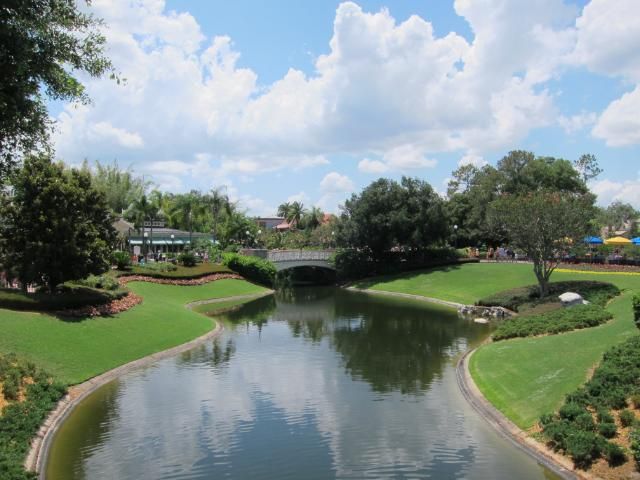 Back on Main Street, we had one very important final bit of shopping to do—we had to use up our last two snack credits, and what better place than the Main Street Confectionery?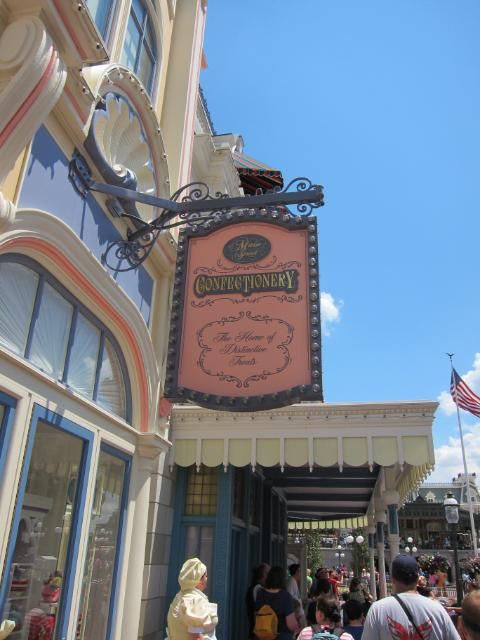 There were so many delicious-looking snacks here, but we had a goal: we wanted snacks that we would be able to transport back to NYC with us so we'd have one last taste of Disney food in the days of withdrawal to come. We decided on a Red Velvet Cake Pop.
And a Chocolate Dipped Marshmallow Wand.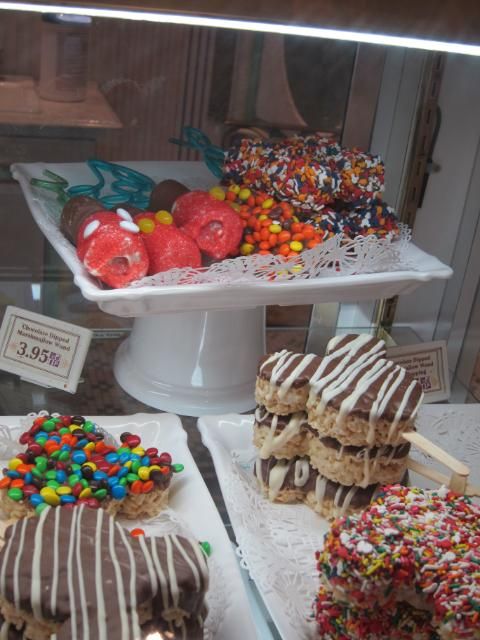 We secured both of these snacks away in one of our shopping bags, and went back outside. And now, the time had really come.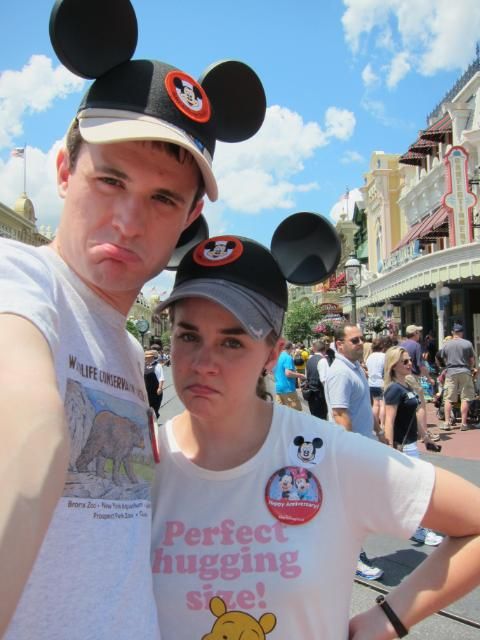 While we were posing looking sad, two people who seemed to just be arriving on Main Street asked if one of us would take their picture. I did, and they asked if we'd like a picture as well. So we tried to look happy for one last shot down Main Street.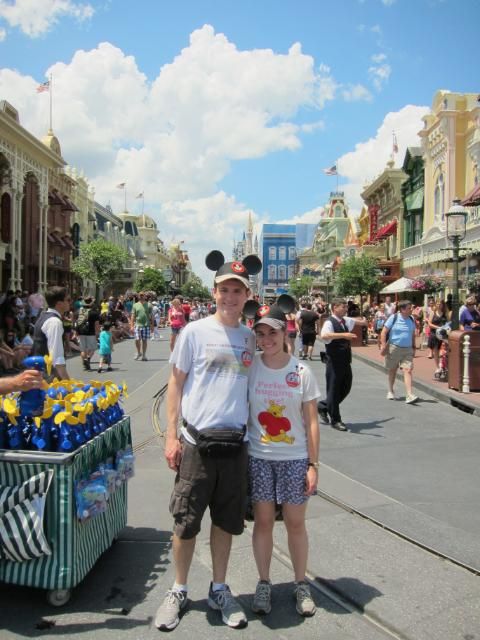 Then Tracy turned around and saw our favorite member of the Fab Five posing behind us. She called his name as he prepared to go on his break, and he turned around a waved.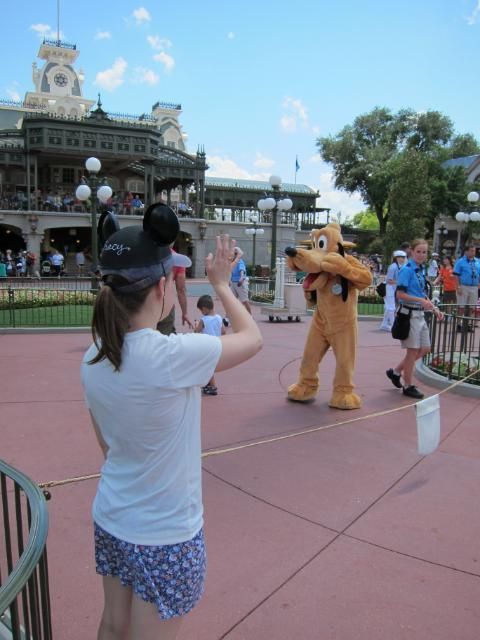 It was a very pleasant final character interaction for the trip. Finally, we took a last look at the castle, and walked with misty eyes back under the train station. We took one final set of Photo Pass pictures.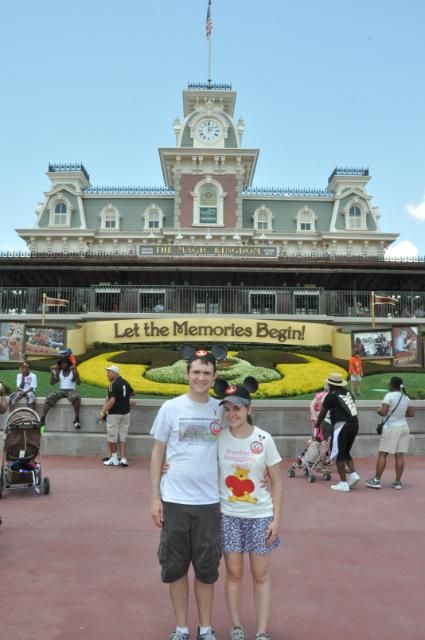 Then, we walked out through the exit gates. The parks portion of our vacation was officially over.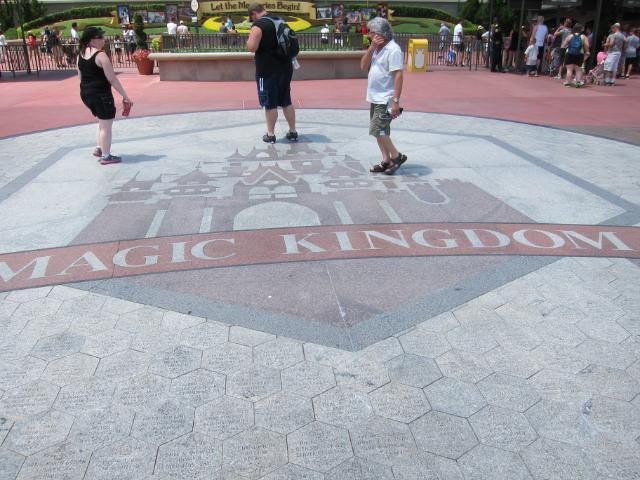 Previous Post | Next Post
Table of Contents
Follow



Share