Chapter 66
Last Rides and Waffles
---
Previous Post | Next Post
Table of Contents
(Originally posted January 6, 2013)
At the base of the Swiss Family Treehouse, there was a very uniquely placed Photo Pass photographer. He was taking pictures in a small patch of landscaping right outside the Treehouse entrance. He had us climb back behind some rocks and pose with the cannon.
Then he had us cover our ears for the explosion!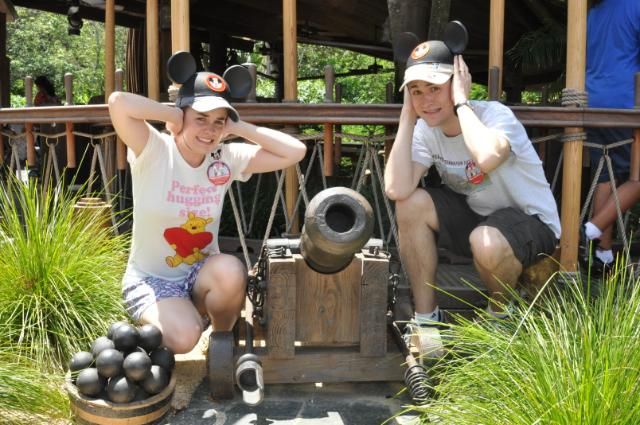 Luckily, I was Tracy's hero…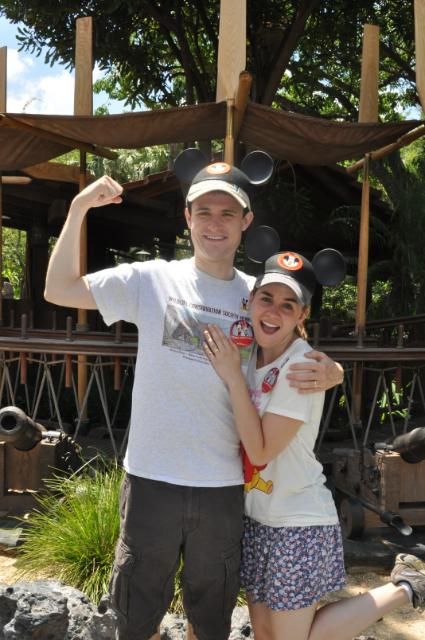 The whole setup was sort of bizarre, but we got some fun photos out of it! We took the bridge out of Adventureland back to the hub.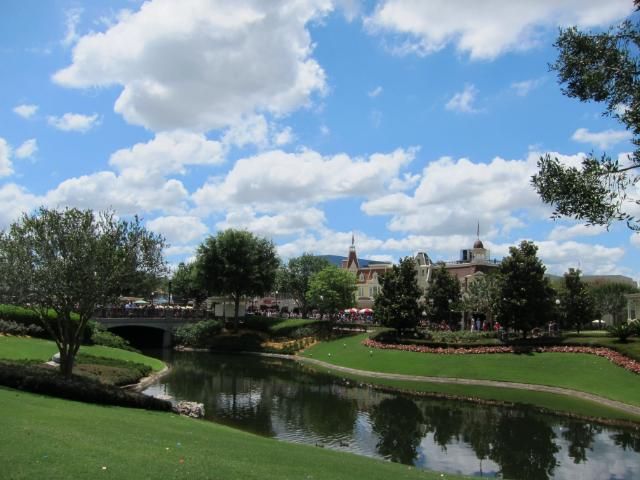 Now the crowds were starting to arrive.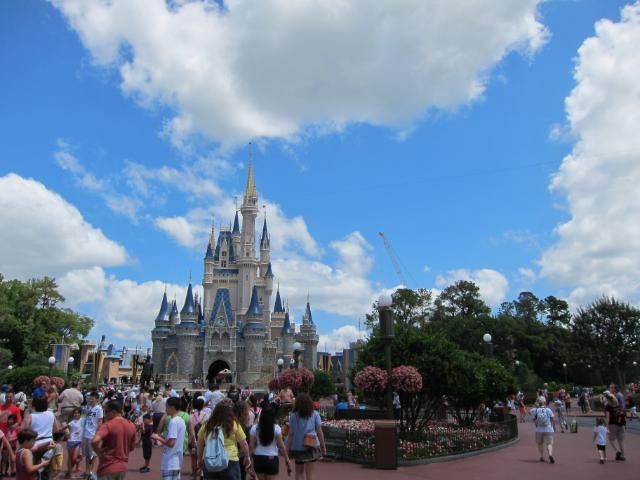 We ventured back into Tomorrowland to re-ride one of our favorite rides one more time.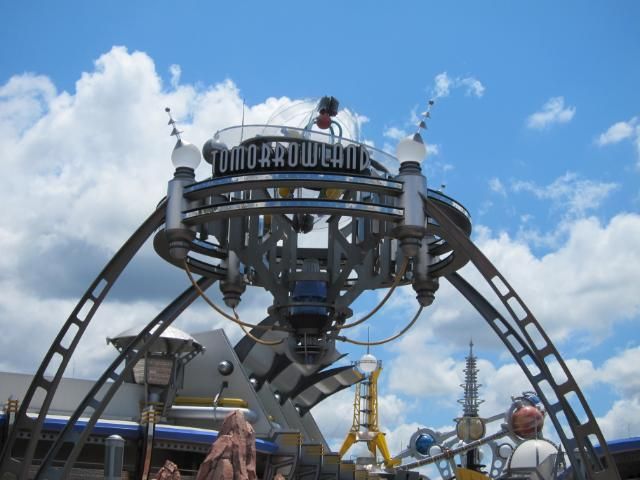 No last day would be complete without a spin on the PeopleMover.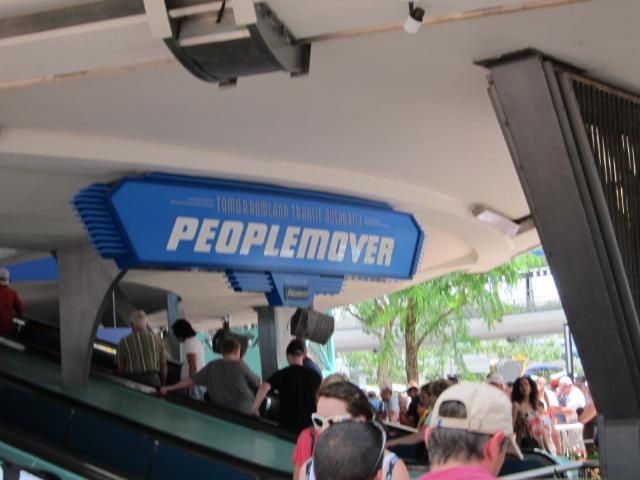 But what you see in that last picture is something that rarely ever appears outside the TTA—a line. It was certainly getting more crowded here. Luckily it moved really fast and within a minute or so, we were up the ramp and aboard our car.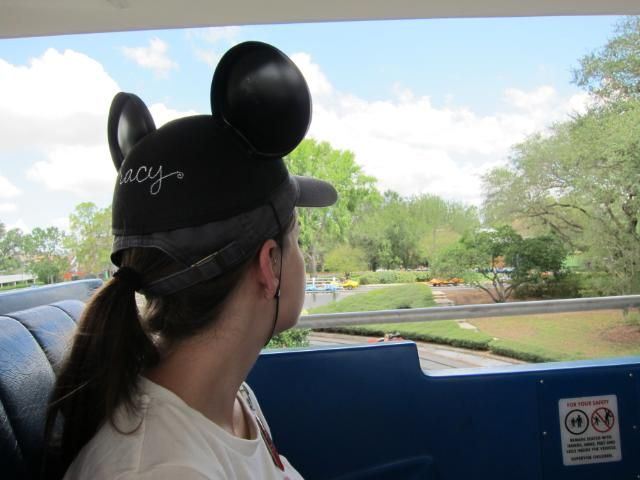 I snapped a picture of the Speedway as we passed over it.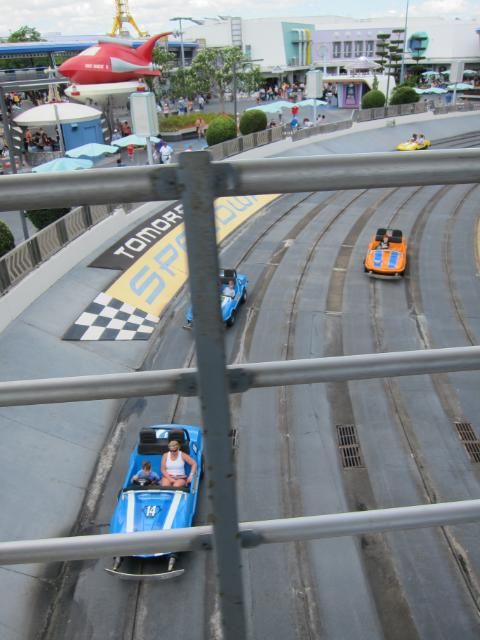 After finishing our loop around the super skyway, we were already done with Tomorrowland and exited back out.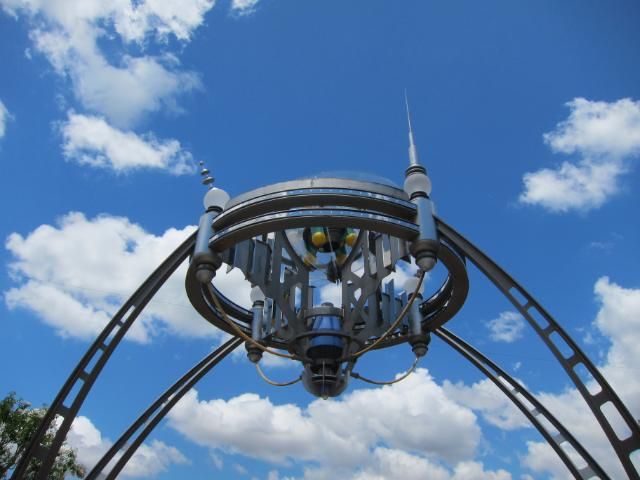 It was time for the Fastpasses we'd gotten earlier in the day, so we went through the castle back into Fantasyland.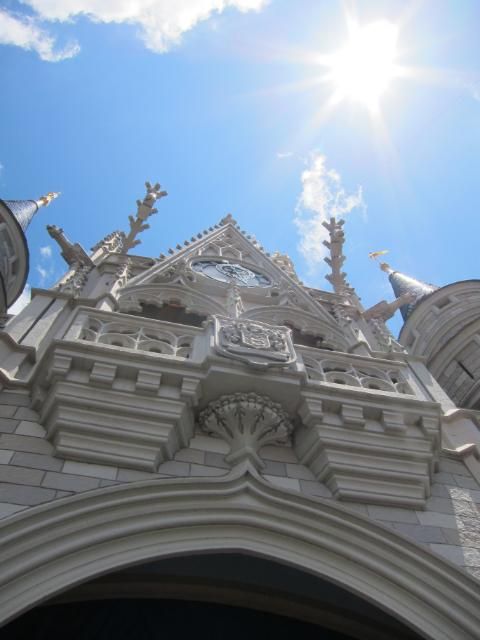 We couldn't pass up the opportunity to go to Neverland one more time before leaving.
We really hoped that this time, Nana could come with us, but alas no… After arriving back safe in London, we were already done with Fantasyland—this is the whirlwind tour after all. Next, we floated downstream in the River of Poo.
Passing by Ye Olde Christmas Shoppe, I realized we had never taken the opportunity to go in there on this trip.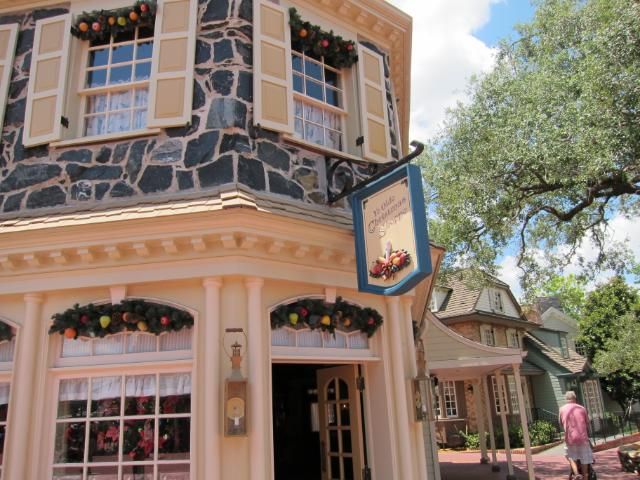 Oh well, there was no time for that now, as we were hungry!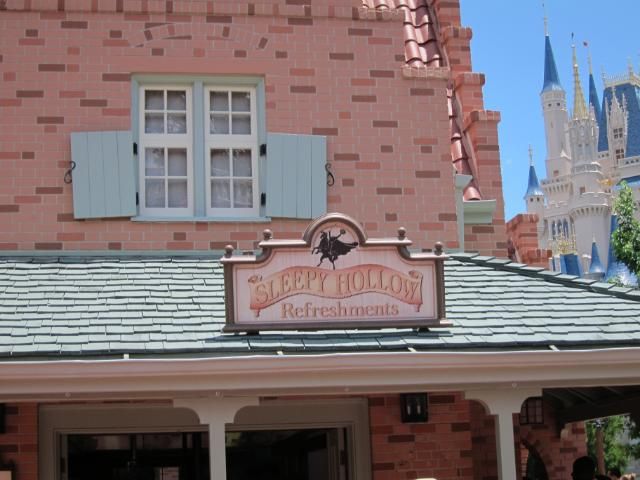 We had heard many times on the podcasts and forums before we came that no trip can be complete without a visit to Sleepy Hollow Refreshments to try the new waffle sandwiches! There was some confusion between the Lines app and the Disney dining site as to whether these counted as quick service credits, so we were prepared to pay out of pocket.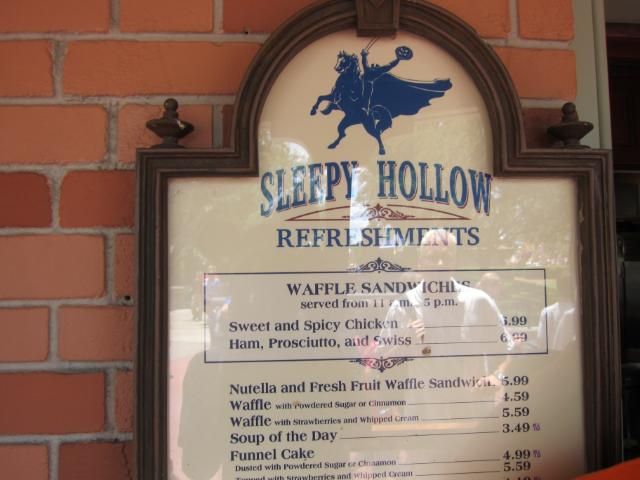 Deciding it was worth asking, we found out that both of the types of waffles we wanted to order counted as quick service meals, so we were able to use our last two credits to order our lunch. We decided to split both a Sweet and Spicy Chicken Waffle Sandwich and a Nutella and Fresh Fruit Waffle Sandwich. We ordered the bananas on the side for the Nutella waffle so Tracy could have some even though I didn't want them. The meals also each came with both chips and apple slices. Our waffles came out and we took them over to the seating area located nearby.
First, we split the chicken waffle.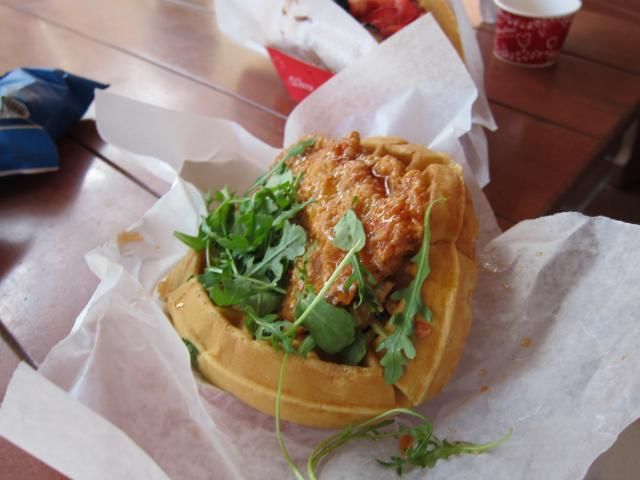 This was just delicious! It was exactly what I was hoping for having read the description, and then some! The waffle was perfectly cooked and the seasoning on the chicken was really tasty. Both Tracy and I were very happy with it. When we found ourselves getting a little full, we decided to move onto our "dessert waffle" while we still had some room to enjoy it.
This was also just perfect. I love Nutella, I love fresh fruit, and I love waffles. Honestly, just looking at these pictures makes me hungry for these waffles again. I think in the end, we finished both waffles, cramming as much Disney food as would fit into our stomachs before leaving. We even ate some of the apples. We decided to save the chips for a snack for later.
This meal being done, time was really starting to run out on our last hours here. We walked back through Liberty Square.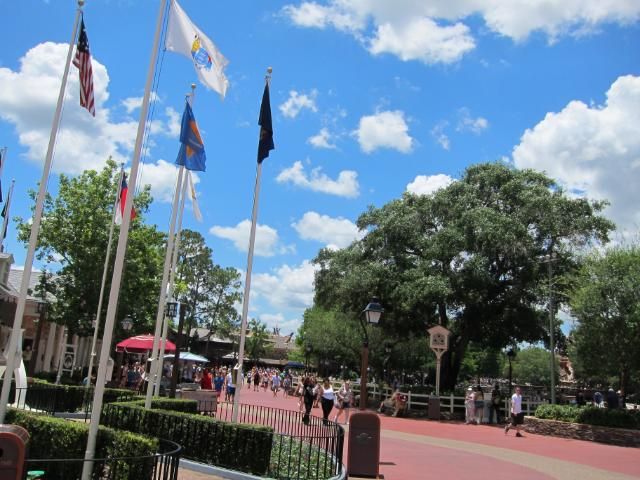 I noticed this birdhouse that's actually a speaker for parade and background music.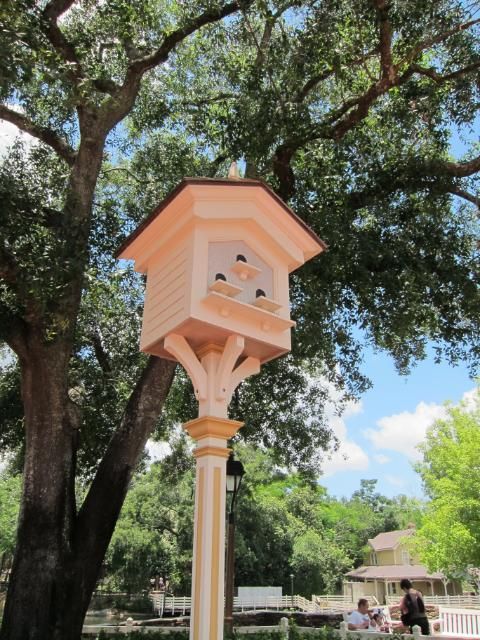 We decided to go back to Adventureland for one last ride.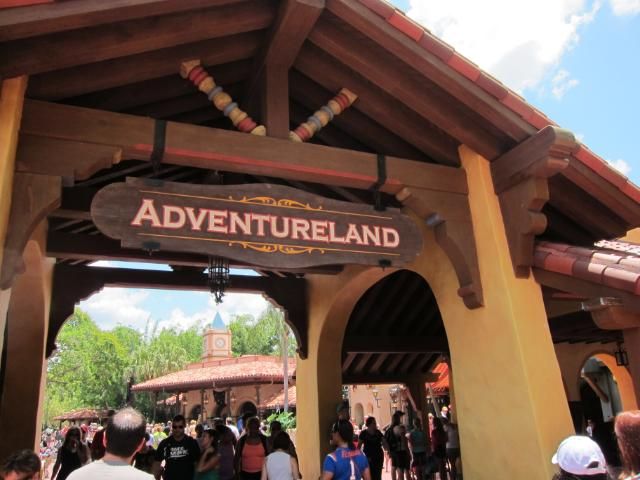 It seemed fitting to end this trip where it began—riding Pirates of the Caribbean one more time.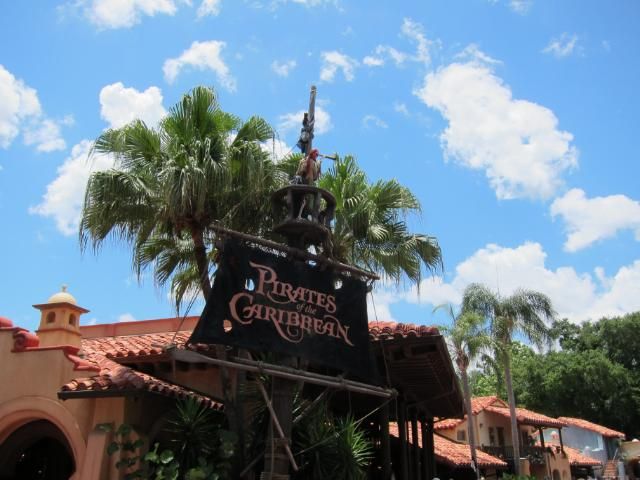 Once we were done with our last ride, we moved back through the constantly-increasing crowds back through Adventureland toward the hub.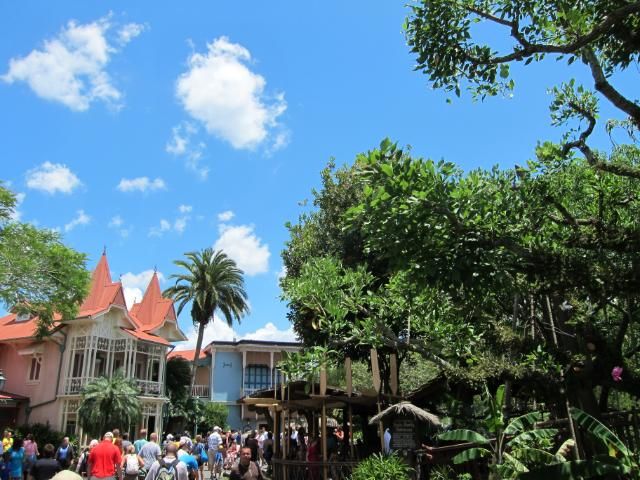 Previous Post | Next Post
Table of Contents
Follow



Share