May 24, 2014
Chapter 4
Almost There
---
Previous Post | Next Post
Table of Contents
We slept in a little on Saturday morning and laid in bed for a while after the alarm. It was still several hours until we could board the ship, but we finally forced ourselves to get up. After getting ready, we dressed Duffy in his finest sailing clothes so that he would be prepared for the cruise.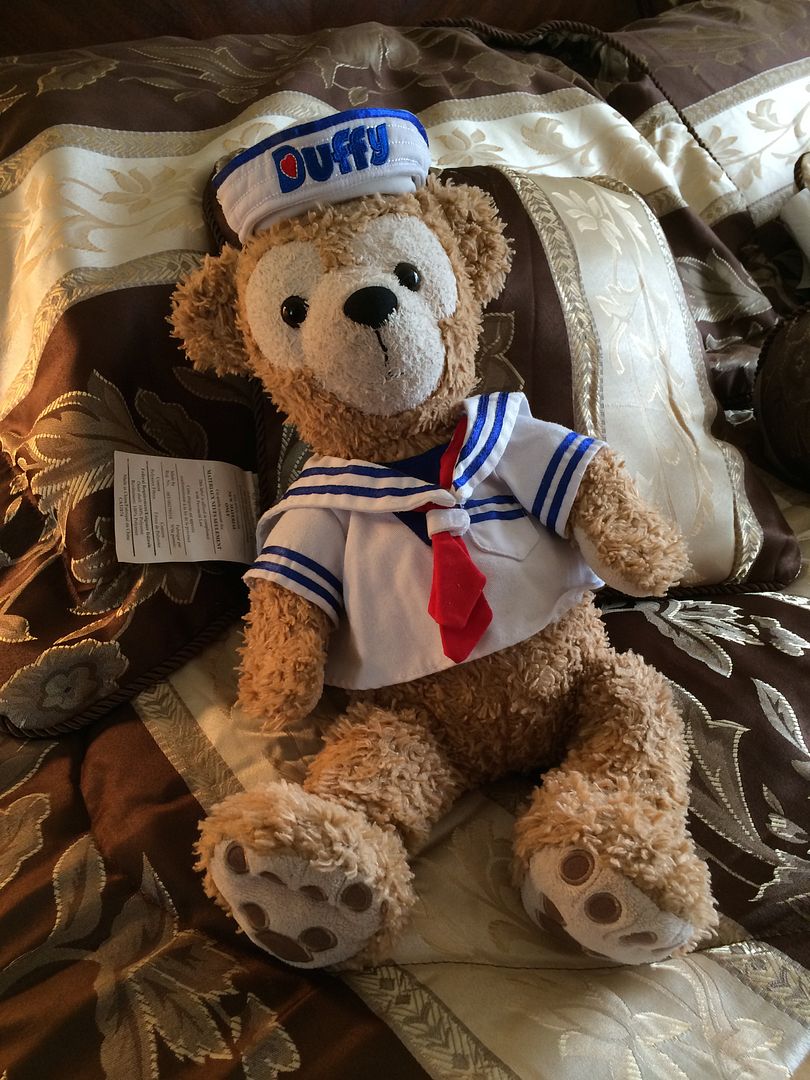 We felt a little bad because it turned out that our AirBNB hostess had set the table to have breakfast with us (cereal and toast), but we'd slept in so long that she was out walking the dog when we actually got up.
Luckily, she came in about halfway through our meal and we made it up to her by chatting for a while. This is our friend Bailey, who kept wandering into our room and jumping into our laps during our short stay with his owner.
While we were eating, the gal got a notice from AirBNB that someone else had just booked our room at the last minute for that night, so we got out of the way while she turned over the bed and bathroom. She must do extremely steady business renting out her place!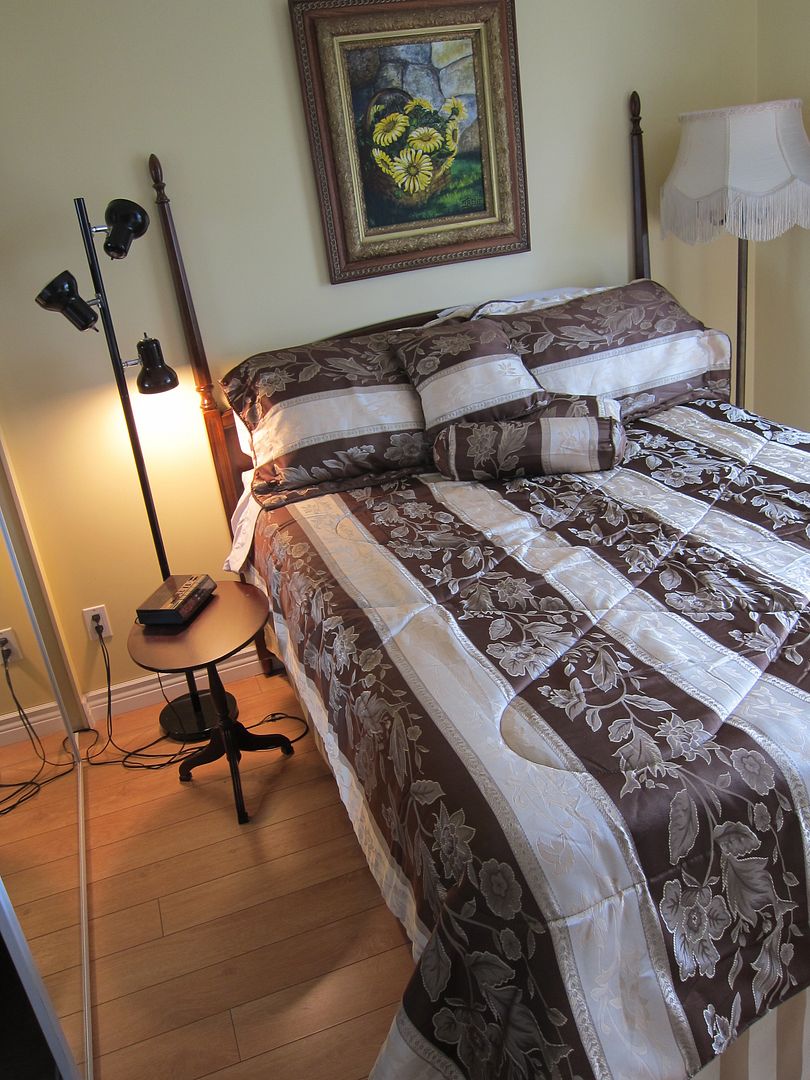 After heading across the street to Quiznos for lunch, we decided it was about time for us to start going toward the cruise terminal. Our hostess actually offered to drive us to the terminal, which would save us from another mile of walking with our heavy suitcases, and we quickly took her up on that offer! Even Bailey came along for the ride.
As we pulled up to the main Canada Place terminal, we thanked the gal for all her hospitality—she certainly went above and beyond what we would normally expect from an AirBNB host—and we bade her farewell. Now we were on our own again, but unfortunately, the Disney Wonder was nowhere in sight.
Canada Place had two cruise ships docked, but neither of them was ours. I suddenly recalled seeing in our cruise documents that our sailing alone would depart from a different dock (though I'd just assumed it would be at the same port). Actually, however, we would be leaving from Ballantyne Pier, which was about a mile away.
After confirming where we were going with one of the people at a tourist information booth, we began to try to search for a taxi. We were right in front of the ritzy Pan Pacific Hotel (which we knew would have a taxi line), and we just happened to luck out when one of the valets at the hotel asked if we were trying to find the Disney Wonder. He must have seen our bag tags and looks of consternation because he could easily pick us out of the crowd.
Rather than shelling out money for a taxi, he told us that there was a free shuttle leaving from the hotel to the correct pier, and he gave us directions to figure out how to find the bus. As we made our way through the Pan Pacific and downstairs, we saw how fancy it was—a bit of a step up from our humble lodging.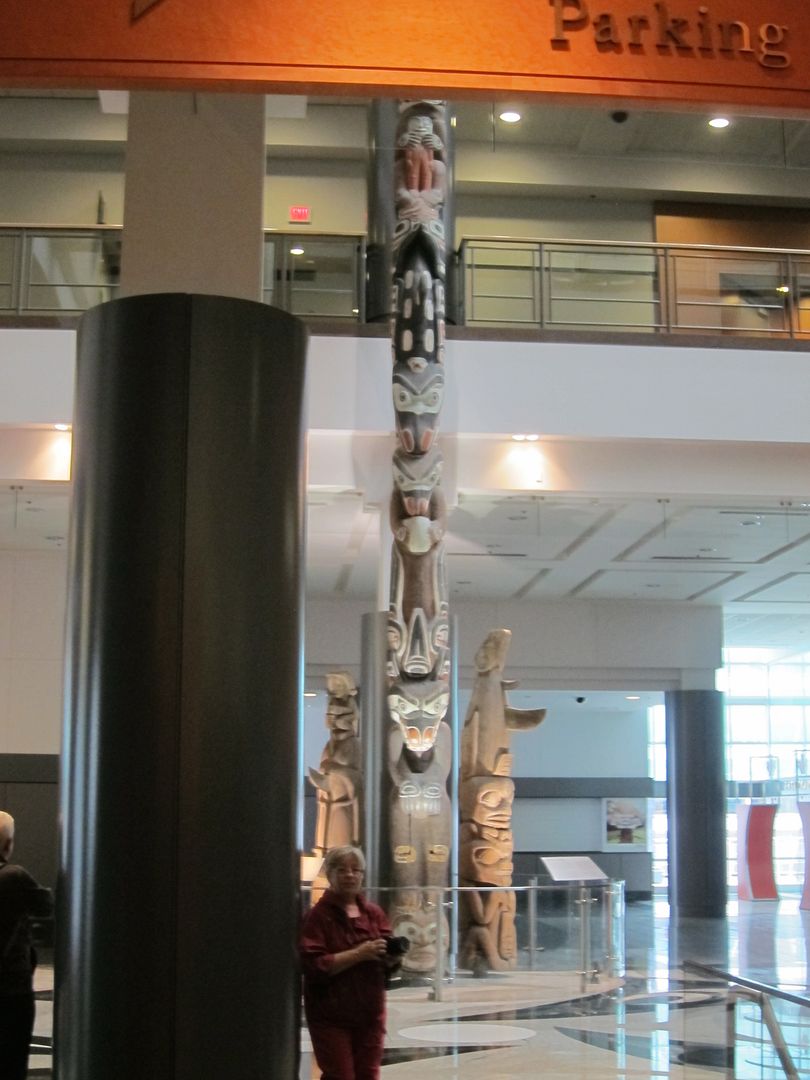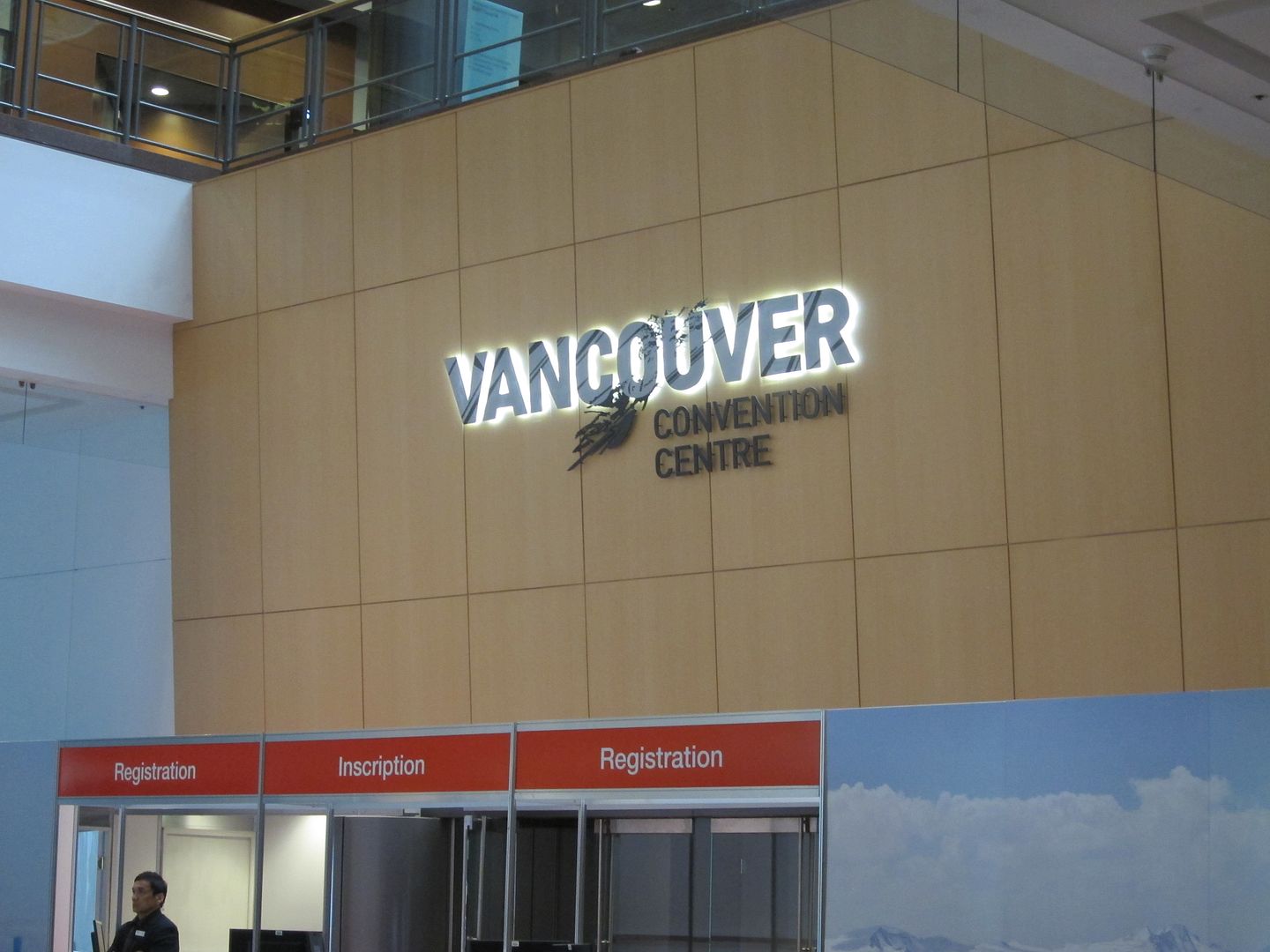 The valet's directions took us right where we needed to go, and we soon found a truck that would take our luggage to the ship for us. After handing over our bags (and hoping we'd given them to the right people), we walked through the underground bus garage and soon found the bus with our ship's name on it.
It felt like it took an eternity for the bus to start its route. After all, we were feeling SO close to the ship and yet SO far. We sat for about 15 minutes before we finally hit the road, and we arrived at Ballantyne in almost no time flat. Before we could see anything else, the ship's funnels with their Mickey emblems came into view and we were SO EXCITED.
Pulling up to the pier, we got our first real look at our home for the next nine nights!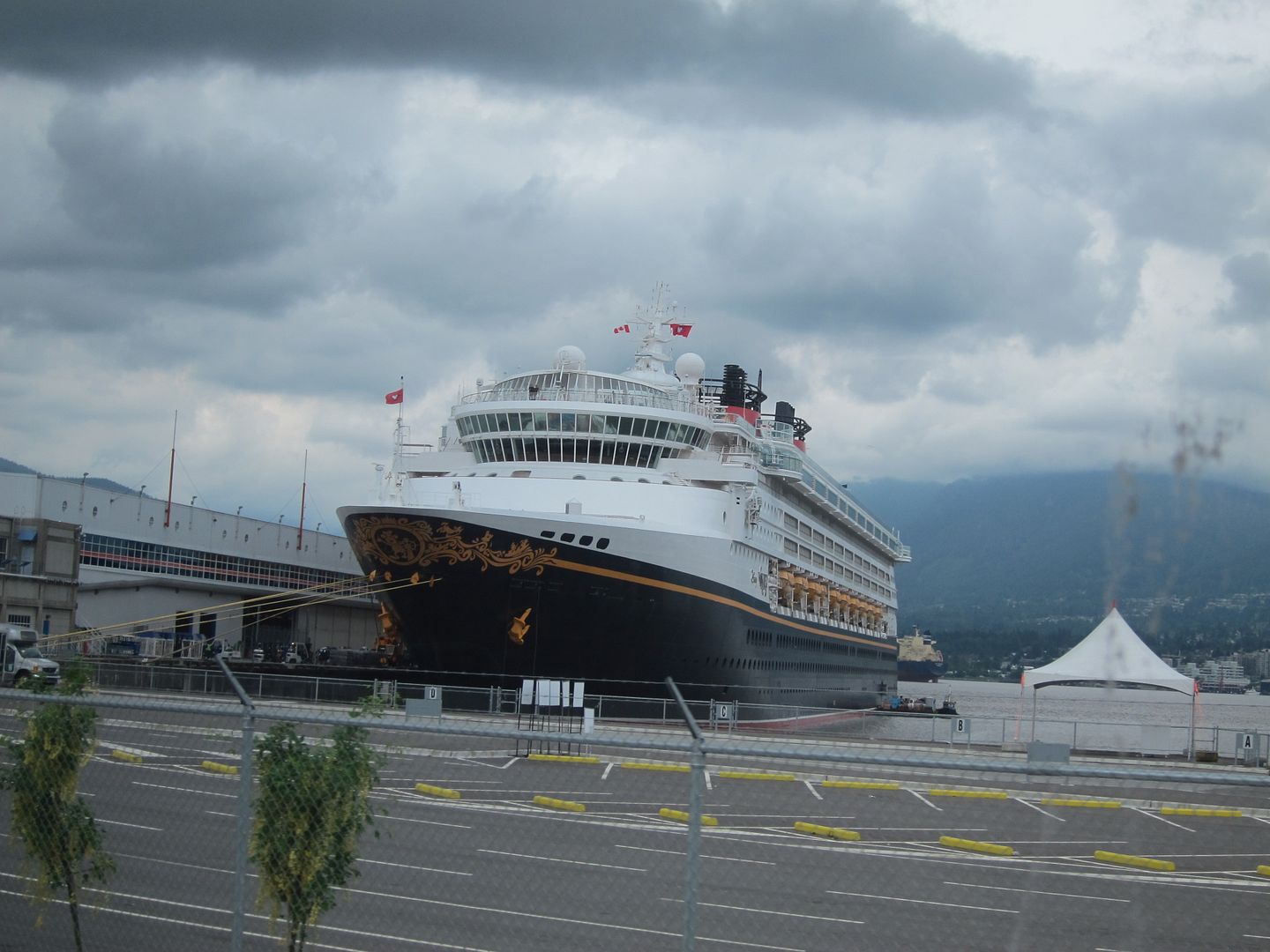 Here was Tracy's face.
And here was mine.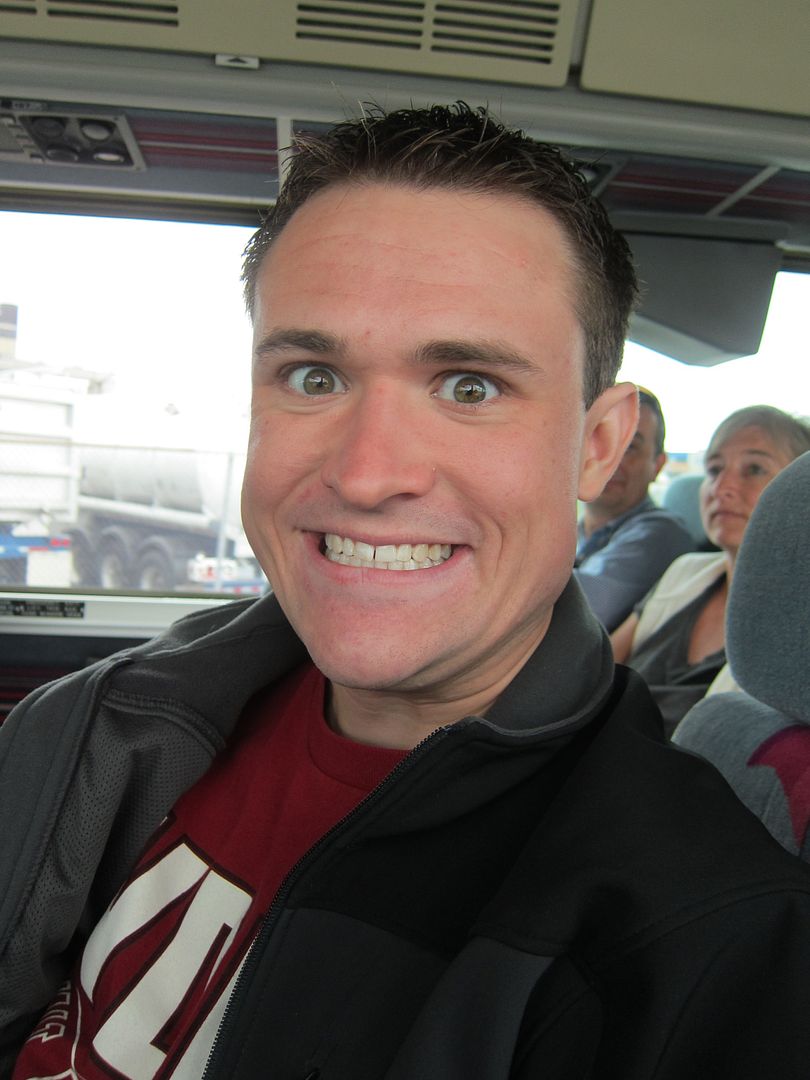 We pulled up to Ballantyne and got off the bus.
From out here, it seemed like there was almost no one else around, and we hoped against hope that we could somehow board the ship quickly without having to wait for too long.
Before we went into the terminal, though, I had to get a few pictures now that we could really see the Wonder properly.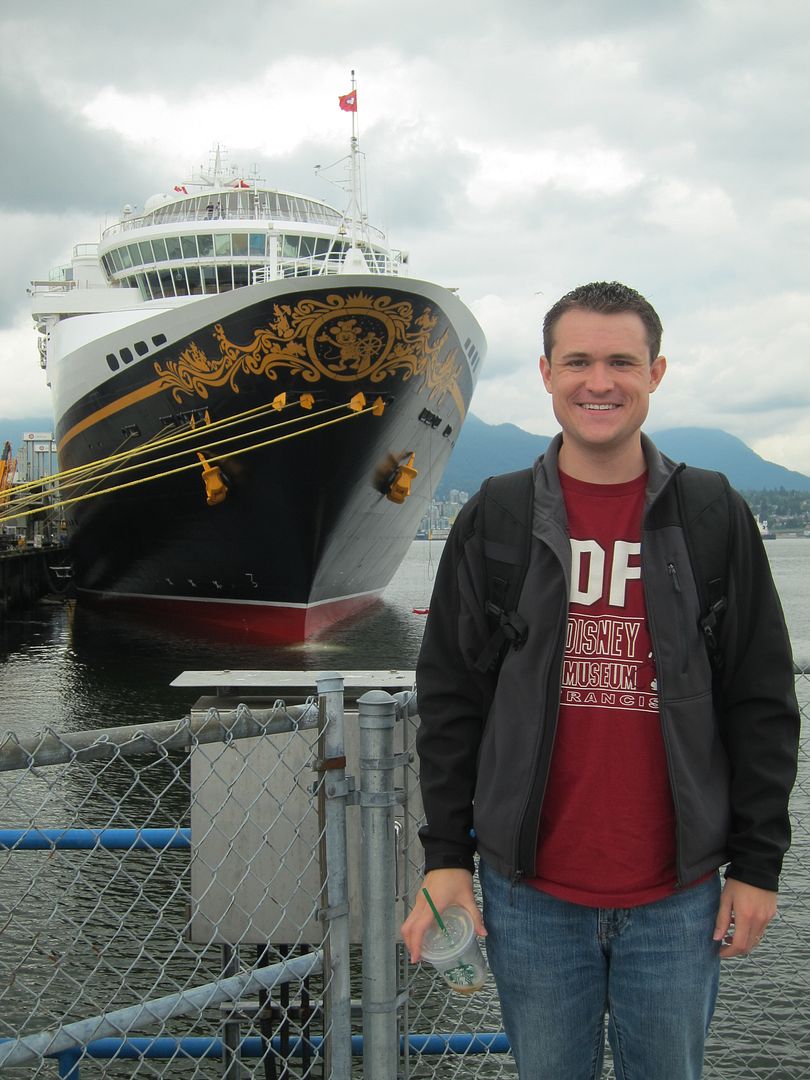 Finally, we stepped inside.
Now, I imagine that Disney does a really good job with theming their private terminal at Port Canaveral. Here, we obviously got a bit of a makeshift attempt, but it still was pretty well-themed.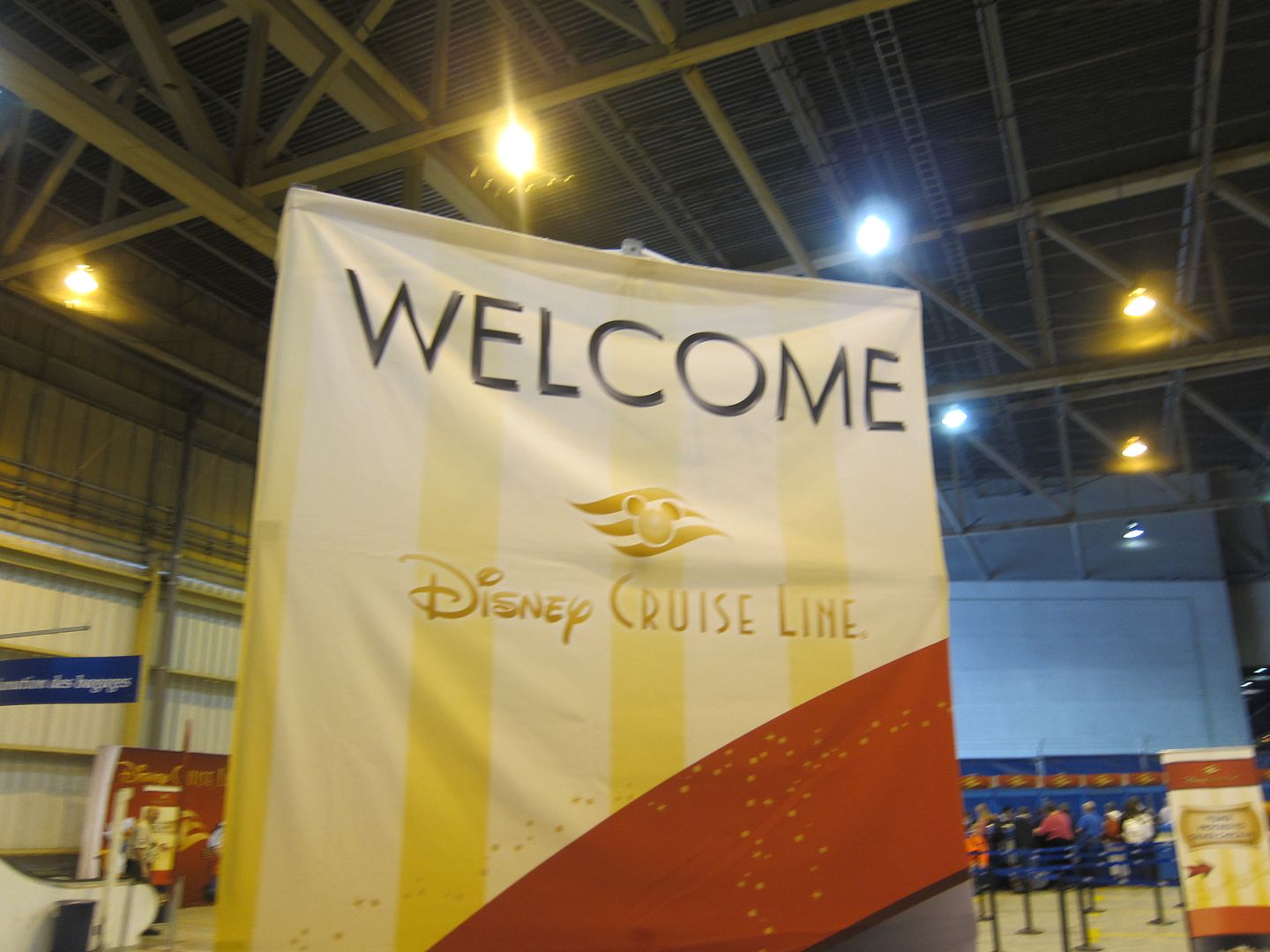 We got in line for guest check-in, and we were once again hopeful because there appeared to be no one in sight.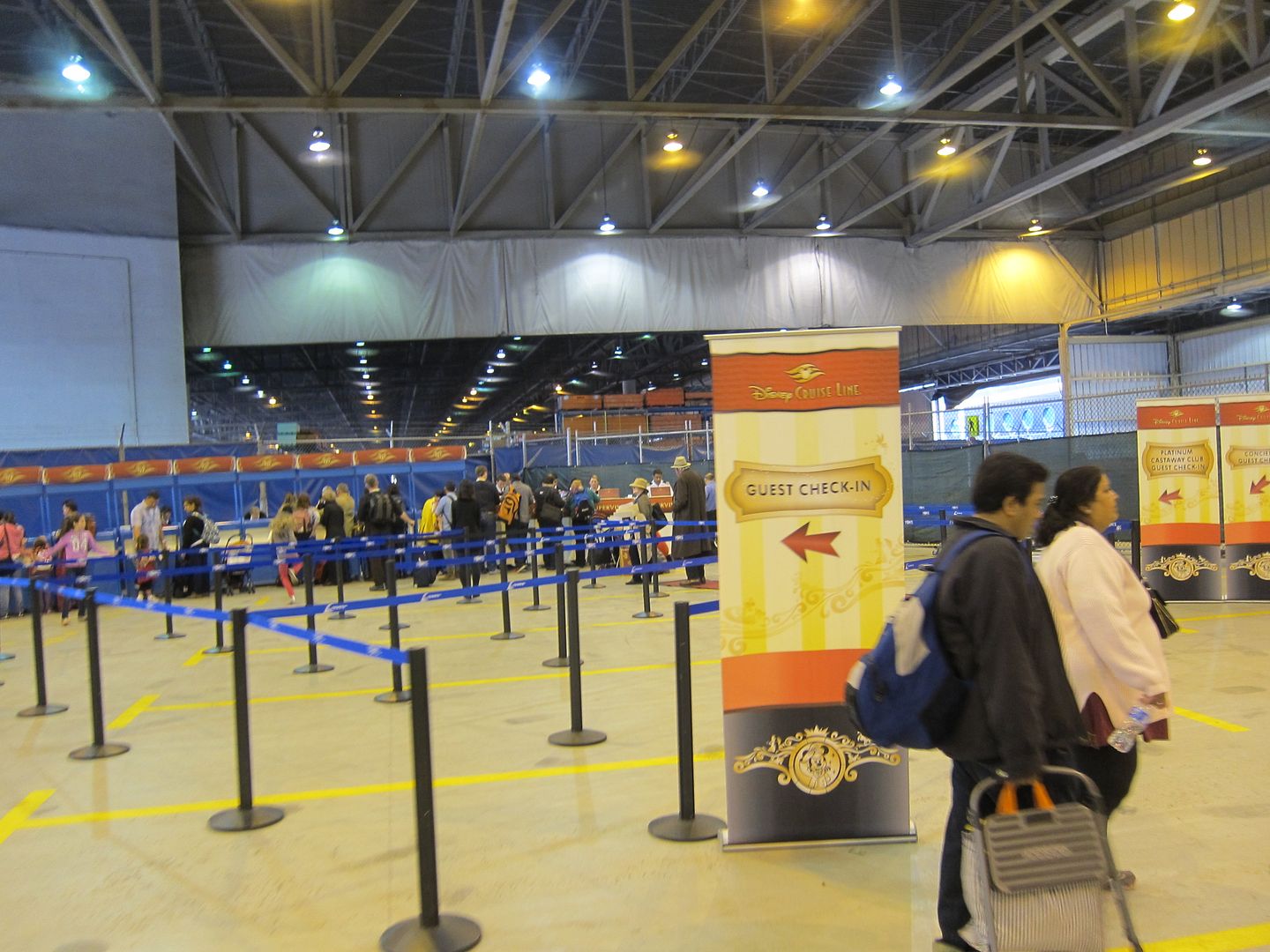 What little line there was moved VERY quickly.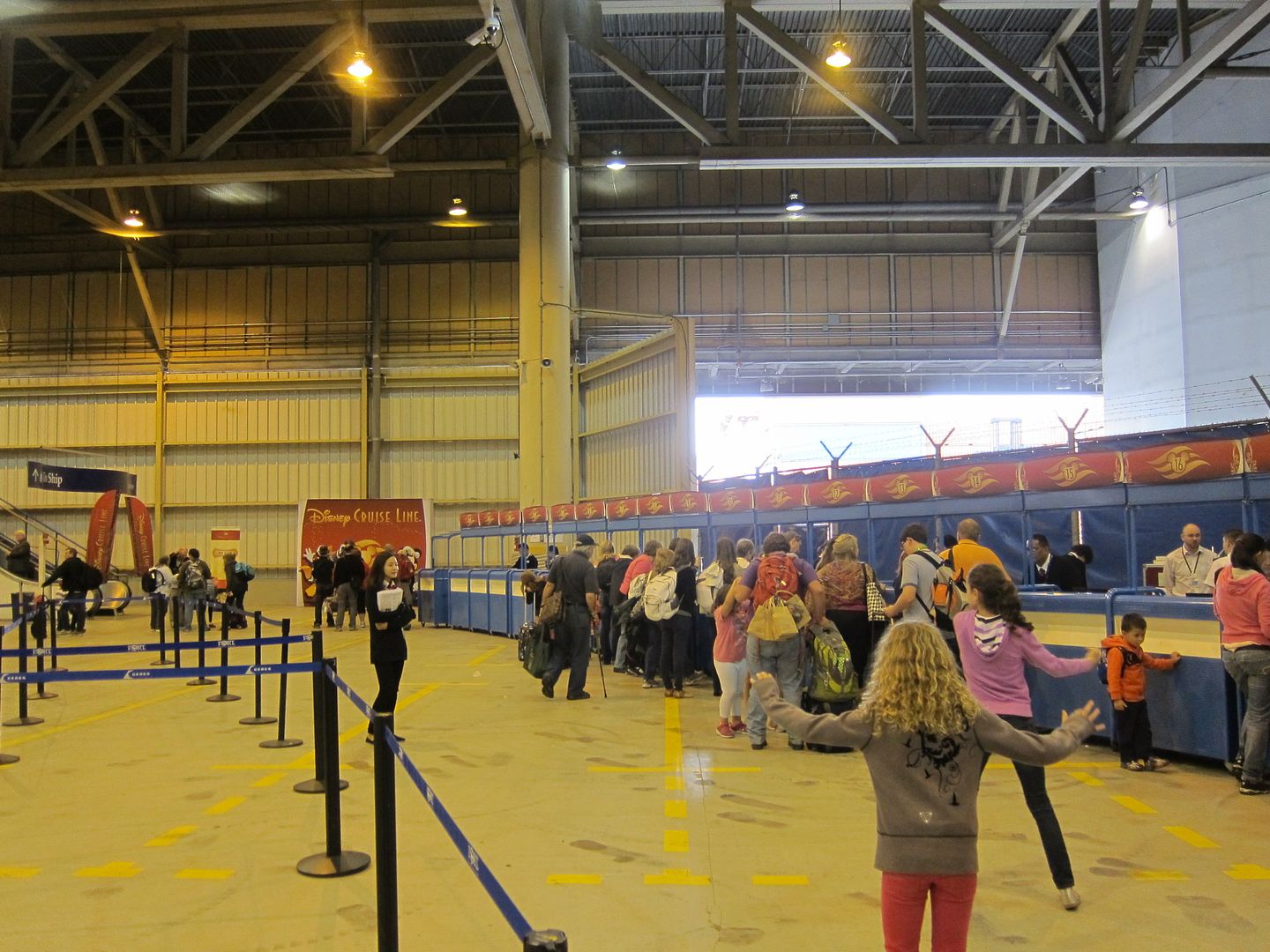 Soon, we got to the front and were given our Key to the World cards. We knew that we could glean a little information from the cards if we read them right, and we were able to see that our dining rotation for the cruise was PTA (Parrot Cay, Triton's, Animator's Palate). It also confirmed our stateroom assignment—which we had only gotten two days earlier: Room 8502. But much more on that later!
For now, we followed the directions from the makeshift cast members (the folks milling around the terminal were obviously not Disney employees, but they were still as helpful as possible) and made our way toward the escalators that would take us to our next destination.
We stopped first, though, at this nice sign and asked someone to take our picture.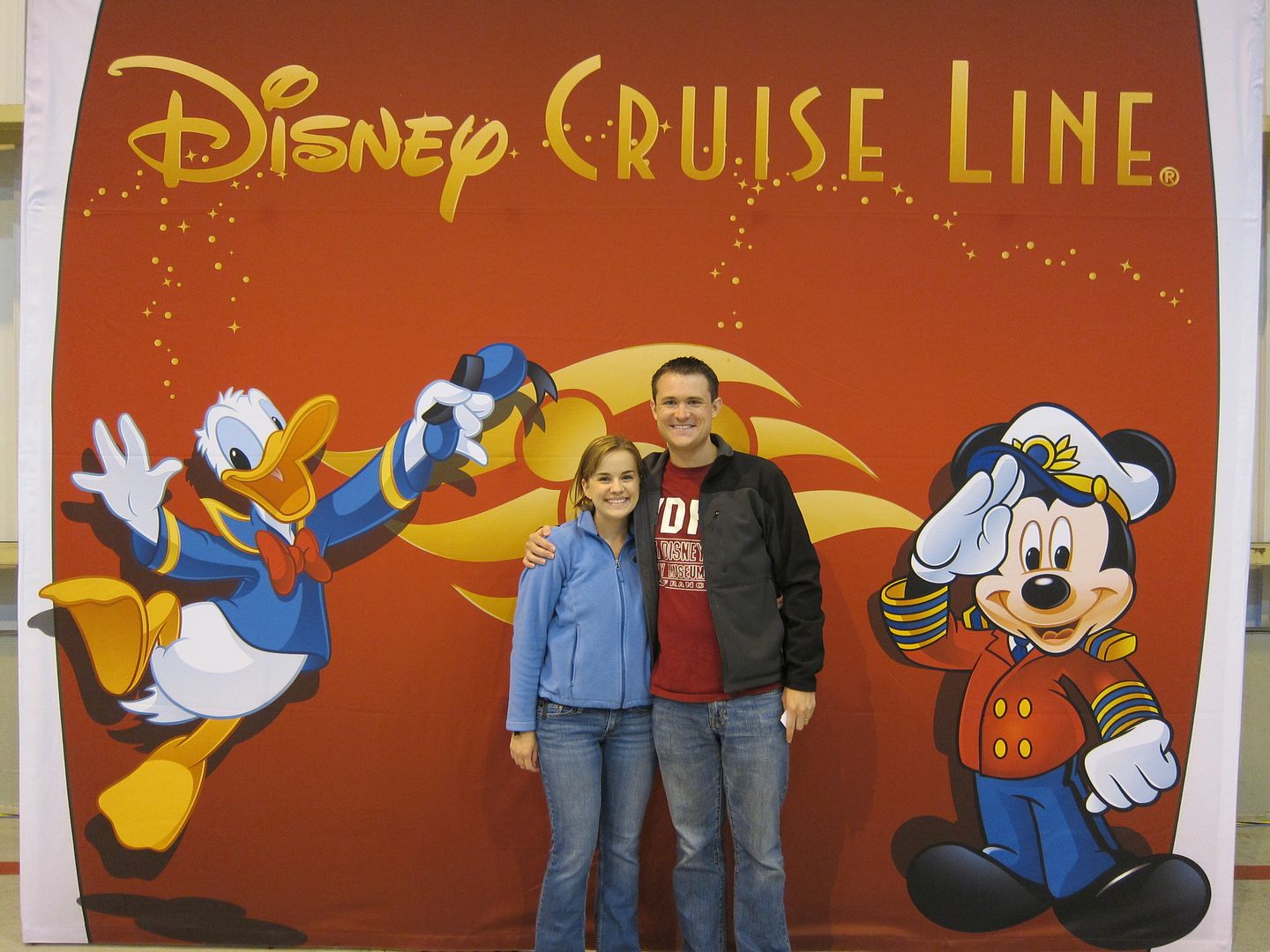 As we went up the escalator and looked down on the terminal, it clearly resembled a warehouse rather than a Disney port.
We followed this sign, sure that it was almost time to cross the gangplank!
And then we turned the corner and saw this crowd…
Apparently it would be a while until we'd get to board after all… Luckily, they gave us our first Personal Navigator as we entered this waiting room, and we perused it front-to-back several times while we sat and waited.
After the boarding groups before us seemed to take FOREVER, it was finally our turn. We got in line and made it to the front relatively quickly. Customs was a breeze, and before we knew it we were actually walking toward the ship!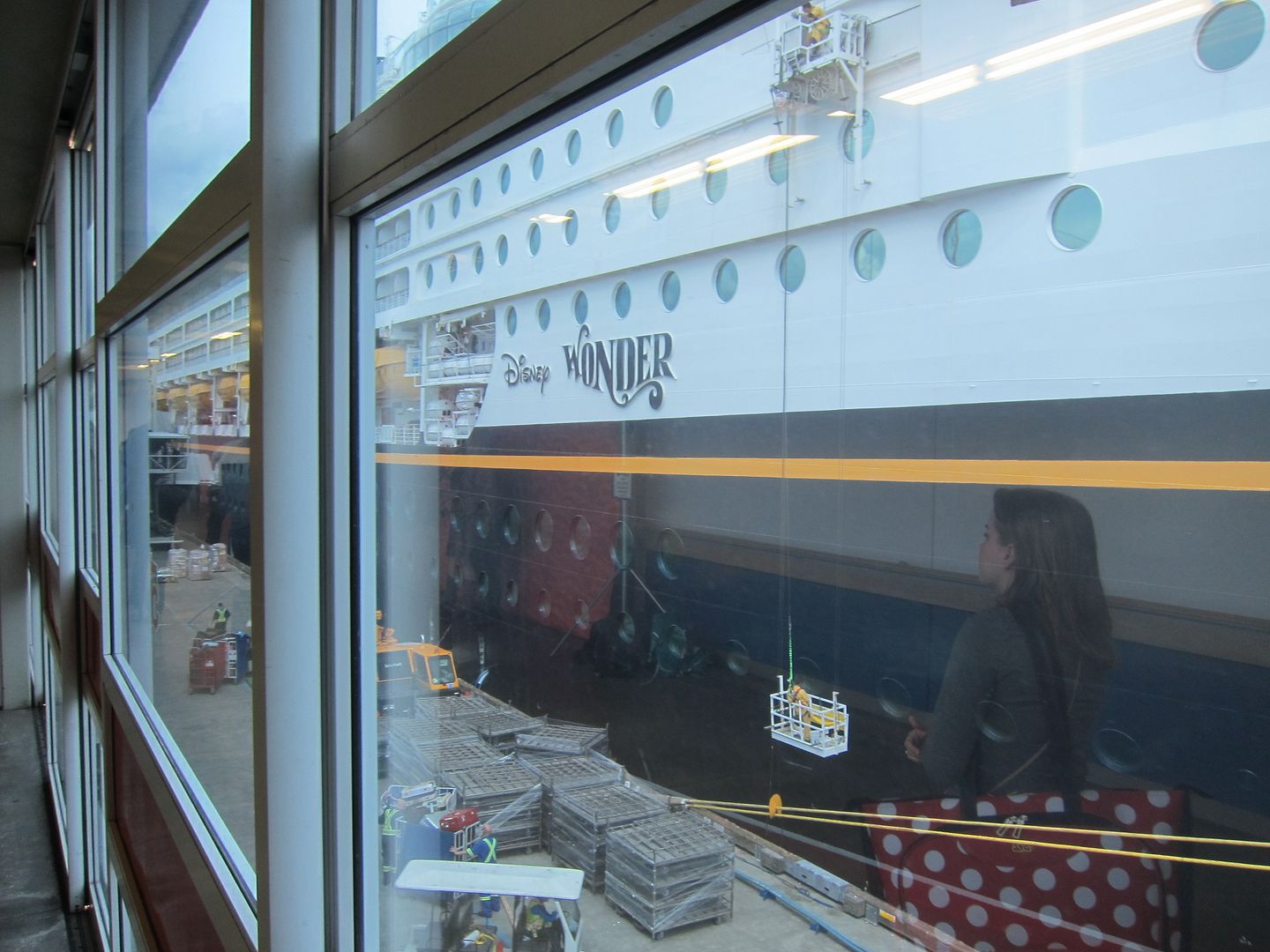 Previous Post | Next Post
Table of Contents
Support the Wandering Mouseketeers and get yourself a little something! Do your online shopping via our Amazon link!
Follow



Share