Chapter 30
The Crown Must Win
---
Previous Post | Next Post
Table of Contents
Once the guided tour portion of the Tower of London was done, we kept walking around the grounds on our own.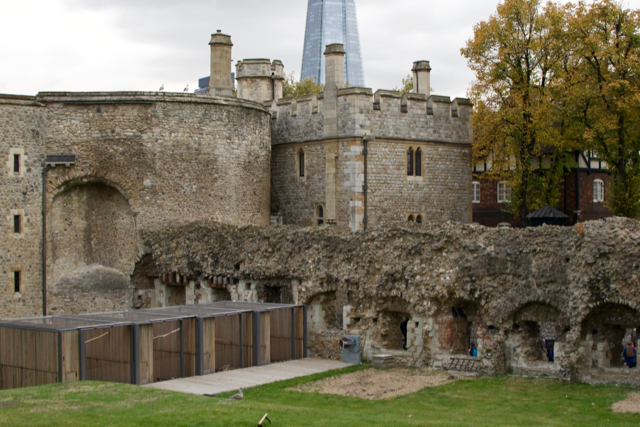 Practically every corner of this massive complex has some level of historical significance, so there's a lot we still didn't get a chance to uncover. Here's a plaque about the two princes who were famously killed.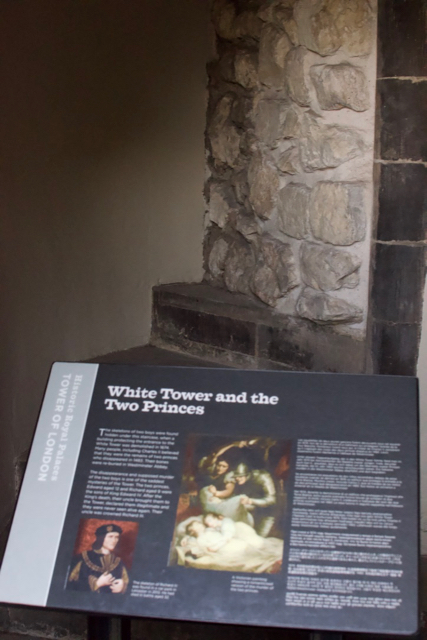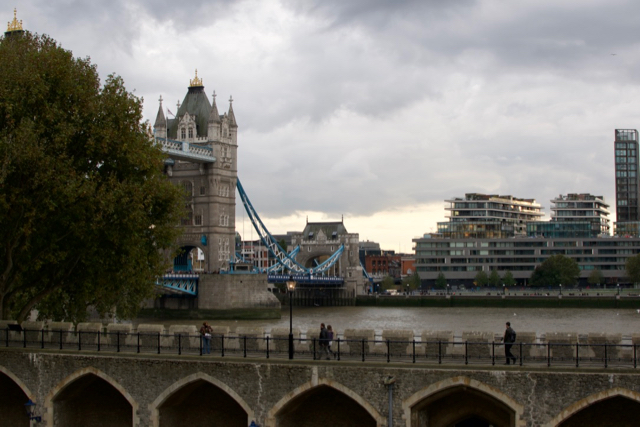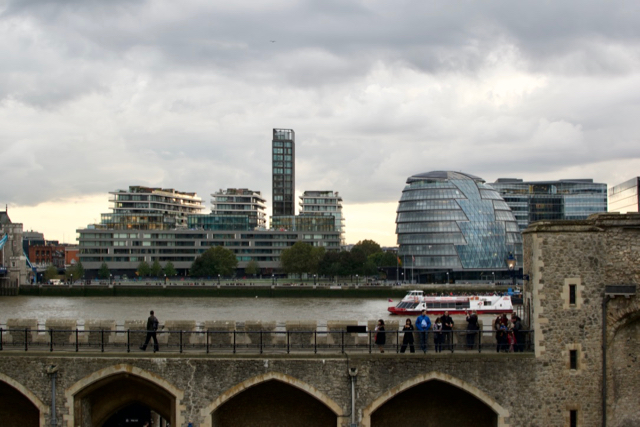 Upstairs within the White Tower is a museum that houses suits of armor from throughout England's history.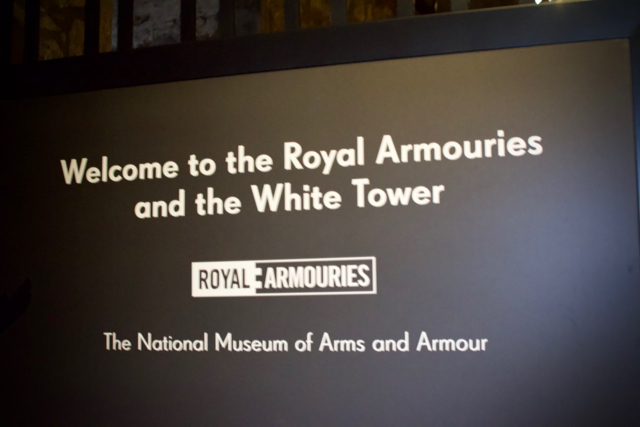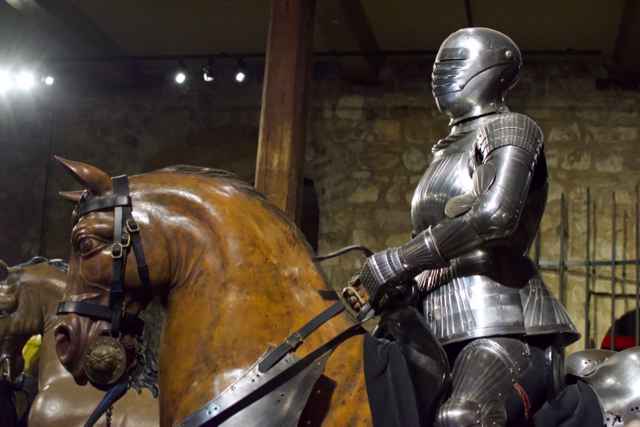 We saw plenty of equine battle gear in addition to armor for humans.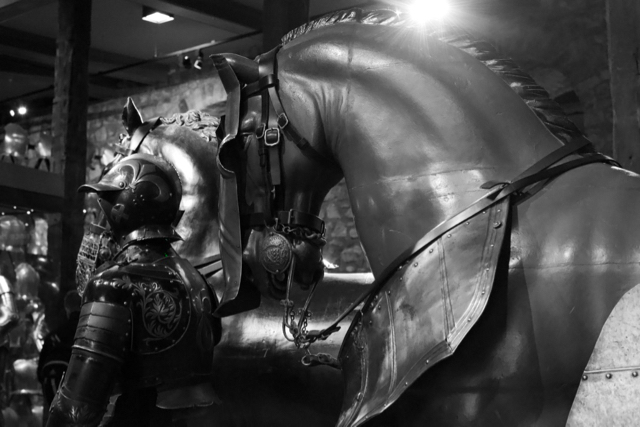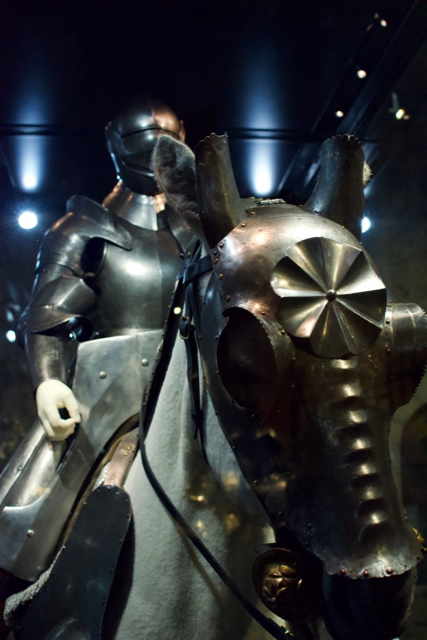 99% of the suits did not have armor in this particular region — suppose this fellow must have been compensating for something…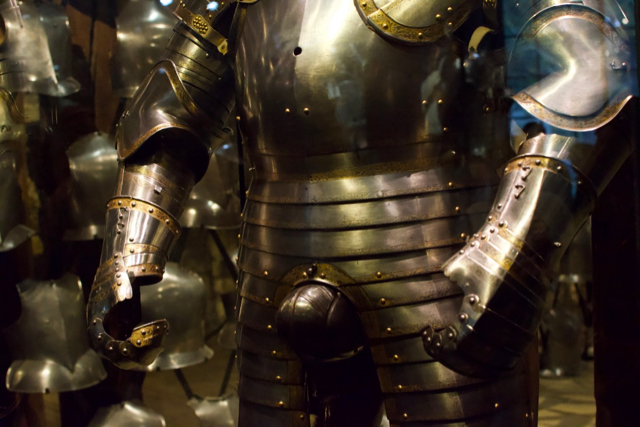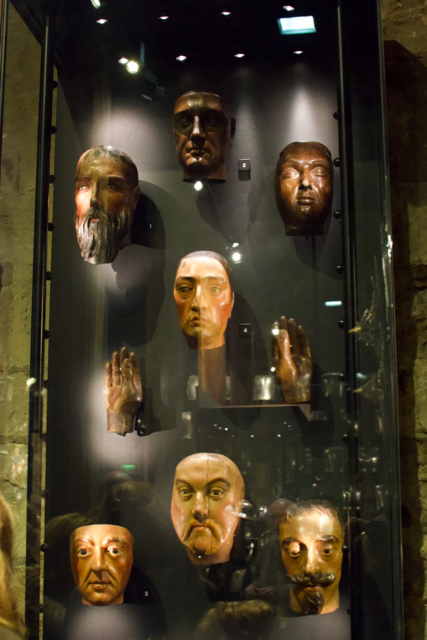 There were several suits of armor made for little children. I can't imagine that someone as small as this was actually fighting, so his may have been a costume of sorts, but some of the other pint-sized suits were clearly meant for very young soldiers.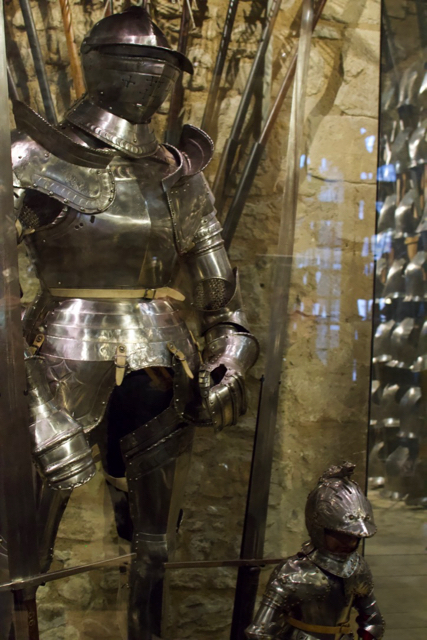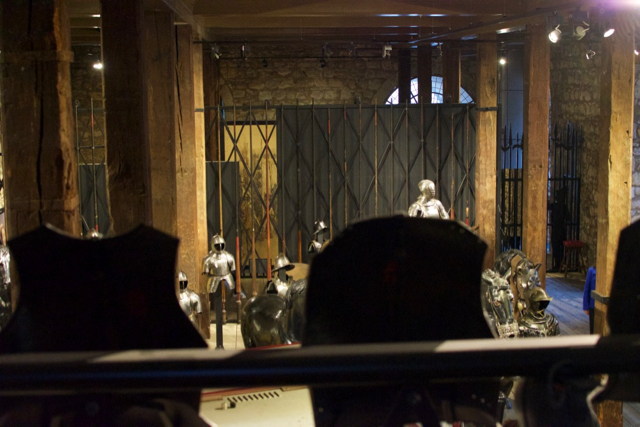 St. John's Chapel is one of the oldest surviving structures within the Tower complex. It dates back to 1080, and services are still held here about once a year.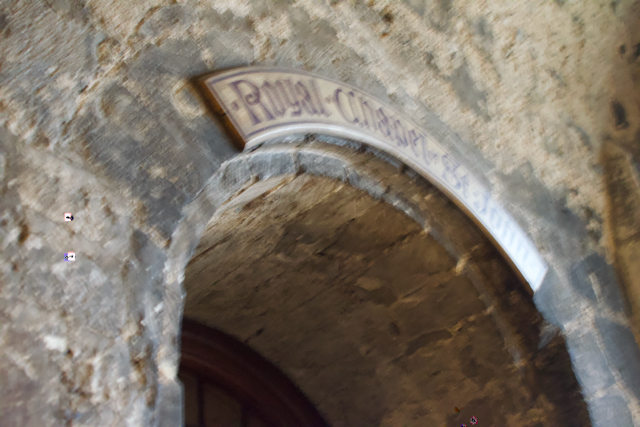 Changing gears, this next hole in the ground (since covered with plexiglass) was one of the Tower's early "toilets."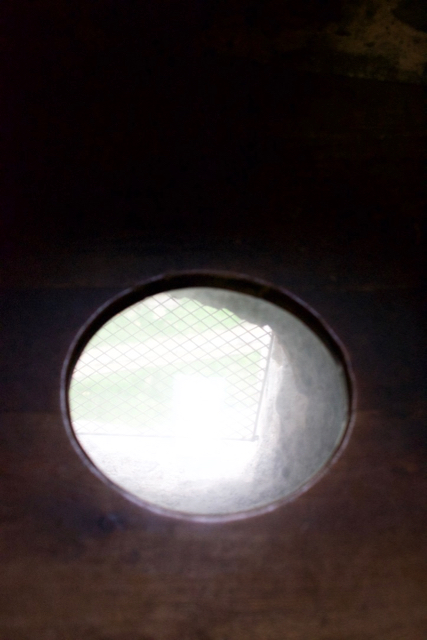 As the plaque notes, there were several of these holes in the White Tower, and waste would fall down into pits below.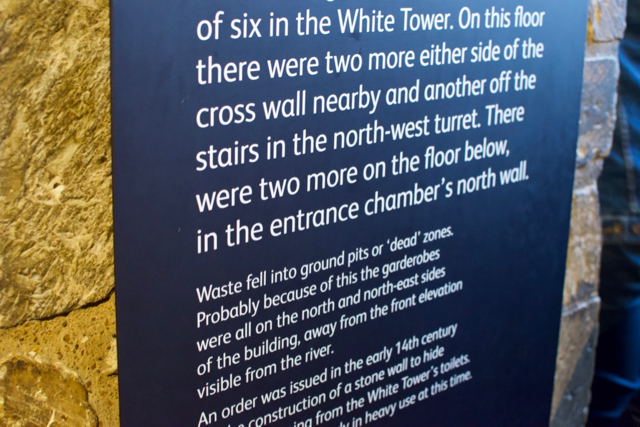 Here are a few more armory exhibits, including some medieval weapons.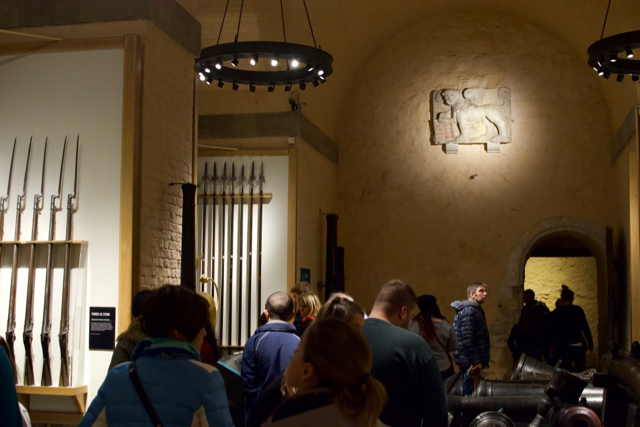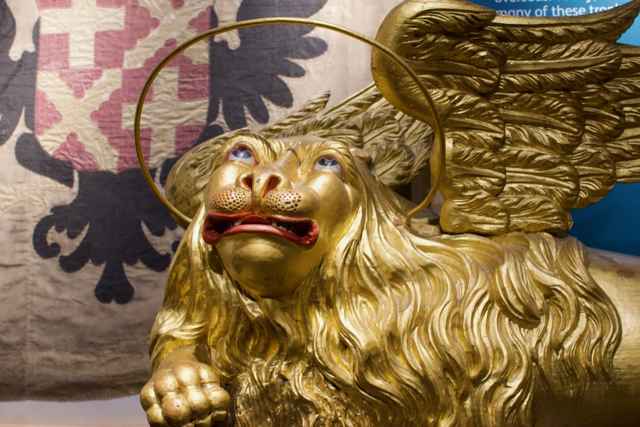 Besides history, lore, and of course, the Beefeaters, perhaps the most significant function of the Tower of London today is that it houses the Crown Jewels.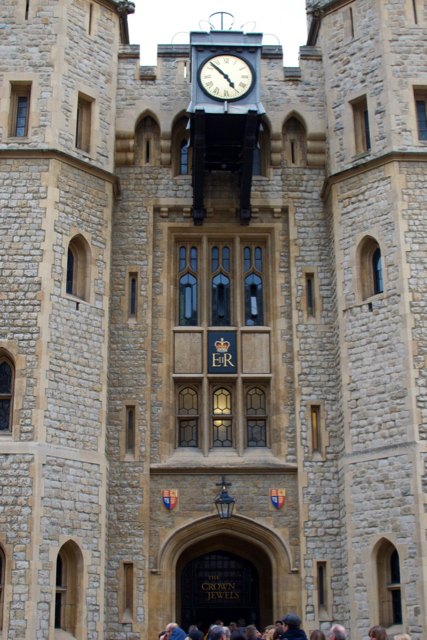 There is a constant queue throughout the day to take a look at Her Majesty's most valuable and historically significant relics. 140 royal ceremonial objects in all are kept under the tightest of security here in the Jewel House (formerly a tower barracks). They are protected by bombproof glass, and more than 100 CCTV cameras are trained on guests visiting this building alone.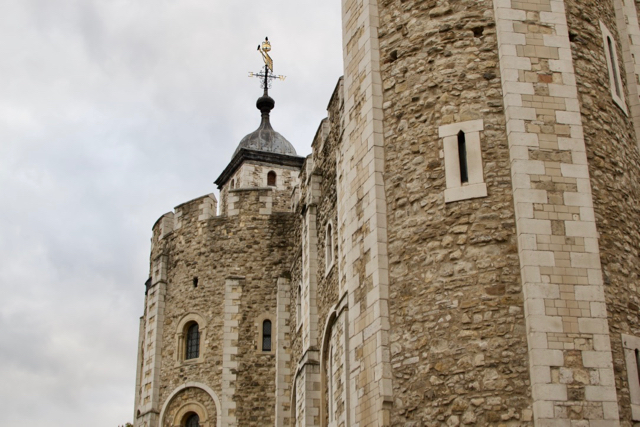 Perhaps the most important pieces among the Crown Jewels are the various pieces of regalia donned by rising monarchs during their coronations. These include the crown, orb, scepter, and ring that date back to Edward the Confessor. The Coronation Spoon is officially the oldest piece on display — forged in the late 12th century — and it is used by the Archbishop of Canterbury to anoint the new king or queen with holy oil during the coronation ceremony.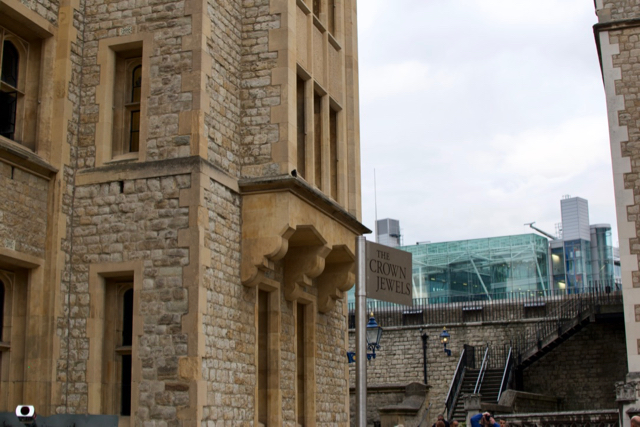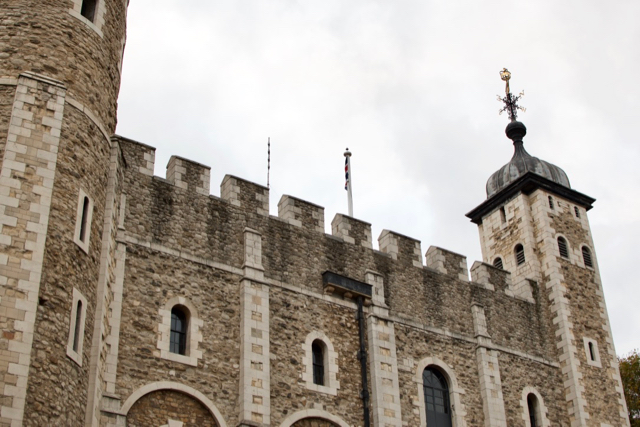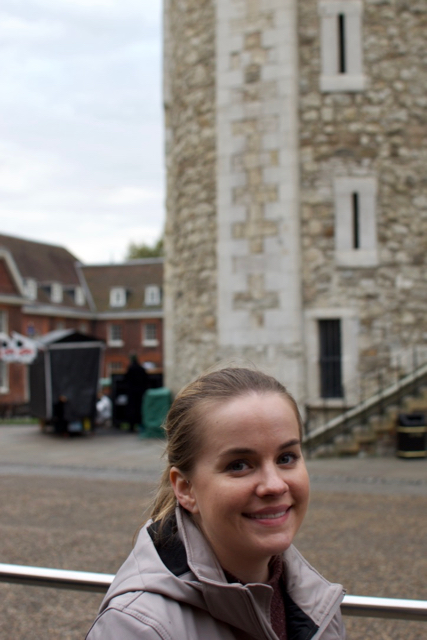 While we were very impressed to see the Crown Jewels during our tour of the Tower, we actually gained a far greater appreciation for what we had seen after returning home. Less than a week after the conclusion of our trip, The Crown premiered on Netflix, and we have voraciously devoured both of its seasons in the intervening years. The coronation episode of that show features many of the objects we had seen on display here at the Tower.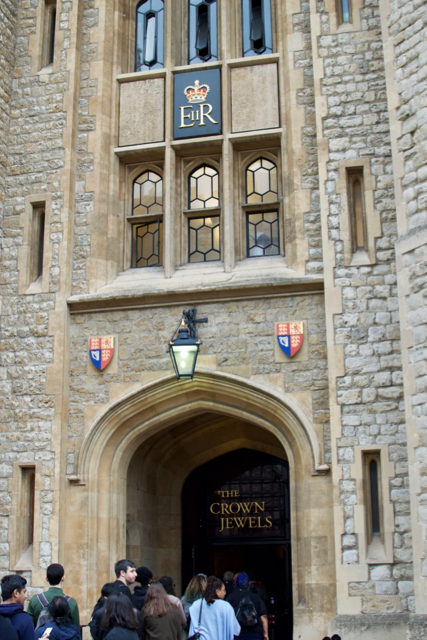 Photography isn't permitted inside Jewel House, which is maybe for the best. Since visitors aren't allowed to look at the relics through camera viewfinders or jockey for best positioning with their iPhone screens, the whole experience feels a little more like stepping back in time (if you ignore the many 21st century security measures). You can tell that every item is expertly lit within its display case, so the many jewels sparkle brilliantly. I remember turning to Tracy at some point as we were surrounded by these truly priceless objects and remarking that it was easy to forget that we were looking at the real thing and not replicas or imitations. The simple fact that there were this many gemstones and pieces of solid gold centralized in one location was almost hard to believe. While impossible to really put a price on them, the Crown Jewels are estimated to be worth about £5 billion.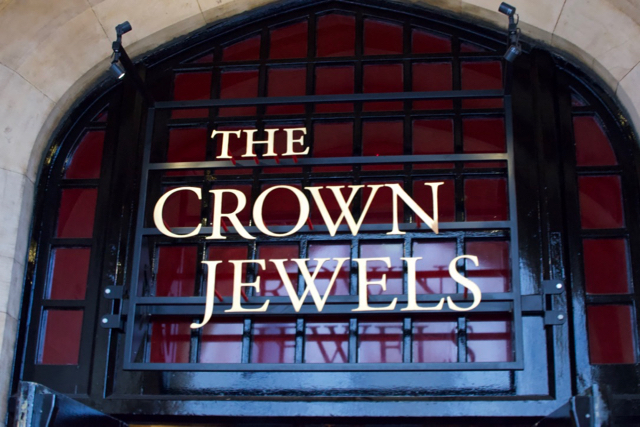 After finishing up inside Jewel House, we realized that the Tower complex was about to close, so we started making our final lap around its courtyards before getting booted. For visitors to London who have an image in their minds of getting up close to some of the Queen's guards, we found that the Tower actually provided a much more realistic opportunity to do so than any of our walks past Buckingham Palace. The guards there are at least 100 feet away, housed at the other end of the entrance courtyard, while these guards were stationed only about 10 feet from us.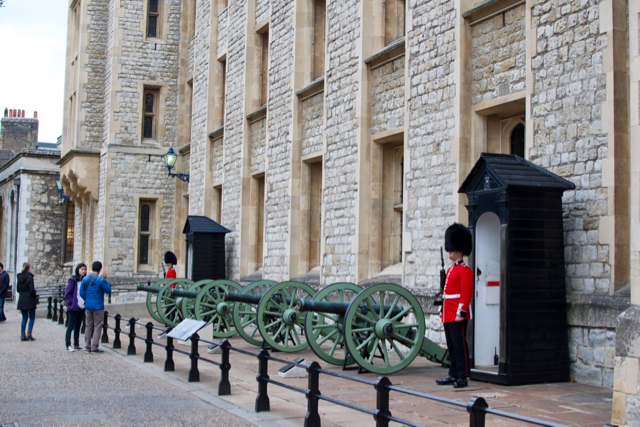 Here you can see more statuary paying homage to the Tower menagerie.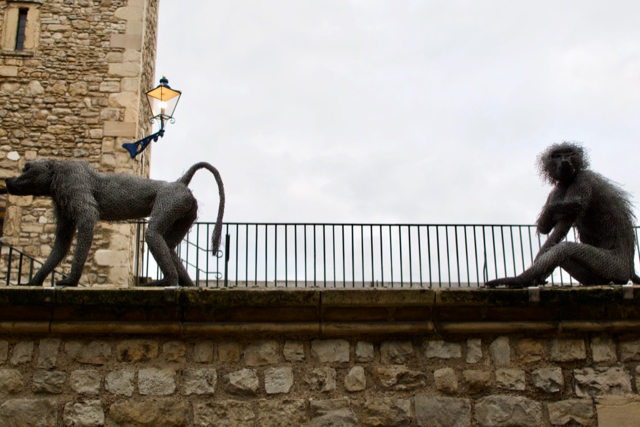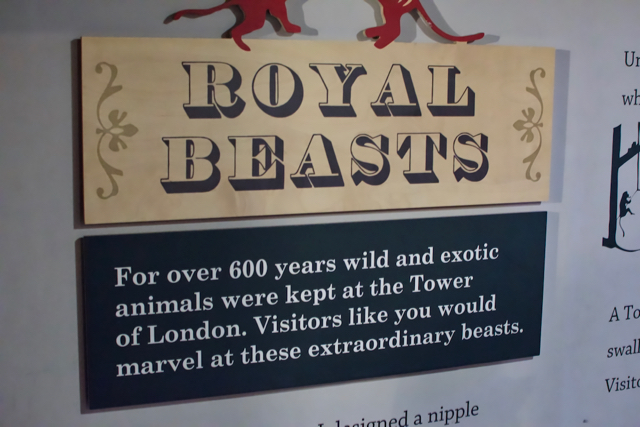 I feel like the Tower of London is someplace that we could go many times and still not discover all of its stories and secrets. It was, without a doubt, one of the highlights of our time in London, and somewhere that we are excited to revisit someday.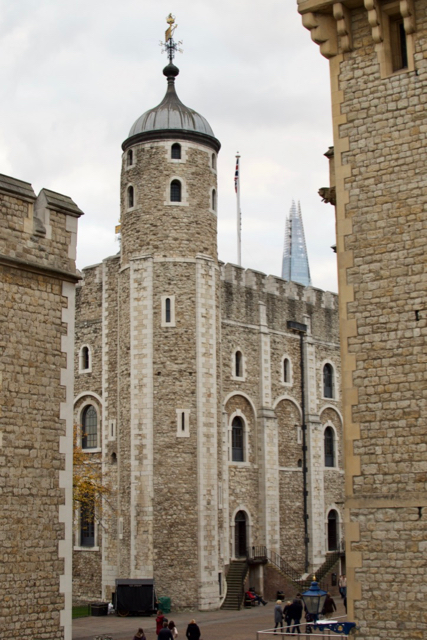 Now we know that next time, we could probably stand to devote a little more time to our visit (coming close to closing, we were racing the clock a bit).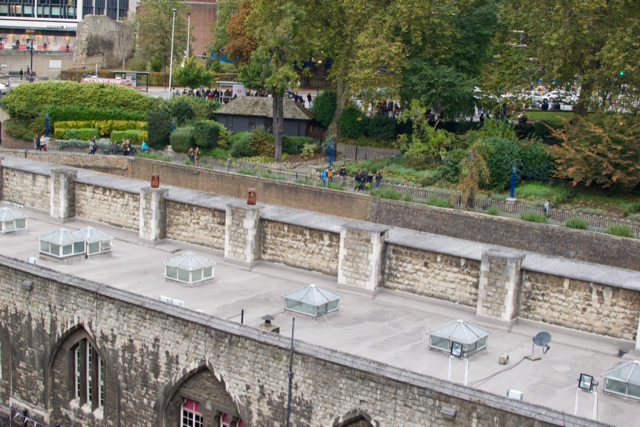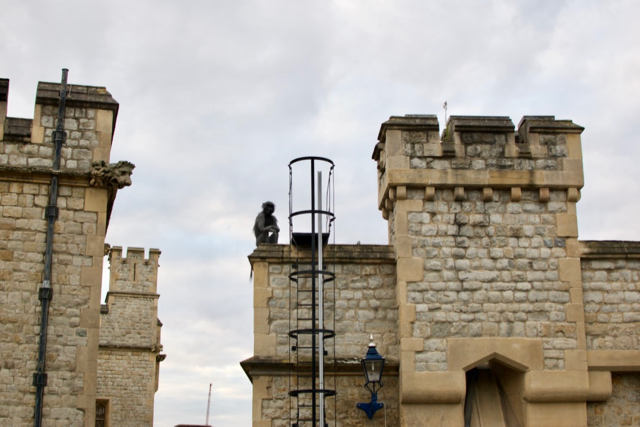 The views of London from within the Tower are truly unbeatable, and it's crazy to try to imagine how many changes to the skyline the fortress has seen through the centuries.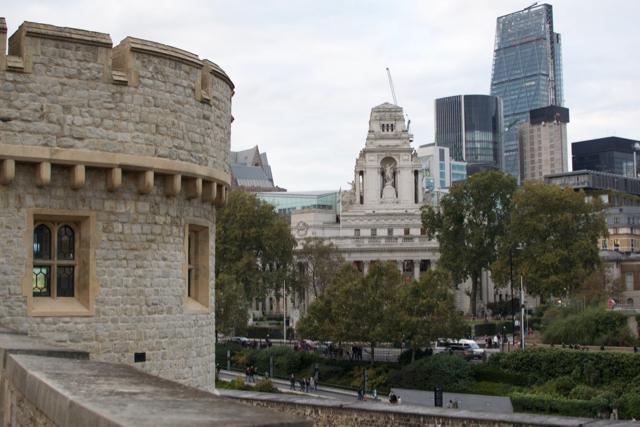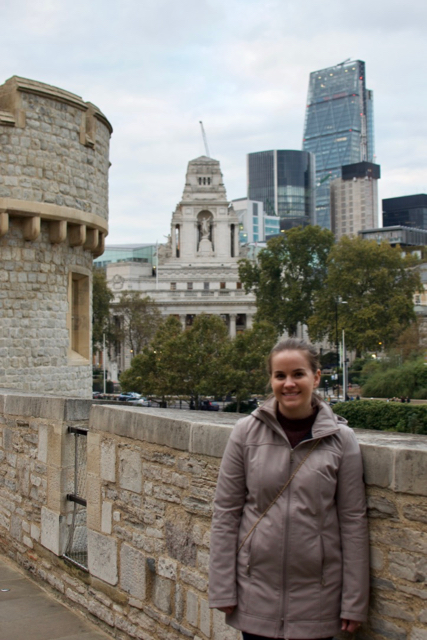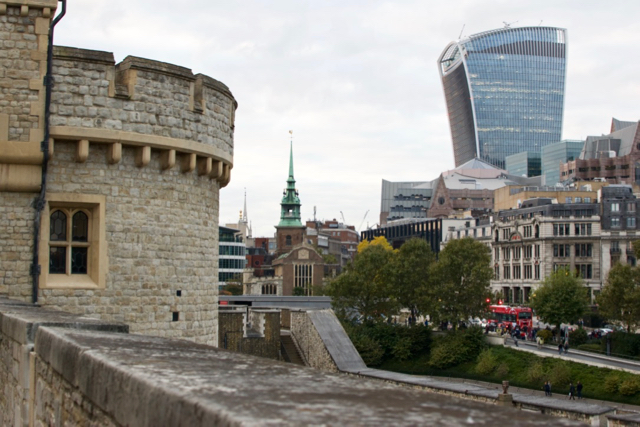 This view of some of the residential areas makes the Tower almost seem homey, and I could sort of imagine what it would be like to live here — not that I'd ever want to do so!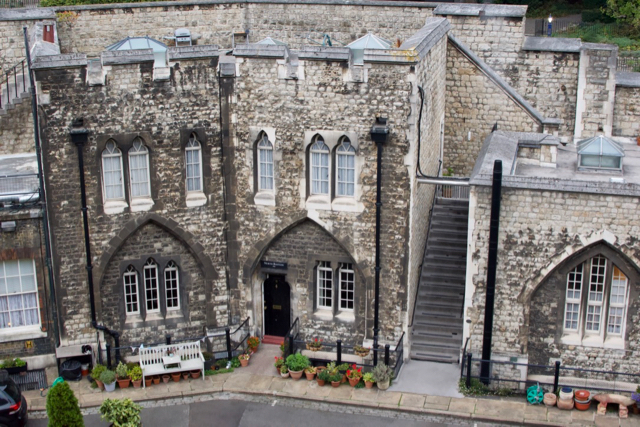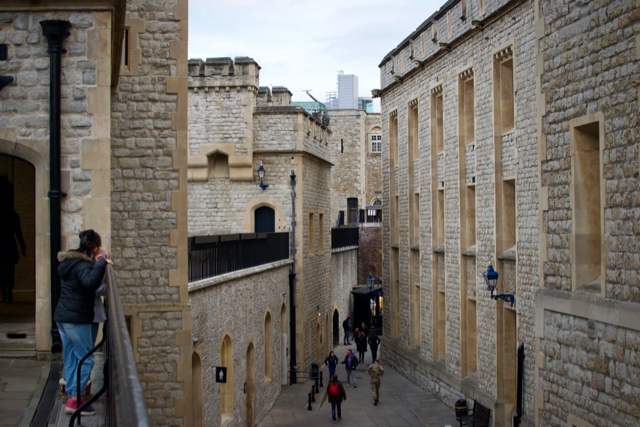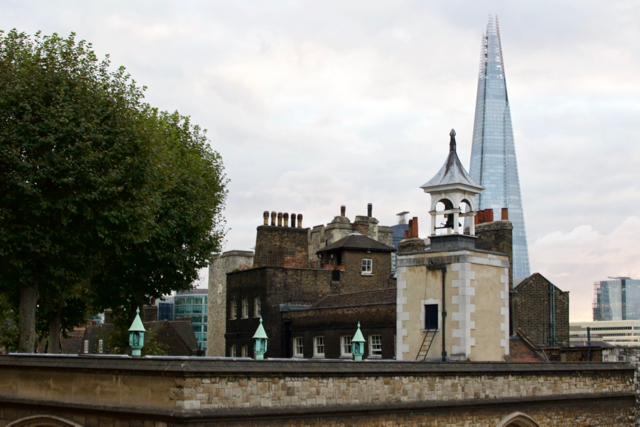 Another walk past Tower Green took us toward the outer reaches of the complex.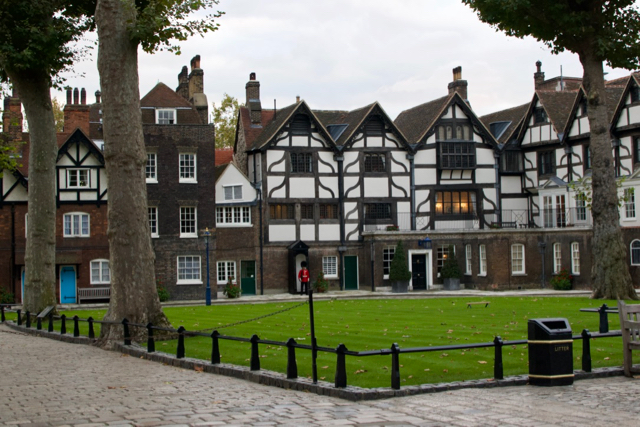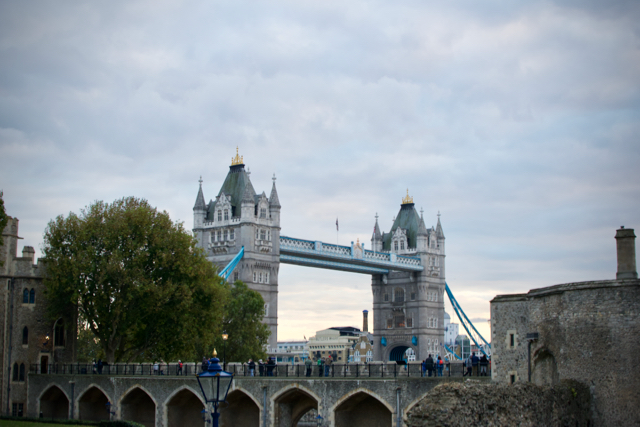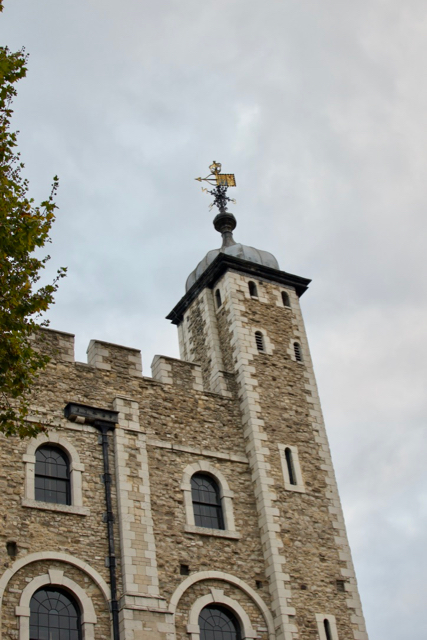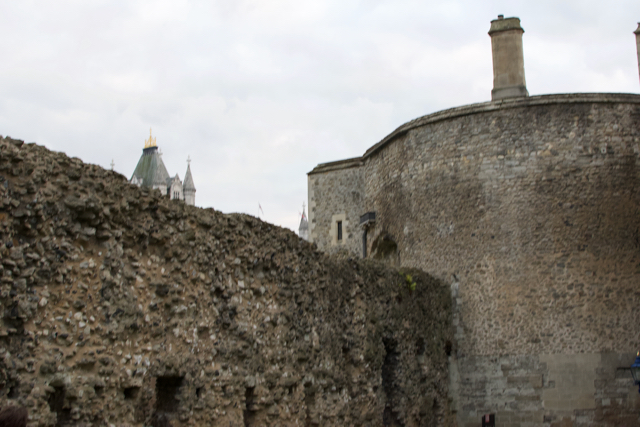 These spikes line the walls in one of the main entrances to the Tower complex. Apparently, they were installed to ensure that Beefeaters couldn't try to lean in one of the corners of the building for a little shuteye when they were supposed to be on duty.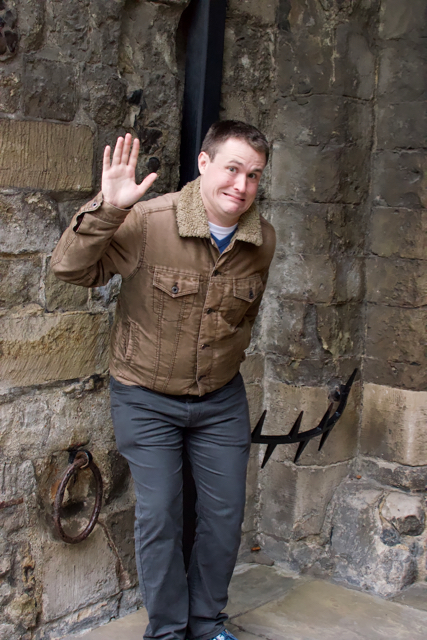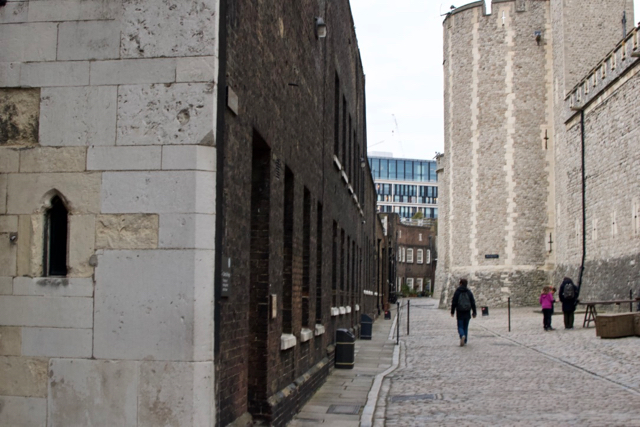 Here we are back out in the moat, which is a big grassy lawn today.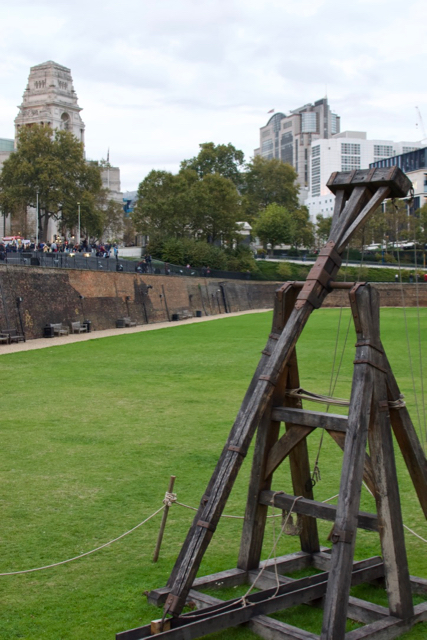 Somehow the Tower looked just a little less imposing from the outside — though no less impenetrable — after we had been inside its walls.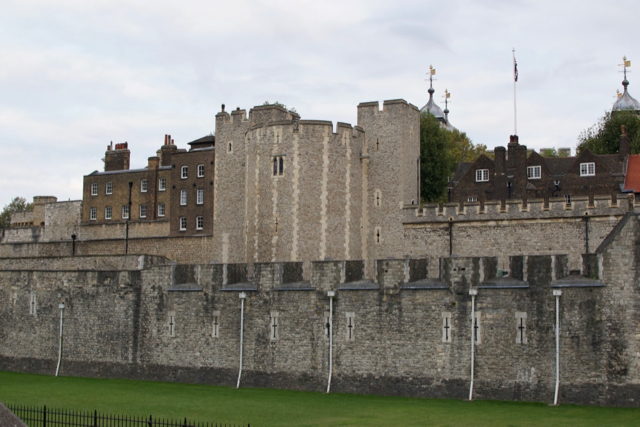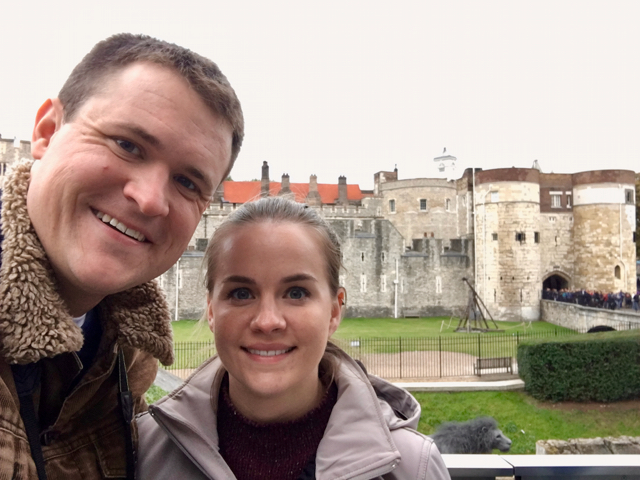 As the sun began to set on this London icon, we could say without a doubt that visiting the Tower of London had far exceeded our expectations. But now we also realized just how hungry we were, so we made our way deeper into The City to find some dinner!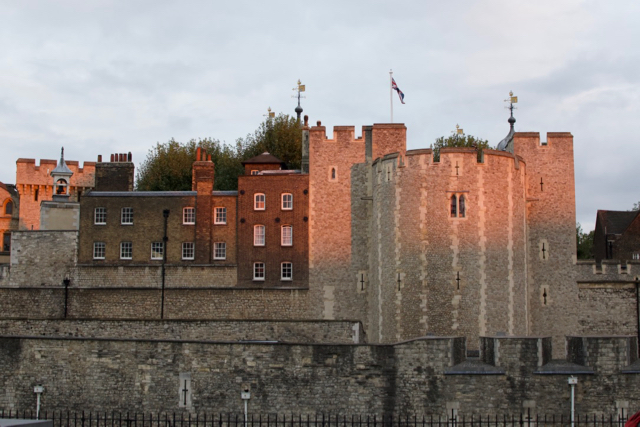 Previous Post | Next Post
Table of Contents
Support the Wandering Mouseketeers and get yourself a little something! Do your online shopping via our Amazon link!
Follow



Share