Chapter 89
A Scavenger Hunt
---
Previous Post | Next Post
Table of Contents
(Originally posted October 31, 2013)
May 6-10, 2013
Tuesday, we headed over to the parks after work. Tracy had had a bad day (they can't all be good, even at a good company), so she was ready to blow off some steam at the resort. We parked and headed to Disneyland, then made a beeline back to Fantasyland. Tracy was on a mission, and she wanted to ride Peter Pan's Flight, so we did that first, followed by Mr. Toad and Pinocchio. After hitting all those dark rides, we went to Jolly Holiday to get a Matterhorn Macaroon.
I love the Mary Poppins silhouettes on the wall in there.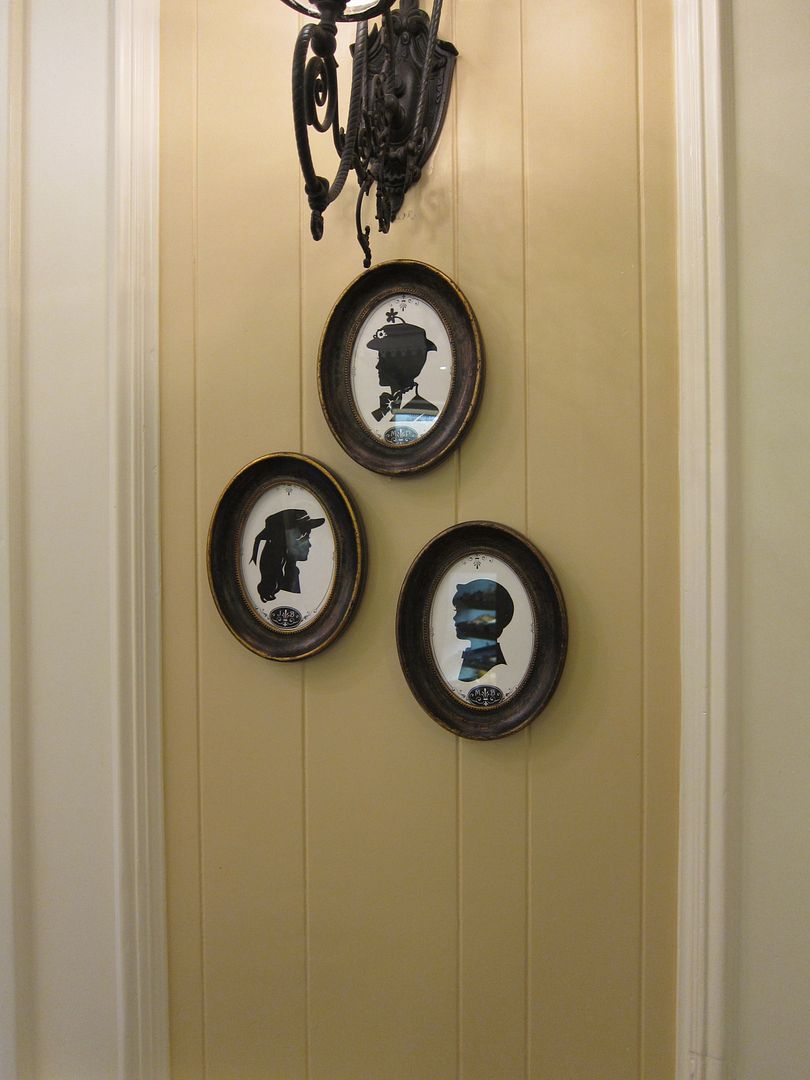 Of course, our Macaroon was delicious, and we watched the end of Soundsational from the Jolly Holiday patio while we ate.
We went back to Fantasyland again and rode the Storybook Land Canal Boats and Snow White as the park was closing. Once everything closed up shop, we headed home.
While bored during the next day, I drew this group of Lion King characters, which I was proud of.
Thursday, we went back to the parks again, and we were very wary because this was our first Grad Nite. We had heard HORROR stories about how awful the attendees are at the Grad Nites, so we hoped it wouldn't be as bad as we heard.
Arriving after dinner, we started at DCA. We went back to Condor Flats and got in line for Soarin'. Bizarrely, half the lights were out in the queue, which was a little disconcerting while we waited.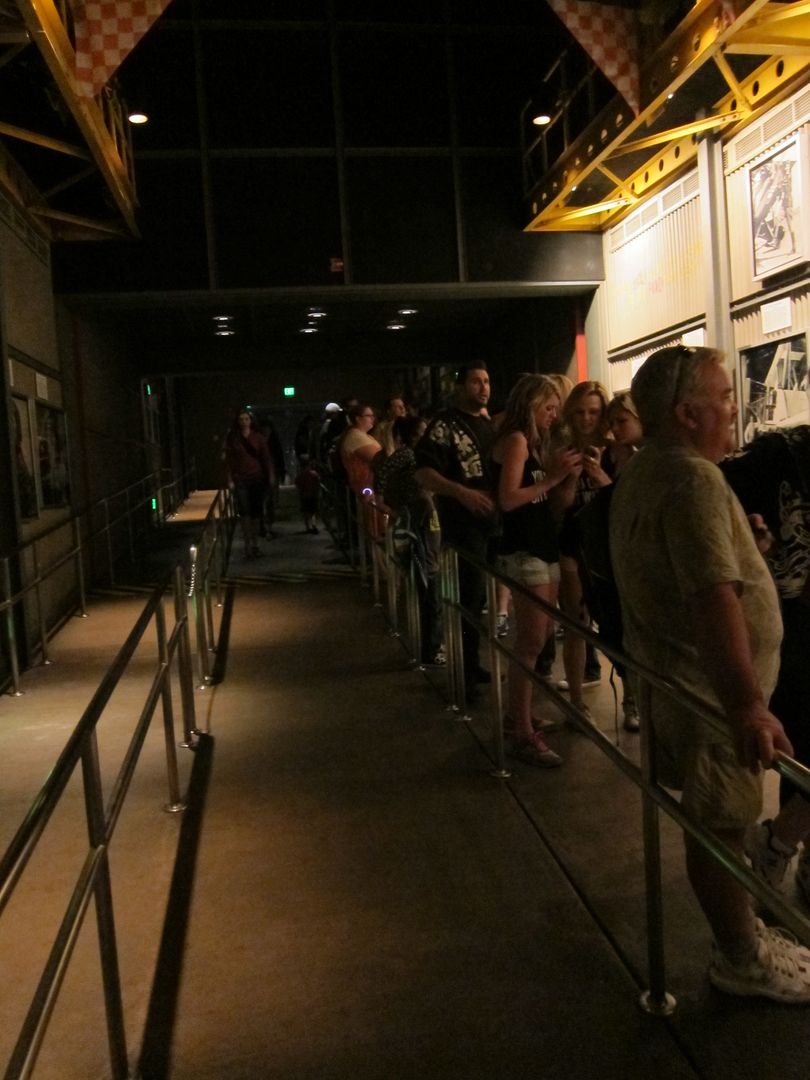 The ride itself was normal, though. We had a partner in crime in the form of a little girl in our row who was also kicking out her foot at some of the people we would fly over.
As we exited Soarin', we thought that Francisco wasn't in his spot, but then we realized he had climbed a tree and was hanging out up there!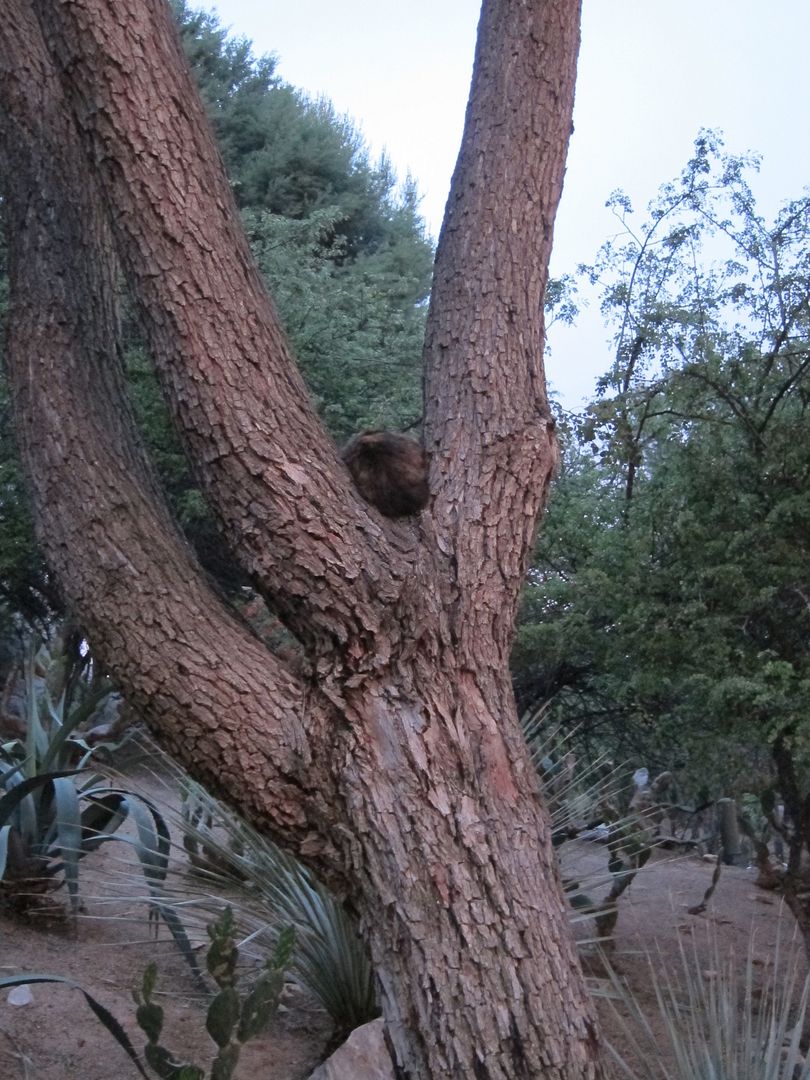 We decided he was a genius in having figured out a way to get away from the grads.
Next, we walked over to Cars Land and got a return pass for Radiator Springs Racers that was about 20 minutes away. While we waited, we rode Luigi's Flying Tires. There was a guy in front of us in line who was wearing a kilt, and when we walked out onto the giant "air hockey table," we averted our eyes because we didn't want to see what type of Marilyn Monroe moment would happen if that kilt got blown up by the breeze…
We checked out one of the pin stores in Cars Land while we waited out the last few minutes until we could ride the Racers, but then we headed over there. There wasn't really any Fastpass line to speak of, but the cast members working the loading zone were slow as molasses, so it still took a while to get on board. Once we were off on our journey, we got the Ramone's side and lost…
As we made our way to the park exit, we noticed all the grads pouring in. They were a little annoying, but these grads weren't anywhere near as bad as some of the others would be in weeks to come.
The next day, Tracy had come home from work about an hour early and we were getting ready to make dinner when we had a knock on the door. We typically just ignore door-to-door salesmen, but for some reason we answered today. It turned out to be someone trying to sell us AT&T U-Verse service for our cable/Internet. At first, we had no intention of switching, but since we HATED having Time Warner, we decided to go ahead and accept the offer the salesman was talking about. I can't stand salespeople. They are always THE WORST people in the entire world to deal with, so we were excited when this guy went on his way. The U-Verse installers would be coming in a few days, and we were actually a little excited for the new service in spite of how much we didn't like the salesman.
By now, it was almost 7:00—the guy had been at our door for TWO HOURS—and we were starving. We headed to Chipotle, and when we got there, we saw these two police horses tethered outside the restaurant.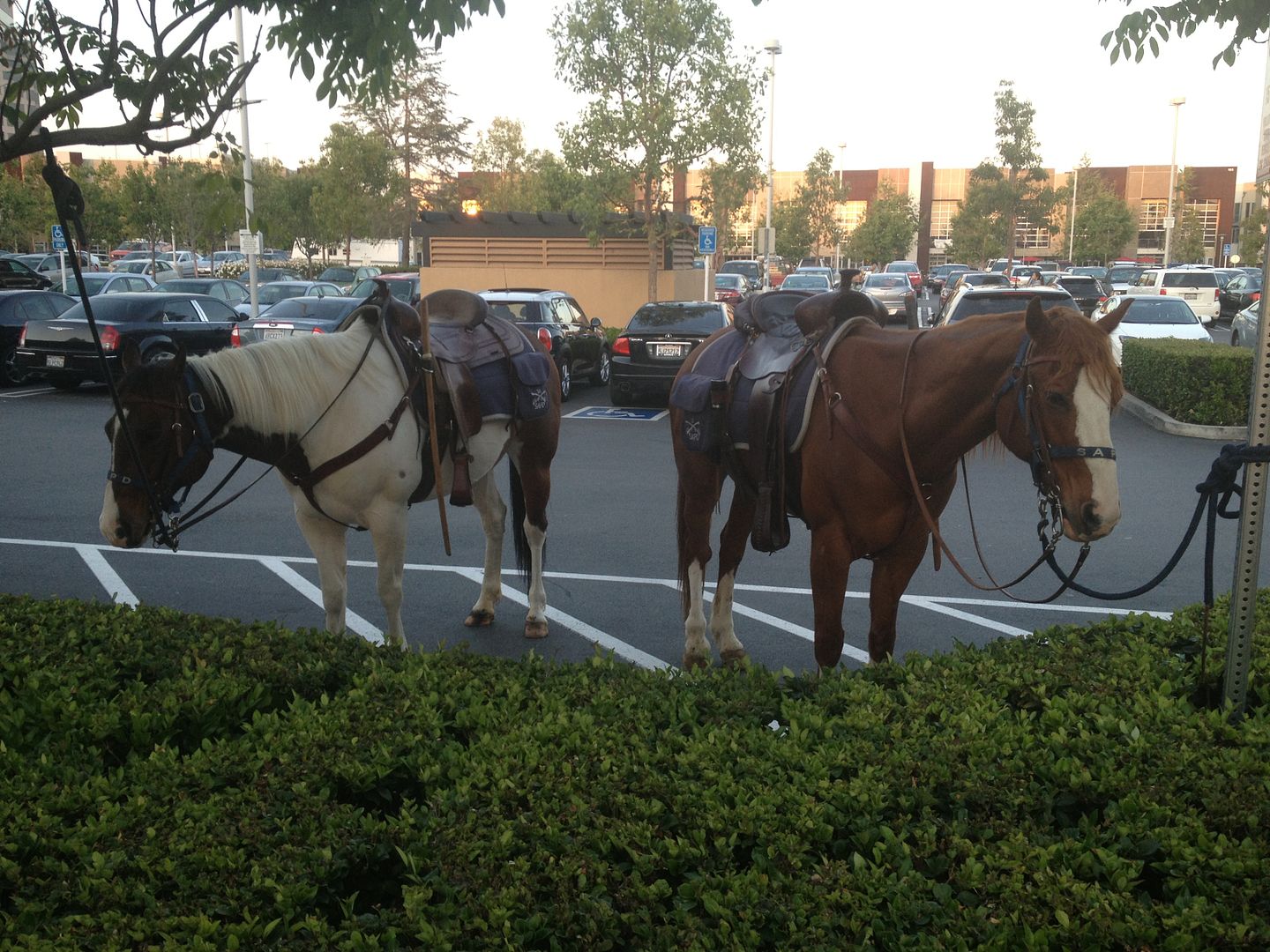 Now, I don't know when Orange/Santa Ana need mounted police, but at least they have the horses for it…
Finally, after dinner, we arrived at Disneyland at around 8:30. We were mostly there to see the fireworks, but we had a little time to kill, so we took a ride on Astro Orbiter while we waited.
After the ride, it was time for us to stake out a spot in the hub, so we found some good places to stand near the Partners statue. We had about a half-hour to wait, and it seemed like people kept crowding in all around us. Now, Tracy gets claustrophobic even on her best days in the parks, so she did not like this scenario. By the time Magical started, she was about ready to smack the next person who stepped on her or further invaded her personal space.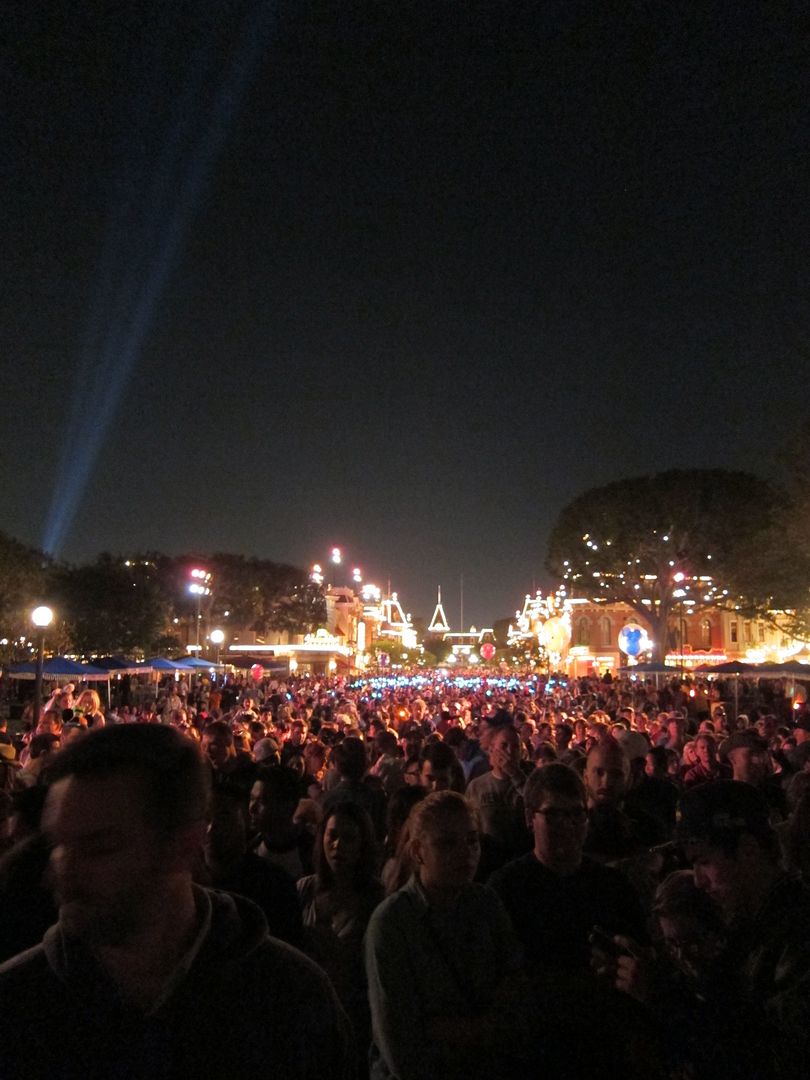 The show itself didn't really do much for either of us. We really liked when Dumbo flew, but on the whole, Magical was quite underwhelming. I actually like the show's theme song, but all the rest of the musical selections in the score feel like they were not thought through at all. It plays anti-climactic versions of several songs from classic Disney movies, and it spends too long on each individual song before moving on. It also integrates some of the worst voiceovers I have ever heard (WHO on earth tried to mimic Mary Poppins and failed so miserably?). Really, once Dumbo had gone away, we were just ready for the show to be over.
Once it had concluded, Tracy was still feeling too claustrophobic, so she wasn't in the mood to be around crowds at all. We went to "it's a small world" to see if we could salvage the evening away from the masses, but Tracy fell asleep about halfway through the ride. We were about to just head out, but then Tracy decided she wanted to do the single rider line for the Matterhorn. While I was waiting for her to be done, I read on Twitter about how there had been a huge power surge on Katella and all the power was out on that side of the resort. We were really glad we hadn't parked in Toy Story.
Finally done for the night after Tracy returned from the icy peaks, we headed toward the exit and went home.
May 11-12, 2013
Saturday, the temperature was perfect out for us to want to just hang out by our pool. It was still pretty chilly to actually go in, but laying out felt great. I think we spent a couple hours outside just enjoying our complex and just having a lazy day.
That evening, we went back to Bruxie and had the same exact meal as we had eaten on Valentine's Day—the Chicken Waffle Sandwich and the Chocolate Strawberry Milkshake. They were both delicious!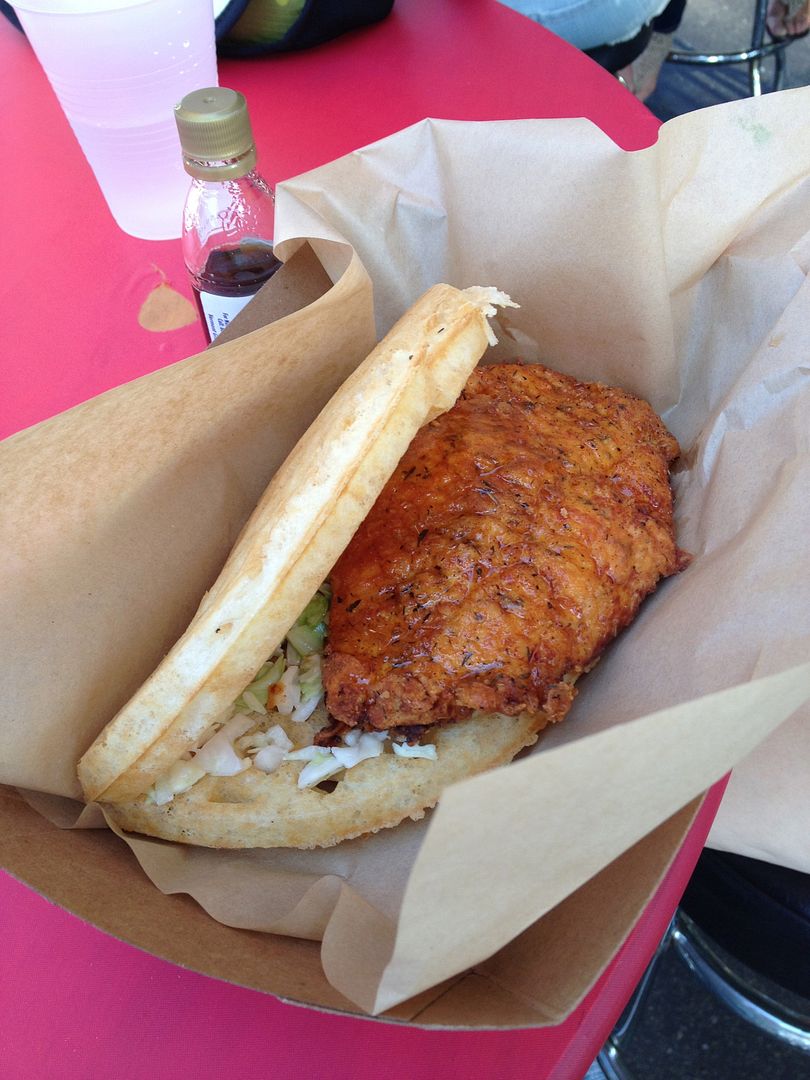 Sunday, we awoke to one of the first truly HOT days of the season. We weren't really sure if we even wanted to brave Disneyland in the heat, but we decided to go over for a little while after Lines user Ralfrick posted a trivia contest on the chat for the chance to win a Disney prize from his late mother-in-law's collection that he had been cleaning out.
We were given a set of six pictures from around Disneyland and asked to identify where they were taken. Here are the pictures (which obviously belong to him, not me).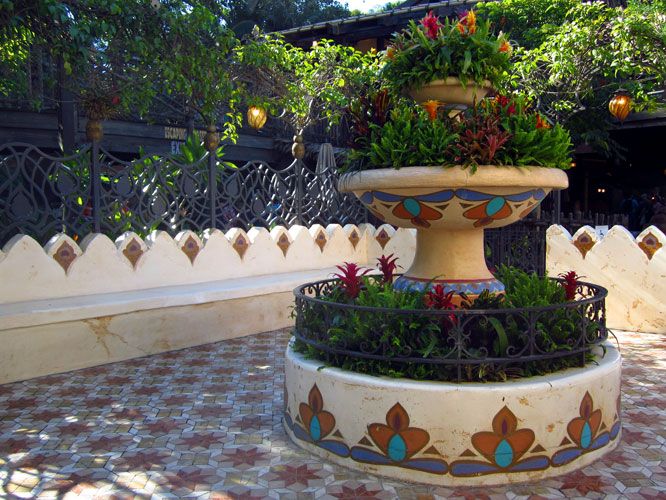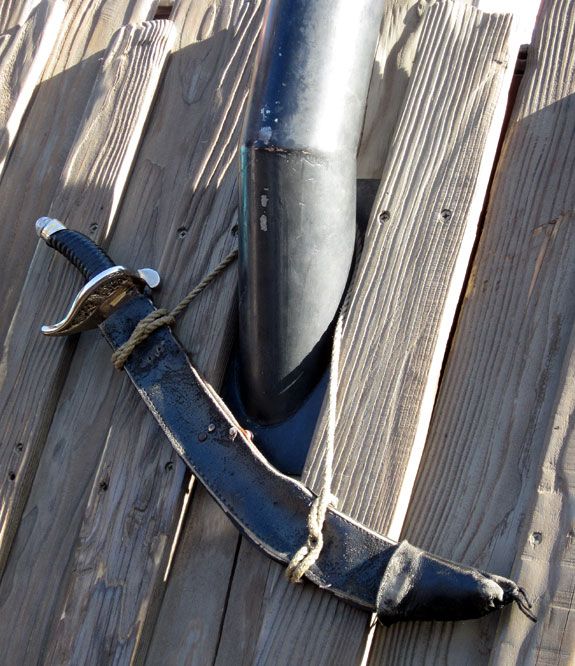 Now, several of these were pretty easy to figure out. We could tell the first one was from one of the train stations, and I was pretty sure it was Main Street Station. The second one, we thought, was from Rancho del Zocalo. Number three, I'll admit, we Googled to find out that the Chatanooga Plow Company was featured in Splash Mountain. We couldn't find any proof, but we figured number four must be somewhere in the Pirates Lair on Tom Sawyer Island. Number five was easy, as it was obviously part of the Astro Orbiter. And I recognized number six from going back into Hollywoodland on nights when the Mad T Party was going on.
We submitted those answers and were told that we had 5 out of 6 right, but he wouldn't specify which one was wrong. Since we were pretty sure about all the others, we figured Pirates Lair must be wrong. The only way we could really figure it out, though, would be to head to the parks.
After parking at Mickey and Friends, we were immediately assaulted by the heat as we made our way toward the trams. When we arrived, we headed into Disneyland. Right after entering the park, we saw that we were right about Main Street Station. We decided to head toward Frontierland to see if we saw the hanging sword from picture number four anywhere, since we still thought that must be where we were wrong.
On a whim, we decided to make sure that number two was REALLY at Rancho del Zocalo, but we discovered it was not. Instead, Tracy suddenly remembered seeing what she thought might be the floral arrangement from the picture somewhere in Adventureland. We booked it over there and found it in Aladdin's Oasis.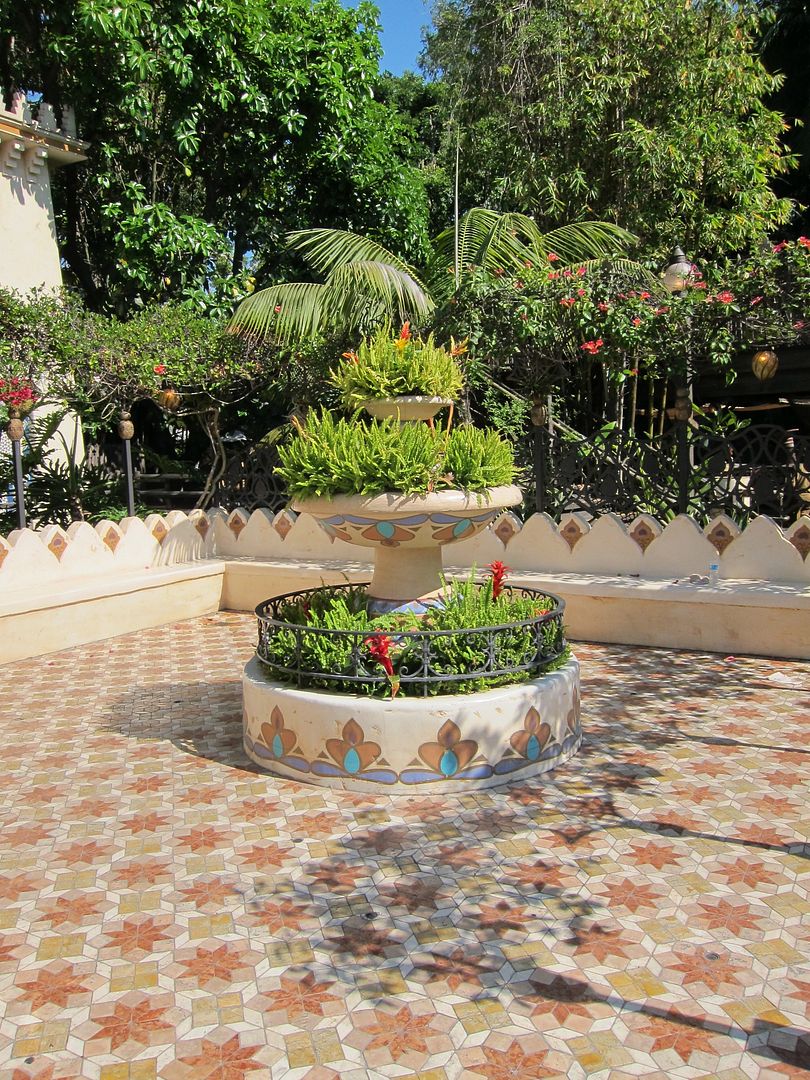 Keeping all our answers the same except for that one, we resubmitted our guess, and this time, we were correct! We had won the prize, which was a porcelain Lucifer figure from the Disney Collector's Society.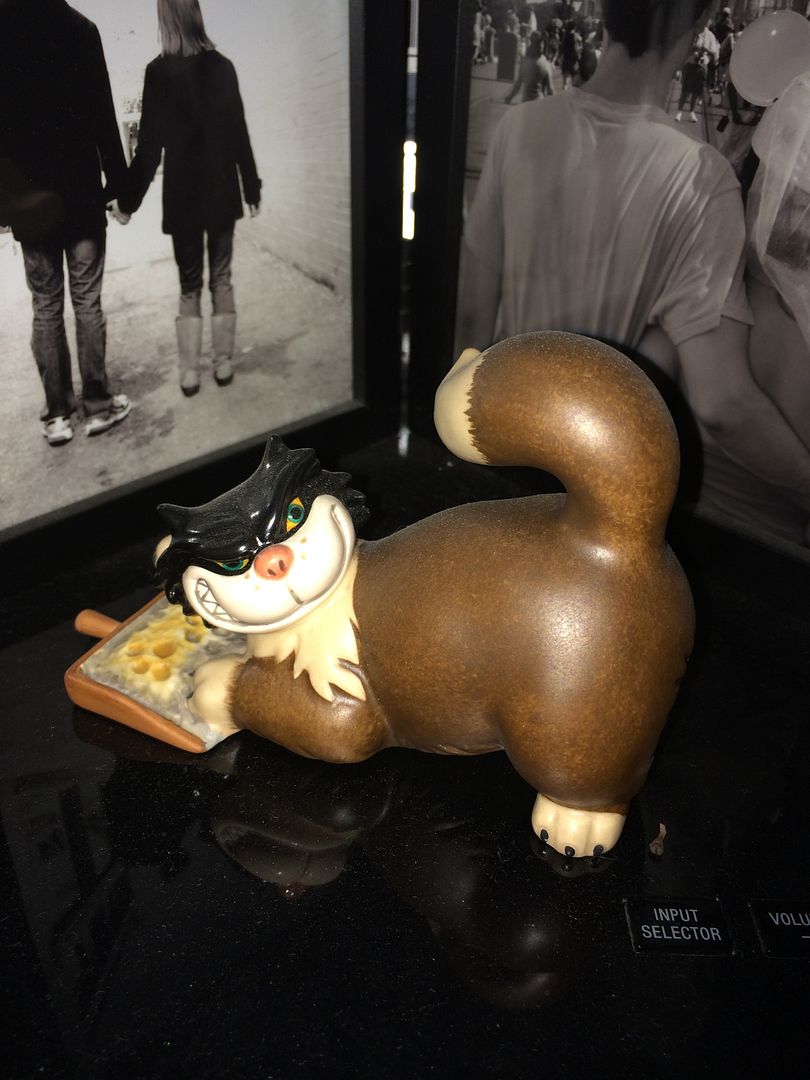 We immediately went back on Lines to thank Ralfrick for his generosity in doing this little contest. I love when Disney people find ways to pay it forward to other Disney people, and we made a mental note to try to do the same whenever possible.
Now, I should note that today happened to be Mother's Day. Since neither Tracy's mom nor mine were in the same state as us, we couldn't exactly celebrate with them, but there were several mothers in the parks carrying the flowers that Disney had given them. What we more noticed today, though, was that the oppressive heat had kept the crowd levels very low in general. There were way fewer people than a usual Sunday.
We needed to get out of the heat ourselves, so we ducked into the Golden Horseshoe to take a load off in the air conditioning for a while. I should have taken some pictures because this was our first time in this establishment. Billy Hill and the Hillbillies were performing their act onstage, and the place was pretty packed with people. We had also never seen the Billys perform before, so we stayed to watch the end of their show. They are really funny and very talented!
Once the show was over, we rode Pirates before going over to the Haunted Mansion. Up until now, we had noticed that the Madame Leota head in the crystal ball had been stationary on the table in her scene. Suddenly, however, she was floating like we had seen her doing for years in WDW.
We couldn't remember if she had ever floated here before, but a quick chat on Lines told us that she occasionally goes back and forth between floating and sitting. Apparently, they had decided to make her float again this week, and she has remained floating ever since.
Previous Post | Next Post
Table of Contents
Follow



Share