May 23rd, 2014
Chapter 2
Bus Across the Border
---
Previous Post | Next Post
Table of Contents
We woke up early on Friday morning and got ourselves ready quickly. Heading downstairs, Tracy and I got to see Stan (who had been in bed already when we arrived the night before) and Farley (Lori and Stan's new-ish dog) as we enjoyed a delicious homemade breakfast of bacon, eggs, and toast.
After chatting for a little while, it was already time for us to hit the road once again. We vowed that we need to head back to Seattle for another actual vacation sometime soon because it's such a lovely place to visit, but for now, it was time for us to head northward.
Lori drove us into town to the Best Western where we would be catching our bus. On the way, we went through the neighborhood where she and Stan are opening a new restaurant later this summer, so we'll definitely need to make it back to eat there soon!
As we arrived downtown, we thanked my wonderful aunt for all of her help the last two days, and then Tracy and I started wandering around the Best Western, trying to figure out exactly where we were supposed to go.
Since we were smack-dab in the middle of downtown Seattle, we noticed that the hotel had great views of the Space Needle, so we stopped to take a few pictures.
Next, we realized that the intersection we were looking for was actually across the street from the hotel, so we ventured out and found the crowd of other people waiting for the Quick Shuttle to Vancouver.
As we waited, it started to rain—there's the Seattle weather we were expecting—so Tracy and I did our best to cover up.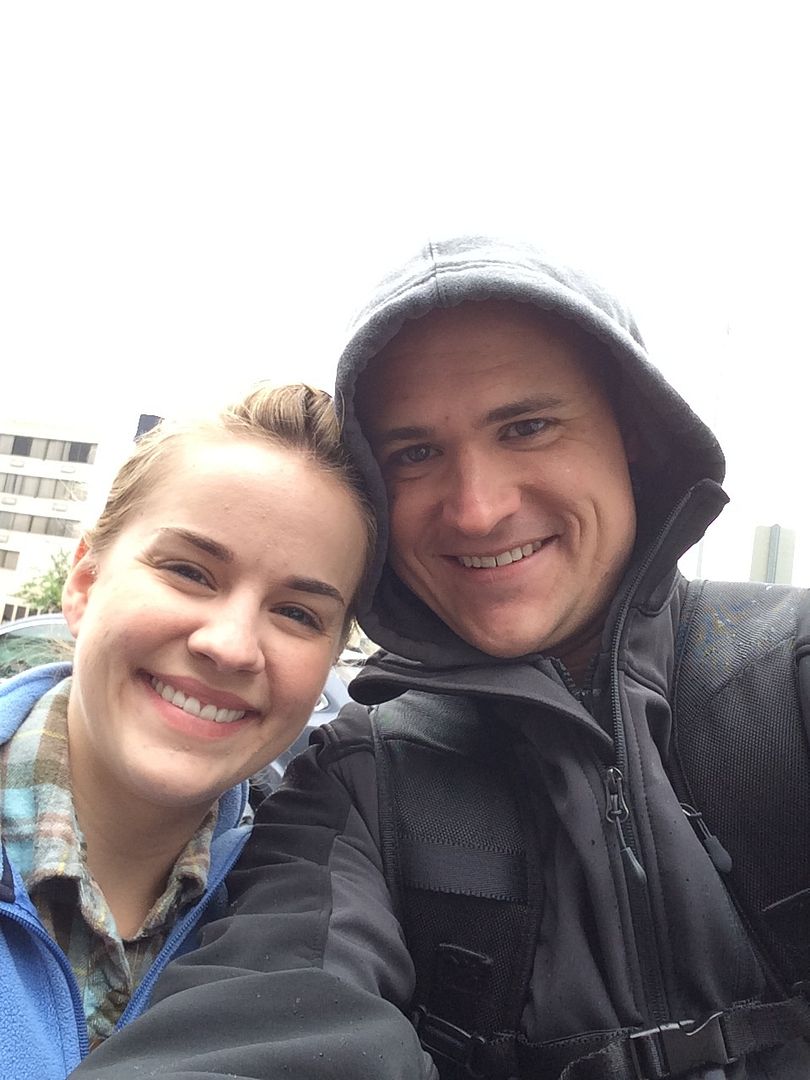 At first, a random charter bus was parked in the spot where the Quick Shuttle apparently always stops, so everyone was confused and angry that the driver of that bus wouldn't let us onboard. Once we figured out that he wasn't OUR bus driver, we could forgive that part, but he was still very smugly sitting in his driver's seat while the rest of us got rained on, so we weren't his biggest fans.
Someone from a travel agency who had clients booked on our bus was able to get ahold of the driver and found out that he was running about 15 minutes late. Luckily, the rain never really started falling in earnest, and he pulled up before too long.
Tracy and I boarded and got seats near the front of the bus.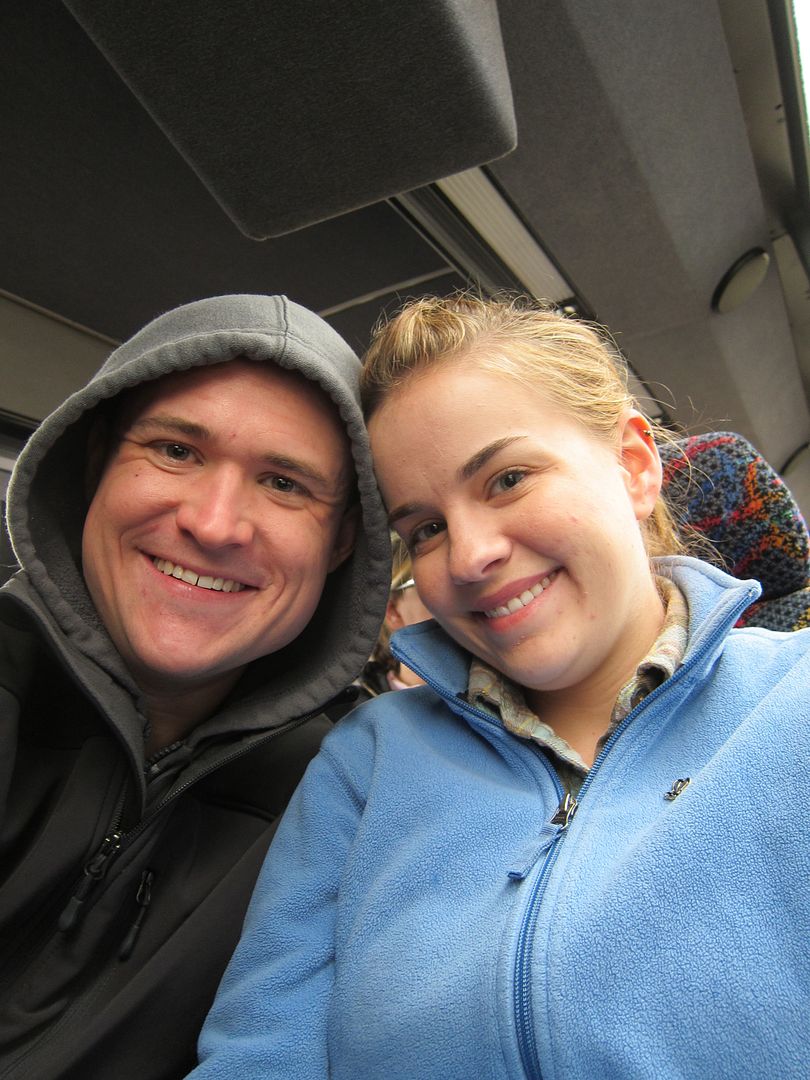 The process of making sure everyone was onboard took a while, but we hit the road before too long. The bus was supposed to be equipped with wi-fi, but it was broken, so we knew we only had until we crossed the border to enjoy using our phones before they would need to go into Airplane Mode for the foreseeable future.
As we left Seattle behind us, I think this rain-streaked picture of downtown about sums up how the weather was looking.
Soon, we were really out on the open road as the rain picked up.
Tracy quickly settled in for a nap (she can literally sleep on any moving vehicle, even if she's already gotten plenty of rest the night before), but I was a little too amped up to nod off.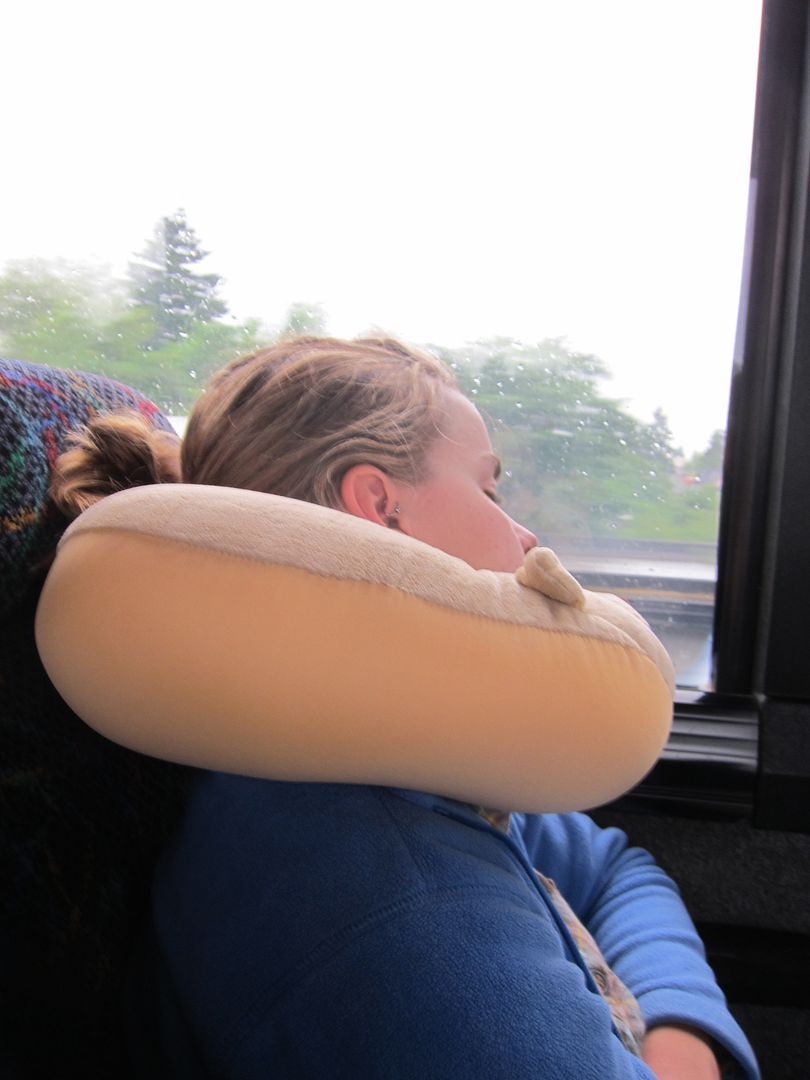 Washington is such a pretty state. All that rain obviously does its job because everything is just so green all the time. I took a few photos as we drove along that just highlighted how different this area is than pretty much anywhere else we've been in the country.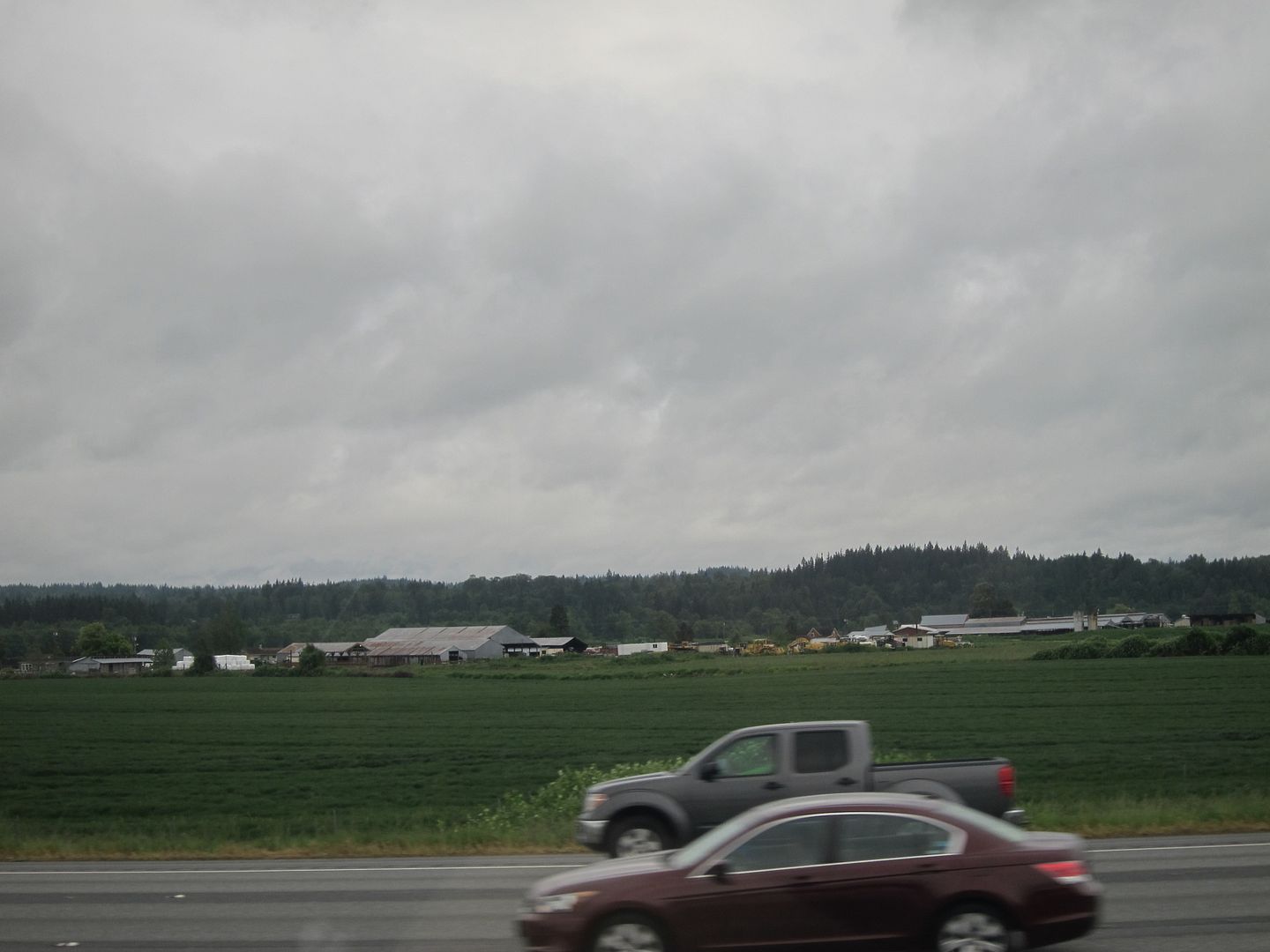 As we neared the border into Canada, the rain stopped and the clouds began to part.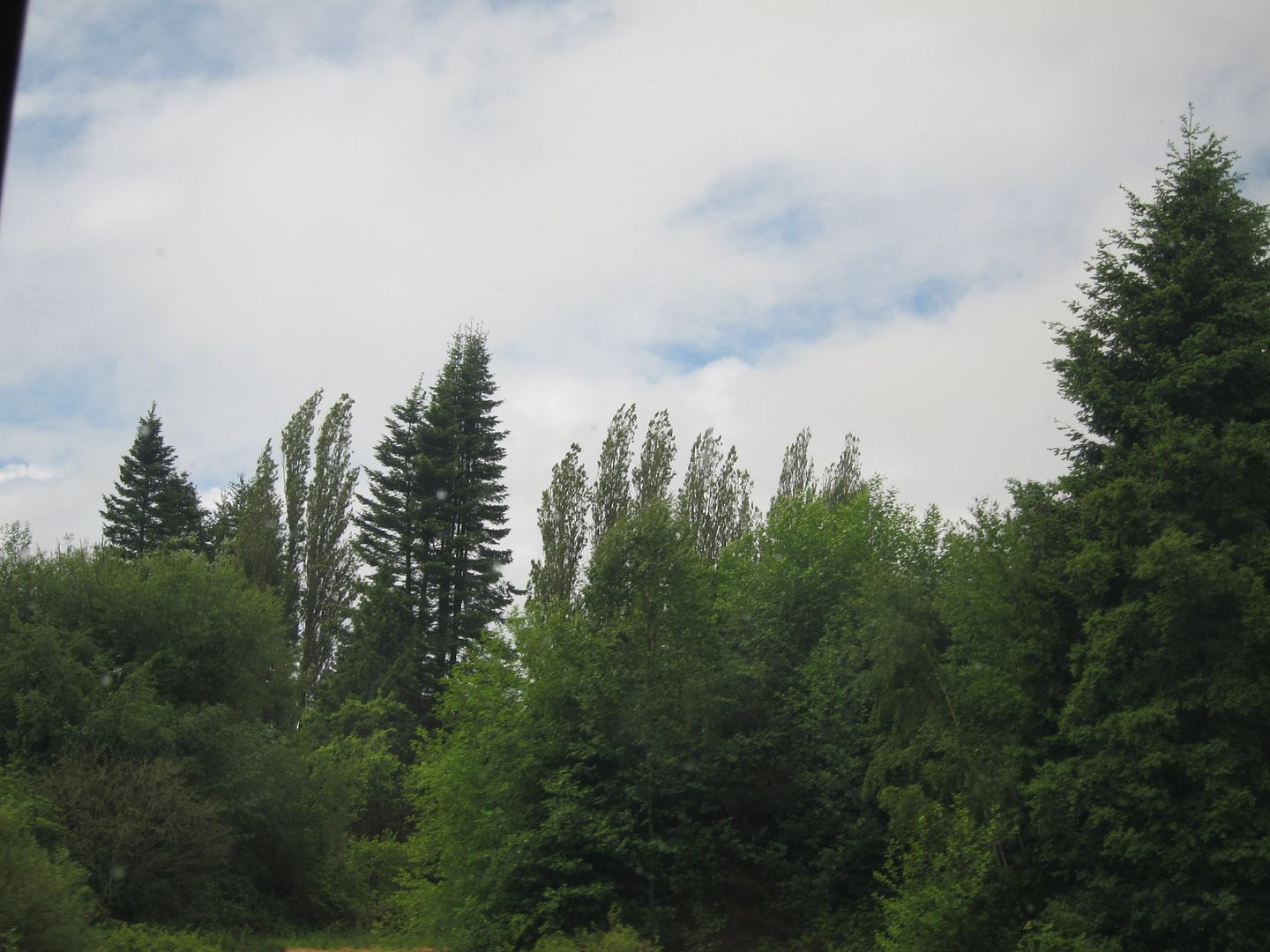 We set to work filling our our customs form.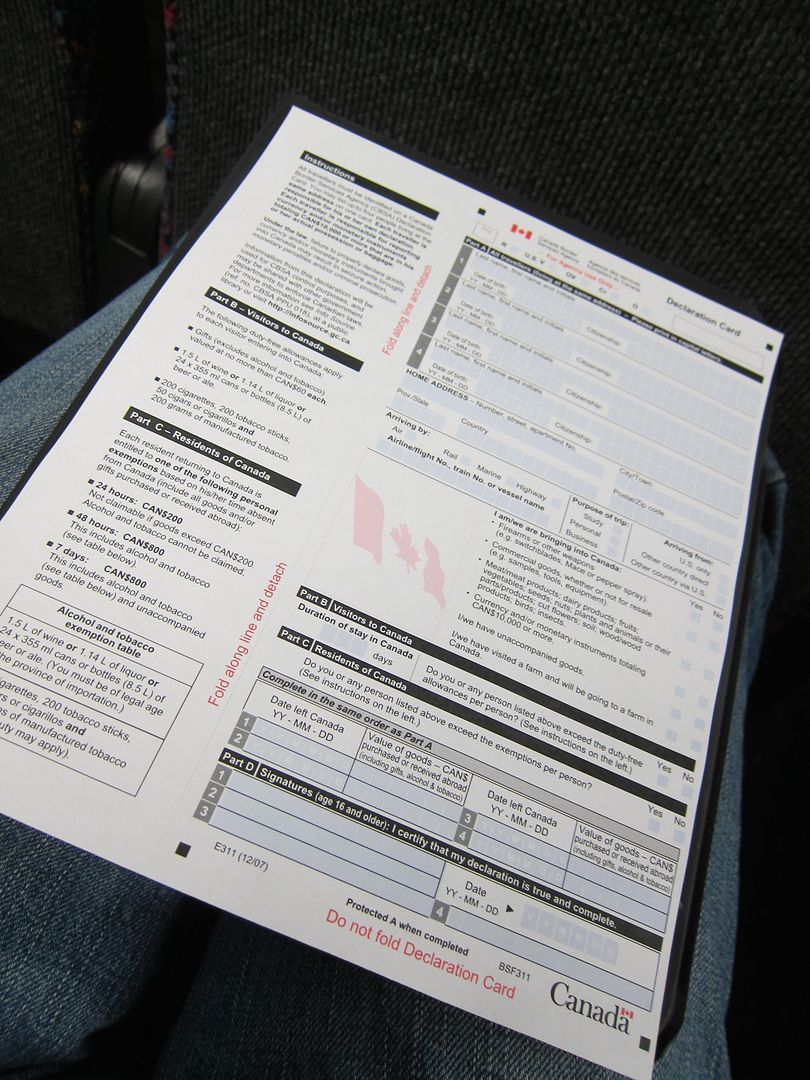 Reaching the border, we officially realized why this bus has such a reputation for being unpredictable. The backup of other buses trying to cross varies from hour to hour, and no one knows how long it will take to get into Canada. When we pulled up, there were about three buses ahead of us, and we just sat there for an hour, waiting our turn.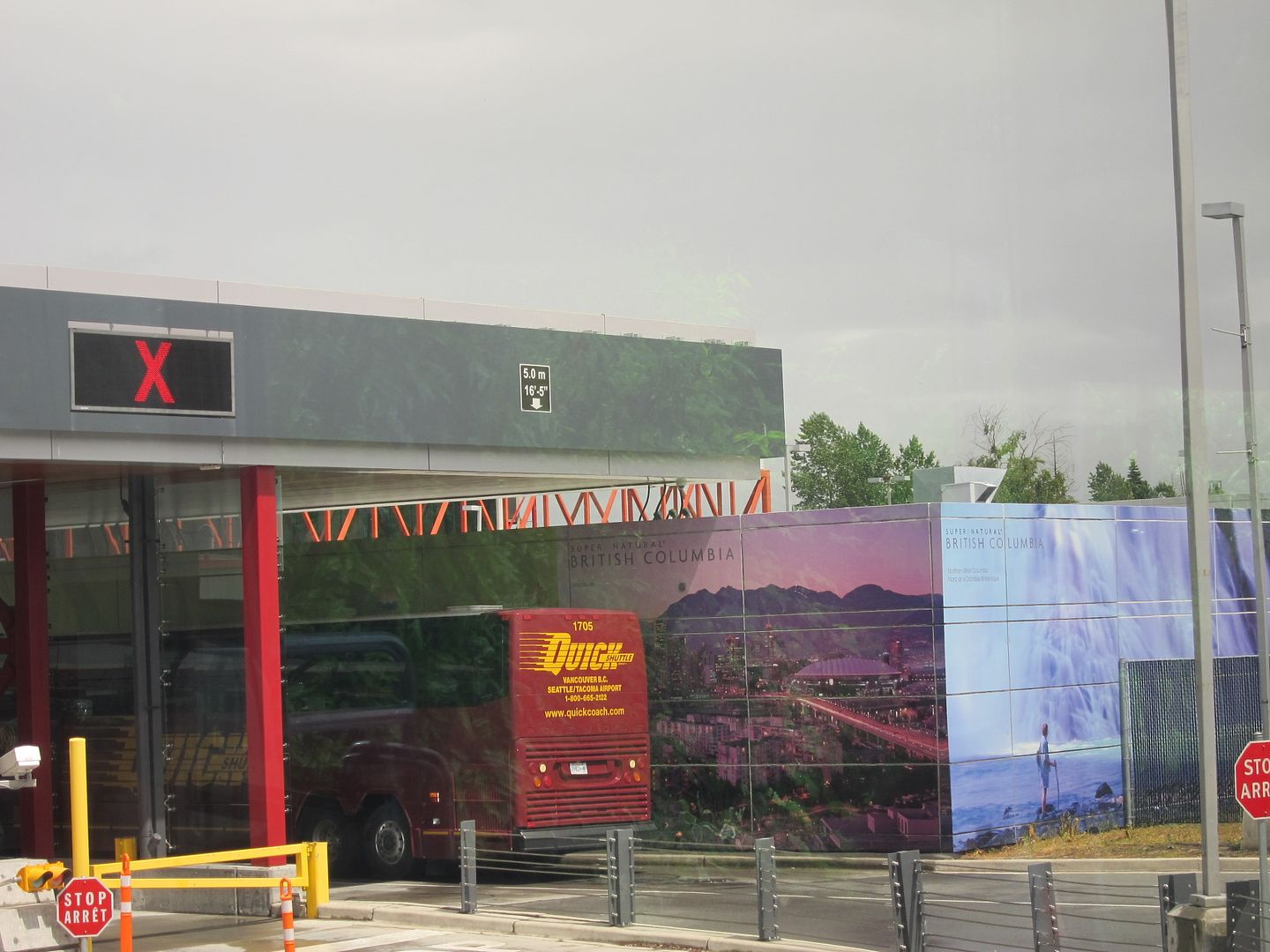 Our driver told us that our wait was pretty standard. He also said the longest he'd ever had to wait to get across was FOUR HOURS. I truly can't even imagine that. It sounds like utter torture.
This exact situation was another reason why we had spread out our pre-cruise travels over three days. It must be so nerve-wracking to be sitting, trying to cross the border on the morning of your cruise and worrying that you are going to miss the ship because customs is so backed up. We were glad to take things slow, even if it was a little annoying.
Finally, the bus in front of us pulled through, and it was our turn.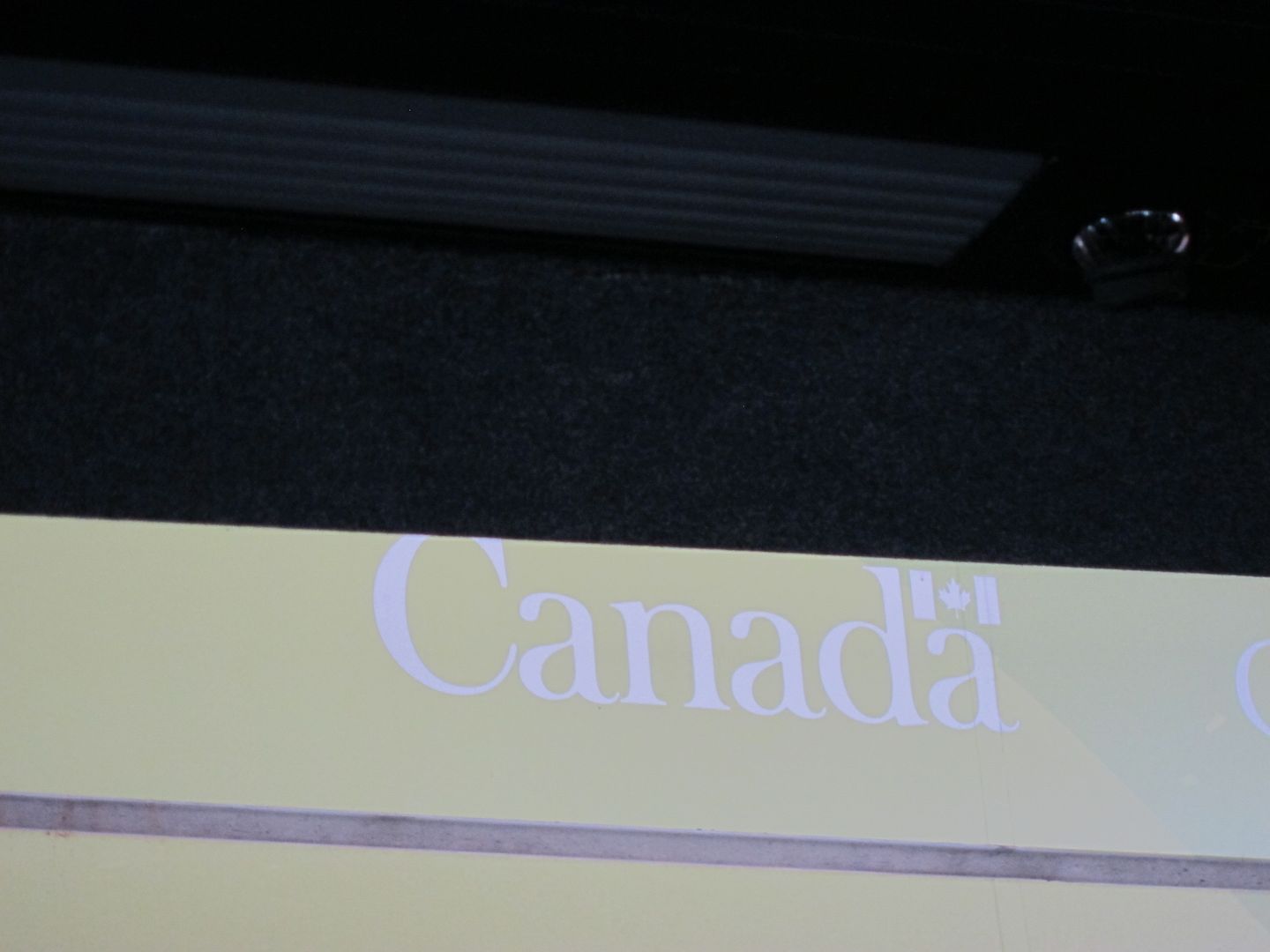 Apparently, they randomize the procedure of taking buses through customs, so no one ever really knows what the process will involve. Unfortunately for us, we got stuck with the most lengthy possible version of the routine. First the bus driver had to take all of our bags out from underneath the bus. Next, we all filed off and grabbed our bags so that we could go through one by one.
Tracy and I were cleared immediately, but we were disappointed to find out that they wouldn't stamp U.S. passports, so mine remains bare… After getting through, we ended up in the waiting area with a clear view of the Canadian flag flying.
We were officially in British Columbia. For us, it was the first time we'd been to Canada since our 2007 road trip.
As we waited for the bus to pull through, we noticed these beautiful flowers planted just outside the border building.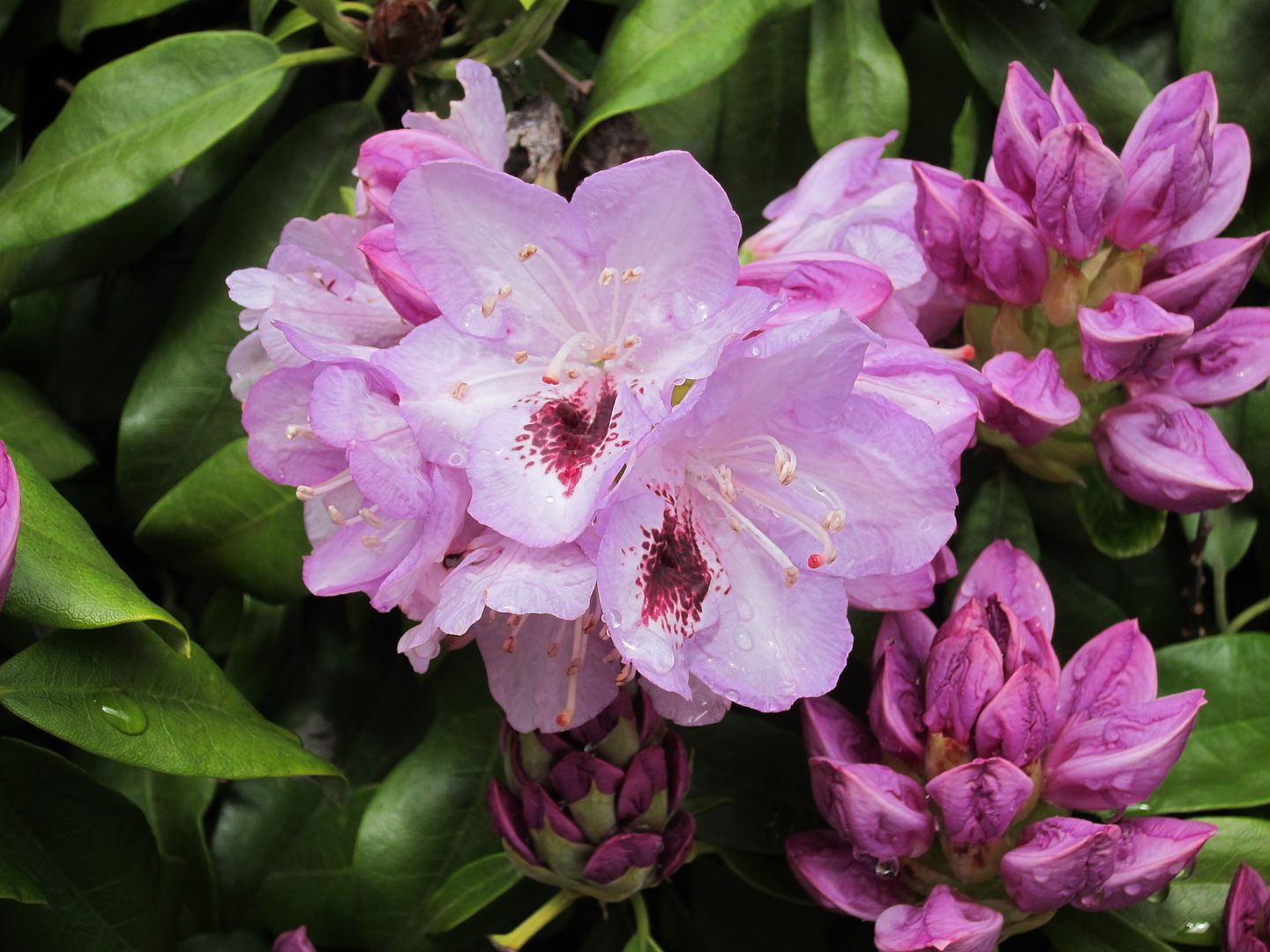 Getting back onboard, I truly have no idea what faces Tracy and I were making in these next two pictures.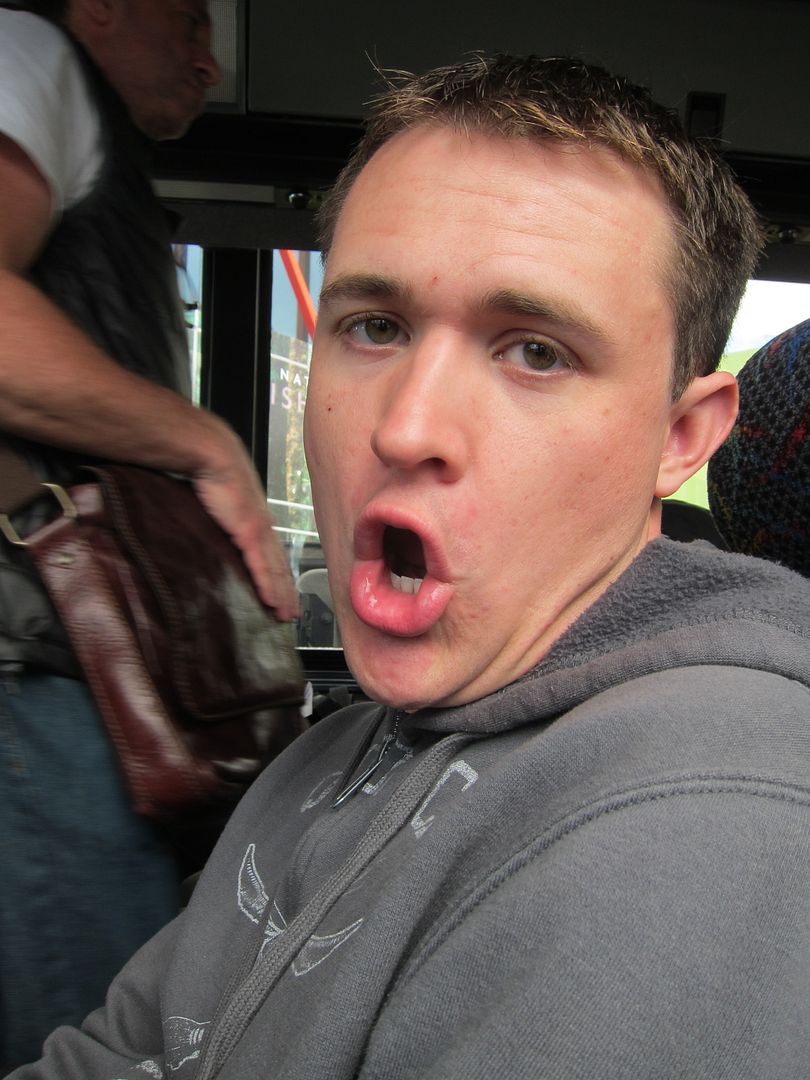 The bus started making stops and letting people off. At one of the first stops, a family disembarked so they could catch a taxi to the cruise terminal in the hopes of making their ship. Again, we were just so glad we hadn't cut it close for our cruise.
This part of British Columbia was so lovely and green. It was a lot like Seattle, but more rural, so there were just fields everywhere.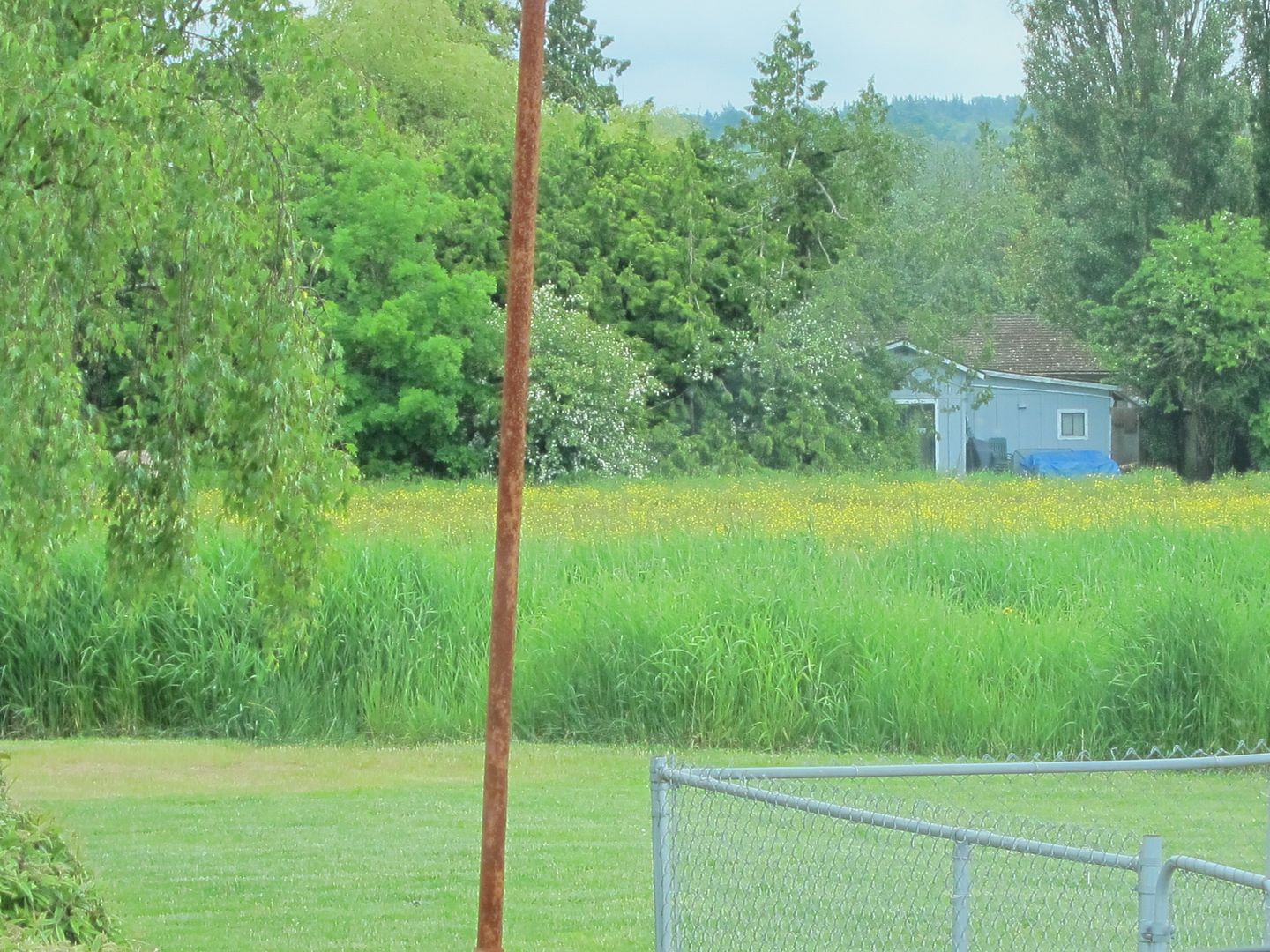 We caught our first glimpse of a bald eagle nesting on top of one of these power lines. Our bus driver called B.C. home, and he knew where we could spot them (I'm pretty sure I didn't get the nest in this picture after all, but I tried).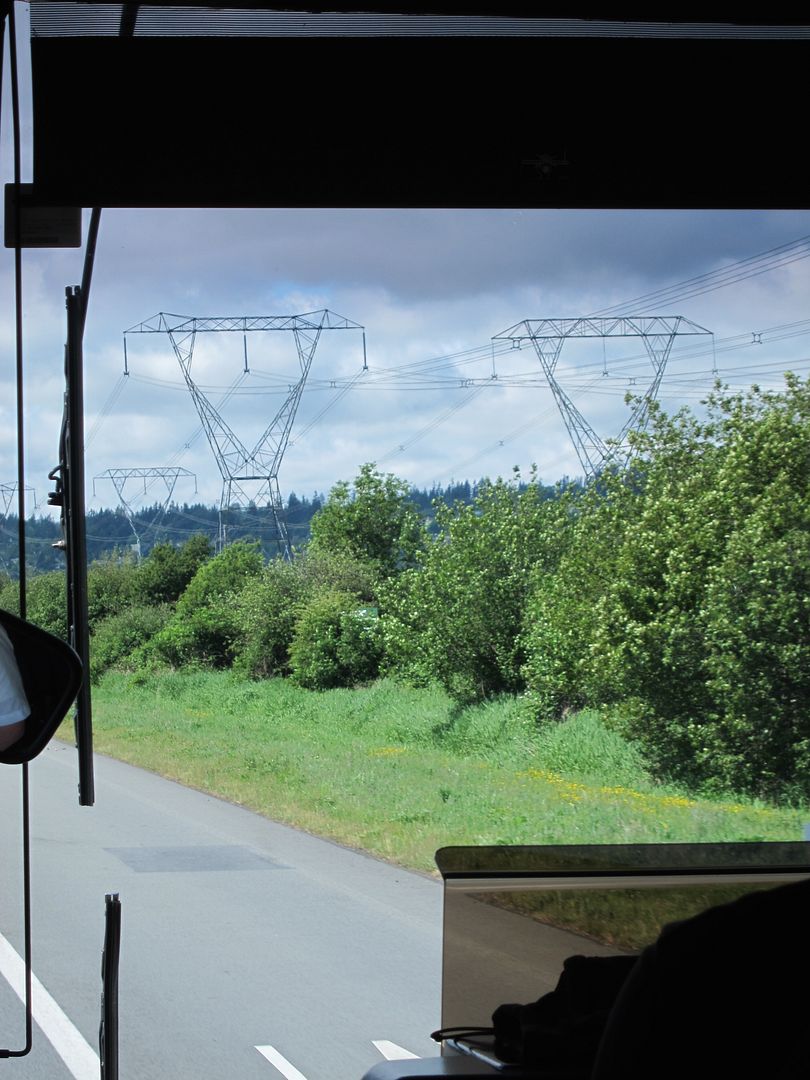 At one point, we saw a school bus passing, and the driver told us about how the school it was en route to is unique. It's situated in a little spot that happens to be considered U.S. territory in the middle of Canada. So on the way to school every day, the kids have to cross the border into Canada and then cross back into the U.S. Essentially, they have to go through customs four times every day (though they apparently have a system that speeds the process along at least a little). I can't even imagine that commute!
Finally, we crossed a bridge and could see the Vancouver skyline coming into view just ahead of us.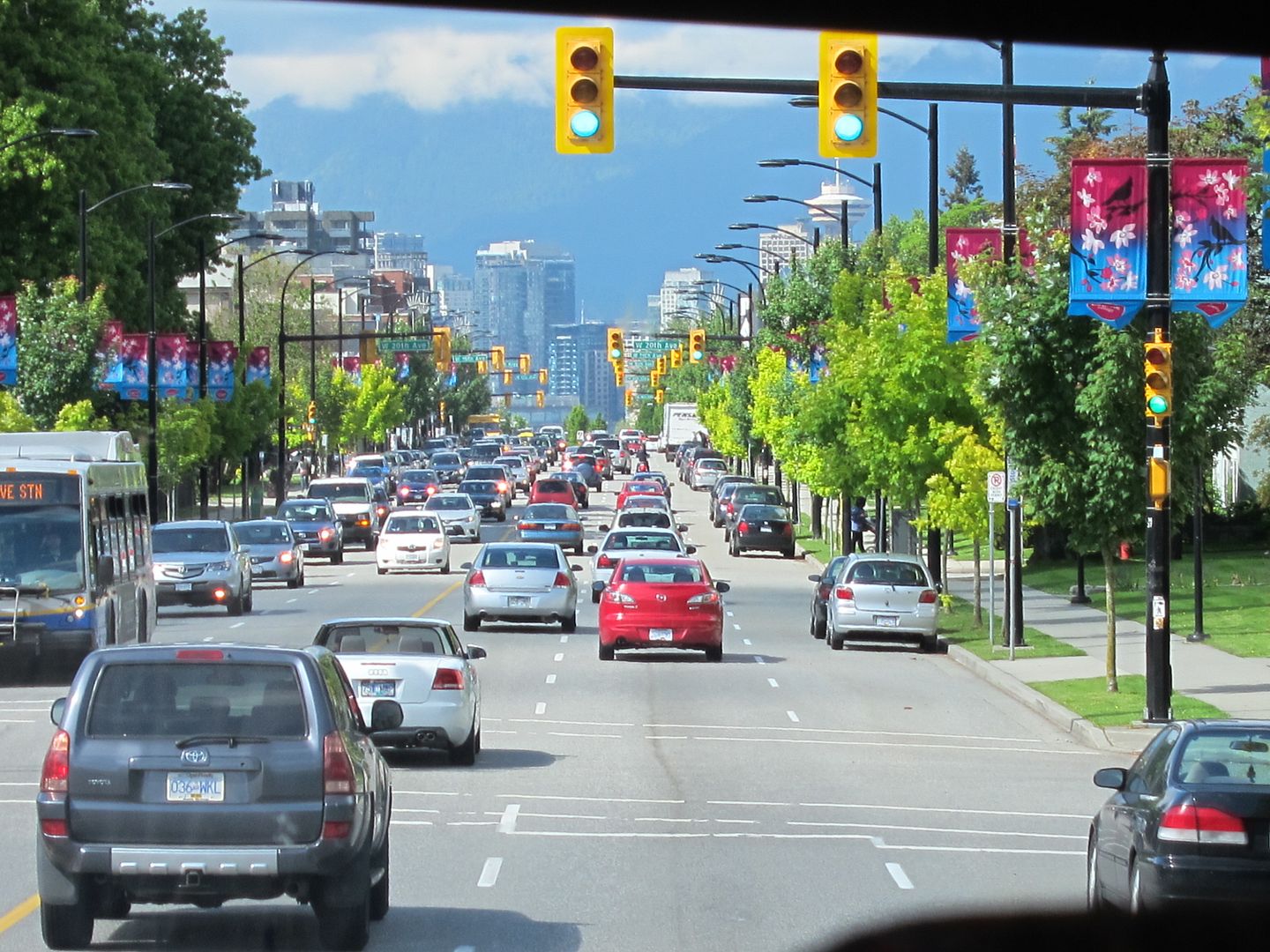 The bus ride had felt SO long, but we had finally reached our next destination.
Previous Post | Next Post
Table of Contents
Support the Wandering Mouseketeers and get yourself a little something! Do your online shopping via our Amazon link!
Follow



Share