Prologue
---
(Originally posted January 2, 2013)
Greetings readers!! Welcome to a trip report unlike any I've attempted (or even read) before. Well, perhaps even calling it a "trip report" is a bit of a misnomer. For lack of a better term, I guess you could call it a "life report." It's the story of how my wife and I decided to make a change in our life and start anew somewhere else. It's the story of how we decided to move to Disneyland.
Now, before I get way ahead of myself, some introductions are in order. Perhaps I should start off by saying that you'll probably get to know Tracy and I a bit better if you read the other two trip reports I've been writing. Both of them are still works in progress, though I'm getting closer to wrapping up one of them. Duffy is Going to be ECSTATIC! a.k.a. Thank God She Was Jewish was my first trip report and relives our May 2012 trip to Walt Disney World. The entire trip was a prize from the WDW Radio Show and Mouse Fan Travel, we stayed in a Port Orleans Riverside Royal Room and had all kinds of awesome experiences, including being parade Grand Marshals.
Can We Move Here and Be Pancho's Handlers? A Throwback Trip Report is the prequel that I began writing more recently. It takes you through our first trip to Disneyland in September 2011. Everything that we learned in that trip report was very influential as we planned our move and our new life in California. If you'd like to read those reports first and then come back here, this report will still be here when you're done!
For those of you who chose not to read the other reports, here are some brief introductions: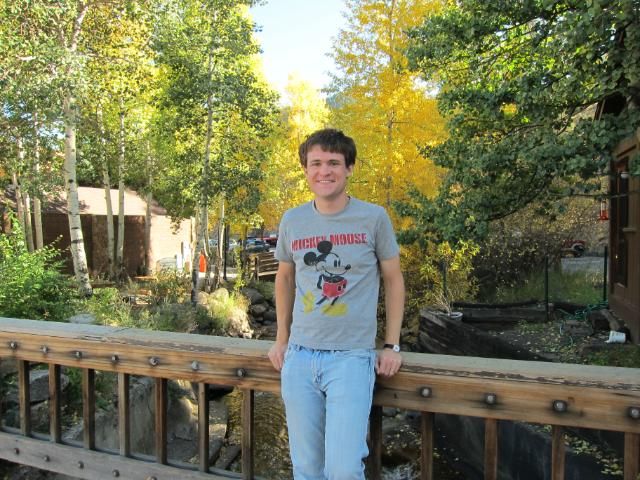 I'm Taylor. I'll be your narrator through this report. I love everything Disney! A lifelong WDW junkie, I got to know Disneyland on our trip last year and fell in love with it too. Here are some of my Disney stats. I'm trying to avoid duplicates from the previous reports, so they're getting a little more obscure:
Favorite Disney Snack: Mickey Pretzel, Pineapple-Vanilla Swirl Dole Whip Float
Favorite Nighttime Spectacular: Fantasmic! at Disneyland, Wishes
Favorite Attraction Theme Song: Soarin'
Favorite Extinct Attraction: Skyway, ExtraTERRORestrial Alien Encounter
This is my wife Tracy. She and I have been together for almost eight years, have been married for two and a half, and have been going to Disney together since 2008. Here are her stats:
Favorite Disney Snack: Tigger Tail, Dole Whip Float, Red Velvet Cake Pop
Favorite Nighttime Spectacular: Wishes and World of Color
Favorite Attraction Theme Song: Haunted Mansion
Favorite Extinct Attraction: 20,000 Leagues Under the Sea
In the past, I've posted a few pictures from our past to introduce you to Tracy and me a little better. This time, I figured I'd kick it up a notch and show you our proudest YouTube moments (entirely non-Disney related).
Here's mine:
[kad_youtube url="http://www.youtube.com/watch?v=PifxvqPLdrw" ]
And here's Tracy's:
[kad_youtube url="http://www.youtube.com/watch?v=kJPn4DKNLY4″ ]
So this is the trip report about how we ended up where we are now, and what we'll do now that were here. I don't want to give too much away, but six months ago we lived in the heart of New York City, and now we're currently living about ten minutes from Disneyland. This report is also going to be unique because we have no idea what's going to happen next! It will be a journey through our new life as Disneyland locals who will HOPEFULLY soon be able to get into the parks. It might become the story of new cast members or Disney vacation planners or people who do something we haven't even dreamed of yet. One thing we can be certain about, however, is that Disney will play a huge role in our future.
While a lot is still up in the air, what we do know is what has happened so far, so I can promise you the stories of: a three-month layover in Colorado; a car named Dumbo; a dog dressed as a pumpkin; the proper feeding of giraffes; e-mails from Tom Staggs; a three day, five-state road trip; wearing bathing suits in 17-degree weather; a haunted hotel; a Las Vegas room upgrade; losing eight dollars gambling; Disney phone interviews; an apartment that's straight out of Port Orleans; a Fantasmic audition; Christmas decorations at every Disneyland hotel; exploring Downtown Disney; Earl of Sandwich holiday sandwiches; riding teacups with Goofy; relaxing by the fire at the Grand Californian; several treats from Marcelines Confectionery; and most recently, a Disney New Years Eve that included two sets of fireworks and a World of Color viewing without setting foot in the parks.
It's been a crazy adventure already, and in most ways the adventure has only just begun. I hope you'll enjoy reading along and joining us in our new life experiment. One of the most exciting things I've found about trip reporting has been reading and responding to your comments as you follow along, so please let me know you're here, ask me your questions, or share your own anecdotes! I hope you enjoy the wild ride.



Share