Chapter 14
Reverse Polar Bear Plunge
---
(Originally posted March 10, 2013)
Here's a map of our drive on day one of the road trip.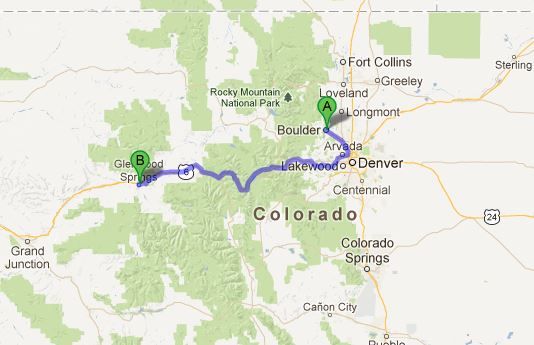 If it looks like we didn't go very far, that's because… we didn't! Our goal on this first day wasn't to make that much progress. Instead, I wanted to visit Glenwood Springs, CO, because it was one of the towns that every Colorado native seemed to have gotten to experience in their youths except me.
When I was in sixth grade, my school took a trip across the whole western slope of Colorado. I got to go to many of the towns and see many of the sights that I had never experienced before being from the Front Range. On the penultimate day of the week-long trip, we arrived in Glenwood Springs, home of a huge hot springs pool. Before checking into our hotel and going to the pool, however, we made a stop at a "fun park" complex on the outskirts of town. This was one of the standard arcade/mini-golf/go karting facilities that are scattered around Colorado, so it was intended to help the bus full of pre-teens burn off some excess energy.
After participating in some of the other activities, I decided to ride the go karts. These were honestly a little intense for go karts—they touted themselves as being able to reach speeds of up to 50 miles per hour—so naturally, we kids were psyched to drive them. My car seemed to have endless power as I zoomed around the track. I found myself first passing, and later lapping other members in our group. Then, at the end of our ride it was time to pull back into the starting gates again. I honestly don't know what happened exactly, but I think since I hadn't needed to use the brakes on the car during my entire ride, I forgot they were there. I'm pretty sure I just pictured it being like an Autopia car where letting up on the gas brings you to a stop. Unfortunately, this was not the case. I quickly became aware that I needed to brake, but not before I went plowing into a concrete barrier at practically full-speed.
My car came to a slamming halt and all was still for a moment before the searing pain in my leg began. I had broken not just one, but two bones in my lower right leg. The ambulance ride, hospital visit, and everything that followed that evening is all a blur now, but I know that the next day, after an extremely painful night, it was finally our date to return home to Boulder. First, however, the rest of the class got to go to the hot springs pool and enjoy themselves. I was stuck on the bus in a thigh-high cast in more pain than I had ever experienced to that point in my life. My Glenwood Springs experience was not all that it was cracked up to be.
Fast-forward more than ten years. When we were trying to decide where we wanted to stop on our road trip, actually experiencing Glenwood was high on my list. Tracy had been there several times throughout her life, so she was a bit of a pro when it came to deciding where it would be best to stay. The historic hotel in Glenwood Springs is the Hotel Colorado. Built in the late 1800s, the hotel became known as the "Little White House" after it hosted both Theodore Roosevelt and William Howard Taft for extended stays. Obviously, following the theme we've established in regards to old hotels in Colorado, it is supposed to be thoroughly haunted.
Tracy had stayed at the Hotel Colorado on at least one of her family trips to Glenwood, and she remembered it as being a beautiful old hotel in a great location for accessing the hot springs pool. We considered it a perfect choice for us when Priceline offered a same-day booking deal for $80. We reserved our room in the morning before leaving Boulder, and pulled into the Hotel Colorado in the late afternoon.
We must have truly been the poor front desk clerk's worst nightmare as we checked in. We were given our room keys, and when we went to check it out, realized it was a handicapped room. This wouldn't have bothered us, except for the fact that the accessible bathroom was designed such that there was a roll-in shower without any separation from the rest of the bathroom. It was all just one room with a shower head in the middle of one area. It was weird. Anyway, we went back to the front desk and asked if we could change rooms. He obliged, smilingly, and put us in another room right down the hall from the first. Again, we wheeled our bags down the hall and tried out room number two. This one was a little better—it had a normal bathroom at least—but since we were on the ground floor of this historic hotel, it had ridiculously high ceilings that seemed to make every noise made on the floor echo within our room. We were a good distance from the front desk, but we could still hear all the noise coming from the desk as though it were right outside.
So we traipsed our luggage back to the front desk one more time and explained our problem. Luckily, the hotel was all but deserted this weekend, so we were the only guests in sight. This time, the clerk put us in a room on the third floor, at the end of a corridor, and when we checked it out, it seemed to offer all the silence we were looking for. We'd finally found a keeper.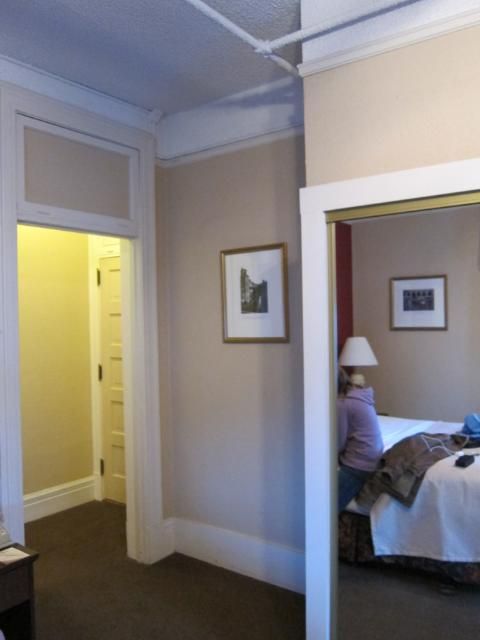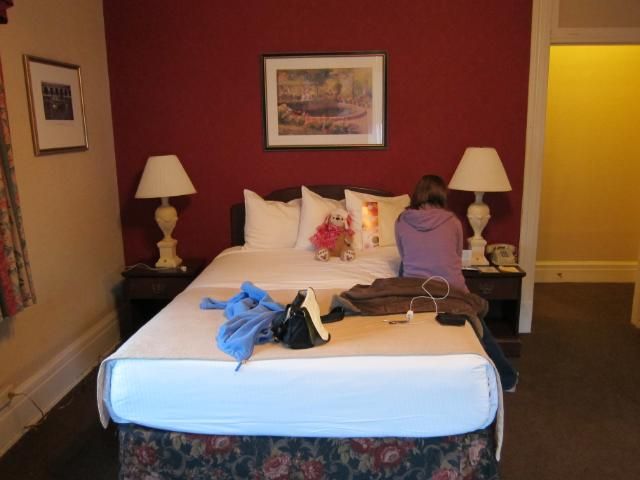 Duffy quickly settled into our new room. He was extremely fond of this hotel because it was actually here that the teddy bear was invented. The story goes that one of the hotel maids presented Teddy Roosevelt with a stuffed bear she had pieced together with scraps of material, and the rest became history.
After finally dropping our luggage, it was finally time for us to go to the hot springs pool I'd been wanting to visit for over ten years. We could actually see the pool out our hotel window.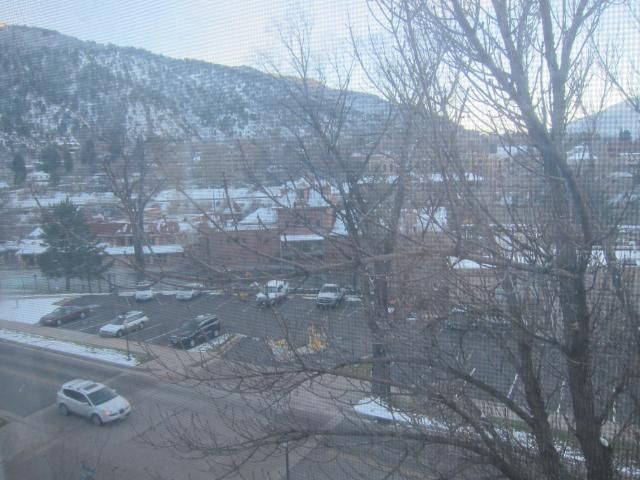 What we weren't looking forward to, however, was getting over there as it was currently about 25 degrees outside and dropping. We knew we needed to fit all of our spare clothes into one little pool locker, so we dressed pretty lightly and just speed-walked to the pool. It was only across the street, but by the time we arrived at the lobby, we were definitely freezing.
Stripping down to our bathing suits, we made the dash from the warmth of the pool lobby into the heat of the hot springs. There are two pools at the Glenwood hot springs, a giant "medium heat" pool and a smaller hot pool. Both of them felt fantastic as compared to the weather outside. We made the mistake of starting in the hot pool, which we then did not want to get out of, but in the hour or so that we stayed there, we went back and forth between the two a few times.
It was definitely fun. The hot pool had jetted chairs you could pay to turn on—hence our need for quarters—and even though the bank had been closed earlier, we managed to get some change from the front desk at the hot springs. Once we had enjoyed the pool for a while, we decided it was time for dinner. As we got out of the hot pool, there was literally steam issuing from our bodies in droves as we walked the short distance to the lobby in the sub-freezing temperatures. We half-ran back to the hotel to change for dinner, and then headed out again.
Here's the creepy hallway our room was located at the end of.
We arrived at the hotel the weekend that they began putting up the Christmas decorations. They were still very much a work in progress for our stay, but it was beginning to look festive in the old lobby.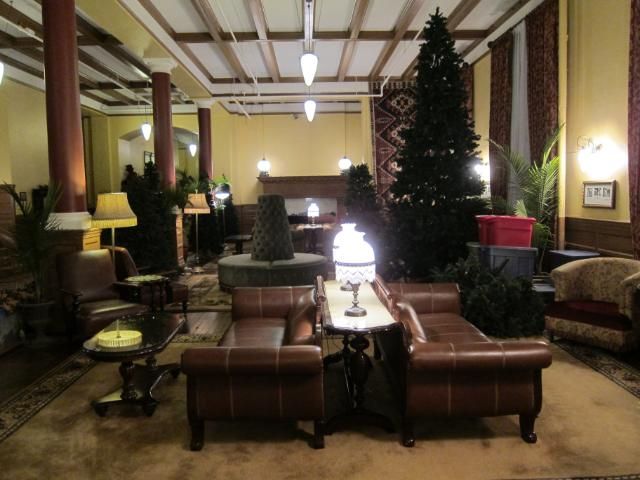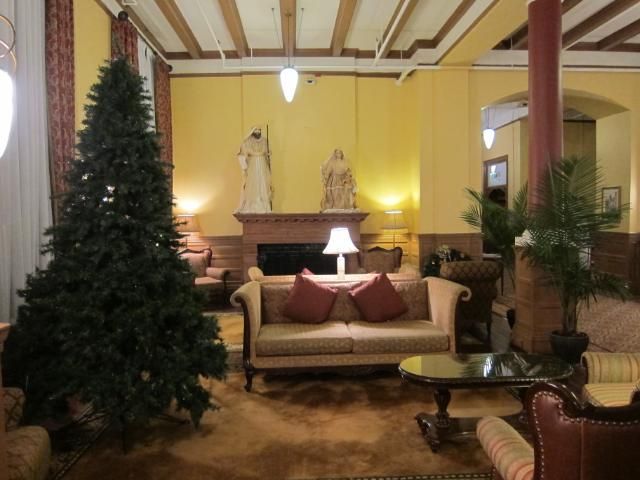 We walked outside and admired the exterior of the hotel. All the Christmas lights were strung around the building, but they hadn't started lighting them all quite yet.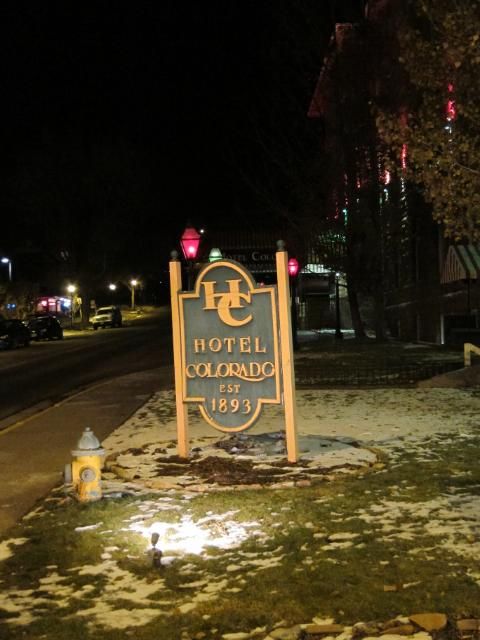 We decided to just walk to dinner because there was a Qdoba right down the street. We didn't realize this would be our last Qdoba experience for quite some time because they don't have them in Orange County.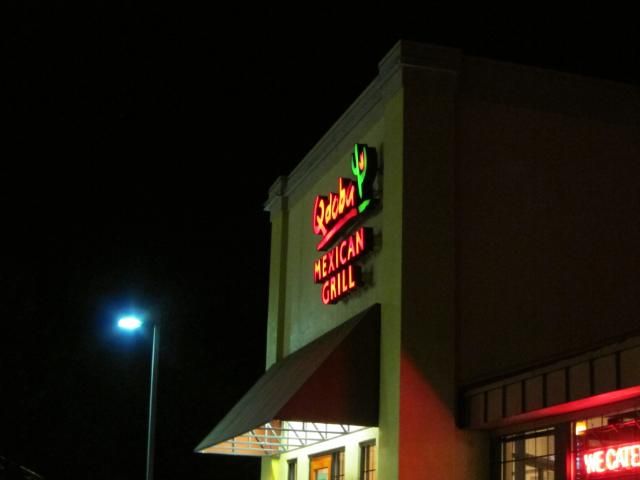 After dinner, we walked back to the hotel. We donned our swimming gear again, and made the return trip to the hot springs. By now, it was a crisp 17 degrees outside, so our half-run became more of a full-run. We enjoyed another hour or so soaking in the pools. This time we were smart and started in the cooler pool before moving to the hot one. When we had finished swimming for the night, we returned to our hotel yet again, showered, and got almost ready to turn in. But first, we decided to head back down to the lobby to take in some of the history and enjoy the roaring fire in the hearth.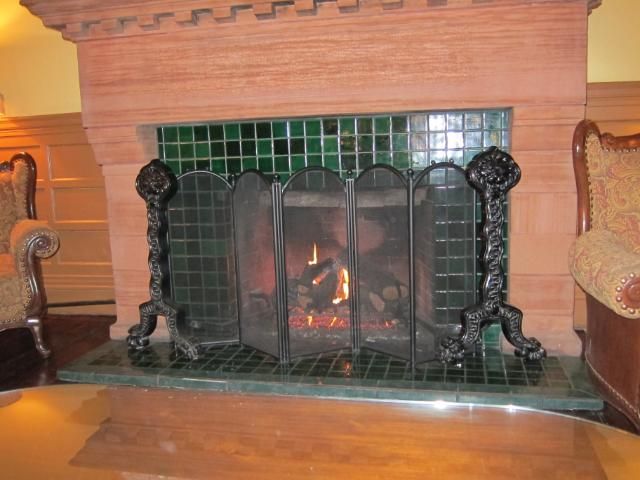 Here's old Teddy himself.
And his very own suite.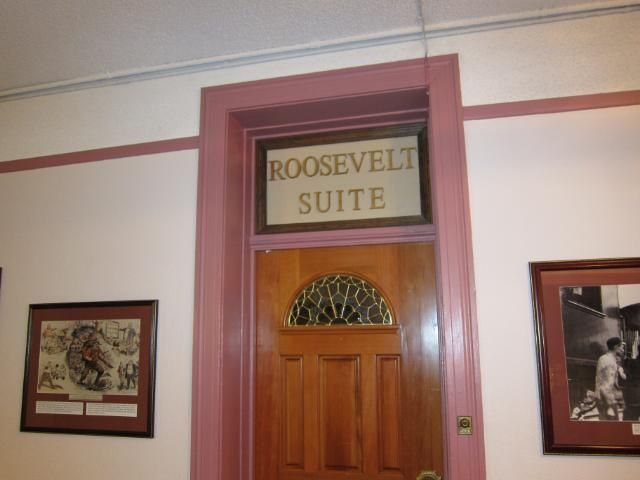 There were several Christmas trees spread around the lobby, though most of them weren't lit or decorated yet.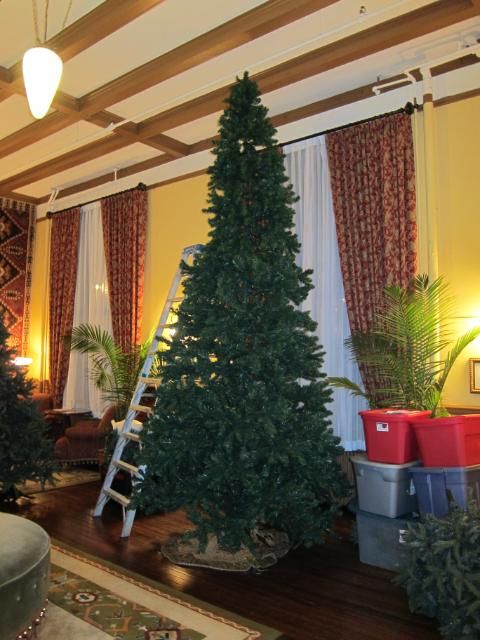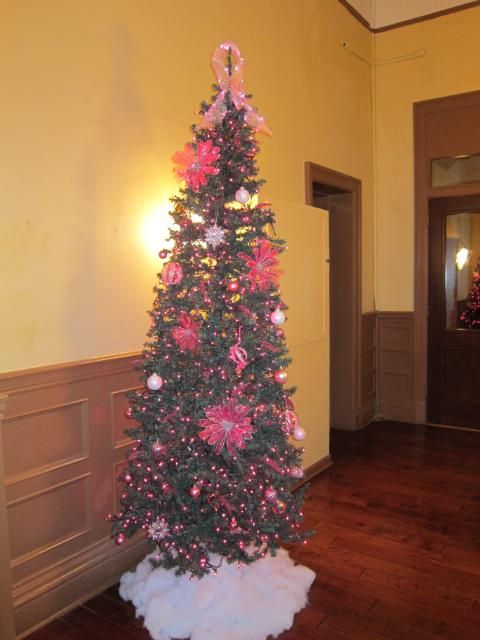 Finally, as the clock shows, it was after 10:00 and we had a very long day ahead of us in the morning.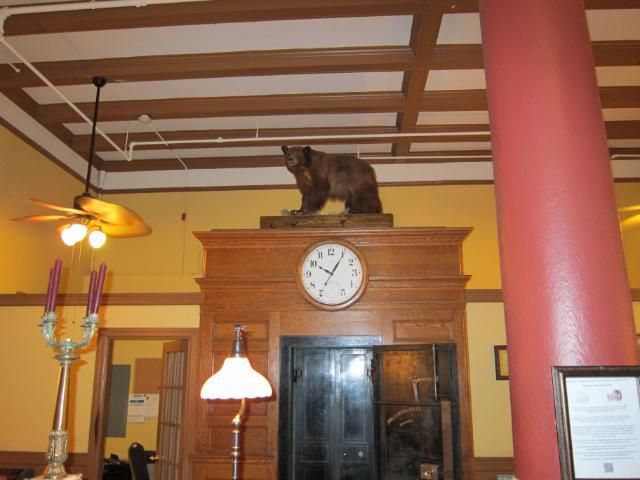 We got ready for bed, hoping the hotel's "happy haunts" wouldn't materialize while we were trying to sleep. Day one of the road trip hadn't gotten us too far, but we had made some serious strides. We had cleared the highest of the Rocky Mountains, so almost the entire rest of our journey would be traveling to lower elevations. And it was officially our last day as temporary Coloradans. The next day would take us over the border (and many more borders) as we continued the move that we had been so long in planning.



Share