Chapter 12
Good Food, Eh?
---
(Originally posted July 27, 2012)
We got in line to meet Duffy right as he was coming back from a break.
There were only about 5 groups in line in front of us, but the line still took about 15 minutes, partly because Duffy went back to "get some cookies" after only about 5 minutes out. While we were waiting, we saw this pair hanging out in the bushes.
We saw this little guy several times throughout our day and referred to him as the "only duckling." He didn't seem to have any duckling siblings, so his mother was being a little overbearing trying to keep him safe and in line. We also saw this thing swimming in the water and had no idea what it was. Our best guess was sea serpent?
When we finally got to the front of the line, we were certainly ecstatic to meet Duffy! He was very pleasant, though he didn't seem to notice Tracy's ears. Oh well… We knew he was just a simpleton!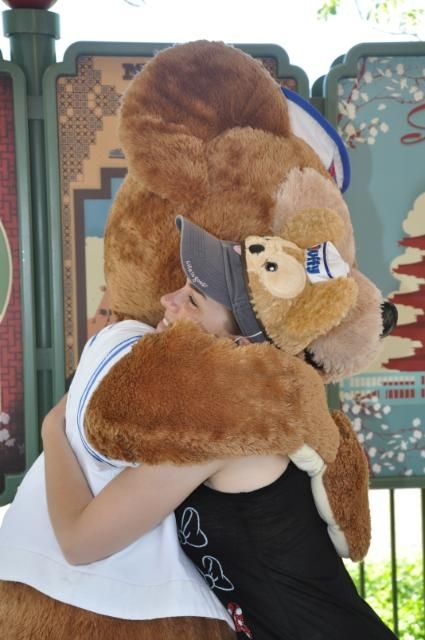 After meeting our good friend, we went to the Duffy shop along the World Showcase lagoon. Tracy wanted to get this Duffy wristlet, but couldn't imagine a scenario of ever using it.
The Duffy store had some very fun theming.
After leaving the store, we checked out some more topiaries.
And there was this cool sand sculpture for the Disney Nature movie Chimpanzee
We tried one more time to go ride Imagination, but there was still a 30 minute posted wait. We asked the cast member at the entrance if that was really right and he said he'd worked there for 6 months and had never seen it so long. They even had to open up the extended queue inside.
Once again, we didn't want to wait, so we made our way back to World Showcase instead. Our lunch reservation was in about a half hour, so we figured we could explore a couple pavilions while waiting.
First up was Canada.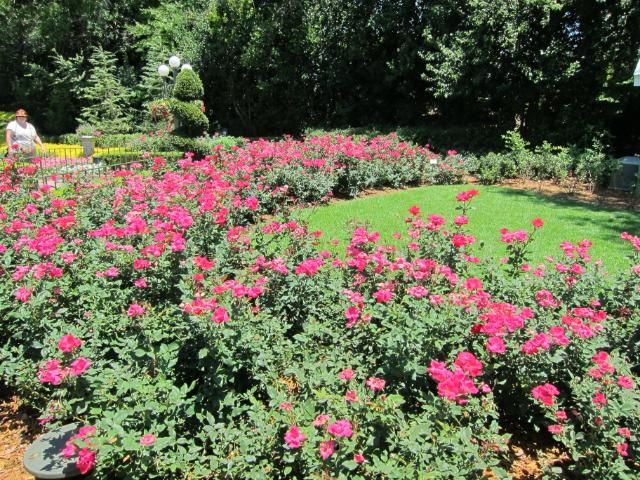 We really enjoyed the country-specific Mickey ears in World Showcase during this trip.
And even though you can't tell from this picture, we really liked the Canada/frontier-inspired Pluto plush. He's just so random!
So we bought him! We had him shipped back to our resort. We explored more of Canada. We went on a road trip from Colorado to Seattle about 5 years ago and went on the ferry up to Victoria, so we'd seen a lot of the real-life places this pavilion is based on.
We had never walked around the back before though, so this was our first view of the Niagra Falls.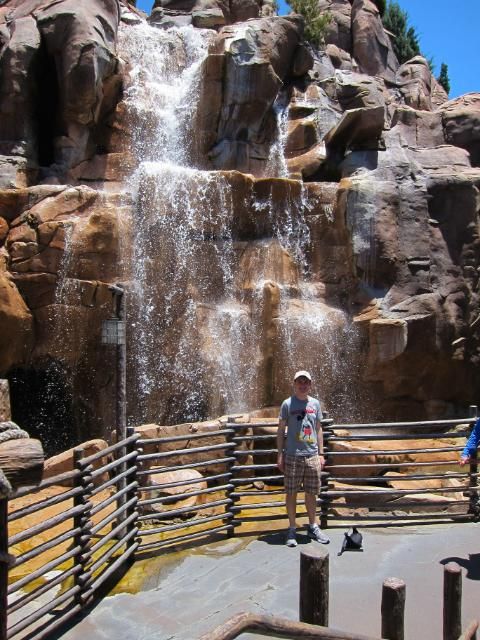 The gardens are based on Butchart Gardens, which we went to in Victoria.
We had a few minutes still before lunch so we poked over to the UK pavilion. Their Mickey ears were fun too.
Now it was time for lunch though! We made our way back to Canada and checked in at Le Cellier.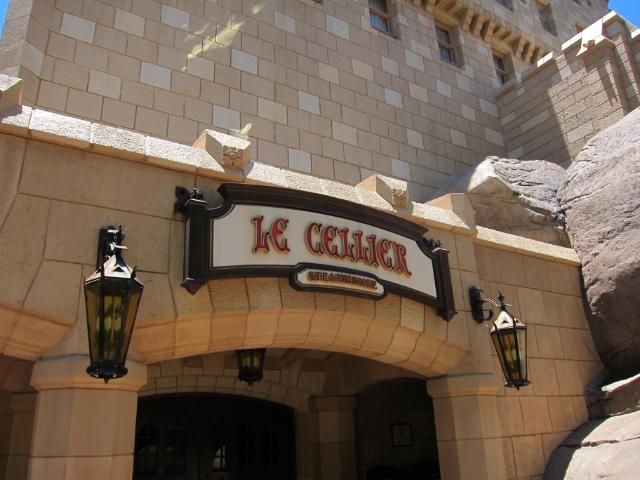 While waiting for our table to be ready, the cast members were asking Disney trivia questions and giving out stickers as prizes. We must have been some of the only big Disney movie fans because we kept being the only people who knew the answers. By the time our table was ready, we had 3 stickers each!
After waiting about 10 minutes we were seated. We were in the New Brunswick room, and I know our server told us a fun fact about it, but for the life of me I can't remember what it was. Here's the fancy menu.
We were splitting one credit on this meal as well, so we got one drink. A raspberry smoothie.
This was really tasty. It had a good combination of sweet and tart and was very refreshing. Next out came the delicious Pretzel Bread.
We'd read about this pretzel bread in reviews and were very excited for it. It was soft and warm and delicious. It also was great to dip into our bowl of Canadian Cheddar Cheese Soup.
Even though the soup, as an appetizer, wasn't included in our dining plan, we had heard so many people raving about it that we had to try it. We ordered a bowl to split. It was delicious! The beer flavor really makes it taste unique, and the bacon bits on top are the perfect complement. For our entrée we ordered the Wild Mushroom Filet Mignon.
This was wonderful! The steak was so tender and juicy and was just delicious. The mushroom risotto it is served over was great too. After we finished the bowl of soup, I started to slow down a bit during the main course. In the end I couldn't finish my risotto, so this was plenty of food to share.
For dessert, even though we were both pretty stuffed, we knew we wanted to try the Chocolate Moose. He was very cute and they brought us a piece of "Happy Anniversary" white chocolate.
After a couple bites, I unfortunately had to throw in the towel. I just couldn't eat any more! We rolled out of the restaurant back into the heat to continue our tour of Epcot.
Overview of Le Cellier Dining Experience
Service: Very good. Nothing to complain about, and she was helpful in splitting our meal over one dining credit. 4/5
Atmosphere: The restaurant is very pleasant, though the tables are very close together. We ended up being seated between two other anniversary couples, so we had a good laugh about that. I imagine that if you were next to a family, however, it could get loud. 4/5
Food: The food here was really great! One of the best meals I've eaten on property. 5/5
First Visit?: Yes
Will Return?: Definitely would want to! Unfortunately it sounds like lunch is going to go up to two credits next year, so we'd have to weigh that against the value if we were on the Dining Plan again. We got a great deal splitting one credit between the two of us though.



Share