Chapter 16
Epcot After Dark
---
(Originally posted July 31, 2012)
Mexico is probably the coolest of the pavilions. No matter what the weather or time of day outside, the world is immediately transformed when you walk into that building. You really feel like you're outside somewhere in Mexico at night.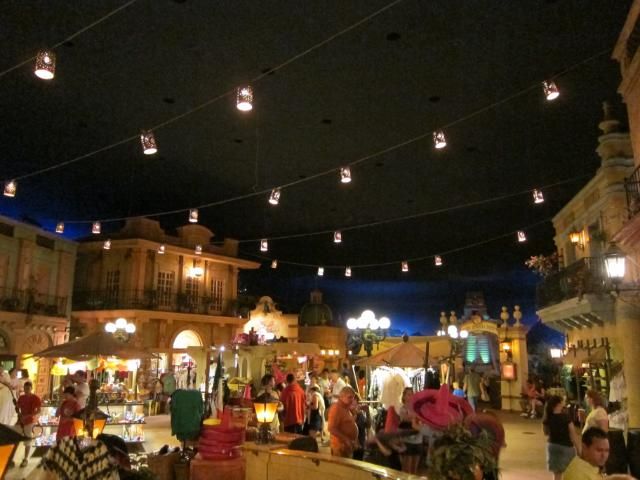 Continuing our tour of mouse ears around the world, here are the Mexico ones.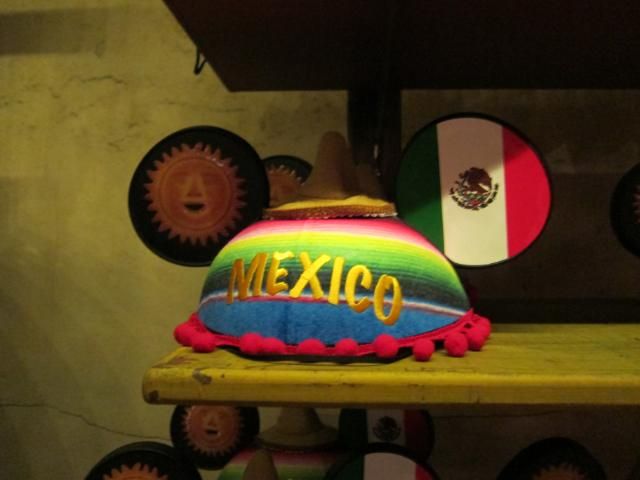 There was (shockingly) no wait at all for the Grand Fiesta Tour starring the Three Caballeros, so we were able to board immediately.
On our last trip, they gave us a boat entirely to ourselves because it was our Honeymoon. Alas, this time we were back to sharing like commoners. I don't want to spoil it for anyone, but we found Donald in the end and got to see some very pretty Mexican sights along the way. This ride is so simple, but it's fun. I wish they would add more rides to World Showcase…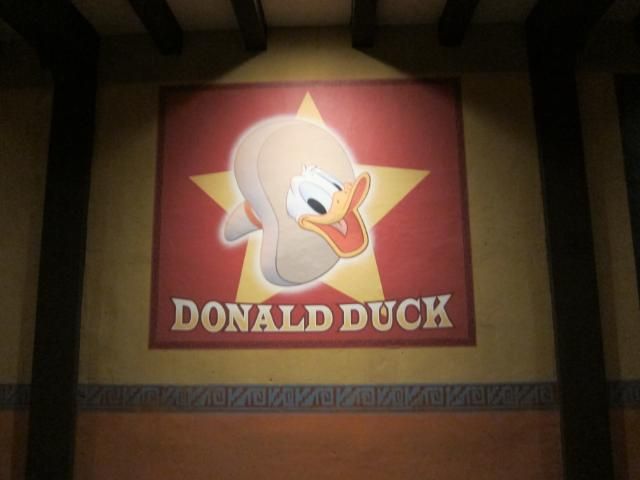 After we finished riding, we stopped for a few minutes to watch the glass blower in the Mexican pavilion. This is so impressive to watch. They can do so much with the molten hot glass even though they can't touch it.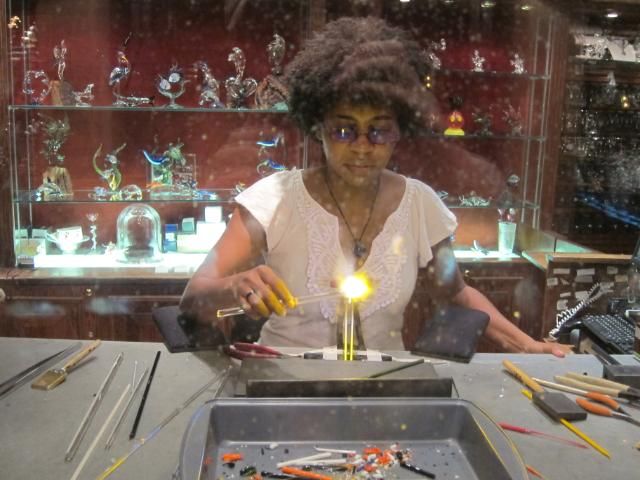 We left Mexico and noticed that the sun had set while we were inside. It was time to scope out a spot for IllumiNations. We found a nice place between Mexico and Norway about ten minutes before the show started.
We've always had pretty mixed feelings about IllumiNations. The last time we actually took the time out to watch it was on our 2008 trip, and we found a spot near Japan. From that vantage point, we couldn't really see any of the images on the globe. Since that is such a huge part of the show, we got a little bored. We skipped the show entirely on our 2010 trip, though our balcony at the Best Western Lake Buena Vista had a theme park view and we could see the fireworks portion of the show from there. Between that trip and this one, we found several of the outlets to listen to Disney parks music online, and I came to really enjoy the IllumiNations score, so we thought we'd give the show another shot. This time, we really enjoyed it! I still don't think it holds a candle to Wishes, but it was certainly impressive. The music is great, the fireworks and flame effects are really cool, and since we could actually see the globe this time, I liked that part too!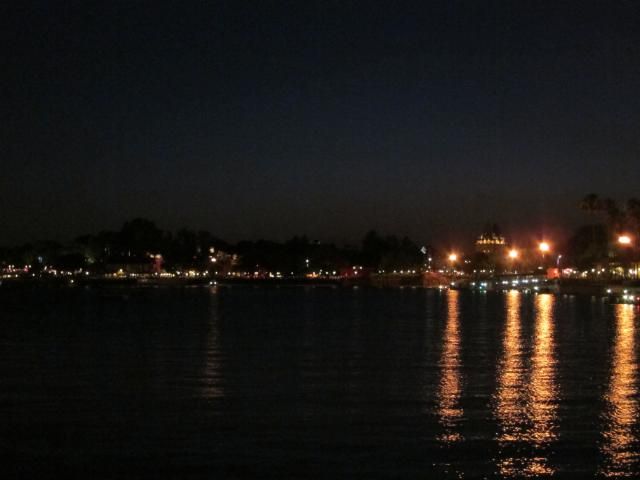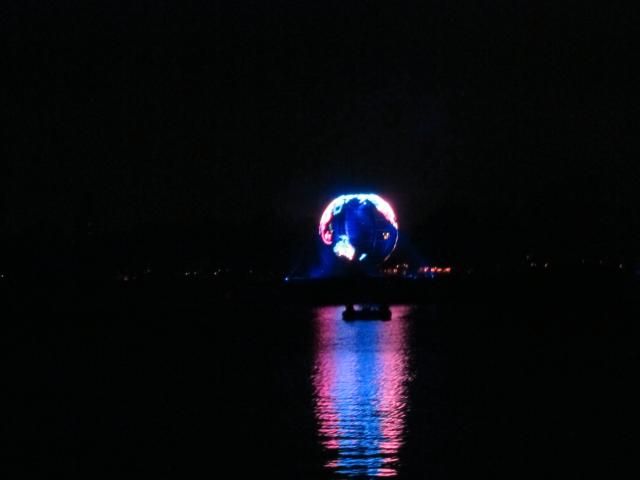 After IllumiNations, the hordes of people began their mass exodus from the park, but we knew they were all going to miss out on one of the best hours in Epcot! Since Test Track had started its refurbishment, we had read on Lines chat that Soarin' was being kept open until 10:00. And the best part was that as of this trip, they hadn't begun publicizing that fact! We made our way toward The Land, and when we got there, the posted wait for Soarin' was 5 minutes! We got in line.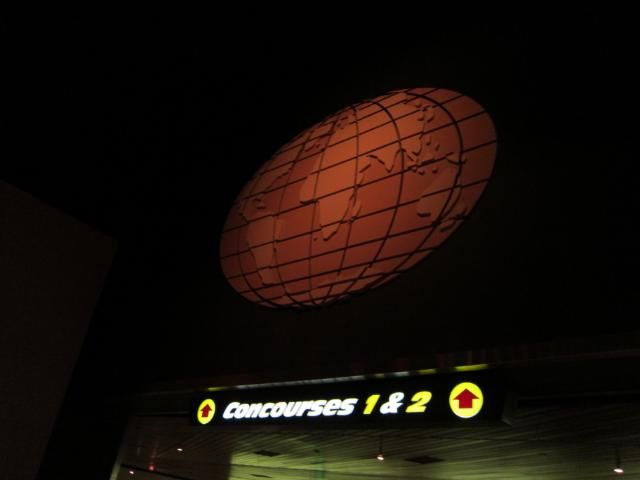 We got to the front almost immediately, and this time we were able to request the top row of the center section, so we got the best view!
Once we had landed, we collected our carry-on items and headed back out into the night.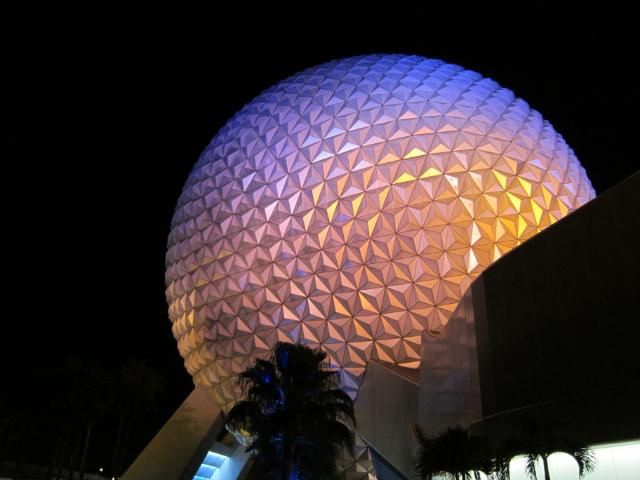 The other part of Epcot that is open until 10:00 is the Epcot Character Spot, and the posted wait for that was down to 20 minutes. By the time we got to the front of the line, it was about 5 minutes before closing, and you could tell that everyone was ready to leave. The characters rushed us a little bit just posing and then moving along. It was a good photo opportunity, but there wasn't much meeting/greeting going on. I really don't like the photo backdrops at the Character Spot. I don't really understand them. I guess they're supposed to be themed to Future World, but they're so busy that they distract from the pictures.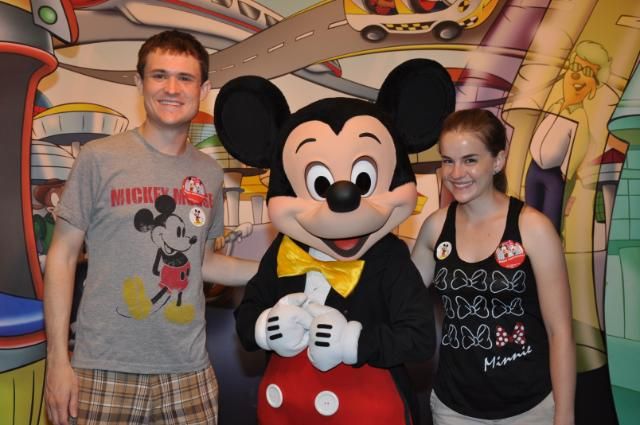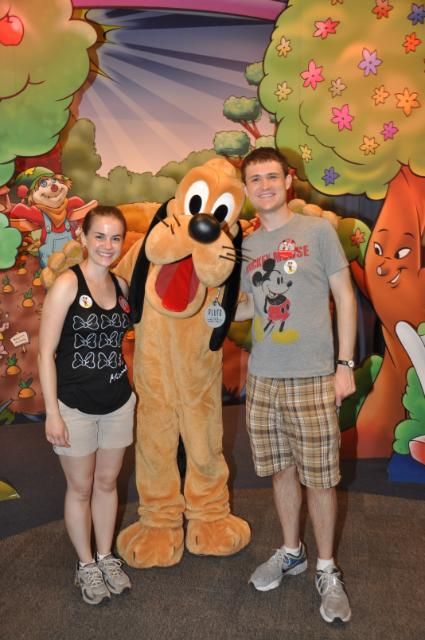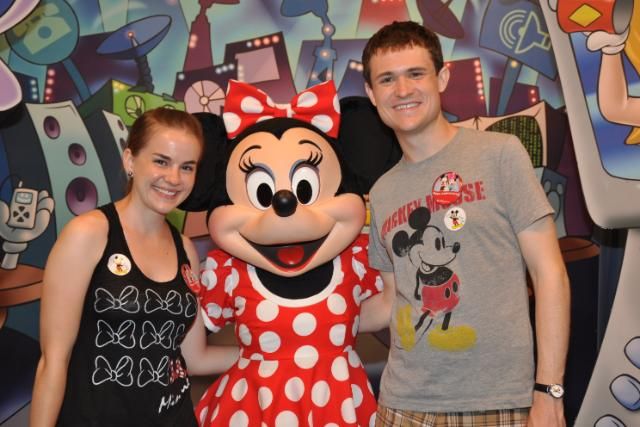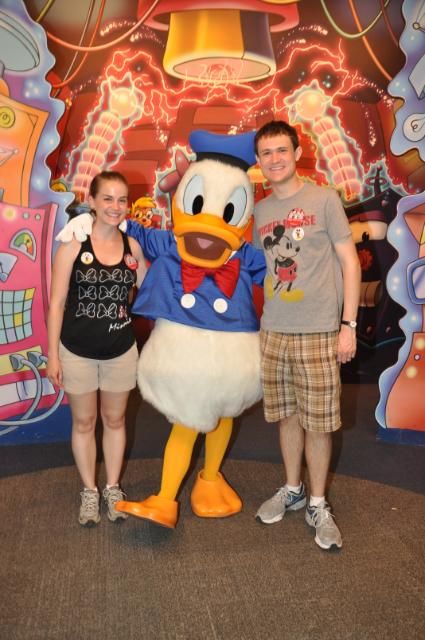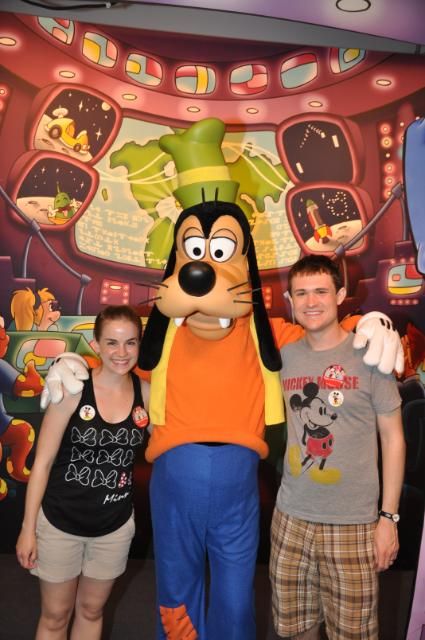 We got out of the Character Spot right as Epcot was actually closing, which means right as it had officially been closed for an hour…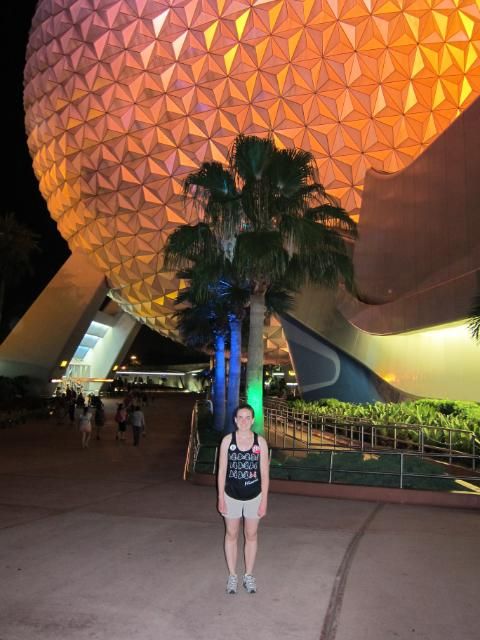 We took some pictures on our way out and headed toward the bus.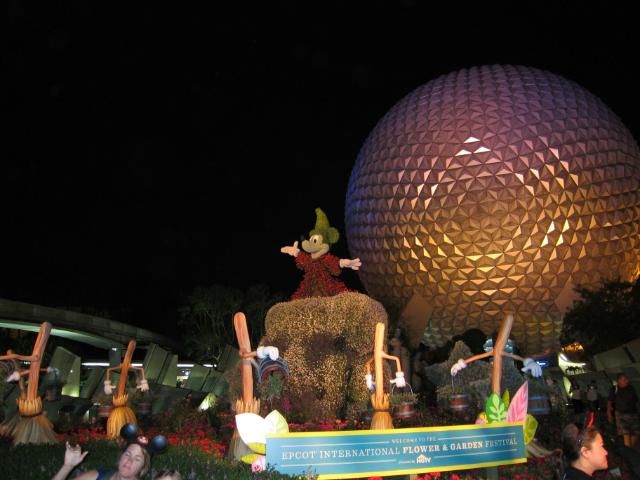 We got to the parking lot right as we saw a Riverside bus pulling away. Blast! Luckily, a French Quarter bus pulled up only a few minutes later, so we got on board that one. The walk back to our resort was really serene at that time of night, and we got to see a few boats plodding the waterways to and from Downtown Disney. We reached our room at about 11:00 and were showered and ready for bed just after midnight. This time, we would not be getting as full of a night of sleep because we had morning Extra Magic Hours on the docket for the next day. We set our 6:40 wake-up call, pushed the fireworks button on our headboard, and went to sleep.
Overview of May 20, 2012
Highs
– Meeting Duffy and getting our trip catchphrase!
– Discovering the French Quarter buses
– The wonderful food in World Showcase
– The short lines after Epcot officially closed
Lows
– The higher than predicted crowds at Epcot
– Not having enough room in our stomachs to eat as much as we'd like
Weather
90 degrees and Sunny
Food of the Day
Wild Mushroom Filet Mignon from Le Cellier



Share