Chapter 71
Putting All My Eggs in One Basket
---
Previous Post | Next Post
Table of Contents
(Originally posted October 6, 2013)
Our real plan for this afternoon was a fun bit of Limited Time Magic that we had been excited to try since it had been announced the previous Friday—the DCA Easter Egg Hunt! We bought our map, which came with all the stickers we would need to fill it out.
And now, we set to work searching for eggs. None of them were particularly difficult to find (except one), but it was very fun to go around looking for all of them.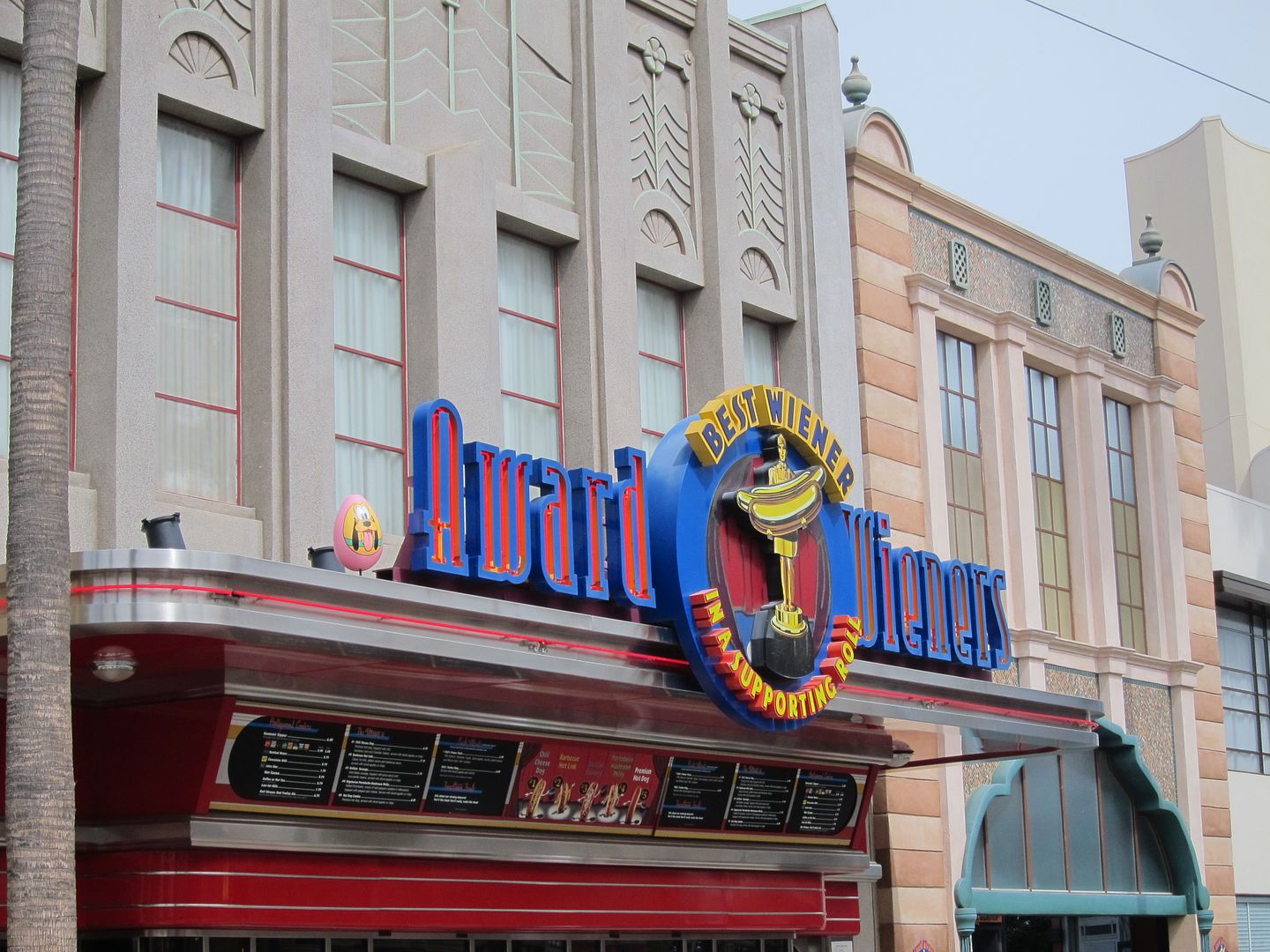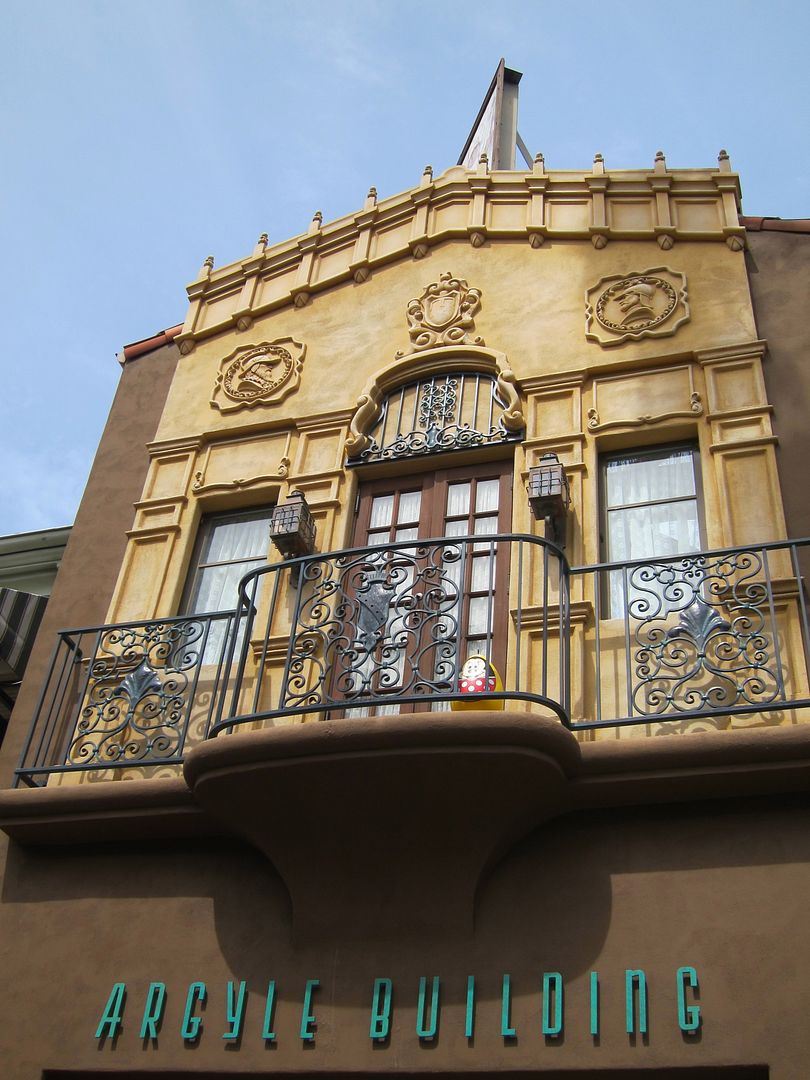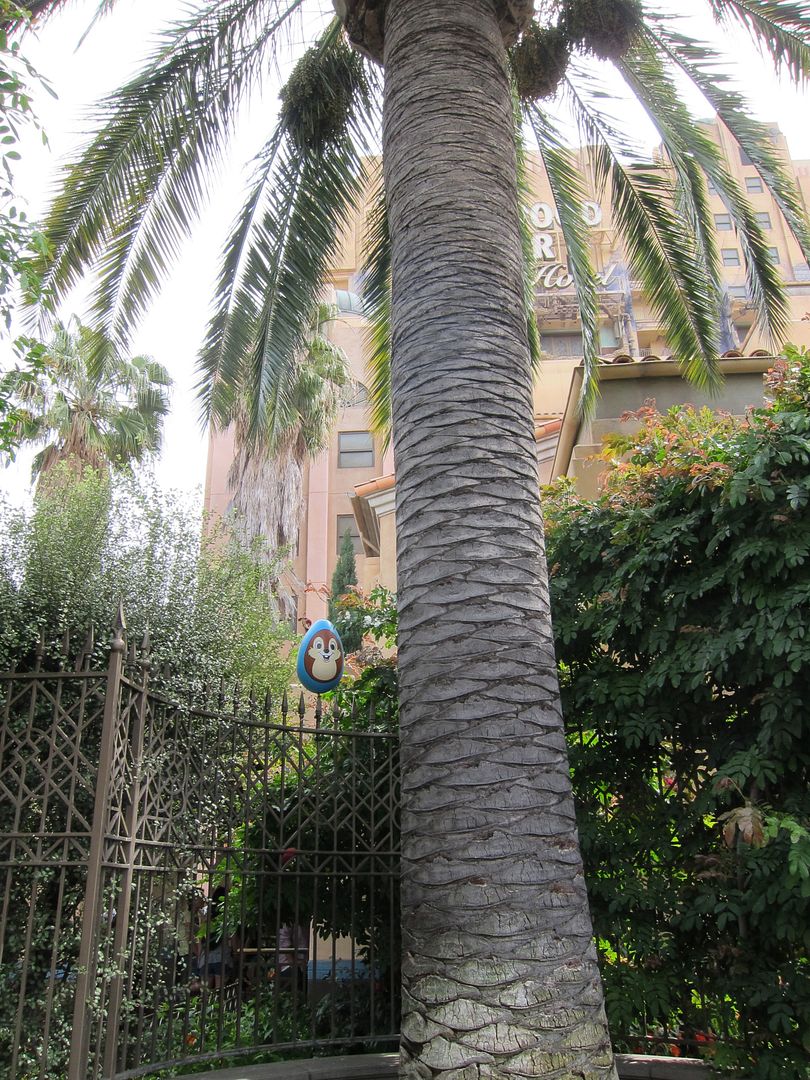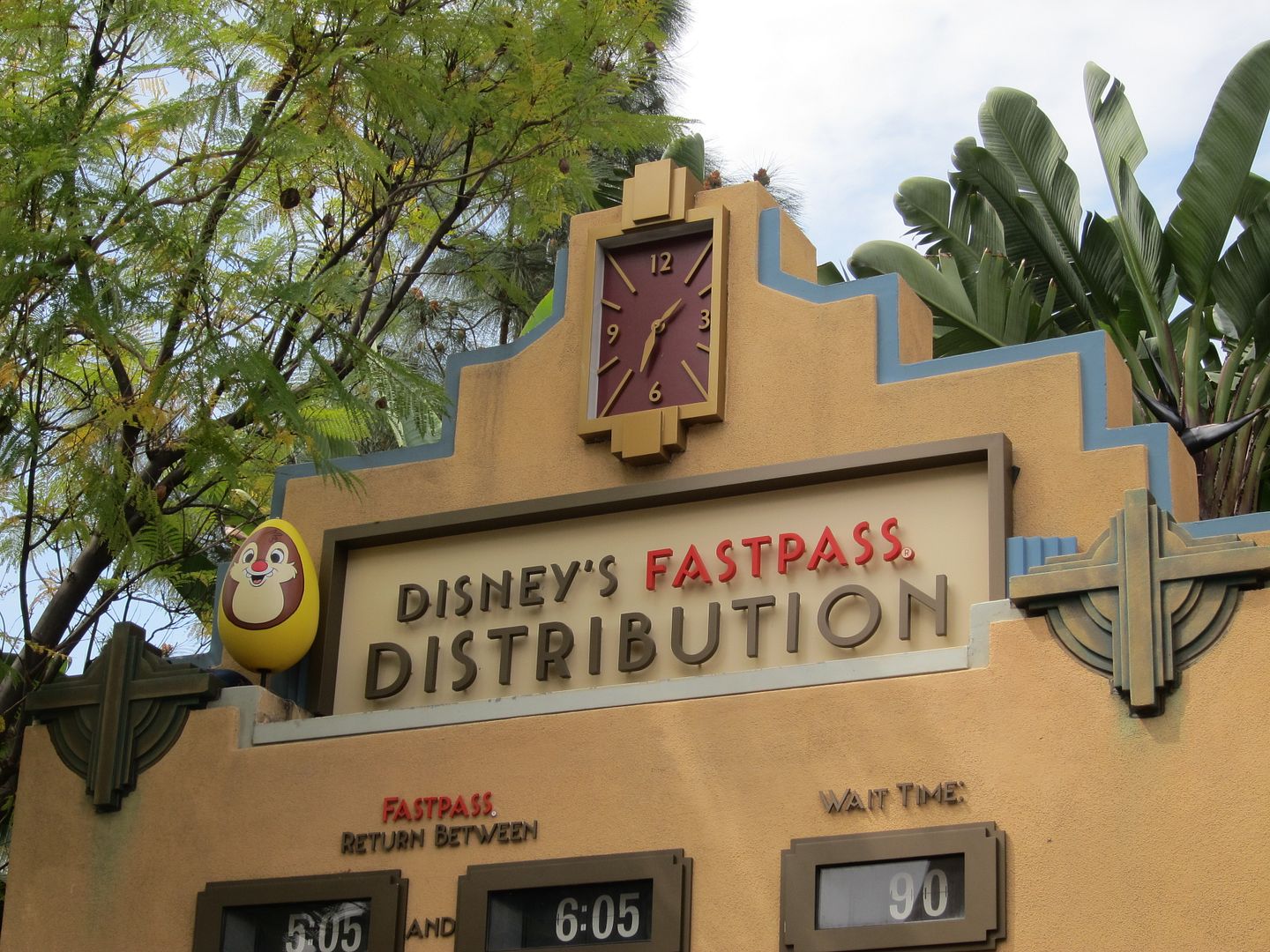 While we were by Tower of Terror, we pulled a couple Fastpasses to give away later.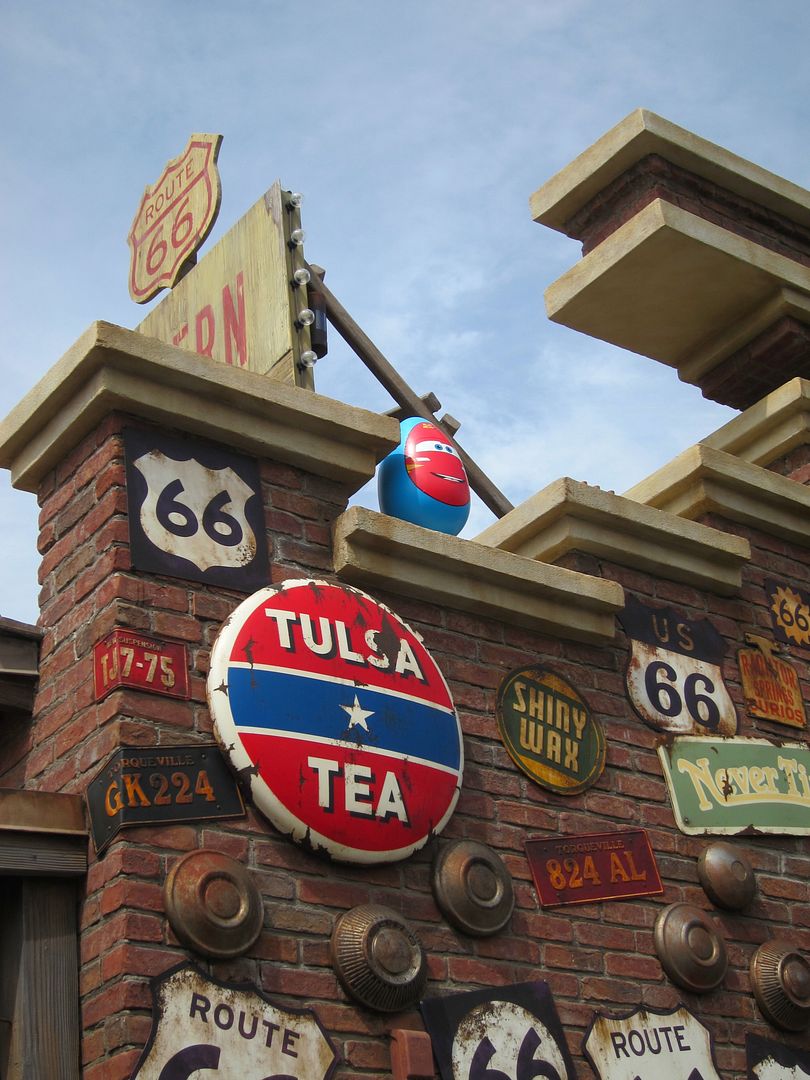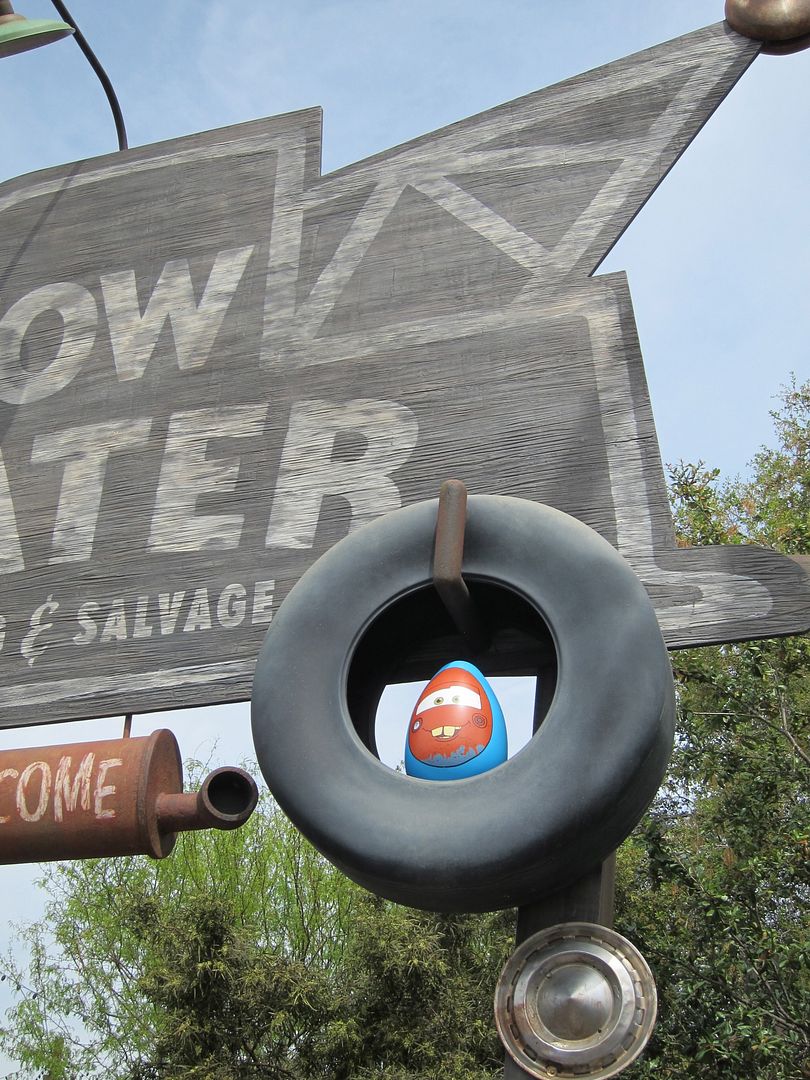 Daisy was the one difficult egg to find. She was marked as being in Pacific Wharf, but she was really across the bridge and down by the water in an area that we had been warned on Twitter was swarming with bees. We didn't get too close.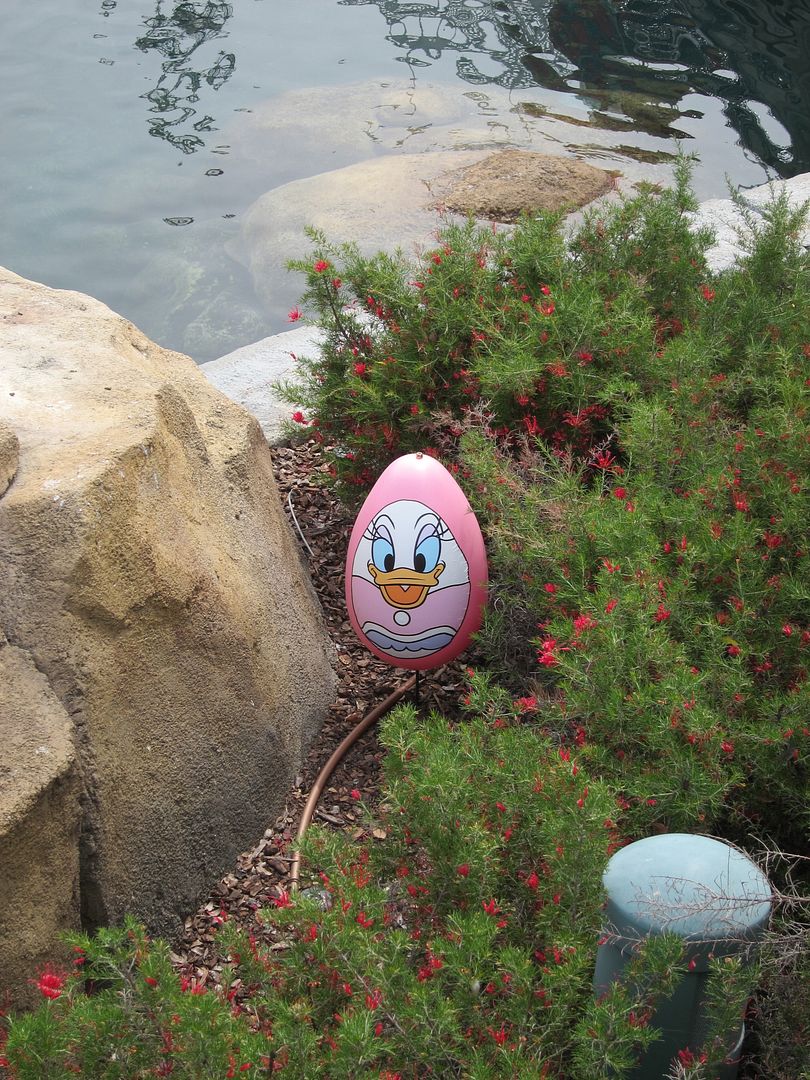 Mid-way through the hunt, we had to take a break to meet Duffy. I like this candid action shot of us all gathering.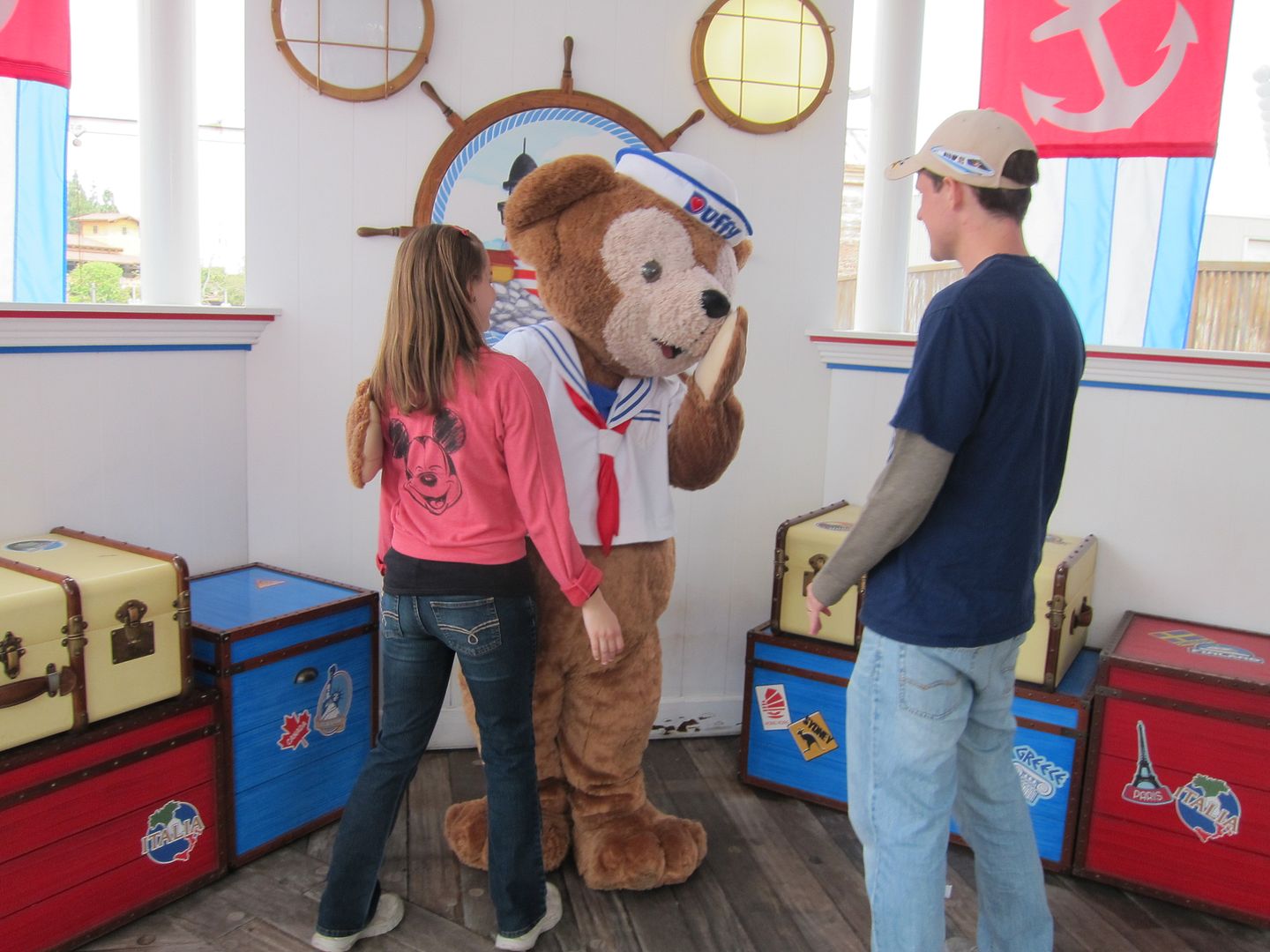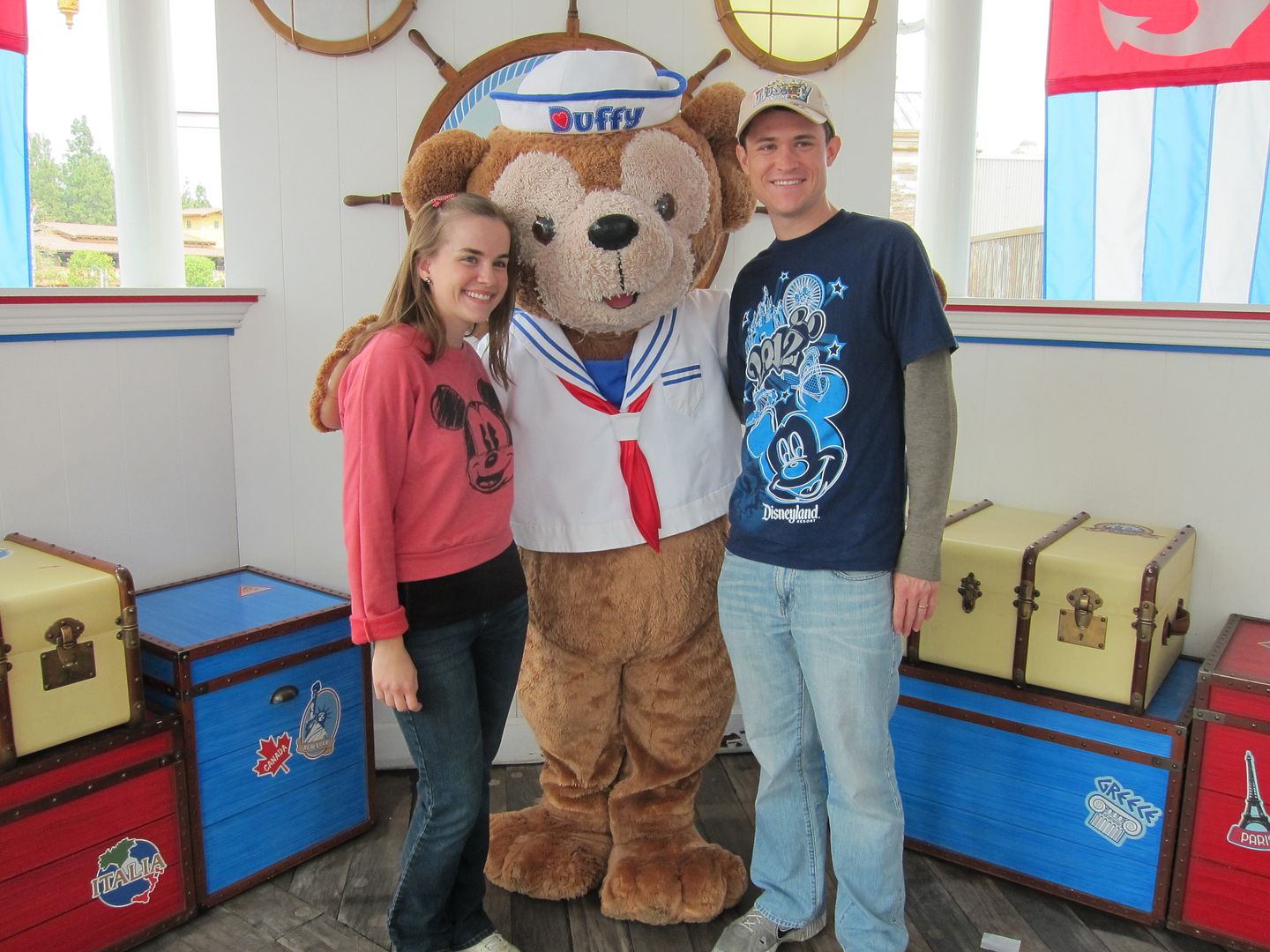 Now, back to the hunt!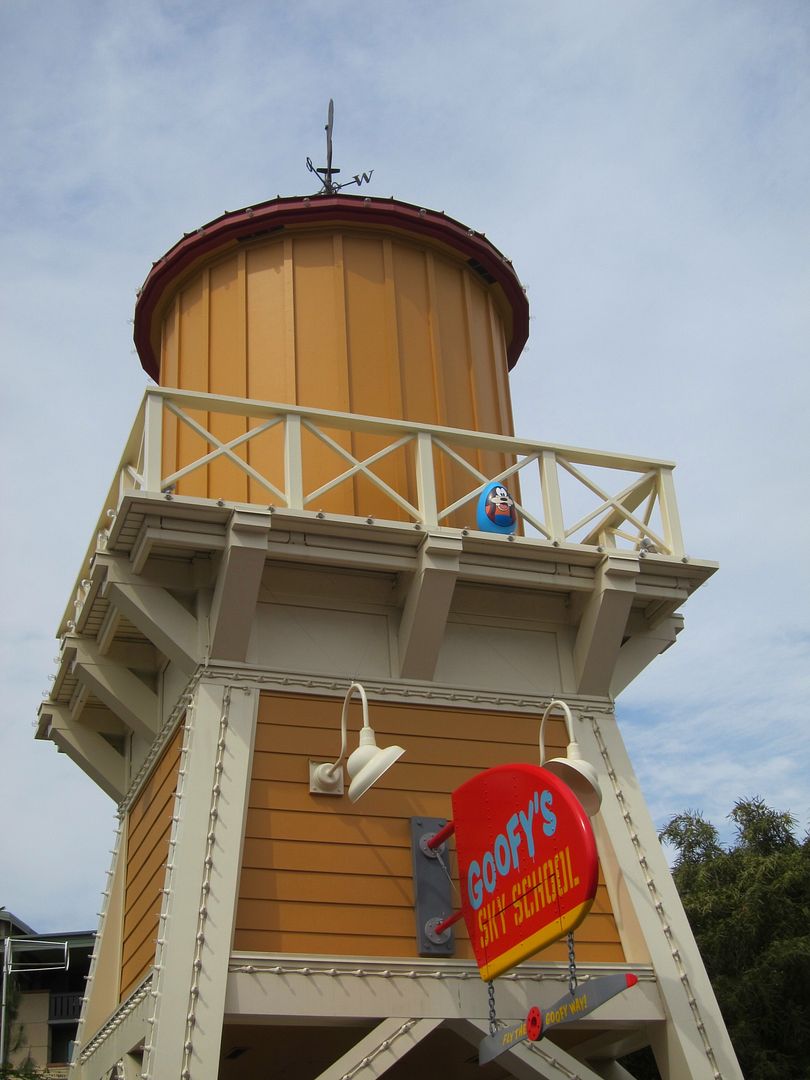 After finding Goofy, we had completed the entire quest.
We went back to Elias and Co. in the Carthay Circle area and got our prize for finishing the egg hunt. We were able to choose a giant egg from which to pull our reward—which we knew were cheap Vinylmation Jr. key chains that could easily have been on clearance. The ones we chose blindly happened to be Goofy and another random design. Tracy had really been hoping for the Simba set, so she was disappointed. Luckily, we hadn't really done the egg hunt for the prize, and we had a lot of fun going around searching for them.
After sitting around near the DCA entrance for a while, we decided to park hop. On the way out, we found a father and son who were very excited to receive our Tower of Terror Fastpasses.
Entering Disneyland, we walked to the hub and noticed that the trees were BEAUTIFULLY in bloom.
We also finally took notice of this Dumbo statue in the hub.
The park was very busy this afternoon, but we rode the Jungle Cruise.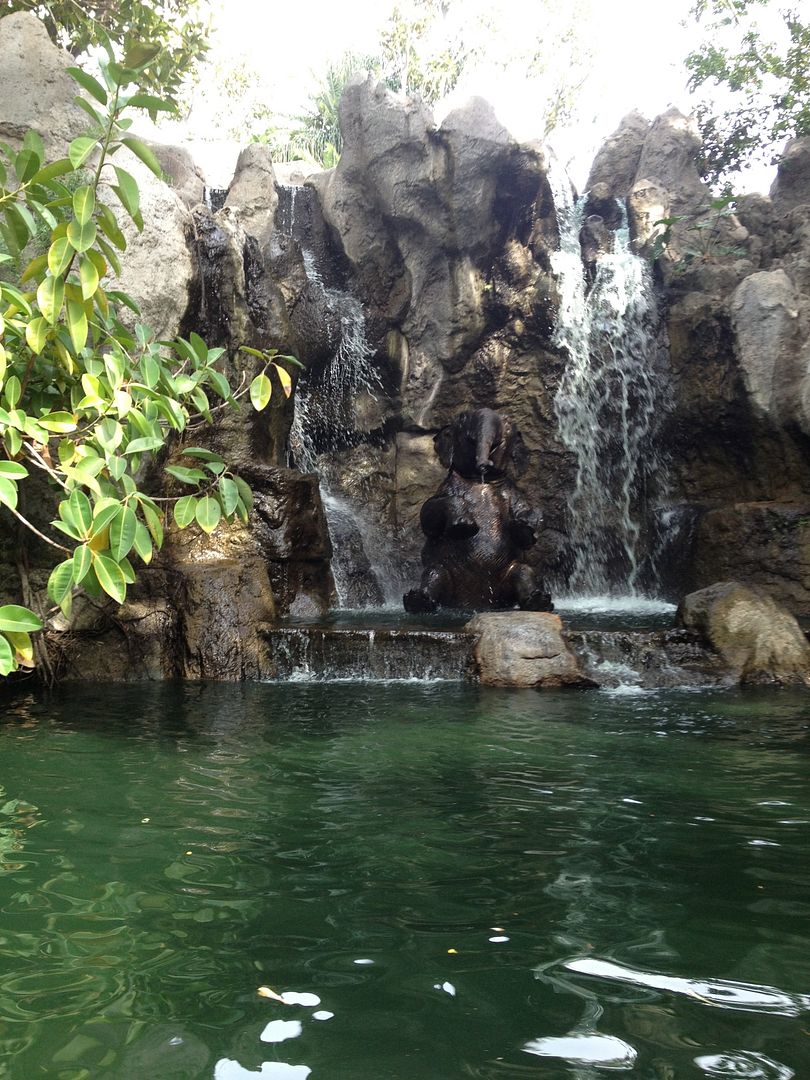 Next, we went back into Fantasy Faire to watch Figaro and the bird for a few minutes.
Walking back to the front of the castle, we found the ducklings, but their number had shrunk to 10…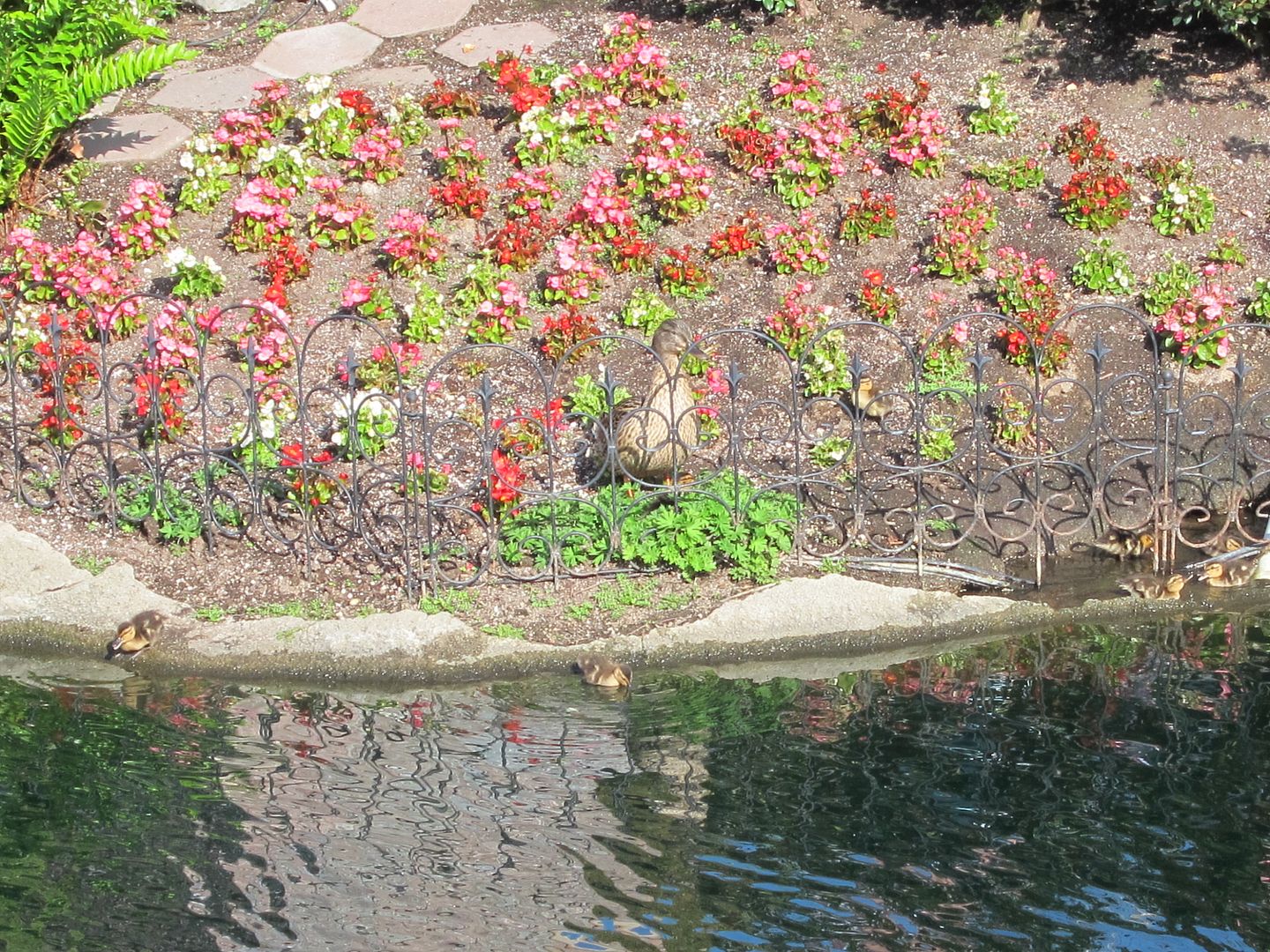 While we watched, we had one of the most incensing experiences I can ever remember. Another family was watching the ducks, but the father seemed like, well… a major idiot (I would use stronger language here if I could). When the ducklings would get close to the edge of the grass, he kept reaching out to try to touch them—much to the alarm of their mother. Suddenly, he actually reached out and picked up one of the ducklings. The mother freaked out and bit him, and he yelled out that the duckling had peed on him as he dropped it back into the grass.
Watching from our spot nearby, we yelled out at the man when he made his stupid move, but we were SO ANGRY. I immediately went up to the nearest cast member and told them we needed security to come over NOW because there was an idiot trying to hurt the ducklings. She picked up her radio and made a call, but it took the guards at least five minutes to come over. By that point, the stupid man and his stupid family had already moved along, but at least the security cast members took up a post standing near the ducks to prevent that sort of incident from happening again.
It took us a little while to recover from our anger at the situation (it's making me mad again just thinking about it), but we eventually moved on. We went into Fantasyland and rode Pinocchio, Alice in Wonderland, and "it's a small world" before deciding to head home because Tracy wasn't feeling great.
Thursday, Tracy went into her new office to have lunch with her coworkers, and she was glad to report that everyone seemed nice.
Once she got back home, we headed over to Disneyland. We must have made it literally moments before they closed Mickey and Friends because we were in the single worst spot in the structure (top level, last row, furthest back spot). The walk to the escalators seemed to take an eternity, but we finally made it to the parks.
Starting at Disneyland, the crowds were pretty bad. The line was too long at Pirates, so we went to Tomorrowland and rode Buzz Lightyear then Star Tours. After walking to Fantasyland and riding Snow White, we tried to figure out what to do for dinner. Once again, we thought we had a brilliant idea for saving money by heading out of the parks. We knew there was a Subway on Harbor and Katella, and in our minds that didn't seem like too bad of a walk. All we would have to do is go east out of the esplanade and walk a few blocks.
Unfortunately, what we never seem to realize about the blocks near Disneyland is that they are ridiculously long. The walk took us about 20 minutes, and when we arrived, the Subway was pretty dilapidated. They charged a premium price on our "$5 footlong" sub, and then it wasn't even very good. Just as with the time when we decided to go home for dinner, we realized it REALLY wasn't worth it to come to this Subway to save a couple bucks, so we vowed never to return.
After eating, we made the long trek back to the parks (though at least it felt shorter now that we weren't hungry).
Getting back into the resort, we hopped to DCA. Our first stop was Elias and Co., where we asked if we could exchange our prize Vinylmations from the Easter Egg Hunt for the Simba set that Tracy had wanted in the first place. Luckily, business was slow at the egg hunt booth, so the cast member let us exchange. We immediately put the keychain Vinyls on our respective Disney bags, where they have stayed ever since.
We rode Monsters, Inc. and got GAC return passes for Radiator Springs before attempting something we hadn't ever successfully done at DCA—watching Aladdin: A Musical Spectacular.
If you recall my last Disneyland trip report, I started feeling bad in the middle of the show the only other time we had tried to watch it, so we had needed to leave. This time, however, I was adequately fed and ready to enjoy this musical.
We got great seats in the front row of the rear orchestra section.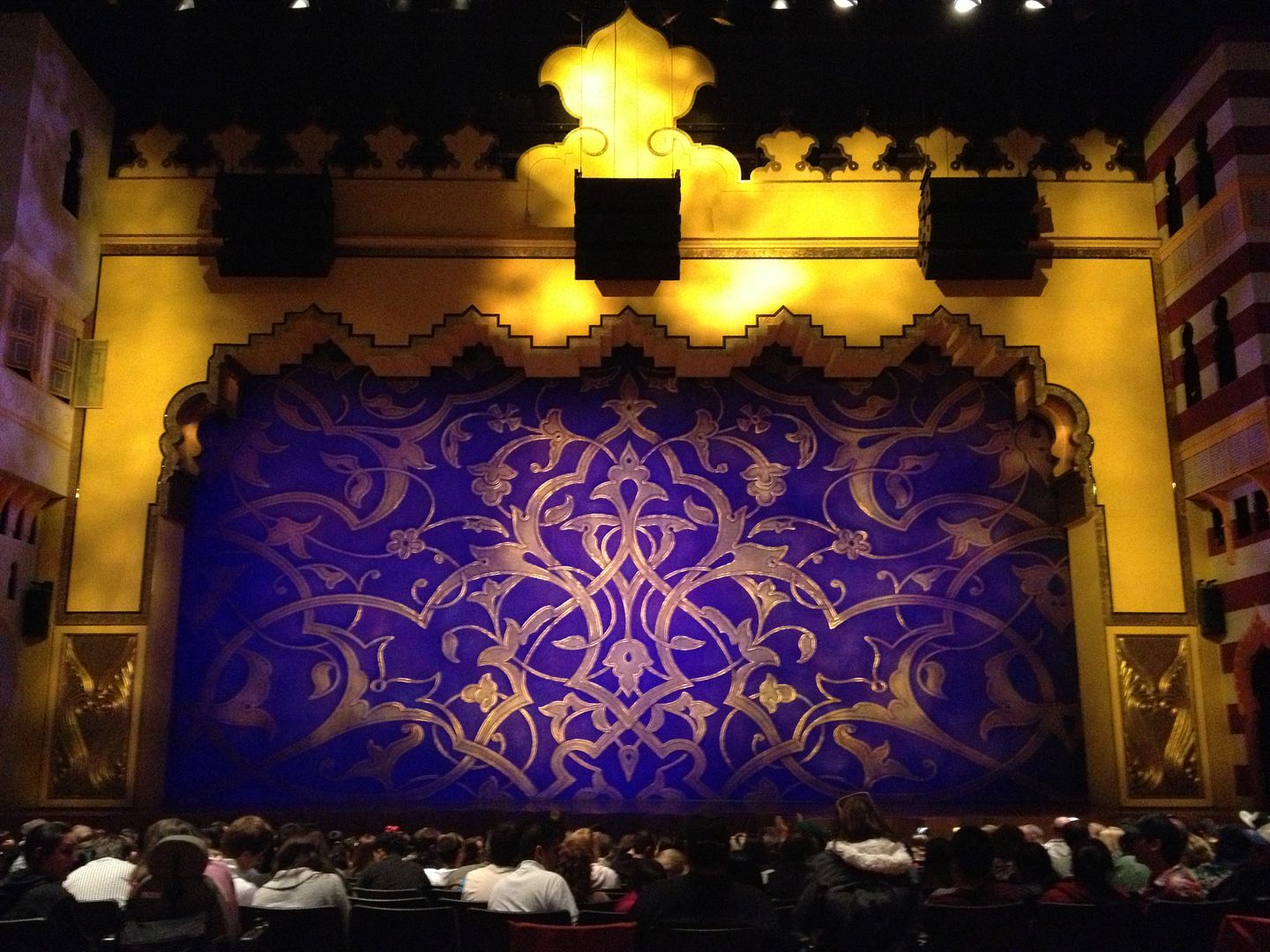 It proved to be a great view of a great show.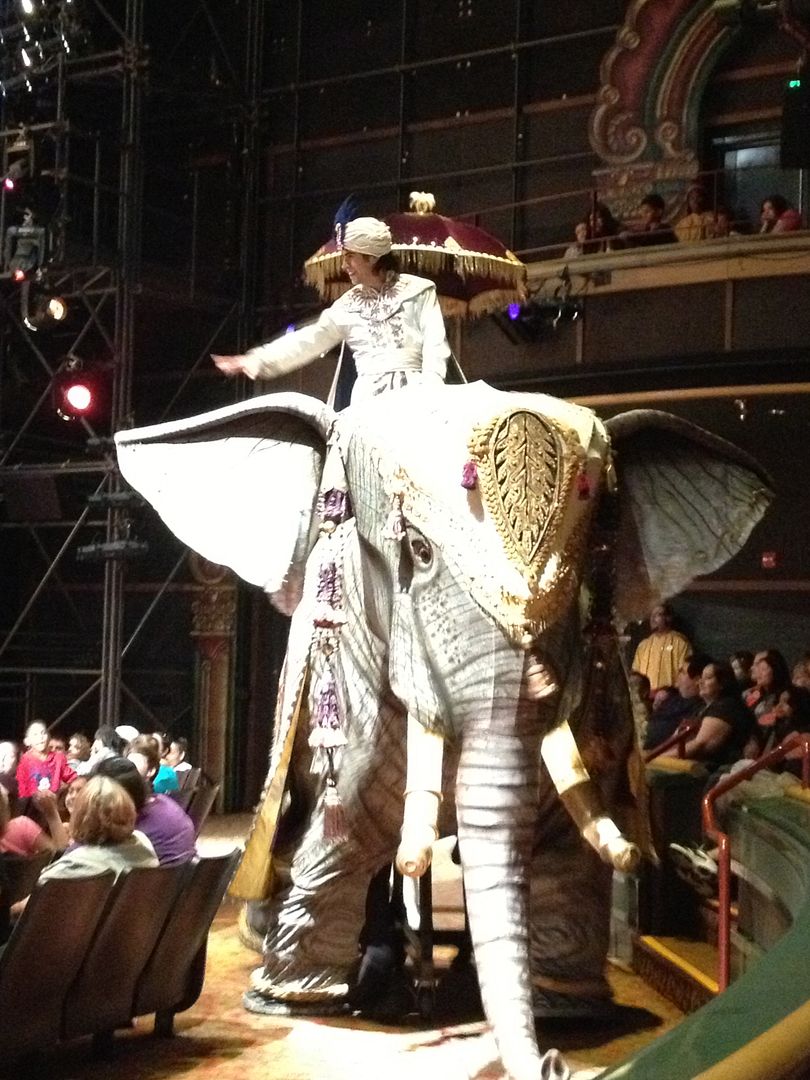 Now, Aladdin definitely isn't my FAVORITE of the Disney parks stage shows (that honor goes to Finding Nemo: The Musical in Animal Kingdom), but I'd say it's a pretty close second. It's very well done, the actors are all talented, and I like the way it was adapted for this stage. We were excited that the flying carpet had just recently made a return during "A Whole New World" after being grounded for over a year.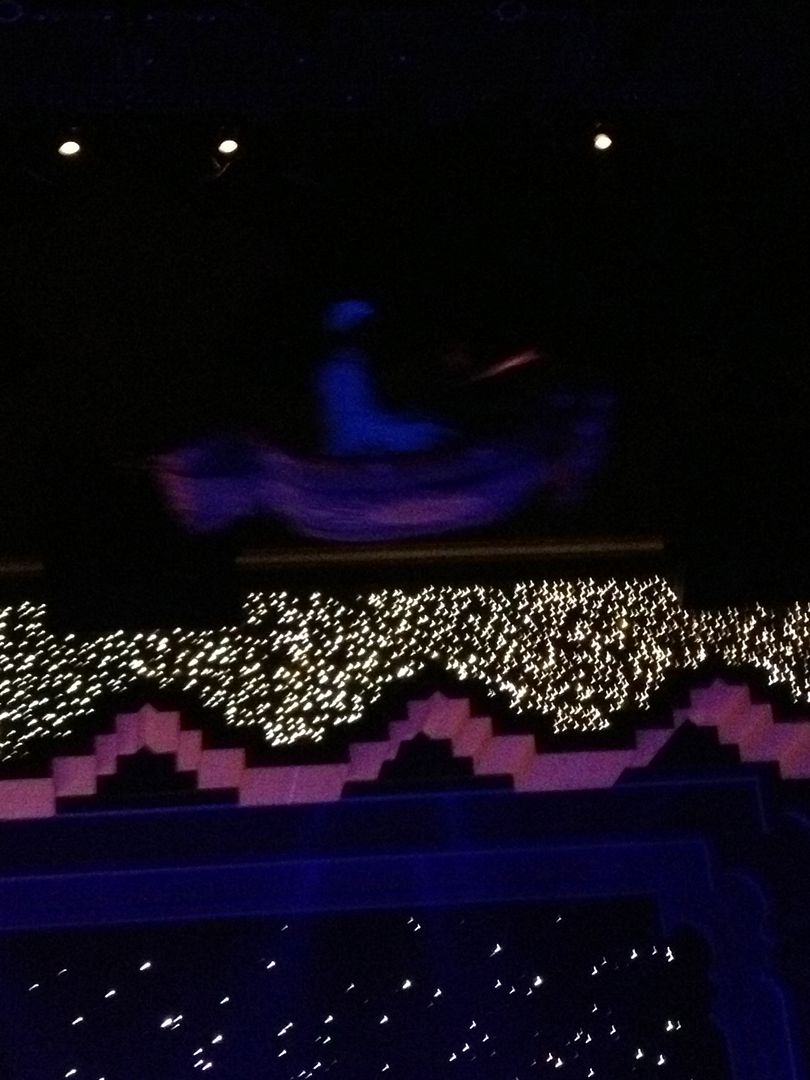 After the show let out, we walked over to Pacific Wharf and got our bread samples and Ghirardelli squares. Then we rode Toy Story Mania before going back to use our Radiator Springs return passes. We not only got Guido's side, but also won!
Previous Post | Next Post
Table of Contents
Follow



Share