Chapter 100
Mental Pictures
---
Previous Post | Next Post
Table of Contents
(Originally posted November 13, 2013)
Now, I'll admit, I had to go to the bathroom. But when you're in a super-exclusive Disney locale, even a trip to the restroom is a photo opportunity.
The sink had tassels hanging from it.
I really liked this picture on the wall.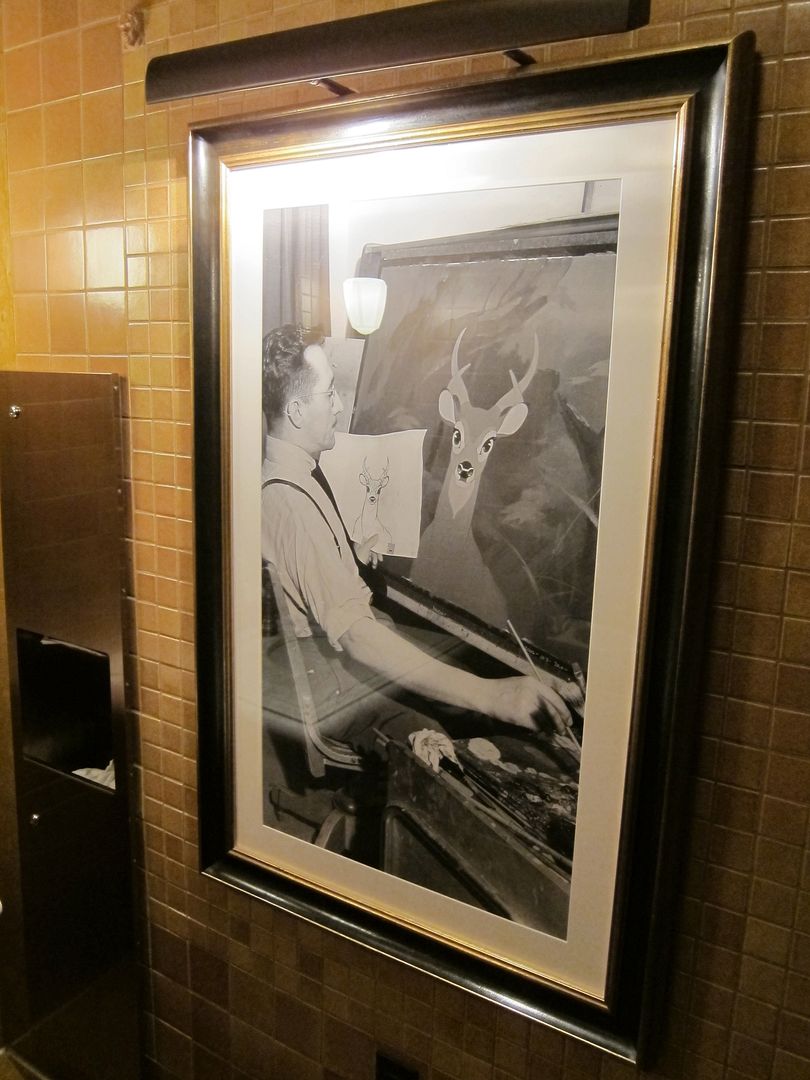 And even the tile and light fixtures felt fancy.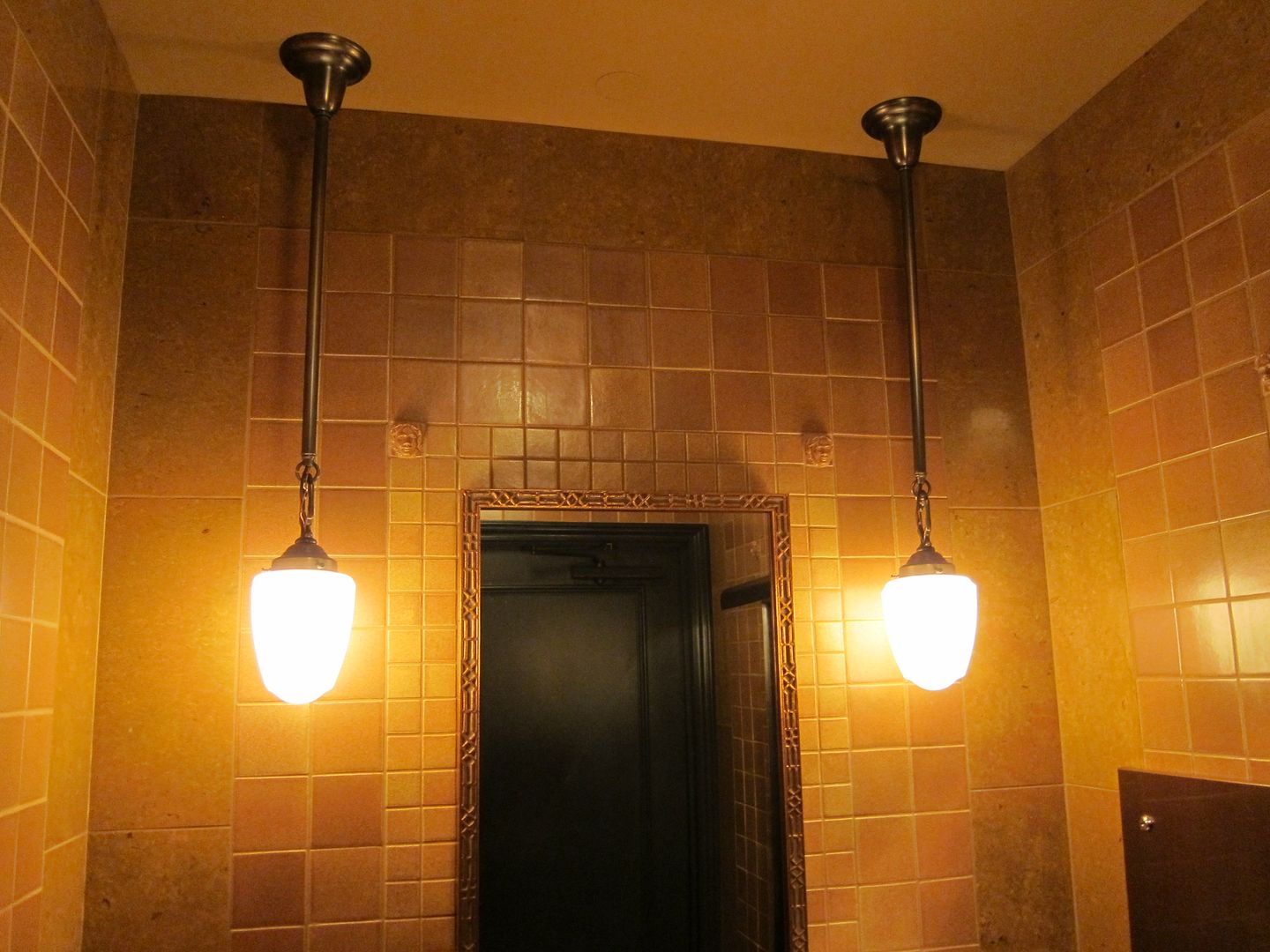 After coming out, I waited for Tracy by the entrance to the restrooms, so I took several more pictures.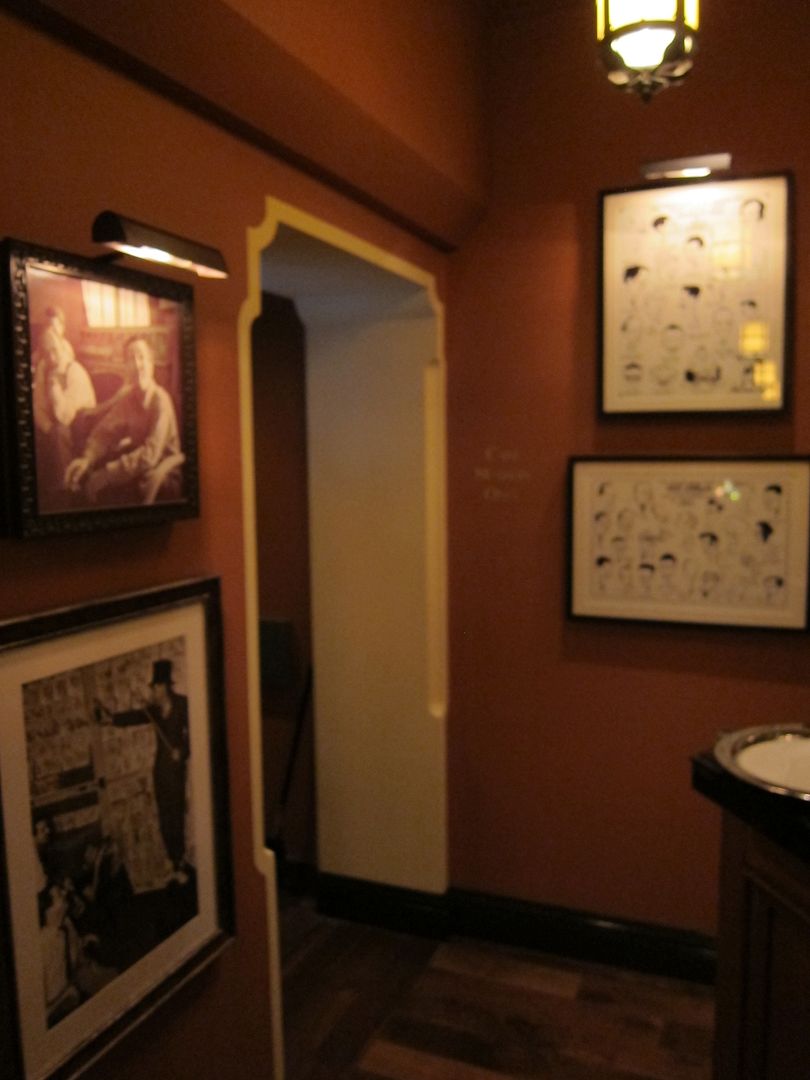 Walking back toward our table, I took some time to look at the bookshelves on that wall. Here are some of the very first Mickey and Minnie plushes to ever be made.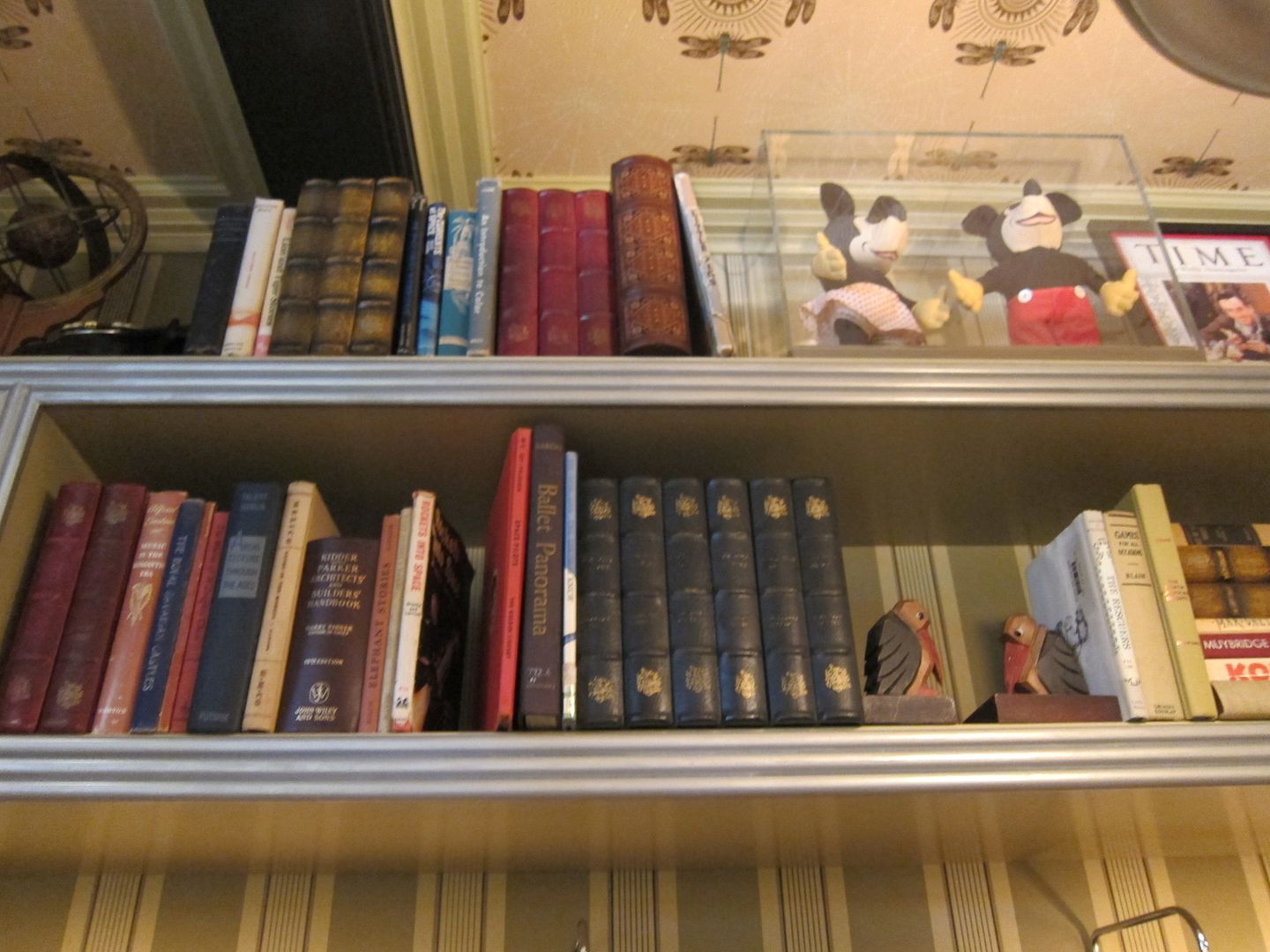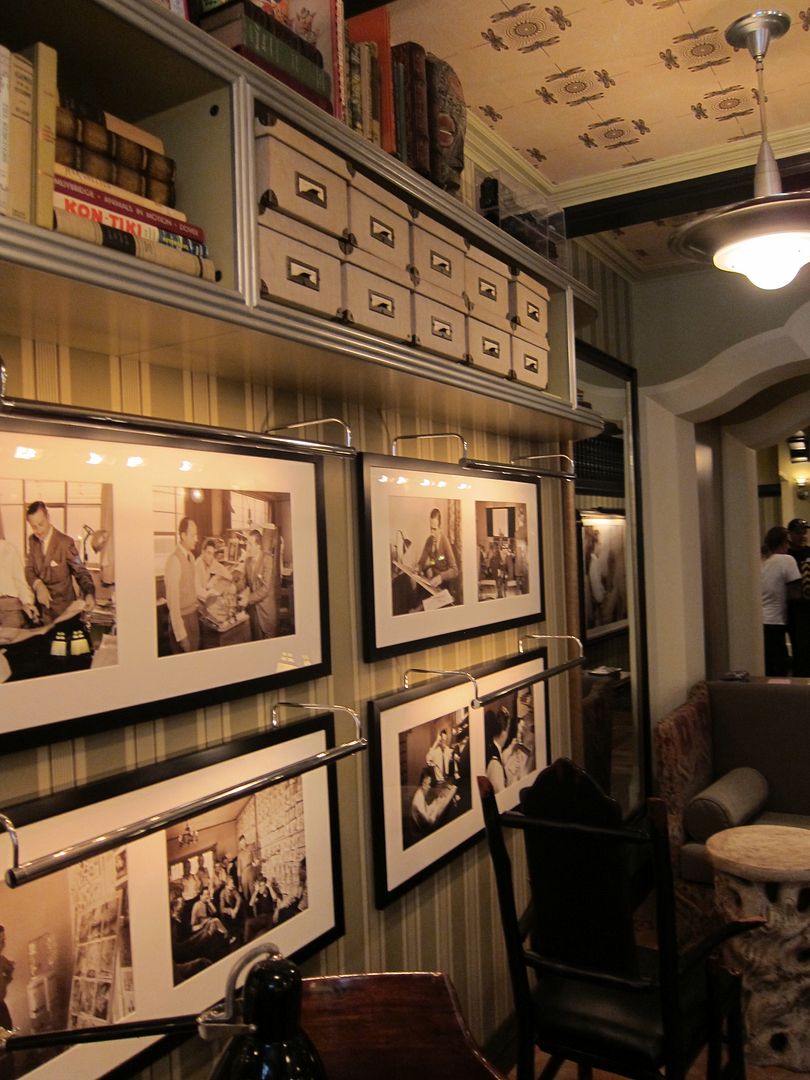 We loved this Tiffany lamp as well.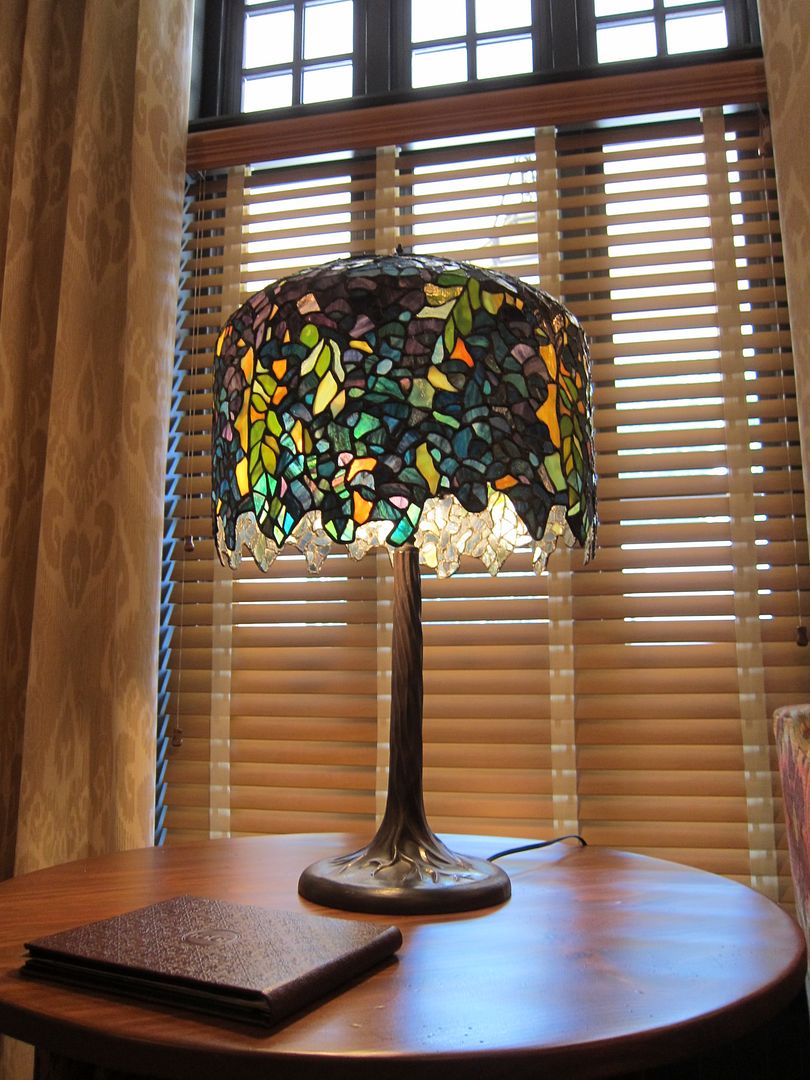 That window is actually quite interesting because if you peek through the slatted blinds, you can actually see out into the Carthay Circle area of the park. The parade was going on while we sat there, and we could vaguely see it through the window. Perhaps the most stunning thing about being in 1901 is that you can COMPLETELY forget you are in a theme park. When it would strike me suddenly that we were in the middle of DCA on a crowded Saturday, I was almost taken by surprise. The Lounge feels like the perfect place to be removed from everything in an amazing atmosphere. If we were members, I would literally stop in here on every visit whenever we needed a few minutes of peace and quiet to recharge and get ready to head back out into the parks. The other funny thing about the Lounge is that most park guests have absolutely no idea it's there. As we watched out the window, people just walked by without a clue what was behind those blinds.
Here's an obligatory look at the carpet because I had to document EVERYTHING around us.
After we had sat for over an hour, the member who had so graciously hosted us had other places to be, so they left. Luckily, we found, once we were inside, we could stay unaccompanied. Tracy and I got up again to tour the bar area now that it had been almost completely vacated. Here's a look at the Roy and Edna chairs.
And the Walt and Lillian ones without anyone occupying them.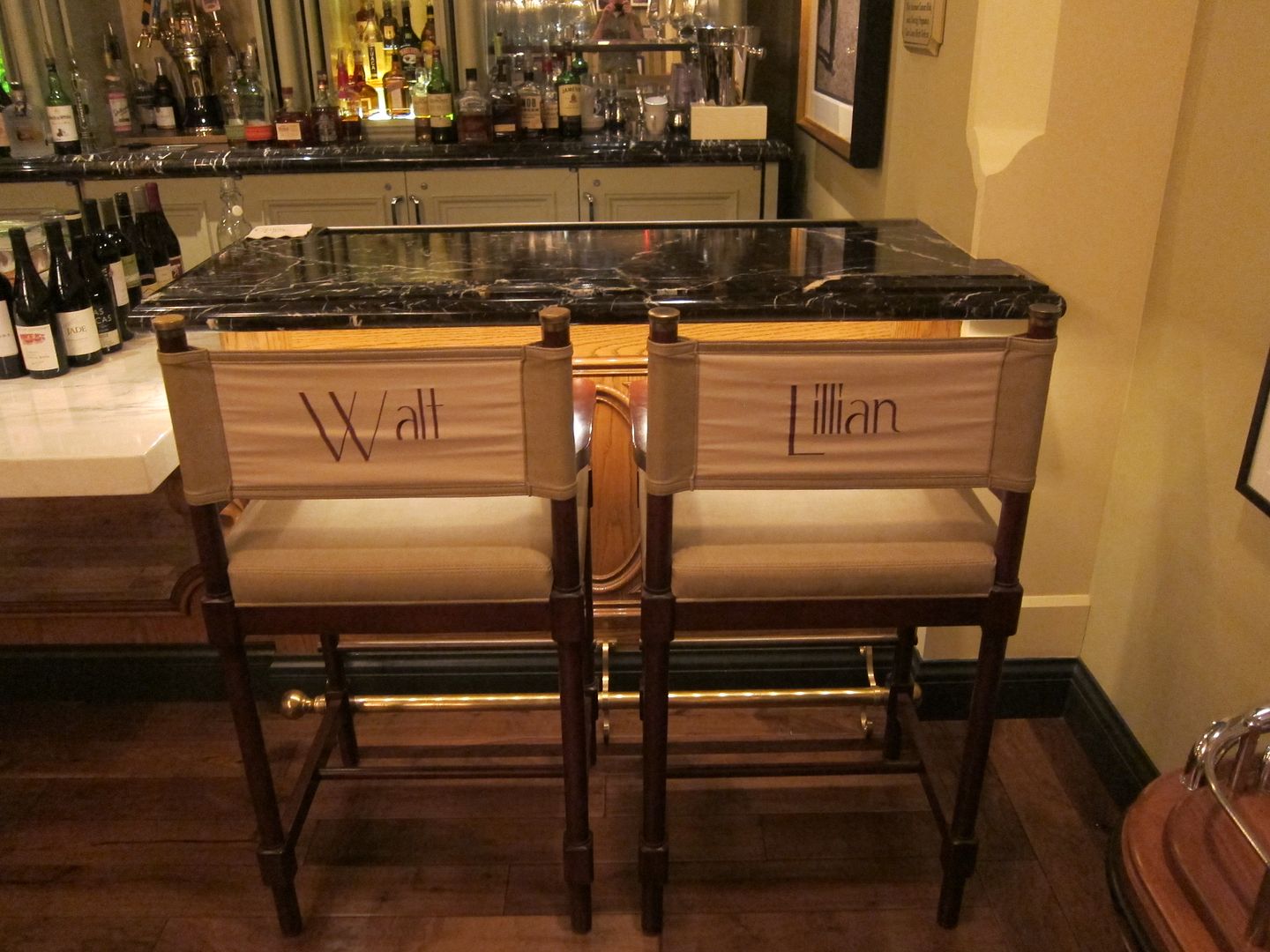 The bar looked very well-stocked.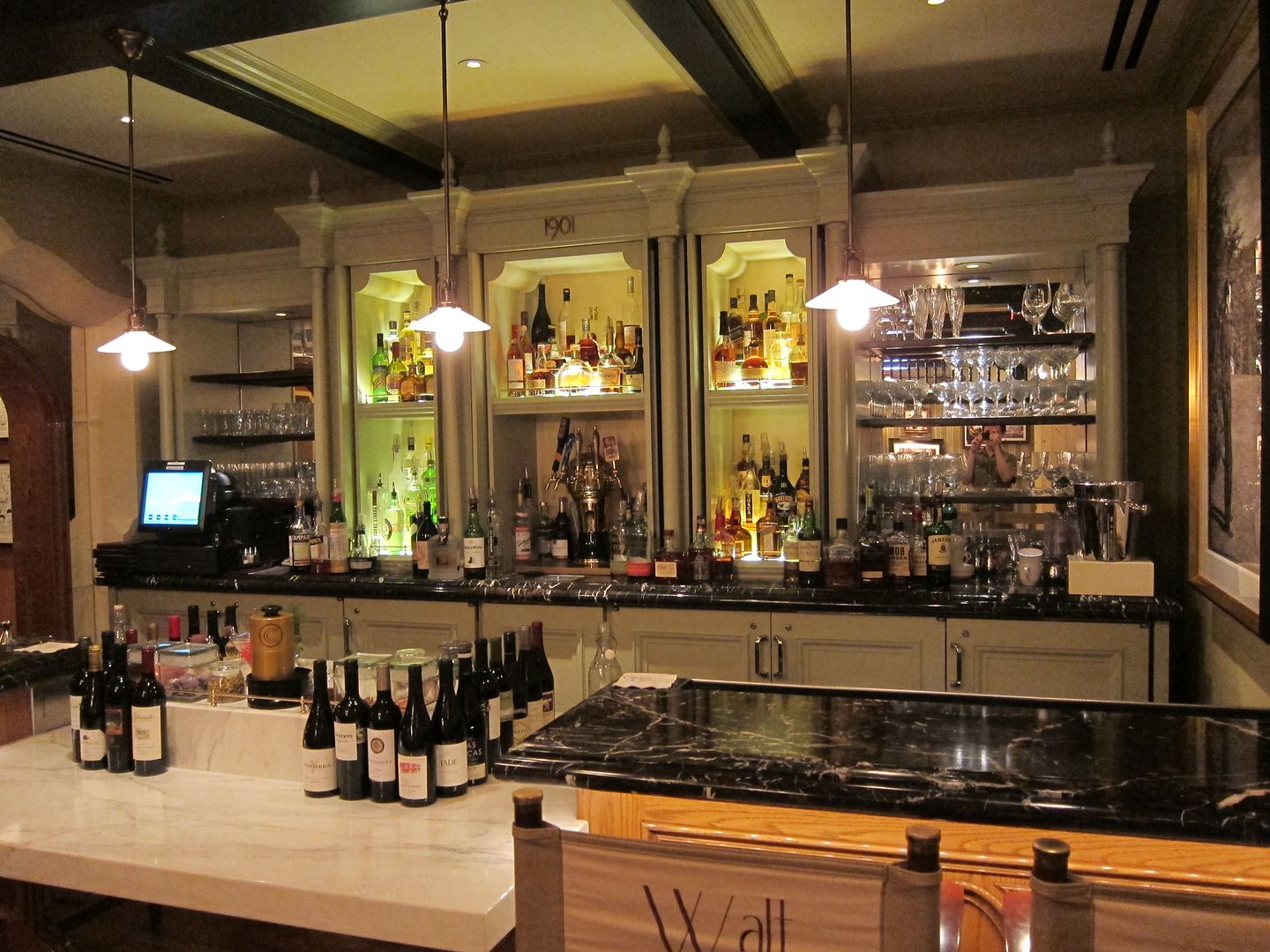 This is a picture of the area we had been sitting in after we vacated it.
Here's another look at those bookshelves.
As we all got up to leave after another half-hour or so, we gathered for a group picture.
We didn't want to leave, not knowing when (or if) we'd ever be back here. I found myself turning every which way, trying to take everything in and snapping several more pictures.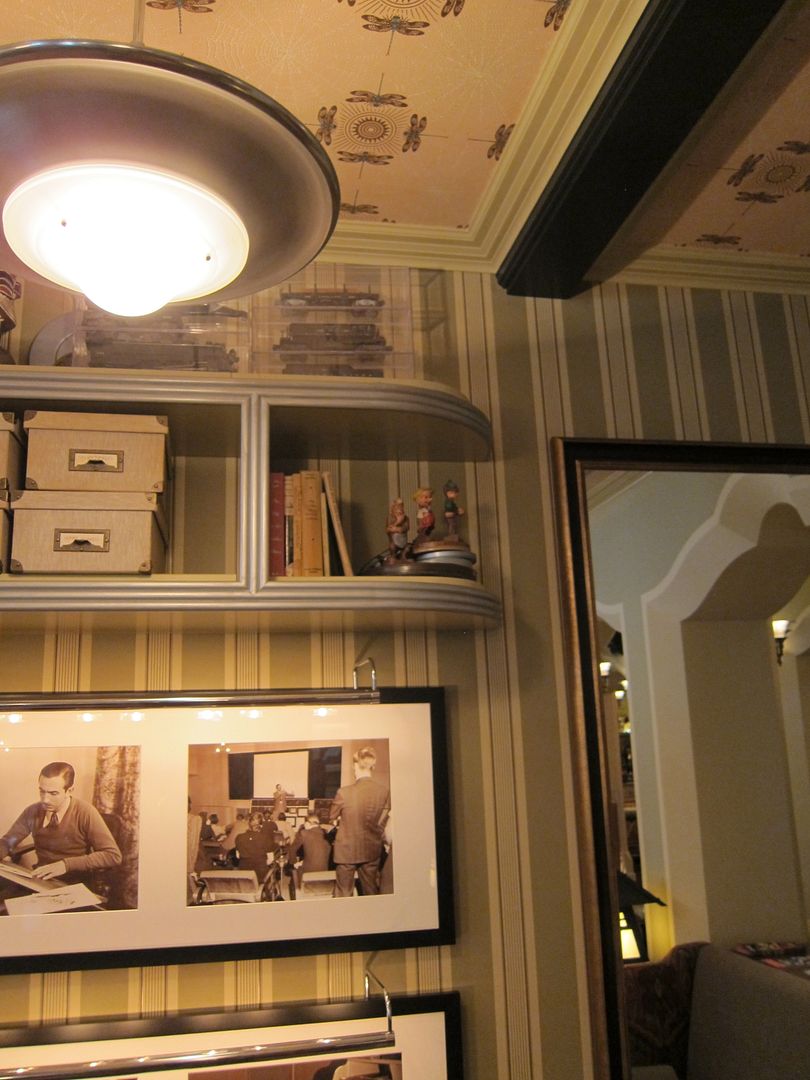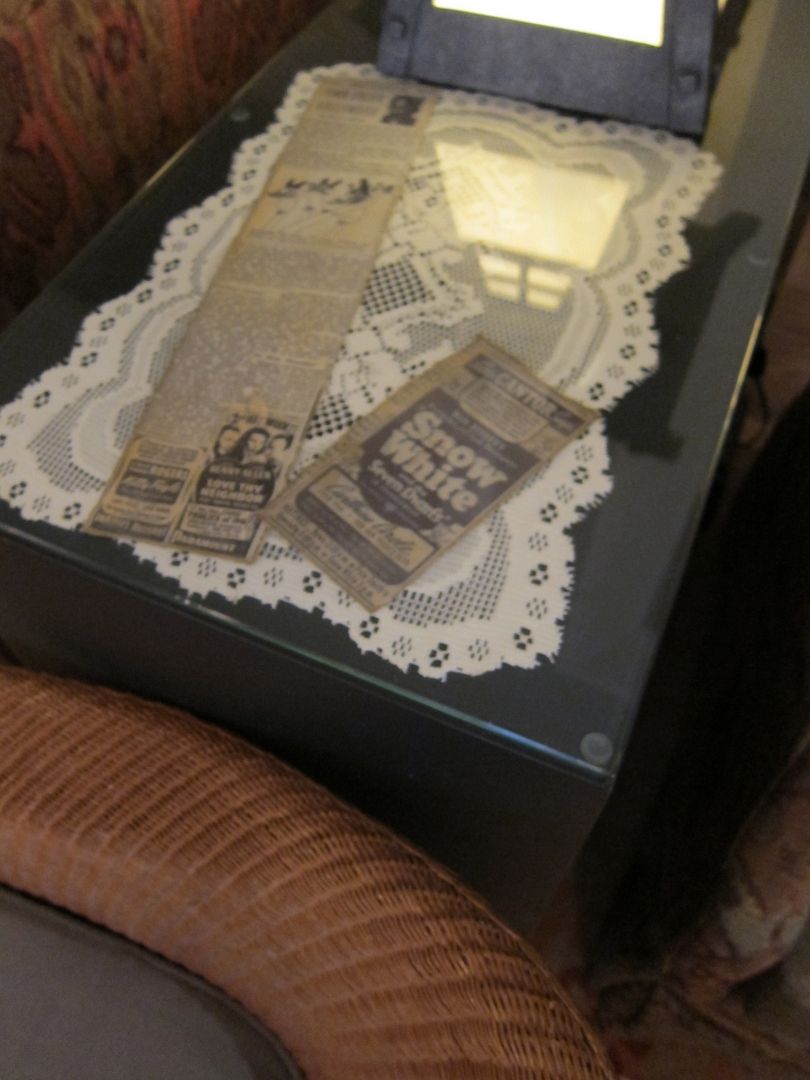 We LOVED this parrot Tiffany lamp where you can also charge your phone.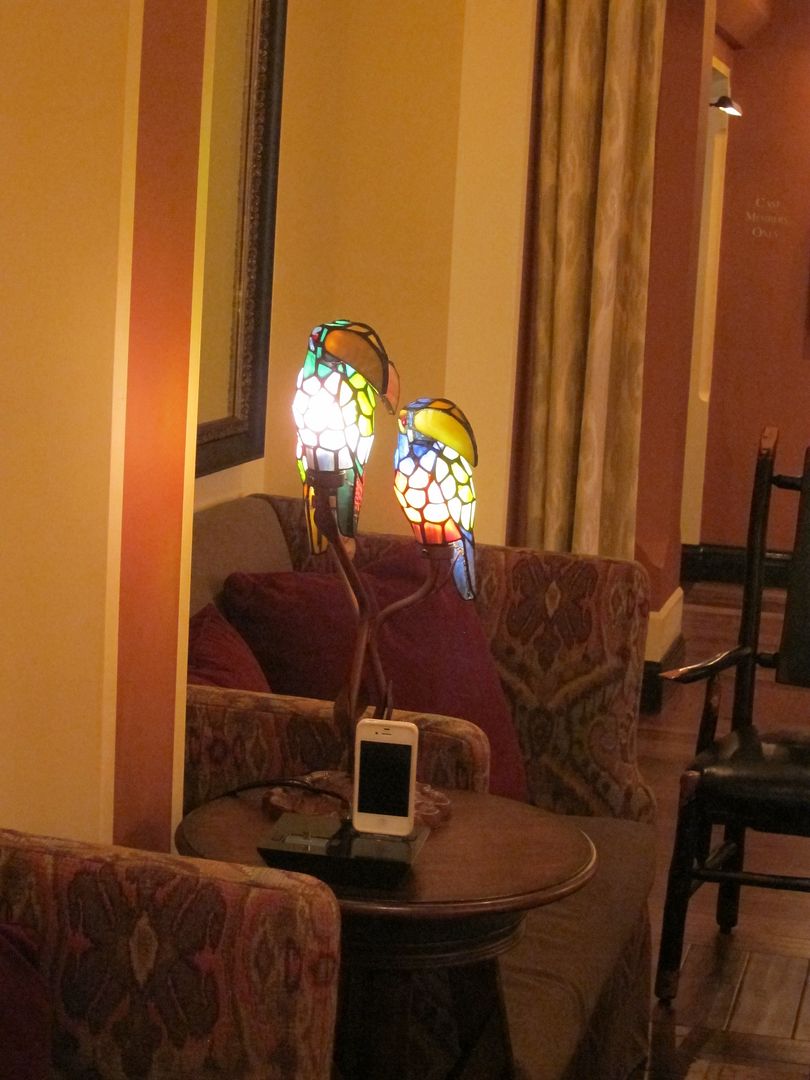 Unfortunately, it was eventually time to go. Jason hurried out ahead of us and took pictures of us exiting (further proof that we were, in fact, there!)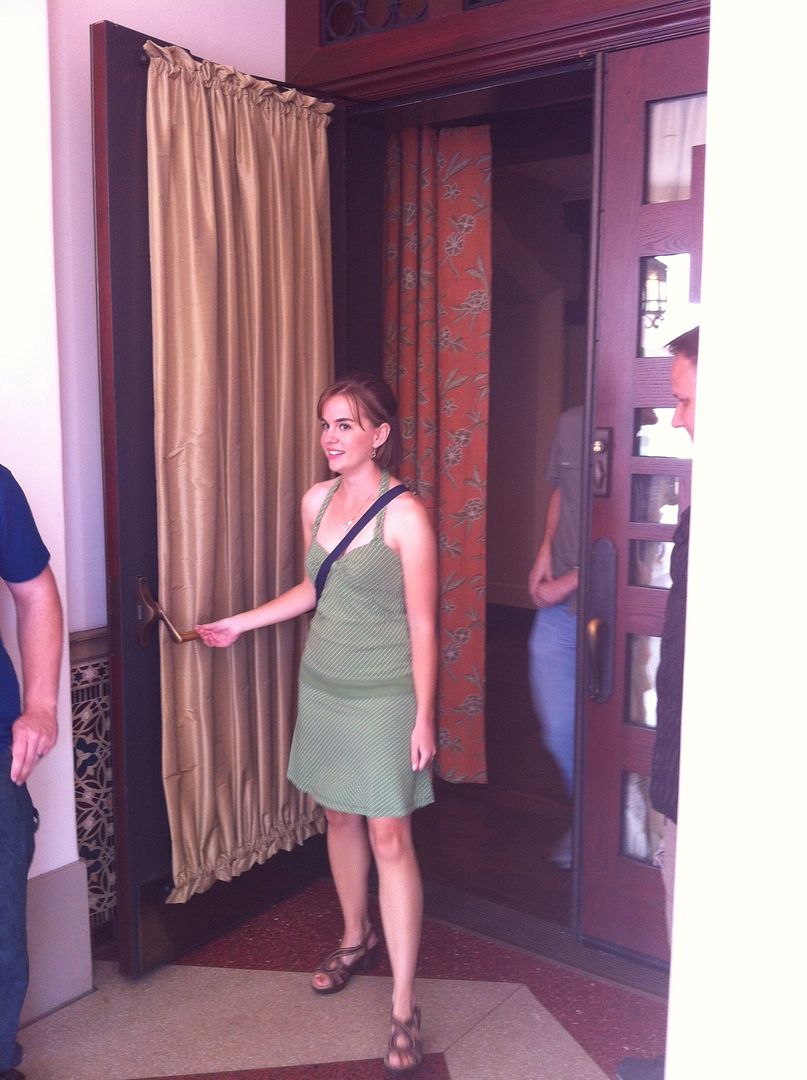 As we got ready to part company, Jason presented Tracy with her other prize from the contest—the $25 Disney gift card—but the value of that paled in comparison to the experience we had just had. We thanked Jason profusely for including us in this amazing opportunity, and then we went our separate ways. The whole experience had been surreal, and we were so glad to have gotten to make new friends and spend the afternoon with them in this beautiful place.
Since Tracy and I so rarely look so dressed up for a trip to Disneyland, we stopped at the Storytellers statue before exiting DCA and had the photographer take our picture.
Then we headed out of the park and took the tram back to our car. It had felt like we were in 1901 for hours (and we had been, in fact), but at the same time, it had totally flown by. But our day at Disney was actually far from over. Tracy wanted to change into some more comfortable clothes in the car, and I needed to grab my hat and fanny pack, but then we were back on the tram headed toward more fun.
We went to Disneyland this time and took pictures in front of the train station.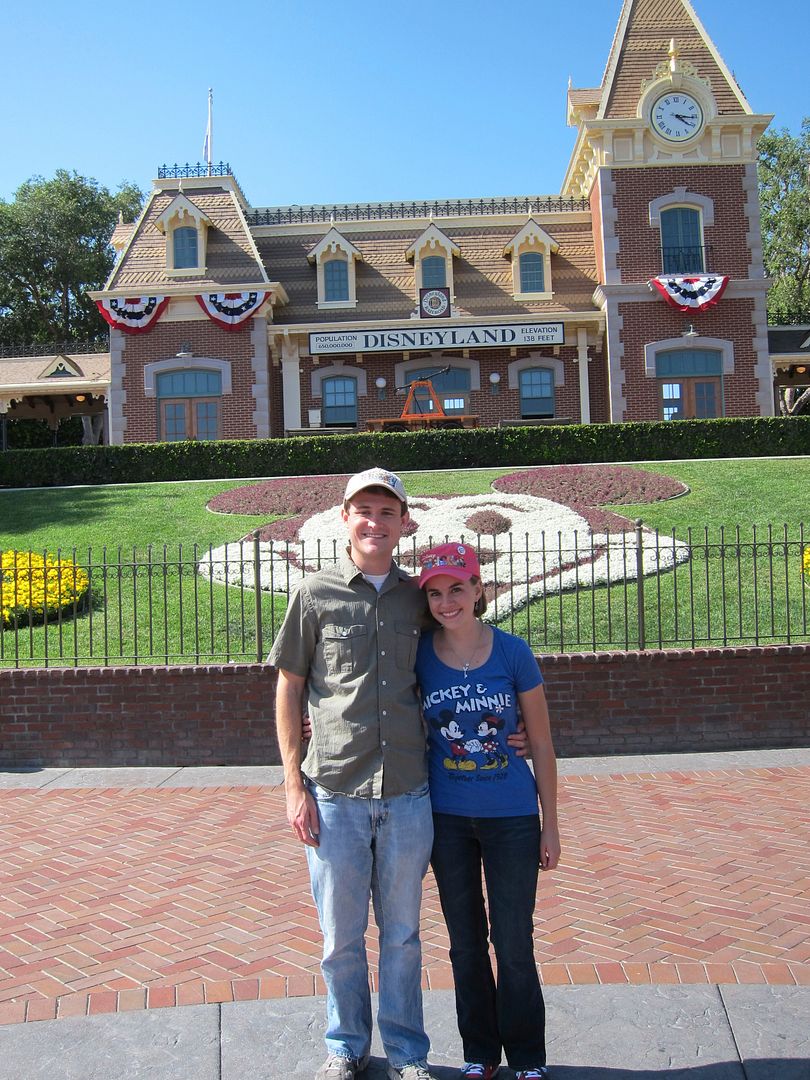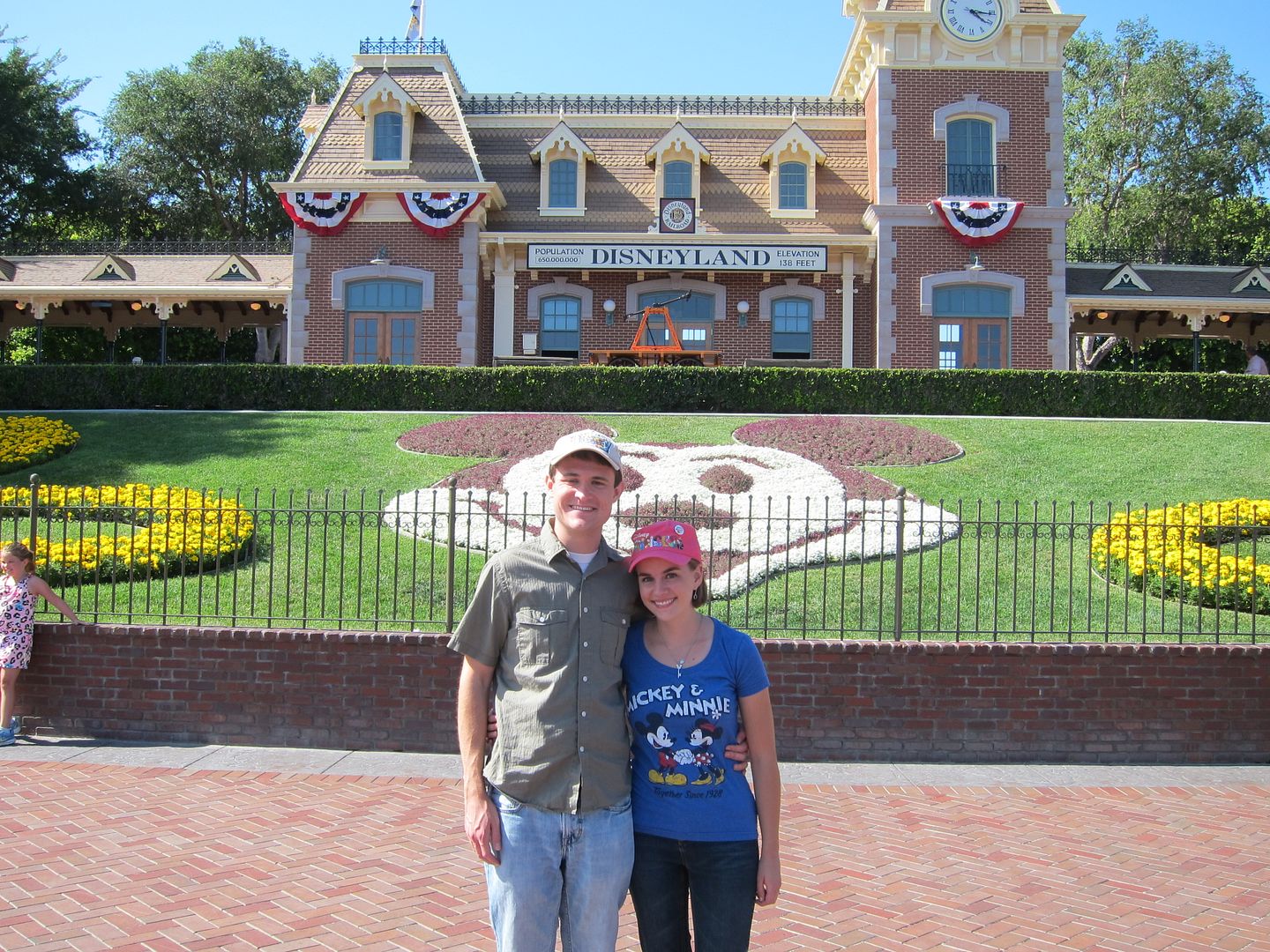 Previous Post | Next Post
Table of Contents
Follow



Share