Chapter 20
Waiting for Bears
---
Previous Post | Next Post
Table of Contents
We were left to face something of a quandary as we found our way out of Sitka National Historical Park. We were currently right next to the Alaska Raptor Center—another attraction we'd read was certainly worth a visit—but we were also starting to get really hungry for lunch. We didn't think we could put off eating until after we'd toured the Raptor Center, but the nearest restaurants were across town and along the main strip.
Against our better judgment, we decided to head back into town so that we could grab a bite. The walk felt much longer this time, and our feet quickly started to ache (even though it didn't look like the two sides of town were that far from each other on the map, our Fitbits told us that we had already well exceeded 10,000 steps on the day—and it was barely noon!).
We walked along the other side of the street this time, and the journey included this little boardwalk.
Here was the view as we started getting closer to town.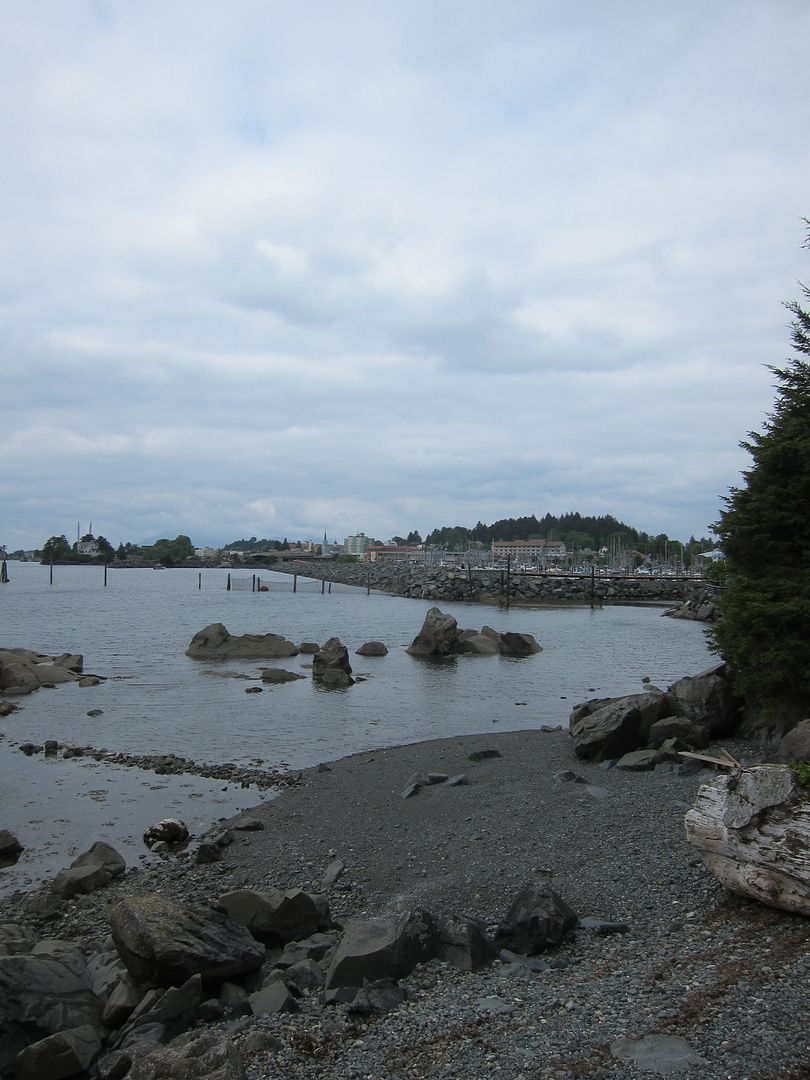 I liked this little statue.
Finally winding our way back toward Lincoln Street, we started to see a few sights that were familiar by now.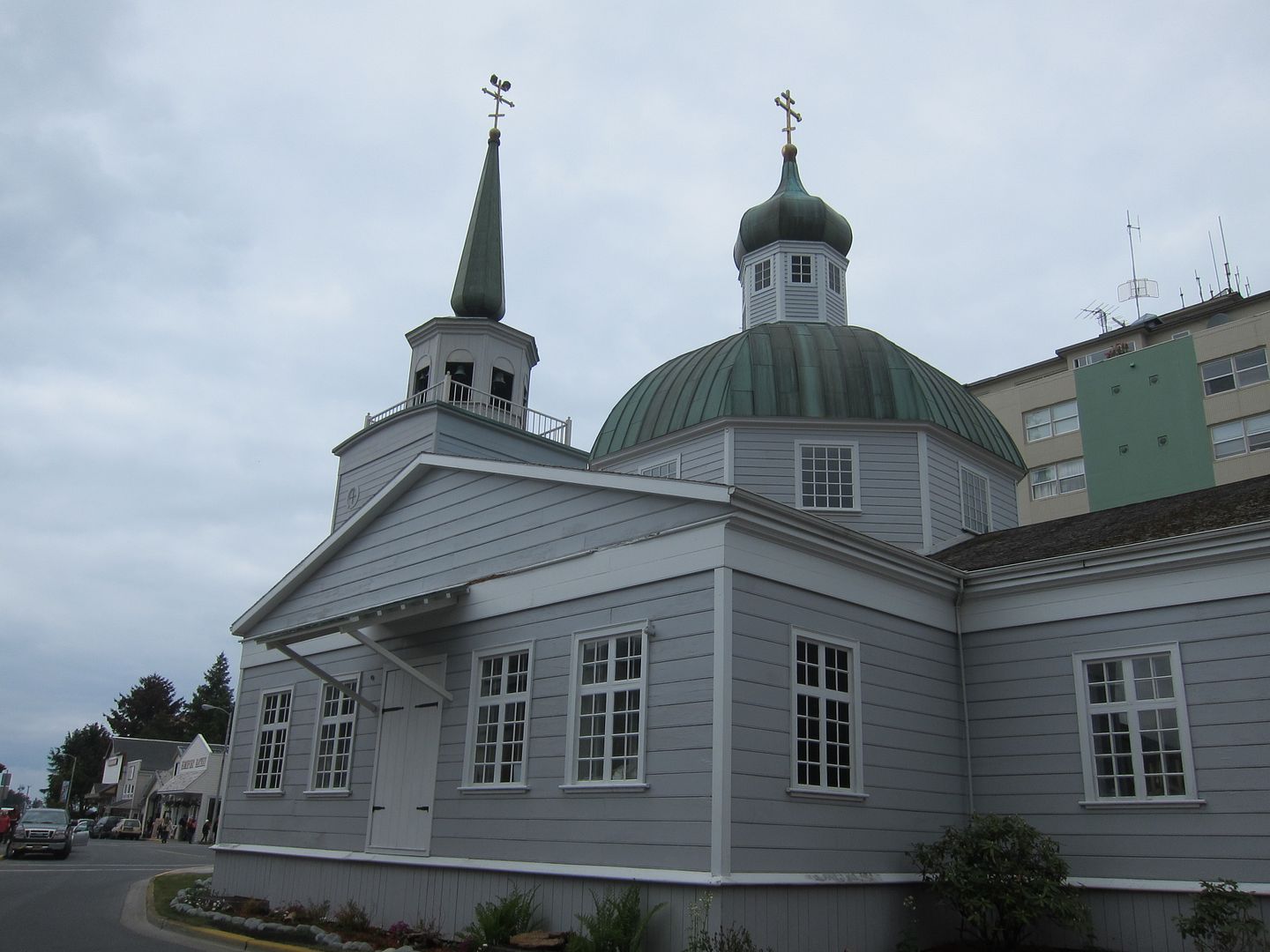 Now, Sitka doesn't have very many restaurants (not too surprisingly). We had read somewhere that one of the recommended foods to try here was reindeer bratwurst, but we felt too sad at the prospect of eating Rudolph, so we decided to pass. Instead, we actually ended up heading back to the Homeport Eatery—where we'd had our morning coffee—to grab a quick bite.
We ordered an Italian panini (the paninis here were HUGE!) and decided to split a locally-brewed root beer because it sounded delicious—and it was!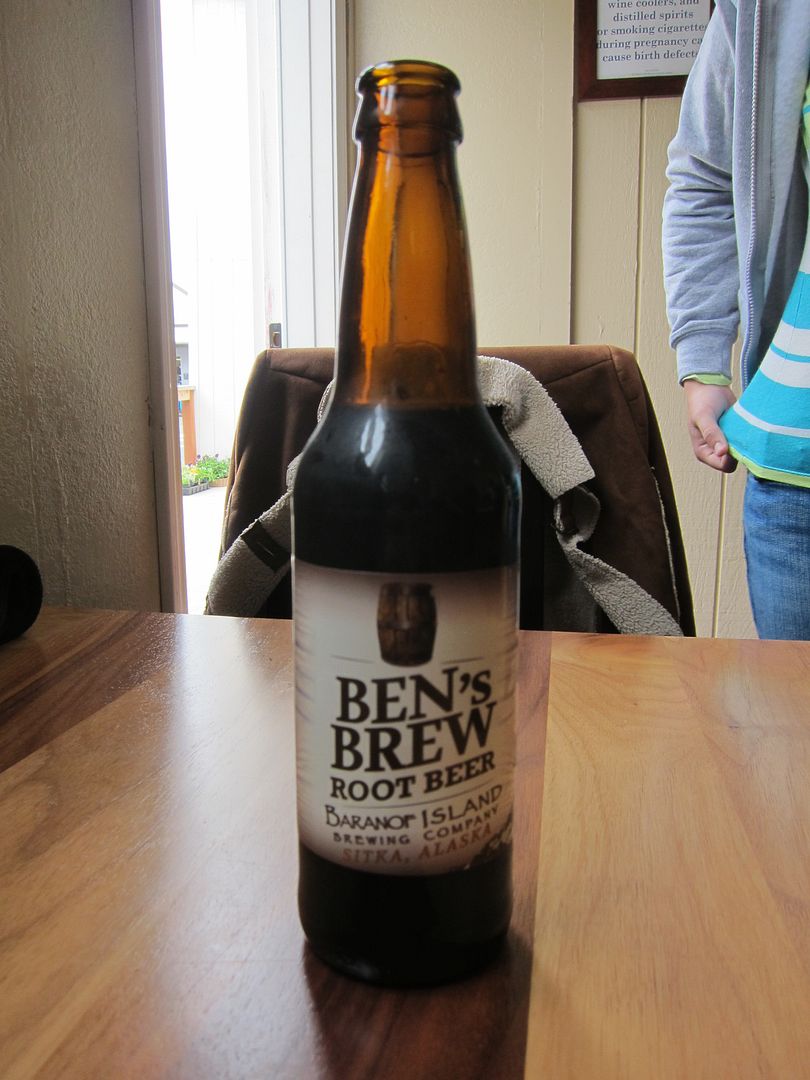 While we ate, we debated what to do next. A visit to the Raptor Center sounded like a great experience (this is the rehab center for all of Alaska, and they work on getting injured eagles, hawks, owls, and other animals back out into the wild). Unfortunately, it would require us to trek back across town. We also had already seen one bald eagle and had a whole excursion devoted to seeing them in another port, so we didn't know if this would be the best use of our time.
Another major attraction we'd read/heard about was the Fortress of the Bear. This was another animal sanctuary, only this one housed grizzly bears who couldn't survive on their own in the wild. It was even supposed to have a few cubs. We knew this would probably be our only chance to see bears on this trip since it was so early in the season, but the attraction was five miles outside of town, and we didn't know the best way to get there.
We had basically decided to try to make the Fortress of the Bear work out by the time we left the restaurant.
We wandered back over to Harrigan Centennial Hall to ask about our transportation options at the information booth.
The gal who was working told us that there is shuttle that goes from the center of town out to the Fortress of the Bear every half-hour, but she didn't know the exact time it would show up next. She pointed us in the right general direction and we went outside to wait.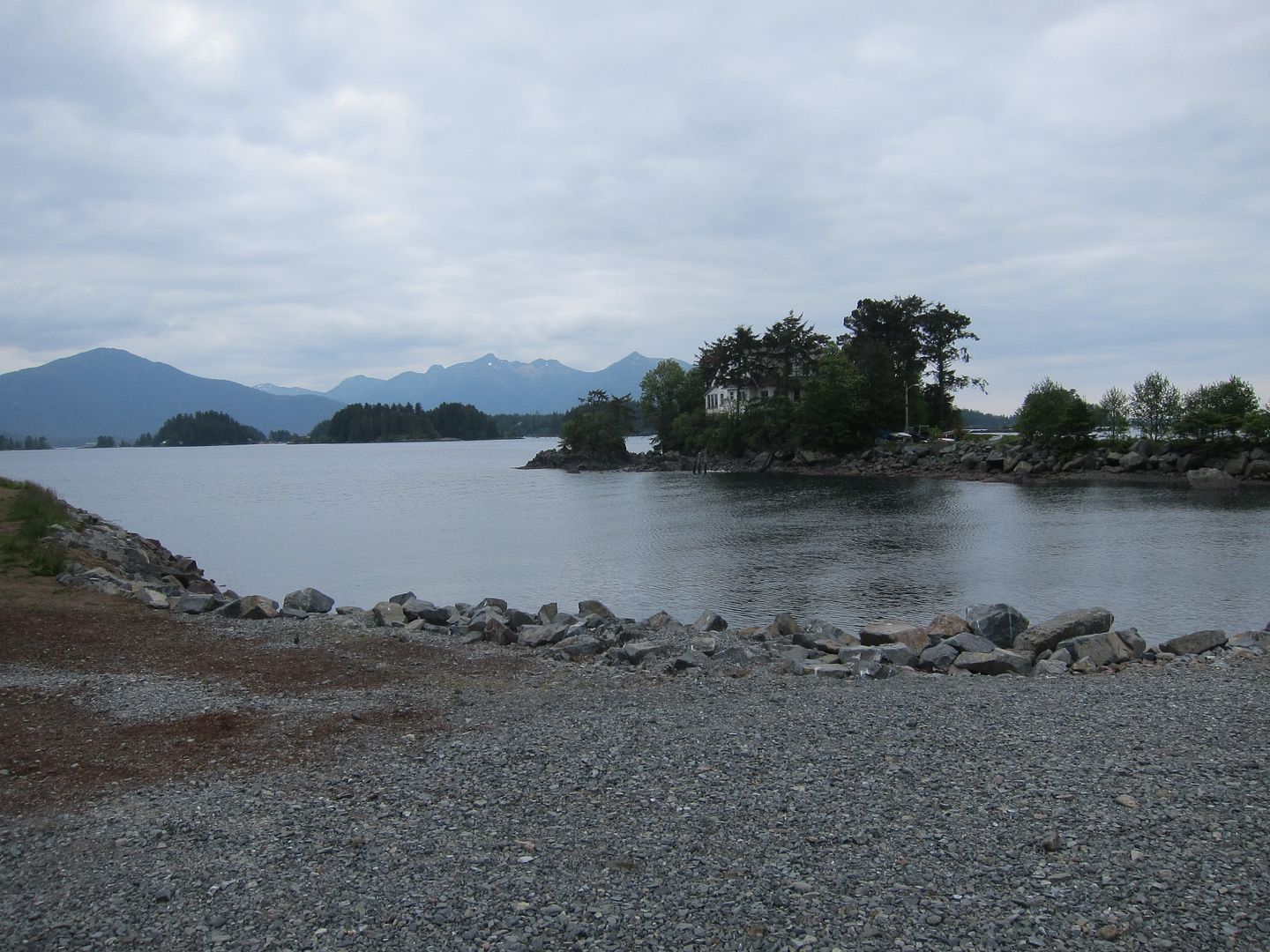 We waited.
And waited.
And waited some more.
To kill time while we waited, we poked our heads into a few shops right around the center of town, making sure not to wander off far enough that we'd miss the shuttle.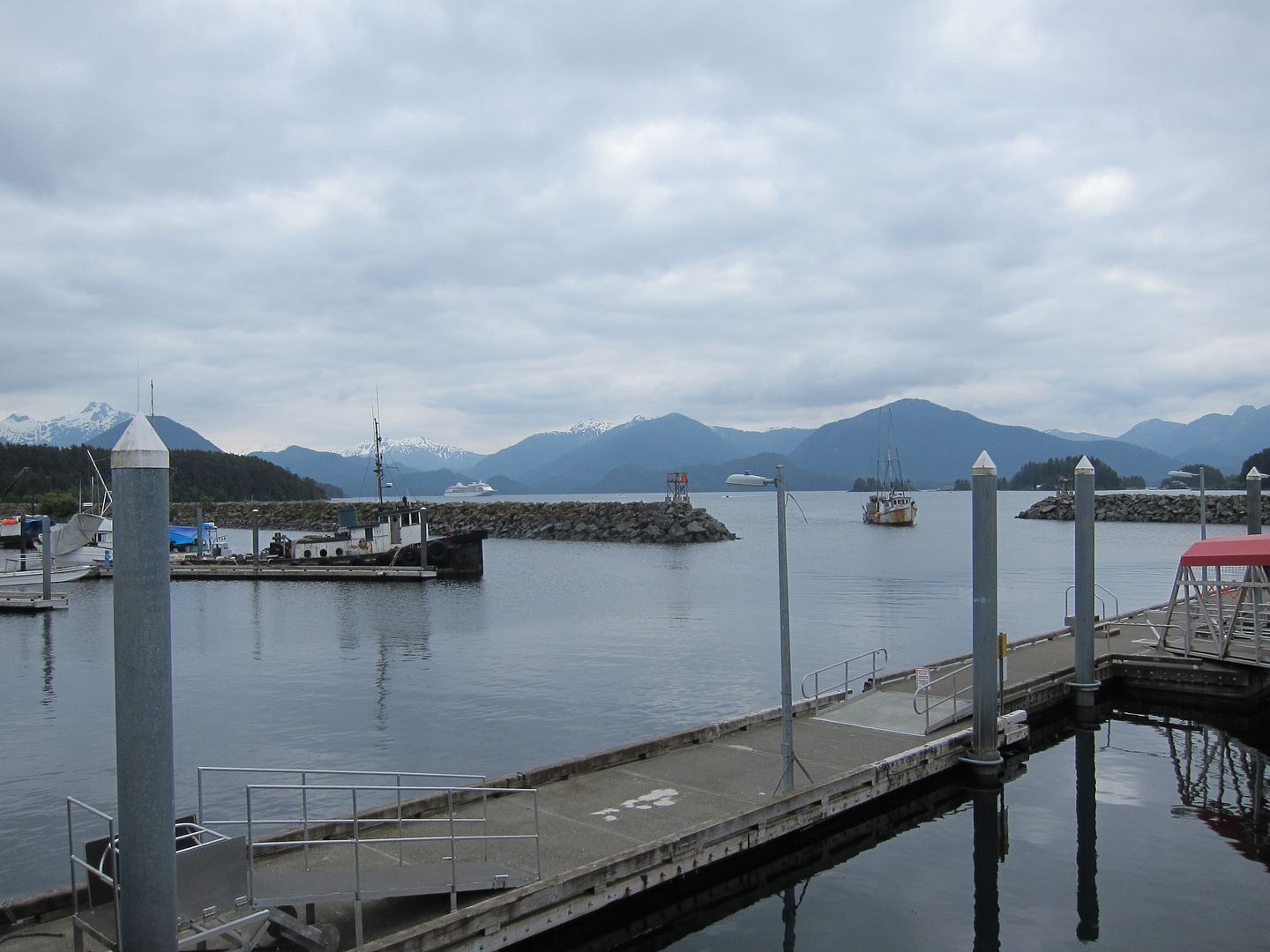 At one point, we bought some fudge at a local store. At another, we went into Harrigan Centennial Hall and sat for a few minutes inside the theatre where they host dance performances by the New Archangel Dancers—a local dance troupe that performs Russian and Ukrainian dances. Their performance is at noon each day, so they were already done for the afternoon.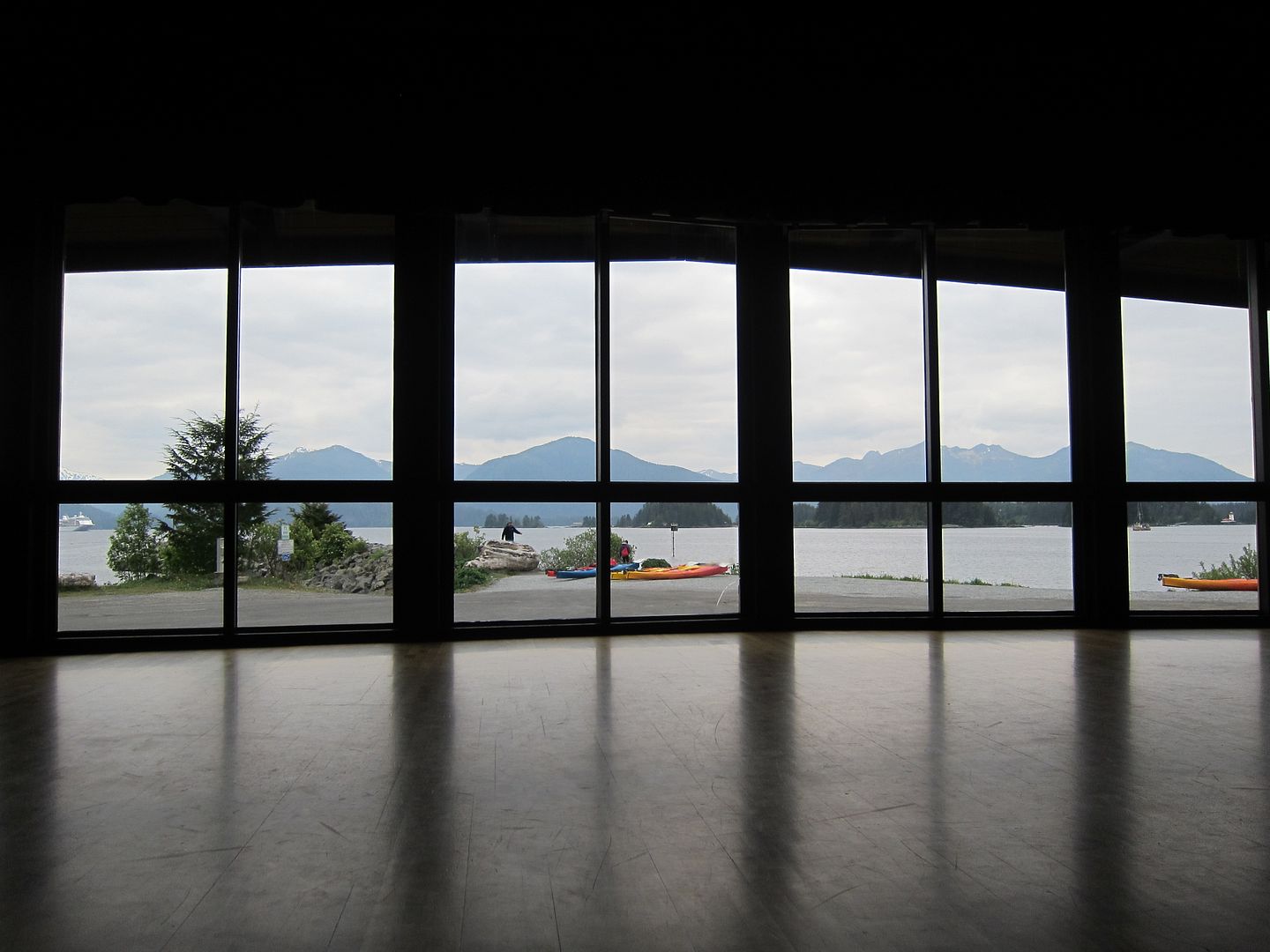 Finally, more than an hour had passed, and we'd seen no sign of any shuttle. We went back to the information desk and asked the lady if she had a phone number for the Fortress. Luckily, there was also a courtesy phone at Harrigan Centennial Hall—essential because we had no cell service on Verizon.
When I spoke to the man at the attraction, he said that the last shuttle had just left for the day (apparently two shuttles had supposedly come and gone during our hour of waiting??). Our only option if we wanted to make it out there still was to take a cab, but that would cost us about $40 each way. We wanted to see bears… but not that badly.
There were still a few hours left before "all aboard," and we technically could have still walked out to the Raptor Center, but by now we were feeling pretty exhausted, and we really didn't think we could handle another mile-long walk in each direction. After a lot of hemming and hawing, we decided we'd just head back to the ship and take a dip in the hot tub before dinner.
We didn't have to wait long at all for a shuttle bus back to the Wonder (a nice change after our hour-plus of sitting and anticipating a bus that would never come), and our vessel was soon in our sight once again.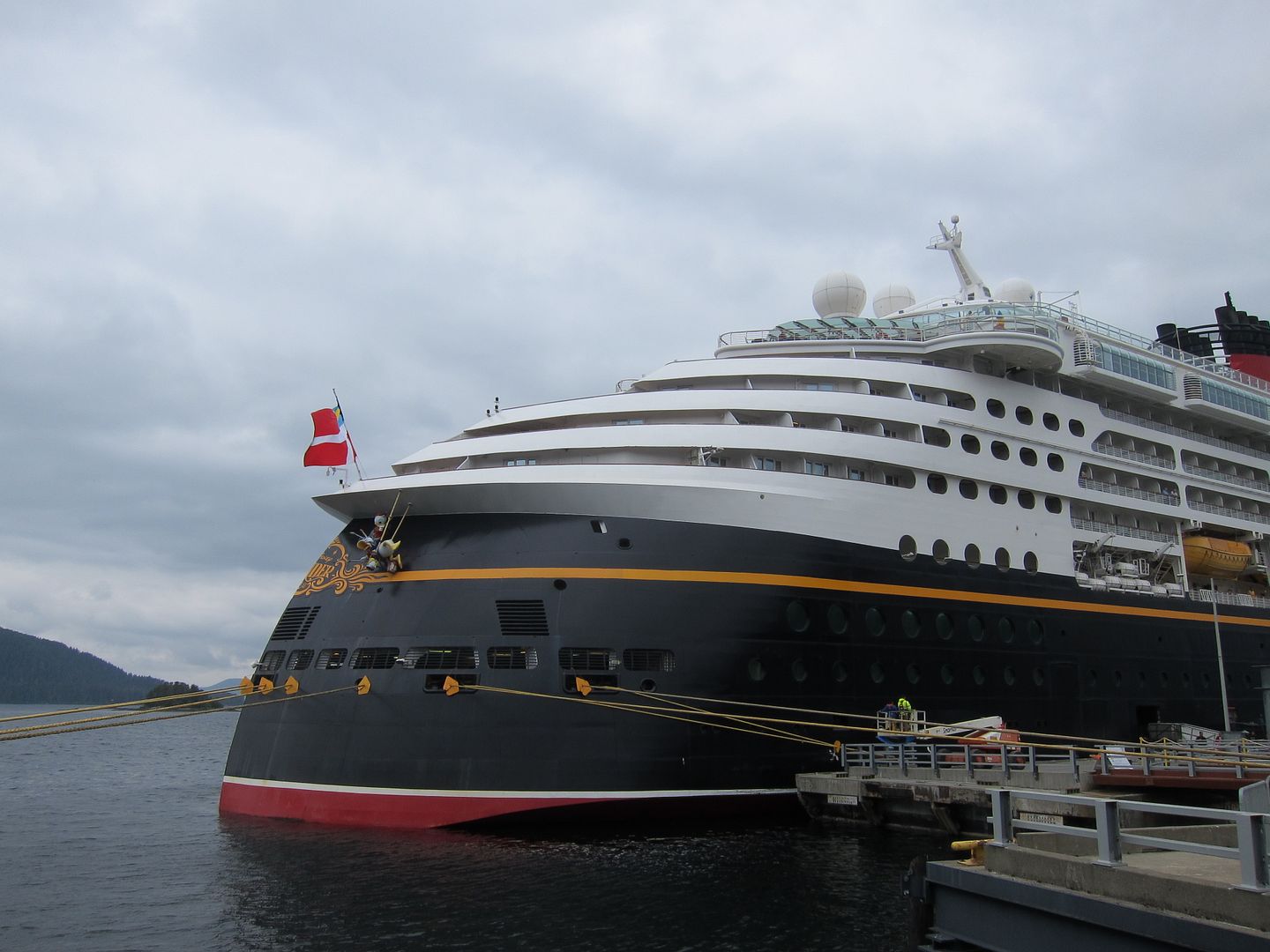 The process of getting back on board after a day in port was new to us, but it was pretty simple. Just a quick walk through the metal detector and a scan of our Keys to the World, and we were back "home."
Even if we hadn't gotten to do everything we might have hoped, Sitka was still a great little port. Our cruise was the first time Disney had ever sailed there—so we felt like we were in some sort of special club—and I hope that the majority of guests enjoyed it enough that it will become more of a regular stop in the future.
Chock full of history and featuring such incredible views, we already found ourselves saying that we hoped we could return to Sitka someday. For now, though, we were excited to be back aboard the ship so our Alaskan adventure could continue.
Previous Post | Next Post
Table of Contents
Support the Wandering Mouseketeers and get yourself a little something! Do your online shopping via our Amazon link!
Follow



Share