Chapter 9
Meat Under the Stars
---
I mentioned in the last update that we were heading over to the Disneyland Hotel for dinner.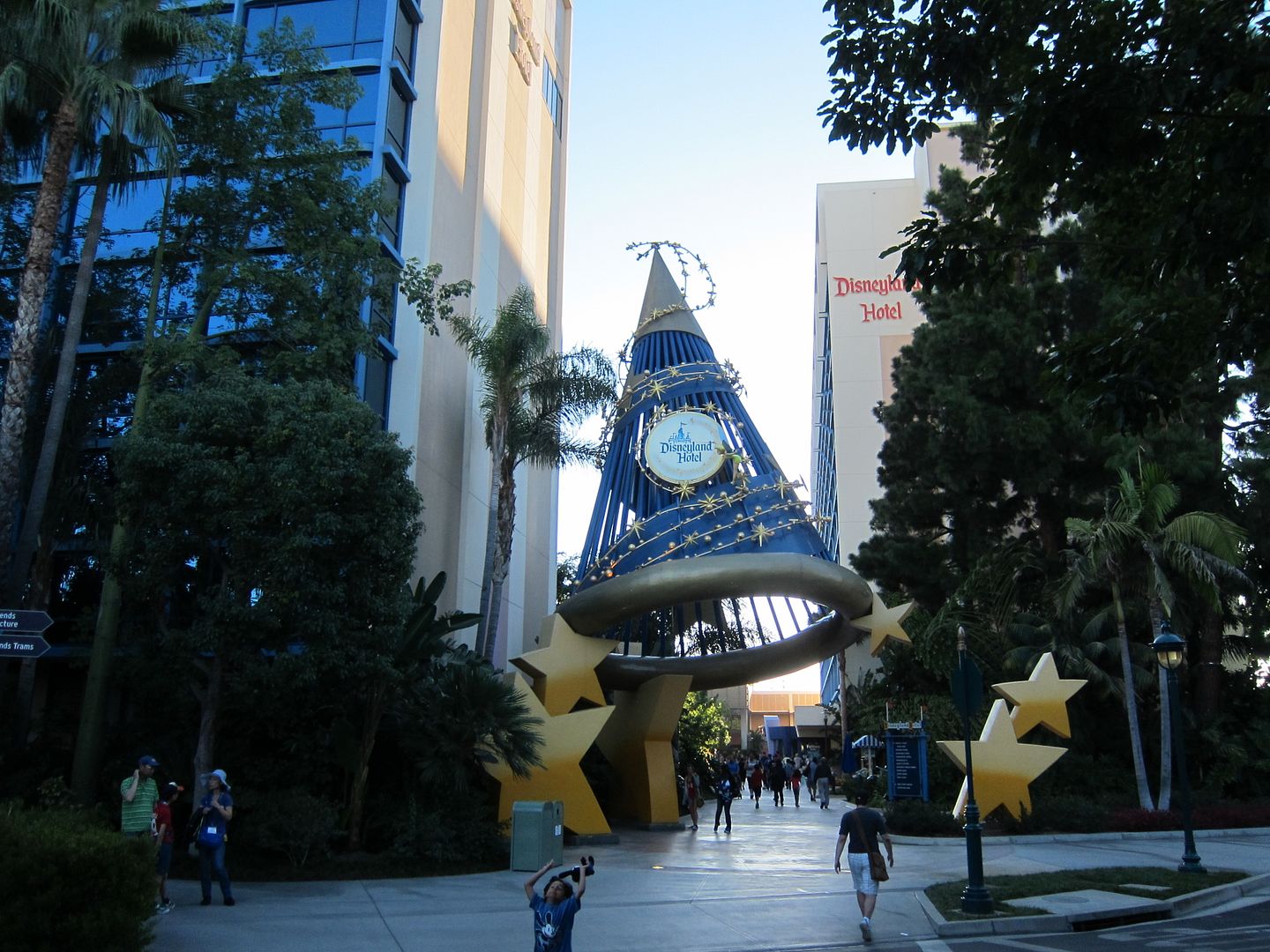 Though I'm not 100-percent sure, I think we rode the Monorail over and then made the quick jaunt across the far side of Downtown Disney.
We had a reservation at one of the few remaining on-property restaurants we'd never tried—Steakhouse 55 (after all, this was our last restaurant of the trip on the CoolTech dime, so we figured we'd go big).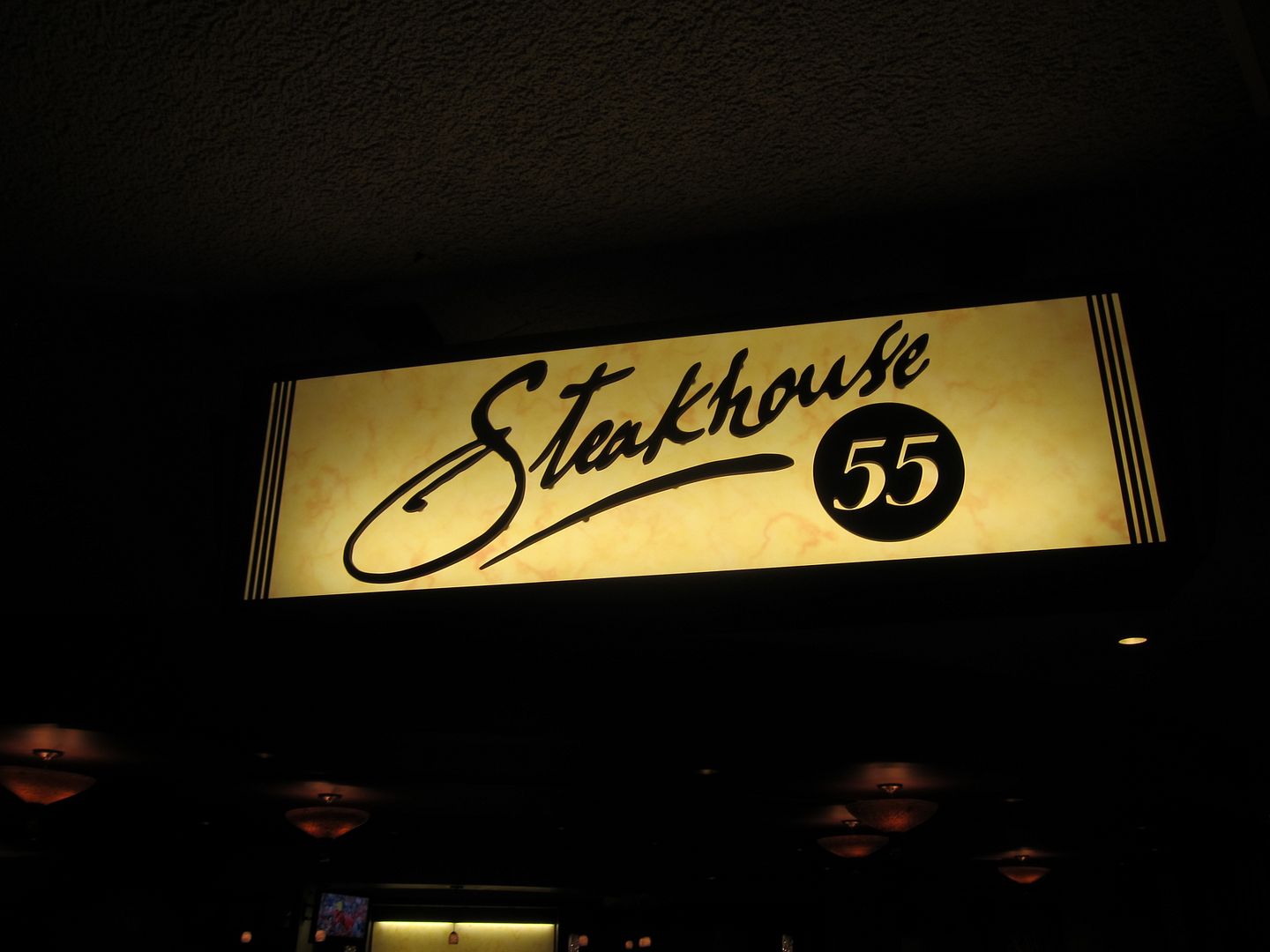 Honestly, the entrance to the restaurant wasn't really what I was expecting with its lounge opening out to the lobby of the tower.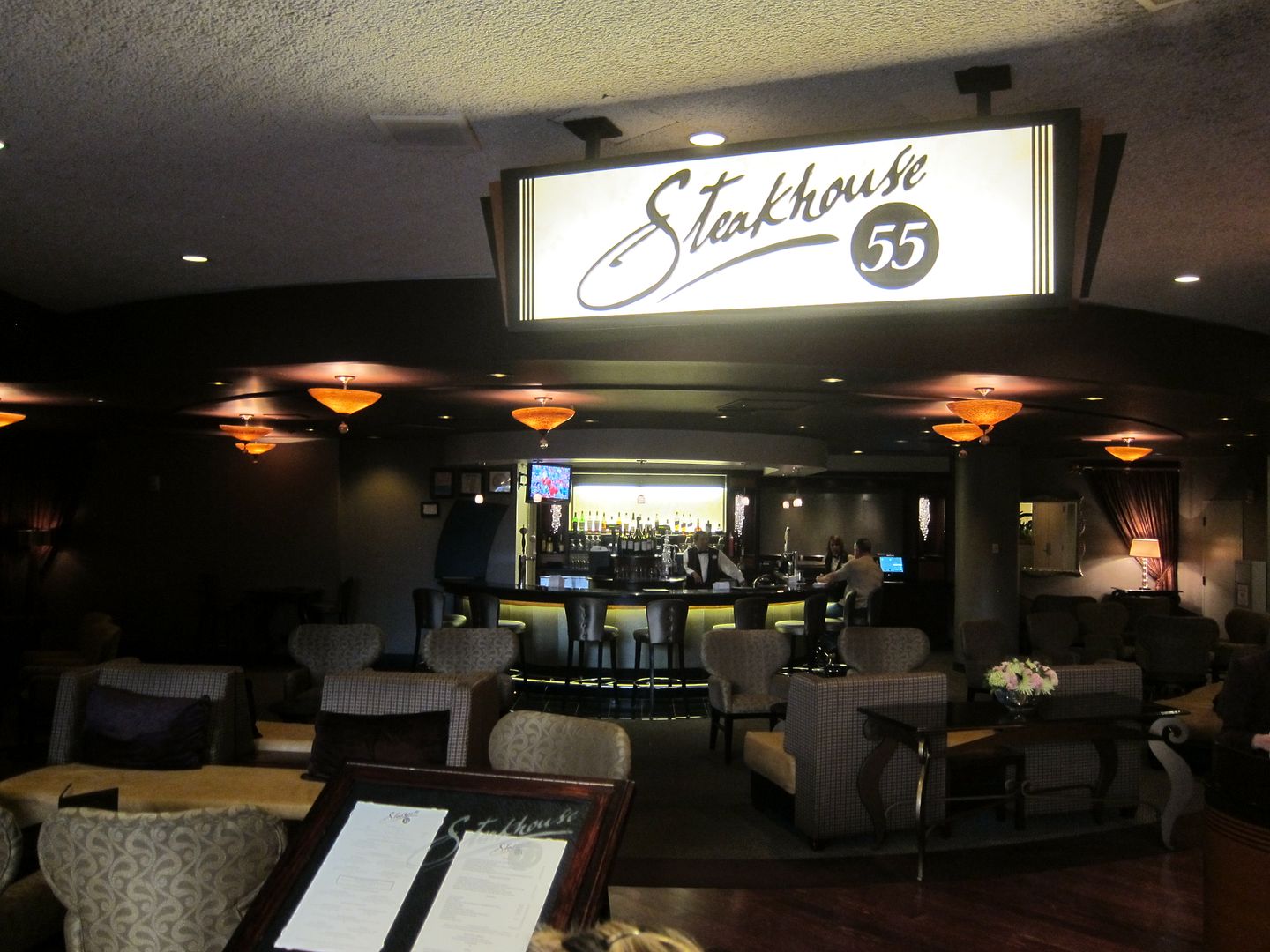 We were able to get seated almost right away, and I snapped this quick picture of one of the Walt photos on the wall as I passed.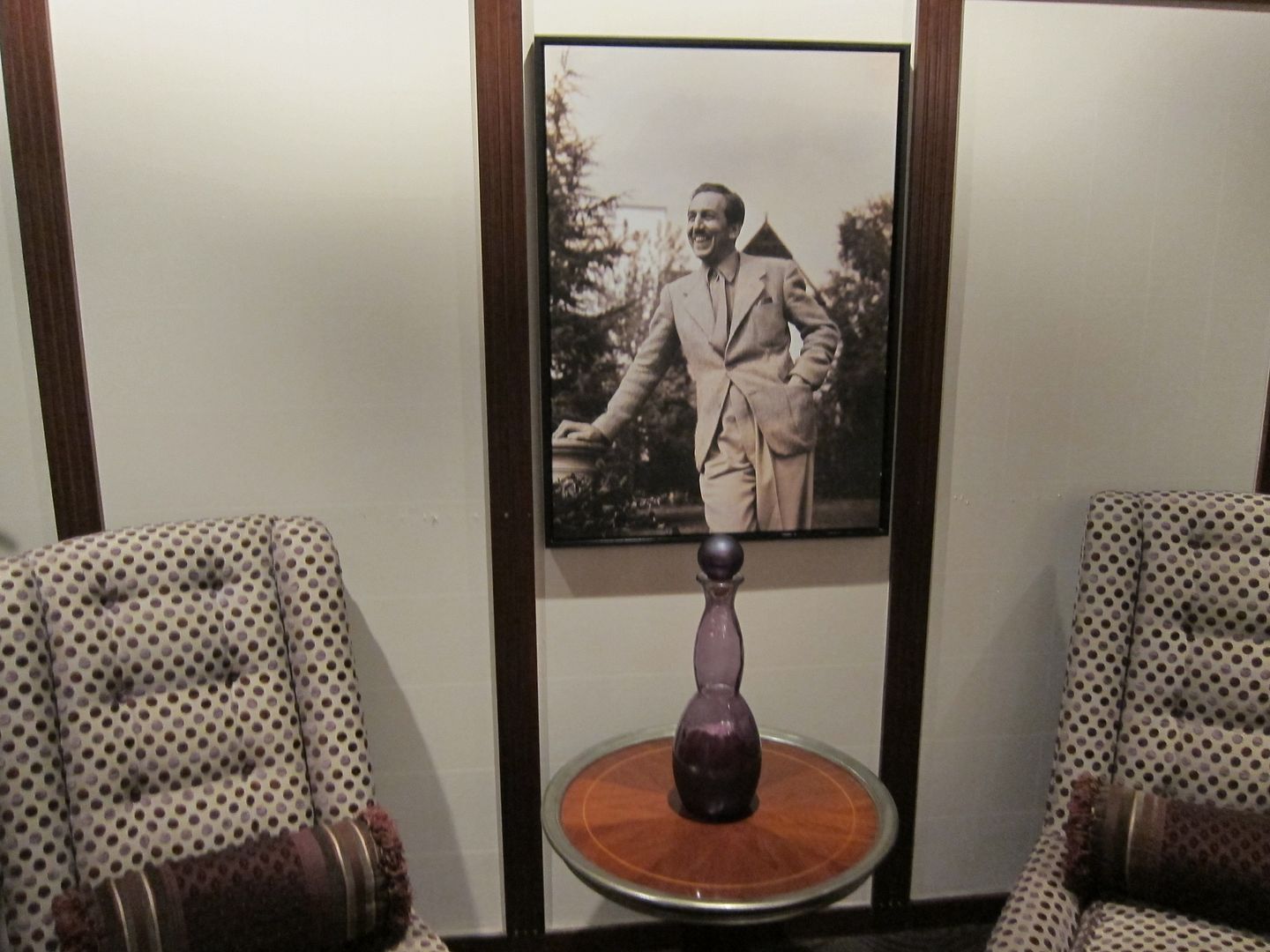 We were seated in one of the first rooms as you come in. It basically felt like a private table for a while because we didn't have another party next to us at first, and the restaurant is very good at dampening noise. As a frame of reference for those who have been before, we were seated beneath Marilyn Monroe and Joe DiMaggio.
Here's the menu (which I'm sure isn't exactly readable).
Our server quickly brought us out some bread, which we really appreciated because we were starving.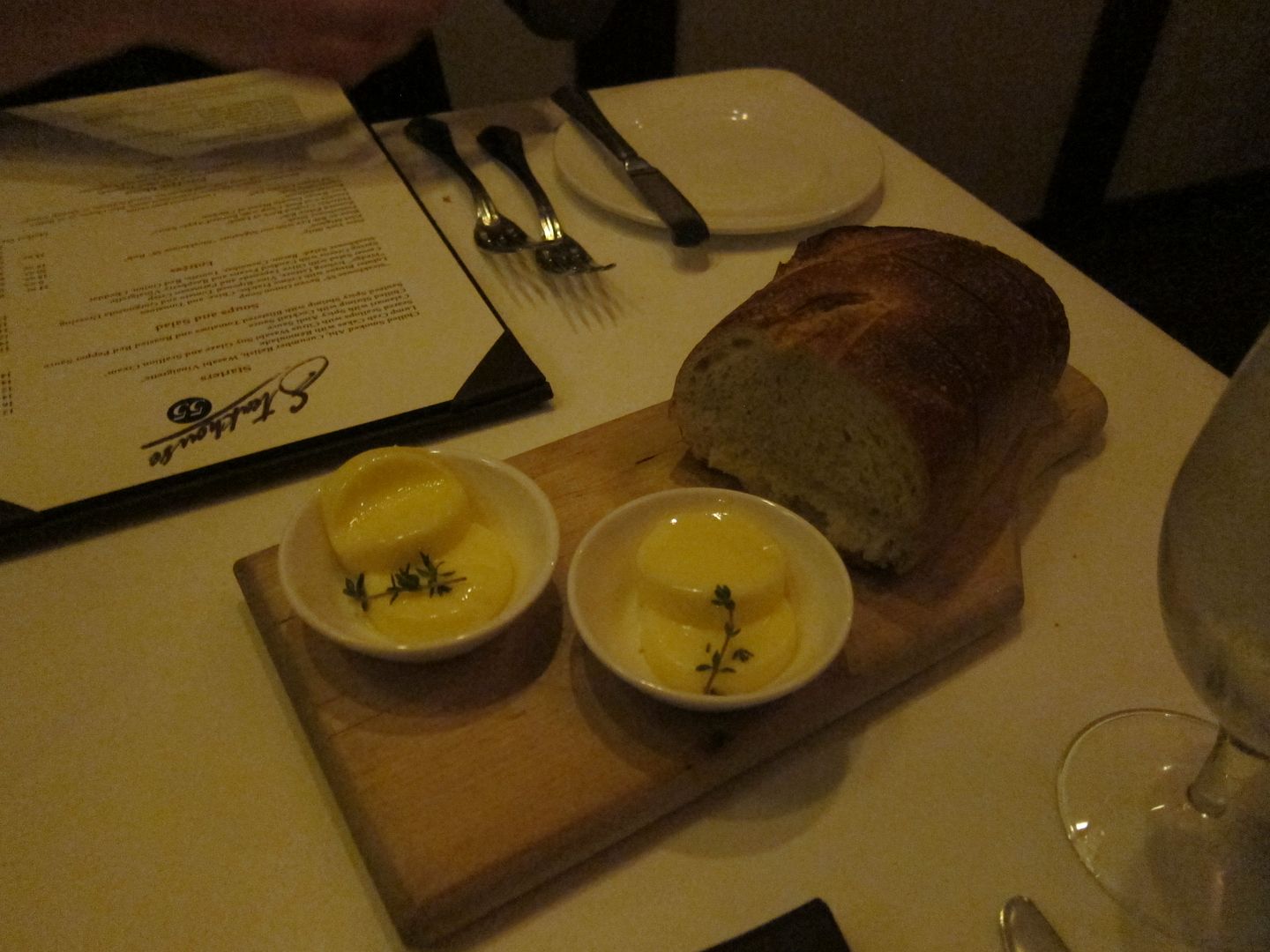 It's not scary at all to see Tracy wielding one of the giant steak knives…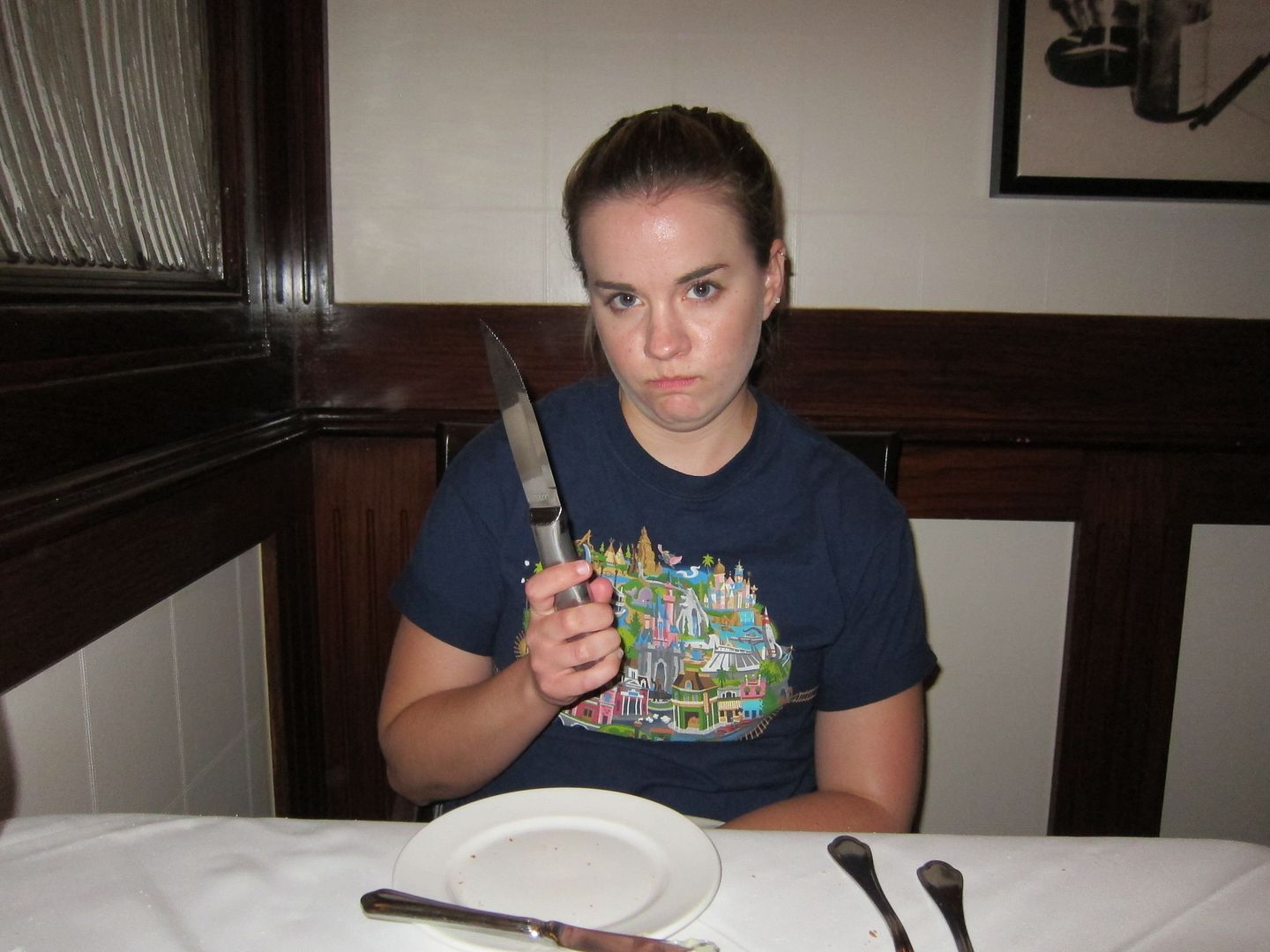 After much debate (mostly because everything sounded so delicious), we decided on what were were going to get. We ended up pulling out Yelp and Foursquare to look at the most highly recommended dishes and saw that the Roasted Prime Rib had garnered lots of praise. So we decided to split that and also added on the Seared Scallops as a side for $10 more.
Our food came out pre-split (for a $5 upcharge), and it looked delicious.
This was probably one of my favorite pieces of meat that I've ever eaten. It was perfectly done, and both the horseradish and the au jus that came along with the meal were delicious. The scallops were also an excellent choice for a side. Since scallops are so rich, they really went a long way even though we only got one each.
Both Tracy and I completely cleaned our plates before too long, and we were left basking in the afterglow of a delicious entree when our server brought us a dessert menu. Now, we had been going back and forth about dessert, but when I was reminded that the 24-layer Chocolate Cake was on the bill of fare, I just couldn't say no.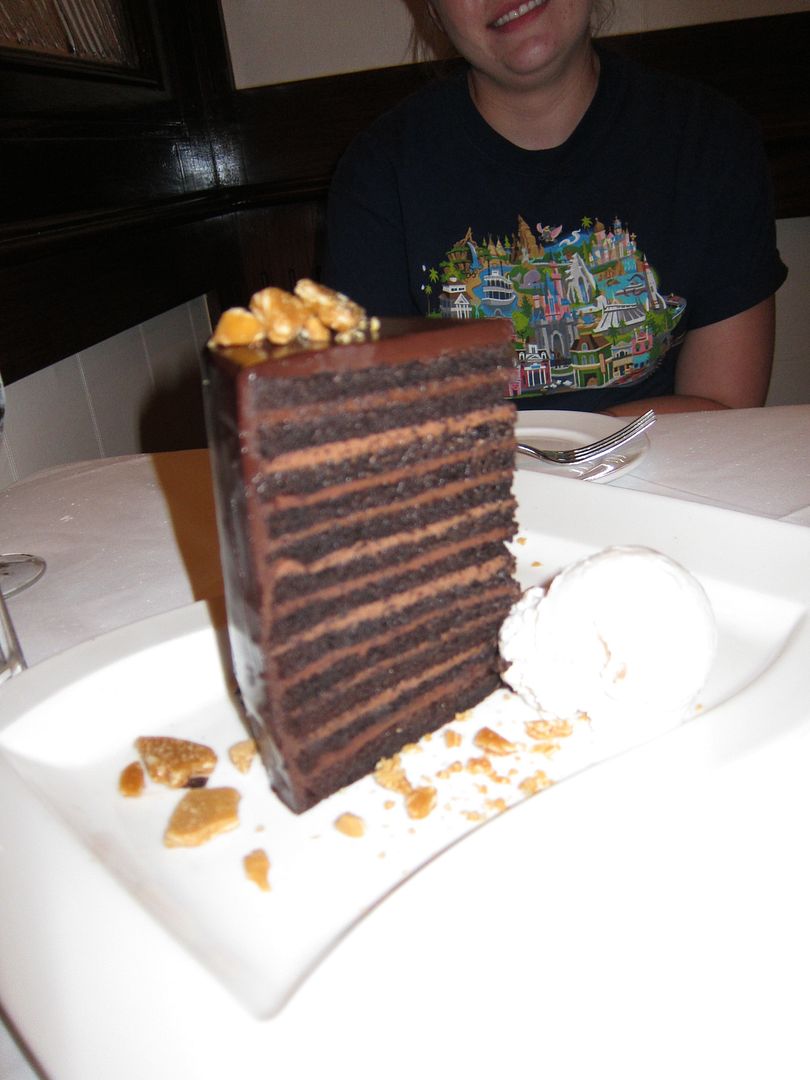 This monstrosity tasted easily as good as it looked. Between the different chocolatey fillings that separated all the layers of cake and the pieces of toffee that dotted the top of the slice and the surrounding plate, we were basically in heaven. I honestly wish I could say that we had the strength of stomach to finish the entire slice, but we were foiled about two-thirds of the way through when we realized we just couldn't physically eat anymore.
On the whole, our first visit to Steakhouse 55 was a rousing success, and we had a great time. On the way out, Tracy posed with the large photo of Uncle Walt by the restaurant entrance.
Overview of Steakhouse 55 Dining Experience
Service: We really liked our server. He was one of those cast members who can add a touch of elegance to the meal without making it feel stuffy. 5/5
Atmosphere: The restaurant exudes a lot of old-timey charm, and we liked our spot at first. About halfway through the meal, a family was seated next to us, and they were the sort that had their kids loudly play on the dual iPads while the adults ate. That is definitely a pet peeve of mine. If anyone is ever wondering about who the celebs of yore are in the pictures on the walls, apparently you can ask your server for a key that identifies everyone. 4.5/5
Food: Our entree, side, and dessert were all incredibly delicious. I think it paid off to research in advance what to get because we knew we were likely to end up with something great. 5/5
First Visit?: Yes
Will Return?: Definitely. It's a little expensive to pay for on our own, but we'd do it again for a special occasion sometime.



Share