May 29, 2014
Chapter 29
I Think We Can
---
Previous Post | Next Post
Table of Contents
It's Day Six, so here we have yet another Personal Navigator.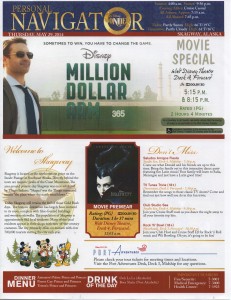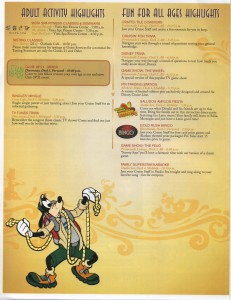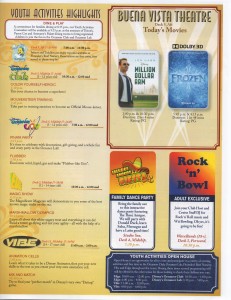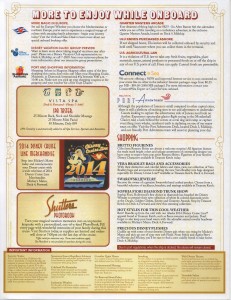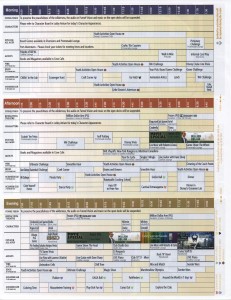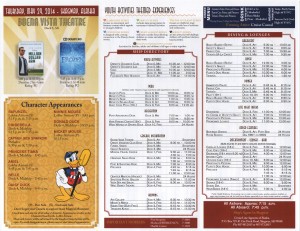 I must say it's a little odd going to bed out in the middle of the ocean and then waking up and throwing open the curtains to find that you've pulled into port. Especially after a sea day, it was easy to forget that we had actual destinations and weren't just sailing the high seas for the fun of it.
But here was our view when we woke up on Day Six.
We were in the process of actually getting docked in Skagway alongside two other cruise ships.
Tracy and I got dressed and ready to go as quickly as possible and then went for a really short breakfast at Beach Blanket Buffet. Then we had to head to our meeting spot for our first organized Port Adventure of the cruise. In this case, I think we had to go to the Walt Disney Theatre alongside droves of other people also lining up for their various excursions.
After getting checked in by our friendly cruise staff (who weren't exactly as perky as usual at 7:30am), we were escorted out onto Deck 4 and then shown down to the gangway.
We were in group 7, and here's the guy we were following.
Finally, after a lot of winding around, we actually started to find our way off the ship.
Soon, we were back on solid ground for just the second time this week.
I always loved looking back at the Wonder from our ports. She looks so majestic—and so big!!
Our journey on foot wasn't long at all. In fact, you can see the train that we were walking toward.
Our first excursion was going to be a trip on the White Pass Scenic Railway. Here's the description from the Disney Cruise site:
On this tour you will:

Board a vintage rail car right on your cruise ship pier for a fully narrated trip aboard the historic White Pass & Yukon Route. Against all odds, the iron trail was carved through some of the North's most rugged terrain in 1898.This engineering wonder climbs nearly 3,000 feet over 20 miles of steep grades and cliff-hanging turns.
Relax in vintage railcars, as your tour guide retraces the original route to the White Pass summit, passing Bridal Veil Falls, Inspiration Point and Dead Horse Gulch.
See the original Klondike Trail of '98 worn into the rocks, a permanent tribute to the thousands of souls who passed this way in search of fortune. Note: This is a round trip; Guests will not disembark the train.
Arrive at the summit, where the engines will reposition, and descend back to Skagway where historical fun and exploring awaits!
The tour was slated to last all morning (from 7:30am-11:30am), and we'd read that the train offered some gorgeous, unique views of Skagway that you really couldn't get any other way.
We had trouble choosing a car because the problem with a Disney Cruise is that everyone seems to have little kids. You literally NEVER notice them on board the ship because they're all tucked away in their kids' clubs, but suddenly they were everywhere. Which meant that our odds of having a peaceful journey on the train weren't great.
Settling into a seat, we picked up our souvenir programs.
We sat and waited while the train staff went through and did some final checks. We could see the Holland America ship out our window.
Before too long, we were off on our way. We had to move really slowly until we got out of town.
This was our first real glimpse of Skagway because we had been shuttled toward the train so quickly upon getting off the ship.
Here's a view down the main street.
And here was someone waving us on our way as we started to pick up speed just a little.
There's the engine up ahead that was pulling our car along.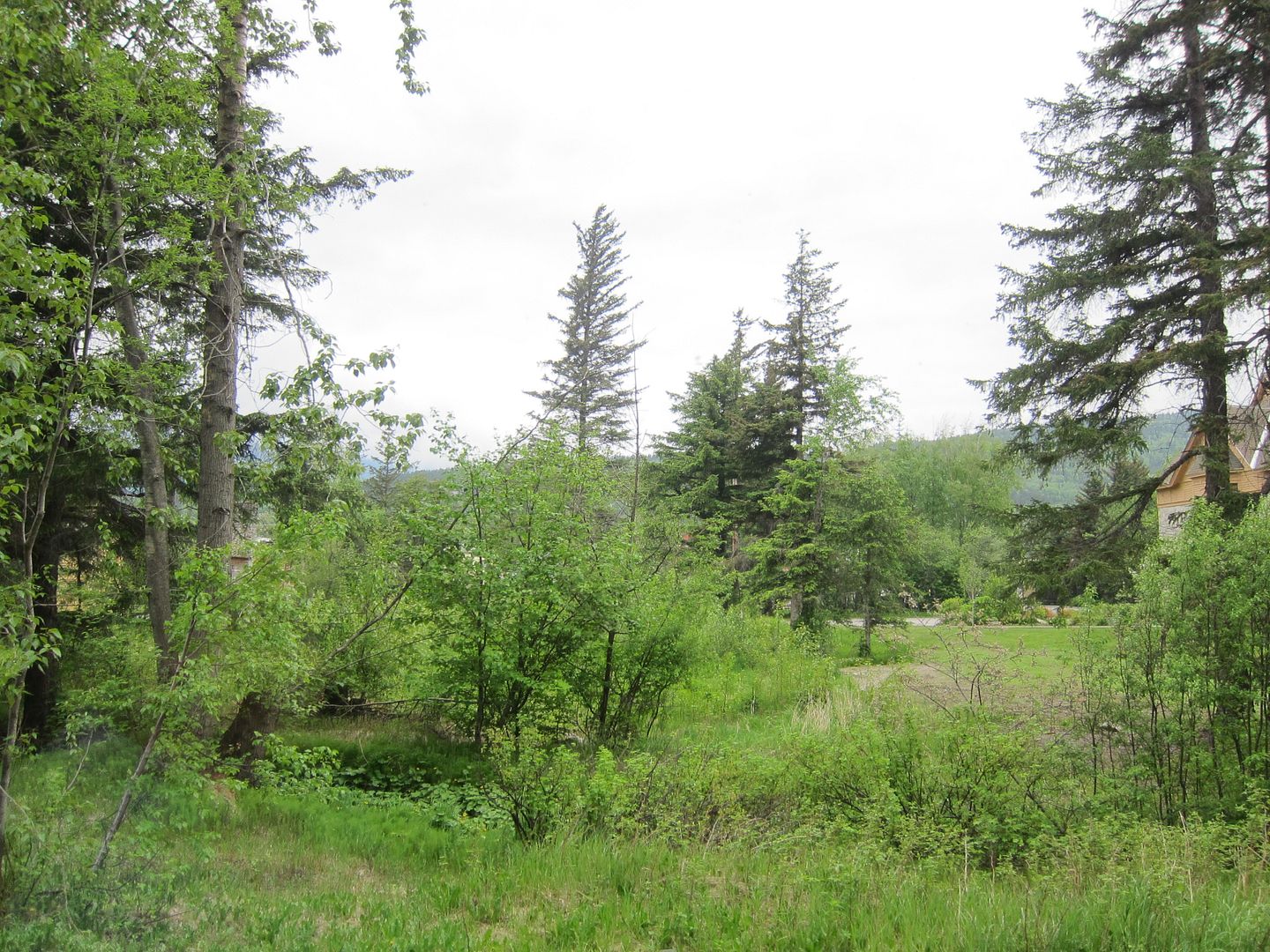 Once we were en route, one of the conductors came through to make some announcements. As it turned out, the train was exclusively passengers from our ship. They let us know that once we had officially left the town behind, we could feel free to go out to the observation decks between the cars for some unique views and photo ops. There would also be a narrator telling us all about what we would be seeing as we started to head up toward the White Pass.
As we settled in, we passed an engine that had long been retired, but which had taken folks like us up along the railroad for many years.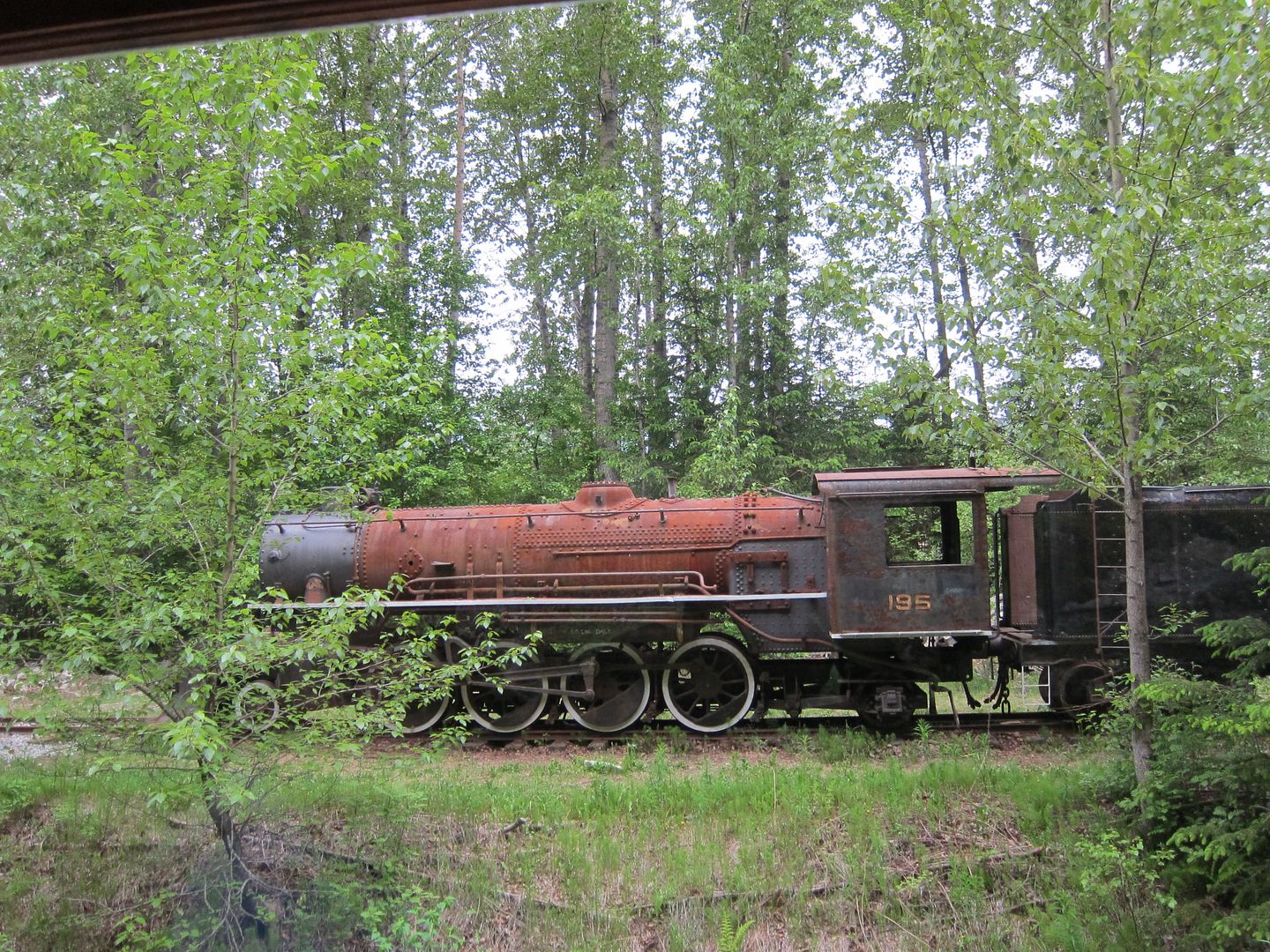 We also passed the temporary housing that is only occupied during the summer—when the population of Skagway multiplies exponentially for tourism season.
They lit a real wood-burning stove within our car to keep us warm as we left the few signs of civilization behind and barreled into nature.
Previous Post | Next Post
Table of Contents
Support the Wandering Mouseketeers and get yourself a little something! Do your online shopping via our Amazon link!
Follow



Share