Chapter 40
Spy Games
---
(Originally posted September 9, 2012)
As we exited One Man's Dream, we saw this Green Army Man directing traffic.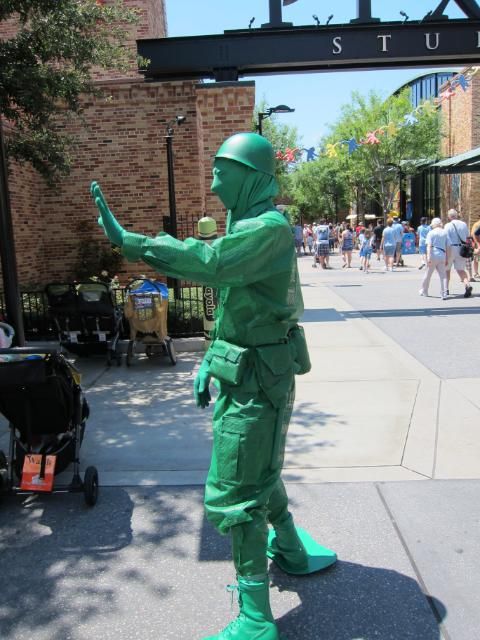 We headed back toward the Streets of America. I think it's so funny how Disney was convinced that Splash was going to be a classic movie when it came out. They had this fountain statue made and Michael Eisner tried to change the theme of Splash Mountain to coincide with the film. Luckily only the name ended up sticking.
We made our way down New York Street. It looked a little familiar, though way emptier than any real street in New York ever is. I also never noticed the billboard for The Lion King way up above. I didn't even notice it at the time but just did in this picture.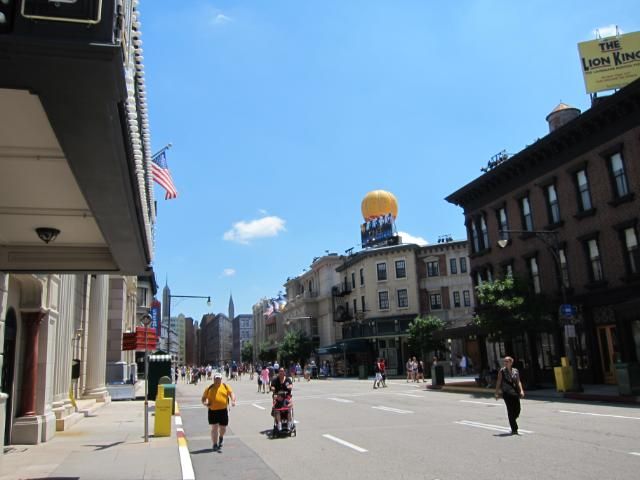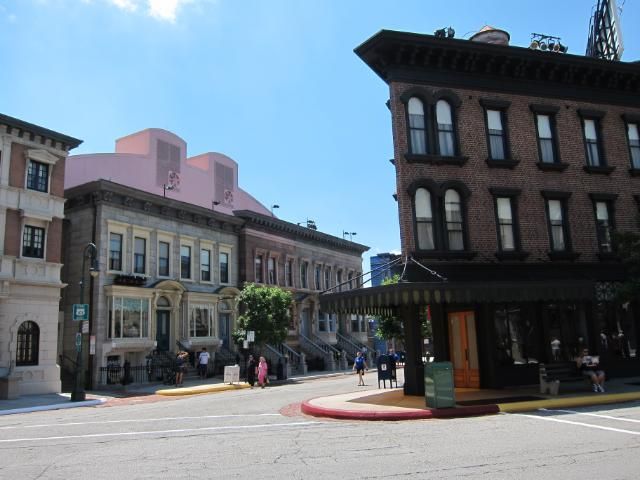 We love the subway station.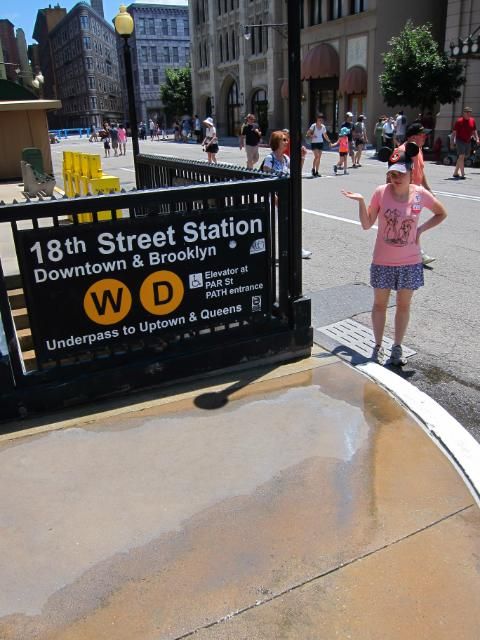 You really need to be lined up for this whole forced perspective thing to work…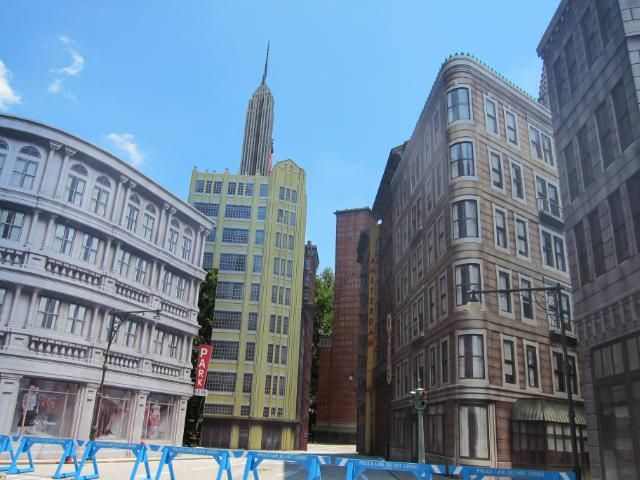 It was time for our Star Tours Fastpasses, so we made our way back in that direction for ride number three. The Jedi Training Academy was going on. If you've never watched the YouTube video where the little girl is asked to stand up to the dark side and bows down to Darth Vader instead, you need to. It's all I could think of when we saw the show going on.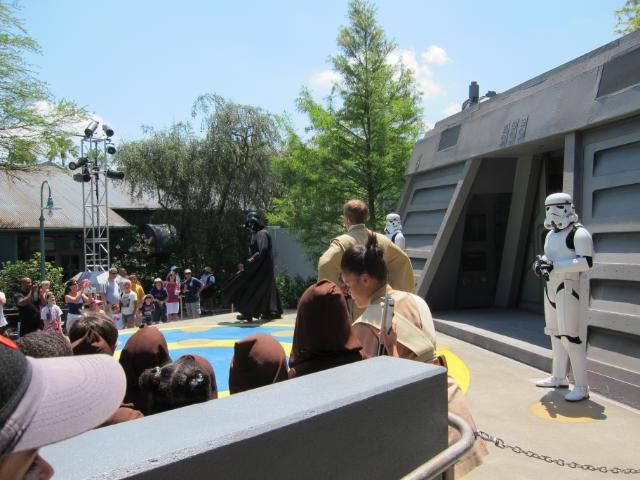 Tracy and I kept talking in the queue about how we wanted to be the Rebel Spy, so we decided to see if we could figure out the best way to have it happen. Tracy made her "prettiest" face from the moment we entered the ride vehicle until the moment we took off. It looked something like this.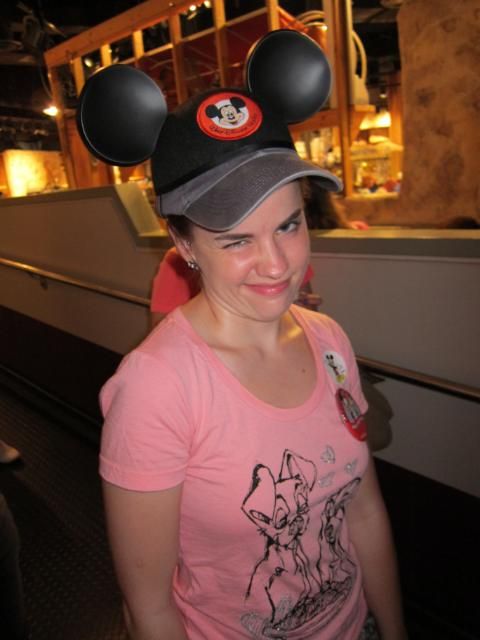 After we were on our way, having been chased off by Darth Vader and jumping into hyperspace, Admiral Ackbar came up and told us that we had precious cargo onboard. Lo and behold, there was Tracy as the spy. We were very excited! Our flight, true to form, ended up being our same old combination of Hoth and the asteroid field/Death Star. It was still fun though, because we hadn't been to old Hoth since our rides in Disneyland! Once we landed and Tracy was still giddy about being chosen, we wished they would do something exciting for each Rebel Spy picked. Whether it was just giving you a "I Was the Rebel Spy" sticker as you exited, or more exciting, loading your picture onto your Photopass, it wouldn't have to cost Disney much money at all and would really make a nice memento for the experience. Instead, we looked at the Rebel Spy t-shirt in Tatooine Traders but decided it wasn't worth it. We really wanted this wookie backpack.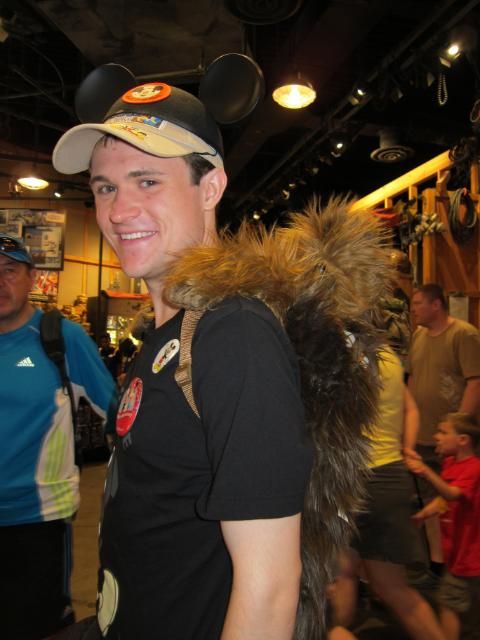 We exited the ride past the nicely themed Tatooine area.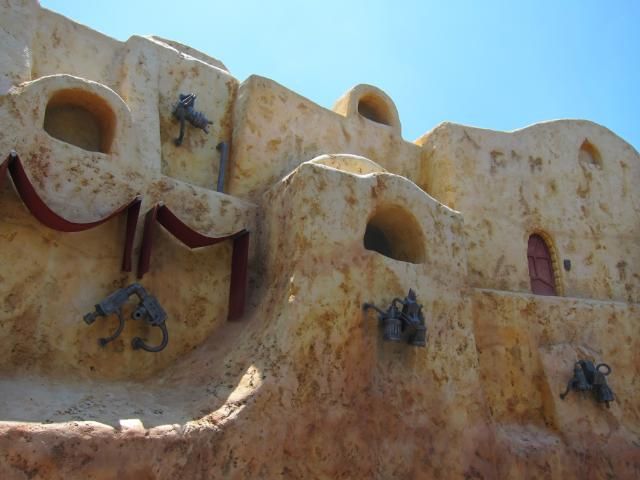 We decided our next stop would be another attraction neither of us had been to in many years: Muppet Vision 3D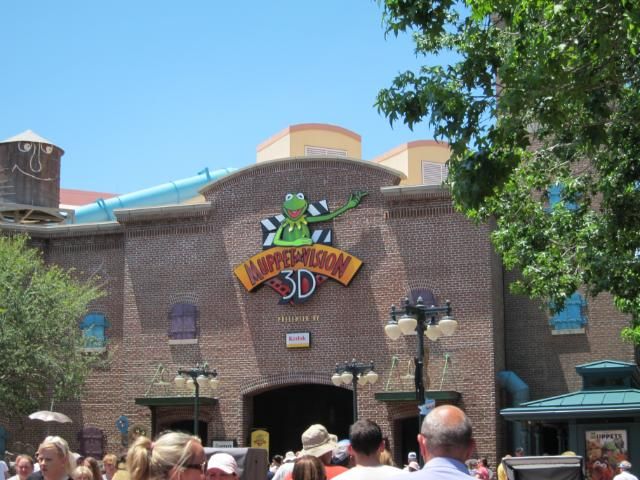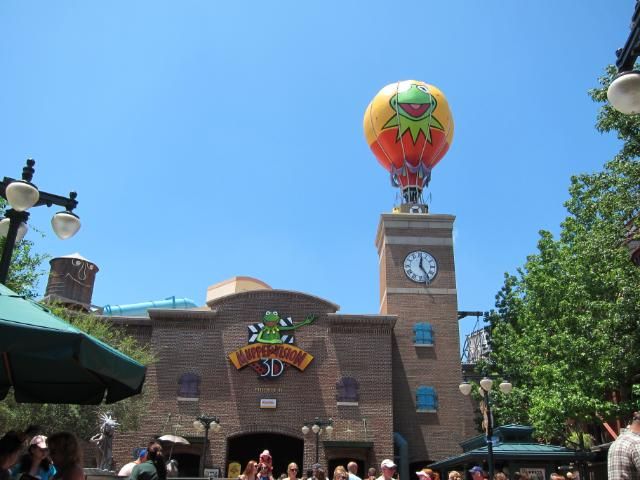 They have some great theming around this whole area. Love the Miss Piggy fountain.
And these guys.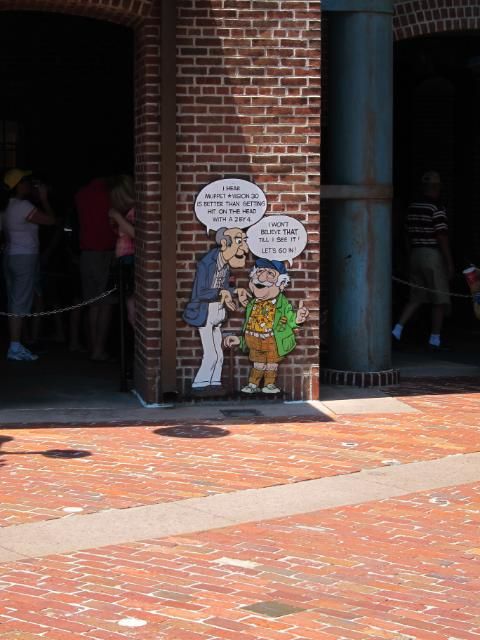 I've always been a HUGE Muppet fan. I was right in that generation where we had Muppet movies in theatres after their first hiatus, so I really grew up with A Muppet Christmas Carol and Muppet Treasure Island. Then later in my childhood, I really enjoyed watching The Muppet Movie and The Muppets Take Manhattan. And of course, reruns of Fraggle Rock were one of my favorite shows as a kid! Tracy wasn't as easy of a Muppet convert. She was never attached to them as a kid, so I had to convince her to go see The Muppets in theatres last year. She probably wouldn't have gone if she didn't like Jason Segel and Amy Adams as much as she does, but the cast pushed her over the edge. She ended up liking it, especially the songs, but I think she would still have to see some of the original Muppet movies to decide whether she was a big fan. The one Muppet Tracy absolutely LOVES, however, is Beaker.
How can you not? We've watched the YouTube video of them performing "Danny Boy" SEVERAL times since we discovered it this St. Patrick's Day, and we never fail to laugh out loud once Beaker starts singing. I liked finding some of the sight gags in the queue for Muppet Vision, though I'm sure I missed the bulk of them.
As we got to the front of the line and took our seats in the theatre, I wasn't sure what to expect from Muppet Vision all these years since I'd last seen it. I think the end result was a bit of a mixed bag. I still love the Muppets, and I'm glad the film has never gone away, but I know I could do with a little less Bean Bunny and a little more of all the other classic characters. I also had a little bit of trouble with my eyes adjusting to the older 3D film. It was fine most of the time, but whenever the little animated Waldo was on screen and doing some of the in-your-face 3D hijinks, my eyes would see double rather than adjusting to the 3D.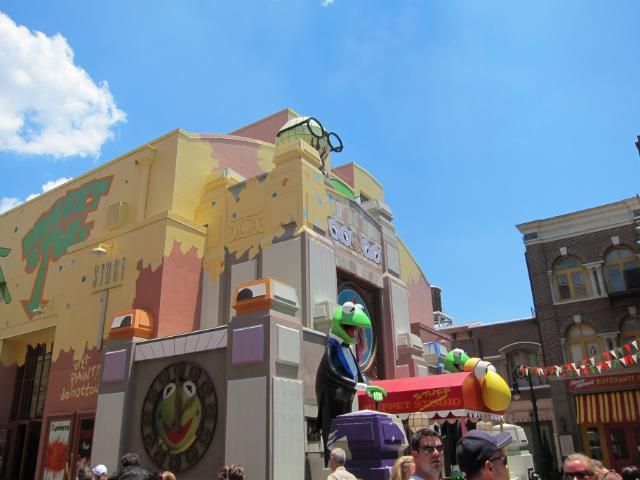 After exiting the theatre, we went to the Muppets gift shop and looked for any Beaker memorabilia we could find.
We specifically wanted there to be a Beaker vinylmation, but apparently he wasn't in the first Muppets series… Hopefully in the next one!
At this point, we were at a bit of a crossroads trying to figure out what to do next. We were getting hungry but were still about an hour away from our lunch reservation.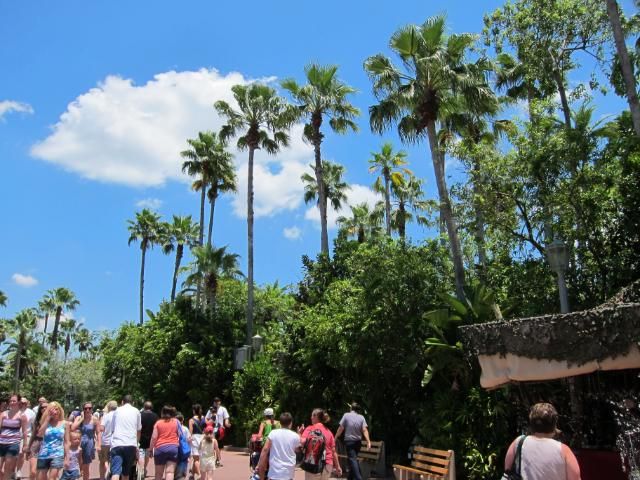 We started walking in the direction of our restaurant anyway, and on the way, saw this studio. I think Lou should broadcast his shows from here.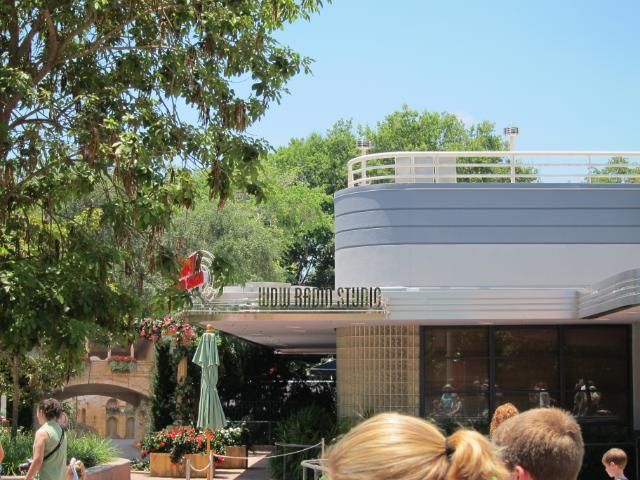 I pulled the rope as we passed by the Indiana Jones theatre. Oops…?
Finally, we saw the sign for our next restaurant right in front of us, so we just decided to go ahead and check in early.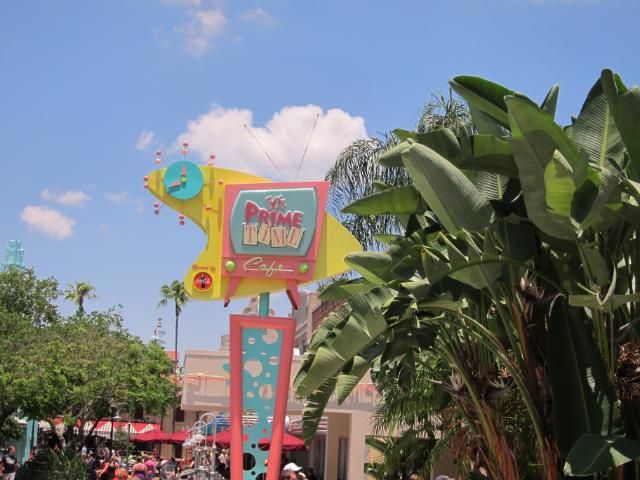 Share