Chapter 86
Always Something New
---
Previous Post | Next Post
Table of Contents
(Originally posted October 28, 2013)
Licking our chops after truly demolishing the plate of fried chicken, we tried to decide what to do next. After having been closed by OSHA for a while, the Finding Nemo Submarine Voyage was back open, so we decided to take a spin on that. We had only ever ridden the attraction once before—it is the slowest-loading ride in history and always has such long waits—but now seemed like a good chance to give it another whirl.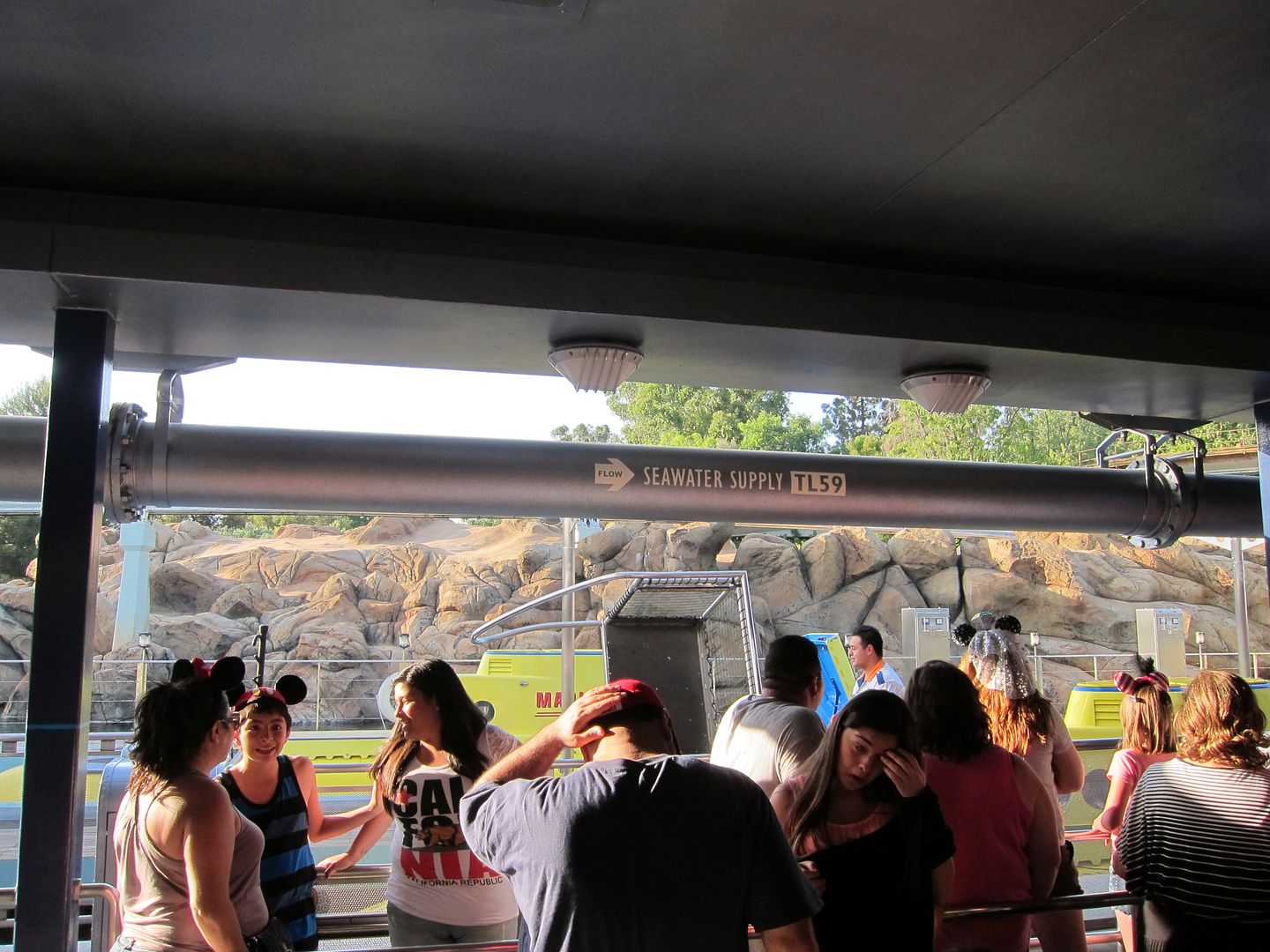 With the GAC, our wait was greatly reduced, but we still had to wait for at least one round of subs to load ahead of us.
Finally, we were called up to the front, and eventually it was our turn to head underwater.
We would be riding about the Nautilus.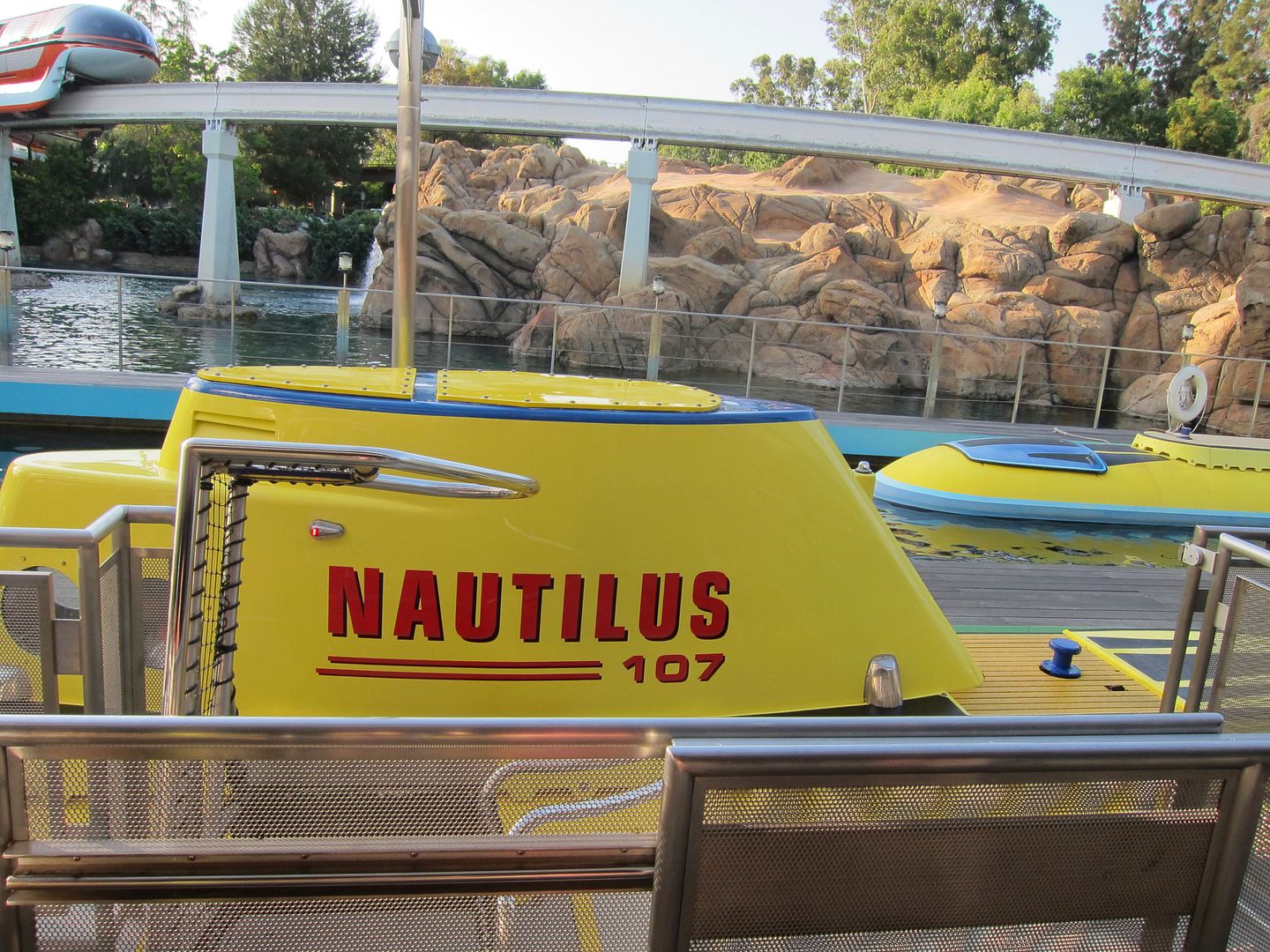 After climbing down the stairs into the sub and claiming our windows, we looked out into the water.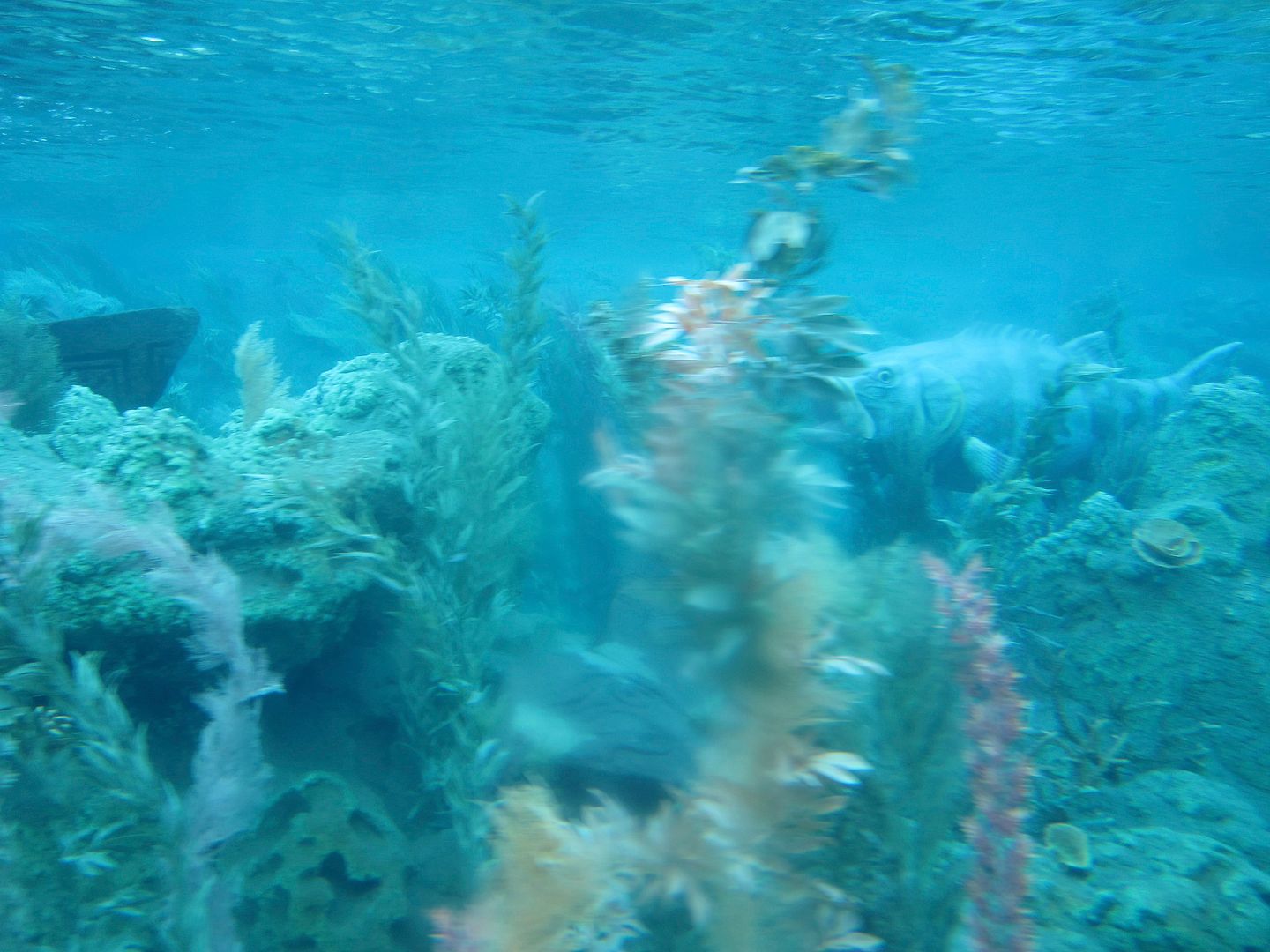 I'm always so torn about this attraction because it's just a little too claustrophobic and a little too long for me to ever truly LOVE riding, but I just appreciate the technology (or lack thereof) behind the ride system so much. And the added Nemo characters are really cool too.
After our journey was complete, we were the last ones out of the sub, and it's amazing how much more spacious it looks when all the seats are up.
We decided to ride Astro Orbiter next—which was another ride we hadn't done since getting our passes. But first, I took a couple close-ups of Tracy's new hat with the Orange Bird button.
Eventually, we climbed aboard our rocket ship and blasted off on the Astro Orbiter.
This is another ride I can never really decide about. On the one hand, it feels so pointless when compared to the WDW version because it's so low to the ground here. It's also a very violent spinner and usually makes us a little ill. On the other hand, there's still something a little fun about it, so I don't know.
When we had finished riding, the parade was going on, so we had to wait to cross the route.
Since we had still never sat down to actually WATCH Soundsational, I think this was the first time we ever noticed the Three Caballeros float.
Making it across to the other side of the park, we stopped into one of the stores in Frontierland, where Tracy found this sheriff's badge she wanted to get for work (they often refer to her as the cat-herder and have said she should get a badge, so maybe someday…)
By now, we were starting to get a little too chilly in our shorts, so we started toward the exit. As we passed through Adventureland, we saw that a mother duck was trying to cut through the Tiki Room entrance area with her ducklings. We followed them to make sure no one got up to any funny business.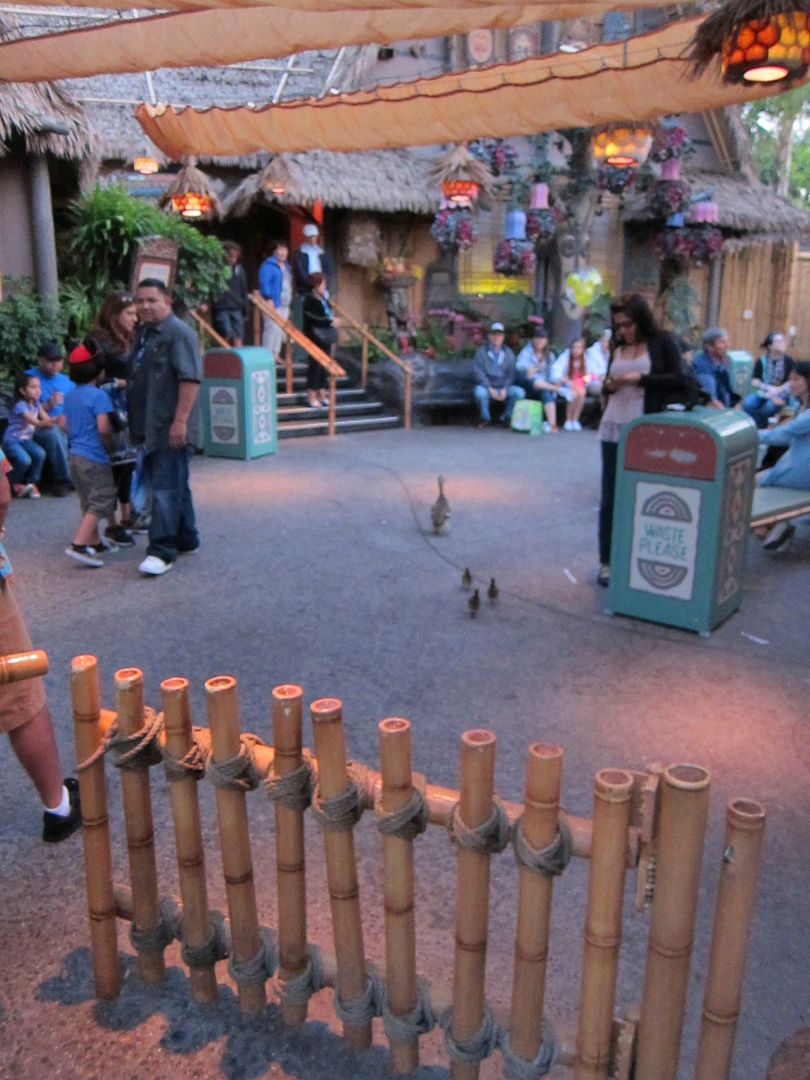 Eventually, they found a grassy area where they could be safe once again, and we headed out to the exit. When we got home that afternoon, Tracy had received this Haunted Mansion bow in the mail.
She had won it as a prize from @mimi_mouse_bowtique on Instagram, so she was very excited to wear it to the parks soon.
Sunday, we headed over to the parks after having another half-lunch. We arrived at around 12:30, parked, and headed to DCA. We went over to the seating outside Taste Pilots Grill to eat the Uncrustables we had brought with us.
Next, we went over to the Disney Visa meet and greet and got to see both Minnie and Stitch.
(Now, I have the two pictures from this meet and greet, but since they were the free Disney Visa prints, I need to scan them into my computer. Unfortunately, my scanner appears to be on the fritz, so I'll add these at some later point I guess.)
Since we were already in Hollywoodland, we decided to go see Muppet Vision 3D.
We had never gone to the attraction here (just at WDW), but we knew that it's always on the chopping block, so we figured we should see it now before it's too late.
Beaker is our favorite, so we loved this in the queue.
There's so many great details in this queue!
Tracy found the key under the mat.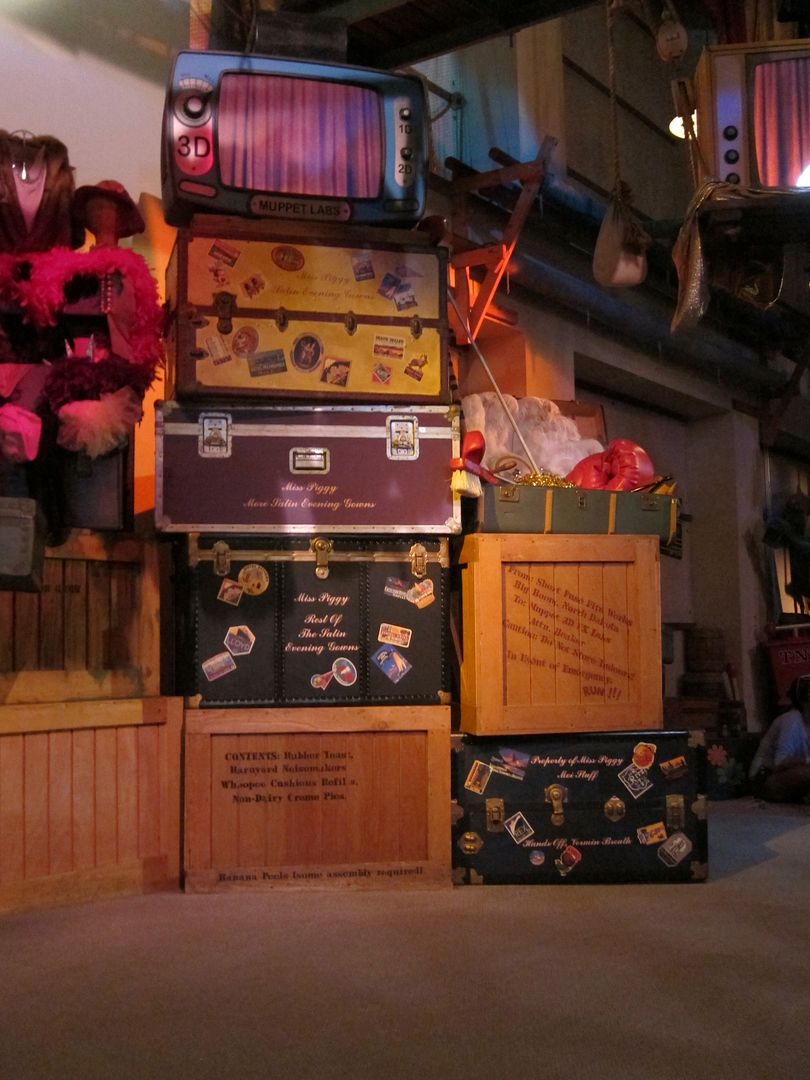 So many puns, so little time.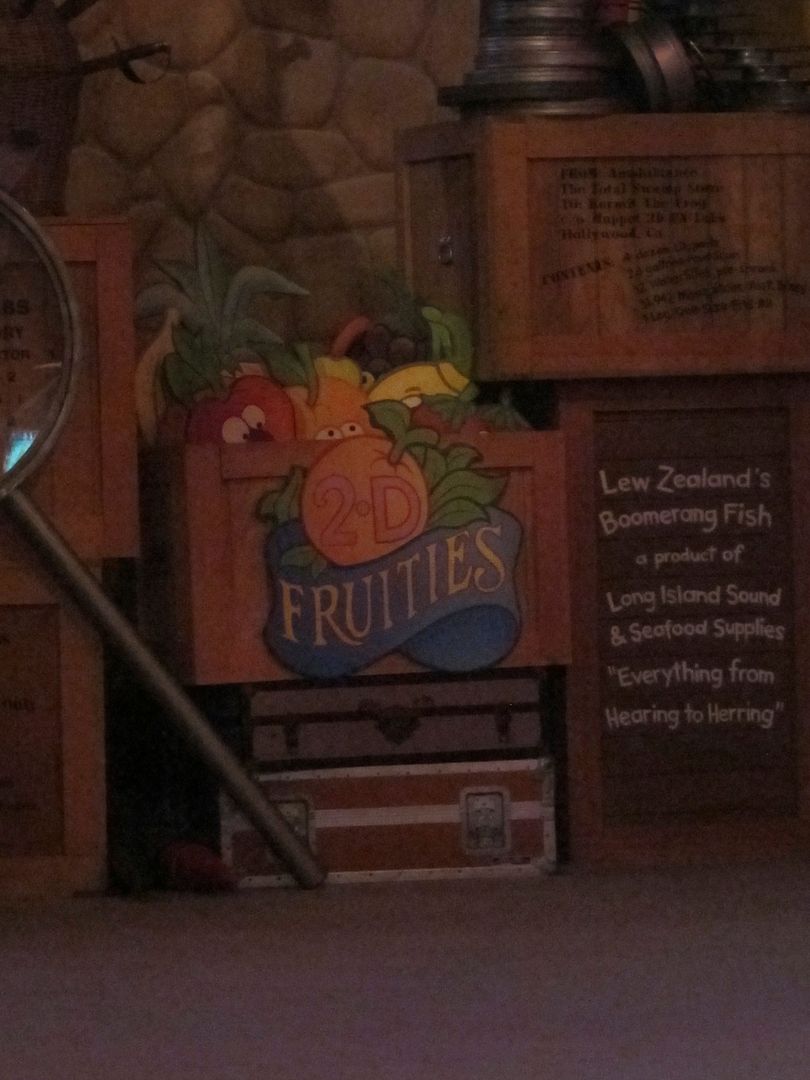 The movie itself was a lot of fun as always. I'm not totally attached to this attraction as is, but I wish they would replace it with another Muppet-based ride or show rather than changing that whole area into Monstropolis.
Previous Post | Next Post
Table of Contents
Follow



Share