Chapter 4
A Trial Road Trip
---
(Originally posted January 25, 2013)
As September progressed, it was full of some highs and lows. Unfortunately, it was clear that the first medicine I was trying wasn't working for me after being on it for a couple weeks. I followed that up with two more options that both gave me really negative side effects almost immediately. Though I got off of everything, I was unfortunately back in a similar position to where I had been earlier in the summer in NYC. I was generally feeling bad for at least a portion of each day. Obviously, that wasn't what we were looking for. All of this was definitely taking a bit of a toll on my system, so I decided to take a break from trying anything new for a while and see if I could at least get back to the semi-normal state I had stayed in for pretty much all of August.
It was at this point that we decided to take a little trip. We'd had the car for a few weeks now, September was waning and autumn was really upon us. And one of Tracy's aunts had offered to host us at her home outside of Colorado Springs for a weekend. We excitedly loaded up the car for our first "road trip"—even if it was only a couple of hours away. We had just bought a GPS, since we knew we'd need one for the move, and were anxious to take it for a test run. Duffy got all dolled up in his new Halloween costume and was anxiously (who am I kidding, Duffy is WAY too simple to ever be anxious about anything) awaiting our departure.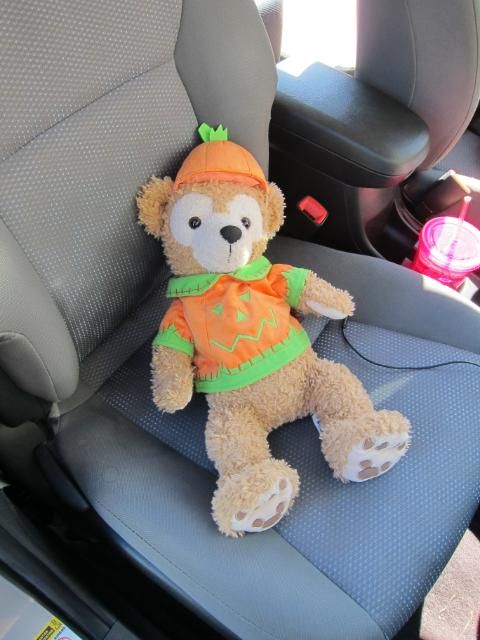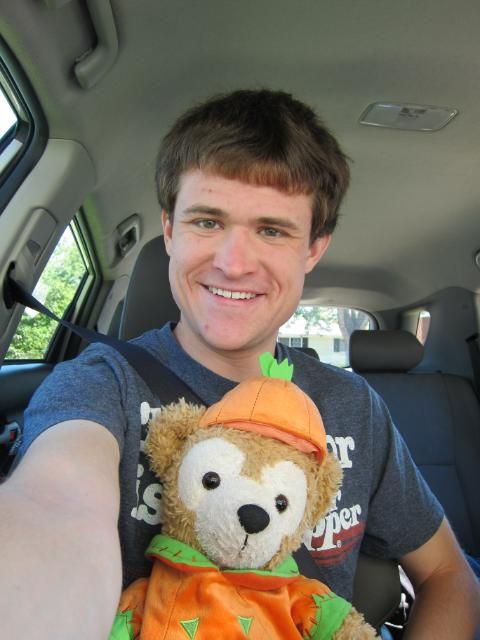 The weather was perfect as we rolled out of Boulder and started heading south.
We chose the more picturesque route, despite it taking a few minutes longer, because we wanted to enjoy some of the fall foliage.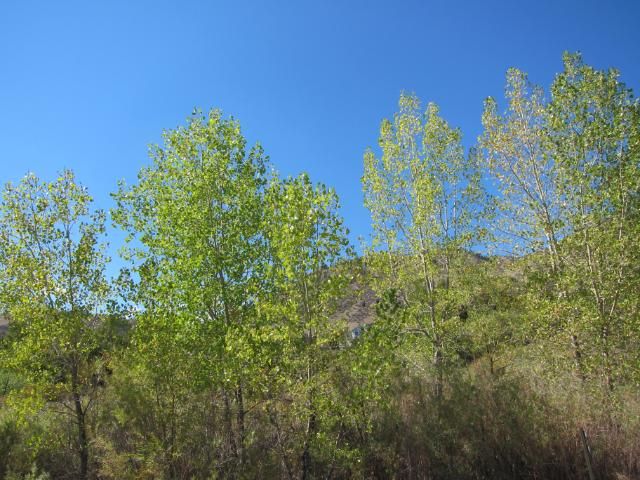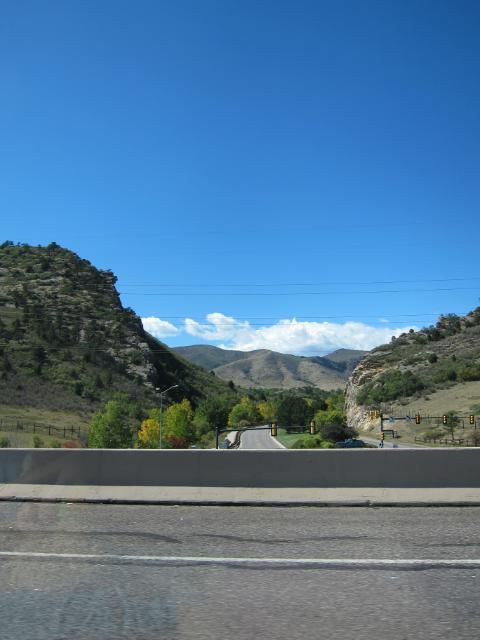 We also left about two hours earlier than we had originally intended so we could add a stop at the outlet stores in Castle Rock—about halfway between Boulder and Colorado Springs. Arriving in Castle Rock, we pulled off for lunch at Qdoba.
Granted, it was definitely lunch time, but we were still confused why there were at least 100 people in line at this Qdoba. The queue of people stretched well out the door. And they all seemed to be high schoolers. We reasoned at first that maybe this was just the popular place for kids to go to lunch from the nearby high school, but it seemed pretty farfetched that this many people would make this trek daily. While in line, we saw everyone in front of us whipping out their phones at the register and being waved through the line. So we asked one of the teens in front of us what deal was going on. He told us to text a number we could get a free meal for being high school students. Obviously, Tracy and I aren't exactly in high school anymore, but you would never know it from looking at us. Long story short, we ended up with two free meals by passing for kids six to ten years younger than ourselves. Tracy always complains about being mistaken for a fourteen-year-old, but this time it worked in our favor! Even if we did end up blowing a few dollars at the outlets a few minutes later, at least our lunch was free.
After doing a little shopping, we moved on from Castle Rock into phase two of our journey. Here is the eponymous "Castle Rock" itself. It looked a lot more like a castle on the way home. Maybe I'll post another picture then.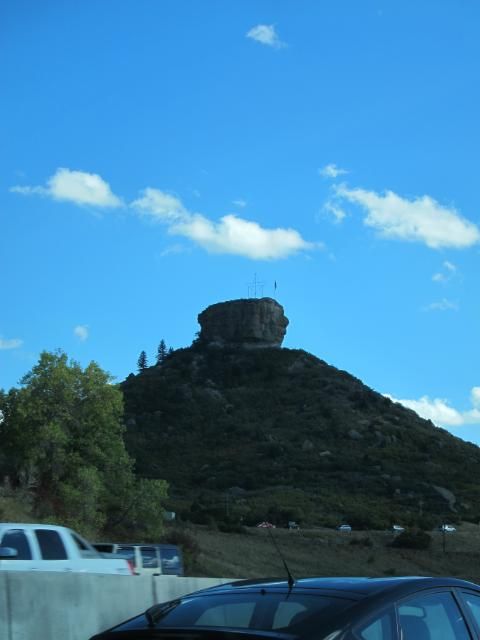 Anyway, after about another hour of highway driving, we found the exit that would take us toward Tracy's aunt Barb's house. She actually lives just outside of Colorado Springs, in the middle of a forest that I swear appeared out of nowhere…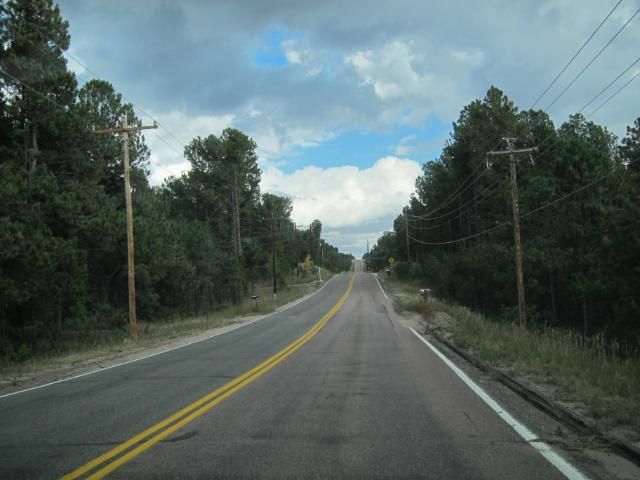 As we were driving, I suddenly yelled for Tracy to pull over. I had discovered adult Bambi lurking on the side of the road!
When we arrived at Barb's house, we were, of course, excited to see her, her husband Larry, and their son Ben, but we were also extremely excited to see all of their animals! Barb is known around her community because she is a "dog-whisperer" in her own right. She fosters dogs for the local humane society—she's fostered hundreds over the years—as well as having a bit of a menagerie at home. My favorite was Hanna, who we referred to as Nana.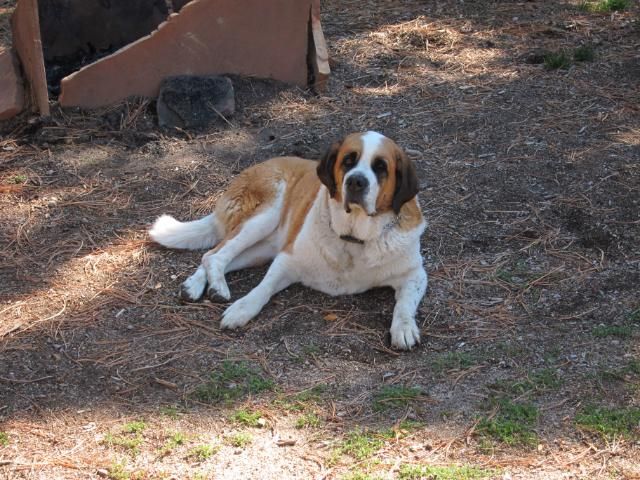 She's (obviously) a giant Saint Bernard who is exactly like Nana from Peter Pan. She's sweet, and motherly, and knows that she is in charge of the household.
Next there was Peg.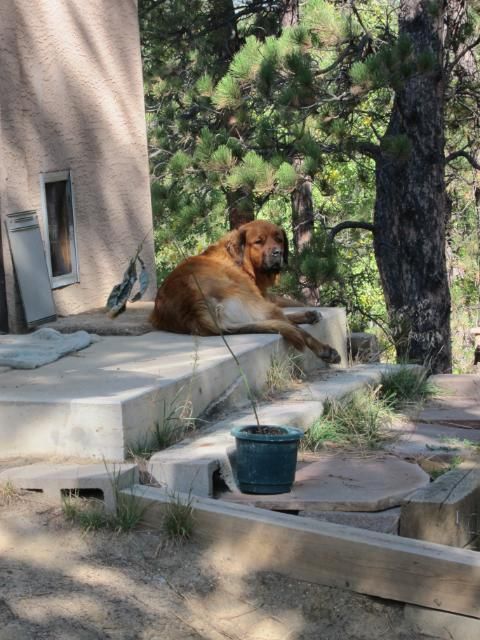 Peg is so-named because she's missing a leg (hence, peg-legged). Also some sort of Saint Bernard mix, she's moodier. Barb rescued her and helped her through her amputation, so she loves Barb, but is more fickle about others. She did not like me. After an introduction where she was clearly not a fan of me, I kept my distance for the rest of the weekend.
Their newest dog adoptee is Sasha.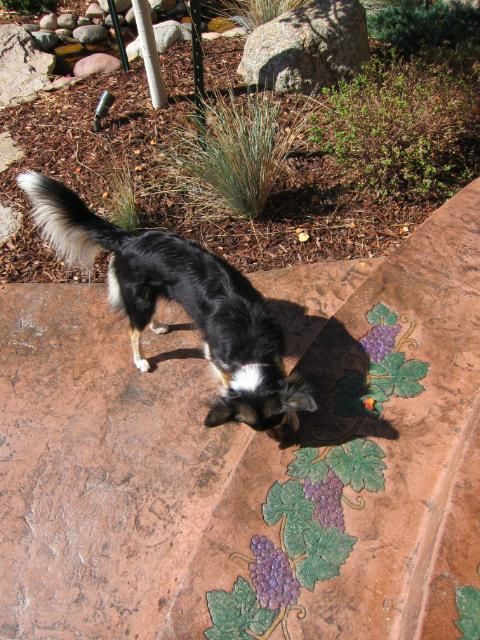 Some sort of Sheltie mix, Sasha joined the family about a month before our visit. She was deemed an almost hopeless case by the humane society before they called Barb in to foster her. She was afraid of EVERYONE. When Barb brought her home, she refused to get out of the car for several hours. Once she began to feel at home, however, she started to come out of her shell quite quickly. Barb and Larry had unfortunately had to put down two of their dogs in the span of a week right before Sasha came along, so she was able to weasel into their hearts just at the right time, and moved from being a foster to being a member of the family. She was still skittish around strangers, but she eventually started trusting us.
The two dogs we were most excited to see, however, were Barb's latest fosters. Two Chihuahua/Dachshund mixes, they immediately tugged at our hearts when we saw them.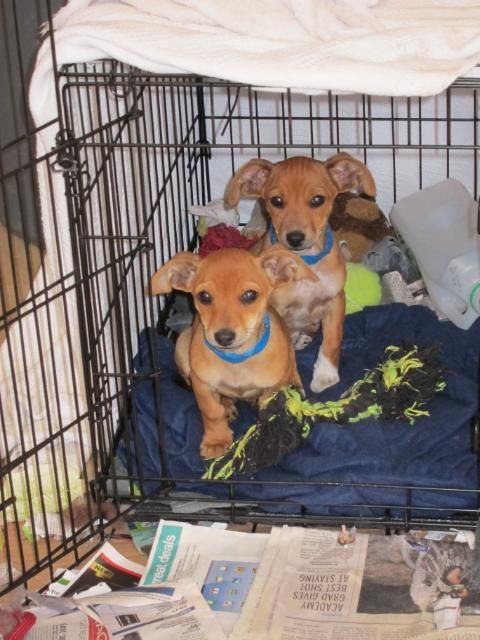 Luckily, they both already had homes lined up when they got a little bigger, or we would have been way too tempted to take one home with us.
So there's your important cast of characters. On our first night, Barb and Larry took us out to dinner, we came back and enjoyed using their hot tub, and then we went to sleep pretty early because the next morning it was time for us to become full-blown tourists here in the Springs.
We woke up early, and I felt all the joys of sleeping in a house full of animals, all of whom I was distinctly allergic to. We went out to breakfast with Barb, Larry, and Ben, and caught up with him about his goings on in high school. It was the day of the homecoming dance, so there were all kinds of preparations and plans being made. Ben announced that he was going to be wearing a "penguin suit" to the dance, which Tracy and I took for slang that the kids must be using these days to describe a tuxedo. So imagine our surprise later that day when we briefly saw him dressed up for the dance and wearing an actual penguin costume. I don't think we were in the minority with our confusion.
Since I had only ever really been down to the Springs area a couple times in my childhood, there were a lot of touristy things there that I had never done. Tracy had done most of them at some point in her life, but it had been a while. We decided to start off our first day exploring and eating lunch in the nearby town of Manitou Springs. An artsy town with a hippie-ish vibe, it apparently had lots of cute shops along its main street. There were also several springs with fountains flowing along the street from which you could drink if you were so inclined (we were not).
On the drive, we saw Pikes Peak looming in the distance.
I thought Pikes Peak must be the tallest mountain in CO because of how it's the one that everyone goes on about the most, but actually it only barely makes the top 20, coming out at a mere 14,114 feet. Granted, that's still pretty high, and it was very easily the tallest mountain in sight.
Arriving in Manitou, we parked in the lot for Miramont Castle.
The lot was up a long, winding road, and was really out of the way, but there was practically nowhere to park in this town, so we lucked out finding a spot at all. We already liked the look of Manitou with all of these pretty flowers and trees.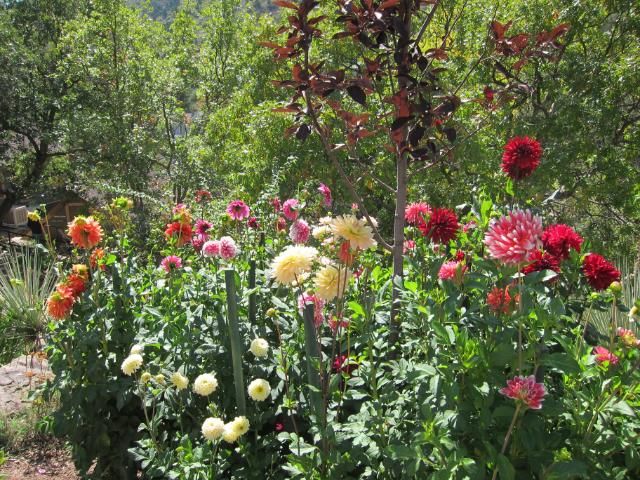 The castle itself actually sounds quite interesting, though we had no real time to tour it.
Apparently it is most certainly haunted. There was some sort of story behind it involving a fire and it being used as a sanitarium that I learned about from Yelp.
We walked around town looking into some of the shops and admiring the architecture and the proliferation of springs.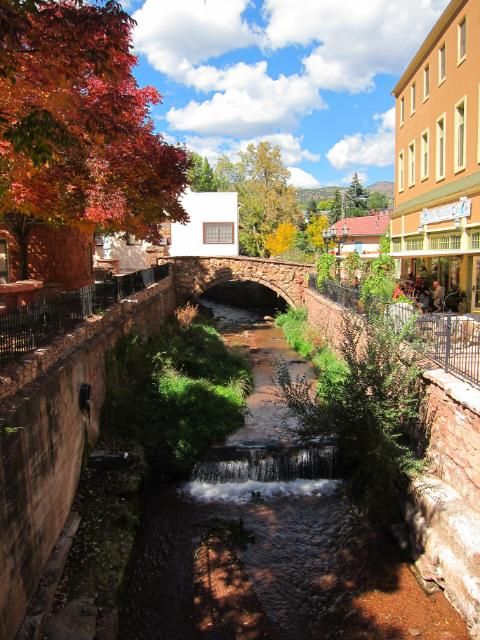 After ordering and paying, we endured a hellish (pun intended) 45-minute wait to receive our slices of pizza at Hell's Kitchen Pizza for lunch. The wait had me reeling, dizzy, and generally feeling miserable as it dragged on, and in the end, the highly touted pizza wasn't even that great.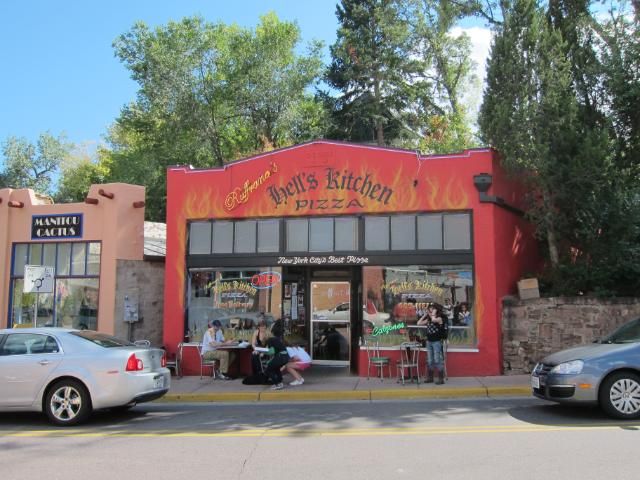 The experience left us feeling a little cranky towards Manitou, so we decided to go on our way after lunch.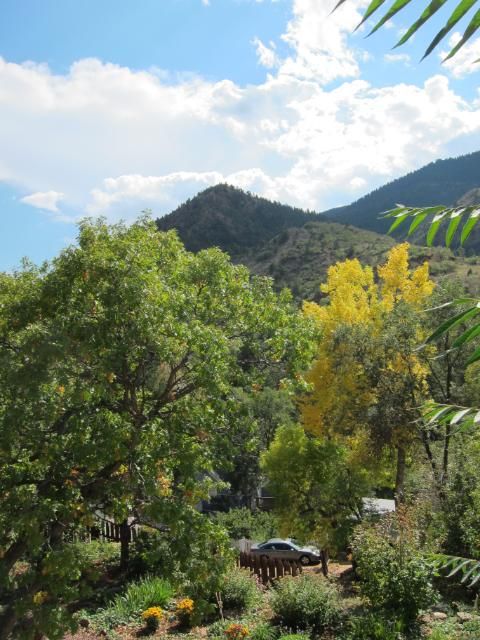 After all, we had several more touristy places to hit before night fell, so we decided to hurry on our way to our next stop—Colorado Springs' most famous natural wonder.



Share