Chapter 5
Impressed/Not Impressed
---
 (Originally posted January 29, 2013)
Of all the tourist attractions in Colorado Springs, one of the only ones that isn't mostly man-made, is Garden of the Gods. This outcropping of enormous red rocks a good distance from where the mountains actually start is one of those things that must have been so bizarre to discover for the first peoples in history who stumbled upon them.
While apparently a trip to Garden of the Gods was a pretty typical stop on field trips and family outings for kids who grew up in Colorado, I had never been there before. The only times I had ever been to the Springs as a kid were when I visited the zoo, or when I went to Santa's Workshop with my dad.
A brief note about Santa's Workshop, since we will not be venturing there on this trip: it's a whole lot of fun, and one of the two places in Colorado that has a very concrete Disney connection. This theme park, where it is Christmas all year round and you can always meet Santa, was designed and opened by a former Disney artist a year after Disneyland opened. While not anywhere near the level of a Disney park, it's quaint and fun, and worth a visit for younger kids. It's also relatively expensive, which is why we didn't go on this trip. As for the other place in CO with Disney ties, that would be old town Fort Collins, upon which Imagineer Harper Goff based the design for Main Street, U.S.A. I've been up there a handful of times in my life, but never since I knew that factoid, and now I want to go again sometime with that in mind. Unfortunately, we didn't make it there on this trip either.
Now, back to the places we DID go! The approach to Garden of the Gods is funny in that you can't really see anything exciting as you drive toward it. Then suddenly you turn a corner and the great vista is exposed in all its glory.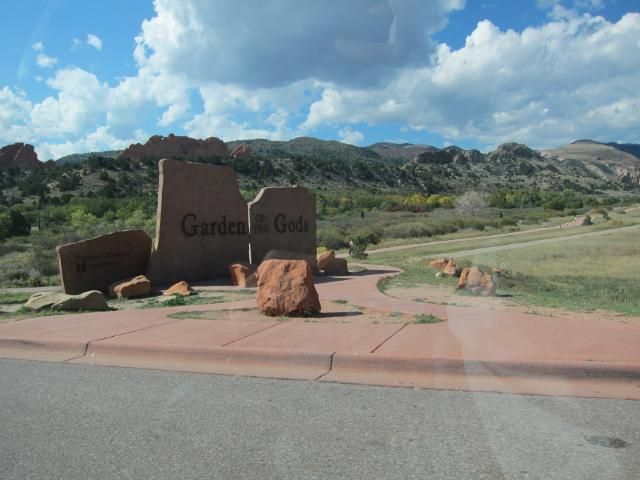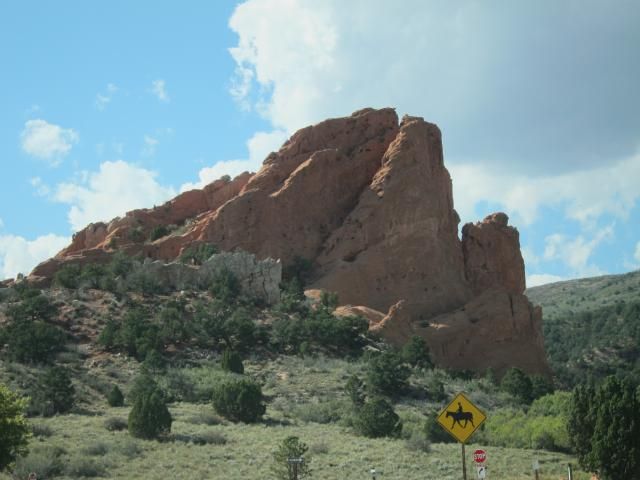 We drove into the park itself and parked.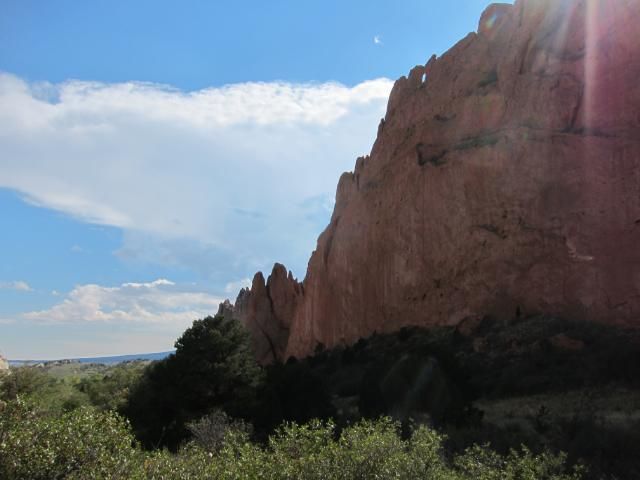 We got out of the car and started walking around the loop that winds through all of the rock formations.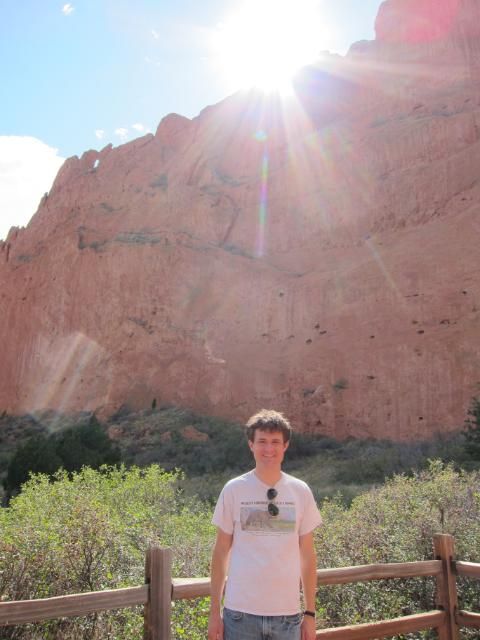 Now, I'll be honest: I didn't really know what to expect. I purposely didn't look at pictures before we arrived because I figured I might as well see the real thing. And what I saw was extremely majestic and really beautiful.
I think the story behind this whole area is really interesting as well. It was private property for a long time, and then when the person who owned the land died, he bequeathed it to the state with the stipulation that it would be made into a park that anyone could visit and appreciate without ever having to pay any sort of entry fee. And so it has been ever since.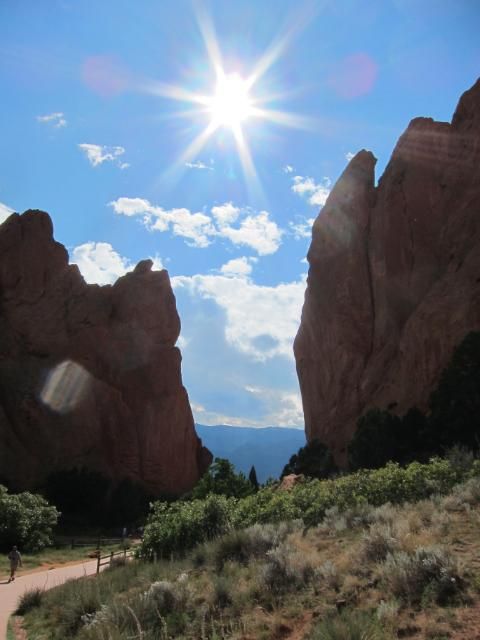 I liked the rocks (obviously), but also enjoyed some of the wildlife that was around, like this bird.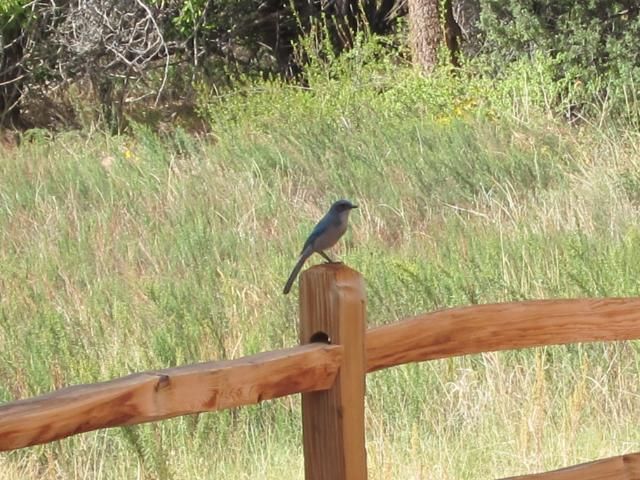 The top of this formation is called "Kissing Camels." Tracy and I liked that name because we like camels. They're similar to llamas in that they're just such weird animals—and we appreciate weirdness.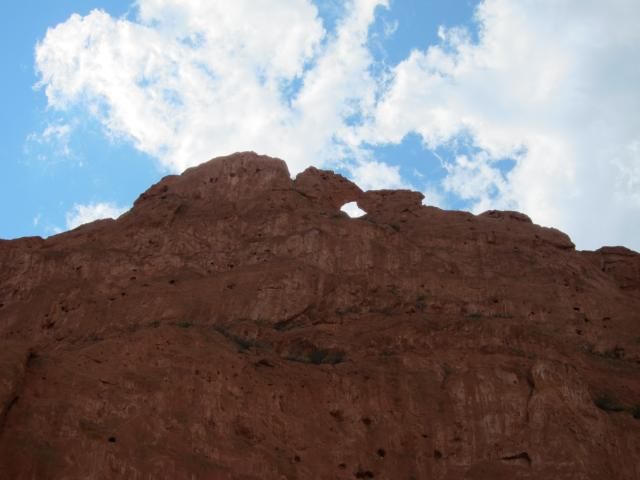 While that last photo is the real Kissing Camels, when I first saw to be on the lookout for a formation named after camels, that particular formation was not the first one I would have guessed. I thought that the little rock in the middle of this formation looked much more like a camel.
Please tell me you agree. While we were walking around, I took a series of photos and stitched them together as a panorama at home later on.
The last portion of the loop took us to a place where you can actually climb on some of the rocks, so that was fun.
The loop is a nice length. It's just about a mile and on relatively flat terrain, so everyone can enjoy walking around the Garden of the Gods. After our visit was done, we circled back around so we could stop at the gift shop. From there, you can see the full set of formations from a unique angle. They're just so bizarre. Like camels, I appreciated these rock formations for their odd beauty. It was a fun excursion, and I'm glad I've been there now.
We spent a little while exploring the gift shop (and eating free samples of fudge from the fudge-vendor), then we went back out to the car. We set our GPS—wait! I just realized I've never explained about our GPS, nor given him a proper introduction. Our GPS is named Daniel. He's the British Male voice built into our Garmin. He has an interesting time pronouncing some of the street names, especially those named after Spanish words here in Southern California. He also refers to on and off-ramps to and from the highway as "slip roads." British readers, is this normal or did he make up that term?
Anyway, we set DANIEL to navigate to our last tourist attraction of the day. It brought us right into the center of Colorado Springs and to the U.S. Olympic Training Center.
As we pulled into the Training Center and got our parking pass from the guard, he informed us that unfortunately we had just missed the last tour of the day. Blast! He told us we were welcome to walk around the lobby and gift shop, however, so we went in and parked anyway. After getting out of the car, we posed for some of the signature pictures that one has to take when visiting this attraction.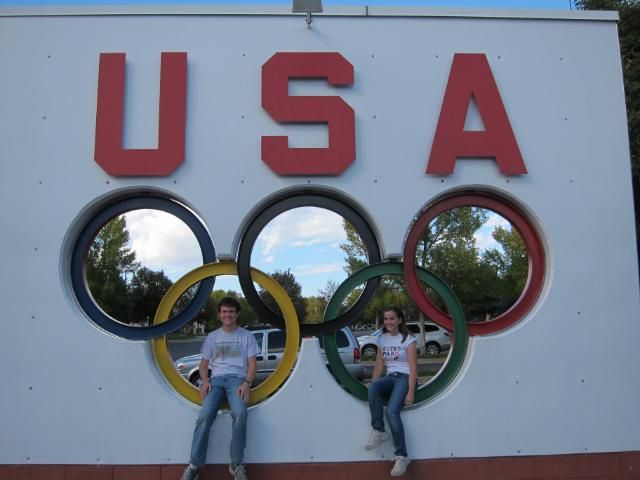 Next, we went inside the building and were just exploring the lobby when the man sitting behind the welcome desk asked, "Are you here for the tour?" We said that we knew we had just missed the last tour of the day, and he responded, "No you didn't. I'm the tour guide. They're currently just watching the movie about the center, but if you wait here, you can join the tour after that's done." Success!
The tour was definitely interesting. We got to see several of the gyms in addition to walking the whole campus.
Apparently, there had been several members of the Olympic gymnastics team warming up earlier in one of the gyms we visited because they were putting on a show that night as part of their post-Olympic tour. Even McKayla was going to be performing that night!
I learned a lot that I had never known before about how there can be literally hundreds of athletes living and training at the center at any given time. Apparently Apolo Anton Ohno holds the record as the athlete who lived there the longest. He spent seven years at that center, which struck me as absolutely crazy! Our guide told us all about some of the athletes' training routines. Apparently, in all the years he's worked there, the guide said he has never once seen any of the athletes doing simple exercises like bicep curls in the gym. Instead they do full body exercises like throwing around 500-pound truck tires. He also told us that the athletes who he sees doing the most cardio activity are the rifle shooters. Despite the fact that their sport "simply" requires them to lie there and shoot, they need to be able to slow their heart rates to almost nothing so that they can shoot between heartbeats. This requires them to be in phenomenal cardiovascular shape.
The tour was full of all kinds of interesting factoids like this, and I learned more than I expected to. The campus itself was really pretty too, and it features flags from all of the countries who participate.
After seeing the outside of the cafeteria—where Michael Phelps regularly ate his 10,000 calories per day while training there—the tour came to an end. We walked back to the main building hoping to stop in the gift shop, but it was already closed. We couldn't believe they wouldn't keep it open for an extra few minutes to monopolize on all of us clamoring to get souvenirs as the tour let out. Oh well…
By this time, it was starting to get toward dusk, so began the drive back to Barb's house. When we arrived, there were at least twenty cars in their driveway. Apparently their house had been chosen as the one where all the kids met to take their pre-homecoming pictures. Within five minutes of us arriving, however, everyone had decided to go to the dance, so there was a mass exodus.
Rather than leaving just the few of us at the house however, the exeunt of the kids ushered in the arrival of a whole new set of houseguests. Apparently Barb and Larry host a happy hour for their neighbors on select nights, and they'd chosen to have everyone over this evening. They'd ordered twenty pizzas from Domino's and had a cooler stocked up with beers.
We joined in the party—glad to have made it back just in time for dinner—and enjoyed meeting their friends. It was at this gathering that we were told the most bizarre true story about one of the sets of neighbors that we met. Not only is it bizarre, it's gross, so if you're eating while reading this, I would suggest finishing your sandwich before going on.
One of the couples at the party had recently bought a house a few houses down from Barb and Larry's. They had bought it during the winter as a short-sale, and had gotten a good deal. After moving in and beginning to get settled, the seasons changed, and with the arrival of spring, it became quite obvious why the previous owners of the house had actually left. For half of the year, the entire house was infested with thousands of bats. Though the bats originally just moved into the attic, there quickly became too many of them, so they started moving into the main house. One of the neighbors told us about how he was walking to the bathroom in the middle of the night and felt a squishing sound beneath his feet. It wasn't until the next morning that they discovered he had trodden on bats that were littering the floor of their hallway.
They were left in an incredibly terrible position. They obviously would have sued the previous owners for not disclosing the infestation, but the previous owners didn't have any money—hence, the short sale. Instead, this couple moved into the basement of the house (the only part free of bats) while the problem was dealt with for months. The weekend when we were visiting was one of the first ones they had ever spent in their bedroom after the bats were, supposedly, finally gone.
Still getting both the heebies and the jeebies thinking about bats, Tracy and I dragged our pizza-stuffed selves to bed. We had another exciting day ahead of us as our weekend began to draw to a close.



Share